VPS hosting is the perfect combo of price and performance.
With so many options, the landscape is confusing, however.
We break down the best VPS hosting in the world to help you decide.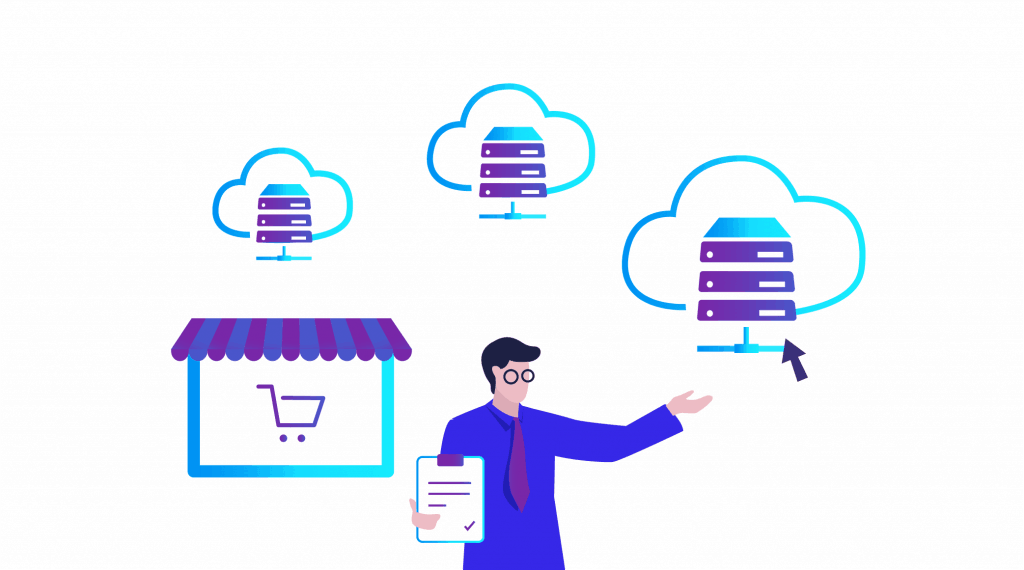 Striking the right balance between cost-effectiveness and admin power when paying for a hosting solution can be a challenge.
One of the more appealing options, though, is turning to a VPS provider.
What is VPS Hosting?
VPS stands for "virtual private server." The idea behind a VPS is to have an environment that's like having your own physical server without paying for the hardware costs that come with getting a whole machine to yourself.
Especially for people and organizations that need decently-sized setups, finding the best VPS hosting company can make a major difference. It allows you significantly more control than you may get with many other hosting options, and the price is reasonable enough for most folks to be comfortable with it.
In this VPS hosting comparison, we'll take a look at the top ten VPS companies, the options they offer and their pros and cons. At the end, we'll also explore some of the basics of what a hosting provider does and why you may or may not want to go that direction. We'll also discuss how a VPS compares to alternatives, such as shared hosting, a dedicated server and cloud hosting.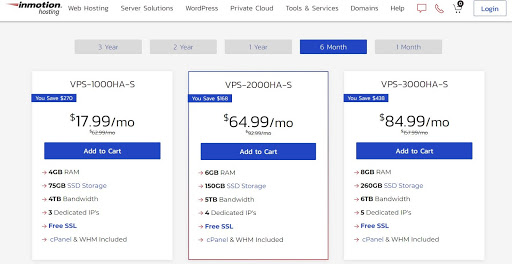 Lowest Price: $17.99 per month with a six-month agreement
Response Time: 635 ms
Uptime: 100%
View InMotion VPS Hosting Plans
Like many companies that offer VPS hosting plans, InMotion provides a number of different services. It's good to know, for example, that you can move up to a dedicated server. The company's support team members are required to complete more than 160 hours of training prior to dealing with customers, too, so you'll be in good hands when you call customer support.
A big advantage for folks who aren't as tech-savvy is that InMotion offers both managed and self-serve options among their VPS plans. If you're a marketer with little experience setting up hosting services or dealing with things like the operating system itself or root access, a managed plan will ensure that someone will be there to guide you through the whole process. They even offer website design services so you can get the whole thing set up without too much fuss.
View full InMotion Hosting review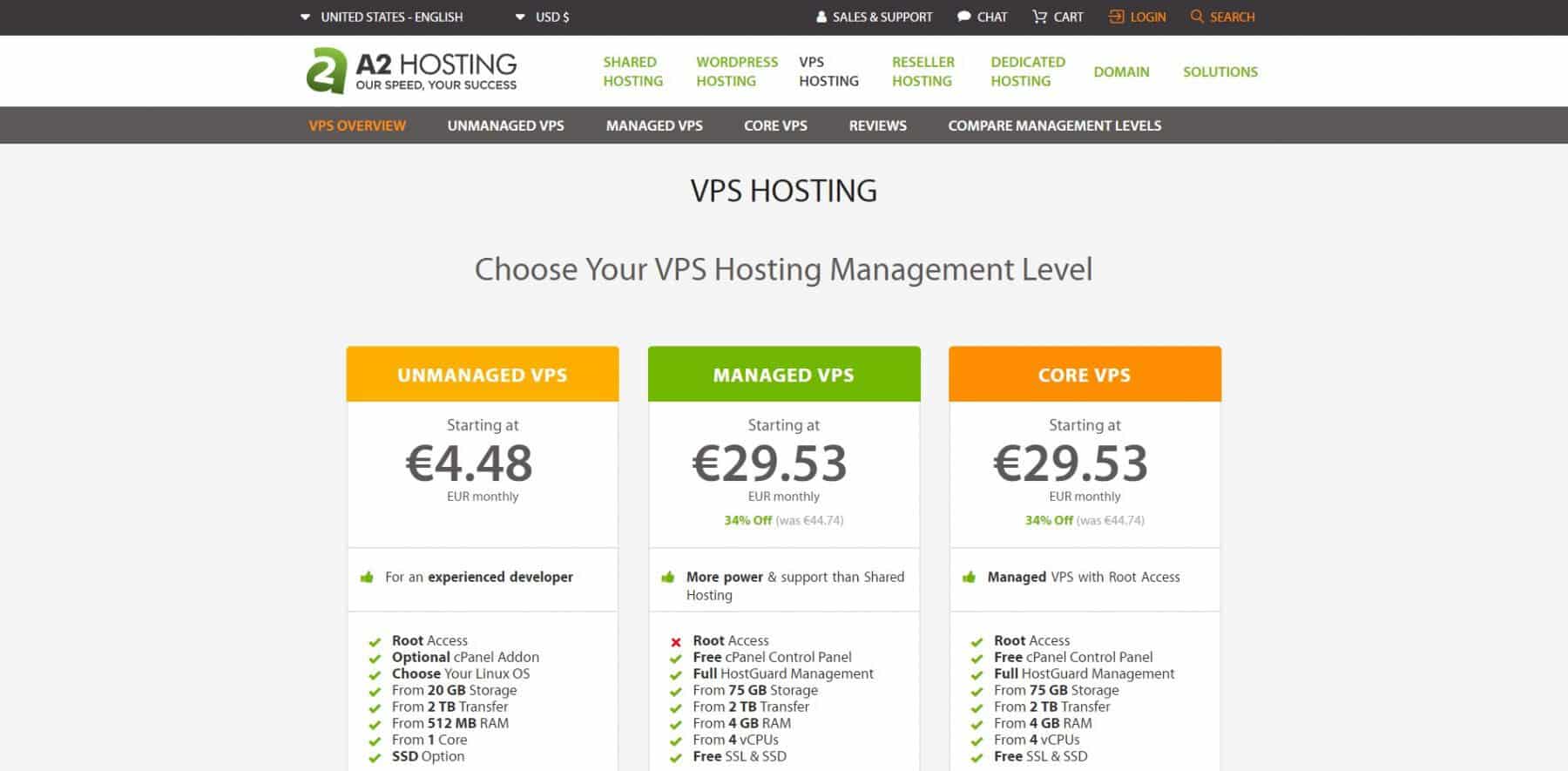 Lowest Price: $5 per month for a completely unmanaged VPS
Response Time: 279 ms
Uptime: 99.66%
A2's lowest-cost option is very appealing to a specific set of customers. If you have the technical skills required to handle running a server on your own, forking over just $5 per month is probably the best VPS hosting choice on a price-to-performance basis. The cheap offering isn't beastly, as you'll be getting by with a single processor core, but it can be very cost-effective as long as you're not planning to run anything computationally intensive, such as FFmpeg for video uploads and conversions.
If you're not really sure what a control panel is let alone how to use it, there is a managed VPS server hosting option that'll help you address those needs. It's quite a bit more expensive than their baseline offering, but at about $35 per month, the managed solution is still competitive. You'll also get more CPU cores and disk space with that setup so you might want to check it our even if you're a hardcore developer with server admin skills.
Speed is also a major plus for A2 Hosting. Clocking in at under 300 ms in response time, the virtual server plan gives you as good as you might expect from a dedicated hosting package.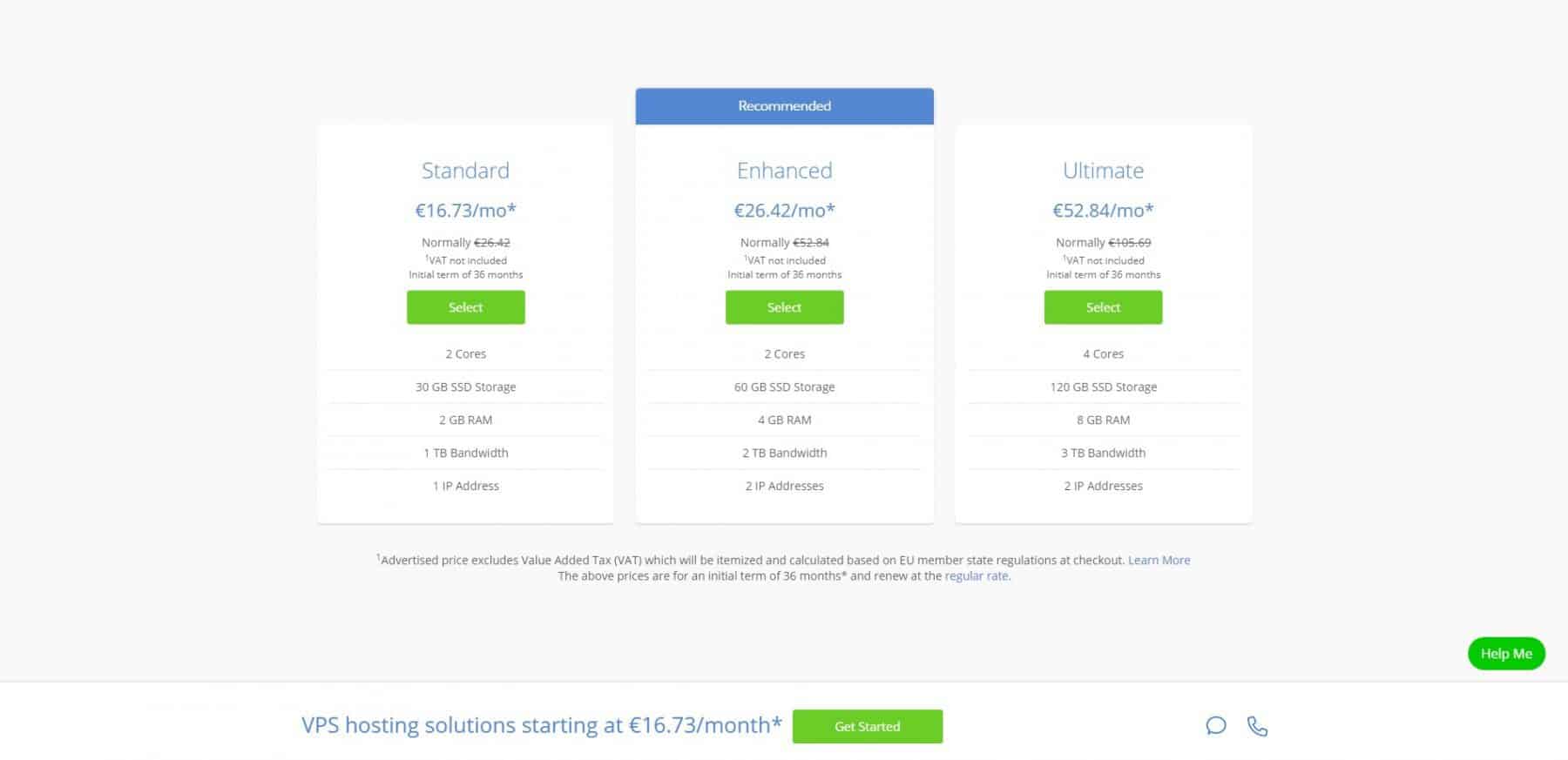 Lowest Price: $18.99 per month introductory and $29.99 per month after
Response Time: 2,200 ms
Uptime: 99.98%
While the eventual full-time price of $30 per month is pretty much industry standard, Bluehost offers a few options that might make it more appealing. In particular, the company provides a free domain with each of its hosting plans, and that free domain name actually sticks with the account for the entire life of the plan. It's not just an introductory offer. There is also a money-back guarantee period of 30 days.
Also, you get a fairly middle-of-the-road 30 GB of disk space, but the company offers SSD storage out of the box. Similarly, you get two CPU cores on your server with even the lowest-price plan. By using KM hypervisor, the company also ensures that every ounce of resources you pay for is guaranteed to be committed to your virtual server.
On the downside, the response time for Bluehost is abysmal. If you're looking to run something that isn't notoriously responsive on its own, such as WordPress, this makes Bluehost a hard no. The experience for your end users will go from slow to downright painful.
Customer support is a big plus for Bluehost, too. Uptime is solid, and you can expect assistance whenever there might be trouble.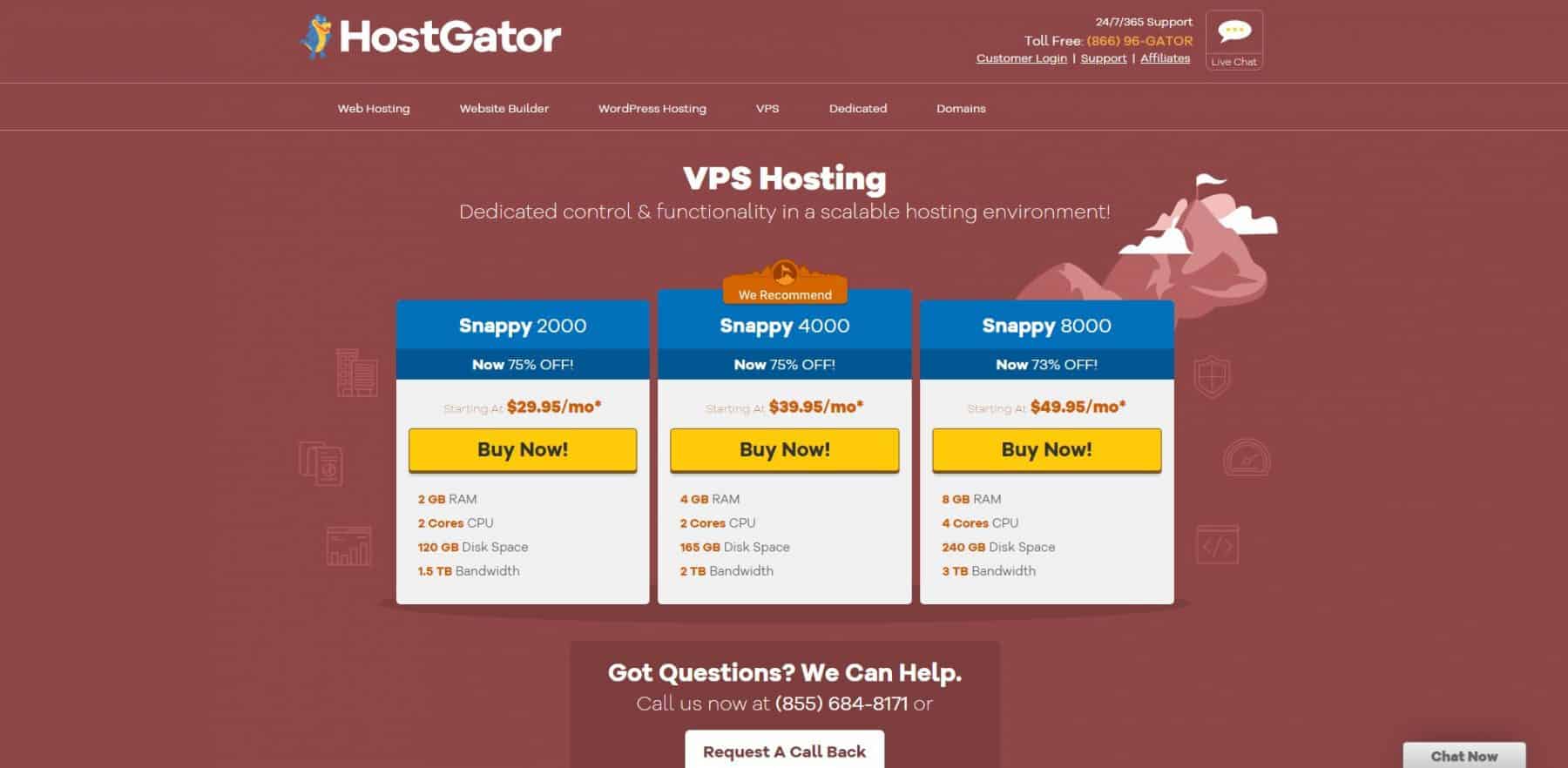 Lowest Price: $29.99 per month
Response Time: 1,610 ms
Uptime: 100%
At first blush, HostGator's offerings don't seem like the craziest as VPS hosting comparisons go. They're priced in the pack, but at least they don't try to trick you with any sneaky introductory offers. Where HostGator really excels in the total disk space they offer. You get 120 GB of storage on solid-state drives with the lowest-tier plan, easily dwarfing many of the competitors.
If you're looking to do a storage-intensive website, such as something that's heavy with photography or PDF files, it's great to get that kind of disk space. You'll also appreciate it if you're trying to set up your own WordPress hosting and need to host loads of content.
HostGator is a VPS service that has been in business for nearly two decades. They provide 24/7 customer support across a toll-free phone line. With offices and data centers on four continents, they also give their customers a good spread of places with machines for a VPS to reside on.
A downside for the hardcore DIYers, though, is that HostGator is mostly tilted toward selling services to their customers. They're happy to sell you a domain name, an IP address and assistance with SEO. On the upside, that's great for, say, a marketing agency that doesn't have a ton of tech support on its own staff.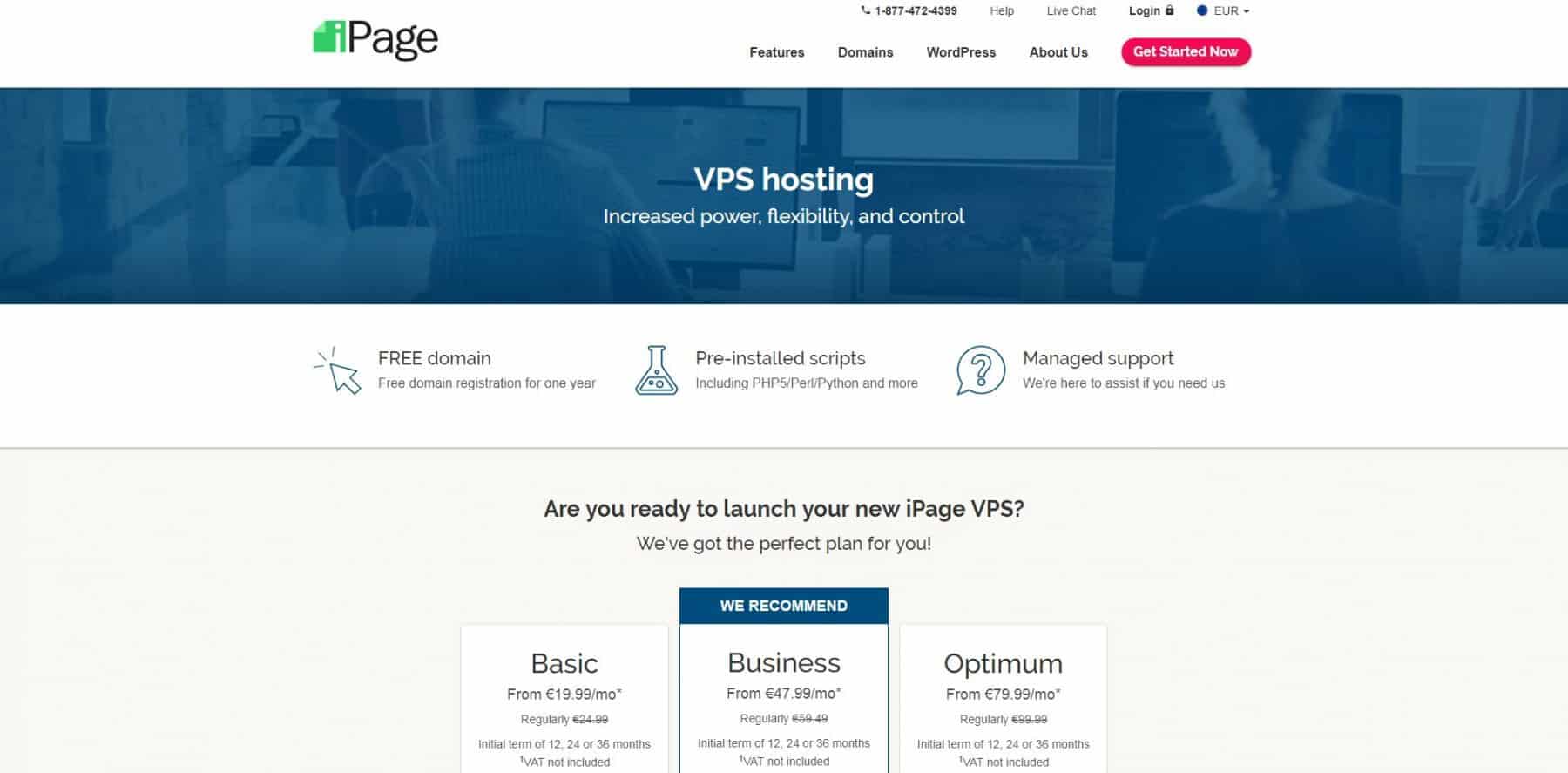 Lowest Price: $19.99 per month
Response Time: 708 ms
Uptime: 99.75%
iPage functions as the good-not-great VPS server provider that services a specific part of the market. They're focused mostly on domain names and managed WordPress hosting, but they do offer VPS hosting services if you know where to look. For the somewhat lower-than-average price, you get a lot of standard features, including:
A single CPU core for your VPS
40 GB of disk space
One TB of bandwidth
A single VPS
Free cPanel access
Their standard install is a Linux distribution, CentOS, that has a solid reputation. There isn't any Windows option, but you'll have access to an alright LAMP stack. The PHP version is 5, and that's, unfortunately, a tad dated. Managed support is available, though, at no additional charge.
If you're looking to build a highly secure and modern site that depends on lightning fast code to work, iPage isn't great. For folks who just need the ability to host dynamic scripts, though, it's a web hosting provider worth a look. You won't get a high-performance system, but you'll get a decent one for the price.
View full iPage Hosting review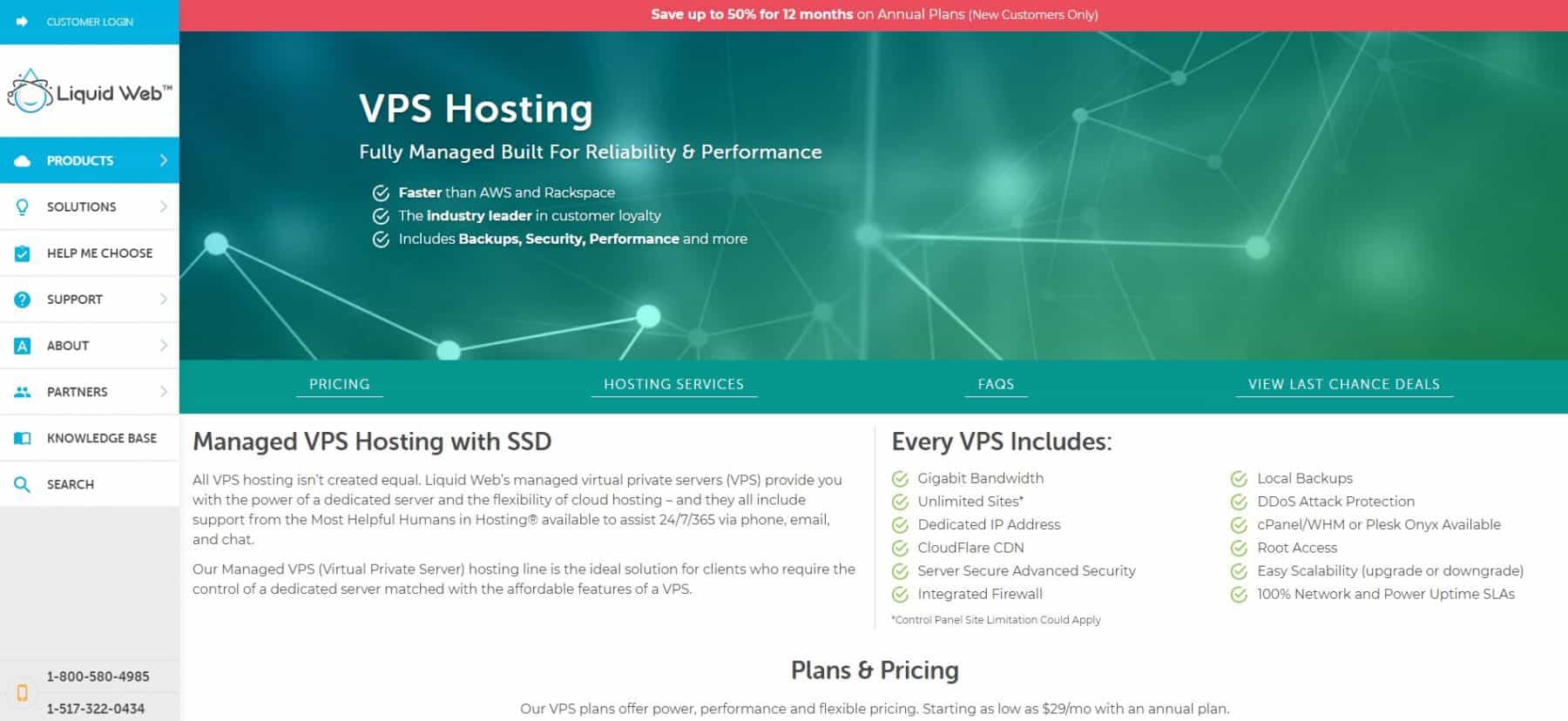 Lowest Price: $29 per month
Response Time: 603 ms
Uptime: 100%
Liquid Web is another middle-of-the-pack company that has a small twist. Their system utilizes a cloud VPS architecture rather than the more standard server management setup that many companies use.
This approach has its pros and cons. A major pro is that in a cloud-based system scalability is much simpler. If you need to move up to more storage, for example, you can just make a few clicks in your account's control panel and you'll have it within a couple of minutes. On a more traditional setup, this task requires a managed services support specialist to reprovision your virtual server, and you'll probably be stuck having to reinstall everything.
It isn't, however, a true VPS. It just functions like one. That distinction probably isn't a big deal for most users because both cloud VPS and regular virtualized configurations rely on the same idea, the provision of resources from a larger collection of hardware resources. On the cloud, you'll just be drawing from a much bigger pool.
Liquid Web is a fully managed hosting services provider. While you will have full root access, you won't be left on your own in the wilderness if something gets messed up. They only offer Linux operating systems on the lowest tier, but Windows servers are available if you move up even one-tier.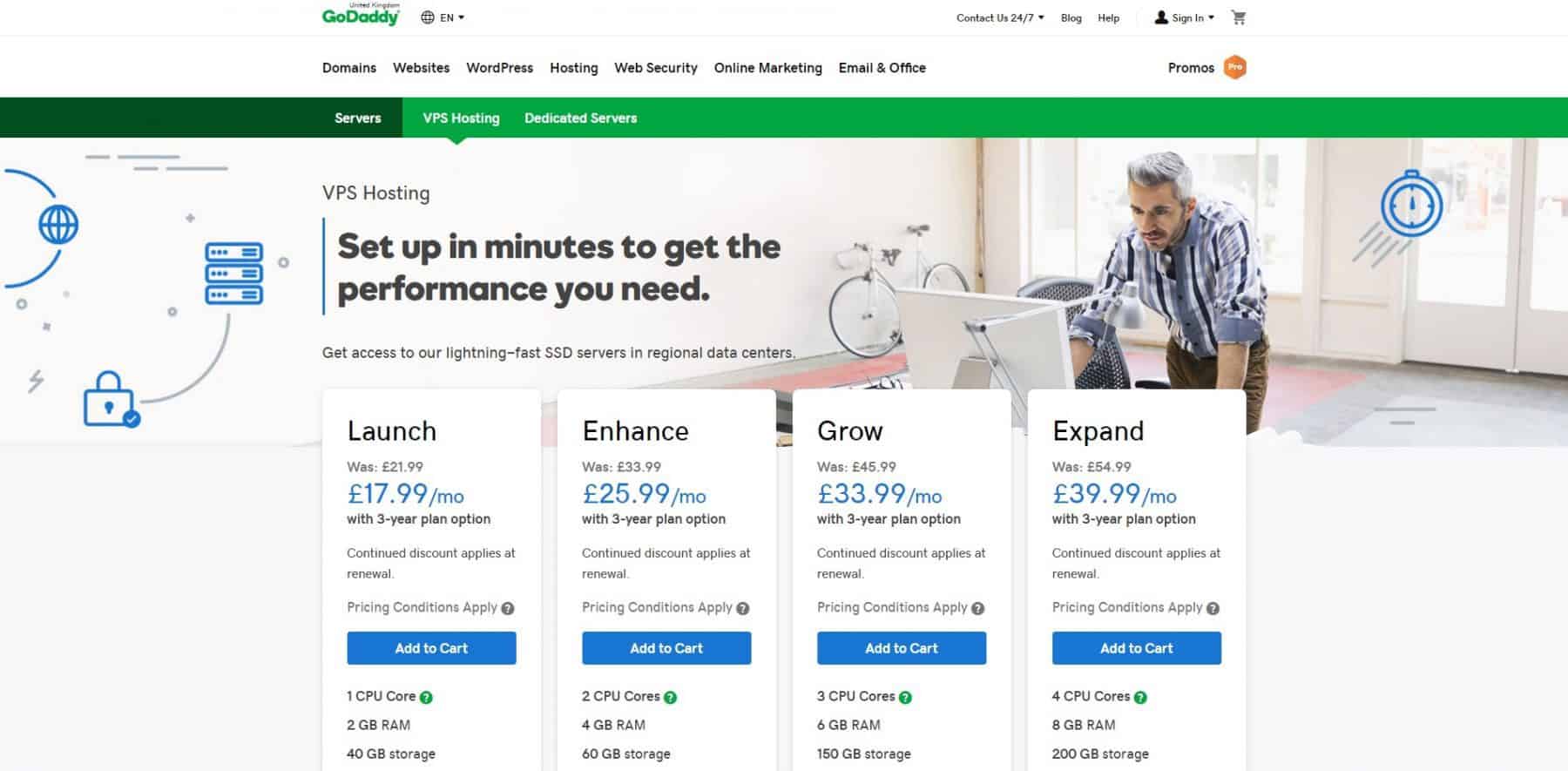 Lowest Price: $19.99 per month introductory and $29.99 per month afterward
Response Time: 697 ms
Uptime: 100%
GoDaddy is sort of the annoyingly ubiquitous company. They once built a name selling domain names dirt cheap, but that has receded into the past. Nowadays, they just offer a bit of everything, including both VPS and dedicated hosting servers. Unfortunately, GD can be pretty sales-driven, and you can expect lots of nags on the checkout screen offering to sell you SEO services, an SSL certificate and just about everything short of a human kidney.
The company has one major upside going for it. All bandwidth is completely unmetered. If your VPS can handle the load, they don't care how much traffic you hit it with. You also get three dedicated IP addresses included with each VPs server account. Especially when hosting a ton of domains on a single system, that can be nice.
Be warned, though, that an unmanaged account with GoDaddy is a case of being left to die in the wilderness. They'll happily charge you for assistance, but you should not go with an unmanaged account through them unless you're supremely confident in your admin skills. The company includes cPanel standard.
Each host server uses two CPUs with 6 cores each. That means you will be sharing your processing power with other machines.
GoDaddy isn't a favorite of anybody, but it can be very handy if you have a lot of items you want to keep on one account. For example, if you host 100 domain names and they all require their own SSL certificates, it's nice to have that all in one place.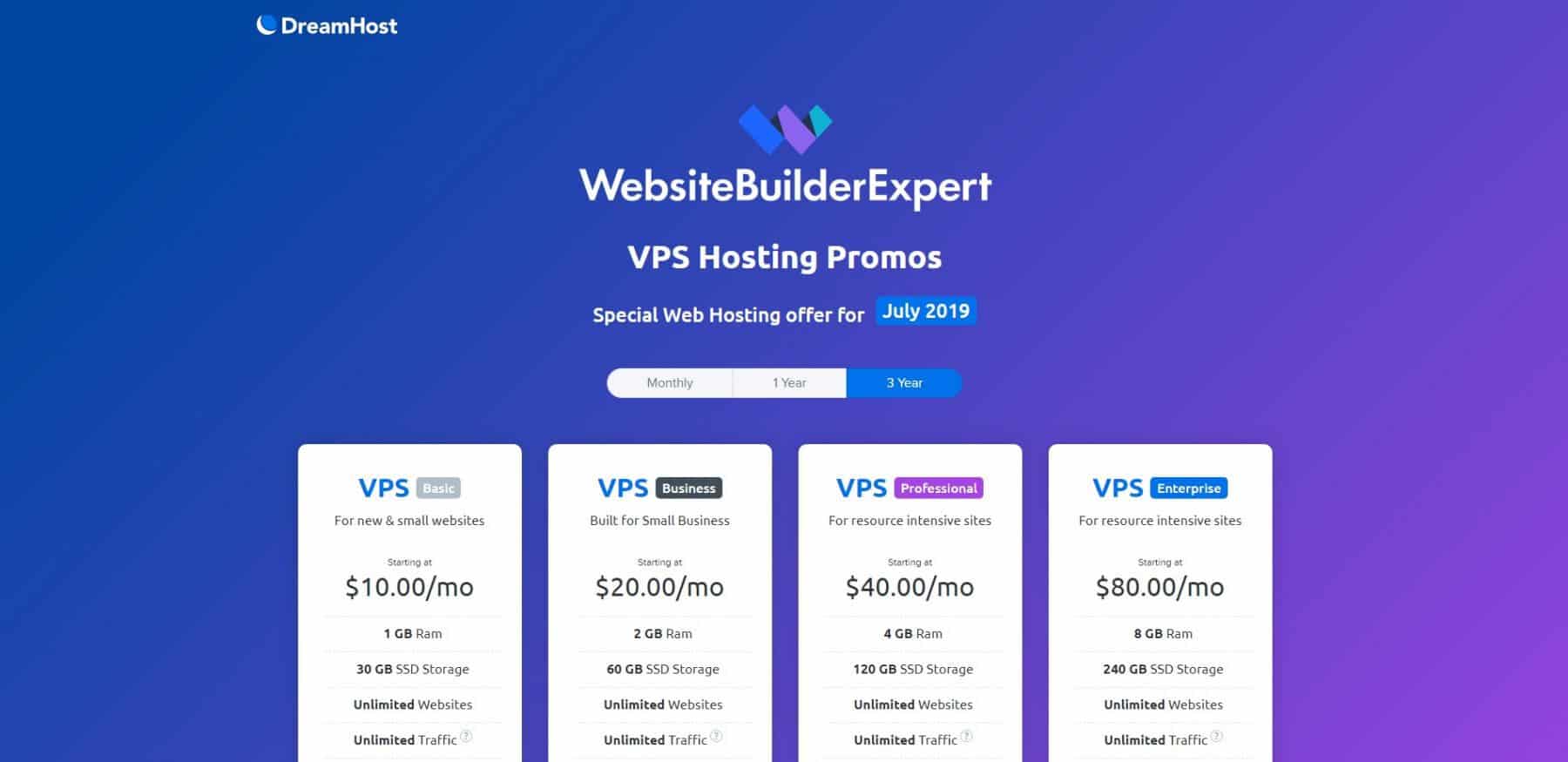 Lowest Price: $10 per month
Response Time: 418 ms
Uptime: 100%
If you're looking for a similar setup to what GoDaddy offers, there's a lot to be said for Dreamhost. The price is much lower, and the minimum package on has 10 GB less disk space. Everything runs on SSD drives, and you still get unlimited and unmetered bandwidth. You'll also get a free SSL certificate.
The company's customer support team is available for phone calls 24/7. One major bonus is they throw in automated backups for folks who are running WordPress sites. It's also a fully managed solution, and $10 per month is easily the cheapest you're going to get managed help for. RAM can be scaled up quickly, too. On the downside, however, Dreamhost doesn't do Windows.
Speed on Dreamhost is very fast, especially for this pricing tier. Likewise, it's hard to complain about 100% uptime.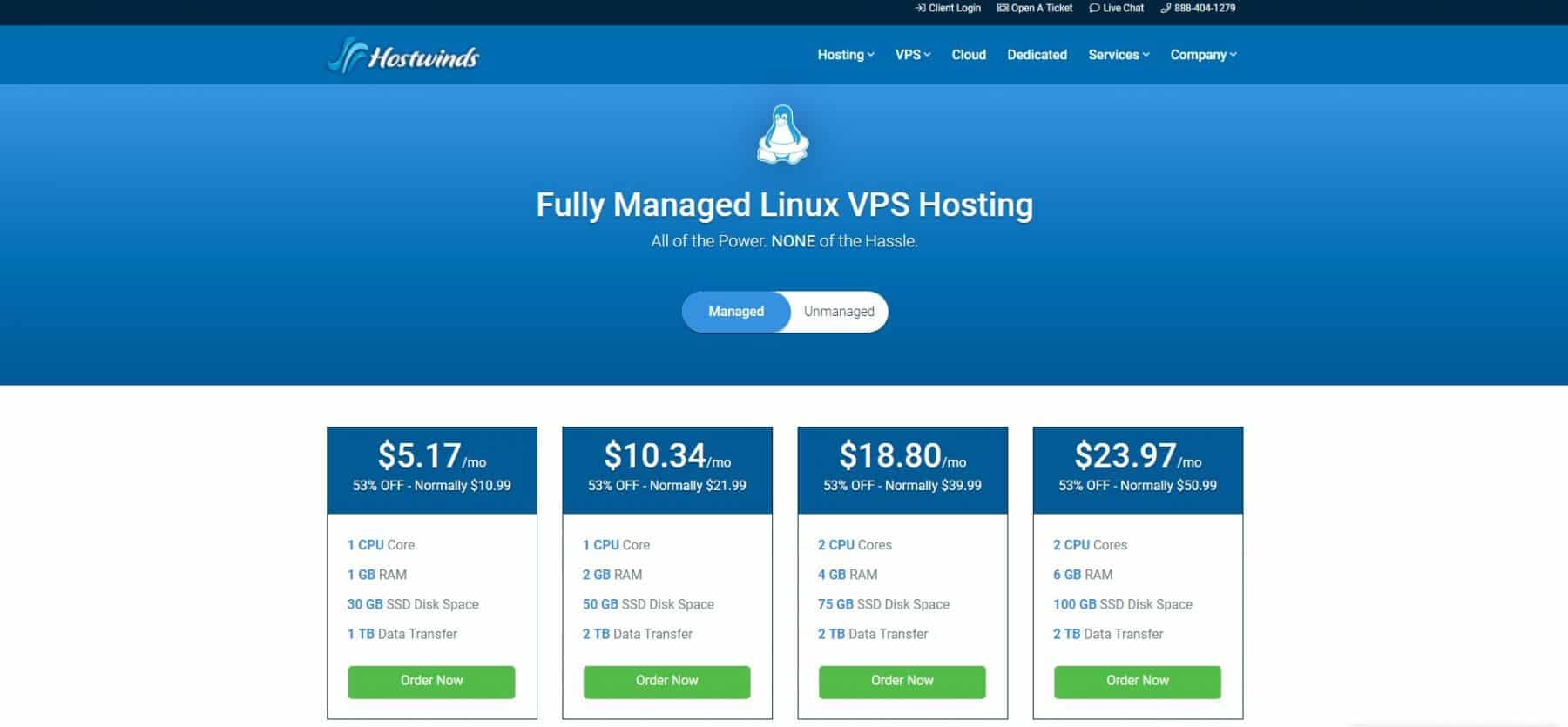 Lowest Price: $4.49 per month for unmanaged, Linux-based hosting
Response Time: 1,093 ms
Uptime: 100%
Hostwinds offers both managed and unmanaged solutions. The cheapest managed system starts at $5.17 per month, but that goes up to $10.99 per month after the introductory period ends. You'll get the fairly standard offering of:
One CPU core
30 GB SSD storage
One TB of data transfer
One GB of RAM
There are also managed Windows options available.
Customer support is available 24.7, but the company tries to nudge users into its live chat queue. Website transfers are free, and Hostwinds does maintain several data centers. There is also an enterprise-grade firewall installed.
On balance, the price-to-performance proposition isn't great with Hostwinds. It is, for lack of a better way to put it, an option that's there if you want somewhere else to look.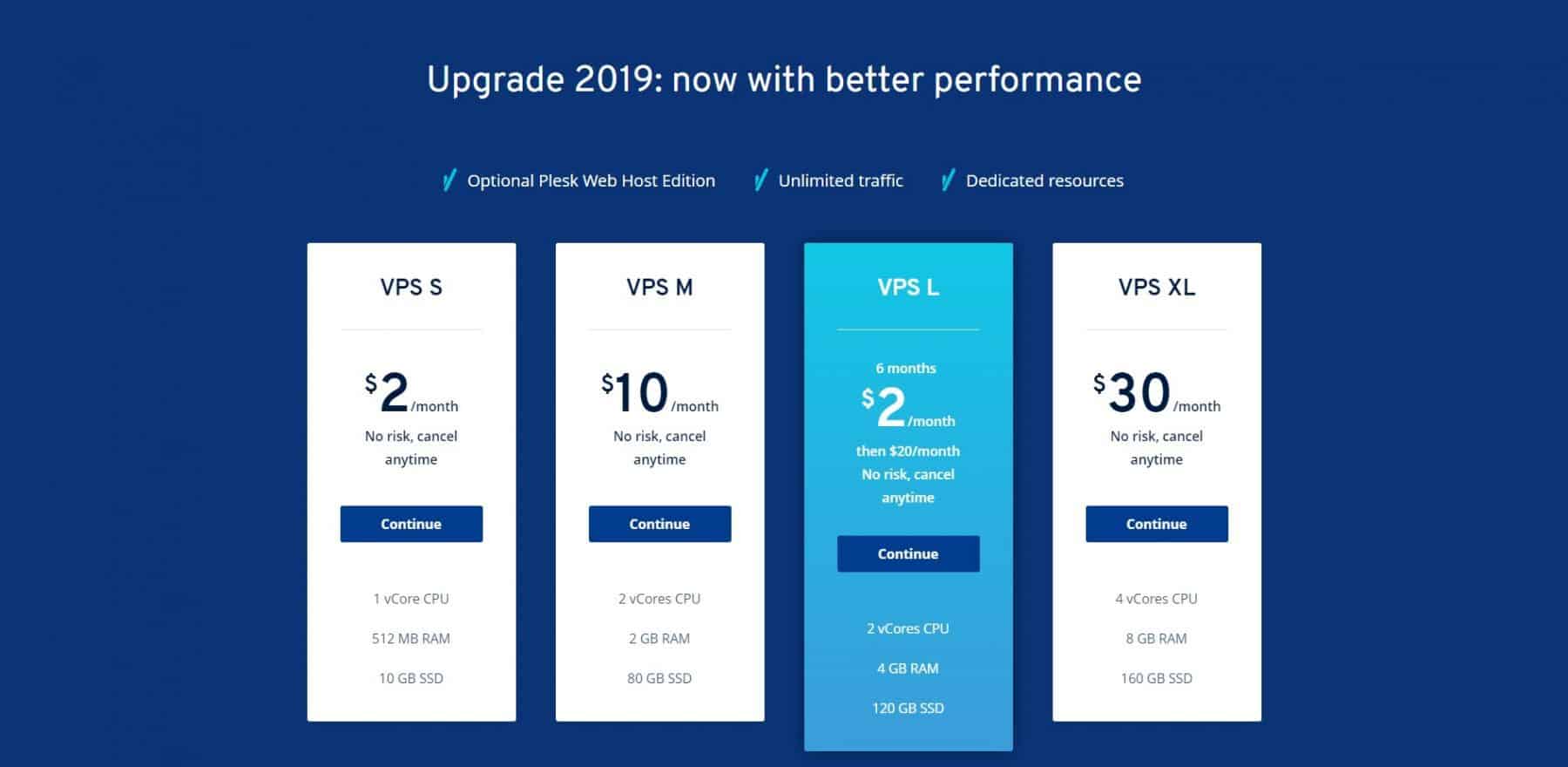 Lowest Price: $2 per month for unmanaged, Linux-based hosting
Response Time: 918 ms
Uptime: 100%
If you want the absolute cheapest and most no-frills VPS hosting option, IONOS is likely the way to go. Starting at just $2 per month, you get a single virtualized CPU core and only half a meg of RAM. There is also only 10 GB of SSD space, but again, this is the dirt-cheap option that provides a minimally viable website hosting server.
Not surprisingly, at this tier you're only going to have Linux-based OS choices. You do, however, get your pick of data centers in:
Users can also select from Ubuntu, Debian or CentOS.
One interesting thing is that if you want to pay the industry-standard $30 per month, you can get a pretty mean setup. At that level, you get your pick of cPanel or Plesk for control panels, and you also get the addition of Archlinux and OpenSUSE. For $20 more a month, you can add Windows. Most intriguingly, though, the higher tier plan includes four virtual CPU cores, 160 GB of SSD storage, and 8 GB of RAM. That's a pretty good package for the price range. Firewall management is also included.
Understanding VPS Hosting
Scanning through the top ten VPS firms, you get a pretty good feel for what the industry looks like. Most companies cluster around $30 per month with their offerings. They generally charge more for managed hosting, and Windows is usually extra, too.
The big thing to understand about VPS hosts is that they're about as close to using a dedicated server as you can get without paying for a single machine. Virtualization is a process where the resources of a single computer or a collection of computers using cloud software are divvied up among users. In the virtualization interface, a technician from the company provisions resources just for your server.
For example, a company might use a machine with four processors that each have 56 cores. Each core supports two threads. Reserving a few cores to handle administrative needs, this gives them the ability to provision the equivalent of about 400 virtual cores to users without anyone overlapping. They may also utilize something like 500 TB of storage on a RAID array, and provision it in a similar fashion.
Every one of those provisioned servers behaves as if it were its own machine. You can install an operating system on each one and whatever software you desire, and this is the big advantage of VPS. You get:
Close to a single-machine experience
Total administrative control over the OS
Access to a full server instance for much less than the price of a single machine
Operating systems matter a lot. If you're not familiar with Linux, it's a good idea to study up on it, especially if you don't wish to pay the premium for Windows on a server. You may want to hire or contract someone who's familiar with Linux to ensure you have help when you need it.
Most importantly, you won't be limited in how you configure your system. For example, an image-hosting website might need to install GD to allow for effortless handling of file types. On a shared solution, you won't be able to do this.
Downsides of VPS Hosting
The downside to using a VPS is that there are limits on the amount of resources you can turn loose. Dedicated servers and even huge cloud instances can run up into the thousands of dollars. These often allow users to deploy anywhere from two to 96 cores for a server, though. Most folks don't need that much firepower, and that's why a VPS is a great choice for cost-conscious customers who need an environment they fully control.
Conclusion
VPS hosting is a popular option because it often allows folks to get the best of both worlds. Pricing is sensible, usually below $50 for an entry-level plan. At the same time, you do get what is functionally a single server all to yourself. If you're looking to make the most of customization without having to break the bank, a VPS provider is worth a long look.
Last Updated on June 23, 2021 by Adrian Grant