Almost everyone has fond memories of whiteboards, whether it's from school or office presentations. They are especially useful during brainstorming sessions when you need to fire up an entire team for fresh ideas. We work better when we collaborate, after all., 
While the advent of remote work has taken the physical whiteboard away from us, there are now virtual whiteboards running on software applications that can help close the gap and power the same creative camaraderie and teamwork. 
The best whiteboard software acts as a digital canvas that allows collaboration and multi-user drawing, editing, and presentation in a highly intuitive visual platform. These are the seven best ones to work with.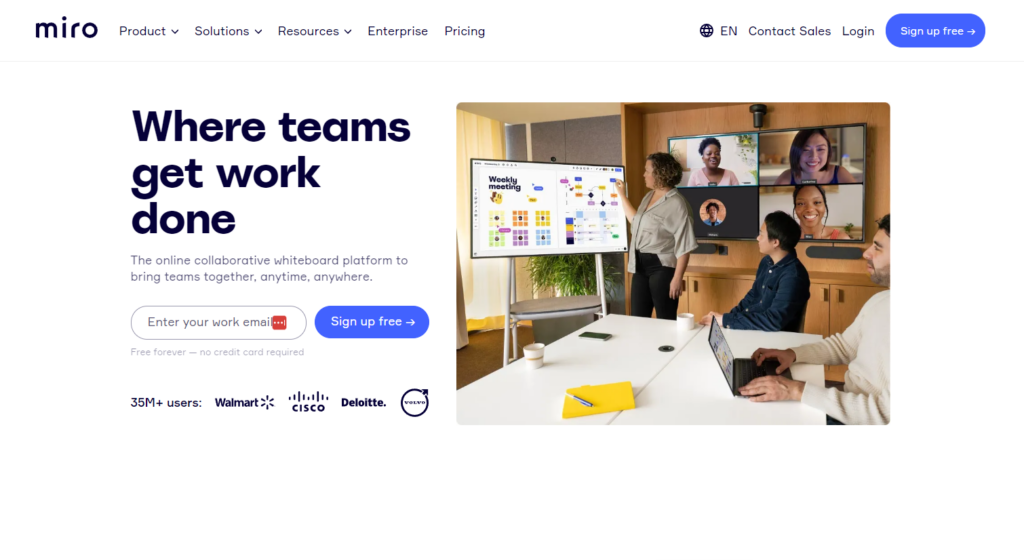 Miro offers a whiteboard platform for teams to collaborate and work anytime and anywhere. Additionally, Miro offers live sessions, webinars, and guides to help you improve your skills. With all this in mind, it's no wonder why Miro has been selected as one of the best visual collaboration platforms.
Top Features
Highly versatile and flexible
Broad templates that help speed up project creations
Lots of resources for learning and connecting
Sticky notes, mind maps, and various drawing capabilities
Mobile application for fast access
Status updates
Pros
Perfect for working with teams or groups
Organizes tools and applications for easier access
Unlimited workspace for projects
Clean user interface
Cons
Slows down as the number of projects increase
Not very user friendly
Zooming in and out is difficult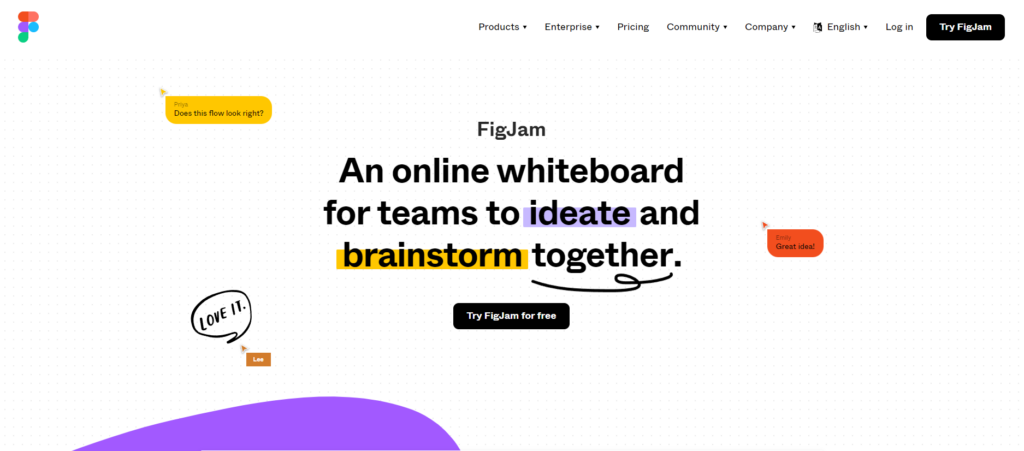 Figjam is one of the best online whiteboards available today. With its creative look and broad applications, you can do so much more work. You'll be able to write down or sketch your ideas for your team. Starting at only $12 a month, Figjam is definitely an online whiteboard that you should try. Regardless if you're handling large or small businesses.
Top Features
Unlimited files even on the free trial version
Easy-to-use diagram feature
Audio feature for easier communication
Plug-and-play widgets and plugins
Drag-and-drop chat box
Pros
Simple user interface
Intuitive design and aesthetically pleasing look
Easy to personalize
Fast loading speed
Cons
Some features are limited
Boards get crowded easily
The cursor chat feature can be confusing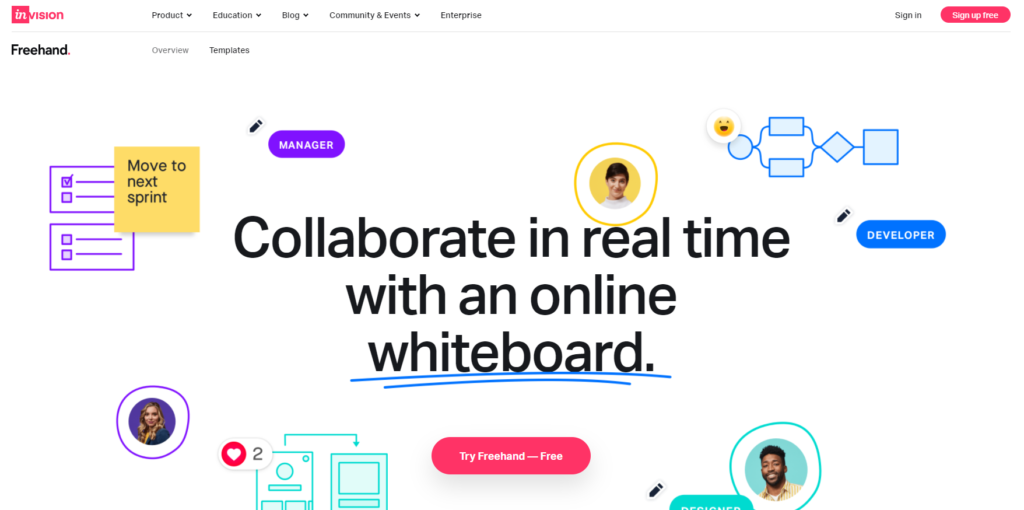 InVision is one of the world's best producers of collaboration tools, although it focuses mainly on offering prototyping services for designers. However, InVision FreeHand has now become a favorite in many other applications. It is completely free for one or two individuals, while teams of up to 15 need only pay $9.95 per user per month. Enterprise packages are also available by seating.
Top Features
Customizable templates for brainstorming, wireframing, diagrams, icebreakers, etc
Seamless integration with Microsoft Teams and Slack
No space or space constraints – use it on any device type
Access by all team members to the whiteboard
Presenter mode to share and explain ideas with others
Upload and sync designs from Photoshop, Sketch, Jira, Storybook, etc
Screen animations
Enhanced security
Pros
Simple and intuitive to use
Versioning makes it easy to go to previous iterations
Seamless cross-collaboration between teams
Can be used anywhere on any device
Integration with Sketch, and Photoshop, among others, allows easier upload and sharing
Cons
Some integrations such as Jira can be slow
It's still primarily focused on designers and creators
It can get very expensive if you have to work with a large team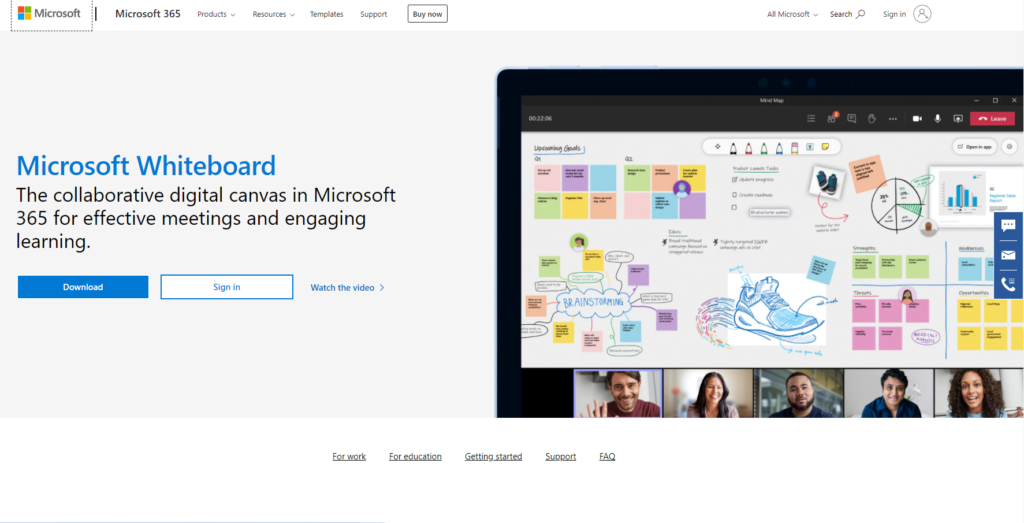 Check out Microsoft Whiteboard
Microsoft Whiteboard is a freeform "digital canvas" in the purest sense of the word. Built by the same guy who pioneered the MS Office applications, you can expect the same ease of use and universal usability, which makes it perfect for all kinds of applications including teaching and presentation. And it's free!
Top Features
Templates with customizable templates and documents
Customizable backgrounds including grid lines and notebook paper
Native integration with other Microsoft tools, especially Microsoft 365
Autosave, keeps files on the cloud until needed
Inking and drawing tools, plus the ability to add images, post-its, documents, etc
A Lasso tool for easy selection and moving of objects
Pros
Microsoft Whiteboard is free. You only need a Microsoft account or Microsoft 365 subscription to use it
It's very simple and intuitive
Integration with Office 365 makes sharing and uploading files seamless
It has a lot of templates to make everyday whiteboarding easy and fast
It's perfect for presenting ideas, which is why teachers love it
If you have a Surface Pen or other technology, it becomes even more responsive
Cons
It's best for basic collaboration. Its features are still quite bland and plain
It works only on Windows 8 and above, and not on other OS like Mac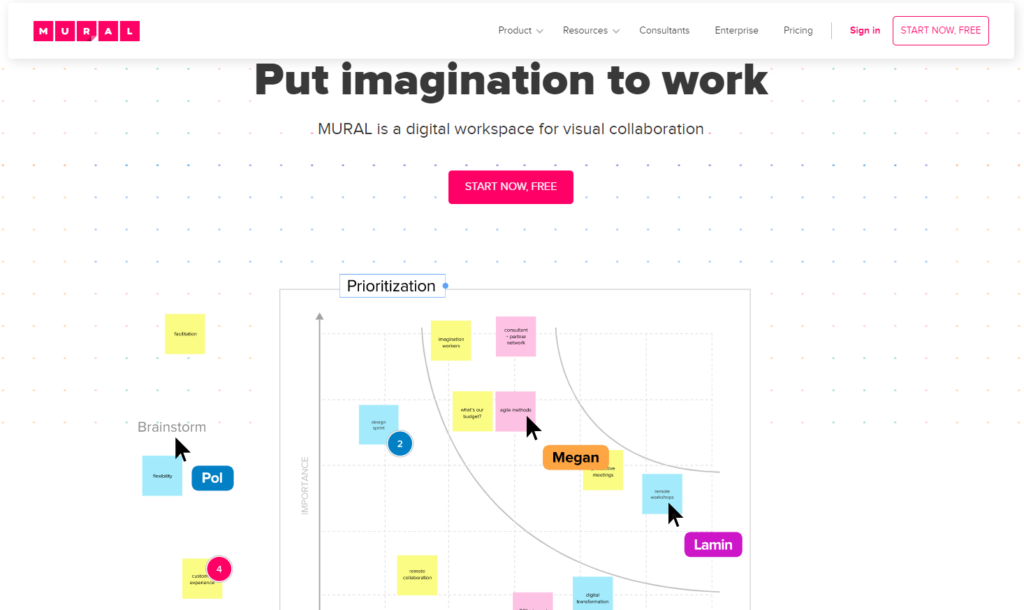 Mural markets itself as a "digital workspace for visual collaboration." However, it's more of a visual tool to help outline workflows, processes, design details, and other features in an intuitive and fun way. It lacks the open democracy of InVision's Freehand, but makes up for it with ease of use and fast operation. Mural starts at $12 per month for each user.
Top Features
Sticky notes and text to add ideas
Build diagrams using shapes and connectors
Drag and drop images and GIFs
Freehand drawing and sketching
Time sessions if necessary and summon collaborators just before sessions start
Sharing, texting, and commenting with a private mode option to hide these from the rest of the group
Pros
Very easy to organize the flow of ideas
It's fast and clean
Murals help save a lot of time and keep everyone focused on the task at hand
Communication channels such as chat and text are great for getting everyone involved
Integrates easily with Dropbox, Microsoft Teams, JIRA, and, Slack
It has easy templates to get started
Robust security protocols and features
Cons
Using Mural on mobile devices is tough
Features aren't very different from PowerPoint
It's expensive, starting at $12 per month per user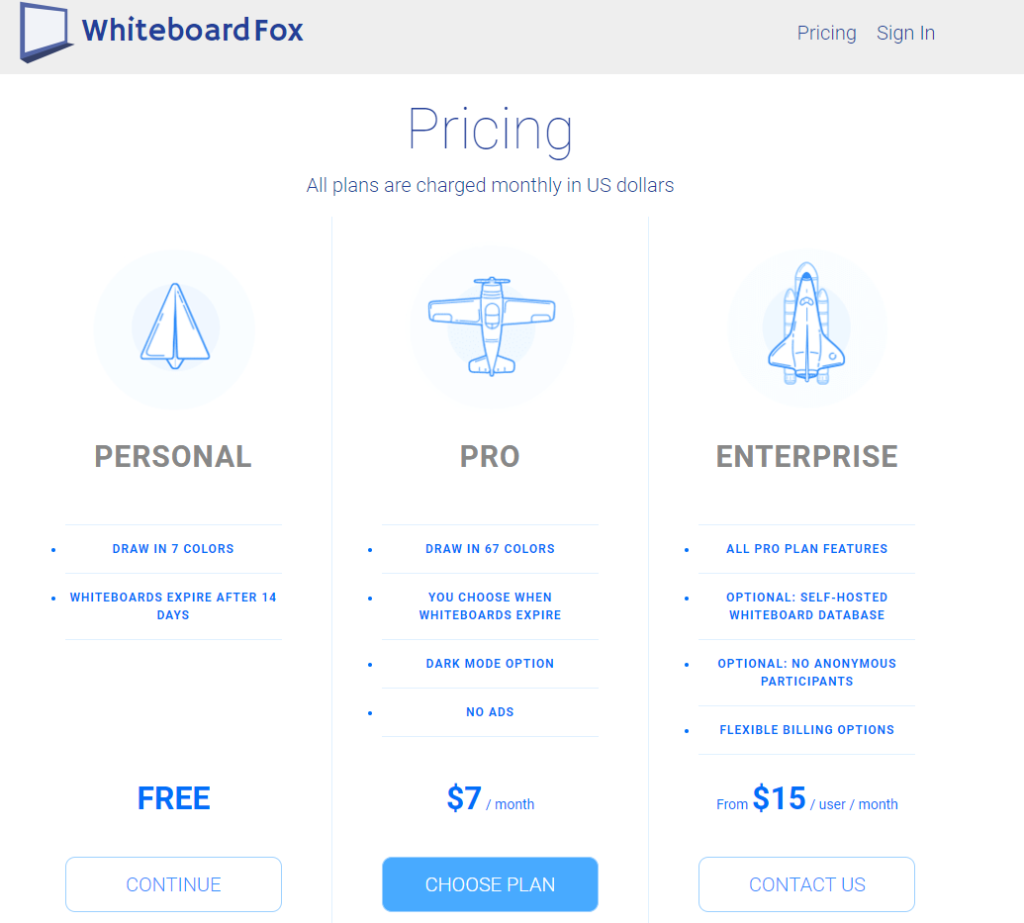 Whiteboard Fox is a free web-based online whiteboard tool designed for online collaboration and sharing. It a basic tool without a lot of high-tech features, but it works great for general business presentations
Top Features
Basic whiteboard functionality including drawing, adding text, erasing, navigation, and copy-paste
Every time you open a new Whiteboard, you get a new link which you can share via email to invite others
Changes made are communicated to participants in real-time
The host can impose restrictions on how data can be added or removed
Easily embed photos, videos, GIFs, etc
Easy freehand drawing feature
Pros
Available on-demand, no set up required
Real-time data synchronization between collaborators
Completely free
Perfect for small teams with simple collaboration needs
Easy to use with intuitive whiteboard features
Cons
It might not work so well with large teams, since you have to invite every collaborator by email
Its features are very basic with no tools like file upload or image library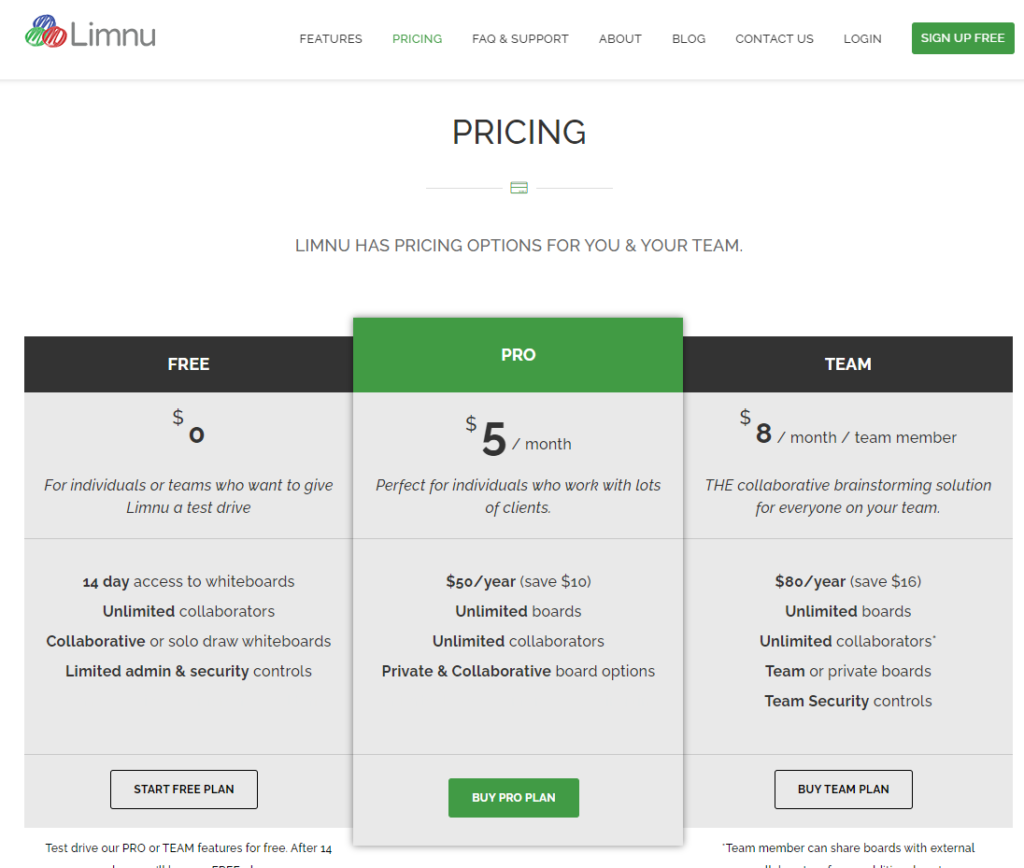 Limnu is probably the closest you can get to a virtual whiteboard. It combines this with an excellent, fast video conferencing feature to collaboration and sharing a breeze for both small and large teams. Limnu starts at $5 per month, with a 14-day trial period.
Top Features
Interactive collaborative whiteboard
Interactive video call feature as you share and explain concepts
Manage participants easily by giving permissions
Share sessions with others even if they don't have a paid account
Voting and commenting
Available as a Web, Desktop, and mobile app
Drawing with drag-and-drop capability
Custom templates for easy organization
Pros
Best-in-class whiteboard
It combines whiteboarding with video calls for easy collaboration
Easy and intuitive to use
Available across all devices
Affordable compared to other options, at about $5 per user per month for the Pro version
Integrates with CMS systems
Cons
It lacks integration with software like Slack
It lacks the option to export the whiteboard projects and download or print them
You require privileges to delete or edit objects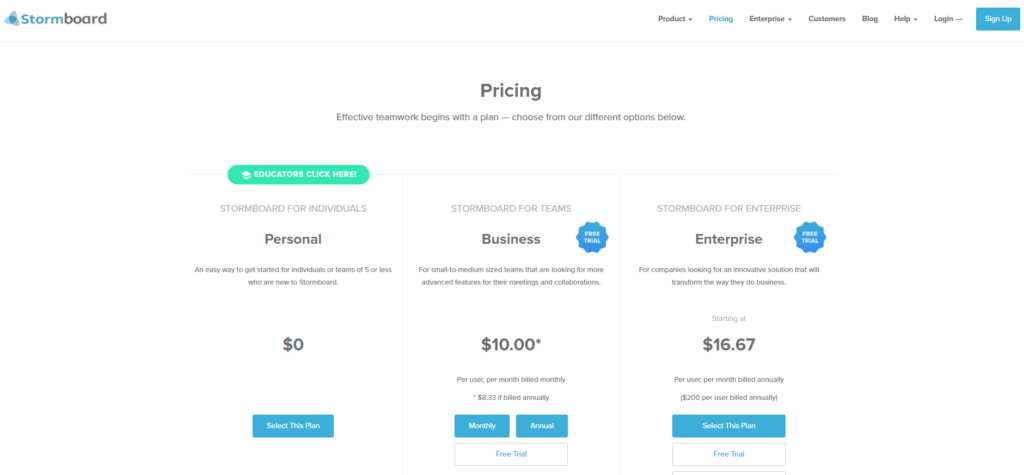 Stormboard makes use of a novel concept based on Window's Sticky Notes, where you can have multiple Storms and users reviewing and collaborating on each separately. This ingenious whiteboard software solution is available in a free version and two paid ones at $10 or $16.67 per month.
Top Features
Stormboard integrates with Microsoft Workflow software
Brainstorm and capture ideas from different collaborators and have them vote on their favorite
Group ideas Sticky Note fashion and work on each separately if need be
Collaborators can review, comment on, and edit ideas and notes 
Assign tasks, goals, and deadlines to team members directly
Project tracking
Pros
Easy and interactive 
Inbuilt templates to cover various business processes
Cross-collaboration regardless of location or device being used
Instant notes and comments with voting 
Easy brainstorming with the ability to compare ideas and concepts side by side
Cons
Despite being a novel idea, it has limited functionally 
Administrators can't remove collaborators yet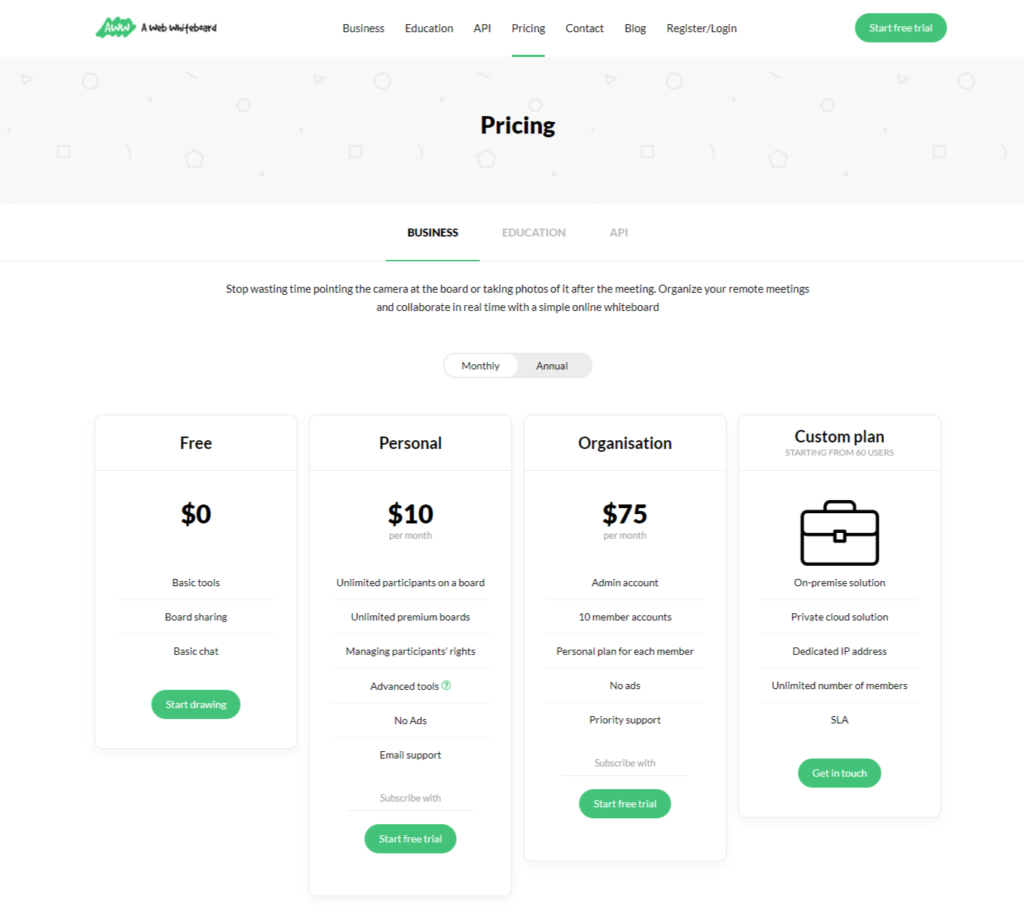 Simple to use, clean, and capable – that's what AWW brings to the board. It is popular in business and educational use, and is priced very affordably with a free version, paid version at $10 per month, and a corporate one at $75 per month.
Top Features
Connect through web conferencing (link to Skype) 
Write down and share ideas with others from any device
Upload JPEGS, PDFs, and other files easily
Manage board participants
Manage projects by assigning each collaborator a copy of the board
Export the board as a PDF for sharing and archiving
Pros
Highly intuitive and easy to use
Affordable, especially for small teams
Easy management of various projects with board copies and assignments
Clean interface 
Attractive boards with charts, graphs, and other visuals
Cons
Support is very slow
Few restrictions – one person can erase the whole board
Features to Consider in a Good Whiteboard Software
1. Basic Drawing, Writing, and Erasing
This is a fundamental feature on any whiteboard. Collaborators should be in a position to add ideas and concepts in both text and visual and share them easily through a touchscreen or mouse
2. File Uploading
A lot of the time you want to add existing images, videos, or documents and embed them on the whiteboard. The software should allow you to do that effortlessly.
3. Collaboration, Commenting, Voting
Whiteboarding is about collaboration. Users should be in a position to communicate easily and share their ideas through chats, video, voice, and also vote on various concepts.
4. Ease of Use/Drag and Drop
More than 90% of the time, the ideas and concepts being shared are simple and can be represented by basic flowcharts, images, or videos. The ability to drag-and-drop these from an existing library makes things much easier
5. Templates
Templates are a must-have, as they provide a jumping-off point and enable more intuitive use.
6. Security
At a minimum, the software should allow encryption and secure transmission. You don't want to risk leaking business secrets and data.
7. Participant Management
Organizers and team leads should be able to control permissions, add, and remove collaborators. They also need access to all the versions and copies of the whiteboard to help with project management.
Conclusion
Whiteboard software applications may not be the real thing, but they come with lots of powerful features that make collaboration and brainstorming easy and effective. These seven tools each have a slightly different feel, but the right one will bring your remote team members together better than ever before. 
Last Updated on August 23, 2022 by Adrian Grant