Both A2 Hosting and Bluehost have very approachable entry-level shared hosting plans, making them perfect hosts to compare for beginners.
What we love about A2 Hosting overall is that they have a strong focus on speed and have very approachable prices, while offering good customer support. Since they are independent (not owned by a conglomerate like Bluehost), they seem to pay more attention to their customers.
Bluehost is a megahost that offers very affordable prices, but you have to sign up on a 3-year plan. They don't stand out in any particular way, but they get the job done. Historically they've had poor reviews, but they've been improving things in the last few years.
Our quick recommendation: A2 Hosting beats Bluehost across most factors. Get 66% off A2 Hosting here.
Read on to see the details
A2 Hosting vs Bluehost Pricing Comparison – Cheapest Shared Hosting Plans
If we look at the cheapest plans first, we can get a good sense of where things stand between these two hosts. I've highlighted some of the top features that are worth keeping in mind, although this isn't a full listing of all features.
| | A2 Hosting | Bluehost |
| --- | --- | --- |
| Plan Name | Startup | Basic |
| Discount Price | $2.99 | $2.95 |
| Normal Price | $8.99 | $7.99 |
| Discount Contract Length | 36 months | 36 months |
| Site Migration | Included | $150 for 5 websites |
| Websites | 1 | 1 |
| Customer Support | 24/7/365 email, chat, phone, ticket. | 24/7 phone and chat. |
| Storage | 100 GB | 50 GB |
| Email | Free unlimited | 5 |
| Bandwidth | Unlimited | Unmetered |
| Money-back Guarantee | 30 days | 30 days |
| SSL | Free | Free |
| Staging | Included | No |
| Uptime | 99.9% | 99.9% |
A2 Hosting Pricing & Plans Detail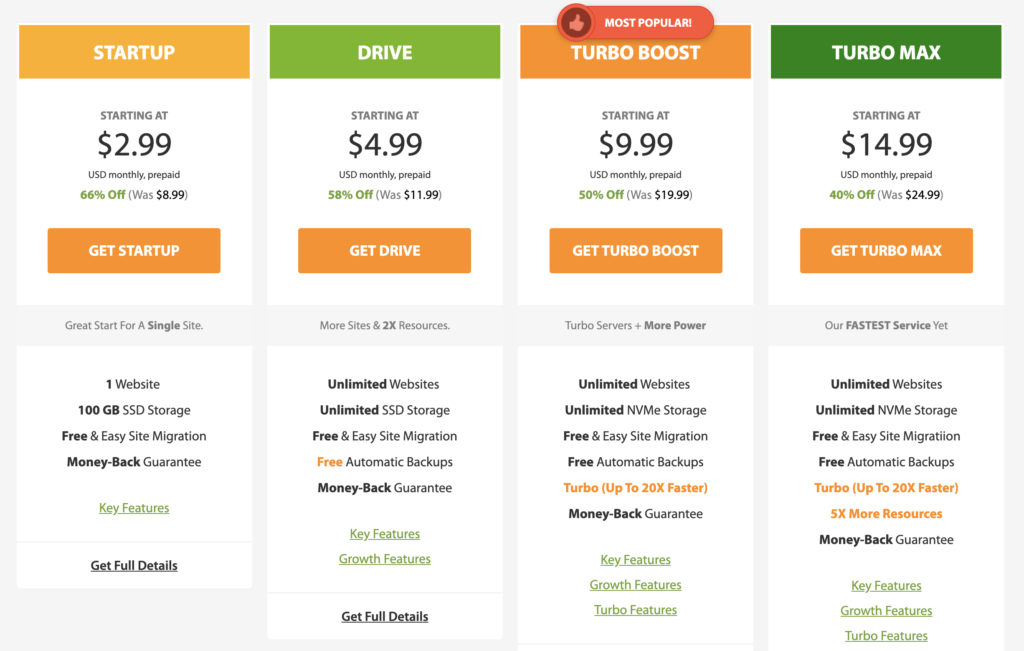 Most people are going to go with A2 Hosting's shared hosting option, the question is which level they want to go with. One thing to keep in mind is that the famous "up to 20x faster" option starts on the Turbo plan.
| | Lite | Swift | Turbo |
| --- | --- | --- | --- |
| Price | $3.92 | $4.90 | $9.31 |
| # of Sites | 1 | ∞ | ∞ |
| Databases | 5 | ∞ | ∞ |
| Turbo Speeds | No | No | Yes |
| Site Accelerator | No | No | Yes |
But if you do want to see all of A2 Hosting's range of packages, you should know that they have everything from WordPress to VPS to dedicated hosting:
| | Shared Hosting | Managed WordPress Hosting | Core VPS |
| --- | --- | --- | --- |
| Description | The fastest shared hosting on the market | Fully optimized and managed WordPress hosting | Managed VPS hosting with Root Access |
| Starting at | $3.92/mo | $11.99/mo | $32.99/mo |
| Control Panel | cPanel | Plesk | cPanel |
| Storage | Unlimited | 10GB | 75GB |
Bluehost Pricing & Plans Detail
Taking a very quick overview of Bluehost's range of hosting plans we see:
| | Shared | WordPress | VPS |
| --- | --- | --- | --- |
| Sale Price | $2.95/mo | $19.95/mo | $18.99/mo |
| Normal Price | $7.99/mo | $29.99/mo | $29.99/mo |
| Best For | Beginners | WordPress | Businesses |
A2 Hosting vs Bluehost Downtime/Uptime
A2 Hosting doesn't shy away from stating that their hosting services are available 99.9% of the time. They offer historical background reports indicating how well their servers perform since the hosting service came online. They operate under the premise that providing quality service means not keeping anything hidden. The hosting service takes reliability one step further by offering a rollback tool that lets you restore a website to a previous service point when you encounter issues. This is super useful if you make any mistakes, and is an important peace of mind.
A2 Hosting has data centers housing their servers spread throughout the world – in Michigan, Arizona, Amsterdam and Singapore. Their data center page lets you download files in each of these data centers to test which one downloads fastest for you – a pretty cool tool!
Bluehost stops just short of providing an actual percentage of time that their hosting service keeps you up and running. However, current customers indicate that their service is available 99.9% of the time. When it does experience a drop in service, the restoration happens quickly, and you are back up and running in no time. You have the opportunity to enhance the reliability of hosting services with SSL and SSH encryption.
Winner: Tie – hard to say for sure which is best overall.
A2 Hosting vs Bluehost Features
A2 Hosting checks most of the boxes of features you need. Every plan on their service includes unlimited data transferring and RAID-10 storage. You can have as many email accounts as your site needs along with having management control over multiple domains at once. You can bring a domain that sits on another hosting site to your A2 Hosting account free of charge. Packages have a CPanel available to efficiently control your sites as well.
Bluehost has all the basics, but you have to feel that they're trying to nickel and dime you when they have a chance. For example, the Basic plan includes just 5 email accounts, whereas A2 Hosting includes unlimited. They also charge you $150 to migrate 5 websites.
On the upside, with Bluehost each account has unlimited disk storage space, email accounts and FTP accounts available. You also have the opportunity to host several different domain websites as well. While you only get 1 website on the Basic plan, Bluehost does not limit the number of domains you can manage at any given time. There is support for different coding types including PHP, Perl 5, Javascript and Flash.
Winner: A2 Hosting has better features overall that are more generous at the same price.
A2 Hosting vs Bluehost Customer Support
In our opinion, customer support is probably THE most important thing. Because the quality of customer support tells you a lot about the quality of the host overall. If a hosting company provides stellar customer support, that costs them time and money, and they want to reduce support tickets as much as possible, meaning they'll be doing everything in their power to improve the hosting quality overall so you don't even need to get to support in the first place. It's a canary in a coal mine sort of situation, a great heuristic to keep in mind for decision-making without analyzing every single detail and driving yourself crazy.
Judging by current customer comments, BlueHost has a lot of work to do in the customer service department. The hosting service claims to be available to its customers 24/7 through live chats, emails, and phone support systems.
Most customers though see things differently. They report that the hosting service is difficult to contact and provides little to no support once you can reach a technician.
Customers also receive little assistance through video tutorials as well.
There is a video tutorial library that is also available to help with pressing issues.
A2 Hosting shines in the customer support department. All of their service technicians operate out of the United States, which makes conversations readily available throughout the four major time zones. The hosting service takes their support one step further by providing you with developers on the other end of your support request. These individuals understand the language of code and other technical languages that can make explaining your problem easier. Support services are available through live chats, email conversations, phone calls and an online ticket system.
Winner: A2 Hosting
A2 Hosting vs Bluehost Pricing
The price structure for BlueHost starts at $2.95/mo with a discount (normally $7.99/mo) for their basic level shared hosting plan. The remaining shared hosting plans extend up to $13.95 per month and include a minimum of 50GB of site space, 100 MB email account storage and the operation of at least one website domain. Their VPS Hosting packages start at $29.99 per month and include 2GB of RAM, up to two IP addresses per account and 2 CPU Cores. The noticeably absent price feature with this hosting service is an existing money-back guarantee policy. When something goes wrong, or you change your mind about using their service, you forfeit any money you have paid to that point.
A2 Hosting is effectively the same pricing, although they have historically done a better job in the pricing department. Their shared hosting plans start at $2.99/mo with a discount (normally $8.99/mo) and extend up to $9.31 per month. For those prices, you receive unlimited storage and transfer space, Free SSD, five databases and can easily upgrade the service that is 20x faster than the competition. Other packages include VPS Hosting starting at $32.99 per month and Dedicated Server Hosting which starts at $99.59 per month.
A2 Hosting vs Bluehost WordPress Hosting
If the stats are correct, about 30%+ of you are planning on hosting a WordPress site on either A2 Hosting or Bluehost.
A2 Hosting gets mad props here because they've dedicated their own time and resources to create A2 optimized WordPress features. They forked a caching and speed plugin to make the WordPress experience as fast as possible. See our full list of fastest web hosts if you want to compare speed across many hosts.
As shown in our dedicated A2 Hosting review, we saw significant benefits in migrating to A2 Hosting for speed.
Bluehost offers some WordPress features, and makes it easy to set up a WordPress site, but we don't see them going above and beyond. It feels like an opportunity cash grab for them, rather an any true dedication. For some reason they are an officially recommend WordPress host, but that's likely from some old partnership, not for any modern reason.
Final Recommendation
A2 Hosting and Bluehost are both excellent hosting companies that provide a lot of great features for customers. Both hosting services have affordable pricing and are reliable regarding the amount of time your website will be up and running.
Final winner: A2 Hosting is the better option in the end because of its attention to detail and top-quality customer service features.
If you're looking to compare A2 Hosting and Bluehost with a few other hosts, check out some of our other posts:
Who is the better web hosting service, AWS or A2 Hosting? Find out by reading our AWS vs. A2 Hosting comparison post. Also, read our Bluehost vs. GoDaddy post to see which one of these master marketing hosting services comes out as the top dog.
Last Updated on November 1, 2020 by Joe