Have you ever imagined having a whole server just for you?
Maybe you've turned away from it thinking it's expensive?
Well, your needs matter.
That's why we want to show you what a dedicated server space can do for your online business.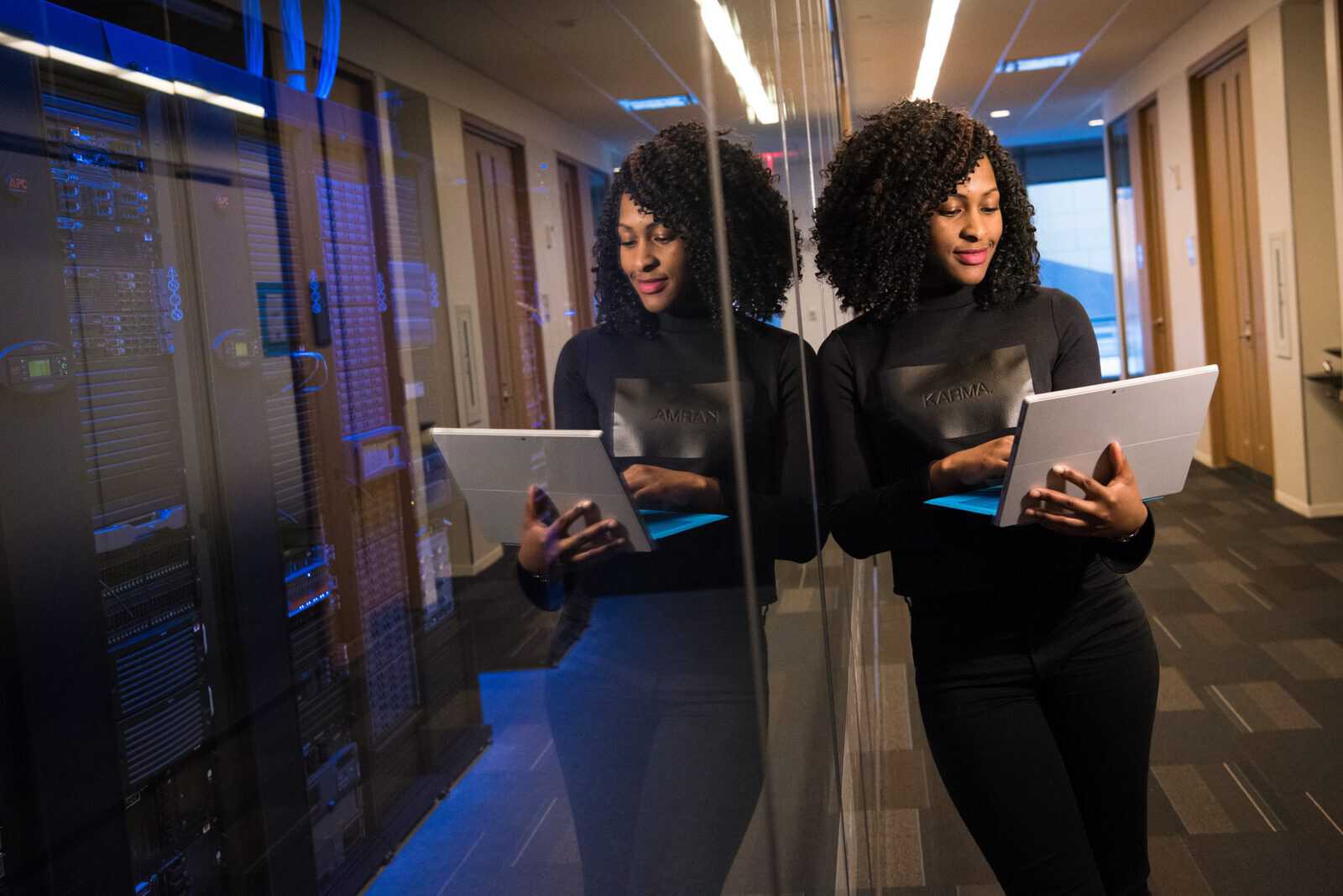 Renting dedicated server space is one of the ways that organizations with high web hosting demands deal with their needs. The advantage of a dedicated server is that all its resources are pointed toward your needs, unlike what you get in a cheaper and slower shared hosting environment. You'll also typically have root-level access, meaning you can configure the server's software to your liking.
As you might imagine, getting a single machine dedicated to only your needs comes with a cost. There's also a good chance you'll require customer service and tech support at some point along the way, as these servers behave just like you'd expect a standard computer to behave. Many companies have appealing options on the market, so dive in and get to know these 10 that represent some of the best out there.
10 Best Dedicated Server Hosting Companies
| wdt_ID | Hosting Provider | Lowest Price | Load Time | Websites Allowed | Hosting Capacity | Customer Support | Our Rating |
| --- | --- | --- | --- | --- | --- | --- | --- |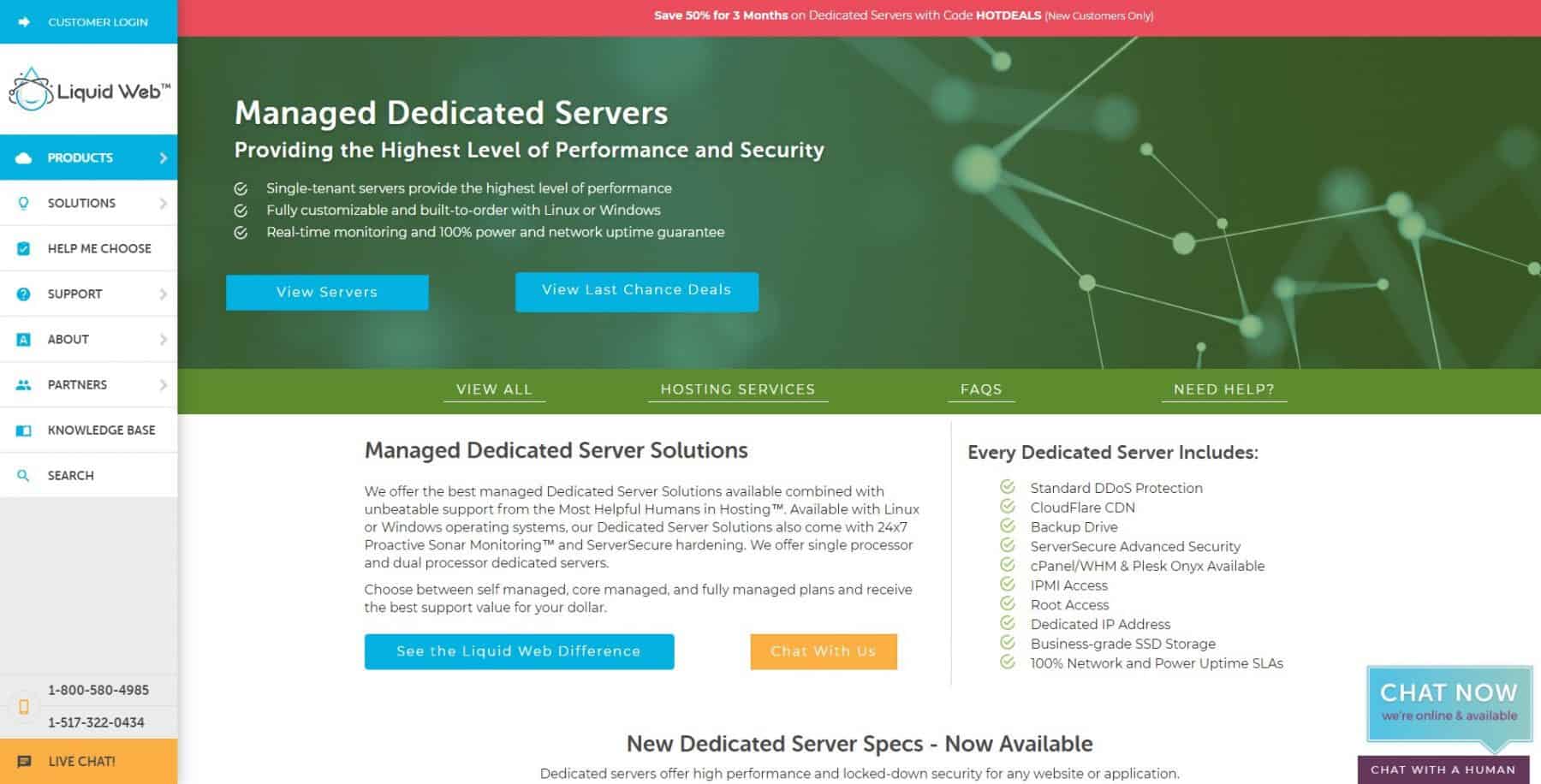 Pricing: Starting at $109 per month
Uptime: Close to 100%
Server Responsiveness: 608 ms
Supported Operating Systems: CentOS, Ubuntu, CloudLinux and Windows
Liquid Web is a company that aims to be the best dedicated server provider by maintaining a narrow focus of dedicated hosting. They don't sell shared hosting services, generally considered a worst-in-class product, and they instead target folks who want as close to the experience of running their own servers as possible.
The company doesn't particularly go out of its way to make its better pricing options obvious on its home page. While managed dedicated servers can be found there for $199 a month, a bit more digging will find you a better rate on somewhat less teched out dedicated hosting plans. It's also a challenge to sort through options to find cheaper self-managed solutions.
The company offers a number of add-ons. These include backup solutions, security systems, DDoS protection and upgrades to disk, bandwidth and RAM capacities. Even their cheapest dedicated server options include very generous allocations of bandwidth, starting at 5 terabytes per month. Storage solutions are SSD-based, and entry-level options support 480 gigs of capacity. Minimum processor specs start at four cores and scale up quickly to 16 cores, a level of scalability that few other hosting plans offer. CloudFlare CDN is also included, ensure that static content will be highly available at all times.
Root-level access is available on all managed solutions. Configuring a server is a breeze for anyone who has a background in Linux or Windows servers, although it may pose significant challenges for first-timers to the remote maintenance process. If you're not 100% comfortable remoting into a server, it's wise to stick with fully managed solutions in order to limit the trouble you can cause on your own.
Liquid Web promises 24/7 customer support. Likewise, their home page states that customer support will be provided within 59 seconds. A 100-percent uptime guarantee is covered by a money back offer that ensures 1,000% compensation for any downtime you experience.
The final word on Liquid Web is that they are an expensive company that's uniquely focused on providing a fully featured web server for each customer. It's not cheap by any standard, but you can expect to get what you're paying for in terms of hardware and customer support.
Full Pricing and Features Table
| | | | | | | |
| --- | --- | --- | --- | --- | --- | --- |
| Plan | Price | Cores | RAM | Storage Space | Backup Storage | Bandwidth |
| Intel Xeon 1230v6 | $169/mo | 4 cores | 16GB | 2×240 SSD | 1×1 TB | 5TB |
| Intel Xeon Gold 6226R – Single | $224.25/mo | 16 cores | 32GB | 2×480 SSD | 1×2 TB | 8TB |
| Intel Xeon Gold 6226R – Dual | $374.25/mo | 32 cores | 64GB | 2×480 SSD | 1×2 TB | 8TB |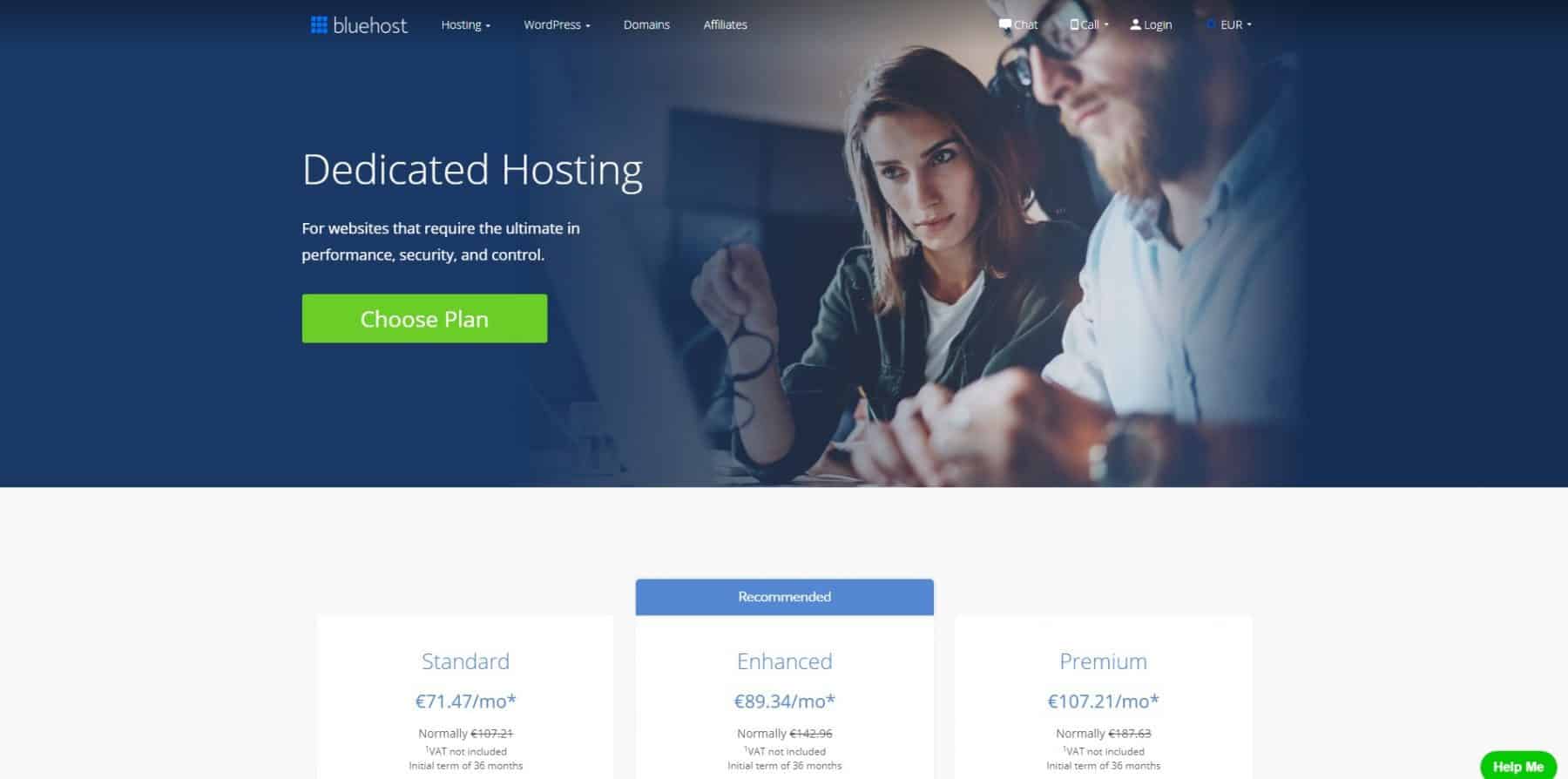 Pricing: Starting at $119 per month
Uptime: Close to 100%
Server Responsiveness: 316 ms
Supported Operating Systems: Linux
Bluehost is generally more focused on cost-effective solutions that take advantage of open-source software. This makes them a great platform for anyone who wants to host a WordPress website, for example. Conversely, the lack of Windows OS support will make their dedicated hosting plans less appealing to some customers. Servers start at 4-core models that support hyperthreading, and if you need a dedicated IP, Bluehost includes up to three per account.
Plans also throw in a free domain name and a free SSL certificate for a year. Bandwidth offerings start at 5 TB per month. Customer support promises to connect you with a live agent within three minutes.
Finding more thoroughly equipped hosting services through the company, though, is hard. It's basically four cores or nothing in terms of processor power, and RAM upgrades are scarce, too. They also push their own in-house software for site building and maintenance, making it less appealing to folks who have training dealing with fairly standardized stacks like LAMP. Those with less experience will be glad to hear that there's some help available from the site builder, especially in making sites more mobile-friendly.
The final word on Bluehost is that their business model simply isn't geared enough to the higher end of the market. If you're looking for cheaper shared or virtual dedicated hosting option, you may be in business. Folks who need the raw computing power of the best dedicated server, however, are encouraged to look at other options.
Full Pricing and Features Table
| | | | | | |
| --- | --- | --- | --- | --- | --- |
| Plan | Price | RAM | Storage Space | Bandwidth | Free Domains |
| Standard | $79.99/mo | 4GB | 2x 500GB | 5TB | 1 |
| Enhanced | $99.99/mo | 8GB | 2x 1000GB | 10TB | 1 |
| Premium | $119.99/mo | 16GB | 2x 1000GB | 15TB | 1 |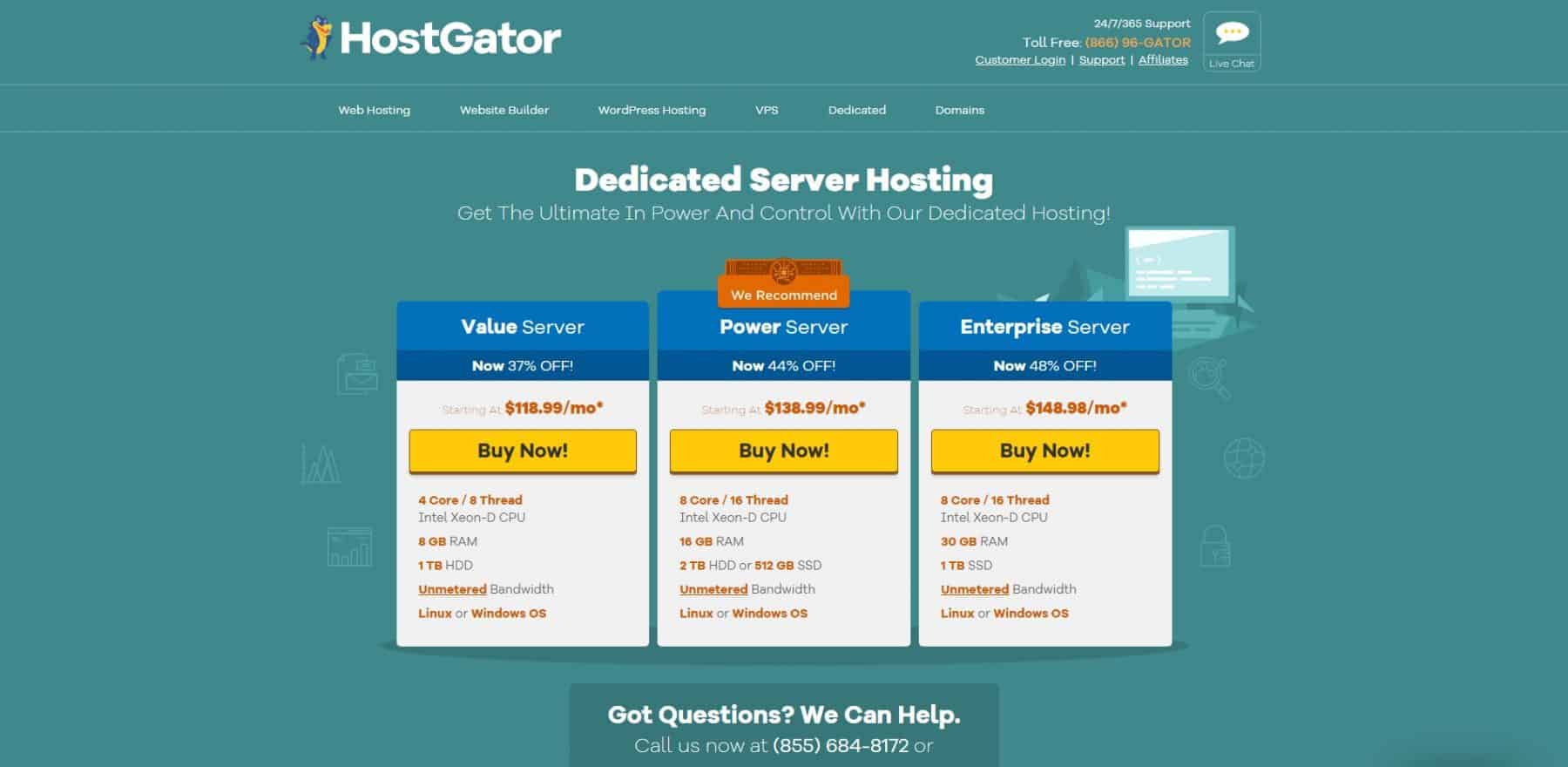 Pricing: Starting at $119 per month
Uptime: 99.99%
Server Responsiveness: 1,016 ms
Supported Operating Systems: CentOS, Ubuntu, Debian or Windows on Semi-Managed and CentOS or Windows on Fully Managed
HostGator is another company that has carved out a niche at the low end of the market, and it suffers in the dedicated server sphere for much the same reasons as the other web hosting providers do. Its plans aren't peculiarly cheaper than the alternatives, HostGator doesn't have a great reputation for responsiveness.
Overall reliability, though, tends to be a hallmark of HostGator. Likewise, the company has been a leader among hosting companies for nearly two decades. You can definitely bet on them continuing to be around. Their servers might not be the most responsive on the market, but long-term availability is a definite plus and has been proven over multiple decades.
Another great bright spot for HostGator is unlimited metering of bandwidth. This can be a major appeal for those who need to handle relentless loads from large numbers of visitors or customers.
Site-building software built by HostGator is also a pro in its favor. The company doesn't offer VPS options, so it's pretty much dedicated or nothing in terms of getting an operating system environment you control. As is generally the case with all web hosting firms, their dedicated hosting plans include root access. You'll also get some level of DDoS protection, although don't expect the kind of load balancing that a high-end data center might have.
One offer that HostGator makes that many others don't with their dedicated server plans is continuous patching of managed and semi-managed servers. For folks who don't want to live in constant terror that the next big zero-day exploit is going to be the end of a web server, that promise is something to think about.
Scaling up is a major weak point. While the company's four-core Xeon processor offering is pretty much an industry standard at the low end, an 8-core plan is about all you can expand to. Other options merely provide additional RAM and storage, but you'll be left with no options if you need actual compute power.
The final word on HostGator is that they are appealing to relative novices who need the power of a fully managed and dedicated server. They'll probably feel a bit disappointing to hardcore users who are comfortable using their favorite SSH client to remote into a Linux box.
Full Pricing and Features Table
| | | | | | |
| --- | --- | --- | --- | --- | --- |
| Plan | Price | Cores | RAM | Storage Space | Bandwidth |
| Value Server | $89.98/mo | 4 core | 8GB | 1TB | Unmetered |
| Power Server | $119.89/mo | 8 core | 16GB | 2TB | Unmetered |
| Enterprise Server | $139.99/mo | 8 core | 30GB | 1TB | Unmetered |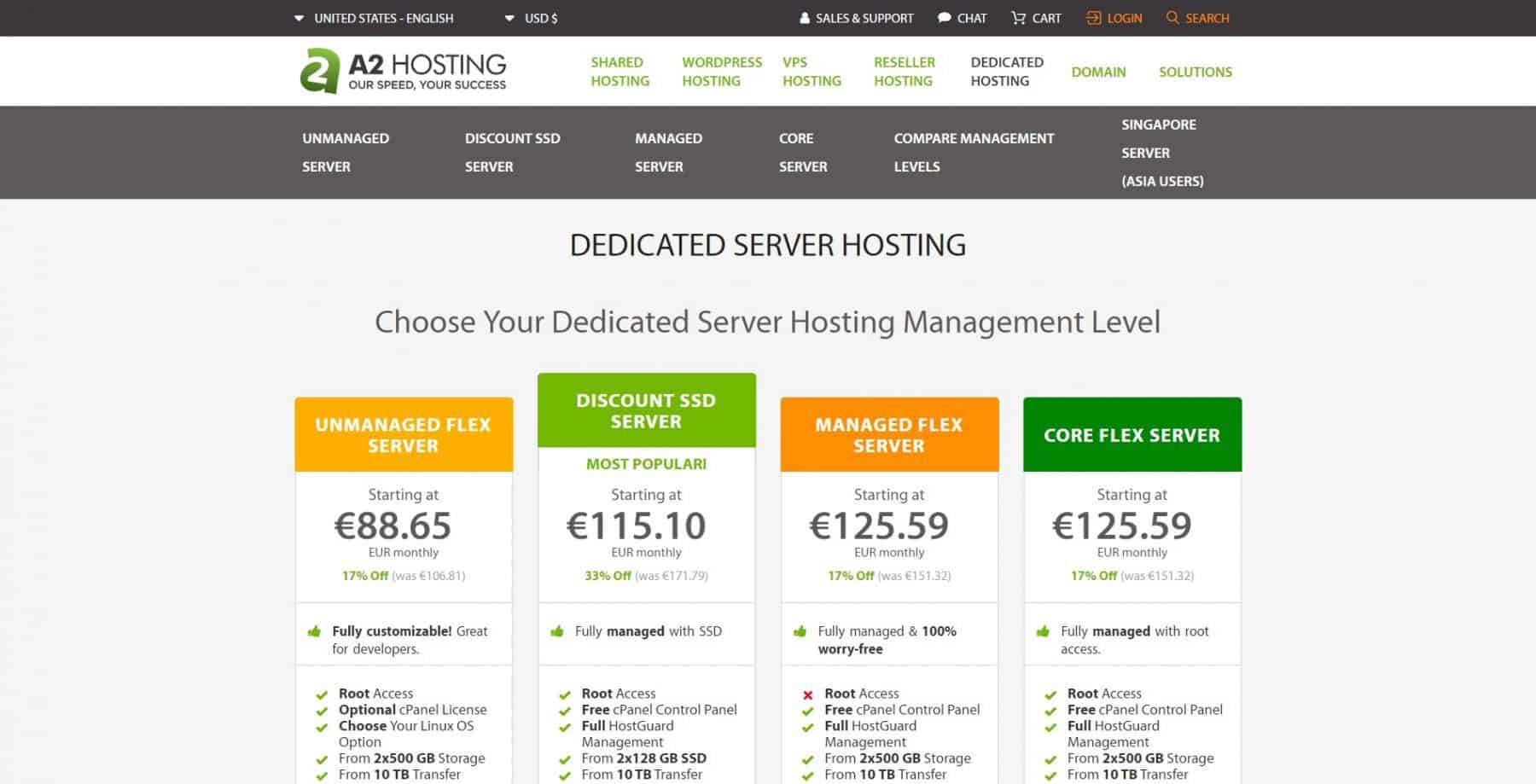 Pricing: Starting at $99.59 per month
Uptime: 99.98%
Server Responsiveness: 260 ms
Supported Operating Systems: Ubuntu and Windows
At first blush, unmanaged dedicated servers from A2Hosting look like a really good deal. Digging into the details, though, we quickly see that the offering of a Core i3 processor on those entry-level offerings makes the deal look much worse. Upgrades to Xeon-based systems are available, but their pricing on the unmanaged tier is worse than what we see from many companies at the better managed tier. A2Hosting does offer plenty of storage, featuring 2×500 GB RAID 1 storage at the entry level that's upgradeable to 2×4 TB, but the relatively poor uptime performance means you probably won't be building a data center with any of these systems.
Managed servers without root level access ring up at $141 per month, making the next level up not much better. They do offer cPanel as a control panel, and they provide an anytime money back guarantee. Servers with 8+ cores are prohibitively expensive, starting just below $300 per month. Strangely, root-level access costs the same amount as these other offerings. A Free SSL is on offer, and there is VPS hosting available, too.
The Ubuntu offering is about one full version behind the current makes. Windows does come with Plesk control panel and ASP.NET functionality that includes support for the more modern .NET, MVC and Silverlight.
The final word on A2Hosting is that it offers nothing great unless you want the larger storage capacities on the unmanaged dedicated server hosting solutions. Oddly, these greater capacities are unavailable for a more expensive dedicated server with root-level access, and that just seems downright puzzling.
Full Pricing and Features Table
| | | | | | |
| --- | --- | --- | --- | --- | --- |
| Plan | Price | RAM | Storage Space | Transfer | Root Access |
| Hyper 1 | $105.99 | 16GB | 2×1 TB | 6TB | Included |
| Hyper 1 AMD | $135.99 | Turbo CPU | 32GB | 10TB | Included |
| Hyper 2 Turbo AMD | $165.99 | Turbo CPU | 2×1 TB | 10TB | Included |
| Hyper 2 Intel | $135.99 | Turbo CPU | 32GB | 10TB | Included |
| Hyper 2 Turbo Intel | $165.99 | Turbo CPU | 64GB | 10TB | Included |
| Hyper 3 AMD | $425.99 | Turbo CPU | 64GB | 15TB | Included |
| Hyper 3 Turbo AMD | $455.99 | Turbo CPU | 128GB | 15TB | Included |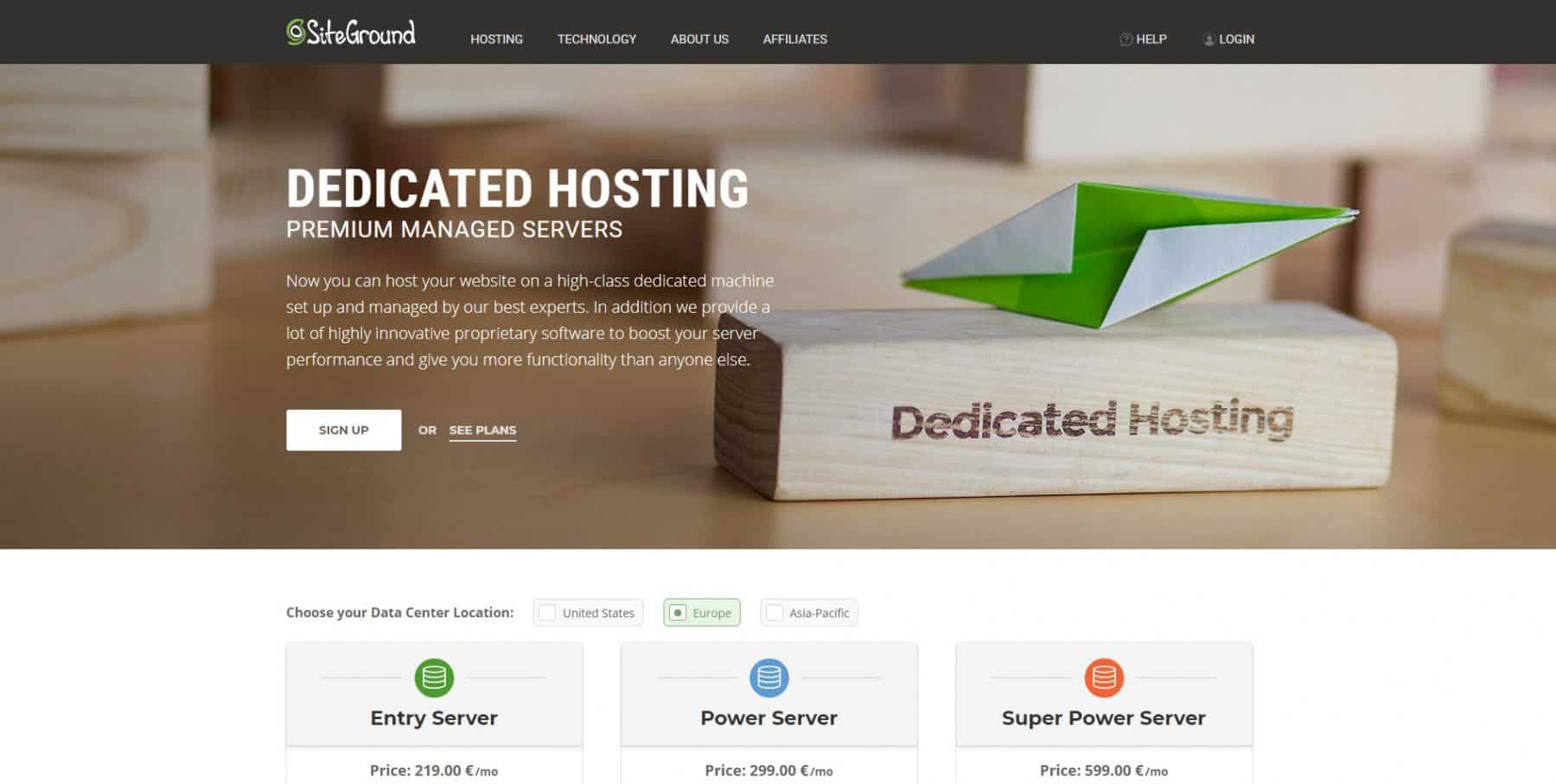 Pricing: Starting as $269 per month
Uptime: 99.99%
Server Responsiveness: 710 ms
Supported Operating Systems: Linux
The lack of an upfront explanation of what kind of operating system will be running on your dedicated server is perplexing. Likewise, SiteGround doesn't pretend to compete on price with other web hosting companies.
Where they might prove themselves to be the best dedicated server hosting provider in a specific category, though, is the ability to select the location of your data center. This can seem like a small deal, but they offer you the choice of a machine that's hosted by a data center in:
North America
Europe
The Asia-Pacific region
That might seems like a small issue to some, but it can mean a lot when a business is trying to connect as quickly as possible to users all over the world. Resolving to a dedicated IP on each continent offers the ability to take a number of hops out of each connection. Bear in mind that a firm with a truly global presence would need to pay for separate servers at a data center on each continent to take full advantage of these capabilities.
Another selling point for those who have a need for speed is the company's focus on SSD-based web hosting. They also provide an upgrade to more compute power, but these don't come cheap. Caching options are available, too, allowing you to ensure that repeat site visitors won't put a damper on your server's overall workload.
The company is also another one that's narrowly focused on providing dedicated servers. They don't offer VPS, and there are no lower shared tiers. Folks just breaking into the world of hosting plans won't find SiteGround to be the place to go to start a small website, that's for sure.
The final word on SiteGround is that they're the company you'll want to go with when you're trying to shave every possible second off your dedicated server hosting performance. It's not a cost-effective solution, and that's not what SiteGround is about. If you're willing to pay and you want the Ferrari of hosting services, then you'll definitely want to give them a long look. If you were already put off by some of the other hosting providers and their prices, you'll want to look elsewhere.
Full Pricing and Features Table
| | | | | | | |
| --- | --- | --- | --- | --- | --- | --- |
| Plan | Price | Clock Speed | Cores | RAM | Storage Space | Bandwidth |
| Entry Server | $269.00 | 3.20Ghz | 4 CPU cores | 16GB | 480GB | 10TB |
| Power Server | $349.00 | 3.50Ghz | 4 CPU cores | 32GB | 960GB | 10TB |
| Super Power Server | $729.00 | 2.00Ghz | 2×6 CPU cores | 64GB | 2x 960GB | 10TB |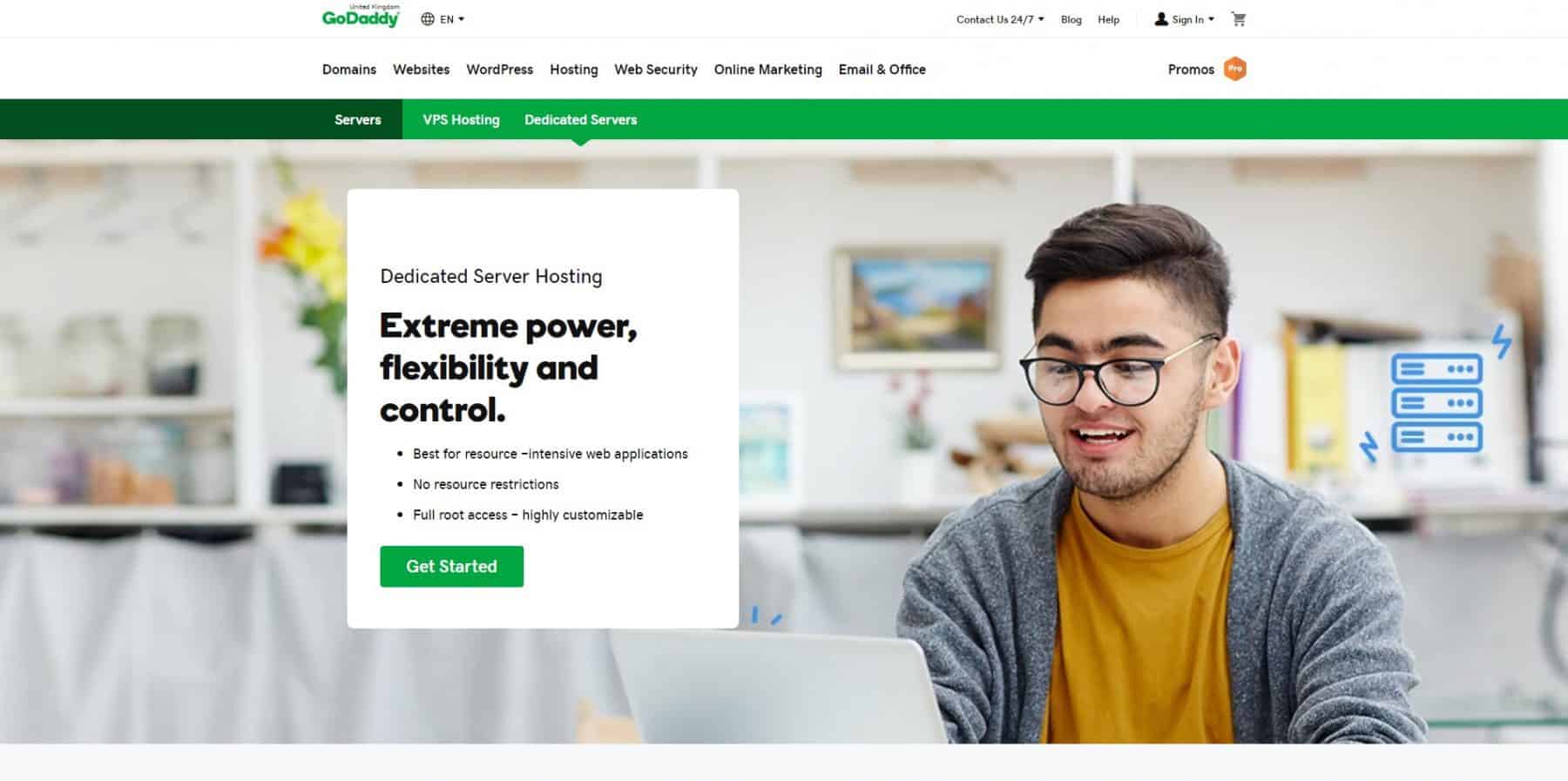 Pricing: Start at $169 per month
Uptime: 99.98%
Server Responsiveness: 669 ms
Supported Operating Systems: CentOS, Fedora, Ubuntu and Windows
GoDaddy is one of the most annoying web hosting companies on the planet. It is notorious for having a checkout system that will have you begging for the sweet release of death.
Everything about GoDaddy is built on a simple business model: always be selling. You'll get great introductory offers followed by nearly doubled costs once you go to renew. Their system will constantly nag you about adding on products and services, and there's simply no way to ever make it leave you alone. GoDaddy used to be thick with great deals on many products, but now everything is introductory and limited. What was once a company that offered users a reason to tolerate its shortcoming has now evolved into an aging beast of the early internet that just refuses to die.
Customer service is terrible until you work your way up the phone tree to the top-tier techs, although VIP customers that bring in money get special account managers appointed. They do offer cPanel as a cheap add-on for $4.99 a month, and their in-house flavor of control panel in non-terrible.
Unlimited bandwidth metering is likely the only attraction for GoDaddy customers. The RAM provided with the economy model package, 4 GB, is bad even compared to other hosting companies' low-end options. They do at least give you three dedicated IPs and a free SSL certificate for the first year. Also, the CPU is a proper four-core setup. The included 1 TB of storage is a solid size, and it's a proper RAID-1, what we'd expect for an entry-level offering.
The final word is that the company puts more money into acquiring customers than into keeping them. Unless you already have a number of other products with GoDaddy, such as domain names, it's probably not a great choice. They do, however, have some pretty good prices and options in the VPS and VDS range. Unfortunately, most of these are unmanaged solutions that feel almost rigged to fail.
Full Pricing and Features Table
| | | | | |
| --- | --- | --- | --- | --- |
| Plan | Price | Clock Speed | RAM | Storage Space |
| DS-32 | $139.99 | 3.0GHz | 32GB | 2x 500GB |
| DS-64 | $179.99 | 4.5GHz | 64GB | 2x 500GB |
| DS-128 | $319.99 | 2.9GHz | 128GB | 2x 1TB |
| DS-256 | $419.99 | 2.9GHz | 256GB | 2x 1TB |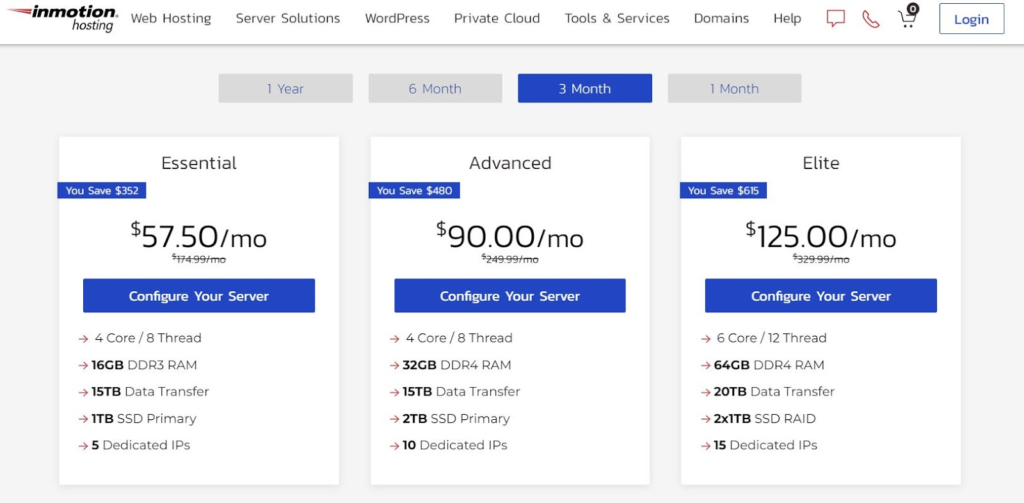 Pricing: Starting at $57.50 per month
Uptime: 99 to 99.99%
Server Responsiveness: 639 ms
Supported Operating Systems: CentOS
InMotion Hosting is a company that's focused on attracting bloggers who want to make use of the WordPress platform. They use a pretty much one-size-fits-all solution that makes good use of the LAMP software stack and cPanel.
Customers can also expect the company to put a lot of effort into backing up their sites and providing restoration services at no additional charge. Limits on this can get weird, though, with the restore only available for use once every four months. Also, anything over 10 GB in size won't be backed up.
They employ a delayed verification process for signups, and plenty of scrutiny is applied to non-U.S. customers. This is great in terms of security, but it makes them painful to deal with when you're trying to get a project rolling right now.
Dedicated server hosting is mostly there as a final frontier for their core customers, the WordPress bloggers. The upside to this is that a dedicated hosting account receives two hours of managed hosting support a month for free, more than enough to resolve most common issues. On the downside, don't expect InMotion to go out of its way to help you set up a computing- or data-intensive server. If you're not inclined towards using some form of standard PHP and MySQL software, they're not the place to be.
InMotion can get a bit on the GoDaddy side of things with the offers, too. They do, however, provide introductory offers that cut bills almost in half. If you're willing to shell out for two years of hosting, you may get a decent initial deal.
One big advantage is the company's Launch Assist software. This is designed to help non-techies transfer existing blog sites from other providers. Migration times take between two and four hours, and the company promises that system admins will be there to hold your hand through every step of the process.
The final word on InMotion is that they're an okay company that cares about a very specific niche. If you're just looking for WP and LAMP compatibility, you'll probably be alright. This is especially the case if you otherwise lack any skills in setting up websites.
Folks who want Windows dedicated server hosting can forget about it. Truthfully, most users who have some level of skill using a shell in a UNIX-style environment will find InMotion's offerings to be disappointing and overpriced.
Full Pricing and Features Table
| | | | | | |
| --- | --- | --- | --- | --- | --- |
| Plan | Price | RAM | Bandwidth | Storage Space | Dedicated IPs |
| Essential | $139.99/mo | 16GB | 1Gpbs Unmetered | 1TB | 5 |
| Advanced | $189.99/mo | 32GB | 1Gpbs Unmetered | 2TB | 10 |
| Elite | $259.99/mo | 64GB | 1Gpbs Unmetered | 2x 1TB | 15 |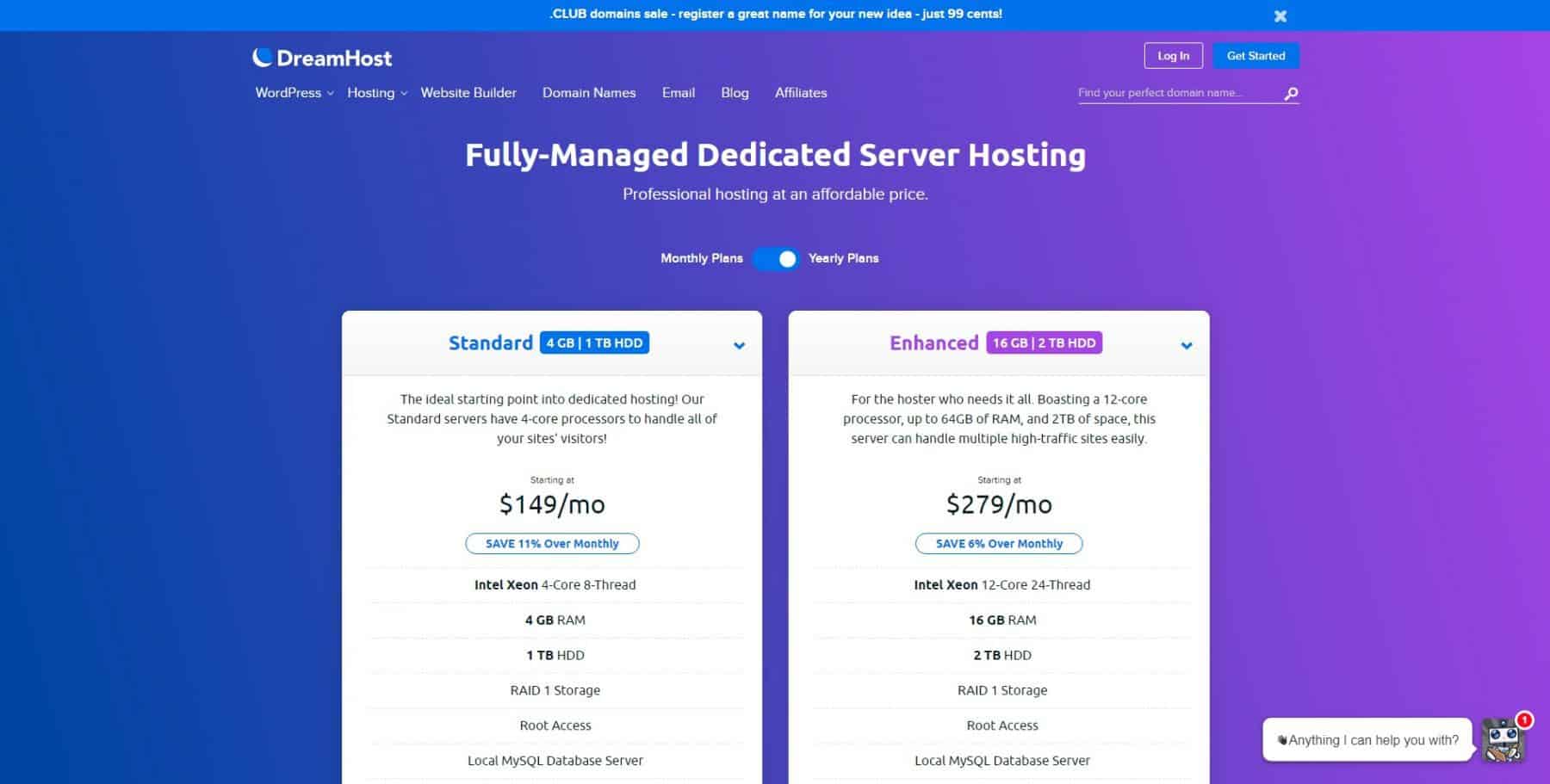 Pricing: Starting at $169 per month
Uptime: 99.9%
Server Responsiveness: 644 ms
Supported Operating Systems: Ubuntu
Unlike many dedicated server providers that also offer a ton of different products, Dreamhost isn't focused on hitting you with a sales pitch that screams, "Deals! Deals! Deals!" Instead, Dreamhost simply offers an impressive range of products and services that includes everything from shared hosting plans all the way up to dedicated hosting packages that include 12-core processors.
Dreamhost does achieve a bit of trade-off on the customer service side of the equation, though. It isn't so much that they don't provide solid customer support as it is they only have an online system. There are no call centers, and you don't receive any assurances you won't initially be talking with a bot before being escalated to deal with a human agent.
On the operating system part of the ledger, the pickings are slim. It's Ubuntu or bust, and even there the offering is a much older edition in 12.04 LTS. It's a version that's still supported, but it's far from a cutting-edge solution for a web server to be running.
Dreamhost also goes a step further in the free SSL certificate game. Rather than offering you one for a single year that you then have to shell out cash for, you get yours in perpetuity as long as you maintain your plan.
Many upgrade paths are in evidence, and the company allows users to set up their servers from 4 to 12 processor cores. Likewise, you can upgrade all the way to 64 GB of RAM and 2 TB of storage. There is also robust support for many new software packages outside of the LAMP ecosystem, including Ruby and Node.JS. Dreamhost is even in the beta stage of providing cloud-hosted computing instances for folks who need hardcore processing power for intensive operations, such as encoding and decoding video uploads and streams.
The final word on DreamHost is that it's like someone invented a version of GoDaddy that didn't suck. There are varied offerings, allowing you to keep all your items like domains and IPs on a single account without feeling like you're being badgered to buy "more, more, more!" by a furniture salesman. Dreamhost is a company that takes an interest in coming off as the best dedicated server hosting company even while it manages to sell other products. Yes, a dedicated server hosting business can walk and chew bubble gum without falling on its face. Who knew getting a dedicated server could be relatively painless?
On the downside, alternatives for operating systems are non-existent. Windows folks can simply go elsewhere, and so can folks looking for access to distros besides Ubuntu. Overall, Dreamhost provides a pleasant experience in a professional package, something that can be hard to come by.
Full Pricing and Features Table
| | | | | |
| --- | --- | --- | --- | --- |
| Plan | Price | Core | RAM | Storage Space |
| Standard | $169.00/mo | Intel Xeon 4-Core 8-Thread | 4GB | 1TB |
| Enhanced | $299.00/mo | Intel Xeon 12-Core 24-Thread | 16GB | 2TB |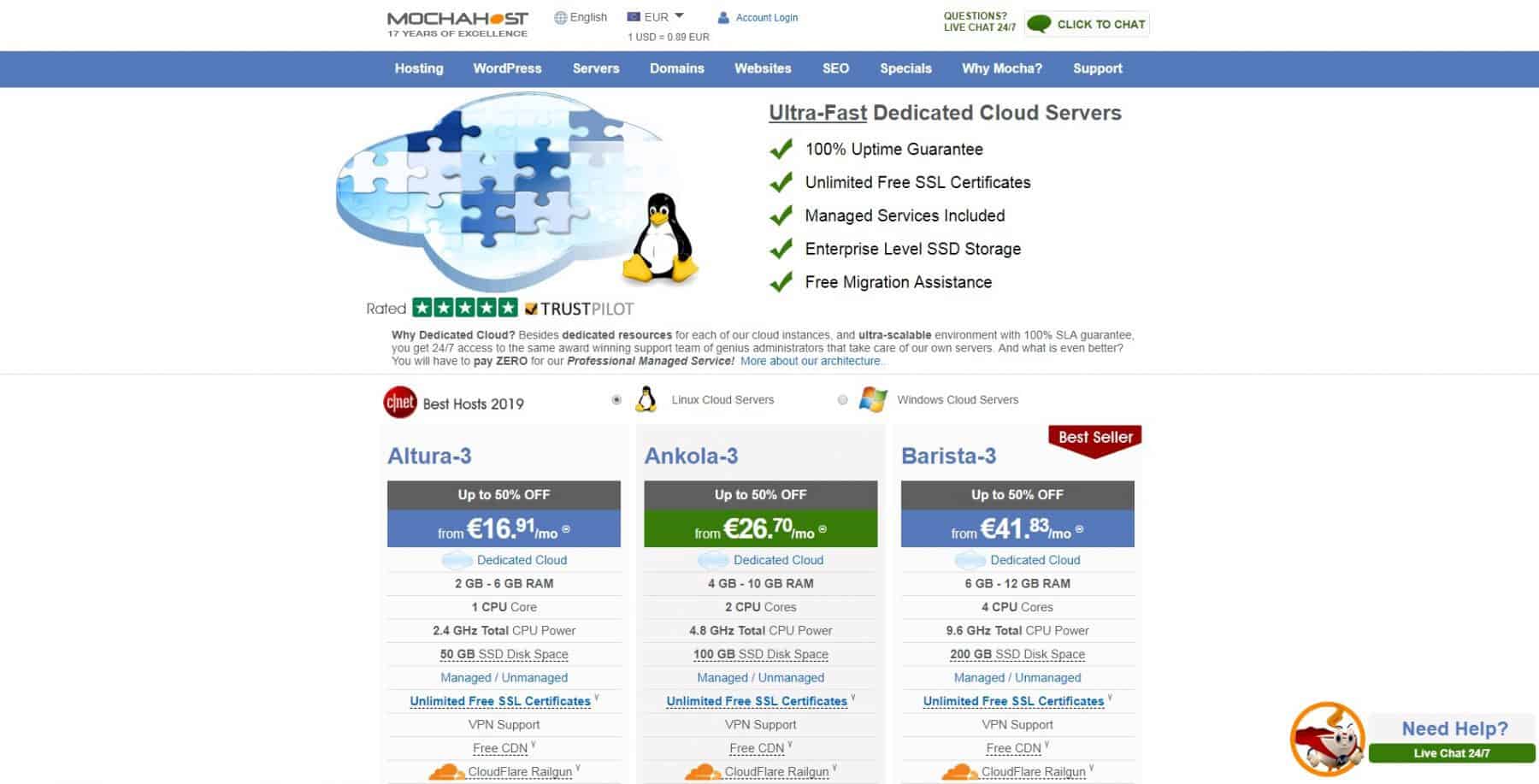 Pricing: Starting at $19 per month
Uptime: 99.99%
Server Responsiveness: 1138 ms
Supported Operating Systems: Fedora and Windows
If that low starting price for MochaHost has you wondering what's the hitch, you're not wrong. The distinction between their dedicated server offerings and those that others provide is that they're not offering a dedicated server in the classic sense. All dedicated server plans from MochaHost are actually cloud-based instances designed to function like dedicated servers.
This has its pros and cons. Obviously, pricing is a definite pro. Likewise, the ability to scale from a single-CPU instance all the way up to a 16-core setup makes scalability much more linear, and the company claims that existing instances can easily be scaled with the addition of new resources.
One major con, though, is that a cloud instance is never a genuinely dedicated server in the sense that a dedicated server is a single machine that hosts your website. Cloud instances do suffer from similar privilege escalation issues that other solutions like VPS, VDS and shared hosting have. You're vesting a lot of trust in the company to keep your cloud instances secured even as other sites hosted in the same cloud will inevitably come under attack.
If you're already comfortable with the risks that come with VPS hosting plans, the MochaHost likely offers an upgrade path you'll find appealing. Getting 16 cores of processing power for a price (under $170 per month) that some hosting companies are offering just four cores is definitely a selling point.
Not surprisingly, customer support is a bit iffy in this price range. In fact, you may be put in touch with an overseas operator.
Response times from MochaHost are above the one-second threshold that many consider acceptable within the industry. You're definitely not getting the teched-out supercar when you go with MochaHost. Unlimited SSL certificates for free is a solid sales pitch, and the company includes a CDN that should speed up static pages. CloudFlare is also included, providing greater security against DDoS attacks.
The final word is that it's a good option if you are looking for a low price, don't mind minor security risks and can put up with slow response times. If SiteGround is the Ferrari of the dedicated server world, then MochaHost is the Honda Civic. It's not a beast, but it can be slowly built up to what you need over time.
Full Pricing and Features Table
| | | | | | |
| --- | --- | --- | --- | --- | --- |
| Plan | Price | RAM | CPU Core | Clock Speed | Storage Space |
| Altura-3 | $19.00 | 2-6GB | 1 core | 2.4GHz | 50GB |
| Ankola-3 | $30.00 | 4-10GB | 2 cores | 4.8GHz | 100GB |
| Barista-3 | $47.00 | 6-12GB | 4 cores | 9.6GHz | 200GB |
10. Amazon EC2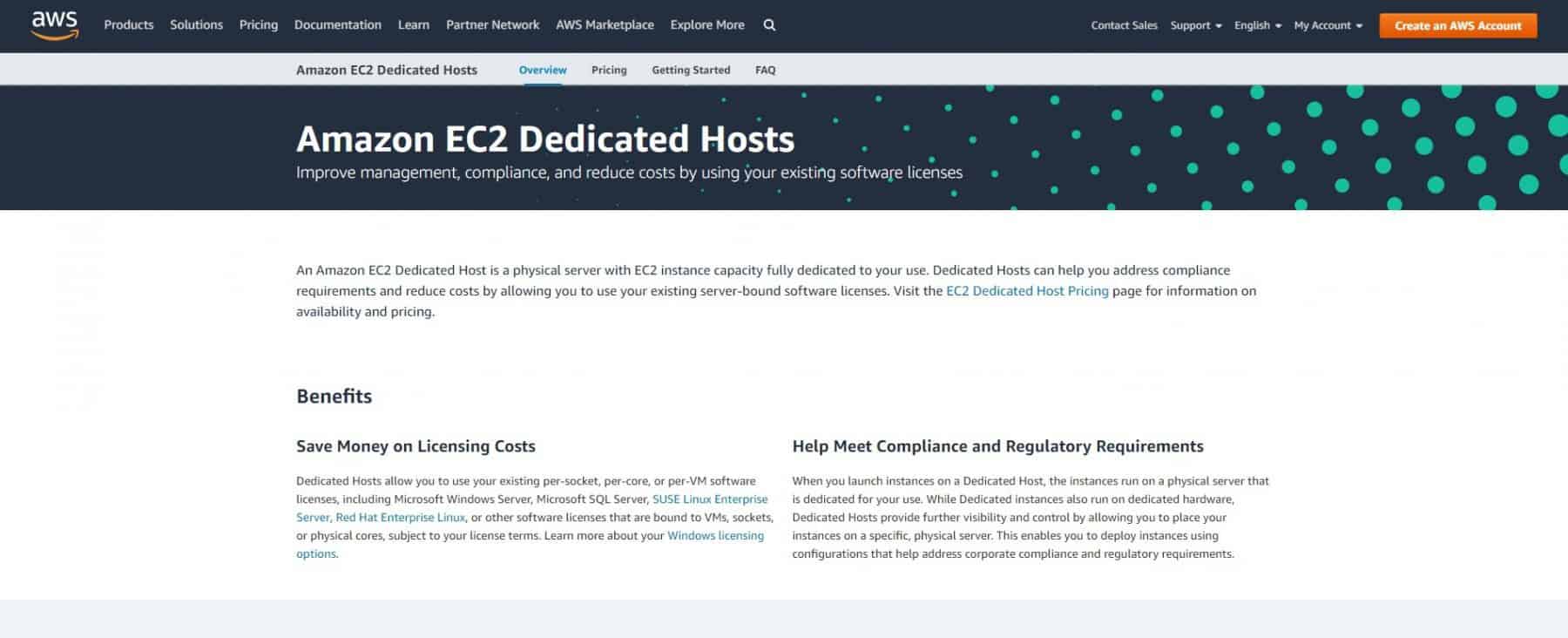 Pricing: $0.027 per hour
Uptime: 99.99%
Server Responsiveness: Undetermined
Supported Operating Systems: RHEL and Windows
Another entrant in the dedicated server cloud hosting business is Amazon and its EC2 system. What you'll instantly notice that's weird with EC2 is that the billing system is based on a "per hour" cycle. Now, this isn't every single waking hour. Instead, it's billed for every hour of clock cycle that the system spends processing things. When there's no incoming traffic, you'll only be paying for a few seconds worth of internal operations on your server instance.
As is the case with MochaHost, you're not really getting a dedicated server. You're getting a cloud instance that provides between 2 and 96 CPU cores worth of processing power based on your plan. Similarly, you can also scale your instances up and down in total resource.
One thing that makes Amazon EC2 especially interesting is that you have the right to install any software you have a license for on the server. In most cases, this is something you can do on all servers that offer root-level access. Amazon, however, makes it clear in its terms of service that you're allowed to do this.
EC2 is designed more for compute-heavy applications than for web hosting. Machine learning and video streaming companies often utilize EC2. That said, you absolutely can set up basic web hosting on EC2. There is also a "Try EC2 for Free" option that allows you to set up a minimal instance at no cost.
Perhaps the biggest selling for any Amazon product is that the company has data centers all over the planet. This can be particularly appealing to companies that need to serve customers on different continents, as improved latency can be anticipated.
A major downside is that Amazon isn't deeply into the web hosting game. You're going to have to familiarize yourself with a wide range of tutorials that are offered. In other words, EC2 is a uniquely bad option for novices. Even some experienced folks may find it frustrating to have to acquire new skills instead of just being able to sign up right away. Likewise, the cost control side of things isn't readily evident, and that can make many users tepid about jumping onto EC2.
The final word on Amazon EC2 is that it's a great option if you can live with a degree of uncertainty about cost controls. Major companies use it all the time. It's also extremely flexible, as you can even deploy your own software on it.
Folks who don't want to ride a slight learning curve to get a site up probably aren't going to jump on EC2. Those who've found themselves at the absolute limits of even the 16-core CPU offerings from other companies, though, may be glad to know there's at least one more checkdown.
A particularly interesting use case for EC2 is scaling up and down over seasons. For example, a company that gets tons of holiday web traffic on an e-commerce site can scale up to 96 cores to handle the load over the winter and then shrink down to 4 cores during the slow period the other 9 or so months of the year.
Last Updated on September 6, 2022 by Adrian Grant