You deserve the best web hosting support because you're too busy to waste your time dealing with technical complications that prevent you from pushing your website and business forward.
Bad customer support leaves you confused, angry, and losing money.
It's probably the #1 most important thing for web hosting.
Why?
Unless you're a web developer or IT pro, you're going to run into issues with your web hosting.
It's a fact of life, like death and taxes.
So who can you trust to get stellar customer support in 2020? We've searched high and low for the best and brought them to you here.
7 Best Web Hosting Support & Customer Service Hosting Companies
| wdt_ID | Hosting Provider | Lowest Price | Load Time | Websites Allowed | Hosting Capacity | Customer Support | Our Rating |
| --- | --- | --- | --- | --- | --- | --- | --- |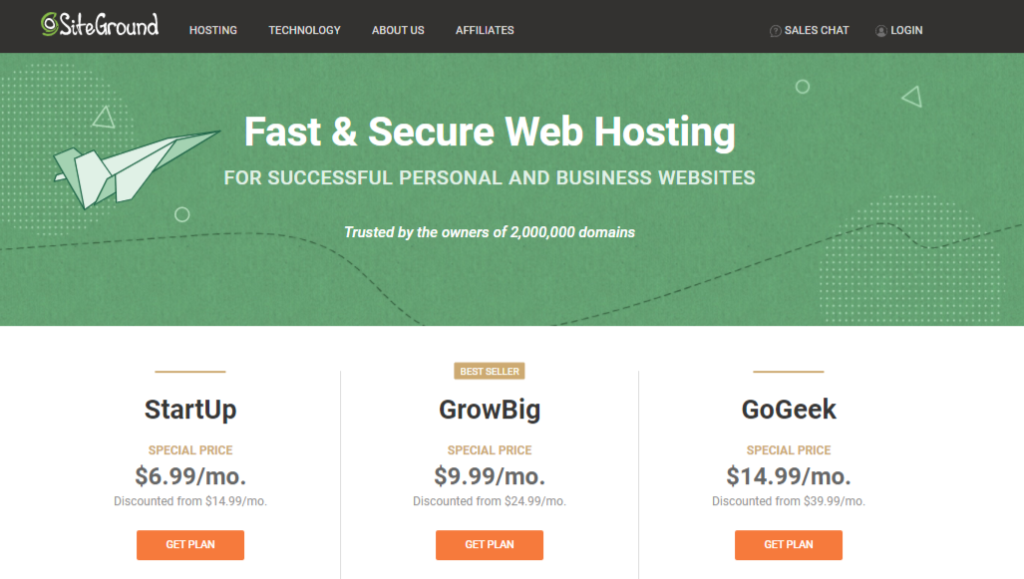 SiteGround absolutely knocks it out of the park with their customer support.
They're fast, polite, and go above and beyond to support you.
This website is hosted on SiteGround because they're simply amazing.
I can't tell you the number of times I've had bonehead issues and they've helped me right away.
In fact, their customer support times are the best in the business.
My own testing shows that they reply in under one minute on live chat, and under ten minutes when you post a ticket.
Now, this is just my own testing for now, but many will say the same.
If you just want the overall best host for customer support – go with SiteGround. I mean it.
PC Mag said this about SiteGround: "you pay a bit more for a bit less in the way of technical features, but the solid security, customer service, and tutorials make this Web host extremely friendly for small businesses and new webmasters."
SiteGround Support Pros:
24/7 phone support – average wait time just 5 seconds
24/7 chat support
Chat support question answer in just minutes (often seconds)
Ticket system for complex issues, handled by higher-tier technical specialists
Very friendly support with good English
They help you with WordPress issues
Chat rating system to leave feedback
SiteGround Support Cons:
Once-in-awhile their support systems get overloaded with a long wait – but this is rare
More technical issues can only be answered by ticket support, which takes longer than chat support
SiteGrounds is one of the only hosting companies that go above and beyond in trying to get their customers to spread the word, such as on our SiteGround reviews page, where we have hundreds of reviews.
Full Pricing and Features Table
| | | | | |
| --- | --- | --- | --- | --- |
| Plan | Starting Price | Websites Allowed | Storage Space | No. of Visits |
| StartUp | $3.99/mo. | 1 website | 10GB | 10,000 |
| GrowBig | $6.69/mo. | Unlimited | 20GB | 100,000 |
| GoGeek | $10.69/mo. | Unlimited | 40GB | 400,000 |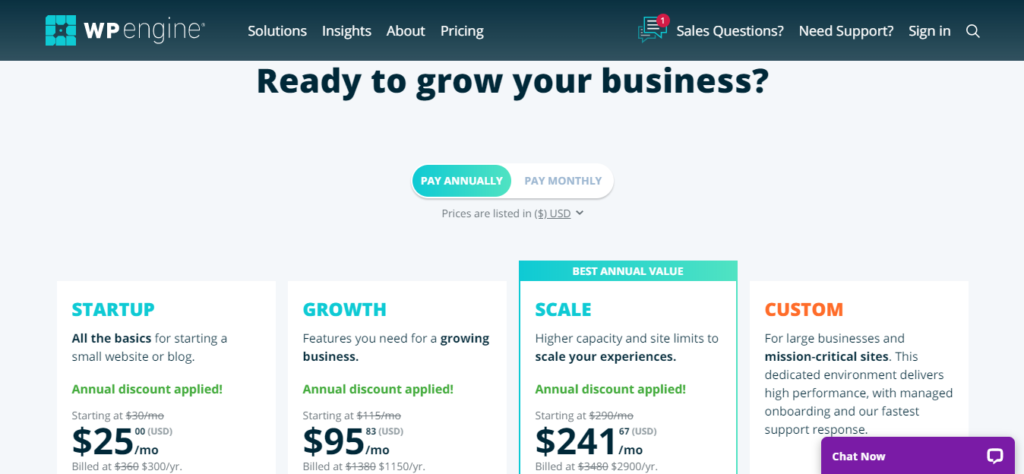 One of the greatest benefits of the WP Engine platform is their built-in backup and malware scan services. Since this is included within your domain hosting service, you can save tons of money every month.
WP Engine is known for providing some of the fastest hosting on the market. Many consumers have cited site speeds vastly improving after migrating to the company's servers. Additionally, the easy migration process makes it simple to rehost your website on WP Engine.
Customer support also shines at WP Engine. For those using WordPress to build sites, the WP Engine staff is particularly well versed in troubleshooting issues on the popular site building platform. Customer reviews have cited the passion of the hosting company, saying that they felt appreciated and that their issues were a top priority.
Perhaps the best feature of WP Engine as a hosting provider, however, is the excellent staging site feature. With this feature, you can easily run your site as if it is online before publishing, allowing you to check for bugs and other important potential issues.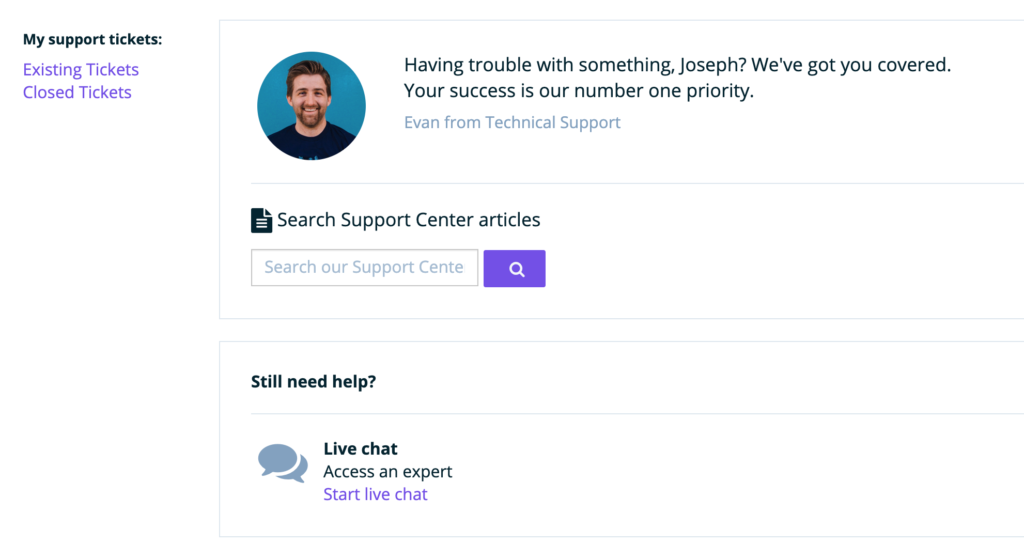 Review publications love WP Engine as well. Qualities such as unlimited data transfers, daily backups, malware scanning, and their site staging all combine to make WP Engine a popular platform.
WP Engine Support Pros:
24/7 chat support – instant responses
U.S.-based support agents
Support answers database
WP Engine Support Cons:
No phone support on cheapest plan
No 24/7 ticket support unless on custom plan
Full Pricing and Features Table
| | | | | |
| --- | --- | --- | --- | --- |
| Plan | Sites Included | Max Visits | Storage Space | Bandwidth |
| Startup | 1 | 25,000 | 10GB | 50GB |
| Professional | 3 | 75,000 | 15GB | 125GB |
| Growth | 10 | 100,000 | 20GB | 200GB |
| Scale | 30 | 400,000 | 50GB | 500GB |
| Custom | 30+ | 400,000+ | 50GB+ | 500GB+ |
Score a WP Engine discount here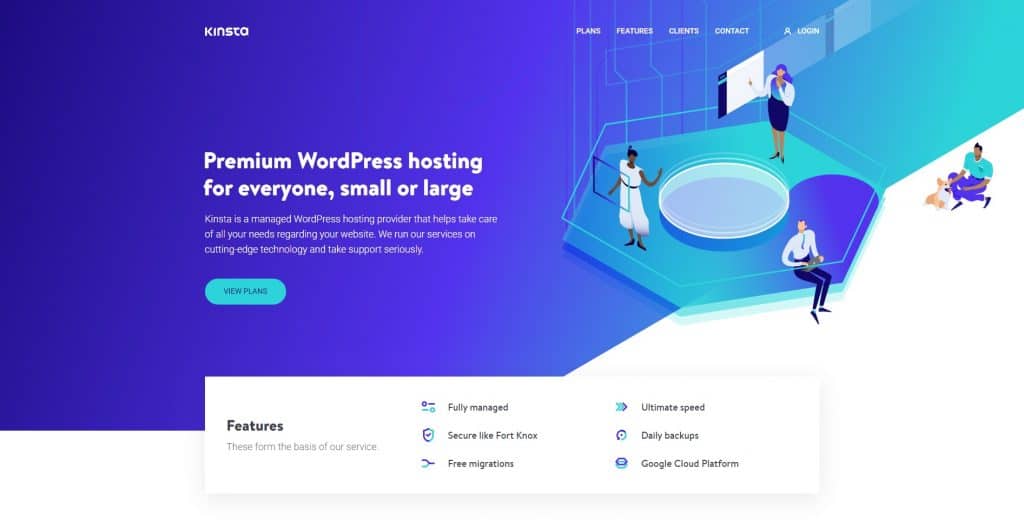 Kinsta may be tied for #2 as the best customer support, we'll continue to monitor and compare them with WP Engine.
So one thing that makes Kinsta absolutely stellar is the fact that you get tier-1 support agents. Instead of "customer support" you get actual IT technicians and real web developers helping you. They know WordPress inside and out and don't need to "ask their manager" for basic technical issues.
Personal testing with Kinsta support showed remarkable response times and highly-trained support agents: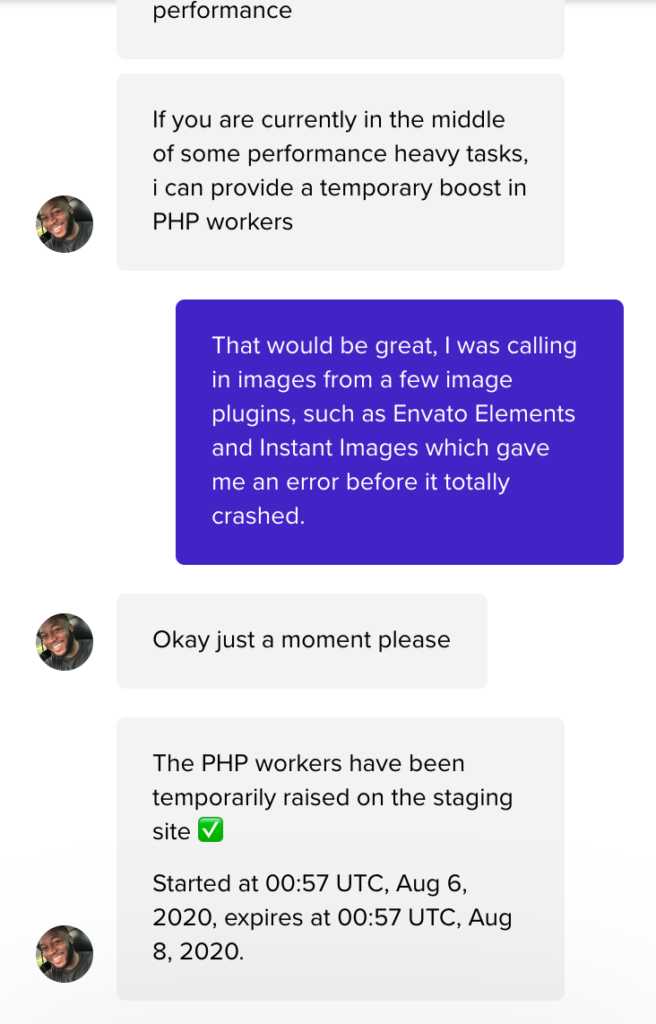 As you can see from this chat, they can quickly respond to more advanced issues, with a smile.
While this may be more expensive for Kinsta, it's better for you. And although Kinsta may start a bit higher on their hosting plans, we think it's an absolute no-brainer for real businesses. If you think about it, a good WordPress developer or technical helping fix your low-quality hosting setup is going to set you back $50 – 150 an hour. But Kinsta plans start at just $30 a month – pretty easy math there.
What's more – tell me, what's the cost of a hack against your company? According to cybersecurity and hacking statistics research, malware, hacking, DDOs, etc cost companies an average of:
$13 million per organization for cybercrime
$2.6 million for a malware attack
$3.86 million for a data breach
So, yes, it pays to pay more for hosting that has you covered with instant customer support for serious issues.
The Kinsta blog is one of the best WordPress blogs on the internet. They cover a huge amount of WordPress topics, taking a super-high-quality approach, and truly contributing something new to the WordPress ecosystem. It's likely you've landed on the blog trying to solve one of your issues.
Kinsta Support Pros:
Advanced support agents
24/7 chat support
Support agents go above and beyond to help
Helpful knowledgebase
Best-in-class blog
Kinsta Support Cons:
Full Pricing and Features Table
| | | | | |
| --- | --- | --- | --- | --- |
| Plan | Starting Price | Max Visits | Storage Space | SSL, CDN, and Staging |
| Starting | $35.00 | 25,000 | 10GB | Free |
| Business Plan | $115.00 | 100,000 | 30GB | Free |
| Agency Plans | $340.00 | 400,000 | 50GB | Free |
| Enterprise Plan | $675.00 | 1,000,000 | 100GB | Free |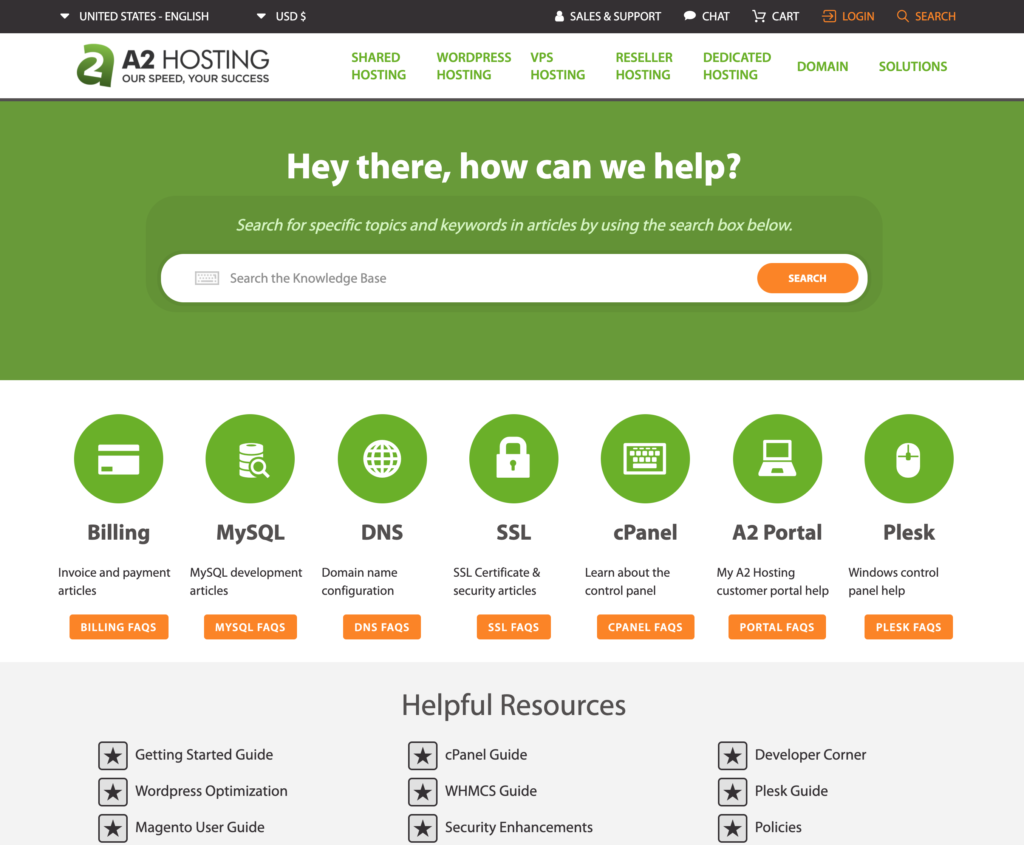 When it comes to cheap AND fast shared hosting, A2 Hosting takes the cake. With speeds up to 20x faster than other shared hosting providers, I definitely recommend them over the "standard" shared hosts.
Providing high-end packages for power users, A2 Hosting is a great choice for users looking for premium hosting services. A2 offers auto-server configuration services, which allow WordPress pages to load up to 6 times faster. Additionally, you get access to unique WordPress login URLs, and automatic A2 optimized updates. To finalize the benefits they offer to WordPress users, A2 allows users to access ReCaptcha technology on their WordPress login pages.
A2 Hosting has been rated as one of the top sites for providing up-to-date transparency options about uptime statistics and rates. Consistently, the company has provided standard uptime rates of 100% to their customers after they rehost their site on the company's servers.
Security for users is another top priority of the A2 Hosting team. With server rewind backups and free HackScan services, you are guaranteed not only secure domains, but money saved on otherwise expensive security and anti-hacking services.
Finally, A2 Hosting is dedicated to customer service initiatives. In fact, the BBB gave the company an A+ rating in customer service. When your company has only four registered customer complaints in a three-year period, you know you're doing customer service right. A2 frequently offers customer surveys to keep their support practices progressive.
But how does their support stack up?
They boast pretty fast support turnaround times, good technical support, and lots of features in addition. There has been some chatter recently about their support being a bit slow, but their team told me that was just temporary.
What I love about their support is that every plan gets treated equally – whether on a cheap $3/month plan or a multiple hundreds of dollars a month plan. Many web hosting companies treat their lower-level plans as loss-leaders and don't respond to their support requests very fast.
Here's a breakdown showing the same support levels across all plans:


One thing I don't like, even though I'm logged in as a paying customer, I have to fill out this form to start chatting with the team: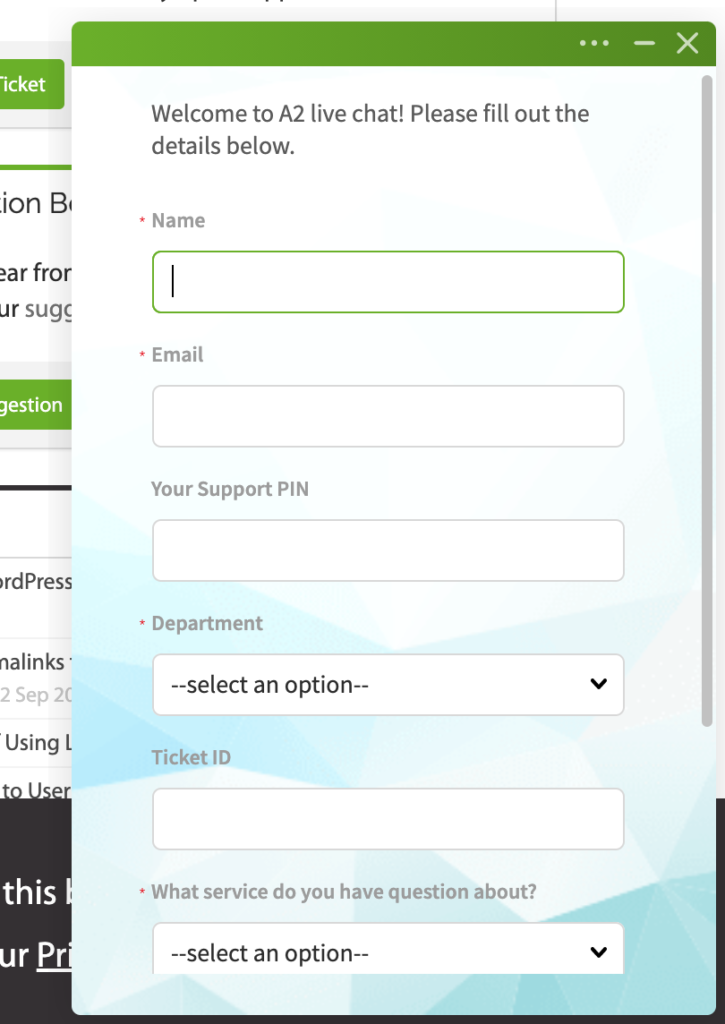 It really should just be a chat box with a much faster process than that.
A2 Hosting Support Pros:
24/7/365 support
Ticket, email, call, and chat channels all available
All plans get the same level of support
Support answers knowledgebase
A2 Hosting Support Cons:
Even as a paying customer you have to fill out a long form before you get chat support
Before you sign up, have a chat with their sales support first and see how you like it.
Want more reading? Check out our A2 Hosting vs SiteGround post to read which of the two we think is better.
Full Pricing and Features Table
| | | | | |
| --- | --- | --- | --- | --- |
| Plan | Starting Price | Websites Allowed | Storage Capacity | Site Migration |
| Startup | $2.99 | 1 | 100 GB | Free |
| Drive | $5.99 | Unlimited | Unlimited | Free |
| Turbo Boost | $6.99 | Unlimited | Unlimited | Free |
| Turbo Max | $12.99 | Unlimited | Unlimited | Free |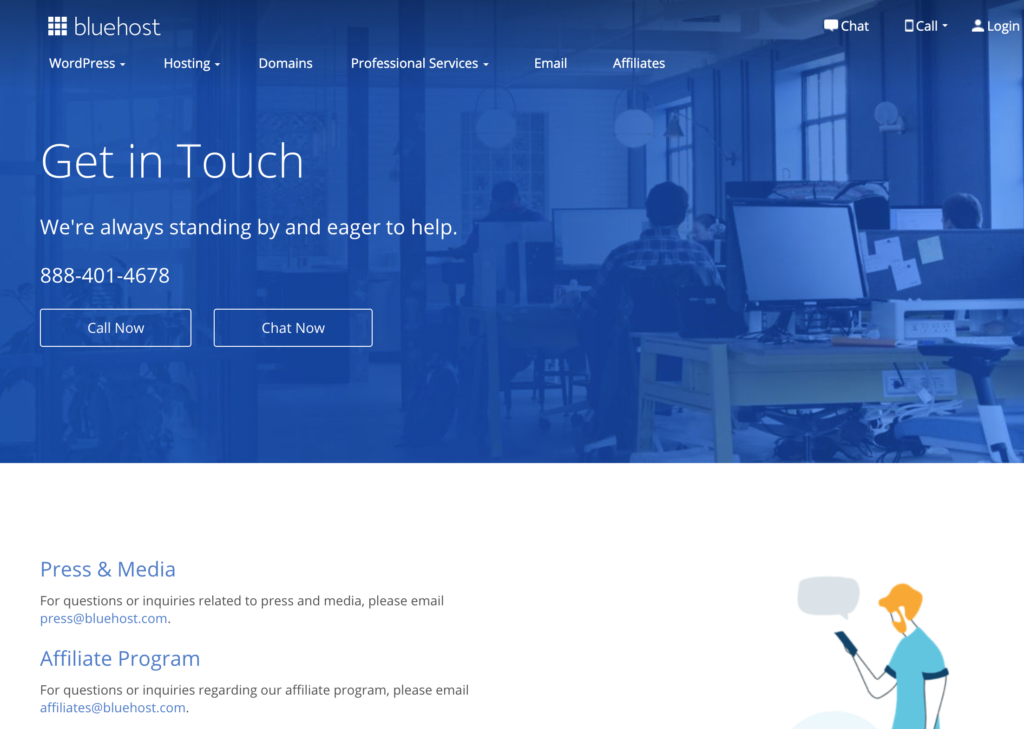 Bluehost is known by everyone. We all know they're super cheap, but their support isn't the greatest, right?
Well they've actually improved tremendously in the last few years. After user complaints, they've stepped up their game and started providing a better product with better support.
On the one hand, we love that they're a high volume host that has low prices and decent support, on the other hand, we recommend a few other hosts on this page above them.
There's no doubt they're highly recommended, and some people just want to know if Bluehost has good support or if it's terrible. We'll tell you straight up – they can get the job done, but they're not the best of the best. But you'll be ok if you go with them anyways.
That being said, you can still expect to wait 5 minutes or more. For example, I set up a chat with them as a new customer ready to spend money and they still made me wait 5 minutes.
I wouldn't be surprised if they're losing a lot of customers from this wait time.
Bluehost Support Pros:
24/7/365 chat and phone support
Large knowledgebase
Bluehost Support Cons:
Wait times longer than best-in-class hosts
Support agent technical ability not as high as other hosting companies
Full Pricing and Features Table
| | | | | |
| --- | --- | --- | --- | --- |
| Plan | Starting Price | Websites Allowed | Storage Capacity | Theme Style |
| Basic | $2.95/mo | 1 | 10GB | Custom |
| Plus | $5.45/mo | Unlimited | 20GB | Custom |
| Choice Plus | $5.45/mo | Unlimited | 40GB | Custom |
| Pro | $13.95/mo | Unlimited | 100GB | Custom |
Get Bluehost for just $3/month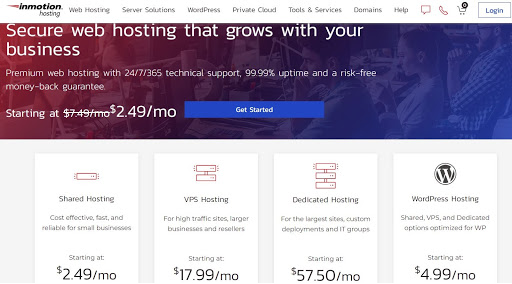 Customer service is often put upfront and center in InMotion's marketing, and for good reason. With a 100% US-located customer service team, you can rest assured that you can easily communicate your issues to the professionals at InMotion. Thanks to the wide variety of support options, including chat, email, phone, and other support functions, you can get in touch immediately from anywhere in the world.
InMotion has proven that the uptime rates they provide to sites that rehost on their servers are desirable. Industry-standard uptimes of 99.9% are consistently reached, and they have completely avoided any major meltdowns, as some other hosting site companies have in the recent past.
Review sites enjoy pointing out the many free tools InMotion provides to their clients, as well as their excellent customer service options. In fact, PC Mag chose InMotion as their top choice for managed WordPress hosting.
InMotion Hosting Support Pros:
24/7/365 chat and phone support
Large knowledgebase
InMotion Hosting Support Cons:
May sometimes be delays in chats
Full Pricing and Features Table
| | | | | |
| --- | --- | --- | --- | --- |
| Plan | Starting Price | Websites Allowed | Storage Capacity | Bandwidth |
| Core | $2.29/mo | 2 | 100GB | Unlimited |
| Launch | $4.99/mo | Unlimited | Unlimited | Unlimited |
| Power | $4.99/mo | Unlimited | Unlimited | Unlimited |
| Pro | $12.99/mo | Unlimited | Unlimited | Unlimited |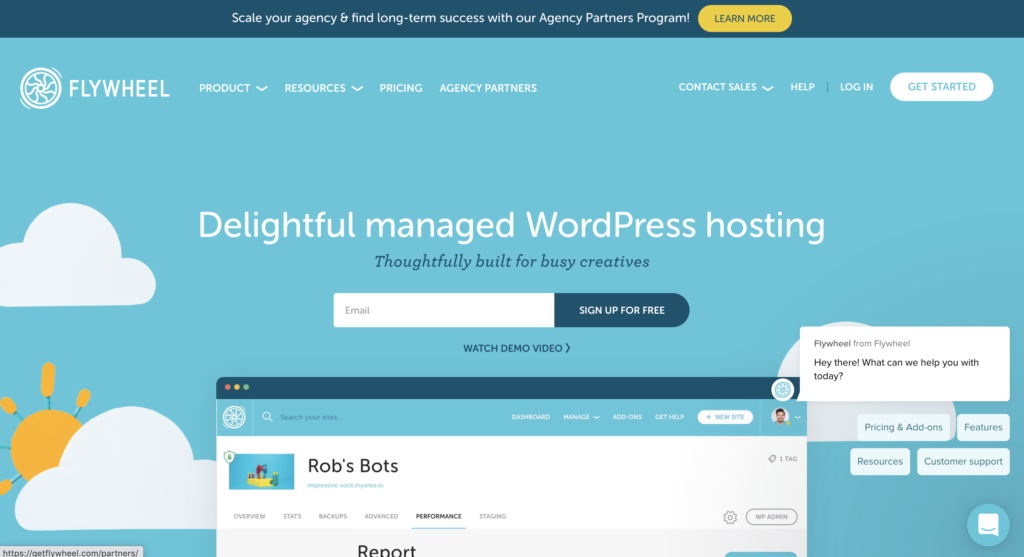 Flywheel has made its place in the world as the hosting company for design agencies. They offer plans that make it easy for creative agencies to resell and manage their clients' hosting. So if you're an agency – they're perfect for you, and their 24/7 support's got your back.
And what sets them apart is they call their support agents "happiness engineers". While it may sound like just a branding play, it shows their dedication to making customer support a value add to their service, and not just a cost center.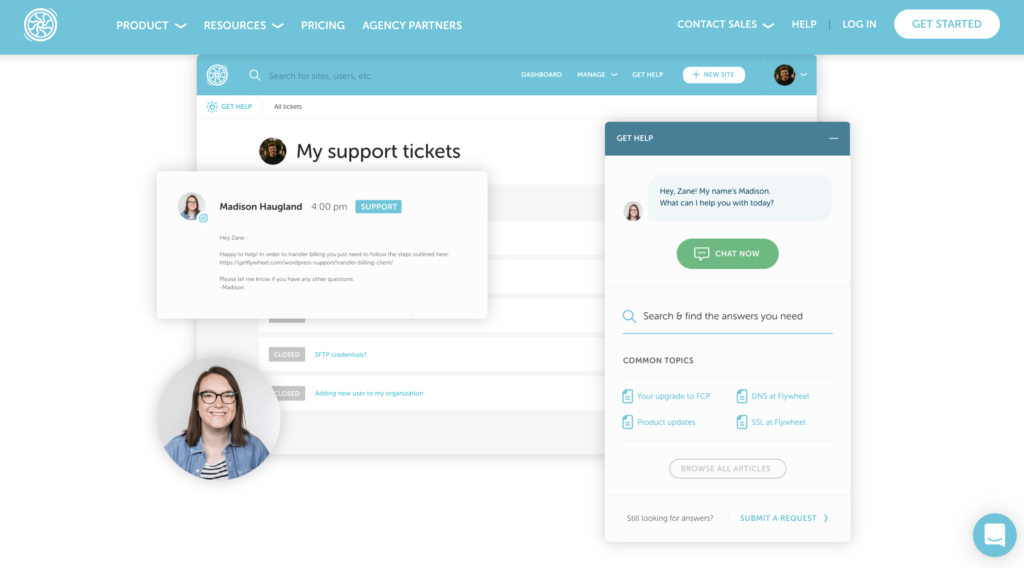 About their support they state:
Support. Our team is available 24 hours a day, seven days a week via live chat. They're all experts in the industry, so they can help with everything from an odd error to a recommendation for a plugin.
The one downside of Flywheel's support is that they only offer chat support for customers paying <$250 a month. If you want phone support, you gotta be paying more. At the end of the day, I personally dread calling support on the phone so it's totally fine with me, but it really depends on your preferences.
Flywheel Hosting Support Pros:
"Happiness engineers" are highly trained, based around the world
24/7/365 chat support
Very friendly support
Flywheel Hosting Support Cons:
Phone support only on plans over $250 a month
Full Pricing and Features Table
| | | | | |
| --- | --- | --- | --- | --- |
| Plan | Starting Price | Max Visits | Storage | Bandwidth |
| Tiny | $13.00 | 5,000 | 5GB | 20GB |
| Starter | $25.00 | 25,000 | 10GB | 50GB |
| Freelance | $96.00 | 100,000 | 20GB | 200GB |
| Agency | $242.00 | 400,000 | 50GB | 500GB |
How to Test Customer Support Before You Buy
Before you buy, we recommend these simple steps to stress-test the company before buying. Usually, there's pretty strong parallels between the presales support and the customer support.
Navigate to the hosts website
How easy is it to find the chat box or phone number? That's the first test.
Start the chat or call the company. How fast is it? Can you call 24/7? Do you have to jump through a lot of hoops?
When you get connected, ask your most pressing questions. We recommend questions like:

How long is your customer support response time?
Can you help me migrate my hosting to your company? Is there a fee?
How many websites can I host on your cheapest plan?

Then you can start asking some more intermediate to advanced questions:

What is the bandwidth limit a month?
How do you charge for inodes and files? (Ask this to SiteGround in particular.)
What's your uptime and downtime? Do you offer refunds for high downtime?
Are there any questions I'm not asking that I should be aware of?

You can also ask some open-ended "interview-like" questions, which will really show you what they can handle:

What are the most common reasons people switch to your company?
What are the most common reasons customers switch to another host?
What are the most common complaints about your services?

Based on all of the above, you can make a judgment about how well they answer, how honest they are, and what your overall ranking is for each host. Then you'll just have to decide!
We recommend starting with a host that doesn't lock you in for 3 years. Month-to-month hosts may be more expensive but feels less like you're stuck with them.
Your Hosting Research Checklist
Ok, we know customer support is critical, but what else should you consider when deciding on a host? There's a million hosting plans out there – how do you even begin to figure out the best one?
Confused by terms like Linux, cPanel, CDNs, etc? We gotcha. Here's what you should consider:
What type of web hosting do you need? There's a lot out there. In general, if you're a small company you can go with a shared hosting plan such as what SiteGround and Bluehost offer. If you're a bit larger of a business, you should consider either cloud hosting or VPS hosting. Even bigger? Go with dedicated hosting.
Is a domain name included? For businesses, this is no big deal. But if you're a small business, a host that offers a free domain name is super helpful.
Free SSL certificates. So many hosts offer a free SSL certificate these days, I honestly don't trust those who don't.
Uptime and downtime. You should expect the host to be transparent about this. You want something like 99.99% uptime. After all, a host with 98% uptime means your website is down for a full 7+ days a year!
Add-ons – this covers a lot, but you want to take into consideration if you're going to be nickeled and dimed for every little add-on, or if the hosting company is generous and offers you a lot for free. We've found SiteGround is one of the best for including a lot of features for a low price, as well as WP Engine and A2 Hosting.
Money-back guarantee: most hosts offer a 30-day money-back guarantee. Superstars like WP Engine offer 60 days.
You're off to a good start already – you're doing your research and making good comparisons. Lightspeed with your decision!
Last Updated on September 6, 2022 by Adrian Grant