What is Bluehost?
Most people who have heard of any hosting company likely have heard of Bluehost.
Podcasters and internet marketing leaders love to promote it, but is it any good?
Founded in 2003, Bluehost is a private hosting company owned by Endurance International Group. With its sister hosting companies HostMonster, FastDomain, and iPage, the group owns nearly two million domains. Based in Provo, Utah, Bluehost VPS and dedicated server hosting plans are the service's specialties.
How Good is Bluehost Hosting?
Bluehost's greatest selling point is, well, their selling point.
Bluehost pricing (starting around $2.95) is some of the lowest on the market, and comes standard with all of the basic features one could want from a shared hosting provider.
They are worth comparing against other similar budget hosts as they offer a wide variety of plans with certain niche advantages. You may want to keep an eye out for a few things that our researchers found, however. Uptime and speeds are significantly lower than most competitors (especially higher-priced competitors), and Bluehost customer service is not as helpful as one would hope.
Bluehost Reviews
Pros
Some of the cheapest prices
Tons of features
Good for beginners
Great security features for budget hosting
Cons
Speed can be an issue
Uptime not guaranteed
Some support problems
Summary
Because Bluehost is so large and shares resources with sister companies, they can offer some of the cheapest prices for hosting. And for incredibly low prices, Bluehost plans cover most of the basics, like Wordpress hosting, VPS, solid security features, and tons of free tools to boot. But at the end of the day, you get what you pay for. Bluehost customer service is lacking, the uptime is shoddy, and their speed leaves much to be desired. Webmasters on a budget who don't anticipate a lot of traffic or support tickets will find everything they're looking for with Bluehost pricing. But if greater reliability is important to you, it's worth it to shell out the extra cash for a more customer-oriented host like
SiteGround
or
WP Engine
.
What people say... 8 Leave your rating
My experience with Bluehost
October 24, 2017, 12:56 pm
Great for Beginners
August 13, 2016, 6:26 am
The best I chose.
August 13, 2016, 1:03 am
A great all-around host in all regards
August 12, 2016, 11:45 pm
Two Years with BlueHost
August 12, 2016, 8:39 pm
Love Bluehost
November 24, 2015, 6:29 pm
First web-hosting Company
November 24, 2015, 2:19 pm
Great Host
November 23, 2015, 10:26 pm
Our Official Bluehost Review
Looking for a cheap, no frills hosting experience that will cover all of your basic needs? Then Bluehost is an excellent option for you.
Bluehost pricing is some of the lowest on the market, comes with a 30-day money back guarantee, and includes a selection of the most widely-used website building and security tools. But if your web project demands server spikes, an uptime guarantee, fast speeds, and comprehensive customer service, Bluehost probably isn't your best bet.
Spend a little more money to get a lot more reliability.
Bluehost Highlights
Very affordable pricing, starting at just $2.95/mo (with discount)
1-click install of WordPress – perfect for new sites
24/7 support – which has improved over the past year
Highly recommended by top podcasters like Pat Flynn
Like all shared hosts, if you have big site, may slow you down
Cloud hosting and other upgrades available
Email storage very limited on Basic plan
Websites limited to just 1 on Basic plan
30-day refund if you don't like them
Bluehost Pros
Bluehost has an excellent understanding of what the average customer needs as a baseline from their web hosting provider. Bluehost's greatest strength is that they cover all of these bases for an incredibly low price. And with 2 million domains worldwide, clearly this is an excellent selling point.
1. Bluehost cPanel – Redefining Demonstration
Before you spend a dime on online services – hosting included – wouldn't it be nice to know exactly what you're paying for? Bluehost hosting gives you a true taste of what it's like to be one of their customers by giving you demo access to a fully functional cPanel. Since the cPanel is what you will use to manage your entire website, showing you a stripped-down version of this program would be to do you a disservice. The complete demonstration is a smart move, as the features in cPanel are robust and user-friendly. By the time you make a purchase decision, you know exactly what you getting yourself into.
2. Military Grade Encryption & Other Security
Before you ever send data to a hosting company, don't you want to know how secure it is? Bluehost hosting has everything up to date under their servers' hoods. With shared and dedicated SSL certificates, daily backups and a secure FTP process, Bluehost hosting knows what it means to keep your data safe. If you think about it, this can be one of the selling features for your product as your customers want to know if their personal and private financial information is in good hands before they give you a dime.
Bluehost has some of the best security features among low cost web hosting companies. Their competitor HostGator, for example, is slightly more expensive but has a serious lack of spam and virus protection in their inboxes, and they only back up your data once a week. Even a more expensive option, SiteGround, falls short on their security against hacking. Bluehost truly goes above and beyond in security for the price.
3. Finally – Freebies You Can Use
Bluehost recognizes that most people start basic websites in order to expand their marketing efforts and brand presence. So included in your Bluehost plan is a bevvy of complimentary e-commerce, shopping cart, email, and marketing applications. Google Apps and CloudFlare are two examples, and all of these apps integrate seamlessly and are incredibly user-friendly. You don't need to be a developer to figure out the free applications that will undoubtedly be useful for any small business.
4. Easy Design Tools
Bluehost hosting puts you in the driver's seat when it comes to your website design, and they make it so easy that you don't need to have any experience. At one point, hiring a web designer might've been part of your marketing strategy, but now it need not be. Bluehost plans provide complimentary website design software with drag-and-drop technology, allowing you to design the site yourself with ease. This kind of software is quite literally called WYSIWYG – what you see is what you get. It means you don't have to be proficient in computer programming to customize your website the way you want it.
5. Bluehost VPS is Actually Affordable
VPS hosting is always more expensive than shared hosting plans, because you are guaranteed the resources of a private server. But where most hosting companies charge incredibly high prices for VPS, Bluehost's low prices extend to VPS. Bluehost VPS is fully managed and is rich with features, like an enhanced cPanel, CentOS, and powerful cloud technology. And with four different levels, Bluehost VPS plans provide lots of room for scaling with growth.
Bluehost Cons
When prices are so low, it's hard to complain too much about the shortcomings of Bluehost plans. But there are some serious cons to Bluehost that can't be overlooked if low prices aren't your top priority.
1. Bluehost Customer Service is Hit or Miss
Any company that has clients around the world must be able to support them around the clock. Bluehost boasts a ticket response time average of 30 seconds, but this hardly seems to be the case in reality. During peak hours, many customers report wait times of nearly 45 minutes. To make matters worse, many customers express frustration that communication can be curt and unhelpful. Few things are more infuriating when you're experiencing technical difficulties than having to wait an exorbitant amount of time only to receive an answer that doesn't get you any closer to a solution. Slow and unhelpful service is not always the case with Bluehost, but it is the case often enough that we cannot say their customer service is consistently high quality.
However Bluehost does have a YouTube channel filled with useful tutorials. If your question isn't an urgent one, sometimes it's best to just roll up your sleeves and learn how to fix it yourself. You may even solve the problem before you get off hold on the support line.
2. No Uptime Guarantee
Before you make your hosting decision, you'll probably have read hundreds of different reviews from several different perspectives on just about every hosting company out there. One of the patterns you might notice is that several of these hosting companies offer an uptime guarantee – usually a guarantee of 99.99% uptime. This promises that you will be compensated for any more than 8 hours of downtime per year. This is not the case with Bluehost. Bluehost will not compensate you should their uptime dip below the advertised average. While their uptime record isn't behind by much, studies show that Bluehost tends to have a slightly lower uptime rate than most of their big-name competitors.  For sites that monetize on visits, that extra 4 hours of downtime per year can have a huge impact on your business. But when compared with other budget sites like WebHostingPad, Bluehost has a far better uptime for the money you pay.
3. Slow Loading Speeds
On average Bluehost pages take 25% more time to load than pages hosted by other top hosting providers. This time difference may not seem like much, but did you know that almost three quarters of your traffic will bounce if your page fails to load within 5 seconds? Sluggish loading speeds hurt your user experience, thereby decreasing your visitors and your profits. Sure, Bluehost is still far ahead of a lot of smaller web hosts, but they're at the bottom of the barrel among their top competitors. We'd point to speed as the number one element they could work to fix if they'd like to improve their service. If speed is your top priority in a web host, you might be interested in paying an extra few dollars a month for superfast A2 Hosting.
4. Getting All Your Emails
Another feature Bluehost hosting is missing is what is called a "catchall email inbox." What this means is that of someone sends an email to a nonexistent user in your domain, it will end up in this catchall email inbox. Although this is not a necessary feature, it is one that other hosting companies have.
5. Best Pricing Requires Longer Contract
If you're planning on holding onto your site for a long time, then hey it doesn't really matter. If you're not sure how long your site will be up, then the 36-month period for the best pricing can be a bit frustrating.
So it's up to you if that's a negative or not, but we thought you'd want to know.
The Bottom Line:
It's hard to say no to a low price with a great value, and the popularity of Bluehost is a testament to this.
They have all your basics covered in one neat and cheaply priced package, which is exactly what your typical novice webmaster is looking for when it comes time to build a site for their business. Bluehost falls short in mere fractions, but those fractions really add up when dealing with big numbers. This is why we wouldn't recommend Bluehost for sites that garner a huge amount of traffic or lose out big time when their site goes down. But if all you want is your own small corner of the internet and you yourself might not notice any downtime or lagging speeds, Bluehost is a great, cheap place to start.
What are the central features that Bluehost offers?
There are dozens of features that Bluehost provides, but here are the four most important to get you started.
PHP – Unless you want your website to be dull and boring, you will need to use PHP. This service enables you to create dynamic content for your site, including pictures, buttons, and text that can set you apart from the crowd. Depending on what type of website you want to build, Bluehost offers different packages to give you more control through PHP.
WordPress –  In addition to hosting your site, Bluehost will give you access to WordPress so you can customize and create the look and feel that you want. Most new sites use WordPress, so you definitely want to take advantage of it.
MySQL – If you plan to have a lot of data on your site or you want to collect a lot of data with your website, then you will need MySQL to do that. Bluehost gives you the tools you need so you can not only collect but process and manage all the data you want. As we mentioned, there are different packages you can choose to ensure that you have enough storage space for everything.
Uptime Guarantee –  Bluehost has a 100% uptime guarantee, which means that your site will never be down for any amount of time. If, for whatever reason, that does happen (knock on wood), Bluehost will compensate you for it.
Email – Bluehost offers free email accounts with all packages.
What kind of email features does Bluehost offer?
Bluehost has a Webmail portal for its users, and also allows for you to choose your favorite inbox program. They use both SpamAssassin and SpamExperts to filter your inbox. They also have some email marketing capabilities to help you grow your subscriptions.
What kind of hacking security does Bluehost offer?
To help keep you protected, Bluehost offers multiple login and security features that can keep your site and all pertinent information out of the hands of hackers and thieves.
Two-Factor Authentication: in addition to your password, you will need a different security key to login. This helps prevent hackers from gaining access
PIN: as an added security feature, you can set up a PIN for verification. You cannot use your PIN to log in, however.
Password Adjustments for Authorized Users: if you have other people managing your website, you may not want them to have access to everything you do. Thus, you can set what options are available for which users, as well as change passwords remotely.
Account Password: this allows you or an authorized user access to the website to make any changes or update information
Billing Password: this password is only for the account holder, as it allows you to purchase additional services from Bluehost or cancel your account entirely
Single sign-on for trusted sites: like Google and WordPress.
If I bought a domain elsewhere, can I transfer it to Bluehost?
Yes, Bluehost will allow you to transfer any and all domains you own to your hosting account. You will, however, have to reset your domain name's settings to direct it to Bluehost.
Can I buy a domain name through Bluehost?
Yes, you are more than welcome purchase a domain name through Bluehost, provided that it has not been taken by someone else. Just enter the name you want, and the site will let you know if it's available.
Does Bluehost offer domain name privacy?
Yes, they do. All domain names that have been purchased are required by law to show the information of who owns the domain. However, if you're worried about your personal information being public, Bluehost can give you privacy options to keep that info private. What happens if you don't use this security feature? You can be the target of:
Spam
Phone calls
Postal mail
Identity theft
Fraudulent domain transfers
What payment methods does Bluehost accept?
Bluehost accepts most major credit cards, as well as PayPal and several other online financial services. If you're not sure that your payment will go through, contact the support team. They also offer a detailed billing history that is accessible online.
Can I set up automatic renewal for my site?
Yes, you can set up a renewal per month or per year, depending on your needs. Bluehost sets up auto-renewal for all new accounts, but you can switch to manual payment if necessary. Bluehost will contact you whenever a payment is due or about to be withdrawn for your renewal.
How to Sign Up: Bluehost Onboarding Walkthrough
If this is your first time signing up for web hosting, it can be quite intimidating. Thankfully we've put together this guide with screenshots of the Bluehost onboarding and signup process.
One of the things Bluehost has focused on recently is making their signup experience painless and pleasant. Let's take a look if they do it well.
Step 1 – Landing page with special Bluehost discount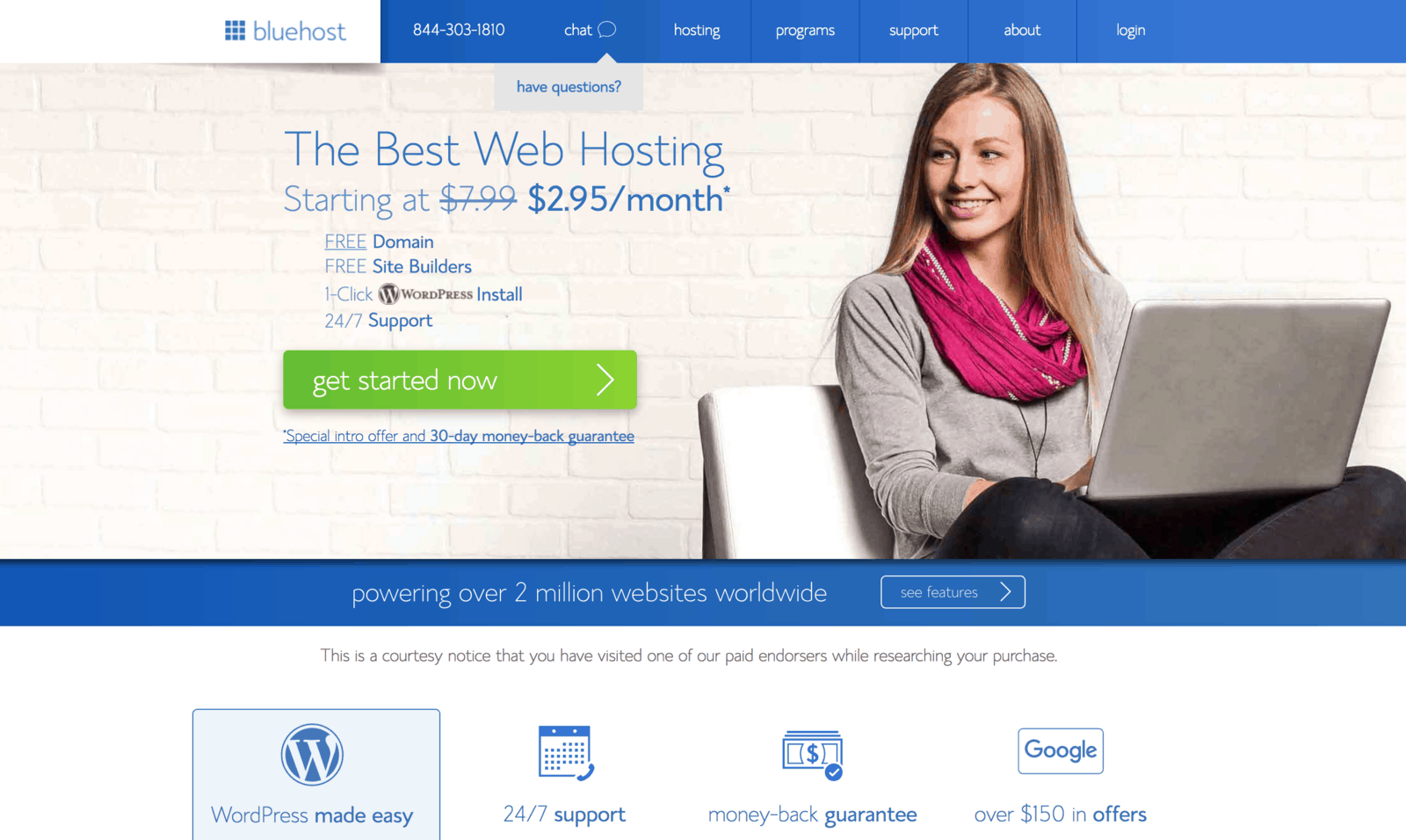 Step 2 – Select your hosting plan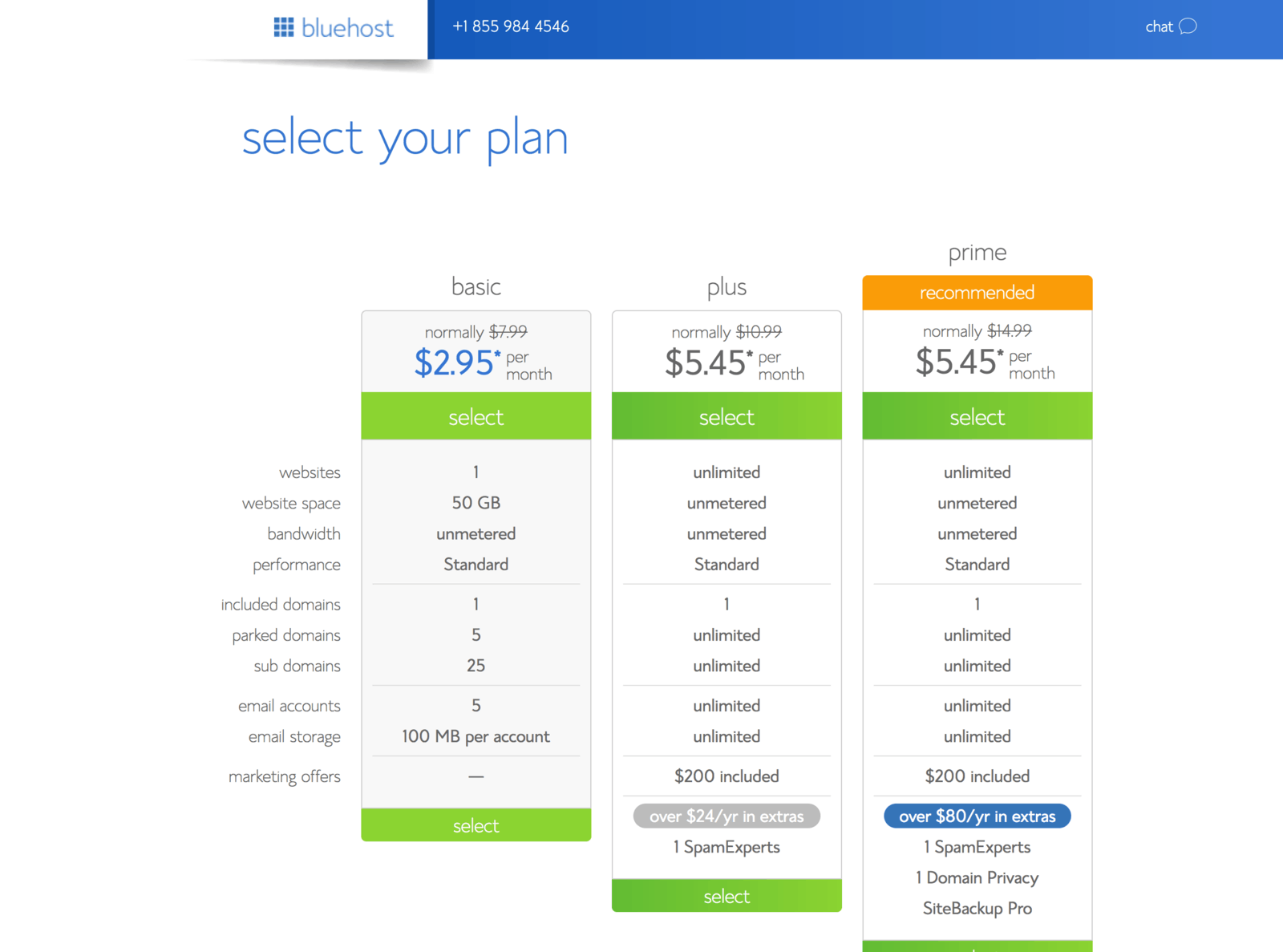 Step 3 – Sign up for Bluehost with new or current domain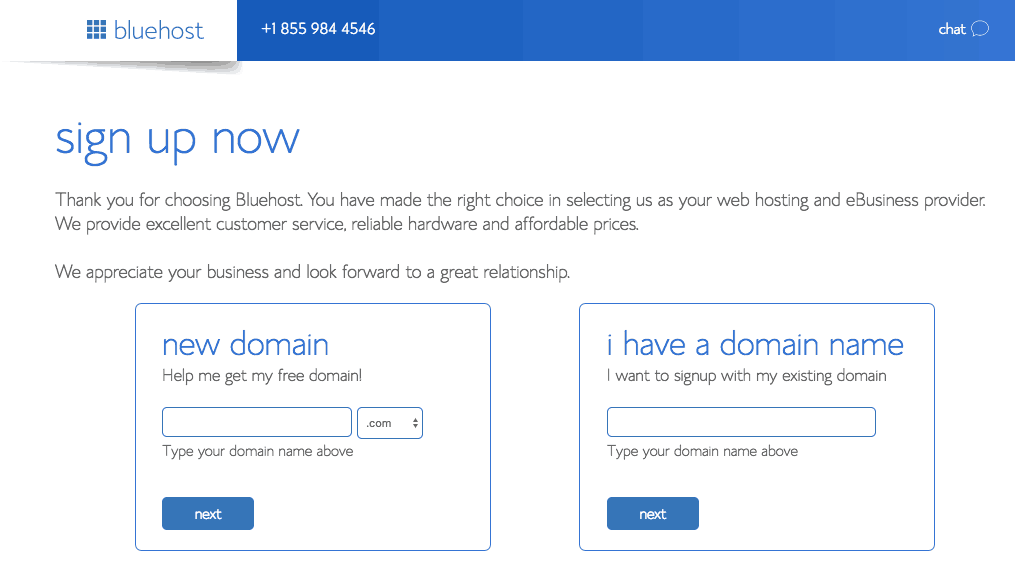 Step 3.5 – Fill out account info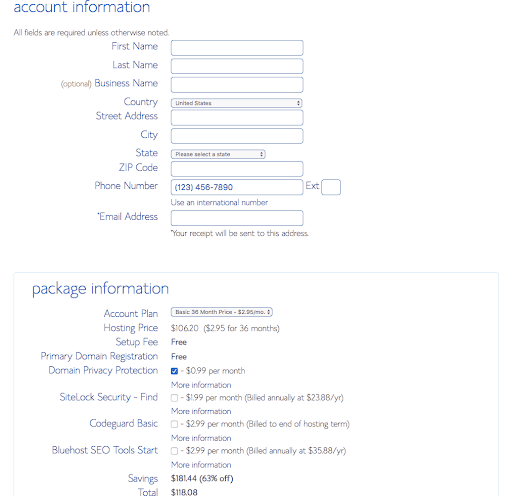 Step 4 – Create password

Step 5 – Complete password creation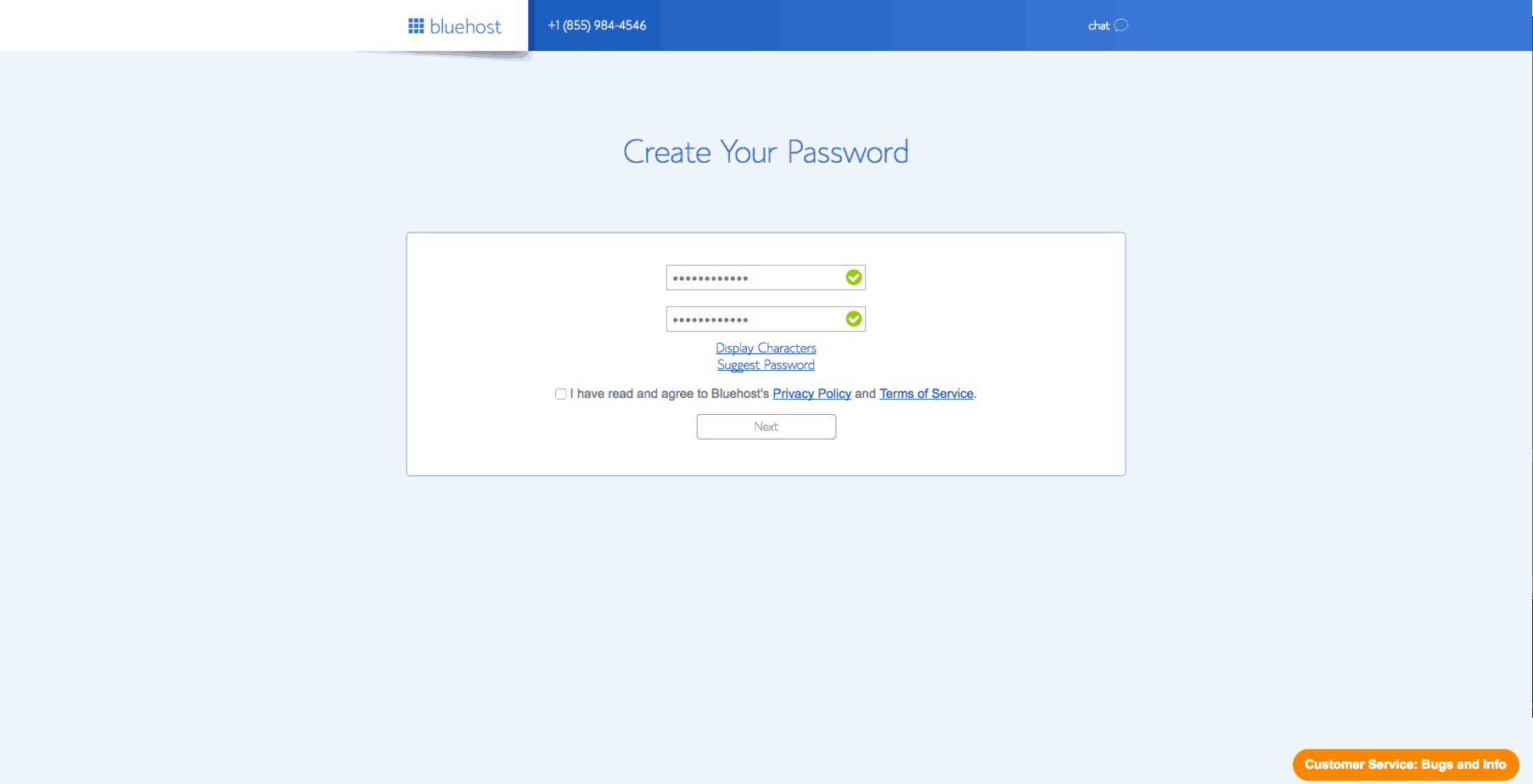 Step 6 – Password confirmation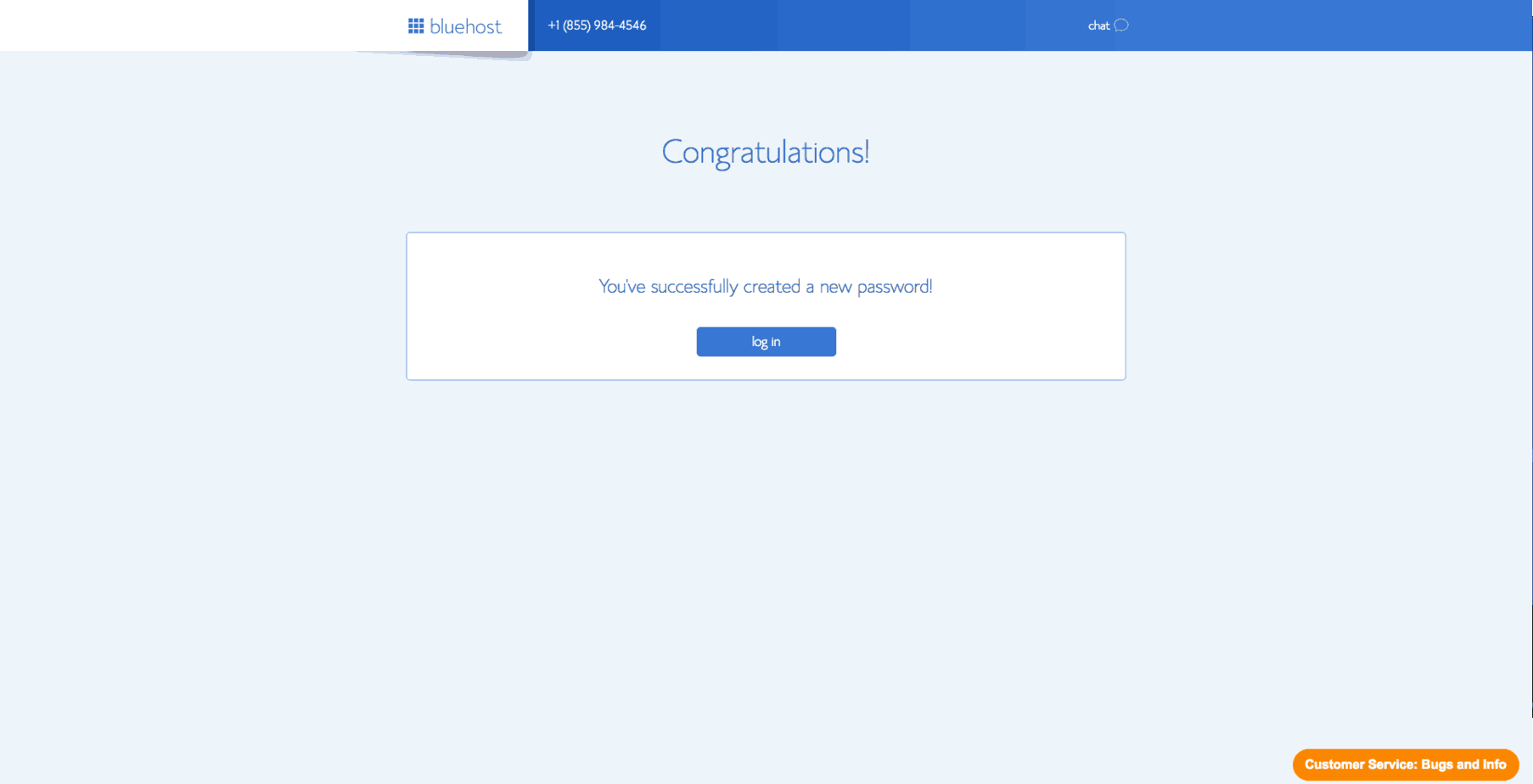 Step 7 – Choose your theme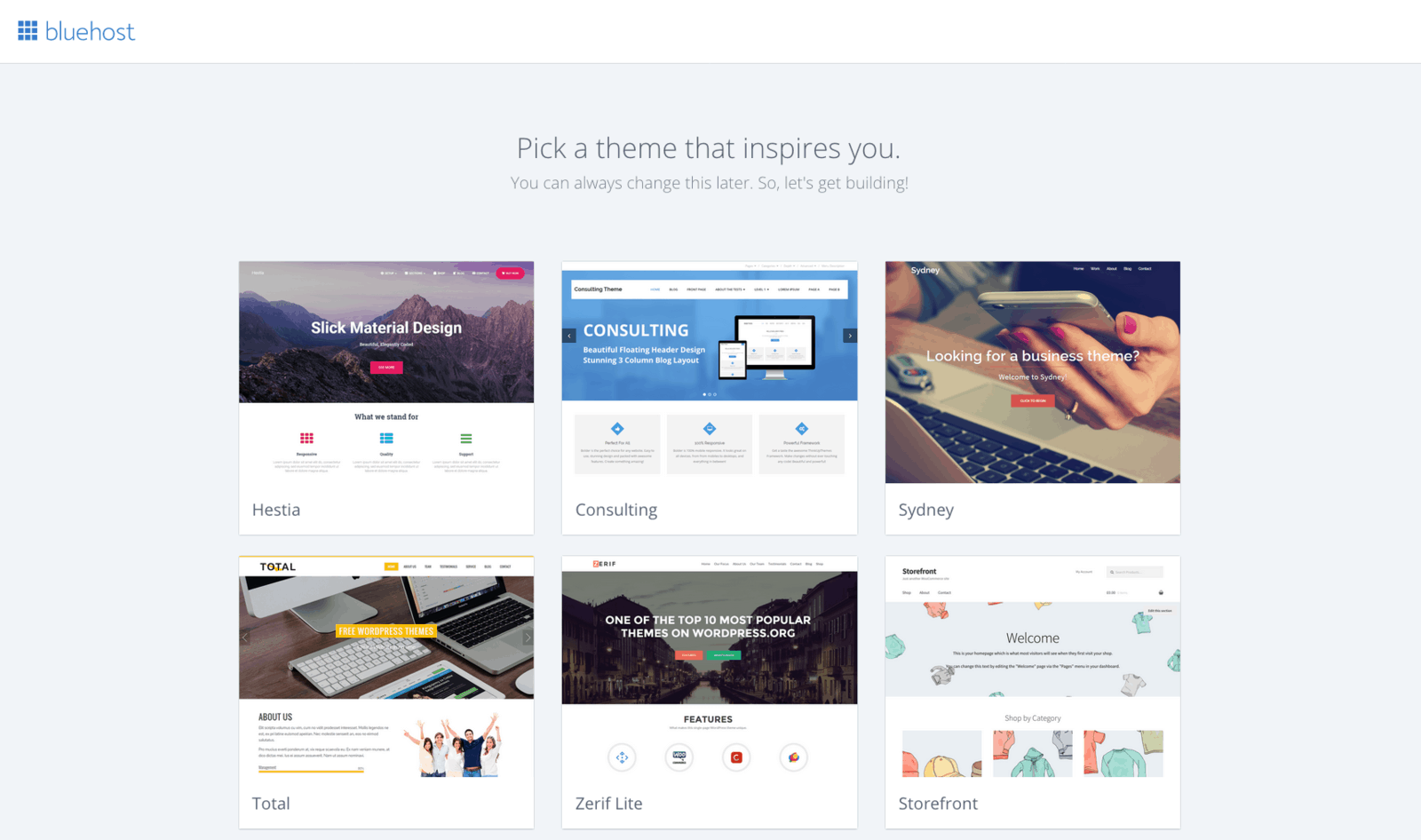 Step 8 – Start building

Step 9 – View WordPress dashboard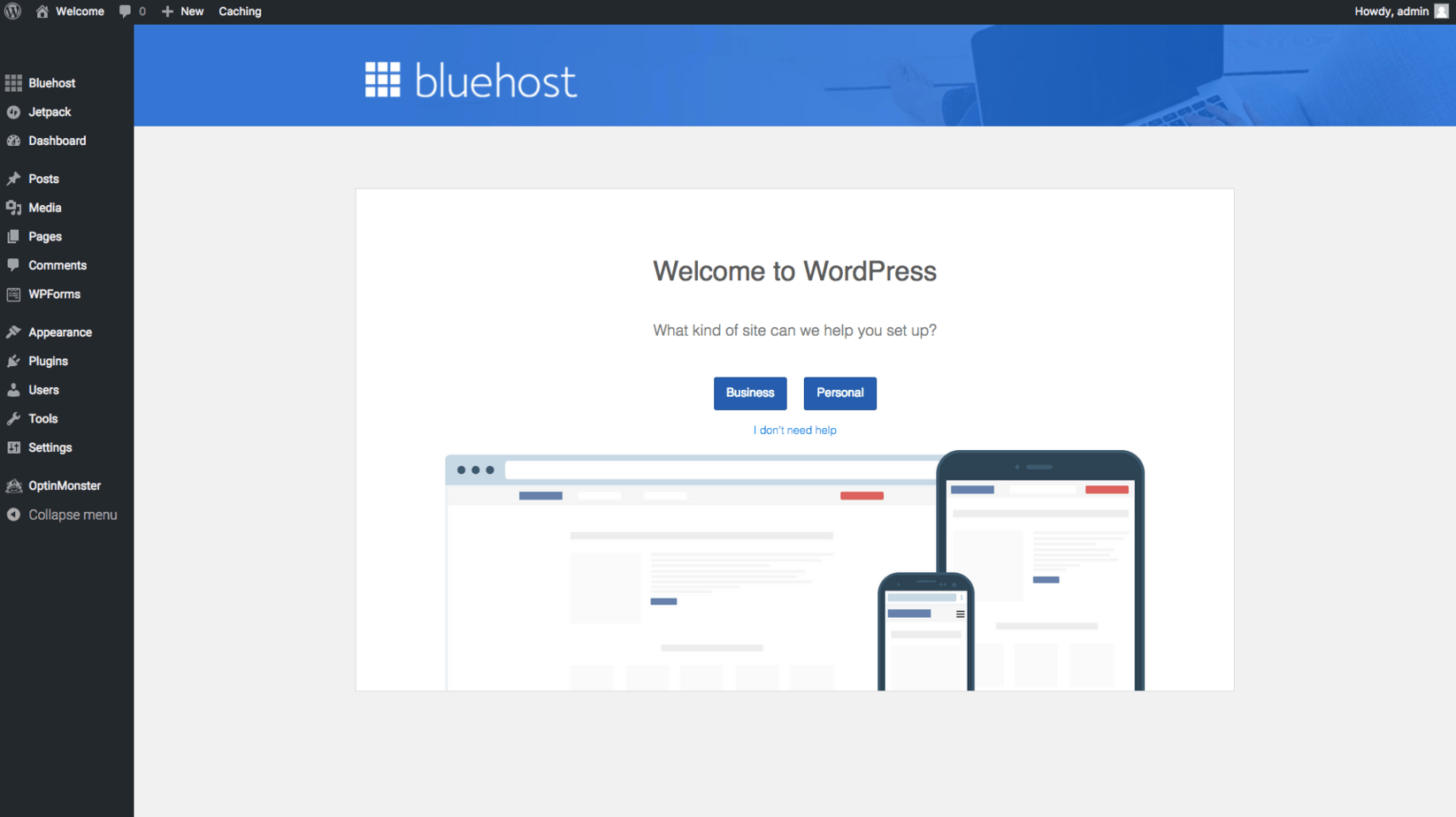 Step 10 – Start launching site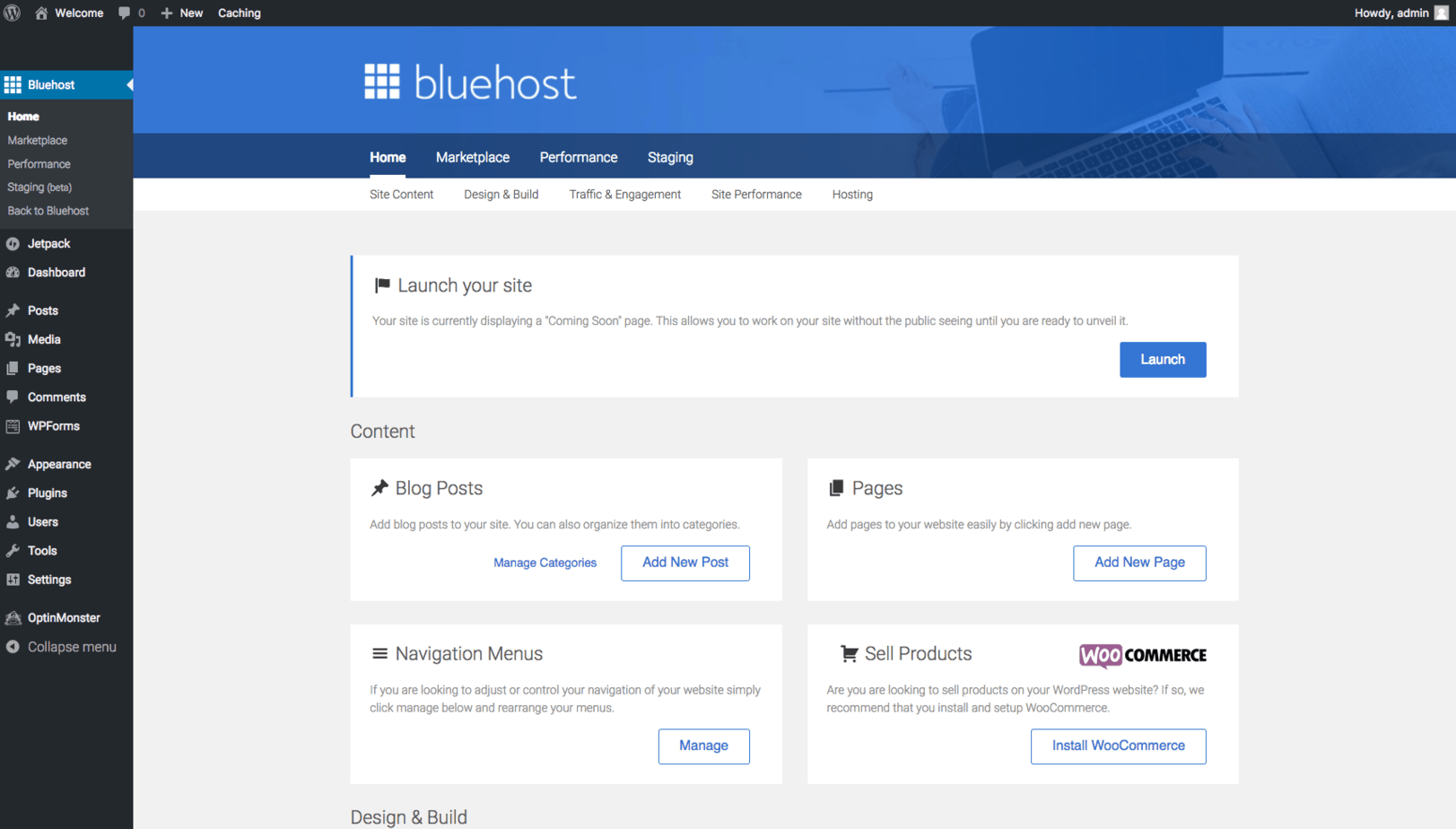 Step 11 – Fill out site info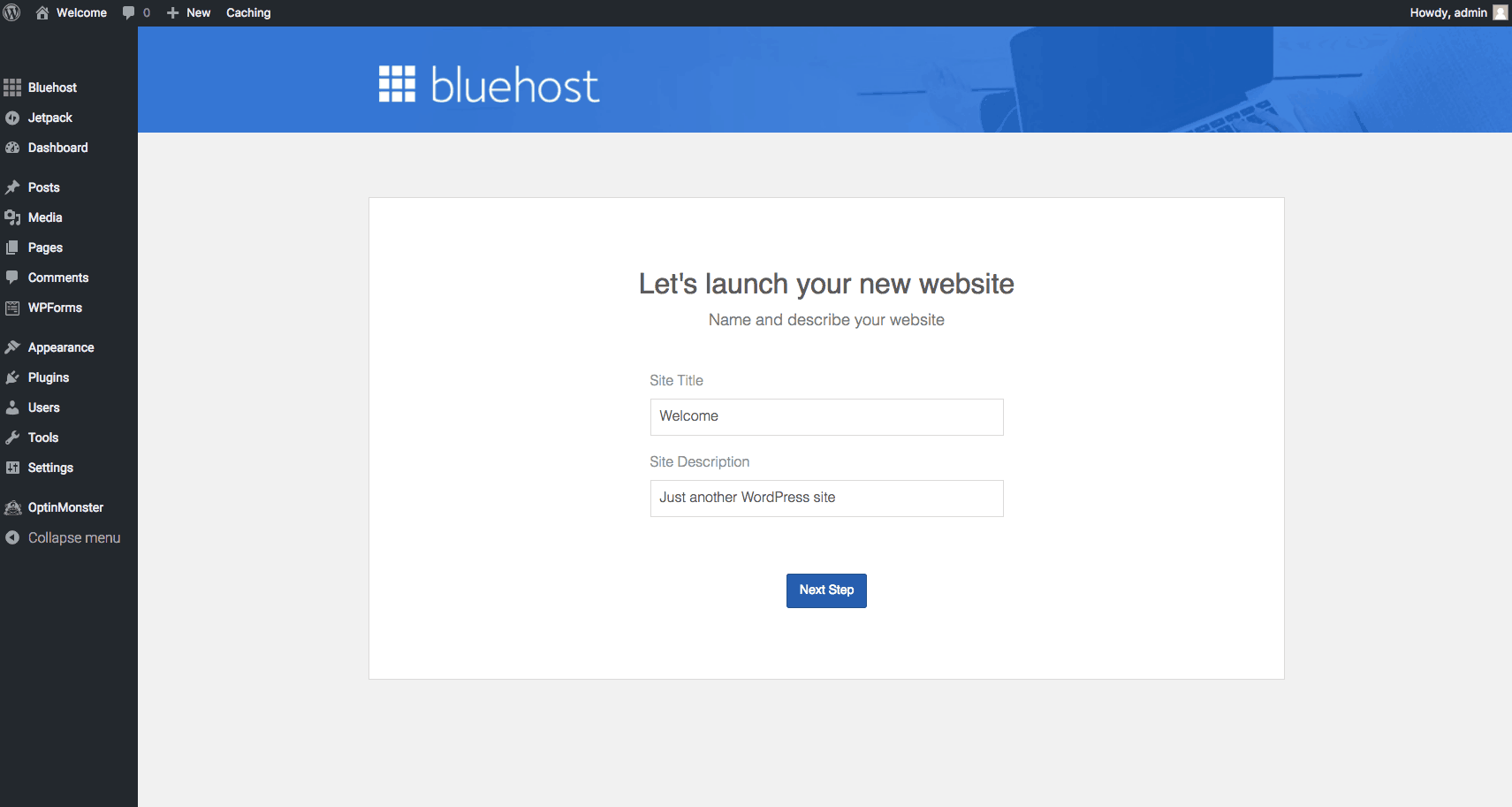 Step 12 – View Bluehost's hosting dashboard