How Good is LiquidWeb Hosting?
LiquidWeb Reviews
Pros
Linux-based and Windows-based Server Options
Excellent VPS and Dedicated Hosting Plans
Powerful Customer Service
Managed WordPress Option
High-End Specs
Cons
Poor Shared Hosting Storage
Affordable, but Relatively Expensive Shared Hosting
Extremely Confusing and Technical Website
Our Official LiquidWeb Hosting Review
LiquidWeb is powerful. With over 13,000 servers, 20,000 clients worldwide, 300 on-site staff members all working in three wholly-owned data centers, LiquidWeb was designed by professionals, for professionals.
How do they differentiate themselves from other hosting companies?
"Unfortunately, our industry is trending toward unsupported services, which leaves fast-growing developers, digital agencies and designers alone, without a real person to turn to when they really need help," Liquid Web CEO Jim Geiger said in a statement.
Update: In August 2016, Liquid Web bought the Cloud Sites division from Rackspace. This is a significant purchase and means a lot of sites will be moving over to Liquid Web. As often happens in transactions like this, a lot can change. The volume could be too much for Liquid Web, or it could be a plus for their customers as they get more resources. Keep that in mind when you look at reviews before and after August 2016.
Best Features of LiquidWeb Hosting
LiquidWeb was established in 1997. They have a world-class customer support team and just about every Web hosting option you can think of.
Linux-based and Windows-based Server Options
They have Linux-based and Windows-based server options. With as many options as LiquidWeb offers, I would be surprised if they didn't offer this. However, this is a feature that very few hosting providers think of, much less provide. This makes it easy to choose the operating system that your most comfortable with. You're not forced to go one way or the other.
Excellent VPS and Dedicated Hosting Plans
LiquidWeb has excellent VPS and dedicated hosting plans. In fact, this is their primary product. Although they do offer shared hosting, their shared hosting plans are not nearly as robust as what you might see in your typical Web hosting provider. However, when it comes to their VPS and dedicated hosting plans, they offer every single bell and whistle under the sun. In other words, they give you the ability to create your customized server to fit your needs the way you want it– without settling for less.
High-End Specs
Having such a high-end spectrum of the VPS and dedicated hosting plans comes with having high-end hardware specifications. If you're looking for a commercial or military grade Web hosting provider, you found it. About the only other Web hosting provider that offers half as many options or specifications as LiquidWeb – at least, what I know about – is RackSpace, and that's saying something.
Managed WordPress Option
Managed WordPress is a relatively new service in the realm of Web hosting providers, but it is a really nice feature to have. This is especially true for the working professional. Honestly, LiquidWeb is geared toward large enterprises, making a managed WordPress option not just a luxury item, but a necessity. This is especially true when you consider that many of the things you do in WordPress can be repetitive. This is an attribute people look for when outsourcing – is the task repetitive? Plus, if something goes wrong with WordPress, it's not your issue – it's theirs.
A Full Suite of Hosting Technologies
LiquidWeb has 33 products, 11 product solutions, and 40 services to choose from. They offer seemingly every single Web hosting technology available. Although this can be confusing for some, this means you can run your business at a completely customizable level. That's not something afforded to very many people.
Powerful Customer Service
LiquidWeb has what they call a 'Heroic Support' service team. This sounds a lot like RackSpace's 'Fanatical Support' service team. Either way, the one thing that they really take pride in is support. When you're with LiquidWeb, you're in good hands. If you reach out by phone, you will be greeted by a real human being in under one minute. If you submit a support ticket, you will be greeted by a real human being with a response in 30 minutes or less. If you use their live chat support option, you will be greeted by a real human being in 59 seconds or less.
Downsides of LiquidWeb Hosting
About the only bad things we could say about LiquidWeb ends up being things are doing on purpose. Either way, these are the areas we weren't so sure about.
Poor Shared Hosting Storage
Their lowest package for shared Web hosting leaves a lot to be desired. You only get 5GB of disk space, 240GB worth of transfer bandwidth, and two free domain names. Now, the two free domain names are definitely a perk, but only the beginning. Domain name registration costs just as much as the monthly fee they're putting on this plan – which leads me to my next point.
Affordable, but Relatively Expensive Shared Hosting
You don't get a whole lot when it comes to their shared hosting plans. However, I've already covered that above. In a world where I can get more hosting options under five dollars a month, LiquidWeb expect me to pay $15 a month for their lowest hosting package.
Extremely Confusing and Technical Website
Their greatest strength is also their greatest weakness. With the full suite of hosting technology that they offer that also means I have 84 different offerings to select from. There is no simple, "choose this plan, get that." I do have to give a lot of credit to LiquidWeb for taking this route, but they could make things easier. You have to know what you're looking for with LiquidWeb. Otherwise, confusion ensues.
Liquidweb Managed WordPress Hosting
Liquidweb has a premium managed WordPress hosting offering. It's more expensive than most, but may just be the premium service you need.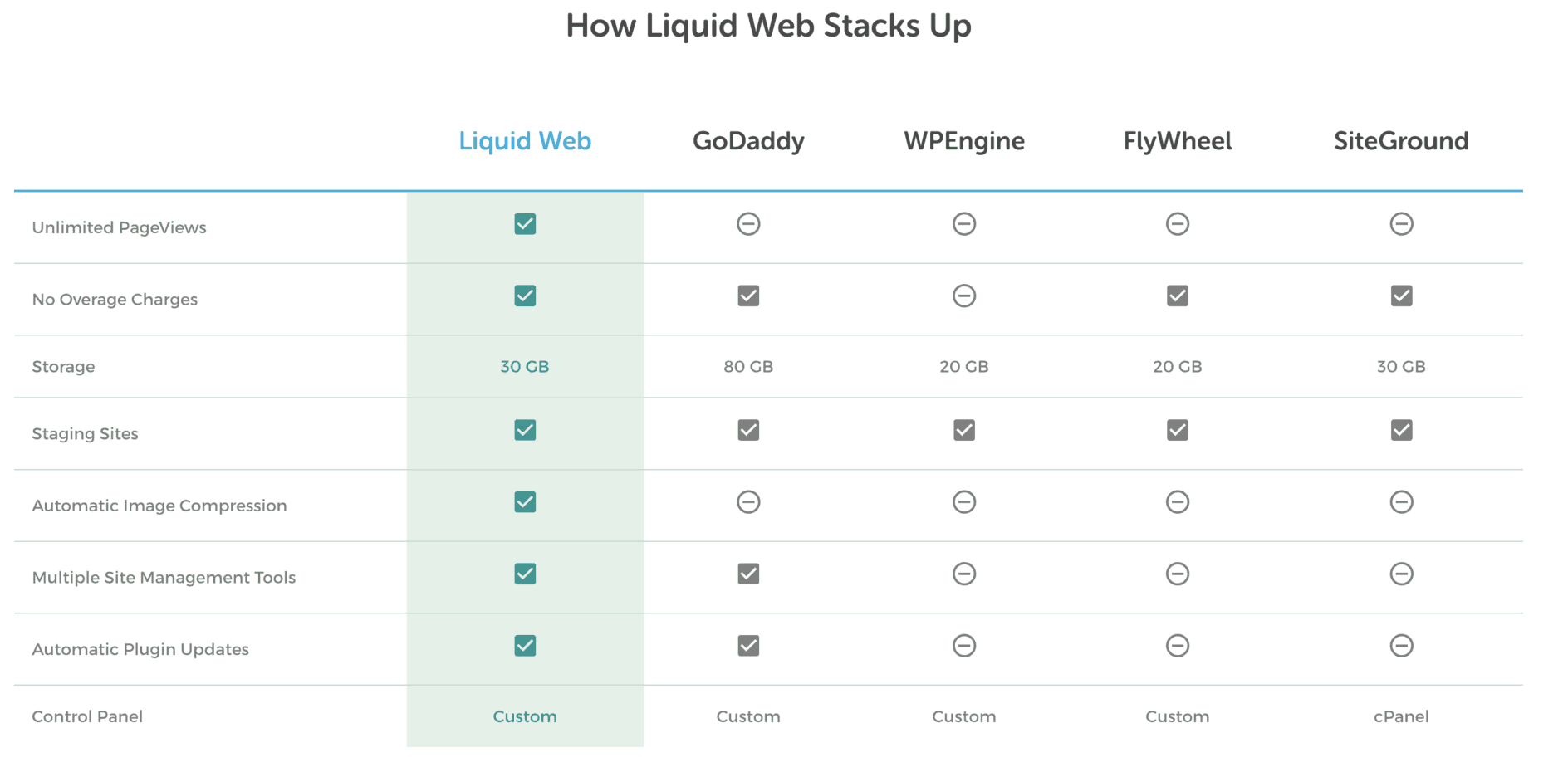 Bottom Line
LiquidWeb offers a powerful suite of Web hosting solutions. However, it is not designed for the blogger was just starting out. In fact, is not even designed for the small-business owner. It is designed for large corporations. That's not to say that they can't manage a smaller website, such as what you might find small-business owners choosing – they just choose not to have that as their main product.
LiquidWeb Questions and Answers
If you've got a business website or websites, finding a good match for a web host can be difficult to do.  There are so many options available, it's difficult to know where to start.  Fortunately for you, we've already done the research.  One of the finest choices available for web hosting today is LiquidWeb.  This company is serious about service, and their technical expertise remains unmatched.  If you're wondering if LiquidWeb is the right web hosting service for you, read on.  First, we'll give you several reasons why you should try LiquidWeb, and then we'll provide you with an extensive Frequently Asked Questions section that should address most of the concerns you have.  Let's begin:
Why You Should Choose LiquidWeb
They have the best data centers – LiquidWeb has specially engineered their data centers to make sure your site is up all the time. Their network, cooling, and redundant power systems are always working to protect your servers.
Heroic Support – The one area that really sets LiquidWeb apart from the competition is their customer support. They call it Heroic Support, and this industry-leading team is available 24/7/365.  What's even better is the fact that they have support staff on-site at your data center to address any issues you may be experiencing immediately.  They are committed to providing the fastest possible customer service experience.
Switching to LiquidWeb is free, and they'll help you – The overwhelming process of switching web hosts isn't something you have to do alone. LiquidWeb has a team that's entirely dedicated to helping you transfer your data to your new servers.  Unlike most other web hosting services, they're available to help along the way.
Constant Monitoring – LiquidWeb has a team to monitor your servers, software, and the network at all times. This team is called their Sonar Monitoring Team, and their job is to fix any issues with your website before you even know that they exist.  They stay on top of your systems.
Backups – Your data is always going to be safe when your host is LiquidWeb. They use Guardian Backup & Recovery to constantly backup your system to an off-site facility, ensuring that recovery of your information is done quickly and easily at any time.
Management Tool – LiquidWeb provides a powerful management tool that gives website owners lots of useful information. They call it their management interface, and it provides owners the ability to order and create new servers, any available billing information for each website, and performance statistics for each page you own.  If you're a hands-on owner, this is a great tool for you.
Security – If security is a main concern for you, slam the door shut with LiquidWeb's ServerSecure service. It's automatically included each time you create a dedicated server, so you can relax knowing that all of your information is secure.  Secure VPNs, firewalls, compliance, and SSL certificates are also available.  If you want the best security for your customers and your business, LiquidWeb is the best choice.
Frequently Asked Questions (FAQ)
Does LiquidWeb offer Linux or Windows hosting?
Their web hosting services include both Windows and Linux hosting.
Will LiquidWeb try to raise my price when it's time for me to renew my contract?
No, your pricing should remain constant with their existing price structure.
Do I get a free domain name included with my web hosting plan?
Yes, each web hosting account gets 1,3, or 5 free domain names, depending upon each customer's needs.
Does LiquidWeb offer WHOIS domain name privacy?
Yes, for an additional fee customers may add WHOIS privacy to their web hosting plan.
Does LiquidWeb have Virtual Private Server (VPS) service?
Absolutely.  They actually offer ten different levels of VPS service with solid state drive (SSD) storage that can be customized to best meet your individual needs.
Where is this web hosting service located?
LiquidWeb is located in Lansing, Michigan, U.S.A.
What programming languages does LiquidWeb support?
LiquidWeb supports Ruby, ASP, Ruby on Rails, ASP.NET, Perl, and PHP.
Does LiquidWeb have any affiliate program?
Yes, they have a straightforward program that pays the same for each referral generated.  Payment amounts remain the same no matter how many referrals affiliates generate, so the commission on the first referral is the same as the 10,000th.
Can I host WordPress on LiquidWeb's service?
Absolutely.  WordPress is fully supported on this web hosting service.
Does LiquidWeb have any website building software included?
There are no website building software included, but they provide access to platforms such as WordPress and Joomla to make it easy for you to build your website if you wish.
Can I use PrestaShop with LiquidWeb hosting?
Yes, you can easily install the PrestaShop e-commerce software on your servers if you want to.
How easy is it to move WordPress installs over to LiquidWeb?
Migrating from WordPress to LiquidWeb is simple and included with their migration services.  You can also use the management tool on their control panel to easily do this yourself.
What about image heavy sites on LiquidWeb? Are they ok?
As long as your storage and bandwidth purchase is adequate, images will not be a problem.  Their top-notch equipment can handle it easily.
Do you get a user control panel with LiquidWeb service?
Yes, you get a cPanel or WHM control panel, depending on if you are hosting Windows or Linux based products.  They provide everything you need to manage your websites.
What kind of guarantee do they offer?
LiquidWeb has a 100% uptime guarantee.  If you lose service for any reason, you will receive future service credits automatically.
Does LiquidWeb have content distribution network (CDN) services?
Yes, CDN services are included with all of their hosting contracts.
How often does LiquidWeb perform backups?
They perform backups every night to a server off-site for your security.
How many email addresses are allowed with LiquidWeb hosting?
Number of emails and email storage is unlimited when you purchase a web hosting plan.
Does LiquidWeb offer a student discount?
Yes, you can find their student discount on their website, and non-profit organizations may also receive a discount if they request one.
What about video streaming? How well does LiquidWeb work for that?
Their shared platform works reasonably well for video streaming, but it's recommended to use dedicated sites or a site run on VPS for quality video streaming.
Does LiquidWeb offer unlimited storage space and bandwidth?
Yes, they offer both, but they reserve the right to revoke the privileges if they find abuse or excess use.
I have four websites. Which one of LiquidWeb's services would work to host my sites?
Every one of LiquidWeb's hosting plans are capable of handling four websites at once.
What are the standard contract lengths for LiquidWeb hosting?
Customers can choose from either monthly, yearly, or multi-year web hosting contracts.  It's more cost-effective to choose a longer term.
What are my payment options if I choose LiquidWeb?
They accept wire transfers, Paypal, and most major credit cards as payment for services.
Will my e-commerce website work well using LiquidWeb?
Yes, their web hosting plans work very well with all e-commerce sites, supporting features like shopping carts and Secure Sockets Layer (SSL) for security.
Is LiquidWeb a secure web hosting product?
This company's infrastructure sets the industry standard for security with constant monitoring, on-site staff, and the latest firewall technologies.  When it comes to security, they're ahead of the curve.
Where exactly are LiquidWeb's data centers physically located?
LiquidWeb has four data centers currently, with one in Phoenix Arizona, and three more in the state of Michigan.
Can LiquidWeb help me transfer my existing websites over to their service? I don't have the time or knowledge to do it.
Yes! They have a site migration team that's only job is to help you transfer your existing sites over to your new web hosting service.  Switching web hosting has never been this painless.
What kind of customer support is available if I have any issues?
LiquidWeb has 24/7 customer support via phone or chat on their website.  The support team only speaks English.
What if I'm not happy with their web hosting service?
If you're not happy with LiquidWeb's performance, they have a 30 day money back guarantee on all of their available products and services.
Hopefully all the questions you have about this web hosting service have been answered above.  If you've been shopping around for a domestic web hosting service that has industry leading features, LiquidWeb is a great choice.  They have a plan for every size customer, from one domain name to 1,000.  Industry leading customer support, 24/7 monitoring and security, and the ability to configure your system to your needs are what make this web hosting service truly unique.  They also offer their site migration service which makes transferring your data to your new LiquidWeb servers as easy as humanly possible.  In a market that's crowded with web hosting companies, North American customers will be extremely pleased with the pricing, flexibility, and ease of switching to LiquidWeb.