Finding the best WordPress host has become as complex as finding your soulmate these days. Most people don't want to leave it up to chance or luck when it comes to choosing the best hosting service. There are a substantial amount of WordPress hosting services for people who are looking to optimize their websites but with so much to choose from, it can become difficult to decide what will work best for you and what you're looking to build.
Every WordPress host will promise top quality rankings and creative tools but just like most things in life, everything is a business. It's hard to choose from the well-worded advertising campaigns provided by various hosting sites and with such an important decision to make, who do you believe?
Endurance International Group is a company that is well-known for assisting small businesses with technological solutions that will transform and optimize your business. With millions of subscribers throughout the world, they have become a trusted resource for hosting solutions that meet the needs of a variety of brands. In fact, they are one of the largest web hosting companies in the world today.
In 2016, WordPress is still considered the most commonly used CMS platform on the globe, and powers approximately 25% of the web. EIS created a list of the best WordPress hosting services being used for small businesses. Starting from the top of the list, here are 7 Best WordPress Hosts: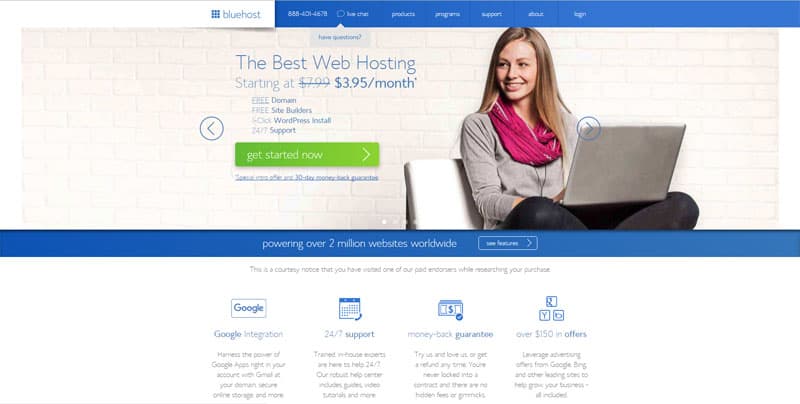 Bluehost: Ranking in at number 1 was Bluehost, which has a very smooth installation process. What's so smooth about it? Well, the install procedure is as easy as 1 click, and you're ready to go! Their servers are specially designed to run WordPress like no other company offers. Their exclusive technology provides reliable and functional performance which is what most people crave when it comes to how they want WordPress to run on their website.
Once you sign up, the integration with WordPress blogs and websites is easy, and you will quickly notice the difference in quality. As your business grows so do your Bluehost options, because they provide true scalability to follow your site's growth up to migrating your account to a dedicated server.
Besides offering one of the best-managed platforms, Bluehost's customer service stands above the rest and with pricing starting at $3.95 per month, who could ask for a better deal?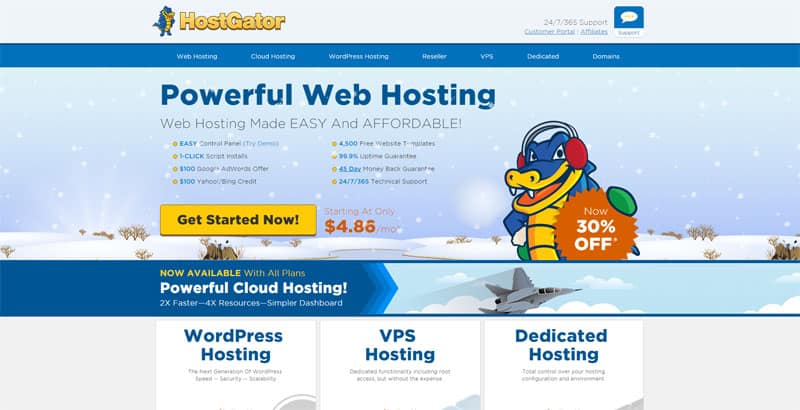 HostGator is optimized for next generation WordPress solutions and runs up to 2.5 times faster than other leading services. They provide advanced security to fight off hackers and offers an easy to manage control panel. Their tech team can assist (for free) with migration from your existing platform.
In addition, they have over 4,000 website templates at no additional cost which will help your design process incredibly. Services start at $4.86 per month and a 45-day money back guarantee only helps secure your decision to sign up!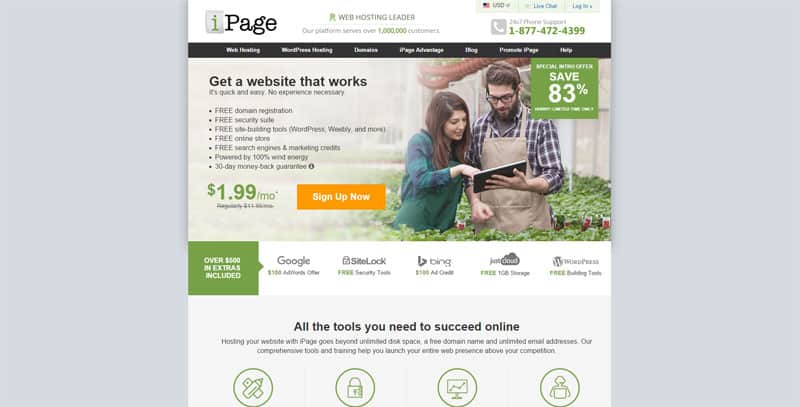 iPage held its weight and made it to the top 3! iPage has inexpensive core hosting plans that are suitable for companies both small and large. Their customizable control panels allow you to manage your services with ease, and their design assistance provides you with the opportunity to create unique web pages using their pre-installed themes and library of plugins.
You can upgrade your plan if you have a bigger need for speed along with the ability to enhance security to protect your website from the evil geniuses of the world. Plans start as low as $3.75 per month.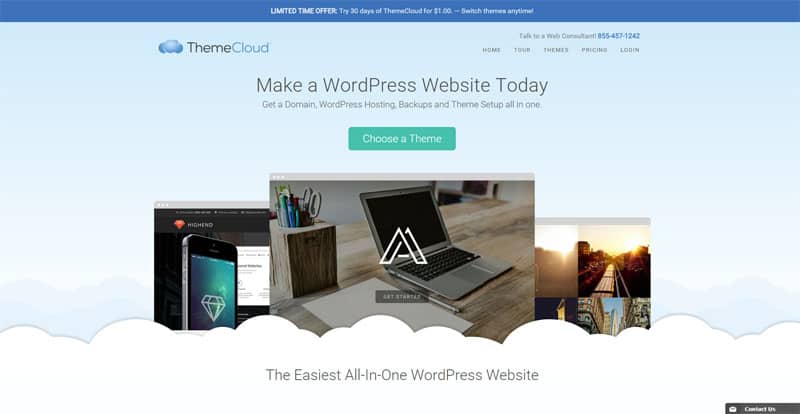 ThemeCloud is considered one of the better companies to use for hosting WordPress when you plan to design it from scratch. They offer secure hosting plans with premium themes that can be automatically installed. One of the perks with ThemeCloud is having the ability to alternate your theme from time to time, which works well if your business has seasonal changes.
With ThemeCloud, you can select one of their premium themes that provide automatic updates, or you can let them set up your theme that will also automatically update your WordPress along with your theme. Customizing your website or blog can help drive traffic to your page and increase your subscribers who will be impressed with your customization. When a customer is impressed, you stand a better chance of having them spread the word or share your web page on their social media pages. ThemeCloud offers monthly and annual pricing packages starting at $4.99 per month.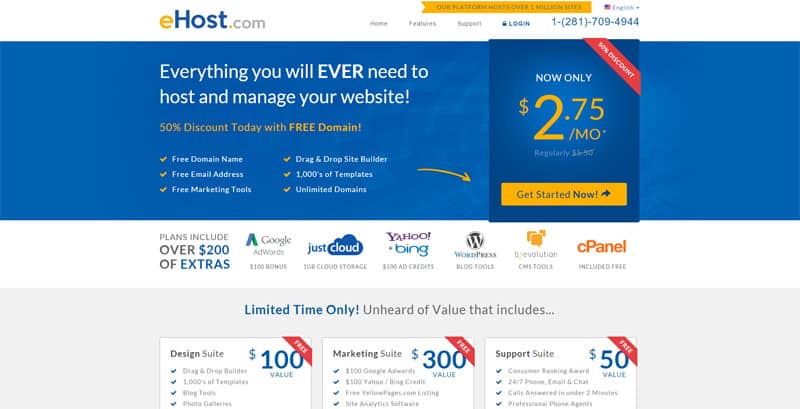 eHost.com was ranked number 5 but depending on what you're needs are, you may find that it ranks higher on your own list. Like other services, eHost offers you a free domain but to be different, they offer this free domain for the length of your plan, so you don't have to worry about the separate fee. The website builder is user-friendly, so you may save some money in the design process by not having to hire a well-versed web design guru. The design suite offers over 1,000 templates, blog tools, extensive photo gallery, online store, and webmaster tools.
To stand out above the rest, eHost provides a marketing package at no additional cost that includes credits towards Google Adwords, Yahoo, Yellow Pages, Site Analytics, Website Authentication, and SEO tools.
The eHost support package, which is also free, grants customers 24/7 support via phone, email, or online chat. Their professional agents answer your call in less than 2 minutes, but if you prefer to learn on your own, you can browse through their online tutorials to get you going! Pricing plans start at $2.75 per month.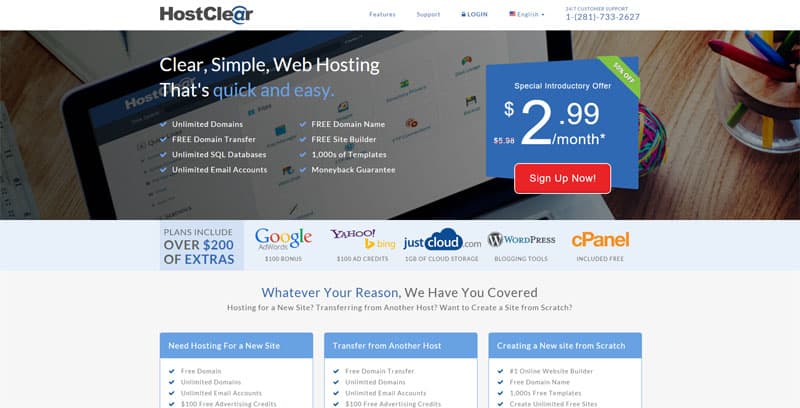 HostClear is one of the simplest web hosting solutions available because of their quick and easy setup tools. They offer the ability to host unlimited domains, and before you worry about pricing to transfer, domain transfers are free! You also get unlimited email accounts which is a great bargain because other hosting sites charge a monthly fee per email address.
The HostClear site builder is free and contains over 1,000 templates for you to choose from along with unlimited SQL databases.
HostClear has some extra bonuses for new customers like 1GB of cloud storage space, blogging tools, cPanel, and ad credits through Google Adwords and Yahoo. The bonuses vary depending on the package you choose and whether or not you are starting new domains or transferring from another service. Although other hosting sites offer bonuses, the winner here is the unlimited email addresses which is a rare offer these days.
This may be the best route to go if you're an established organization that has to transfer a multitude of domains so that you don't have to pay per transfer. For startups, the advertising credits are a great perk to get you started by placing your business on the internet and climbing up the search engine ladder! Packages start at $2.99 per month.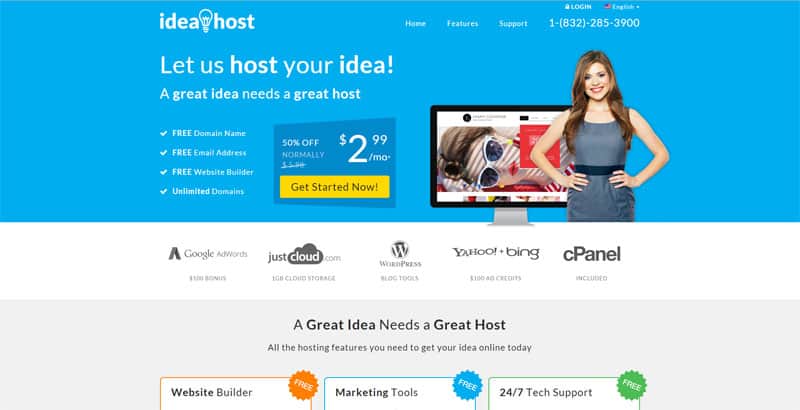 Idea Host ranked in at the bottom of this list of 7 Best WordPress Hosts, but it's not last on this year's list of top WordPress Hosts. Despite its placement on any list, Idea Host is not to be underestimated when it comes to quality of product, service or the tools they offer their customers.
With Idea Host, you can choose a package that fits your needs and your budget. With 3 packages to choose from starting at $2.99 per month, accommodating your financial plan goes without saying. They also jumped aboard the bonus train and added marketing perks to match their competitors!
Some of the valuable add-ons you can take advantage of with Idea Host are: $100 advertising credit towards Google Adwords, $100 Bing credit, Site Analytics, Authentication Seal, SEO tools, 24/7 email & phone support, QA testing, and online tutorials.
If you're looking for an easy design process, it just doesn't get easier than the drag and drop functionality on their website builder. That also comes with over 1,000 premade templates you can choose from. The site builder allows you to build a store and a blog right on your website and comes with blog tools to help you create a unique and custom blog.
Conclusion
Before you decide which WordPress hosting service to choose from, click around and visit the sites we've suggested on this list of 7 Best WordPress Hosts and see which company seems to match what you're looking for. Create a list of what you're immediate need are and what your end goals are and then call to speak to an agent so that there is no guesswork in your decision-making process. You won't know if it's exactly what you need unless you ask specific questions. Sometimes the money back guarantee is all you need so that you can test drive your new service and see if it suits all of your WordPress hosting needs.