Your tech and marketing stack is highly reliant on solid, fast, reliable, scalable web hosting. Whether you're managing bare-server hosting with your IT team, or going with a fully done-for-you solution like Webflow, the classic practice of hosting files in the cloud to serve to customers is just as relevant in 2023 as it was 20 years ago, albeit with lots of progress and changes.
But how do you decide on such a technical decision?
Choosing the best hosting is super tough – for beginners and pros alike. There are hundreds of options, and every web host claims to be the best one out there. And there's no one best host for every person or company – all situations are different. You have to determine what's best for your business and wade through too many options and too much marketing speak.
Our ever-updated review site attempts to turn jargon into clear, plain English in a causal yet helpful way.
How should you compare web hosts?
If you're choosing a host for the first time, it can be overwhelming to try to figure out what you should be comparing web hosts on
Do you compare only by price?
By customer support?
By largest disk space?
It's really tough, since the features, wants, needs are different for everyone. Let's highlight a few.
1) Compare web hosts on value not price
You shouldn't compare web hosts just purely on the price.
If you've literally got $2 a month you can afford for hosting, well, maybe you'll just have to go with that. But if you can swing a few more dollars, there's a world of other things to compare that go into value beyond just price.
Price = the raw $ amount that the hosting will cost you
Value = what you actually get for that price
Let's use a hypothetical situation, you have two options:
Web host A costs $30 a month, but you can only host one website, are only allowed 100 visitors a month, and you don't get email hosting
Web host B costs $100 a month, but you can host unlimited websites, can have unlimited traffic, and it comes with email hosting
What's a better value? Clearly it's web host B.
2) Customer service for hosting is king
If you're not an experienced developer or techie, you're going to need premium customer service support at a hosting company.
In fact, if you look at all the bad web hosting reviews, the #1 thing that comes up is customer service.
People get royally pissed off if the customer service takes 45 minutes to get on chat.
In fact, good customer service from a hosting company can more than make up for lower quality features, speed, and uptime.
If this is huge for you, check out our ranking of hosts with the best customer service.
3) Check the uptime percentages
It's one of the most basic things you want in a host: that the website is actually live.
Ideally your web host would have 100% uptime. But that's statistically impossible (I think).
So it's really, really important to check uptime percentages with a hosting company. The good ones will release these stats for you. The bad ones will try to hide it.
In reality, 99% uptime is not that good. It means your website will be down for 87.6 hours a year. That's not good enough for me.
Look for hosts with 99.999999% uptime.
Other hosting features to compare
There are so many things to compare, it's bewildering, here's just a few of them:
Bandwith
Storage space
Site speed
WordPress support
SSL certificates
Caching tools
The list goes on. What you need to do is create a list of your business needs and thoroughly research what's best for you!
Huge Top 25 Hosting Comparison Table (Our Research)
Host
WP Engine
A2 Hosting
Siteground
Bluehost
Dreamhost
Go Daddy
Hostgator
Inmotion Hosting
Media Temple
Ipage
Hostpapa
Green Geeks
Ix Web Hosting
Justhost
Lunarpages
Fat Cow Com
Myhosting Com
Network Solutions
One Com
Eukhost
Web Com
Web Hosting Hub
Web Hosting Pad Com
Arvixe
1And1
Overall Score
High
High
High
High
High
High
High
Medium
Medium
Medium
Low
Low
Low
Low
Low
Low
Low
Low
Low
Low
Low
Low
Low
Low
Low
Home URL
wpengine.com
a2hosting.com
siteground.com
bluehost.com
dreamhost.com
godaddy.com
hostgator.com
inmotionhosting.com
mediatemple.net
ipage.com
hostpapa.com
greengeeks.com
ixwebhosting.com (Now Bluehost)
justhost.com
lunarpages.com ( Now Hostpapa)
fatcow.com
myhosting.com
networksolutions.com
one.com
eukhost.com
web.com
webhostinghub.com
webhostingpad.com
arvixe.com
1and1.com
Pricing Page
https://wpengine.com/plans/#plan-finder-container
https://www.a2hosting.com/web-hosting
https://www.siteground.com/web-hosting.htm
https://www.bluehost.com/shared
https://www.dreamhost.com/hosting/shared/
https://www.godaddy.com/hosting/web-hosting
http://www.hostgator.com/shared
http://www.inmotionhosting.com/business-hosting
https://mediatemple.net/webhosting/
https://www.ipage.com/web-hosting
http://www.hostpapa.com/web-hosting-plan/
https://www.greengeeks.com/web-hosting/
http://www.ixwebhosting.com/hosting-plans
https://www.justhost.com/hosting-features
http://www.lunarpages.com/hosting/web/compare
http://www.fatcow.com/fatcow/hosting.bml
https://myhosting.com/web-hosting/
http://www.networksolutions.com/web-hosting/hosting-package-comparison.jsp
https://www.one.com/en/
https://www.eukhost.com/web-hosting/
http://www.web.com/hosting/unix.aspx
http://www.webhostinghub.com/hosting-plans
http://www.webhostingpad.com/web-hosting.html
https://www.arvixe.com/linux_web_hosting
https://www.1and1.com/web-hosting
Cheapest Plan Name
Personal
Lite
StartUp
Basic
shared website hosting plan
Economy
Hatchling Plan
Launch
Shared Hosting - Personal Plan
The iPage Essential Plan
Starter
ONE WEB HOSTING PLAN
Expert Plan
web hosting features
Starter Hosting
The Original FatCow Plan
Personal Website
Essential Hosting
Starter
Starter Plan
Essential Hosting
Spark
Power Plan
PersonalClass
Unlimited
Cheapest Plan Cost Sale Price
$29/mo (20% off with current coupon)
3.92 per mo
$3.95/mo
$3.95/mo
$7.95/mo
$3.99/month
$3.95/mo
$4.89/mo.
$20 per month
$1.99/mo
$2.95/month
$3.96PER MONTH
$3.95 per month
$3.95 per month
3.95 per month
$49/yr
$4.95/month
$9.96/mo
1 year free
£3.99 per month
$5.95/mo
$4.99/mo
$ 1.99 /mo
$4.00/mo
$0.99/month
Cheapest Plan Cost Regular Price
$29/mo
7.99
$9.95/mo
$7.99/month
$7.95/month
$7.99/month
$9.20/mo
$6.99/month
$20 per month
$11.95/mo
$2.95/month
$9.95/mo
$7.95 per month
$7.99 per month
3.95 per month
$12.95/month
$9.94/mo
$9.96/mo
$2.45/mo
$5.20/mo
$9.95/mo
$8.99/mo
$ 1.99 /mo
$7/month
$6.99/month
Number of websites allowed
1
1
1
1
Unlimited
1
1
2
100 sites
1
2
Unlimited
Unlimited
Unlimited
1
Unlimited
Unlimited
100
1
Multiple
100
2
Unlimited
6
1
Space
10GB
Unlimited
10GB
50 GB
Unlimited
100GB
Unmetered
UNLIMITED
20 GB
Unlimited
100GB
Unlimited
Unlimited
Unlimited
5 GB
Unlimited
Unlimited
300 GB
15 GB storage
5 GB
Unlimited
Unlimited
Unlimited
Unlimited
Unlimited
Bandwidth/data transfer/Visits Limit
25k visits
Unlimited
Unlimited
Unmetered
Unlimited
Unlimited
Unmetered
Unlimited
1TB
Unlimited
Unlimited
Unlimited
Unlimited
Unlimited
50 GB per month
no set limit
No limit
Unlimited
Unlimited
Unlimited
Unlimited
Unlimited
Unlimited
Unlimited
Unlimited
Best for
Growing WordPress sites
Multi-site owners
Everybody
Bloggers
Bloggers
Small businesses
Tech-saavy Bloggers
Business from the early 2000s
Designers
Old-school geeks
Old businesses
Environmental bloggers
Nobody
Nobody
Nobody
Nobody
Bloggers
Old folk
Nobody
Nobody
Nobody
Randos
Nobody
Nobody
Old folk
Database Limit
10GB, Scales beyond that with pricing
5
Unlimited MySQL DB
There is limit for database tables it is 1000 tables.
Unlimited
Unlimited
UNLIMITED
2
100
Unlimited
25
no limit
1 gb
Unlimited
1
Unlimited
?
25 (300MB)
Single
400 MB per DB
25 (300MB)
10
Unlimited
Unlimited
20
Staging Area
Yes, included.
Included
No
Not included
Included
Not included
Not included
Yes, Included
Yes, Included
Yes, Included
Yes, Included
Yes, Included
Yes, Included
Yes, Included
Yes, Included
N/A
N/A
Not included
Not included
N/A
No
No
No
Included
Included
Free Domain?
No
No
Yes
Yes
Yes
Yes
Yes
Yes
Yes
Yes
Yes
Yes
Yes
Yes
Yes
Yes
Yes
Yes
Discount
Yes
Yes
Yes
Yes
Yes
Yes
Website Transfer?
Automated with plugin
Yes, free
Yes, free
150
FTP only
Yes, free
Yes, free
Yes, free
150
Yes, Free
Yes
Yes, free
Yes
149
No
150
Free for small sites
Yes, free
Yes, not free
Yes, Paid
Yes, free
Free for small sites
Yes, free
Yes, Free
Yes, free
Email Hosting?
No
25
Yes, free
5 email account
Yes, free
Yes, free
Yes, free
Yes, free
Yes
Yes
Yes
Yes, free
Unlimited
Yes, free
5 email account
Yes, free
Yes, free
1000
Email is free and size of your we space will rule the limits. Example with 15 GB Starter package and one email
25
100
Yes, free
Unlimited
Yes, free
100
Support Type?
Email 24/7 and chat during business hours.
24/7/365 US-Based Guru Crew Support
24/7 Support
24/7 Support
24/7/365 via live chat, email, and Twitter
24/7 Technical Support
24/7/365 Support
24 x 7 x 365 US-Based Support
24/7 Technical Support
24/7 phone, chat and email support
24/7 Multilingual Support (Chat & Email)
24/7/365 US-Based Support
24/7/365 support
24/7 Technical Support
24/7/365 Support
24x7 Support
24/7 In-House Email, Chat and Phone Support
24x7 Technical Support
24/7 Support
24/7/365 U.S. Based Tech Support
24/7 U.S. Based Support
24/7 Phone & E-mail Support
Email/Ticket Support?
Yes, 24/7.
Yes
Yes
Yes
Yes
Yes
Yes
Yes
Yes
Yes
Yes
Yes
Yes
Yes
Yes
Yes
Yes
Yes
Yes
Yes
Yes
Yes
Yes
Yes
No
Chat Support?
6AM-8PM CST
Yes
Yes
Yes
Yes
Limited
Yes
Yes
Yes
Yes
Yes
Yes
Yes
Yes
No
Yes
Yes
Yes
Yes
Yes
Yes
Yes
Yes
No
Phone Support?
No
Yes
Yes
Yes
Yes, callback
Yes
Yes
Yes
Yes
Yes
Yes
Yes
Yes
Yes
Yes
Yes
Yes
Yes
Yes
Yes
Yes
Yes
Yes
No
Yes
Avg. Support Response Time
30 seconds
24 hours
5 minutes
Within 24 hours
24hrs
Right now our tickets are taking around 72 hours to be resolved
They will respond not later than 4 hours
10 hours
a minute on average
few hours
15-30 mins
2 hours
24 hours
There is no ETA for this. As it depends on how many tickets are in help desk. How ever we try to get back to you as fast as possible.
12 to 24 hours
30 mins for the the 1st response and 1-2hrs for the second response
24 to 48 hours
We answer to our emails in 24 hours but our English chat is open 24/7
30-60 minutes
Within 24 hours
no later than 4 hours
5 minutes
Depends on the way they are received. and we try our best in resolving and getting in touch with our customers. Few hours.
Up to several days
Uptime (last 12 mos)
99.95% guarantee
0.999
0.99996
we are not able to say the uptime percentage, since it is a shared hosting.
1
0.999
1
0.999
0.999
0.999
0.999
0.99
0.999
0.9999
1
0.9999
0.9995
0.9999
99.9% or better
0.99
0.999
0.9999
Backup?
Daily, free. 60-day archive.
no available
Free, daily backup
Daily backup
Free, daily backups
Free Daily Backup
Instant Backup
Free data backup
snapshot backup
Website Backup Software
Alternatively if you wish you can take the backup of your website manually from cPanel
FREE Nightly Backups
Backups are done 2 times a week
daily, weekly and monthly backups
daily backup but restoring is not free hence we advise to have addon service.
last 7 days Backup
Daily Back-up
7 day backup
two weeks
Free Backup
Manual backuping or automatically backup every 24 hrs for $1/mo
Free Backups†
Daily R1Soft Backups
daily / Webspace Recovery
Website builder?
No
Yes, free
Yes, Free
Yes, Free
Yes, Free
Yes, Free
Yes, Free
Not included
Yes
Yes, Free
Yes
Yes, free
Yes, free
Yes, free
Yes, free
Yes
Yes, free
Yes, free
Yes, free
Yes, Free
Yes, free
Yes, free
Yes, Free
optional
cPanel?
No, unique interface.
Yes, included
Yes, included
Yes, included
No, inhouse

Yes, included
Yes, included
Yes, included
Yes, included
not included
Yes, included
Yes, included
Not included
Yes, included
Starter plan can have cPanel for extra $2/month.
Yes, included
Not included
Not included
We do not use cPanel, we have our own control panel.
Yes, included
Yes, included
Yes, included
Yes, included
Yes, included
Yes, included
SSH Access?
No. "As we are a fully managed host, we do not provide ssh or root access. However, you can access your database via SFTP and phpmyadmin."
Yes
Yes
Yes
Yes
Yes
Yes
Yes
Yes
No
No
Yes
No
Yes
Yes, we do offer SSH for extra $2/month.
No
Business, limited. Full, VPS
No
no
Purchased separately
Yes
No
Yes
Yes
Money-Back Guarantee?
60-Days
anytime
30-Days
You can get the refund according to what you have paid anytime but according to the terms and conditions.
97-day
30 Days
45 Days
90 Days
30 days
30-days
30-day
30-day
90 day
30 days
30 days
30 days
30-day
30 day
15-day
30 days
None
90-day
30 days
before 60 days
30 day
WordPress Friendly?
Yes
Yes
Yes
Yes
Yes
Yes
Yes
Yes
Yes
Yes
Yes
Yes
Yes
Yes
Yes
Yes
Yes
Yes
Yes
Yes
Yes
Yes
Yes
Yes
Joomla Friendly?
No
Yes
Yes
Yes
Yes
Yes
Yes
Yes
Yes
Yes
Yes
Yes
Yes
Yes
Yes
Yes
Yes
Yes
Yes
Yes
Yes
Yes
Yes
Yes
CDN?
$19.99/mo
Free
Free Cloudflare CDN
Free Cloudflare CDN
Yes, free
Free Cloudflare CDN
Not anymore are we in partnership with cloudflare now we promote the Sitelock CDN
No
No
Free 1GB cloud storage account
Free Cloudflare
Free Cloudflare CDN
No
Free
Unfortunately we do not offer CDN , how ever you are welcome to use it from CDN site.
1 Gb
Free Cloudflare
No
Yes
https://www.eukhost.com/cloudflare.php ( You'll need to signup with cloudfare and get in touch with our techs)
N/A
No
Free Cloudflare
Free Cloudflare CDN
optional
SSL
$49.99/yr
Yes
Yes but not free
Free
not eligible
shared SSL
1 site free for annual plan
Not Free
Free
Yes
Yes
Yes, we do offer shared SSL for emails/control panels and HTML pages. Please note shared SSL is not supported for PHP/Java pages.
Yes but not free
Vanity SSL Certificate
Yes, not free
Yes
Yes
Purchased separately
Shared SSL
no
Not Free
Yes, included
Security Details
Proactive WordPress security keeps your
data and your website safe.
Perpetual Security
Sophisticated security systems.

Domain privacy, spam protection.
Malware Remover, Let's Encrypt, Free Domain Privacy, HTTP/2, mod_security, lua-resty-waf
malware removal extra cost $300/year
Making regular backups of your website

firewalls on servers, no malware scanners
Sitelock

Server Firewall, Monitoring & Intrusion Detection
Real Time Security Scanning
Sitelock

Mod Security website security software and server software firewalls. Our datacenters have hardware firewalls as well. Our senior technical staff monitor our servers using NAGIOS
Malware scan, prevents site blacklisting, and provides sitelock badge $1.94/mo
Web page password protection
Security is extra
Domain privacy
Sitelock purchased separately, with firewalls and malware scans
We make sure that the server itself is protected
Global firewalls, malware scans upon request, and sitelock for purchas extra $30/year
Nightly Security Updates
DDoS protection and geo-redundancy included
Other features
They are 100% focused on WordPress websites. ENTERPRISE-GRADE SECURITY
Proactive WordPress security keeps your
data and your website safe.
Google Ads credits of $200

Unlimited storage, database, and websites
Looking for the best web hosting? Here are our top 10:
You'll inevitably have a set of needs depending on a multitude of factors:
Small business or large?
Content site, ecommerce site, lead generation site, or something else?
Is your company a marketing-led organization? Sales-oriented? Product-led?
Are you the person managing the site?
Are you technical? Semi-technical? Non-technical?
How big will your site be – 10 pages or 100,000 pages?
How critical is pricing and value?
There are all questions we seek to address on this page and beyond.
For starters, we've narrowed things down to the top 10 web hosts, and indicated which is best for you. But please poke around the site and dig deep to find other reviews and articles that better address your needs.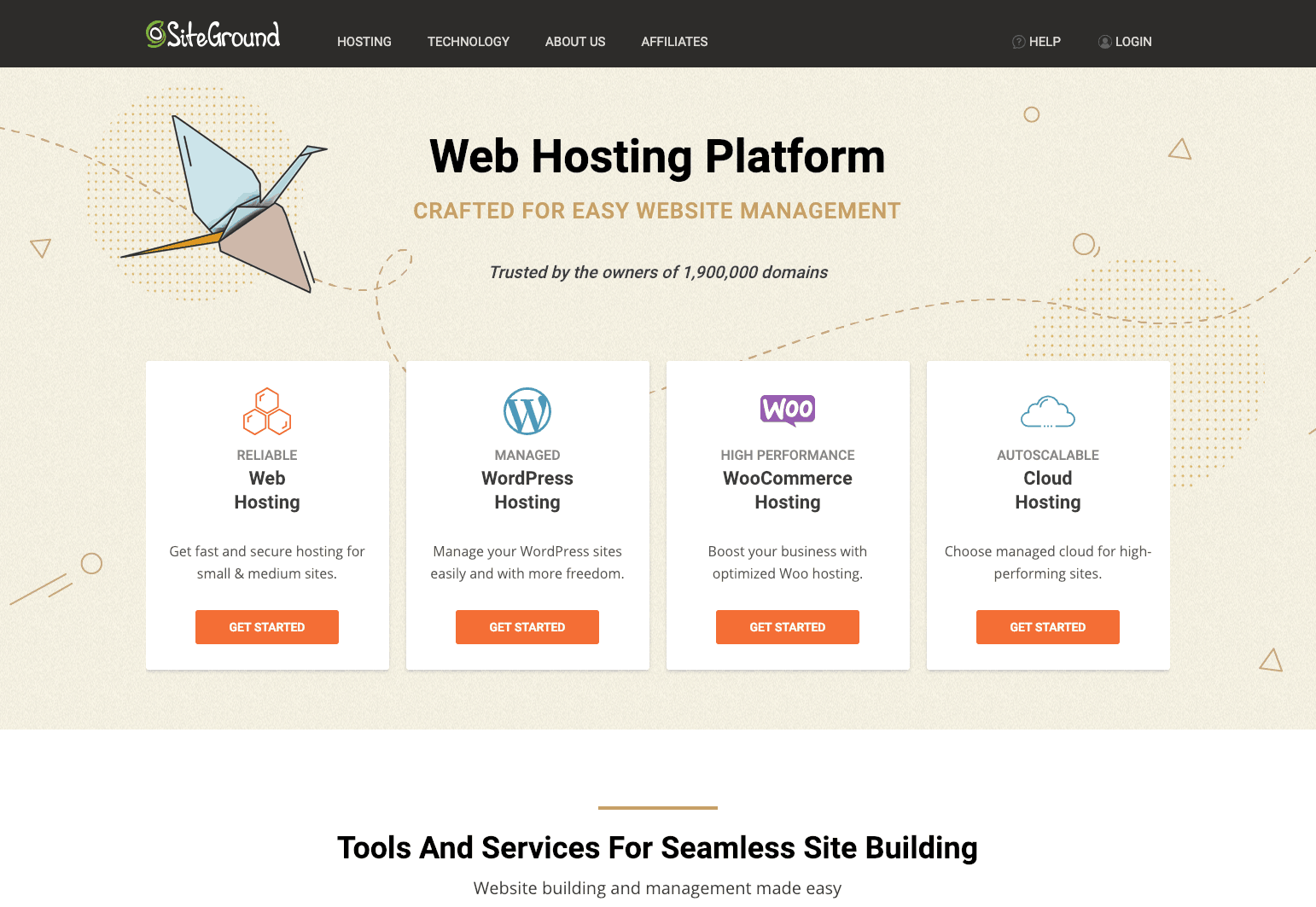 Why it's the #1 all-around best host:
Amazing customer support
Tons of features and WordPress tools
Starts at just $3.95/mo
If you're a beginner to intermediate site manager, you can't go wrong with SiteGround. It's the overall #1 pick because it simply covers everything you need at a rock-solid price, and their customer support is 2nd to none.
If you don't have time to compare, just go with SiteGround. Read full review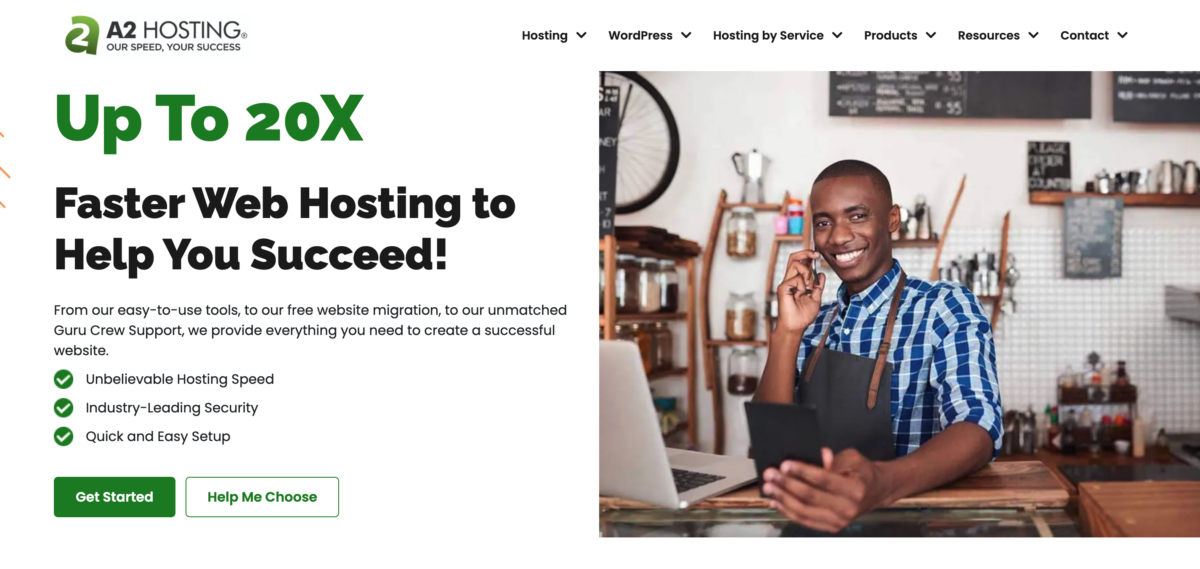 Why it's a solid #2 option:
Fastest shared hosting – up to 20x faster
Free hosting migrations
Starts at just $2.99/mo
Looking for something besides SiteGround? A2 Hosting is a solid option with up to 20x faster shared hosting, 24/7/365 customer support, and loaded with features. The best part? Free migrations from your current host you're trying to ditch.
A2 Hosting is a solid, U.S-based web host. Read full review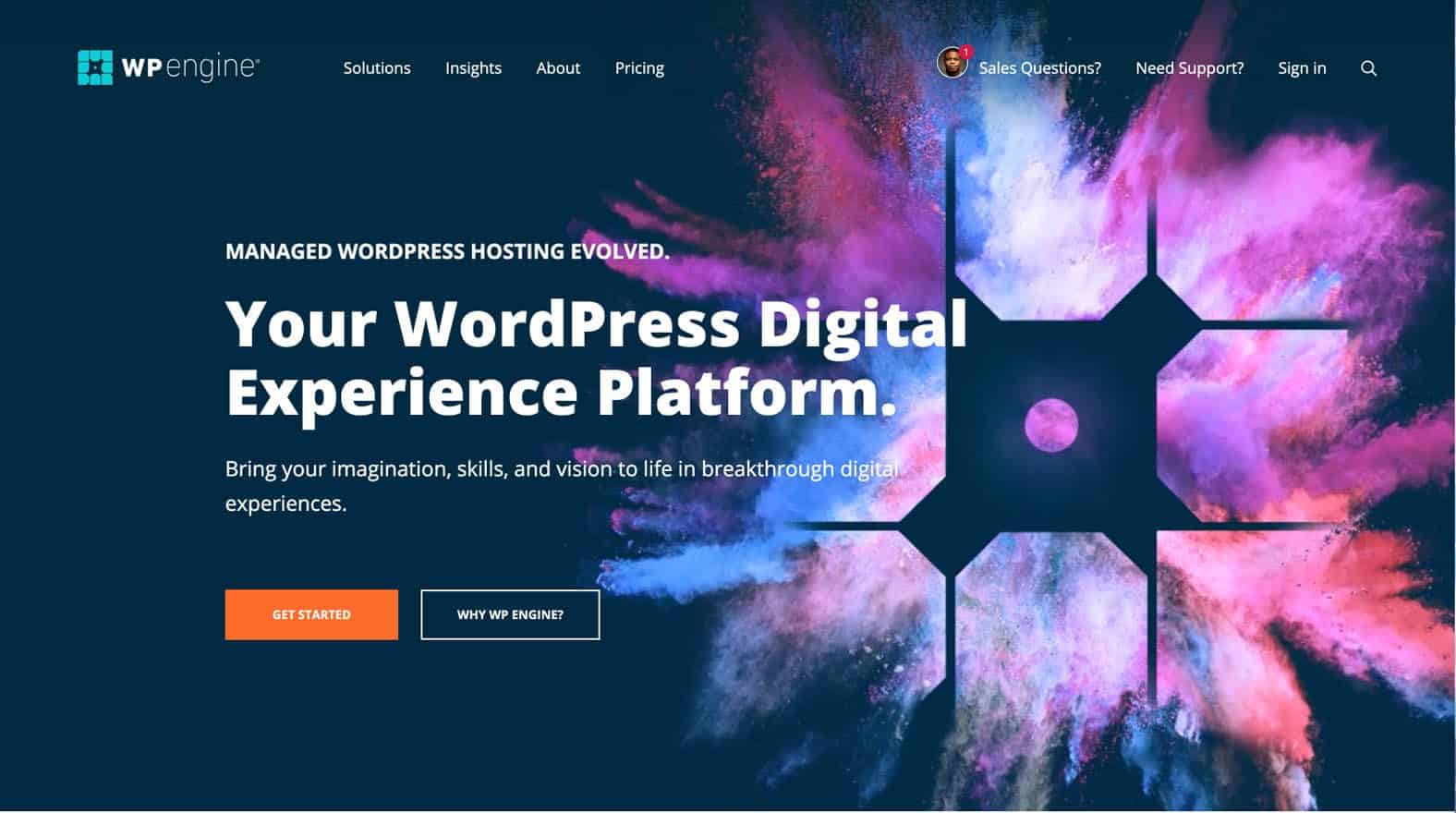 Why WP Engine wins WordPress:
Engineered for WordPress sites
Super-fast WordPress hosting
Starting at $20/mo (with discount)
WP Engine started the whole WordPress hosting craze. Yes, they're more expensive than shared hosting, but at $24/mo to start, it's a drop in the bucket for real businesses on WordPress. Business hosting value with premium support? That's WP Engine.
WP Engine comes free with Studio Press themes. Read full review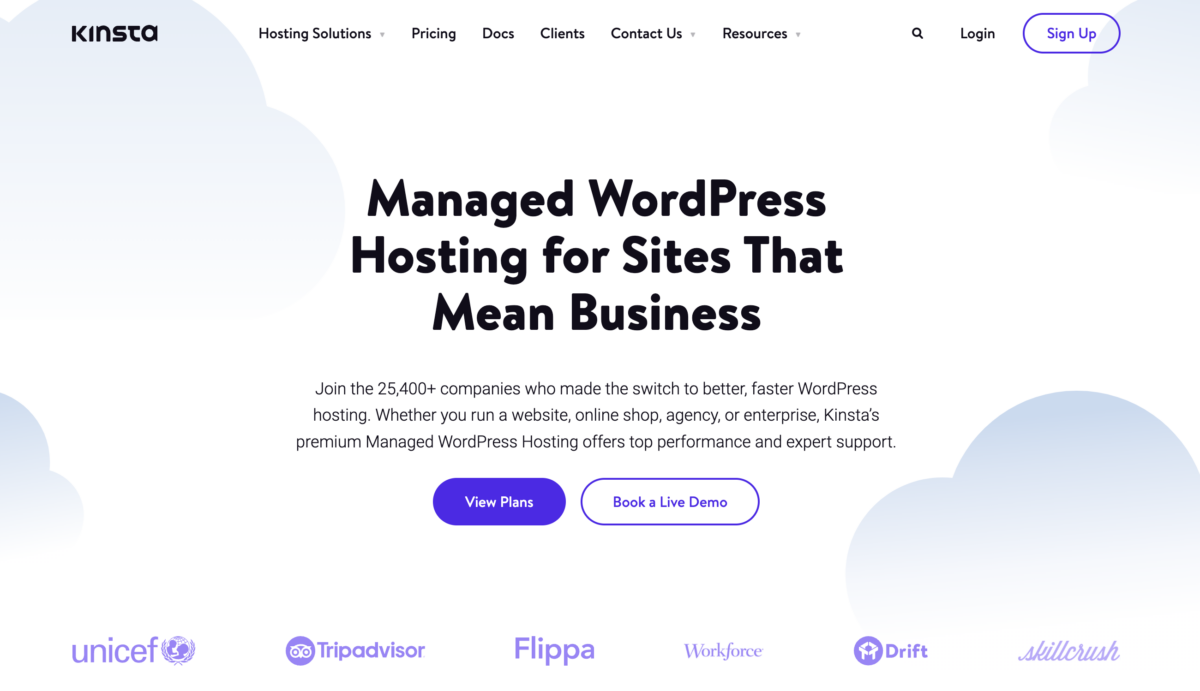 Why insiders love Kinsta:
Free website migrations
Tier-1 customer support
Starting at $30/mo
Kinsta is taking off like a rocket. Those in the WordPress development and digital marketing space prefer Kinsta. You get top of the line developers handling customer support, super fast page load speeds, and features built for WordPress sites.
Is Kinsta the best WordPress host? Read Kinsta review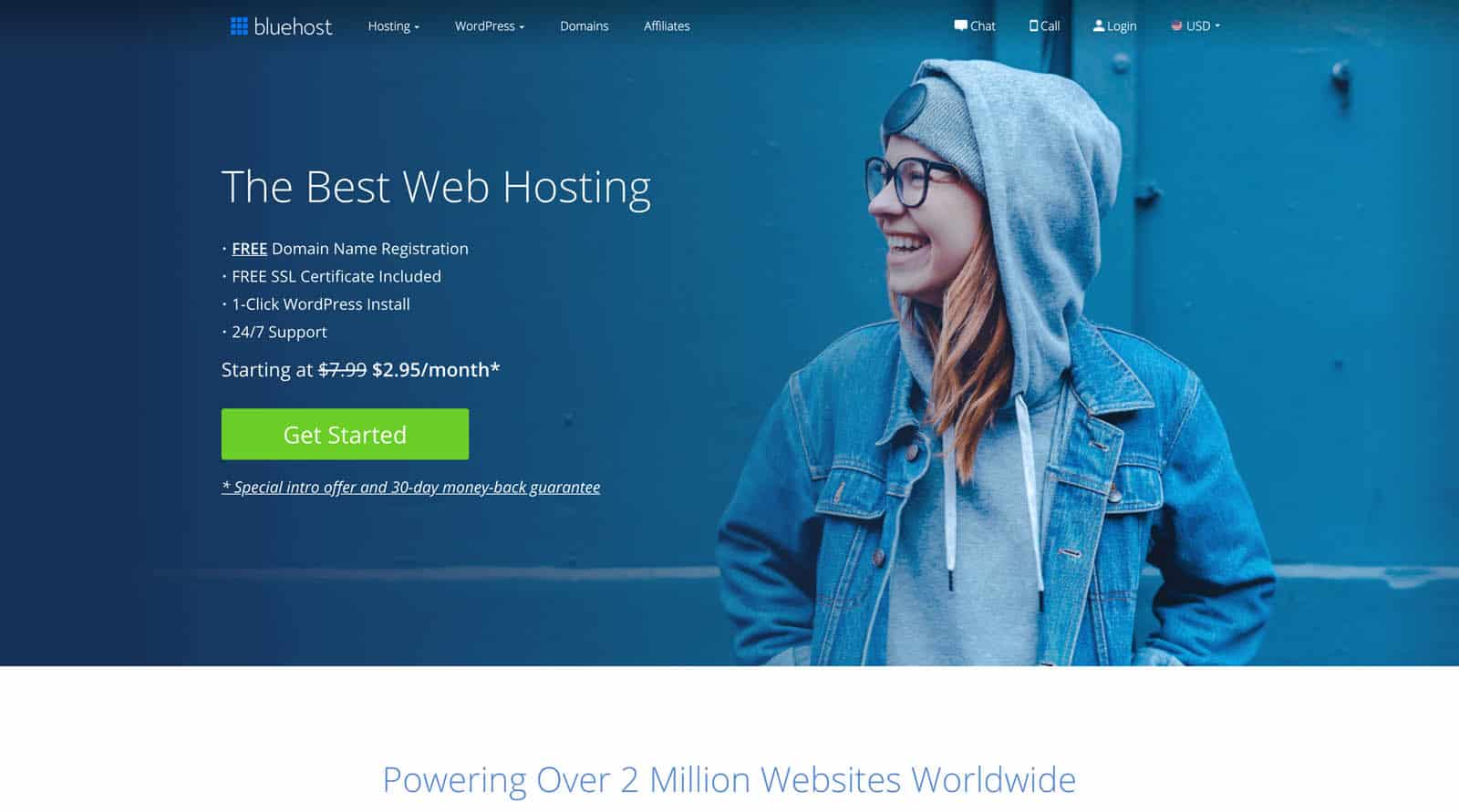 Where Bluehost shines:
Free domain name
99.9% uptime
Starting at #2.95/mo
You've likely heard of Bluehost before – a super popular brand with extensive podcast ads. Are they good? With an easy interface, free domain, and solid features, they're great for beginners to start with.
Is Bluehost right for you? Read full review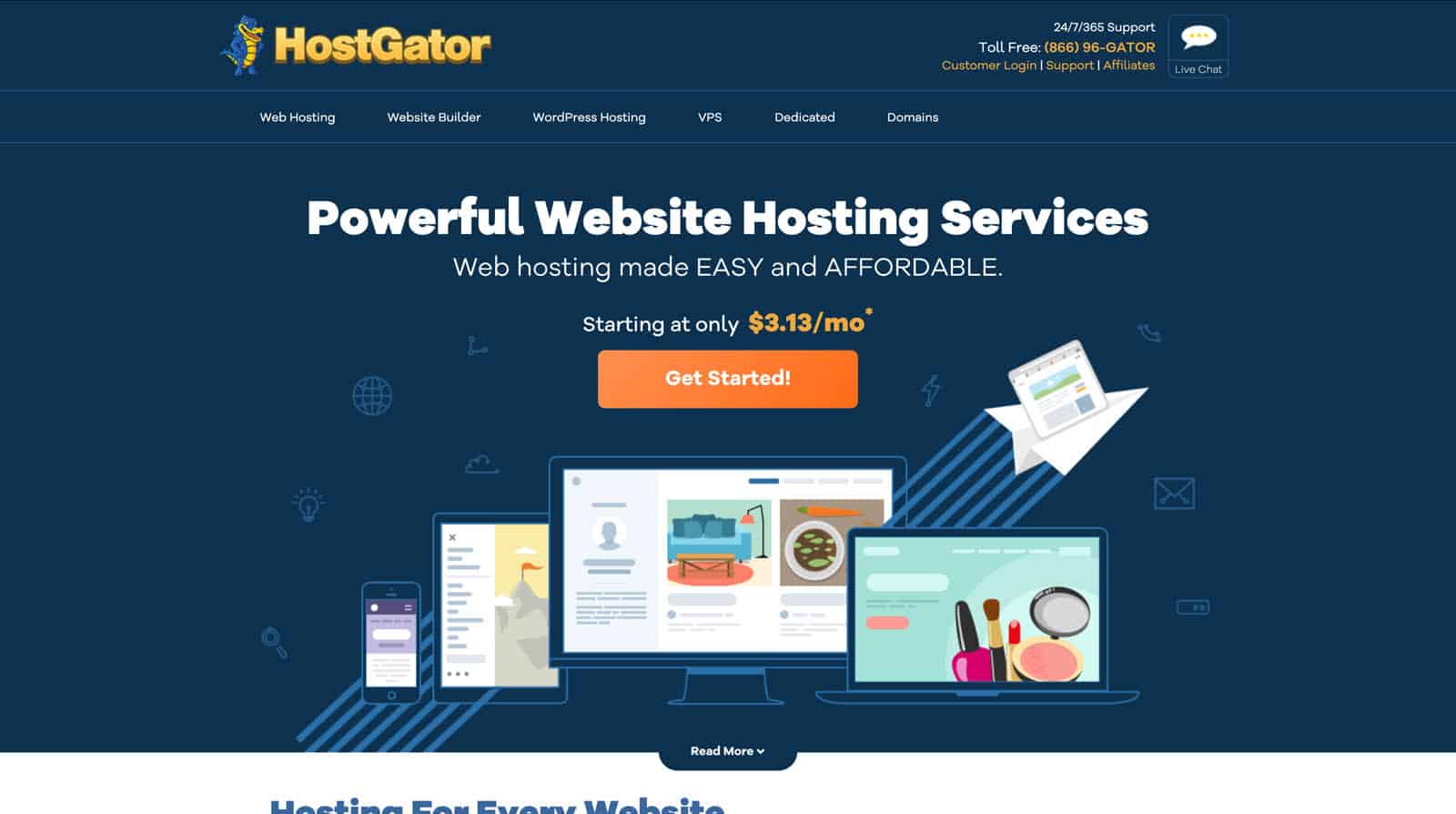 Why HostGator is worth it:
Free website migrations
45-day money-back guarantee
Starting at #2.95/mo
HostGator is another cheap shared hosting option for beginners. In addition, they have VPS, cloud, and other hosting options. We love the free migrations and 45-day money back – that's putting your money where your mouth is.
Want more HostGator hosting facts? Read full review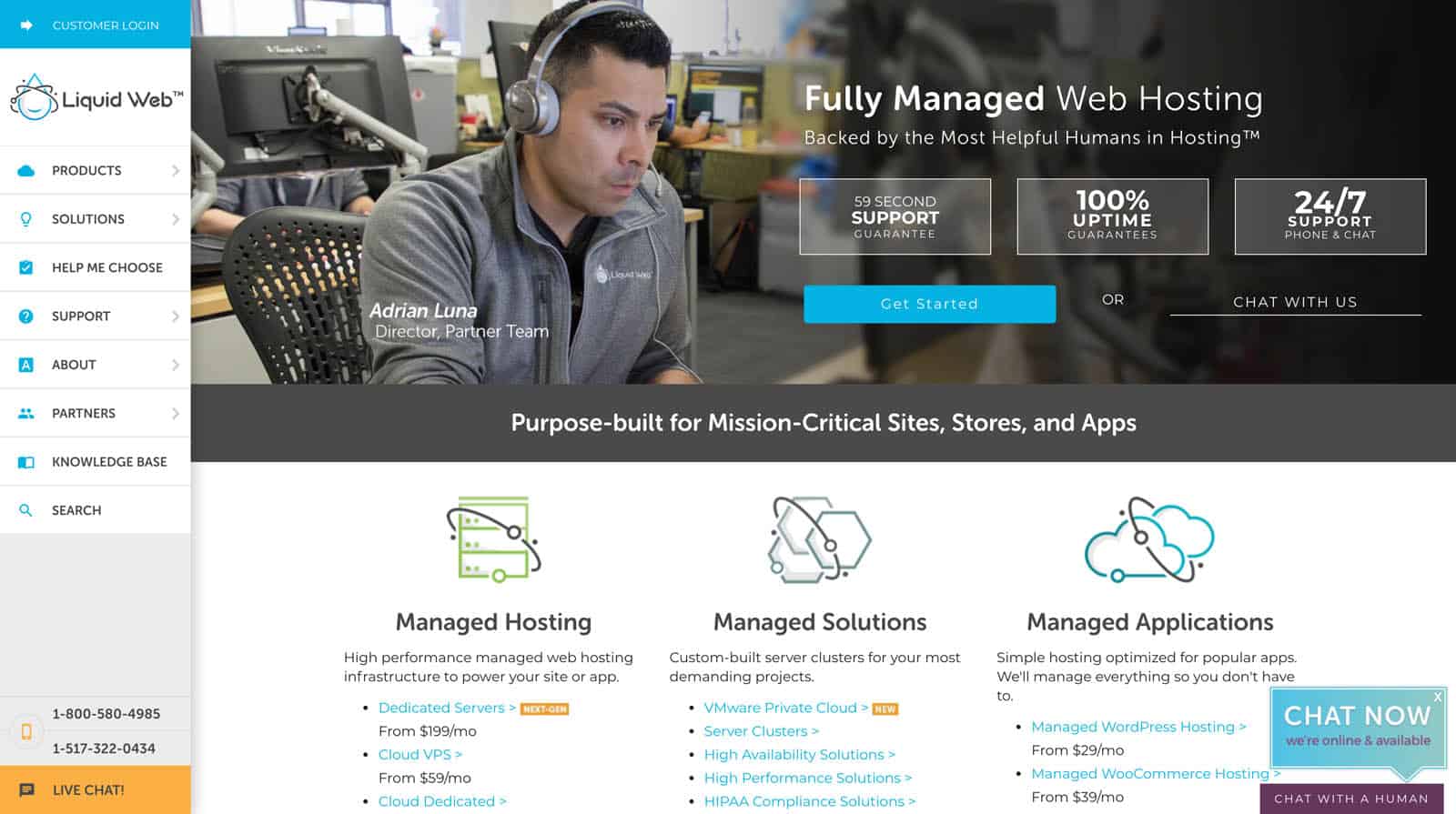 What sets Liquid Web apart:
Quality 24/7 support
Focused on your WooCommerce store
Starting at $39/mo
Liquid Web offers every type of business hosting, but what sets them apart is their managed WooCommerce hosting. With 2-10x faster performance, 24/7 support, and free migrations there's a lot to like.
Looking for robust WooCommerce hosting? Read full review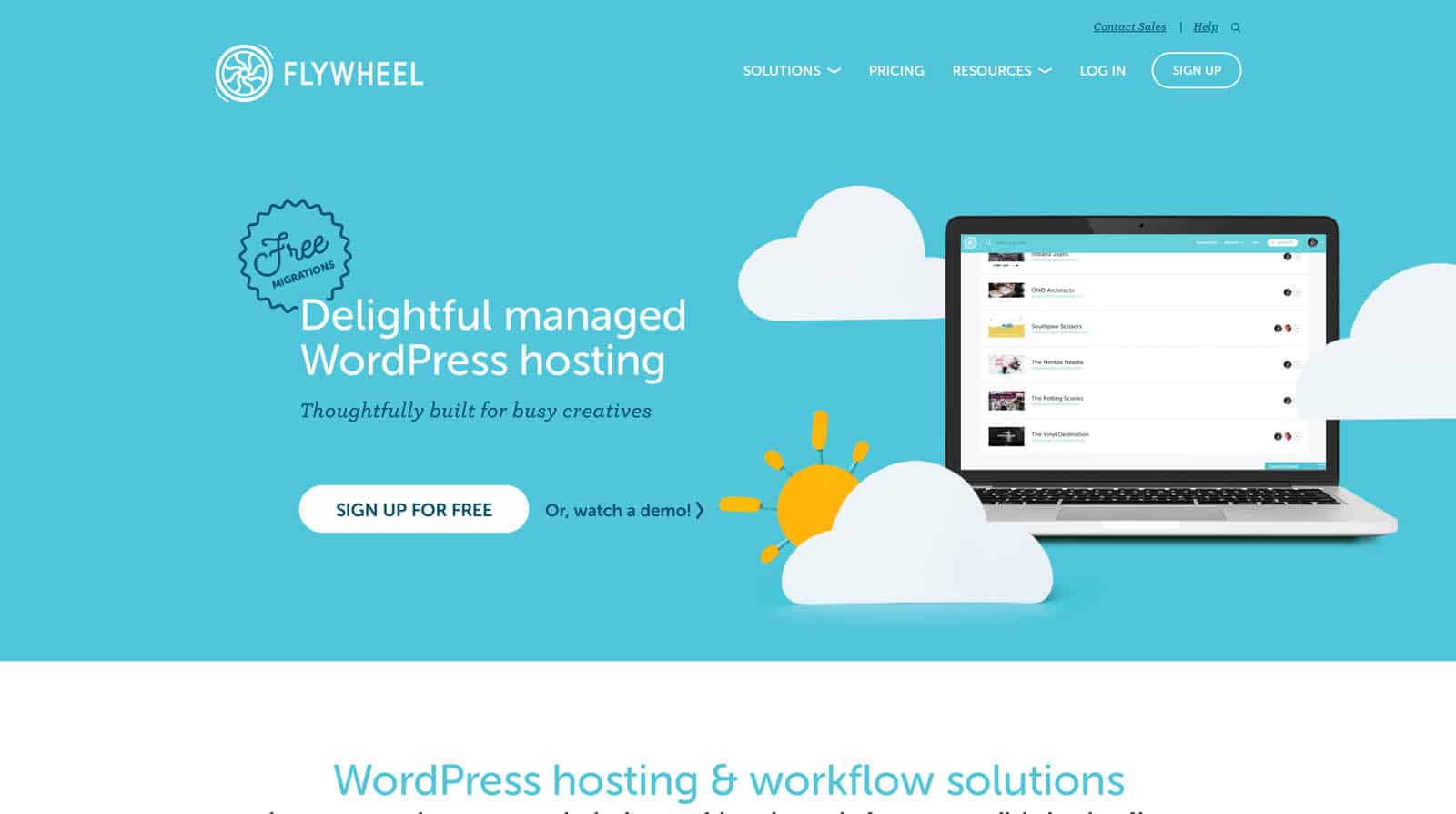 Why creatives like Flywheel:
Real customer support
Free migrations
Starting at $14/mo
Flywheel has the managed WordPress hosting support and features of other premium hosts, but at a lower price tag that freelancers love. Plus they just rolled out their cloud platform build on Google Cloud. With 70,000+ creative customers, they're doing something right.
Are you the creative Flywheel was built for? Read full review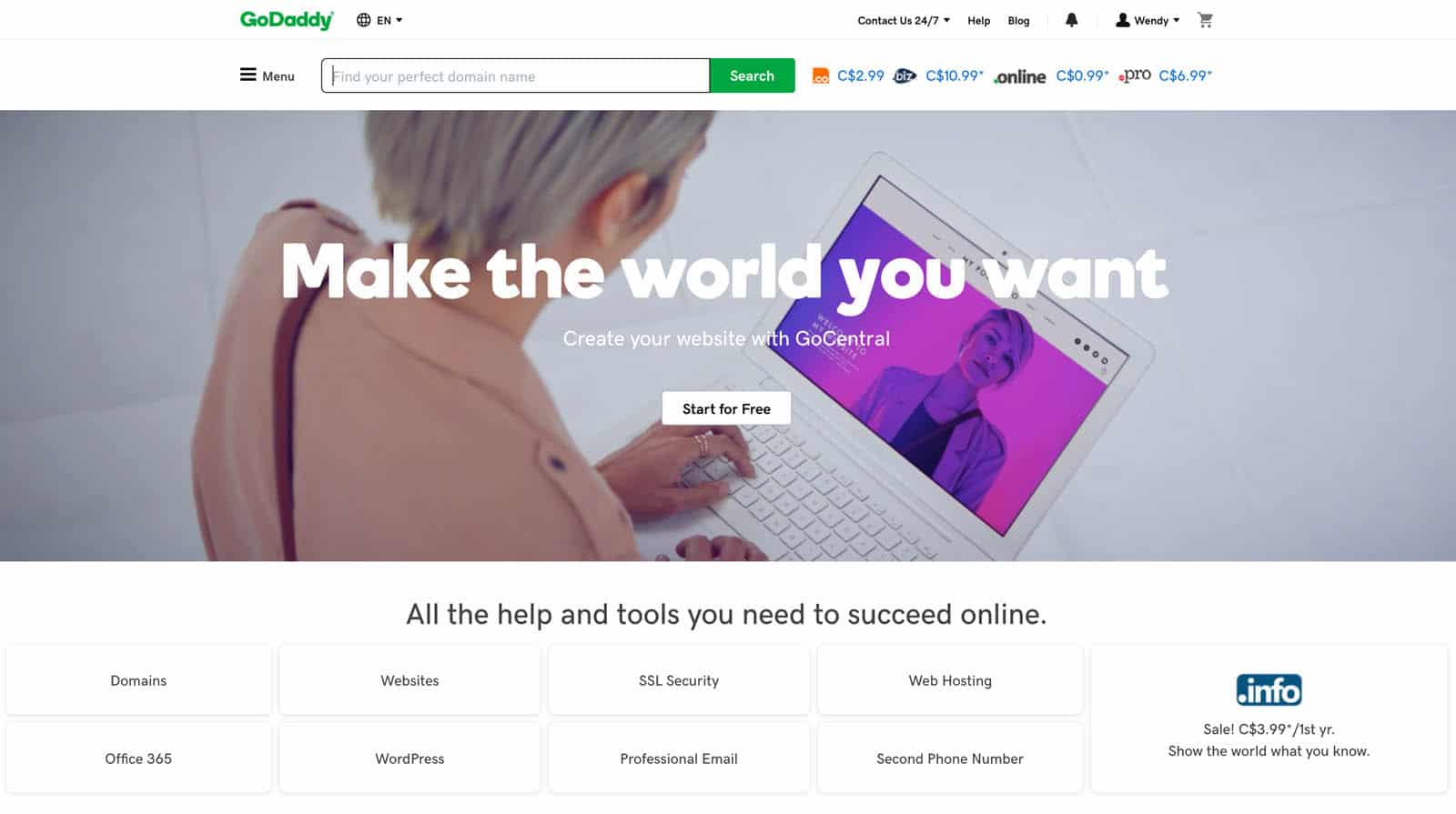 Where GoDaddy wins:
U.S.-based phone support
Cheap hosting options
Starting at $2.99/mo
GoDaddy is the #1 host by market share. They offer every host under the sun, so you can find something that works. We love that they have the cheapest WordPress hosting, U.S.-based phone support, and easy to use if all your domains are there.
But what are the drawbacks to GoDaddy? Read full review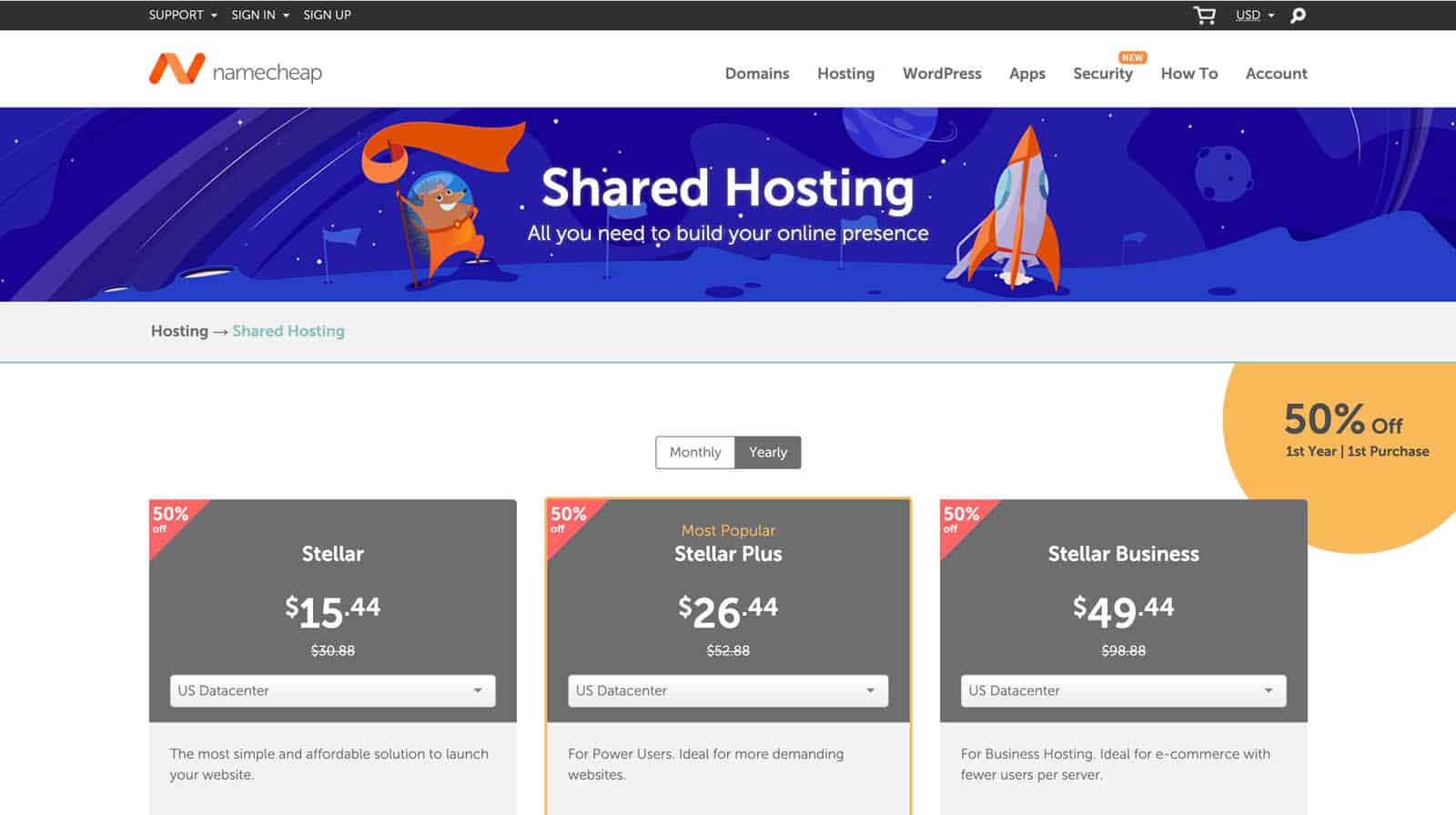 Why Namecheap stands out:
Unlimited bandwidth
Works for small, simple sites
Starting at $1.29/mo
There's no such thing as "real" free hosting, but Namecheap gets pretty close at a jaw-dropping $15.44 a year. If you have a ton of sites and are already using Namecheap for domains, their hosting is worth checking out.
With hosting this cheap, is it any good? Read full review
Top Features of the best Web Hosts
SPEED AND UP-TIME RELIABILITY

Who wants a slow site? Nobody. A bad host can slow down your loading times and destroy your conversion rates. Good hosts load fast and optimize for scaling. Check out our ranking of the
speediest web hosting
companies.
FRIENDLY & 24/7 SUPPORT

There's nothing worse than "big-box" hosts that make you wait 45 minutes. You need fast, friendly, and knowledgable hosting support. This is crucial to your sanity. We found the top web hosts for
customer support here
.
EASY & FUNCTIONAL CONTROL PANEL

Some hosts just go with cPanel, some create their own. Either way, you need to know if you're getting something elegant, or a monstrosity from the 90s. Do that research before you buy.
REASONABLE PRICE

Reasonable means a lot of things. If you're a student, you need it as cheap as possible. If you're a real business, you need a fair value. If you're an enterprise it's more about results. Don't base your decision on pricing alone. Two cheap hosts with amazing features are
SiteGround and A2 Hosting
.
SECURITY BACKUP FACILITIES

How much will a hacked site cost you? You must prepare for the worst scenarios, and they will happen. From security to downtime, you need to know how your hosting company will support you through thick and thin. Make sure you have an
SSL installed
and
prevent hacking
and malware.
GUARANTEES

Don't roll the dice. Go with a trusted host that guarantees their work. From 60-day trials to anytime refunds. From 1,000 5-star reviews to a host swallowed up by a globo-corp – you need to know what you're buying.
A web host is a service that stores files for you in the cloud to power your website. The best way to think about it is that all the files for your website are similar to a collection of Microsoft Word docs. Instead of storing the Word docs on your desktop computer, you're storing them on someone else's computer in a huge warehouse somewhere.

Your files are stored on something called a server, which is essentially very similar to a desktop computer. It stores your files along with many other files from many other people, for efficiency.
How Does Web Hosting Work?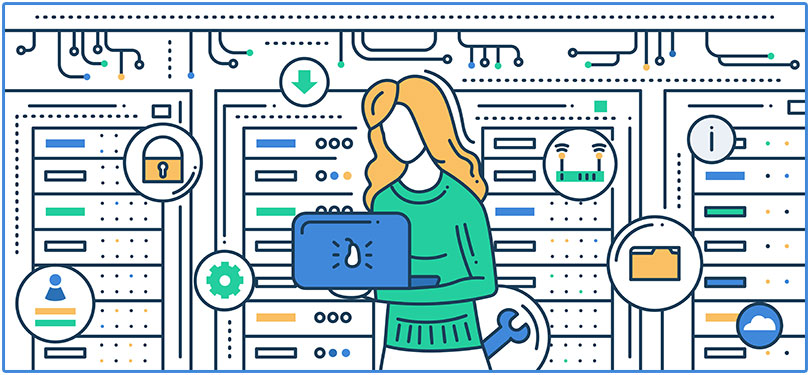 Let's get a bit more technical. Your website is made up of a collection of text, images, video, and code. This all has to be stored somewhere. Websites are made up of pages of HTML. Inside the HTML is your text, images, video, and other content. These HTML pages together link to each other and form your website.
Your website files have to be stored somewhere because anytime someone wants to visit your site, they're requesting to look at your files. It's similar to how if your boss wants to read that monthly report, he's requesting to look at the PDF document, so you send it to him via email. A website is just like that except a bit more efficient. Instead of everyone emailing you every time they want to see your documents, you just put it public online so they can see the documents at any time.So all of your website files are stored on a server. While you technically can build your own server and have it sitting in your basement, it's not the most practical thing to do.
One, if you're not an IT person, it'll take quite a bit of work to learn and set up.
Two, it's not very secure to host your website in your basement because any flood, fire, or power outage would take down your site.
Third, it takes work and maintenance to keep servers running and up to date.
Web hosting companies handle all of this for you. They range anywhere from a few dollars a month to hundreds of thousands (if you're a corporation).
The hard work is deciding which option is the best for you. That's what we do.