Looking for the best cloud hosting but have no idea where to start?
The cloud means different things to different people.
Essentially, we're looking for fast, distributed, scalable hosting – with good support and at a price that fits the business.
Cloud computing has led to a boom in hosting options. Many hosting services have entered the market with cloud servers, but that can leave customers feeling confused about whether they're really going to get the best cloud hosting.
Managed cloud hosting means you as the buyer will no have to be physically monitoring and managing the servers, nor doing maintenance, the cloud hosting company will cover all of that for you as part of your subscription.
We'll take a look at 14 of the more impressive options on the market, and then we'll explain what a cloud-based server is and how you might benefit from signing up with a cloud hosting services provider.
With this research, you can choose the best cloud hosting in October 2023.
Top 14 Best Cloud Hosting Providers & Services
| wdt_ID | Hosting Provider | Lowest Price | Load Time | Websites Allowed | Hosting Capacity | Customer Support | Our Rating |
| --- | --- | --- | --- | --- | --- | --- | --- |
1. Cloudways Cloud Hosting – Best managed hosting for Google Cloud, Digital Ocean, and AWS with easy switching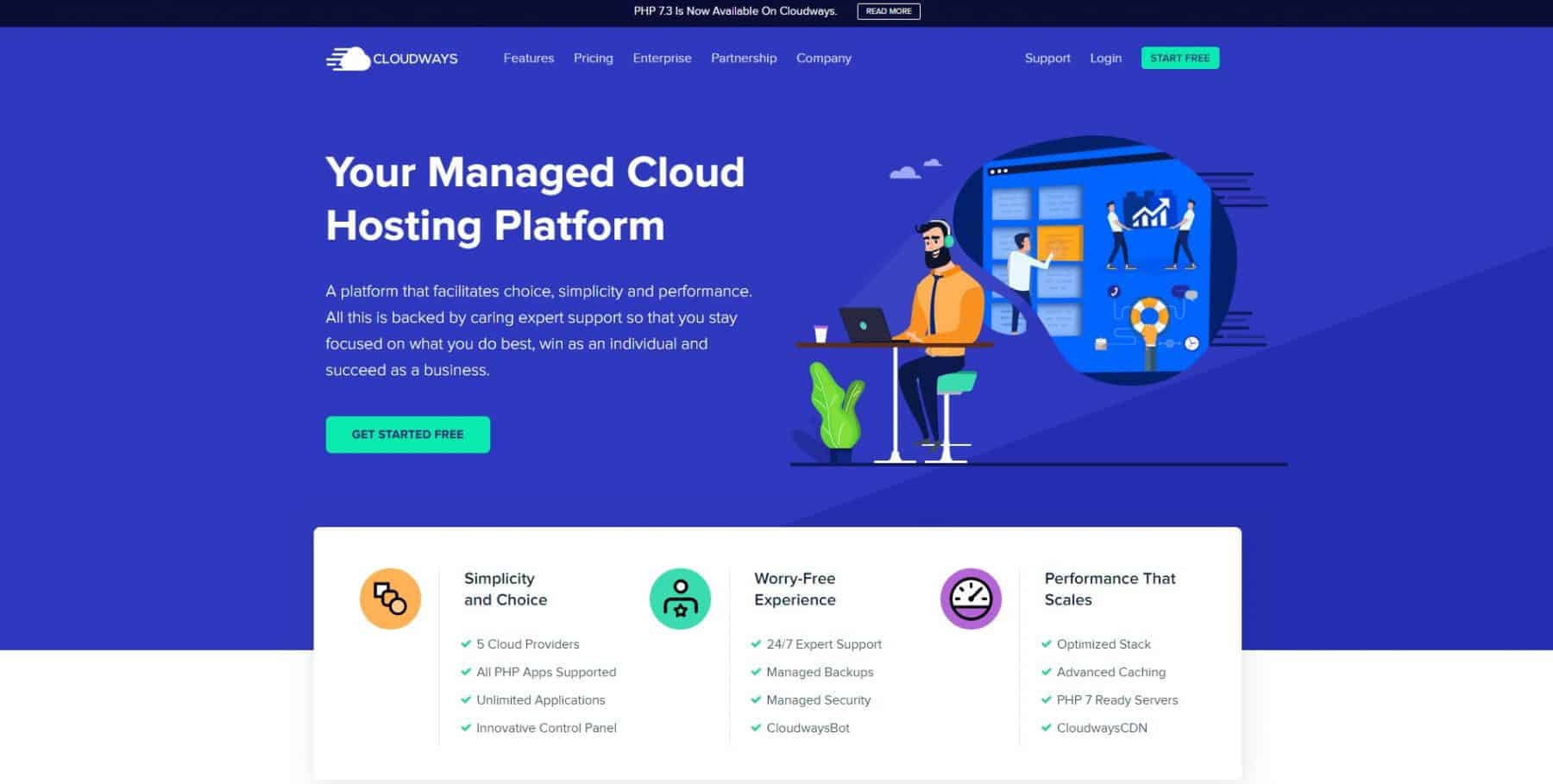 Starting Price: $10 per month
Response Time: 710 ms
Uptime: 99.99%
Cloudways is a cloud hosting company that's focused on providing a great deal of power at a reasonable price. They are a hybrid solution on a mission to make cloud hosting accessible to a wider variety of people. So if you want the power of Google Cloud, Linode, Digital Ocean, AWS, or Vultr, yet you're not a developer or system admin, this is probably your best bet. If you're a startup founder, entrepreneur, or marketer that needs some more power than your run-of-the-mill shared hosting provider, this is the way to go.
They're not the absolute cheapest in the cloud server hosting sector, but their cloud server pricing represents excellent value for the amount of power their systems provide. The company offers the option to host your site on many cloud server hosting platforms, including:
Digital Ocean
Linode
Vultr
Amazon Web Services
Google Cloud platform

What we love about Cloudways is the variety of options and very simple onboarding.
With a few clicks you can select your application, then server, and scale up as needed.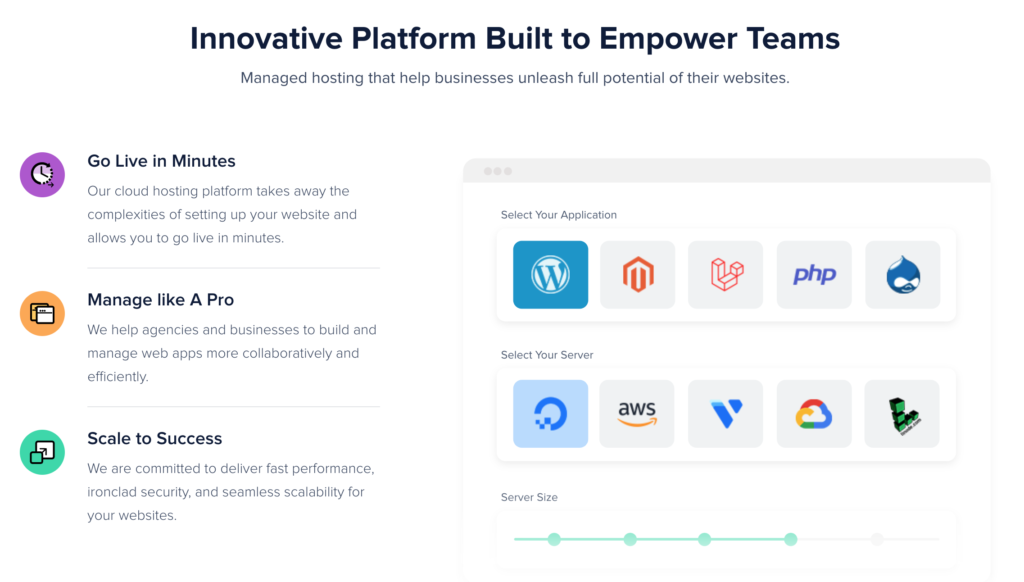 It's a very unique cloud hosting offering – one that gives you flexibility and choice right at your fingertips. It's perfect for those in the awkward in-between phase – too big for cheap shared hosting, but too small to go with dedicated & enterprise hosting. This feels just right.
Pricing
You also can find cloud server prices that match a wide range of scales. Their $10 per month plan provides an instance with a single core, but you can check out options that offer anywhere from dual-core to 32-core solutions. Once you get into the 32-core world, of course, you're dealing with enterprise-grade cloud hosting solutions so expect to pay north of $1,000.
Support
Cloudways does have pretty solid 24/7 customer and technical support. While they may not be the most advanced, you're getting a really solid value. In our testing, they were fast, courteous, and got our problem solved.
One downside is those who need rare flexibility for edge cases. In a lot of cases, you're on your own if you want to use custom code or less mainstream solutions. It's probably not a great option for folks who have little to no tech knowledge, but they do offer great cloud server prices for folks who might want AWS capabilities but don't want to get into the weeds the way Amazon's offerings often require.
Cloudways acquired by Digital Ocean: In exciting news for Cloudways, they were acquired for $350 million by Digital Ocean as of August 23, 2022. It's too early to tell, but this may mean some changes for what hosting providers are offered by Cloudways. They may move away from their current offerings.
Best for: Entrepreneurs, startup founders, technical marketers
Full Pricing and Features Table
| | | | | |
| --- | --- | --- | --- | --- |
| Price/Plan | RAM | Processor | Storage | Bandwidth |
| $12 /mo | 1GB | 1 core | 25GB | 1TB |
| $26 /mo | 2GB | 1 core | 50GB | 2TB |
| $50 /mo | 4GB | 2 core | 80GB | 4TB |
| $96 /mo | 8GB | 4 core | 160GB | 5TB |
View our full Cloudways review
2. Liquid Web Managed Cloud – Best for mid-sized enterprise cloud hosting optionality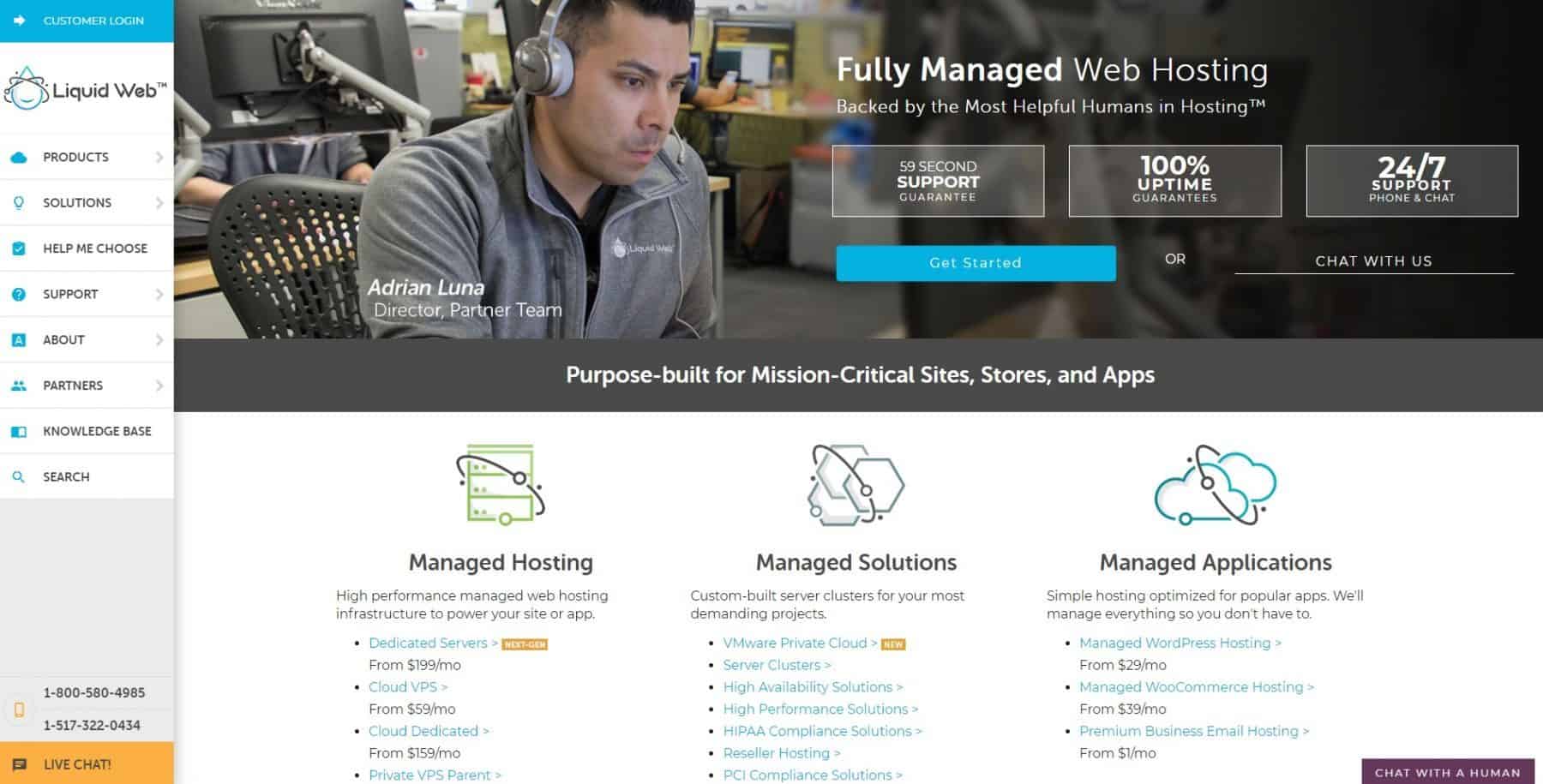 Starting Price: $51 per month
Response Time: 150 ms
Uptime: 100%
Liquid Web offers what can easily be characterized as among the best cloud services on the market. As cloud server pricing goes, though, they make it very hard for entry-level customers to get a toehold. Even if you're willing to pay for the best cloud hosting around, their tendency to spit their services up into different "products" can make things confusing.
Their cloud web hosting products are divided into roughly four kinds of hosting packages. In order of scale from least powerful to most powerful, these are:
Cloud sites
Cloud VPS hosting
Dedicated cloud based server hosting
Personal cloud hosting
The cloud sites option is functionally unlimited domain name hosting. However many you can stuff into an account you can get for $51 per month. Cloud VPS is basically the same as using a virtual private server or a dedicated server, except that it's hosted in a cloud and quite a bit more scalable as a consequence. The same idea applies to the dedicated cloud hosting solutions, except you have an entire instance all to yourself rather than sharing partitioned resources with others.
Perhaps the most interesting option, though, is personal cloud hosting. This is essentially a whole cloud system all to yourself. Imaginably, you pay north of $1,500 per month just to get started. For companies that require significant firepower, though, this is something that few other web hosting providers deliver. You can even partition your instance, with low-end plans allowing up to 5 virtual servers running simultaneously on the same cloud.
Another upside to Liquid Web is that they offer assistance dealing with a wide range of enterprise-scale web hosting issues. For example, you can get assistance with:
PCI compliance for e-commerce websites
HIPAA compliance for healthcare services providers
App hosting
Your cloud instances will be running on modern SSD drives at data centers that have multiple redundancies for both storage and power. If you want the absolute best cloud services company and are willing to shell out cash to make it happen, it's hard to match Liquid Web. For everyone else, though, it's probably going to be a tad pricey.
Best for: Enterprise WordPress hosting
Full Pricing and Features Table
| | | | | | | |
| --- | --- | --- | --- | --- | --- | --- |
| Plan | Price | Core | Gigahertz | RAM | Storage Space | Bandwidth |
| Intel Xeon E3-1230 v6 | $149/mo | 4 cores | 3.50 GHz | 16GB | 400GB | 5TB |
| Intel Xeon E3-1230 v6 | $189/mo | 4 cores | 3.50 GHz | 32GB | 918GB | 5TB |
| Intel Xeon E5-1650 v4 | $219/mo | 6 cores | 3.60 GHz | 32GB | 917GB | 5TB |
View our full LiquidWeb review
3. A2 Hosting Cloud VPS – Best cheap cloud hosting with money-back guarantee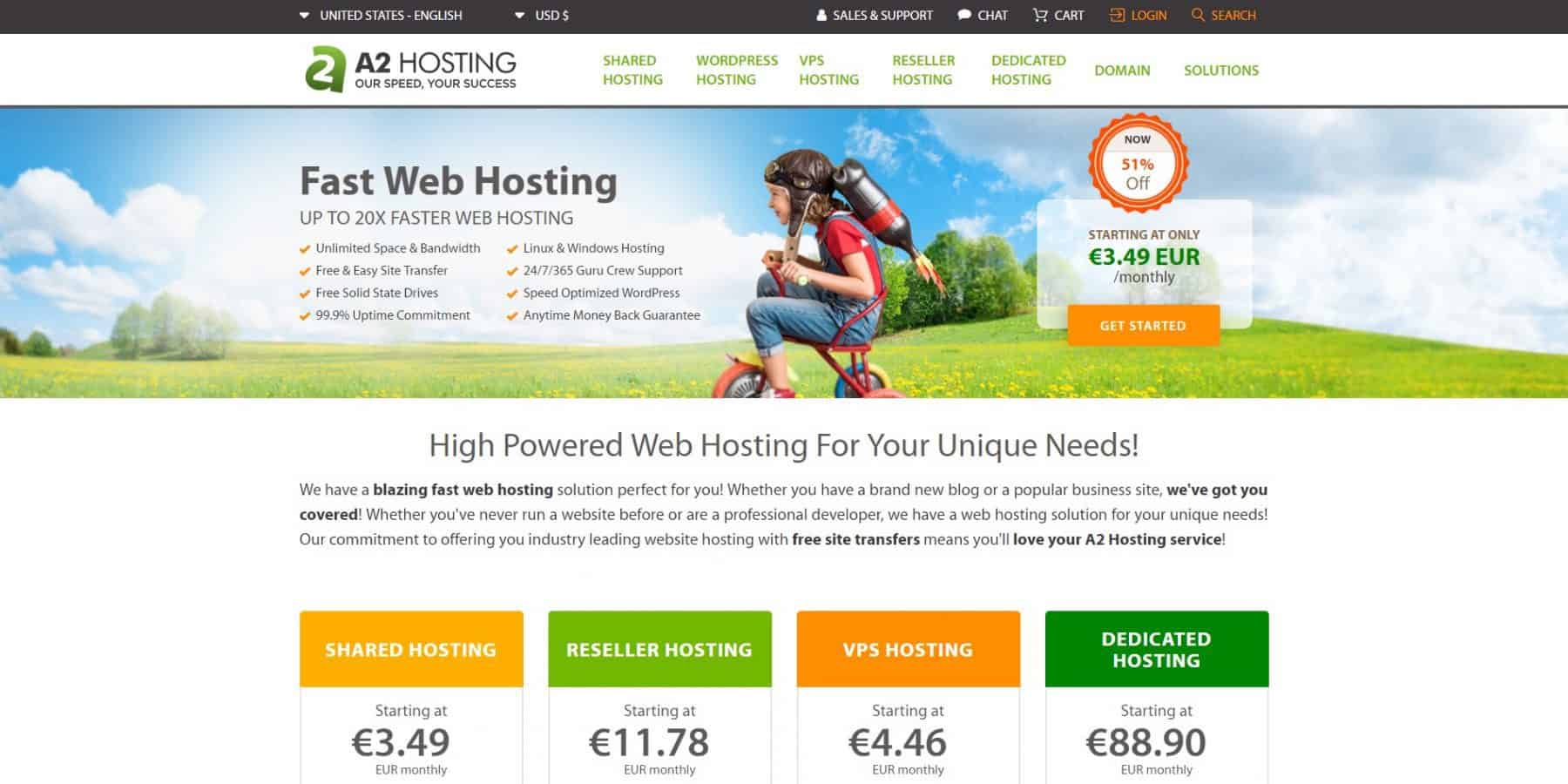 Starting Price: $5.00 per month
Response Time: greater than 1,000 ms
Uptime: 99%
Check out A2 Hosting Cloud VPS
If you're looking for one of the cheaper options among the top cloud providers, A2 Hosting does a very good job of appealing to customers in that niche. While you're not going to get lightning-fast speed, you can get a four-core package with root access for just $15 per month. Notably, the A2 Hosting offerings are considered parallels to VPS hosting, but there is a limit to what you can expect in this price range.
All things being equal, though, the company does a good job offer providing incentives. There is a money-back guarantee. Every account includes a free SSD drive and at least 2 TB per month of bandwidth. They also provide 24/7 technical and customer support throughout the year, and that includes help over the phone.
If you're looking for as close to a risk-free option as possible to get started with cloud hosting, A2Hosting has you covered. Folks looking for true enterprise-grade data centers that are highly responsive, however, may want to look elsewhere, particularly given that their peak offerings aren't superb value for the relatively high prices. At the low end of the market, though, there are good choices.
Best for: Technical support and money-back guarantees
Full Pricing and Features Table
| | | | | | |
| --- | --- | --- | --- | --- | --- |
| Plan | Price | RAM | Storage Space | Core | Transfer Space |
| Runaway 1 | $4.99 | 1GB | 150GB | 1 core | 2TB |
| Runaway 2 | $7.99 | 2GB | 250GB | 2 cores | 3TB |
| Runaway 4 | $9.99 | 4GB | 450GB | 4 cores | 4TB |
| Supersonic 8 | $34.99 | 8GB | 150GB | 2 cores | 2TB |
| Supersonic 16 | $54.99 | 16GB | 250GB | 6 cores | 3TB |
| Supersonic 32 | $74.99 | 32GB | 450GB | 8 cores | 4TB |
View our full A2 Hosting review
4. SiteGround – Best for entrepreneurs and agencies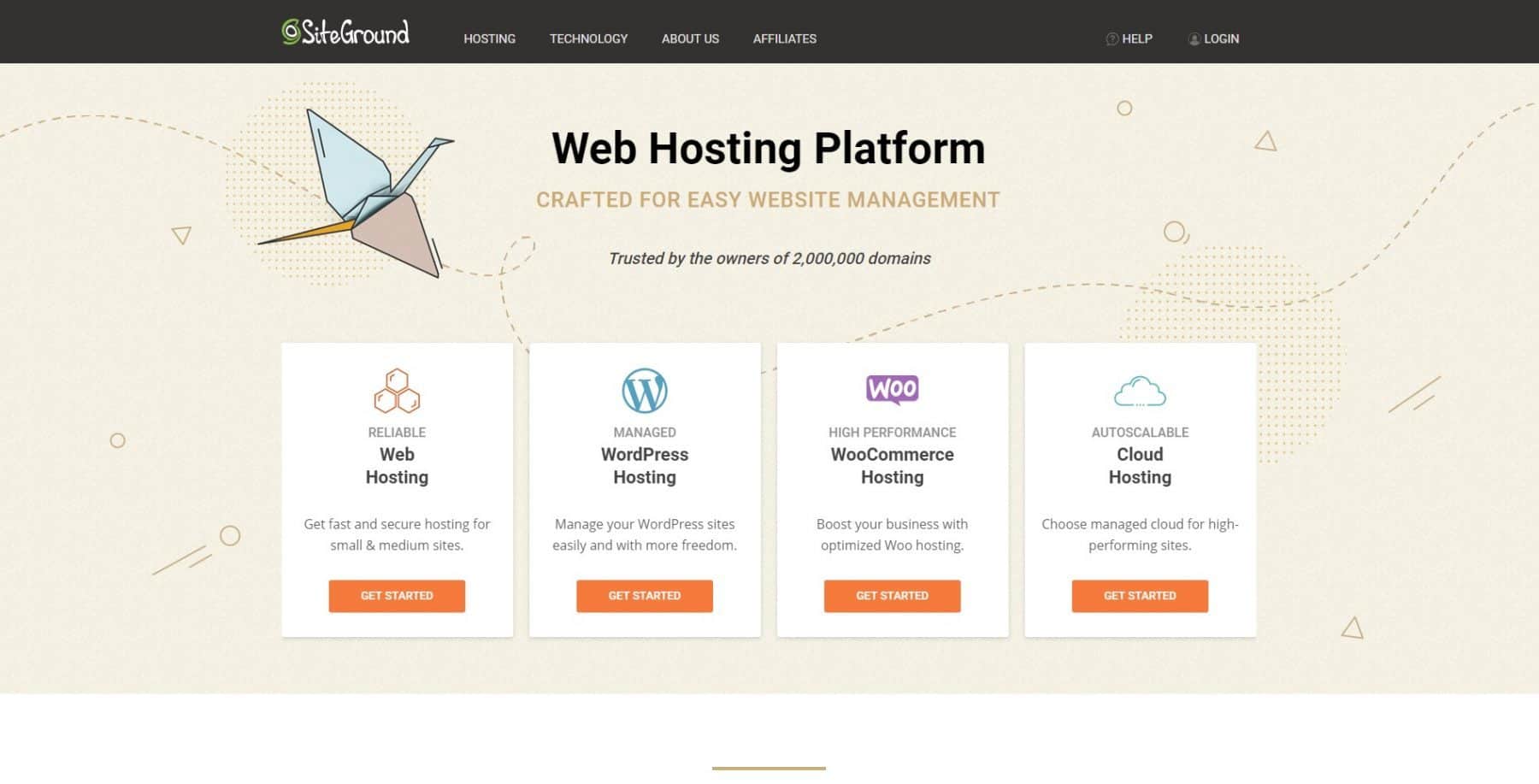 Starting Price: $80 per month
Response Time: 710 ms
Uptime: 99.99%
SiteGround tries to combine good-not-great performance with a range of freebies that will appeal to folks who aren't the top-tier of the tech-savvy cool kids. They deliver excellent uptimes, and response times are good enough that all but the slowest sites and web applications should achieve reasonable load times.
You also can get:
Access to a free CDN
A free SSL certificate
Free migration help with one WordPress site
A dedicated IP address
SSH and SFTP access
They also guarantee that all cloud computing resources for your cloud-based system will be dedicated solely to your server. If you need IT assistance, they have devops on staff to lend a hand with fully managed services.
SiteGround makes it super easy to allocate resources to sub-accounts. If you're running a marketing or design agency, this can make it very easy to customize what each sub-account gets. Especially when dealing with clients, you can then use this feature alongside the scalability expected from cloud hosting to offer a range of packages. Individual sub-accounts can also be assigned free DNS services.
The company also provides daily backups. These instant backups are maintained offsite, and they can be restored using a one-click solution.
SiteGround does a good job of striking a balance between the sort of tech power you deserve to get when going with a cloud host and providing a user-friendly experience. Advanced users will be thrilled with the level of access they have, and the rest of the world will still get enough customer and tech support to handle everything.
Best for: Marketers, small businesses
Full Pricing and Features Table
| | | | | | |
| --- | --- | --- | --- | --- | --- |
| Plan | Price | CPU Cores | RAM | Storage Space | Transfer Space |
| Jump Start | $100.00/mo | 4 cores | 8GB | 40GB | 5TB |
| Business | $200.00/mo | 8 cores | 12GB | 80GB | 5TB |
| Business Plus | $300.00/mo | 12 cores | 16GB | 120GB | 5TB |
| Super Power | $400.00/mo | 16 cores | 20GB | 160GB | 5TB |
View our full SiteGround review
5. InMotion – Best price-to-performance cloud hosting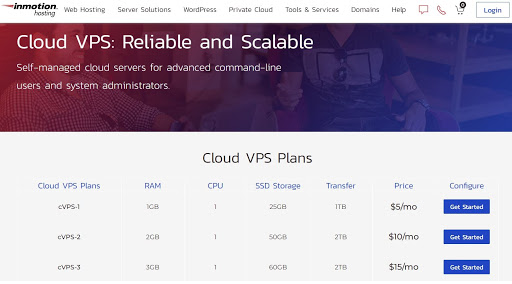 Starting Price: $5 per month
Response Time: 400 ms
Uptime: 99.99%
A small annoyance that comes with diving into InMotion's offerings is that they don't do a good job of laying things out straight. Plans are presented as being for agencies, small businesses, enterprises and applications. The cheapest plan is under "applications," and it can be used to handle hosting like the other ones can be used.
One major downside is that their offerings are solely Linux-based. It's pretty much a LAMP stack ecosystem, too. If you want a Windows cloud server, you're definitely going to be looking elsewhere. They also only have data centers located in the U.S.
Folks who are happy with the narrow LAMP stack implementation, such as those who run WordPress, WooCommerce or Magento, will find InMotion to be something of a more cost-effective version of SiteGround but with fewer freebies. If you're comfortable with less support and want to prioritize price-to-performance, especially at the low end of the market, InMotion is tough to beat. For less tech-savvy users and the Microsoft crowd, though, it's going to be a learning curve, at best.
The company does offer a long money-back period of 90 days. If you're in a position to give it a try, it's a risk-free opportunity to get to know a new web host.
Best for: Tech-savvy webmasters looking for value
Full Pricing and Features Table
| | | | | |
| --- | --- | --- | --- | --- |
| Plan/Price | Transfer | Storage Space | vCPU | RAM |
| $6/mo | 2TB | 30GB | 1 | 1GB |
| $12/mo | 3TB | 50GB | 1 | 2GB |
| $18/mo | 4TB | 60GB | 2 | 2GB |
| $24/mo | 5TB | 100GB | 2 | 4GB |
| $34/mo | 6TB | 120GB | 2 | 6GB |
| $48/mo | 7TB | 150GB | 4 | 8GB |
| $54/mo | 8TB | 280GB | 6 | 12GB |
| $96/mo | 9TB | 360GB | 8 | 16GB |
| $192/mo | 12TB | 540GB | 16 | 32GB |
6. HostGator – Best dirt-cheap cloud hosting with limited features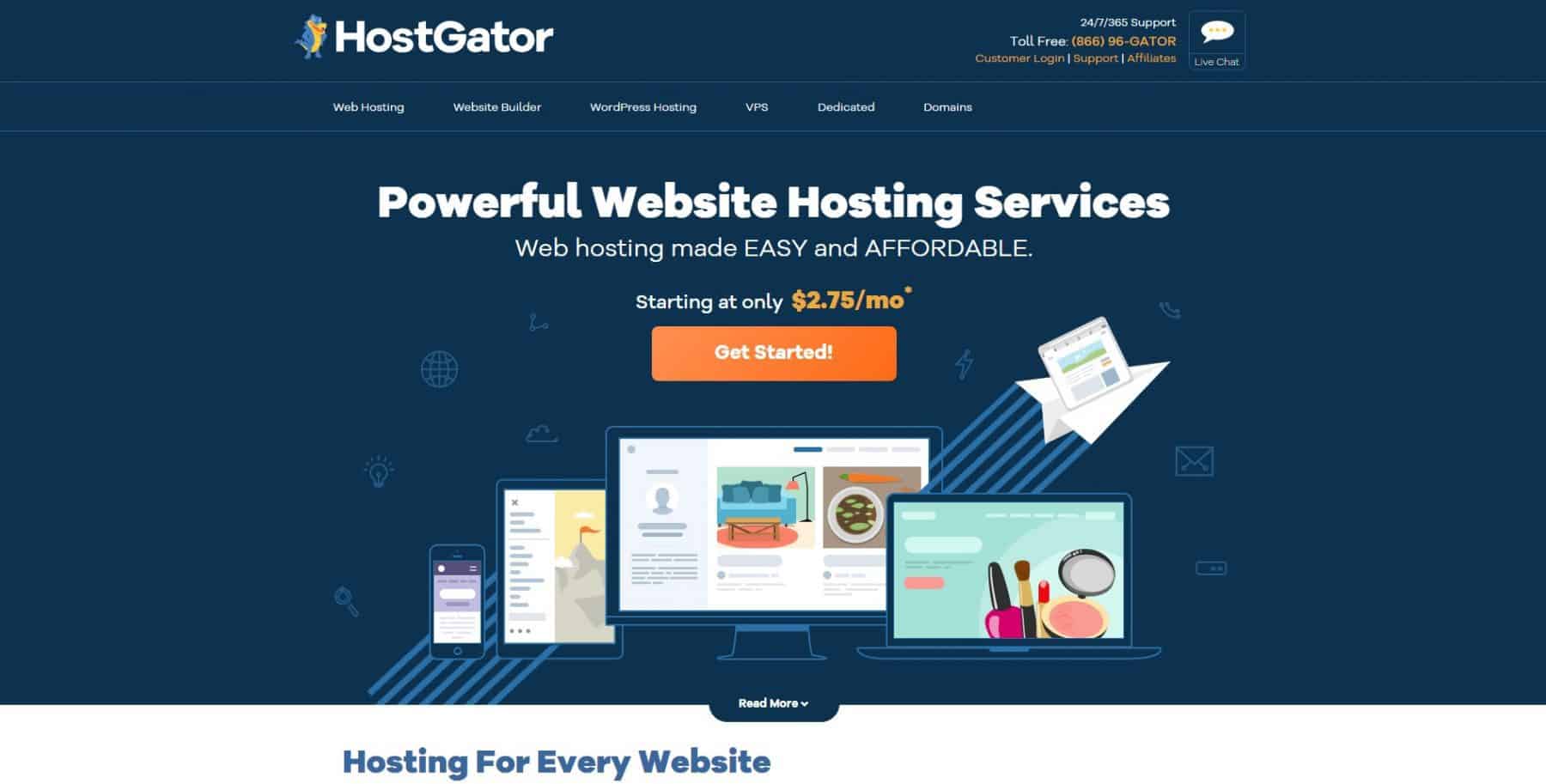 Starting Price: $4.95 per month.
Response Time: 430 ms
Uptime: 99.98%
For an unapologetically cheap company, HostGator is a bit of a surprise. At $4.95 per month, you get:
Two CPU cores
Two GB of RAM
Unmetered bandwidth
A free SSL certificate
The company also has a domain name registration business so you can keep all your website stuff together on a single account. While the lowest-cost account allows only one domain, moving up to just the next level, $6.57 per month, gets you unlimited domain hosting and twice as many cores and twice as much RAM.
As is typical in the lower tiers of hosting companies, you can expect a limited software stack. You'll have access to a Linux environment that supports applications like:
Joomla
Drupal
Magento
WordPress
Unsurprisingly, you're going to be on your own with no managed services. However, for a dirt-cheap option, you could do a lot worse than HostGator.
Best for: Cheapest price seekers
Full Pricing and Features Table
| | | | | |
| --- | --- | --- | --- | --- |
| Plan | Price | Domains | RAM | CPU |
| Hatchling Cloud | $4.95/mo | Single | 2GB | 2 core |
| Baby Cloud | $6.57/mo | Unlimited | 4GB | 4 core |
| Business Cloud | $9.95/mo | Unlimited | 6GB | 6 core |
View our full HostGator review
7. DreamHost – Best for those on Dreamhost already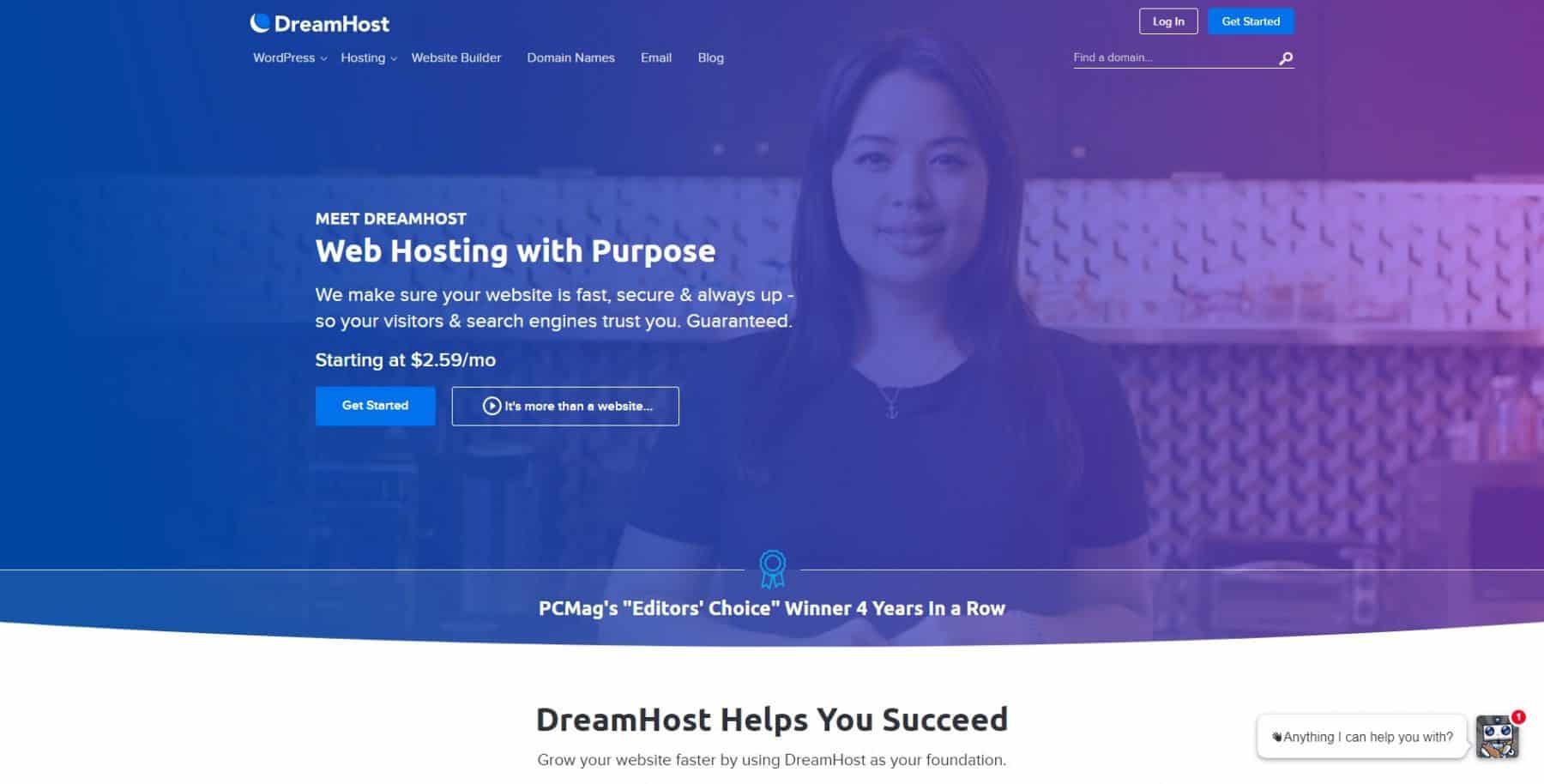 Starting Price: $4.50 per month
Response Time: 720 ms
Uptime: 99.96%
Another entrant in the low-cost cloud hosting sector, DreamHost is also another web hosting services provider that could benefit from being clearer about its offerings. The first major annoyance that'll hit you as a customer is that the only products it lists on its hosting page are "DreamCompute" and "DreamObjects." Rather than clarify the difference between cloud computing instances and cloud hosting services, they lump them together under the heading of "compute," a term that's more relevant in the machine learning world than the web hosting industry.
Once you plow past that, though, you'll find a disappointing offering for this part of the market. You get a single CPU core on the cheapest plan, and everything is based on an open-source stack with no other options. Things seem to be targeted at Python, Node.JS and Ruby users who, frankly, are going to look to bigger compute offerings from companies like Amazon.
The billing structure is also strange. In a given month you have 600 hours of computing cycle time. Months are longer than that, and a single undetected DDoS attack could easily put you into an account overage that leads to being billed. Frankly, if you want a compute-time billing structure, AWS exists and provides a bigger and meaner infrastructure.
On the other hand, their offerings for folks who want Python or Node.JS hosting are very easy to set up. If that's your lane, DreamHost may be interesting. Everyone else, however, can find better offerings and less confusion at this price point.
Best for: Those on Dreamhost already
Full Pricing and Features Table
| | | | | | |
| --- | --- | --- | --- | --- | --- |
| Plan/RAM | Price | vCPU | Storage Space | Bandwidth | Block Storage |
| 512MB RAM Server | $4.50/month | 1 vCPU | 80GB | Free | 100GB |
| 2GB RAM Server | $12.00/month | 1 vCPU | 80GB | Free | 100GB |
| 8GB RAM Server | $48.00/month | 4 vCPU | 80GB | Free | 100GB |
View our full Dreamhost review
8. Bluehost – Best for multi-year discounts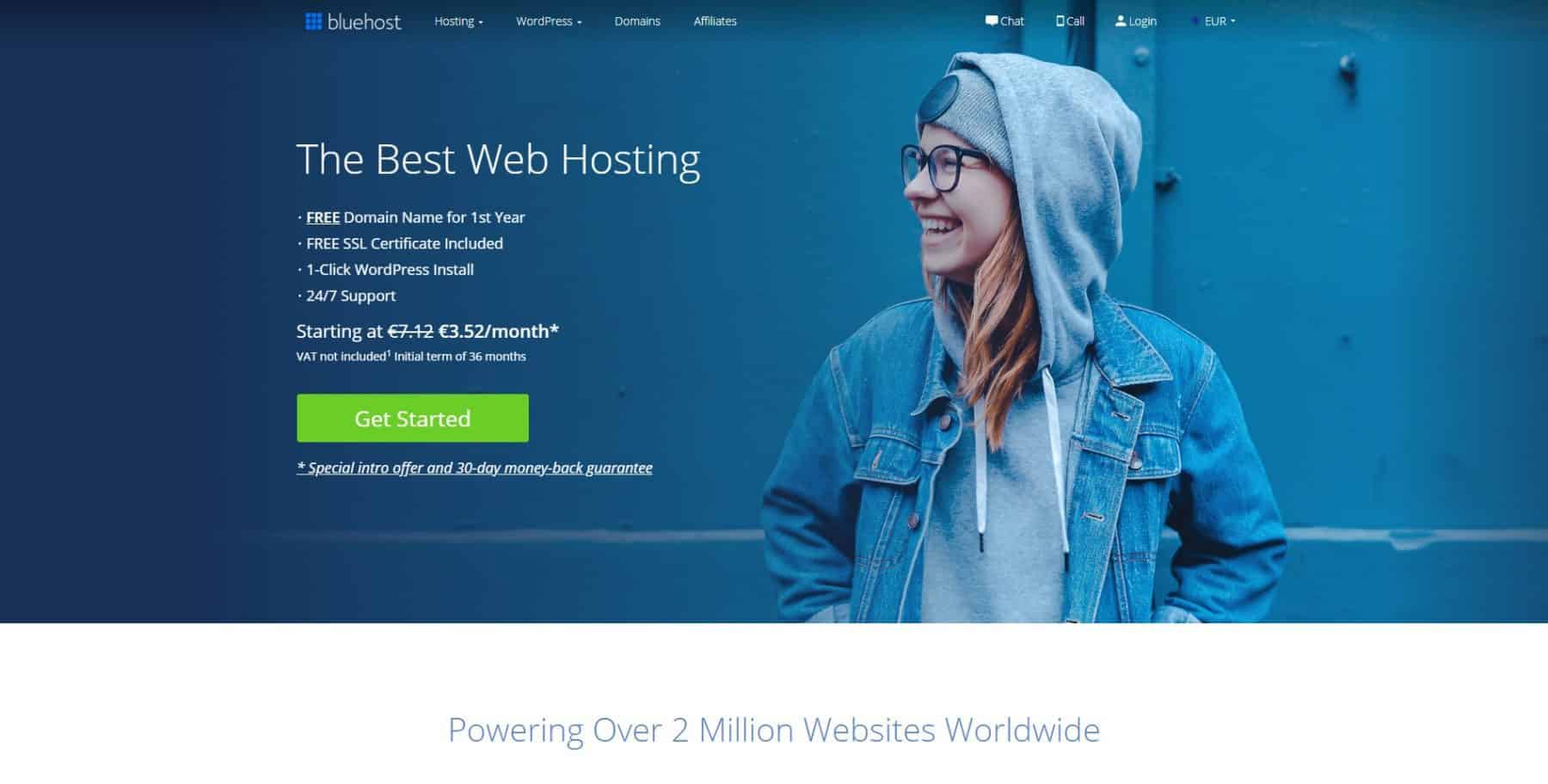 Starting Price: $9.99 per month for 36 months
Response Time: 590 ms
Uptime: 100%
BlueHost offers accounts that are billed in 12-, 24- or 36-month terms. For folks who want to get into the lowest tiers of web hosting at a fair price, this can be a little imposing. You can avail yourself of a money-back guarantee as long as
The company does offer excellent speed and unbeatable uptime. If you're interested in rock-solid performance, BlueHost delivers a high-performance and stable package at about as cheap a price as you'll find.
Where some customers will be put off by BlueHost is the company's nickel-and-dime add-on structure. Want a dedicated IP? That's $5.99 per month add-on. Want a premium SSL certificate? That'll be $49.99 per year. It adds up quickly.
You'll also have to move up a tier to get unlimited domain names on an account. The two-CPU basic package, though, is a good deal. Likewise, bandwidth is unmetered, and cPanel with SSH is included for free.
BlueHost is a great option, but there are some caveats. Make sure the package you're getting covers all you need because the add-ons can crush you fairly quickly.
Best for: Good value
Full Pricing and Features Table
| | | | | |
| --- | --- | --- | --- | --- |
| Plan | Price | RAM | Storage Space | Bandwidth |
| Starter | $10.99 | 2GB | 100GB | Unmetered |
| Performance | $15.99 | 4GB | Unmetered | Unmetered |
| Business Pro | $29.99 | 6GB | Unmetered | Unmetered |
9. 1&1 IONOS – Best for those still living in the 90s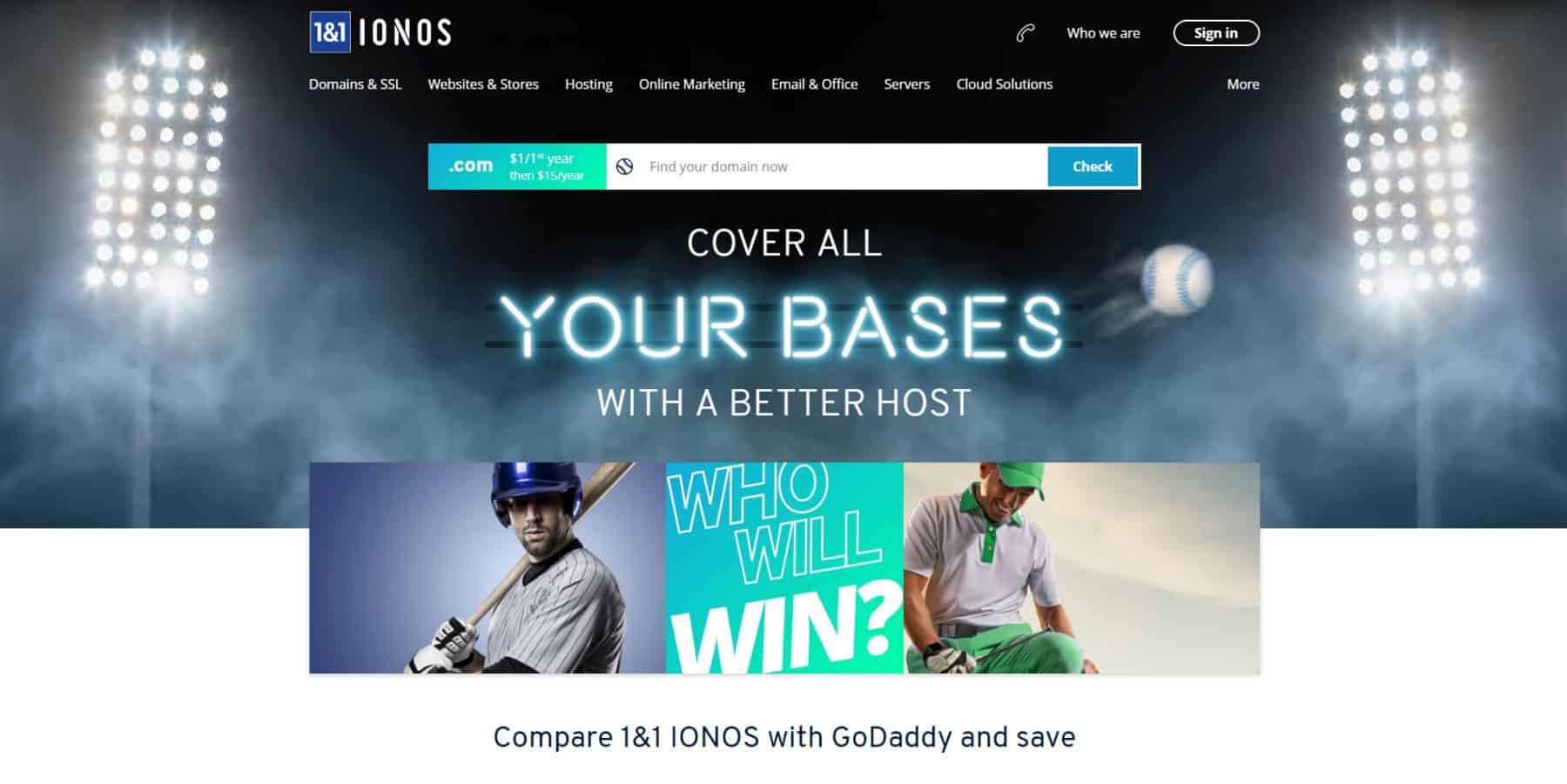 Starting Price: $15 per month
Response Time: 330 ms
Uptime: 99.8%
The price-to-performance proposition with 1&1 IONOS isn't great. Where the company makes up ground, though is in providing managed services. Tech-savvy people, frankly, are going to be unimpressed with a setup that starts at a single CPU core and just one GB of RAM allocated. Less tech-savvy customers, though, will be glad to have tech and customer support there to guide them through a number of processes.
As is common once you go below $50 per month in the cloud web hosting sector, you're locked into Linux and open-source software. 1&1 gives you a little more within that limited frame, providing Apache, Nginx and Tomcat servers that will play nicely with Python and PHP. Response times are also close to best-in-class.
If you need close to the best load times available, 1&1 may be worth a look. Anyone interested in a Windows cloud server will need to move on, and their offerings aren't great from a hardware standpoint.
Best for: Not recommended
Full Pricing and Features Table
| | | | | |
| --- | --- | --- | --- | --- |
| Plan | Price | CPU | RAM | SSD |
| Cloud Server XS | $4.00 | 1 vCore | 512MB | 30GB |
| Cloud Server S | $5.00 | 1 vCore | 1GB | 40GB |
| Cloud Server M | $12.00 | 2 vCores | 2GB | 60GB |
| Cloud Server RAM M | $16.00 | 1 vCore | 4GB | 40GB |
| Cloud Server L | $20.00 | 2 vCore | 8GB | 80GB |
| Cloud RAM L | $30.00 | 2 vCore | 8GB | 80GB |
| Cloud Server XL | $35.00 | 4 vCore | 8GB | 120GB |
| Cloud Server RAM XL | $65.00 | 4 vCore | 16GB | 120GB |
| Cloud Server XXL | $85.00 | 8 vCore | 16GB | 160GB |
| Cloud Server RAM XXL | $125.00 | 8 vCore | 32GB | 160GB |
| Cloud Server 3XL | $150.00 | 12 vCore | 24GB | 240GB |
| Cloud Server 4XL | $220.00 | 16 vCore | 32GB | 360GB |
| Cloud Server 5XL | $320.00 | 24 vCore | 48GB | 480GB |
View our full 1&1 Ionos review
10. WP Engine – Best for WordPress cloud hosting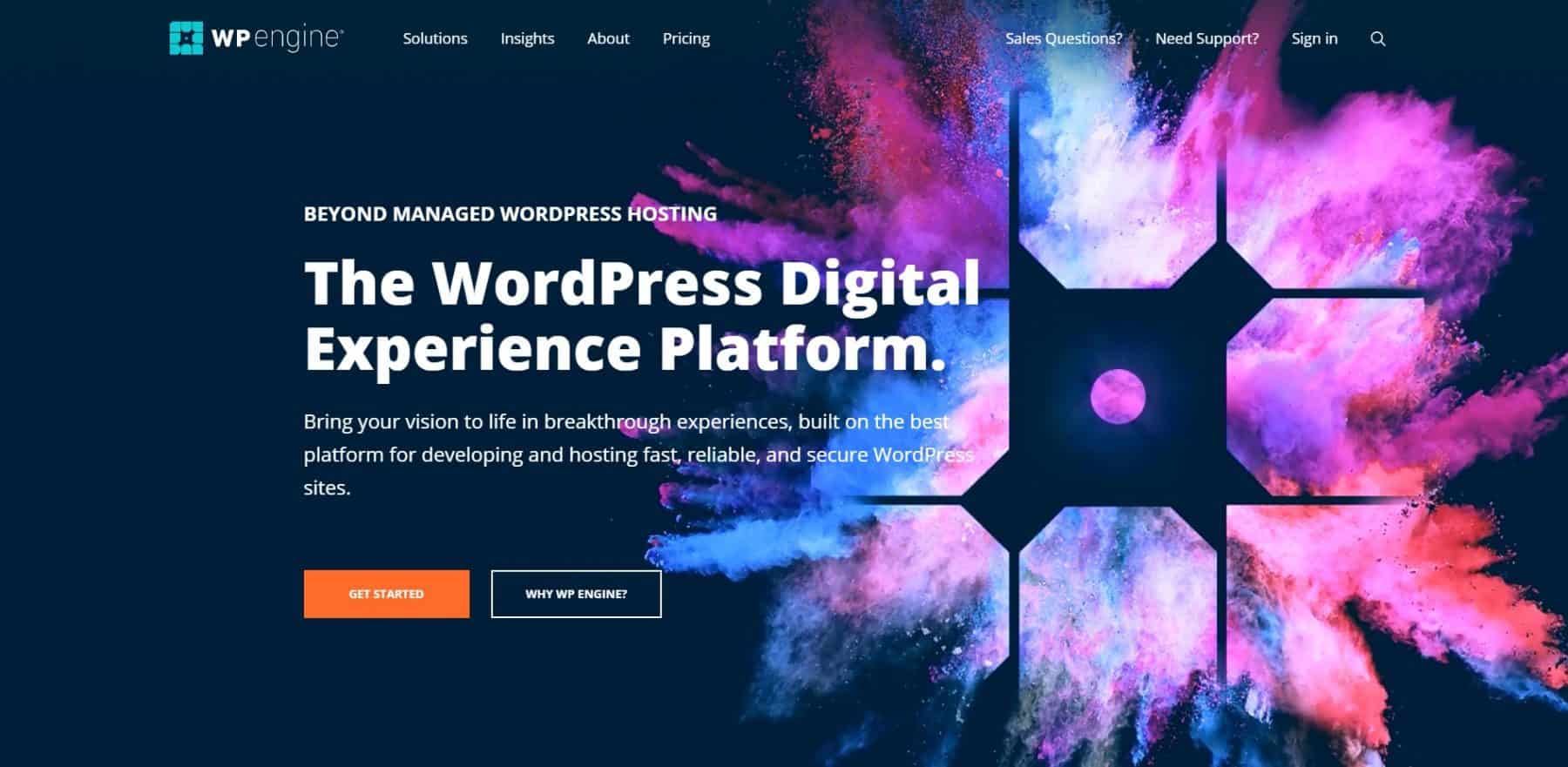 Starting Price: $35 per month
Response Time: 650 ms
Uptime: 100%
WP Engine is, as its name suggests, an offering targeted at WordPress customers. Scaling is designed for enterprise customers, and you'll find the tiers go up in cost quickly into the hundreds of dollars. The low tiers don't have superb customer support, and only the two highest tiers get phone support. A 60-day money-back guarantee may take some of the sting out of exploring your options, though.
Every package includes multi-site support for free so you won't have to pay extra just to add a domain. If you need global data centers to serve visitors all over the planet, WP Engine has you covered. They're a company that sees themselves as early WordPress engineering adopters, and the team takes pride in providing that level of tech support to customers.
It's a narrowly aimed offering, for sure. Those who just want rock-solid WordPress hosting that never goes down and can scale up rapidly, though, will appreciate WP Engine.
Best for: Scaled WordPress sites
Full Pricing and Features Table
| | | | | | |
| --- | --- | --- | --- | --- | --- |
| Plan | Pricing | Sites Included | Max Visits | Storage Space | Bandwidth |
| Startup | $23.00 | 1 | 25,000 | 10GB | 50GB |
| Professional | $44.00 | 3 | 75,000 | 15GB | 125GB |
| Growth | $113.00 | 10 | 100,000 | 20GB | 200GB |
| Scale | $275.00 | 30 | 400,000 | 50GB | 500GB |
| Custom | Custom | 30+ | 400,000+ | 50GB+ | 500GB+ |
View our full WP Engine review
11. Kinsta – Best for scalable, premium WordPress cloud hosting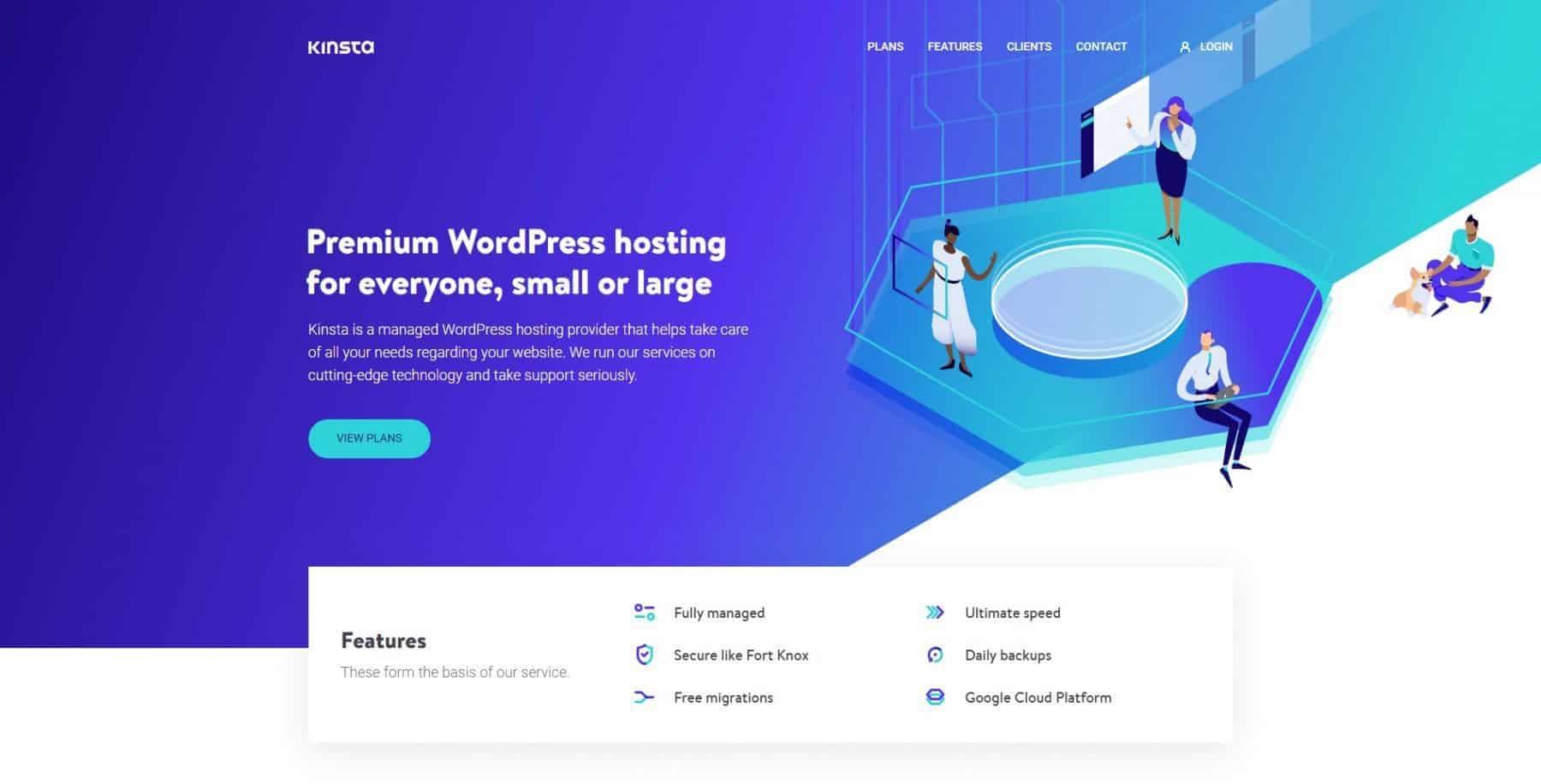 Starting Price: $30 per month
Response Time: 230 ms
Uptime: 99.8%
By leveraging the Google Cloud Platform, Kinsta means to offer top-tier cloud hosting exclusively for WordPress site owners. It's all WP and nothing else. The company provides a range of freebies, such as:
Staging sites
Streamlined account management options
Support for agencies
Direct Tier 1 support knowledgeable technicians
Account management features are a major selling point. The idea is essentially that creative agencies can develop sites for clients, deploy them and then turn the keys over to the customer. Everything runs very fast, and uptime is excellent. If you run an agency that's focused on the WordPress platform, Kinsta is difficult to match.
Best for: WordPress Entrepreneurs
Full Pricing and Features Table
| | | | | |
| --- | --- | --- | --- | --- |
| Plan | Price | WordPress Installs | Max Visits | Storage Space |
| Starter | $35.00 | 1 | 25,000 | 10GB |
| Pro | $70.00 | 2 | 50,000 | 20GB |
| Business 1 | $115.00 | 5 | 100,000 | 30GB |
| Business 2 | $225.00 | 10 | 250,000 | 40GB |
| Business 3 | $340.00 | 20 | 400,000 | 50GB |
| Business 4 | $450.00 | 40 | 600,000 | 60GB |
| Enterprise 1 | $675.00 | 60 | 1,000,000 | 100GB |
| Enterprise 2 | $1,000.00 | 80 | 1,500,000 | 150GB |
| Enterprise 3 | $1,350.00 | 120 | 2,000,000 | 200GB |
| Enterprise 4 | $1,650.00 | 150 | 2,500,000 | 250GB |
12. DigitalOcean – Best for developers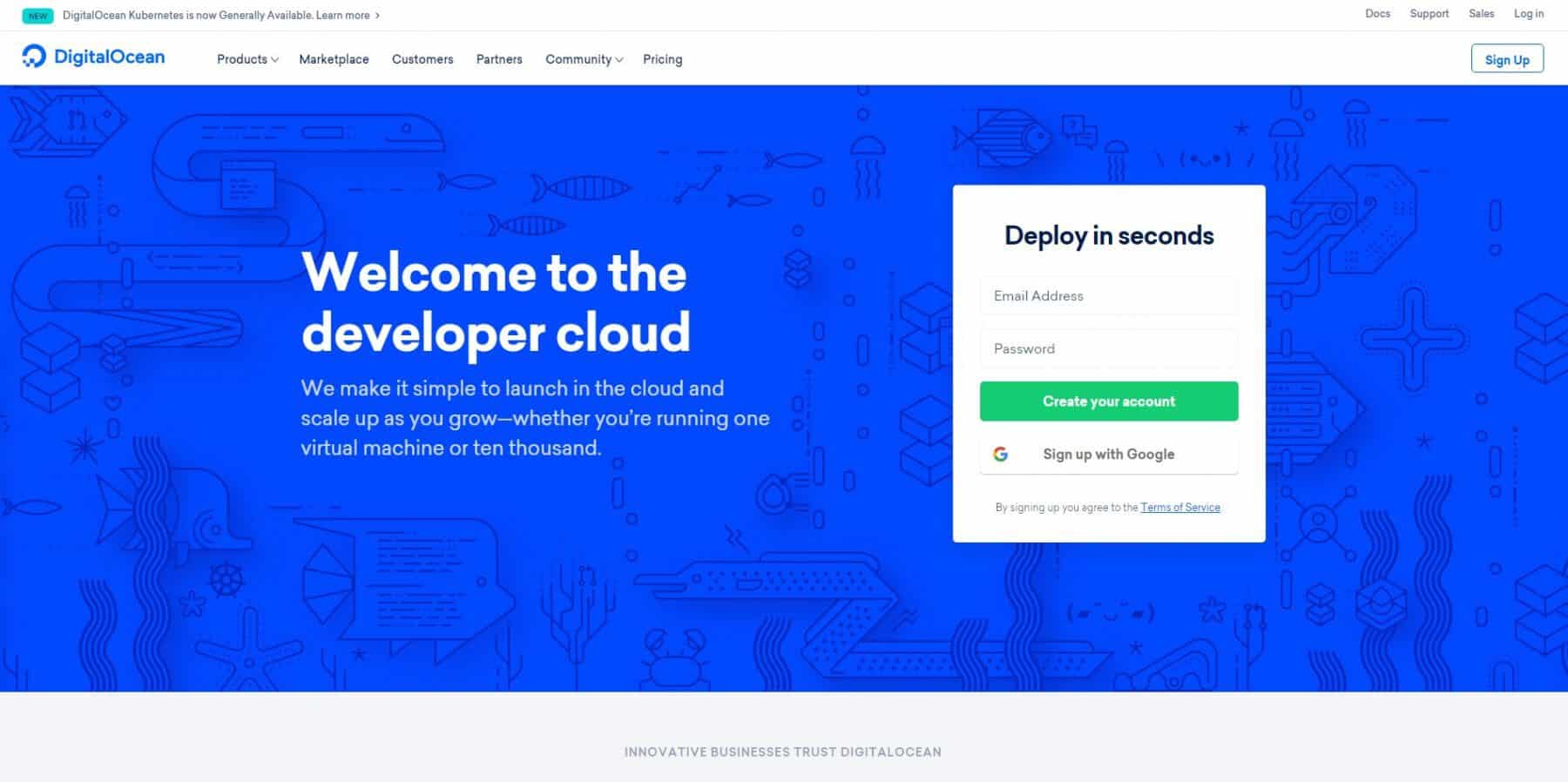 Starting Price: $5 per month
Response Time: 360 ms
Uptime: 99.99%
DigitalOcean offers a dirt-cheap entry-level plan, but you will have to go to some lengths to find it on their website and set it up to do web server hosting. The firm's offerings are seemingly designed in direct opposition to user-friendliness.
Yes, it is possible to find a one-click solution that'll let you deploy a LAMP server or any of a number of similar offerings in a matter of second. Good luck finding it. Okay, fine, here it is because you were never going to find it on your own.
The company's obsession with "droplets" and compute instances doesn't provide much assurance that they care about hosting customers. You're going to be on your own. Worse, low-end options start at the low end of performance for this sector. You'll get one CPU and one GB of memory.
A major upside is a one-click approach to firing up servers. You'll get fairly modern open-source software, such as MySQL 5.7 and PHP 5.2. If you're not a hardcore techie, though, it might be wiser to go to one of DigitalOcean's partner, such as the previously mentioned Cloudways.
Best for: Developers
13. AWS Cloud – Best for cheap scalability & startups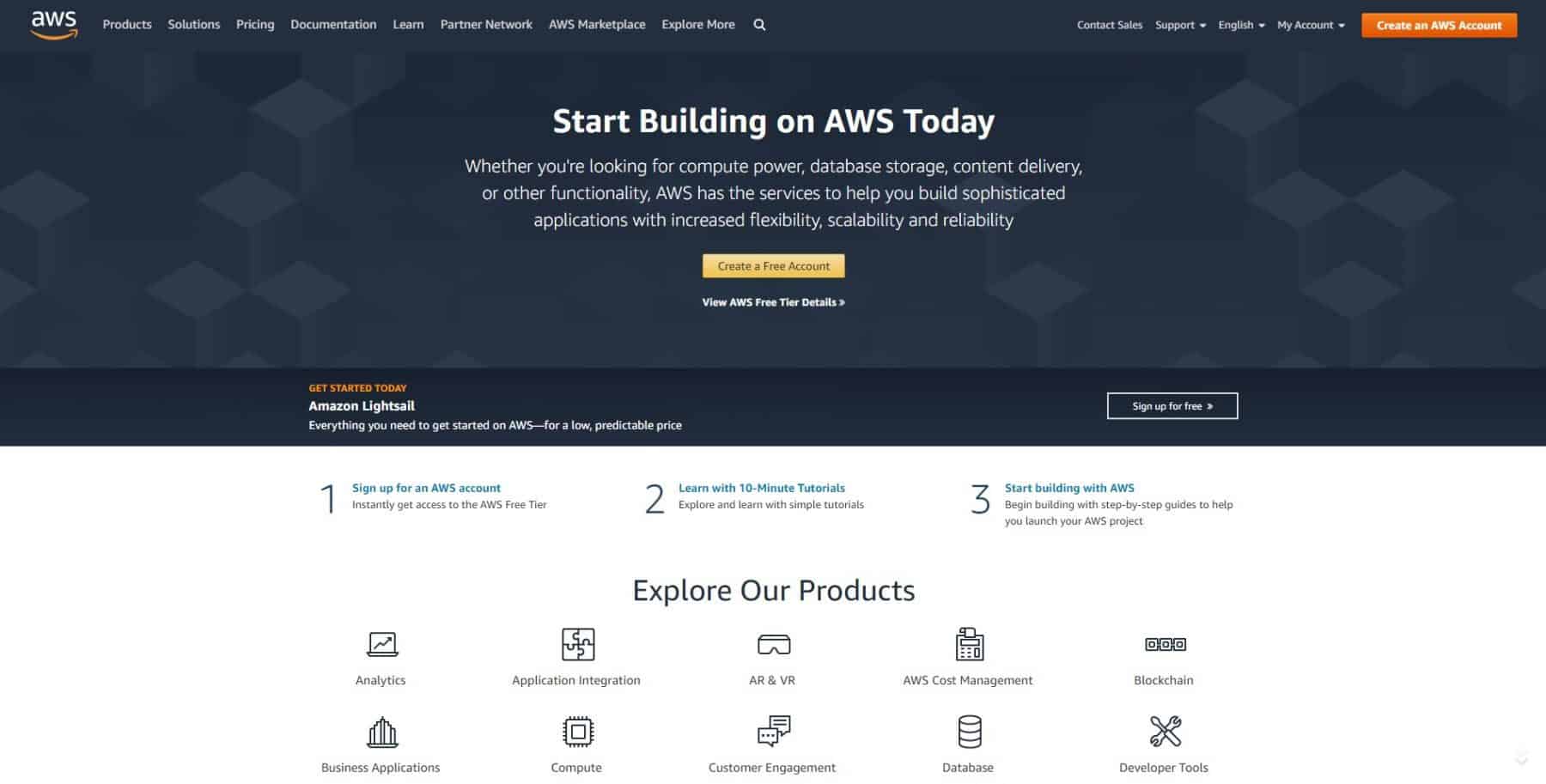 Starting Price: $3.50 per month
Response Time: 500 ms
Uptime: 99.99%
Lightsail virtual servers form the base of all the AWS Cloud offerings as they pertain to web hosting. Amazon offers an impressive level of access, and you can create one-click solutions for both Linux and Windows cloud servers. Load-balancing is built right in, and scalability is automatic.
There are two big downsides. First, AWS cloud hosting is a pay-as-you-go setup. It is possible to get flat-rate pricing, but you have to be very careful about how you configure your account. Also, all but the most gifted techies will find themselves hopelessly lost navigating the slew of options on the Amazon Cloud.
You do get free SSL certification, though, and the first month is available for free as a trial. Unfortunately, you will have to include your billing info. Likewise, cancellation is required or else billing will begin the next month.
Big internet companies like Netflix operate on the AWS Cloud. If you want the same sort of power and are comfortable getting into the guts of a hosting solution, it's a great choice. For those who need guidance, it's not a good proposition, however good the price may be.
Of the big players, though, Amazon tends to be the one that will make you most feel like they want a small business running on their cloud hardware. That is a very low bar, however.
Best for: Enterprise companies
14. Google Cloud – Best for enterprises scaling with Google Cloud platform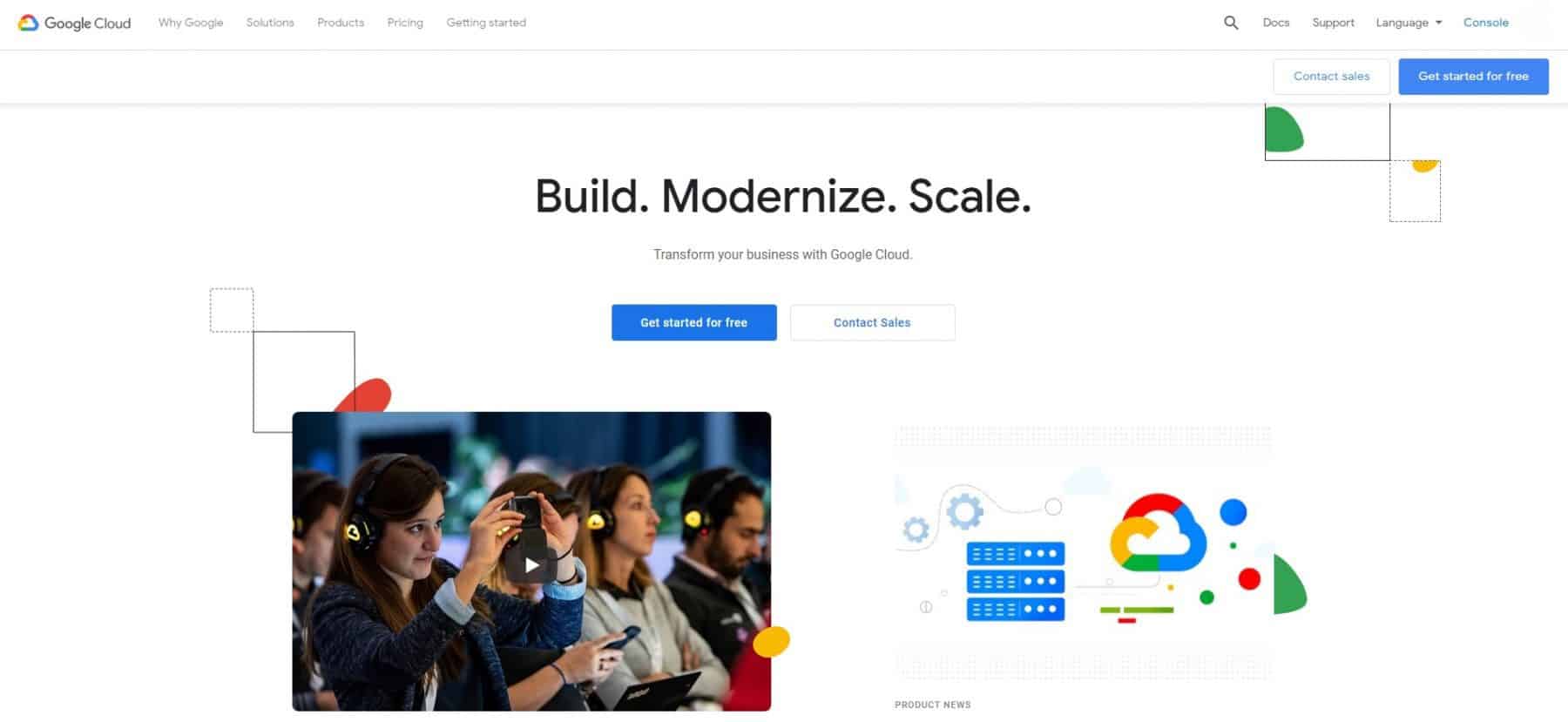 Starting Price: $45 per month
Response Time: 300 ms
Uptime: 99.99%
Google is another big name in the industry that seems deeply disinterested in helping small players set up web hosting on cloud server instances. Customer support from Google is notoriously terrible, and tech-savvy customers particularly despise the company's tendency to start all inquiries at the lowest tier. At Google, even the smartest person in the world must be asked, "Have you tried turning it off and then back on?"
In other words, Google Cloud is worse than many of the platforms that just leave on your own. There are plenty of other services providers that have built on top of the Google Cloud Platform, and you're better off using them. Even if you're looking for high-performance compute power, AWS will provide the same performance without the patronizingly bad support experience.
There are only two groups of customers who should suffer the awfulness of Google. First, there are those whose hosted sites depend on G's data or machine learning platforms. Second, there are those who need high-performance data centers on every populated continent. Otherwise, look at a downstream partner like Kinsta or Cloudways to get access to the hardware without the soul-crushing support problems.
Best for: Enterprise companies
What is a Cloud Server?
A cloud server is a system that's designed to provide massive amounts of resources as part of a Software as a Service (SaaS) package. Notably, asking what is a cloud server misses a big part of the point. A cloud server isn't a single machine by any stretch. Instead, it is a collection of many machines that are designed to function as a single instance.
Instances can be divided up among customers or tasks in a variety of ways. More importantly, resources can be quickly added to instances to ensure stability and scalability.
This is one thing that makes cloud computing such an appealing option for both companies and customers. A top cloud provider can continue to build out demand ahead of customer expansion, allowing it virtually infinite scalability. From your end as the customer paying for cloud web hosting, you can confidently buy services at the low end of the scale and add power in a matter of seconds by just clicking on an option in your hosting dashboard.
What is Cloud Hosting?
Cloud hosting solutions are just one piece of the cloud sector pie, in addition to things like machine learning, file hosting, data mining, remote IT, VPS hosting and even emergency services. With so much else going on in the cloud computing world, you may be wondering, "What is cloud hosting?"
The best cloud hosting providers have the resources necessary to provide an experience that is indistinguishable from using a dedicated server or a VDS, except insofar as cloud hosting services tend to be more stable and available. Some providers are even willing to offer individual cloud instances to their customers, essentially allowing them to be their own hosting service providers.
Scalability is a major plus with cloud hosting versus similar options. While dedicated and virtual dedicated servers definitely are a step up from lesser choices like shared hosting, they all have their limits. In particular, once you've maxed out your resources, the only solution to move everything to a new and more powerful server.
Within the cloud computing realm, though, more resources can simply be directed toward your instance. In a matter of seconds, you can have more CPU cores, RAM, and even storage available. That's a much trickier undertaking, at best, when working with a physical server or a virtual machine.
Different Types of Cloud Hosting Services
When you're using a cloud-based server from a company that has its act together, you're really just buying a better version of web hosting. As long as you choose appropriate cloud hosting plans, you'll be able to run everything you want on your systems, such as WordPress or Magento.
At the operating system level, you'll find companies that offer many Linux distributions. A number also provide Windows systems, and their numbers will grow as Microsoft continues to move aggressively into the cloud platform space.
You'll also find many software stacks available, including standard offerings like Linux, Apache, MySQL, and PHP. Lots of companies have also entered the market with lightweight Nginx web servers, Python interpreters, and even Node.JS hosting options. With a fully dedicated instance or virtual private server in the cloud, you'll have root access that will allow installing whatever your project may require.
Many of the best cloud hosting providers are also providing narrowly tailored solutions. For example, plenty of hosting companies are now offering WordPress hosting that includes managed support out of the box. You simply set up an account in the hosting control panel, they provision it with all the necessary software and then you can work on it just like you would any other WordPress website on any other web server. If there are any concerns, contact customer support and they'll have a tech expert help you sort things out.
Alternatives to Cloud Hosting
One alternative to cloud hosting is VPS (virtual private server) hosting. What this does is compartmentalized a part of a shared server to make it a virtual private server. It's different from cloud, which is spread across many servers, but has its own benefits. While these often cost more than shared hosting, you can find cheap VPS hosting with all the features you still need.
Conclusion
There is an absolute gulf in the cloud hosting world between the companies that care about small businesses (see our favorite small business hosts) and those that don't. You'll spot the difference every time you load one of their pages. If they use terms like "hosting" and have their pricing up front, you're in a good place. If they use the word "compute" and insist on talking about everything from streaming to AI, you're going to get stuck doing a lot of work on your own.
On balance, most customers will not find the power offered by the big players like Google, DigitalOcean and AWS to be worth the grief. Fortunately, there are plenty of small players who want your hard-earned dollar. Establish what your priorities are in advance, especially how much you need massive scalability versus low price, and you'll quickly identify three or so companies that fit the bill very well.
Last Updated on September 6, 2022 by Joe