So you want to register a domain name and have no idea who to go with.
You've seen Godaddy commercials.
Your friend told you about Namecheap.
But what's the best one?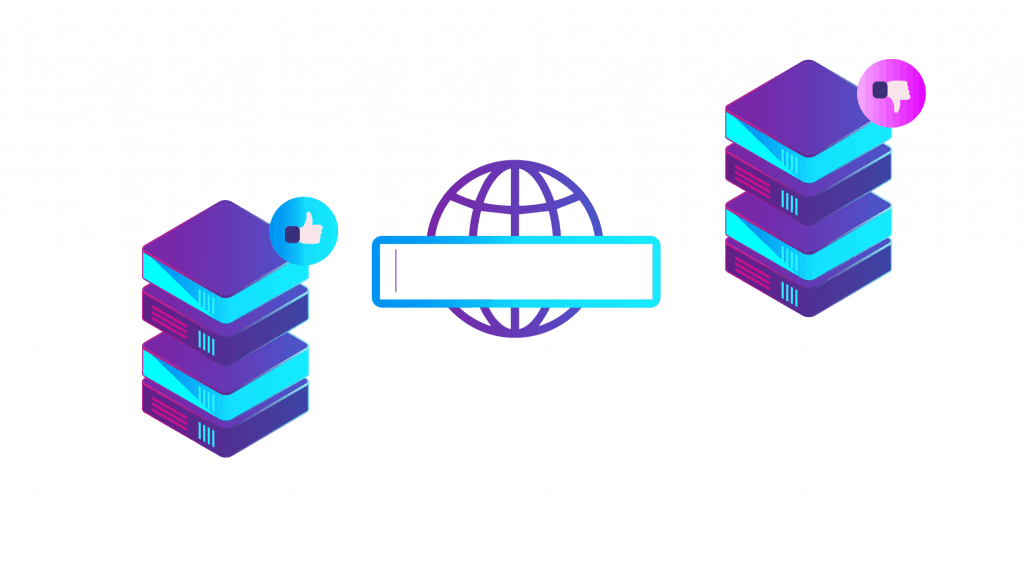 Terms to know before shopping for Domain Registrars
Domain Hosting or Domain Name Hosting: Most often, the place you register your domain name is where your domain is hosted. But not always. You can transfer your domain name hosting to your web host provider, while keeping the registrar the same. For example, you can register your domain at Namecheap, and then host the domain name on SiteGround. And to be clear, your web hosting is different from your domain hosting. Think of domain hosting as your mailing address – sometimes it's the same as your home (your registrar), and sometimes you use a P.O. box (domain hosting company). The metaphor works, kinda.
Icann: which is an acronym for Internet Corporation for Assigned Names and Numbers. Icann s a nonprofit organization responsible for coordinating the maintenance and procedures of several databases related to the namespaces and numerical spaces of the Internet, ensuring the network's stable and secure operation.
Whois: provides basic information in regards to a domain name including who owns it, contact info, etc. (also known as domain privacy)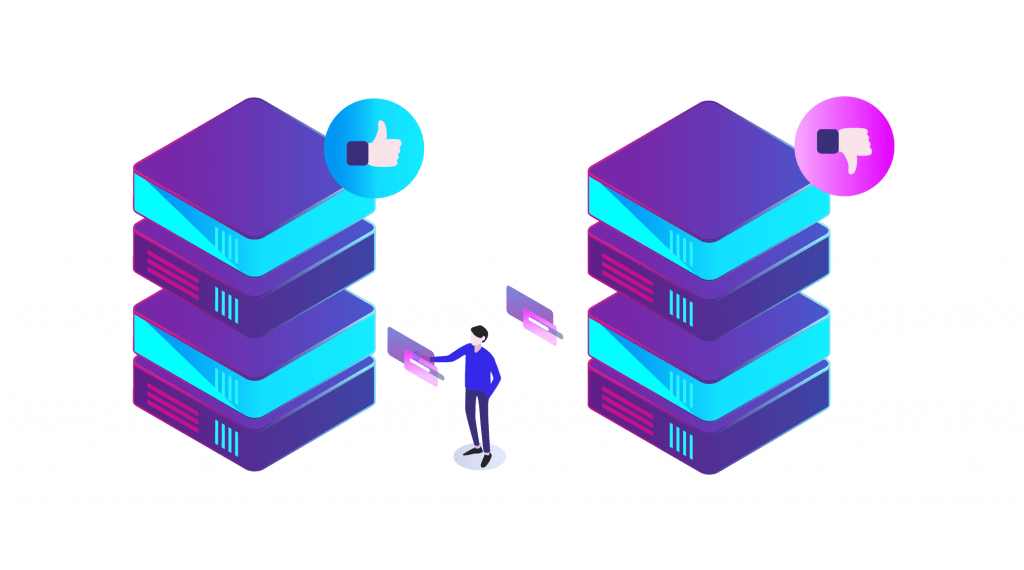 What are Domain Registrars
Before any of the magic of a website can happen, a domain name has to be registered. Variants of top-level domains (TLDs), what we think of as the classic .com extension of a website like Google.com, are sold by companies called registrars. There are thousands of options for registering your website's domain name. Let's take a close look at 10 of the biggest ones you might be dealing with as you buy a name.
Best Domain Registrars to Purchase from in 2019
The most popular registrar isn't always the best. GoDaddy is so ten years ago – or is it?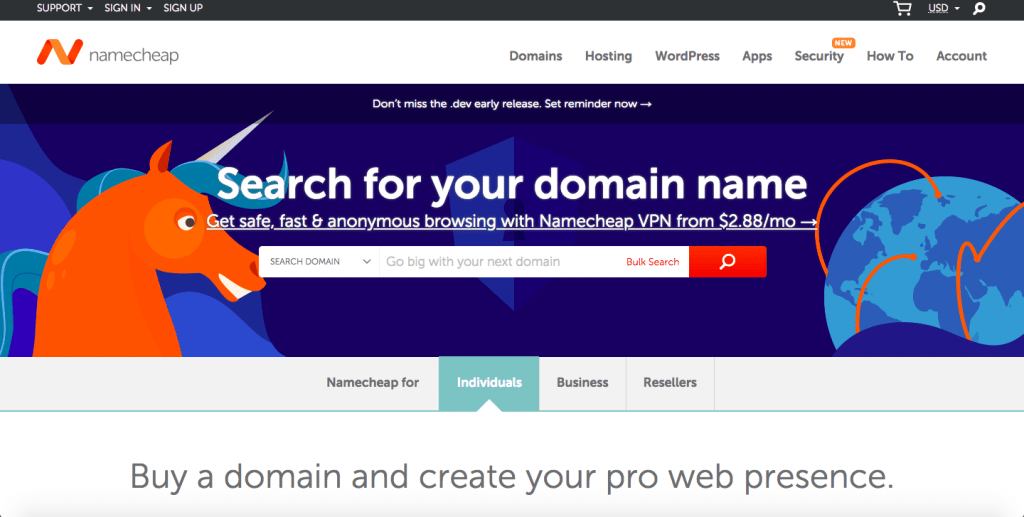 NameCheap is increasingly seen as the up-and-comer domain name registrar. The company's biggest strength is that it sells .com domain names for a $10.99 a year, making it a better long-term option for those who are highly cost-conscious.
The best part of Namecheap? FREE Whois privacy
Do you want any Joe Shmoe knowing who owns your domain and where you live? Didn't think so. Get that free privacy.
Also, they have a clean and appealing user interface that had a lot of thought put into it. On top of these services they also provide WhoisGuard which is "a service that offers privacy protection for your domain, keeping your sensitive data safe" for free. On the downside, customer support availability is a little bit more limited. The firm favors live chat and email tickets over direct telephone support. It has, however, gotten more aggressive in marketing to first-time buyers, offering deals as low as $0.48.
NameCheap has also gone heavy into the market for unique top-level extensions, such as .mobile and .studio, that often have an appeal to folks who find the current market overpriced and oversold. Given its relative cost-effectiveness, NameCheap has become popular with folks who are looking to transfer domain names from other registrars.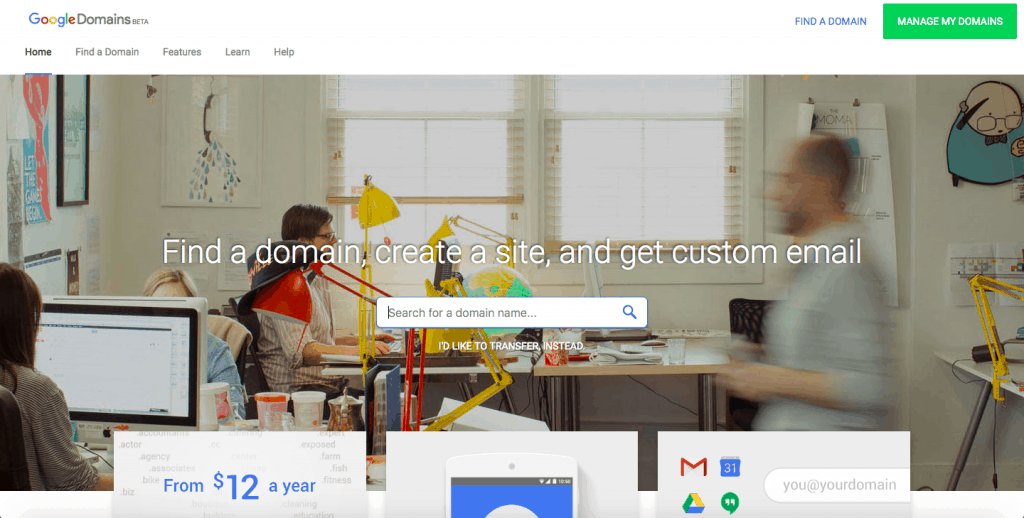 It's hard to think of a product or service that the big search giant doesn't have a finger in, so it's no surprise to see Google now wading into the domain names market. The company doesn't go out of its way to promote itself as the best domain name provider, but it offers .com domains starting at $12 per year. Google also offers a price structure that highly incentivizes purchasing for longer terms, promising up to 10 years for $120. Google is especially popular with folks who want WHOIS privacy  protection (domain privacy) included with their purchases at no additional cost.
It's easy to use, snappy and prioritizes in simplicity and speed. Google Domains coincides with other Google Services such as Google Docs and YouTube, and offers free private registrations from hundreds of different domain extensions. Once you sign up for a domain name, they make it simple to get a G-suite for emails.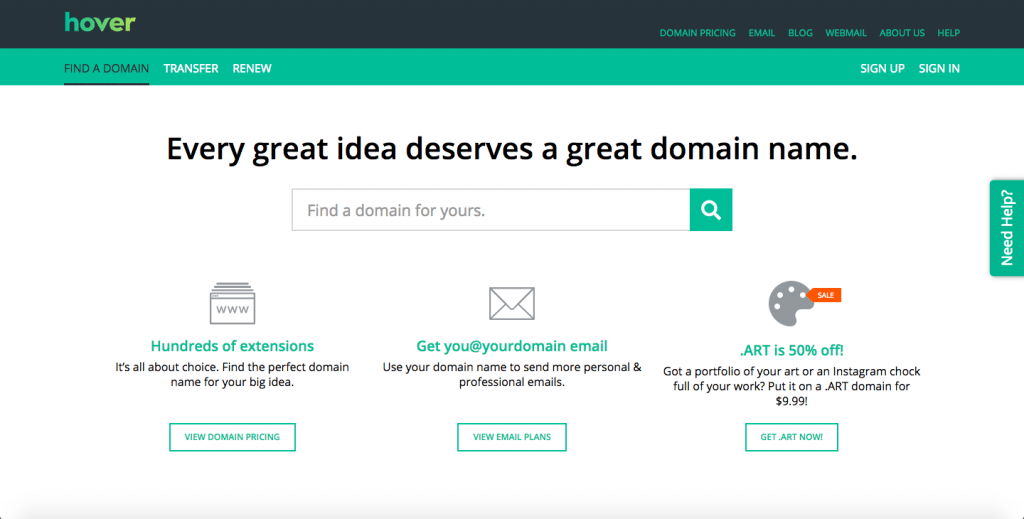 Owned by one of the oldest names in the business, Tucows, Hover is an attempt by its parent company to rebrand itself and re-establish relevance in the market. You can grab a .com domain name for the seemingly industry-standard rate of $12.99 per year, and WHOIS privacy protection will be included. Hover is the best domain name registrar for those who hate the upselling of additional products, such as hosting services. They tell you all you need to know without you having to worry about being hit with advert after advert. Because of this, registering a domain name has never been easier.
On the downside, phone support is only available for part of each day, and livechat is also spotty in terms of availability. Also, they don't offer web hosting.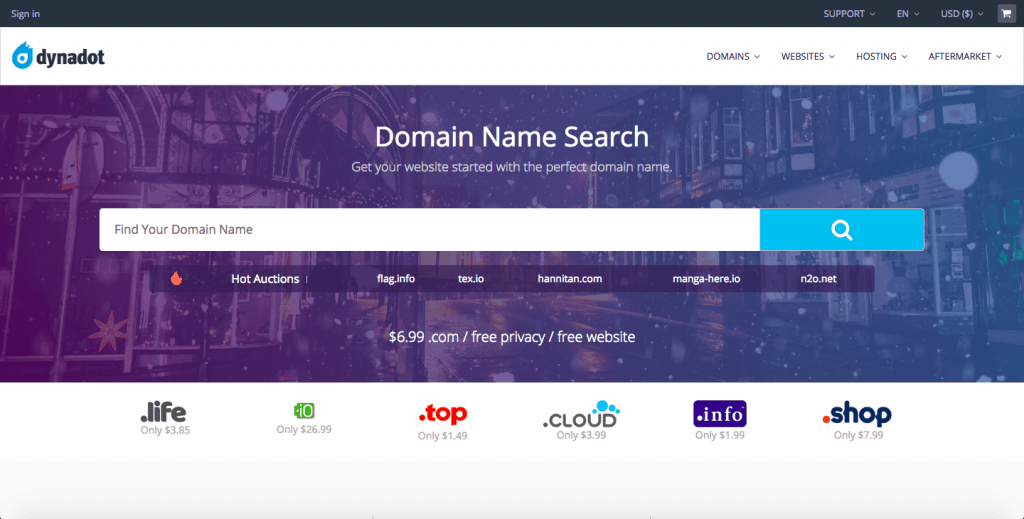 If you're looking for a pile of free extras, Dynadot definitely will give any domain name registrar a run for their money. First-year .com names are sold for $8.40 and renewals are only $11.20. The company's Website Builder package includes a free responsive single-page design. This site also offers email hosting which is great if you want to have more professional looking emails attached to your domain name. A big selling point for anyone who's looking to sample the market is their Grace Deletion option that allows you to return a domain name within 5 days of registering it.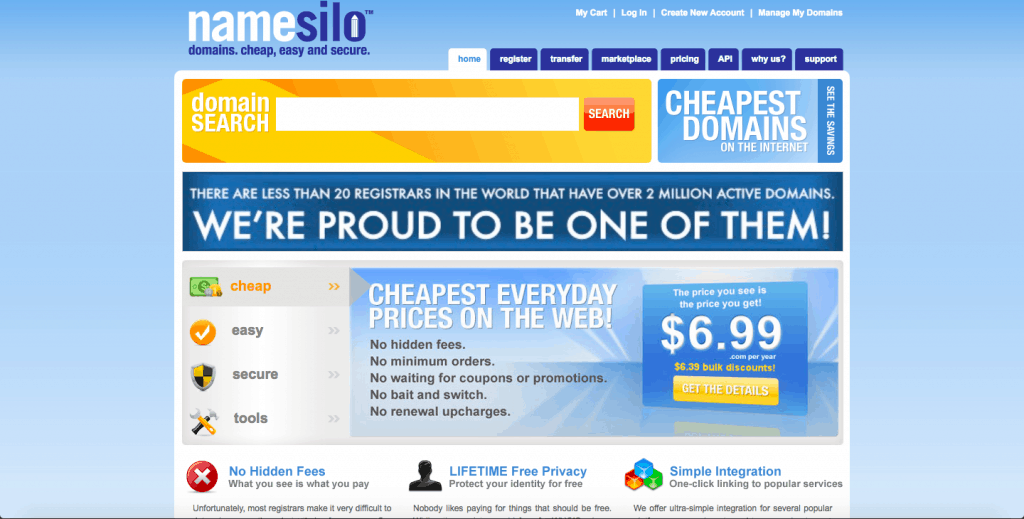 NameSilo is a domain registrar that you can trust , and they are transparent with pricing. If you sign up with NameSilo, you will not be surprised with any price tinkering tactics like hidden fees or transfer charges. They also will not try to get you to pay for services that you do not need. NameSilo offers a nine dollar domain name for the first year.
NameSilo has a plethora of different features that you can use for free. These features include domain name forwarding, registry lock, DNS management, portfolio management, and email forwarding. Other domain name registrars will typically charge you for such services, but these are free with NameSilo. It can be tricky to navigate NameSilo, there is just so much text on one page, that it can get very busy. Not to mention that the site is a little bit dated.
Okay Domain Registrars:
These domain registrars aren't particularly good – nor are they downright bad. Some love them some hate them, we delve into why below.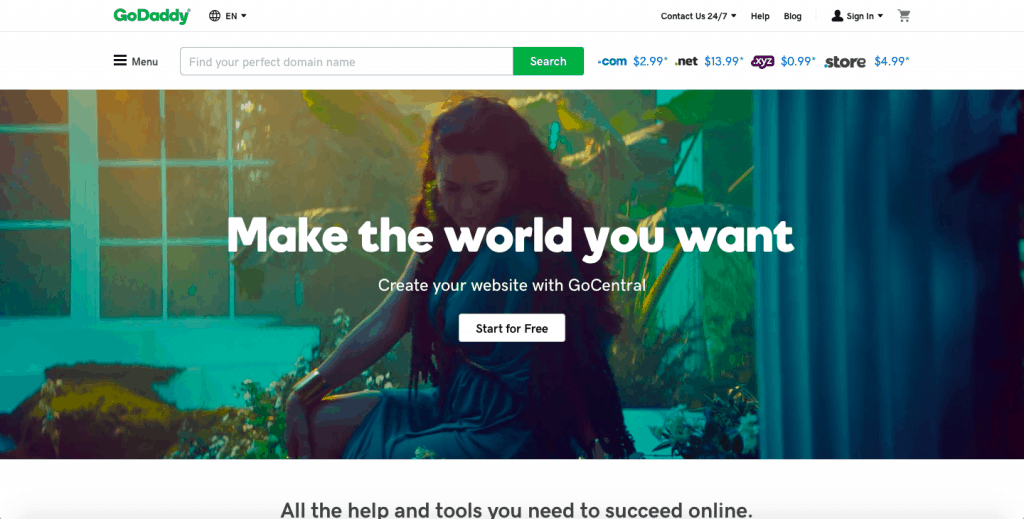 Easily the biggest name on the block is GoDaddy. GoDaddy once had a strong following among hardcore domainers because of its willingness to offer regular deals on new name registrations, but it has cut back significantly on reuse of coupon codes. Accompanying price increases raised the yearly fee for a standard .com registration from $7.99 to $14.99, although new buyers can still typically get first-year discounts in the range of 99 cents. Godaddy also offers access to a wide array of different TLDs, including many overseas options.
And get this – the other day they charged me $17.99 for a renewal – they knew I was locked in because I was close to the renewal date.
So you know what, I don't trust them as much – they're trying to take advantage of me.
GoDaddy manages domain names on behalf of more than 17 million individuals and entities. The firm is the clear best domain registrar for those who demand customer support, thanks to 24/7 phone availability.
Why you should go with GoDaddy – if all of your domains are already there, what's a few bucks more a year to keep them together.
ALSO – they have pretty solid customer support 24/7.
Another bonus – if you buy a lot of domains they have a domain buyers club for big discounts – kinda like Amazon Prime.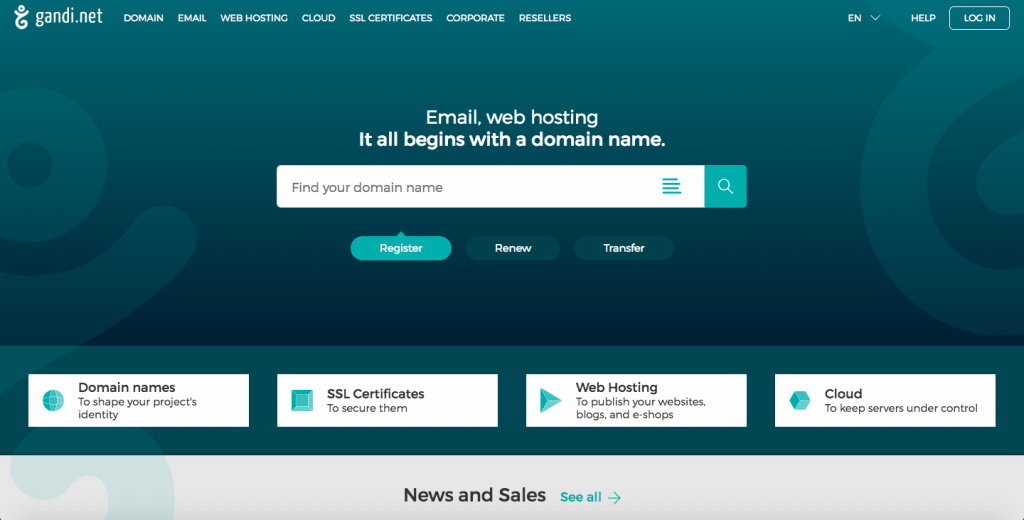 Gandi takes a somewhat different tack from other domain registrars in terms of its offerings. Rather than providing access to every TLD under the sun, Gandi focuses on specific offerings that are the most popular. The firm uses a pricing structure that rewards volume, so owners who make purchases of more than $12,000 in a year with them receive discounts as steep as $8.80 per year. Their starting price is $15 per year for a .com, so the company doesn't represent a killer choice for folks who are looking to only do a small amount of business or just register a handful of domain names. It's a great choice, however, for high-volume domain sellers and buyers.
Included with your domain registration are two free hosted web pages for your website, a "Gandi Blog" (Gandi's blogging web template), a year's worth of SSL certification, email, and much more. Gandi is headquartered in France, so their customer support will not serve you greatly, unless you are fluent in French. There is no live chat support or phone number you can call, so it is just only through email where you can get a hold of them.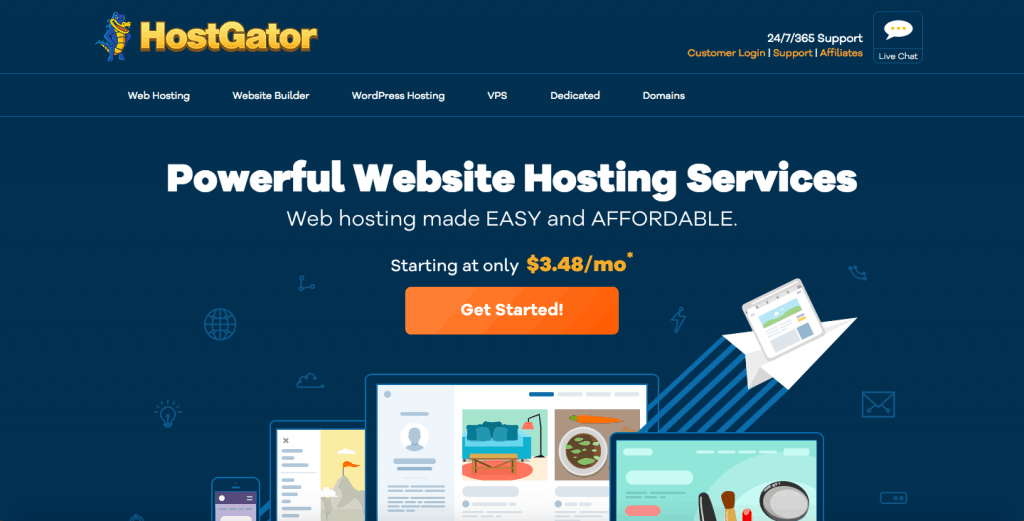 Around since 2002, HostGator is a business that sees itself as more of a web hosting services provider than a domain seller. The company isn't particularly heavy into pushing domain names as a business, but it's $12.95 per year price for a .com is fairly competitive. One big feature that helps keep this provider competitive is that they offer wordpress hosting. On the downside, domain owners should be prepared to be sold to. This can, however, be beneficial for relative novices who want a hosting company to help them set up a whole website.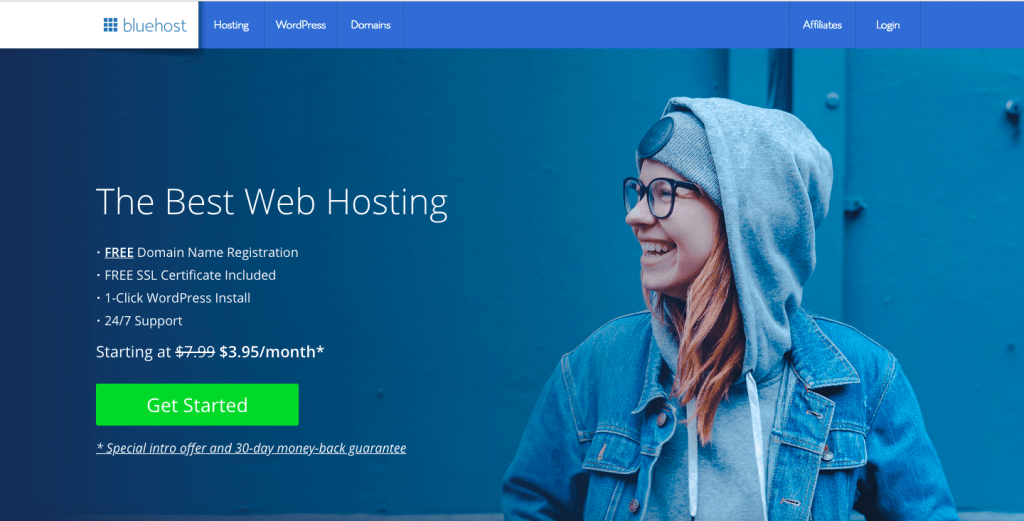 Bluehost is another entrant in the game of offering a free domain name alongside a paid web hosting plan. Bluehost also ups the ante by offering a free SSL certificate to anyone with a WordPress hosting account. They also provide PHP options for folks who want to host dynamic web content. Bluehost's first-time registration cost of $11.99 can easily be beaten, as can its $15.99 per year renewal fee.
Downright Bad – The Worst Registrars:
Nope – we don't like these.
They are old school, expensive, and not good to their customers. Buy through these at your own expense – we warned you!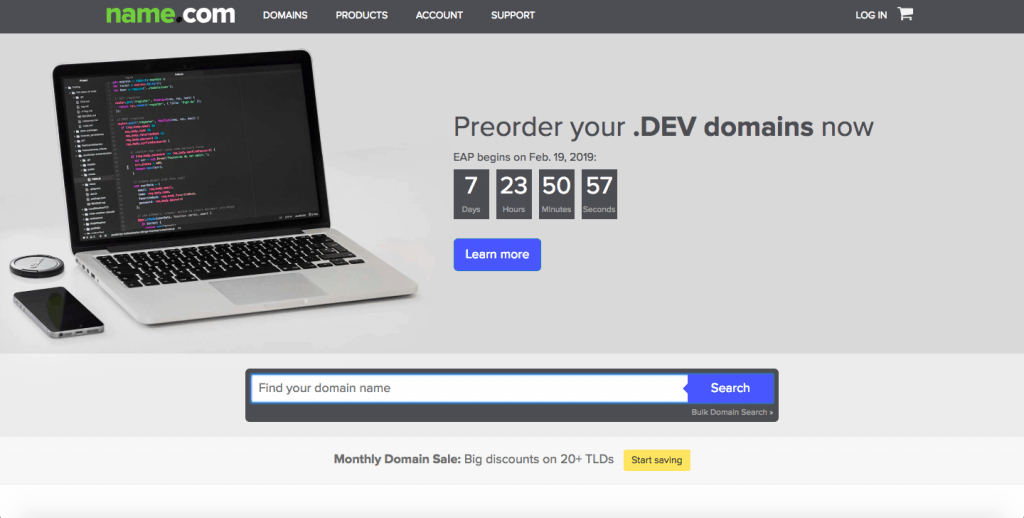 Name.com probably isn't the first company most domainers will go running to, but it's offer of a free domain name along with each WordPress hosting plan is bound to make it attractive to a specific audience. The company's list of TLDs is downright mind-boggling to scroll through, and that's a definite plus for the buyer who just has to have a .COFFEE or .EQUIPMENT domain name. First-year .com domains sell for $8.99, and renewal fees clock in at a reasonable $12.99.
The firm isn't the best domain provider in terms of customer service. Name.com offers Monday through Friday phone support, and live chat is available every day for part of the day.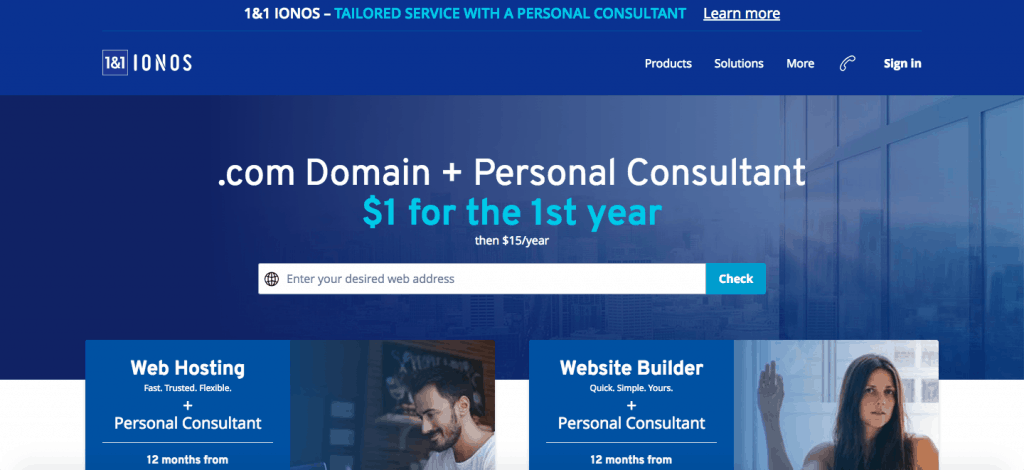 1and1 tries to get your attention with an aggressive first-year registration offer on 99 cents. Unfortunately, the renewal price goes up quickly to $15. It's a good choice for folks who intend to buy a domain name and perform a domain transfer to another domain registrar the next year. If you're looking to settle in with a single domain registrar, 1and1 doesn't have much else going on besides the standard litany of accompanying web hosting upsells.
It is also important to be sure that you read the fine print of their contract to better understand the cancellation window. If you ever feel like you need to cancel it will not be easy, and they will either refuse to or will not issue a refund. Furthermore, 1&1 Internet do not offer premium DNS, or any other means of making domains secure. What they offer is basic, and there isn't really anything unique or attractive that would make you choose them over other domain registrars.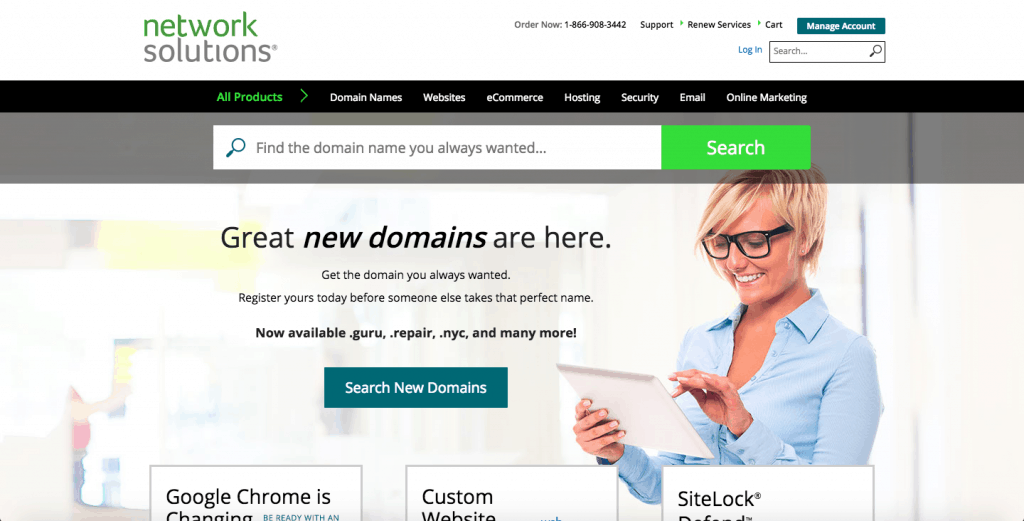 Ugghh – Network Solutions is the worst.
The only reason they still exist is because they were once the place to register. And they've been riding out their dying off customers ever since.
They charge north of $30+ to renew – more than double what other registrars charge. The devils!
An acquired asset of Web.com, this domain name registrar offers many different plans that all include basic customer support features. While they have a website that looks great and is something you can browse every day, this company used to be very successful as an IT consultant, but has since taken quite a hit from controversies since the 1990s.
Support is also very meager, with no live chat or ticketing system; only a phone number that you can call. You can pay for premium support. That's right. You have to pay them to help you with transfers, migrations, SSL setup, among other important things.
Furthermore, they offer no money back guarantee. If you are unhappy with what you paid for, they might as well tell you to kick rocks. With no option to refund, there is no way that this can benefit you in any way.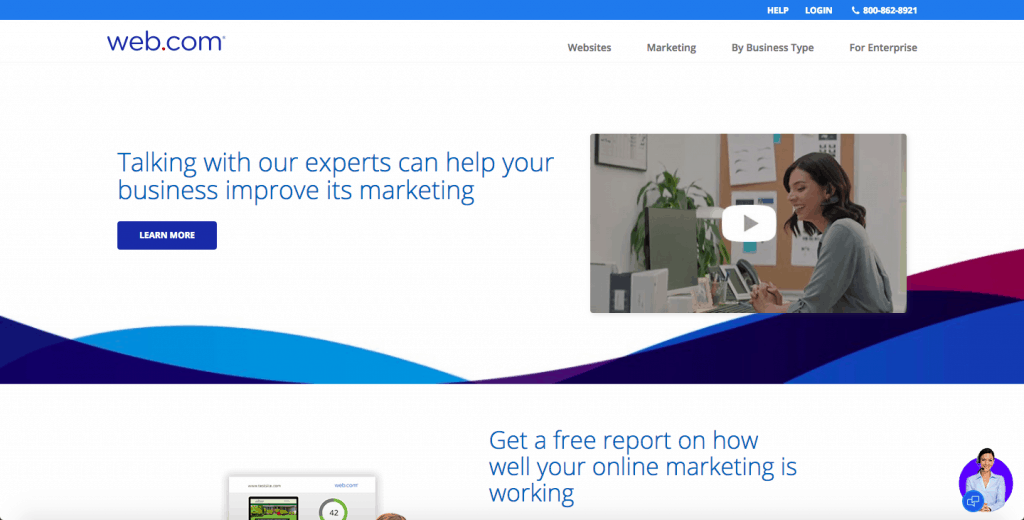 Web.com claims that it offers reliable and affordable web hosting. They mostly cater to corporate entities and businesses above personal and private individuals. They offer services that help businesses generate leads and marketing solutions. You can even get assistance with search engine optimizations. However, that is really where the positives begin and end with Web.com.
Their renewal prices are also outrageous. You will need to pay 35 dollars a year for a renewal. With this considered, it is a better idea to just look elsewhere for decent long term plans.
Web.com has some very shoddy help articles on their site. The help pages are often are too vague to be of any use to people with specific problems or concerns. For example, if you are looking for help with migrating your website, there is nothing about migration to be found.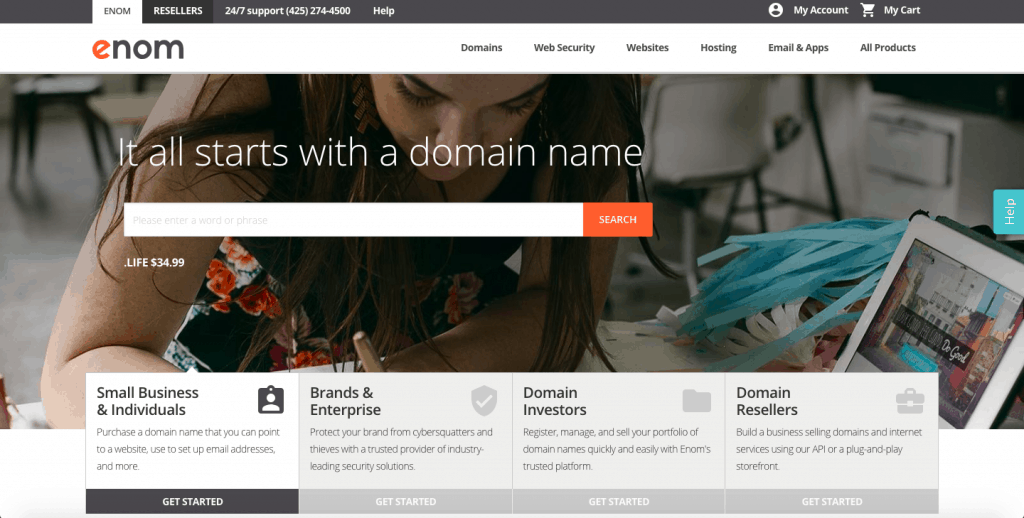 eNom does not excel in domain registration, and rather gets its name by reselling other used domain names. Because of this, it can be problematic when working with them. One hand does not know what the other is doing.
If your reseller allows your domain name to expire, eNom can make you pay a lot of money for a new, long-term deal.
Domain Backorders
So your favorite domain name was taken by someone else – what jerks!
So all is lost? Not necessarily. If the name you want is being squatted like a hobo by someone not using the name but still paying the registration fee, your solution is: backordering.
Backordering a domain is not foolproof, but there is a very decent chance you can pick up that domain – in time. If the backorder doesn't work? Generate a new name…
Domain Name Generators
There's a lot of debate on whether you should go with a short domain name like "dolphin" with a new TLD (.co, .us, .guru), or get creative, like "trydolphin", combined with the tradition .com.
It's up for debate, pros and cons to both, but to get started why not generate dozens of domain ideas in seconds? We put together a list of 22 domain name generators that do the trick to get you more ideas than you can handle. Take it for a spin!
Last Updated on September 10, 2019 by Joe