Cutting to the chase, here are the fastest web hosts and who we think each is best for:
| Web Host | Speed | Starting Price | Best for |
| --- | --- | --- | --- |
| A2 Hosting | 0.34 s | $2.99/mo | Most people - A2 is cheap and fast. |
| WP Engine | 0.36 s | $22.50/mo | Businesses that can pay a premium for one of the best. |
| Cloudways | 0.41 s | $10/mo | Those who want a balance of speed and cloud hosting. |
| Kinsta | 0.42 s | $30/mo | Businesses build on WordPress. |
| HostGator Cloud | 0.43 s | $4.95/mo | Consumers looking to save their pennies. |
| InMotion | 0.62 s | $5.99/mo | Those who love InMotion. |
| SiteGround | 0.71 s | $6.99/mo | Those hosting 5+ WordPress sites looking to save money. (#1 value pick). |
---
In 2023 it's critical for websites to load blazing fast.
Not only is it a (small) ranking factor, but it greatly improves customer experience – which means more dollars in your pocket.
It's no secret – the fastest web hosting is the best web hosting. So which one should you choose in September 2023?
Google engineers have found that many Internet users get frustrated by waiting even 400 milliseconds for a website to load.
Why do you Really Need the Fastest Web Hosting?
Turn up the speed with the fastest web hosting.
High-speed hosting services not only improve user experience but they also:
Have a positive impact on search engine ranking (Google admitted it)
Increase the amount of time on site because users are comfortable browsing more
Is a huge factor in your overall website speed
Helps with resource delivery
Make you more attractive
Ok, the last part was a lie. But the reality is, in about the time it takes to blink your eye, you could lose a visitor to your site. That could mean losing a $250,000 deal, losing a new donor to your charity, or losing a new fan.
Don't lose fans because of your lazy speeds.
The engineers also found that if your site is about 250 milliseconds slower than a competitor's site, they will more likely choose your competitor's site.
Competition is fierce.
To cut to the chase, these are some of the fastest web hosts on the planet below.
Various speed studies have placed these seven hosts as the fastest options for 2023 and beyond:
Average Speed: 0.34 seconds
A2 Hosting has staked its reputation on trying to be the fastest web host in all the lands. They even put it front and center on their home page: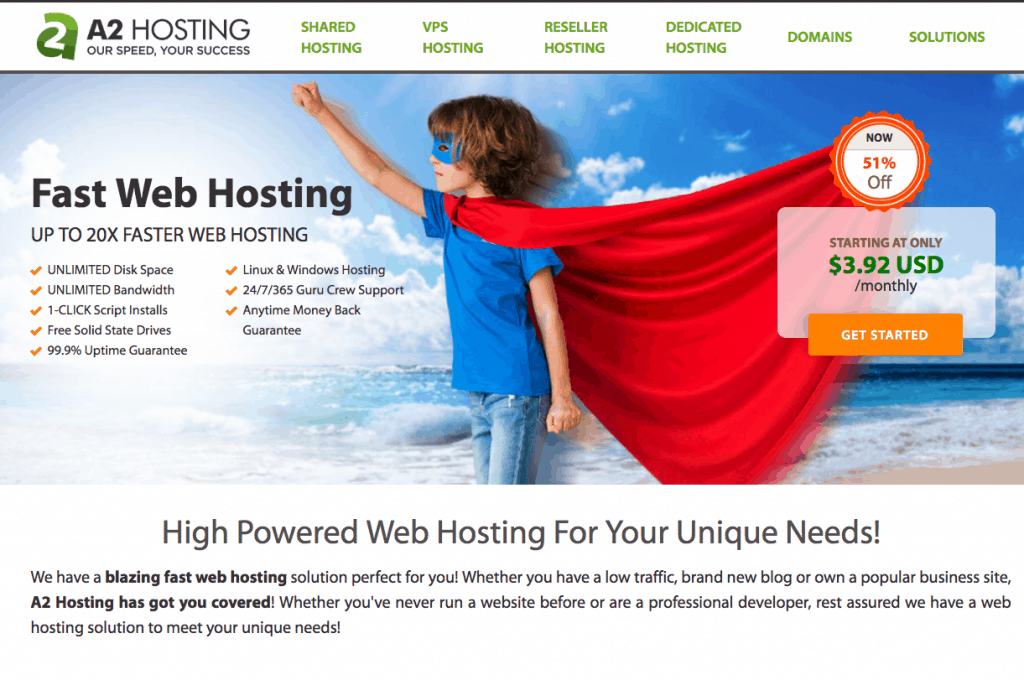 But the important thing to know is that you don't get 20x speed on the Lite plan, you have to go for the Turbo Plan (great name) for that: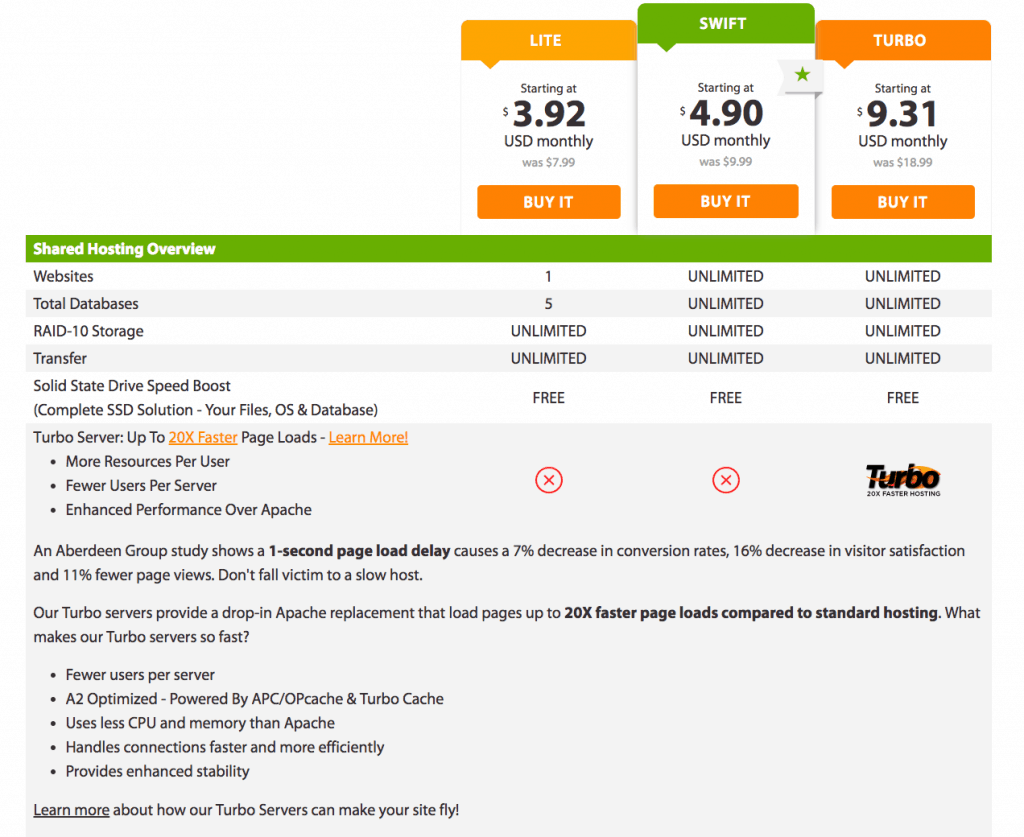 We ran a GTmetrix speed test with A2 Hosting, using a fairly simple StudioPress Genesis theme, and were extremely pleased with the results: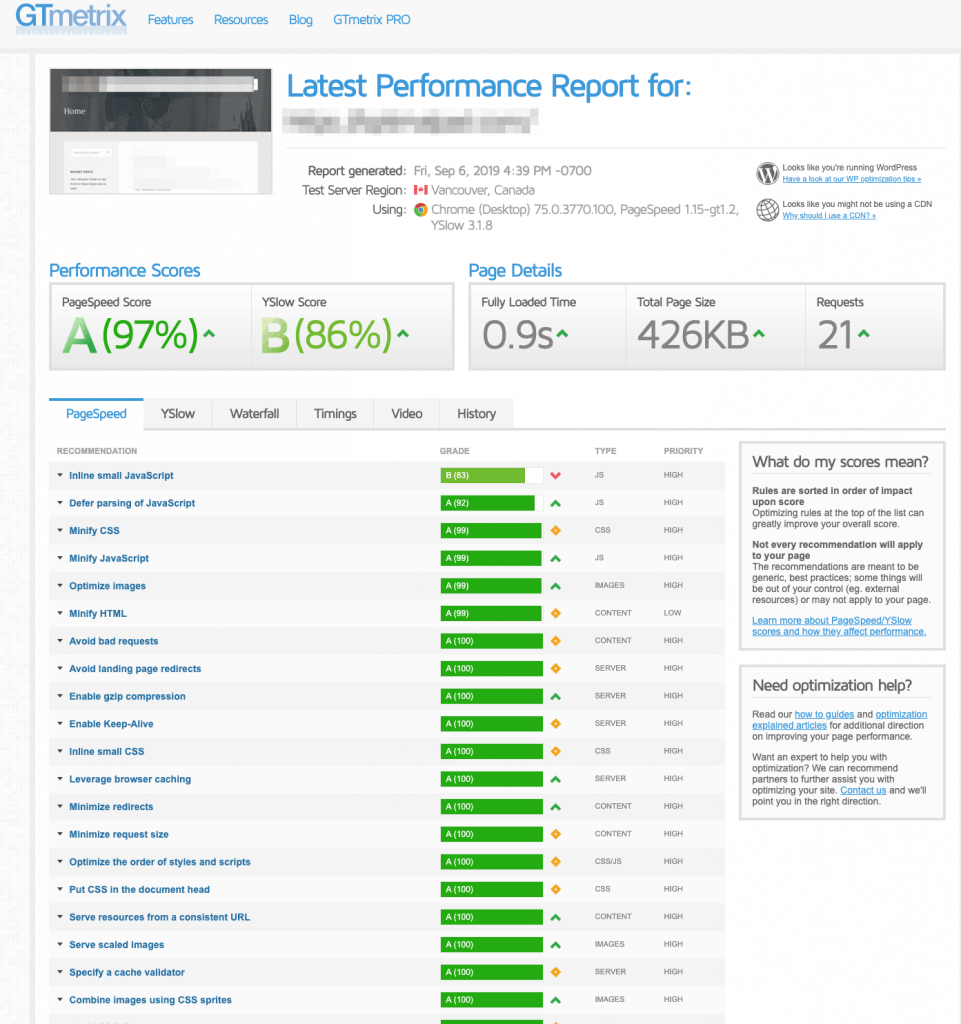 Note that we were using A2 Hosting's Turbo plan and turned on the speed and caching tools they provided.
If you want to get more into the details of their plans, here you go:
Shared hosting with CloudLinux: Customers can use a site-building tool or do their site's coding themselves. The first two options include standard speeds; the fastest option is hosted on the Turbo server and features the A2 Optimized Site Accelerator. Once customers have outgrown the shared hosting, they can upgrade to a dedicated server.
A2 offers two dedicated hosting options: Flex for developers and experts and Managed Flex, a user-friendly route that tosses in cPanel for free. A2 guarantees 99.9% uptime and blazing fast speeds.
Managed and unmanaged VPS hosting: The unmanaged hosting offers client-designed packages that can include Linux OS and A2's own installer program, or managed hosting, which includes software, hardware, network, and security monitoring.
Cloud hosting: on the SwiftServer Platform, which features page loads up to 300 percent faster than standard drives.
Reseller hosting: has three separate plans, all of which offer resellers unlimited client accounts.
Here's a recap of their overall hosting plans:
| | Shared Hosting | Managed WordPress Hosting | Core VPS |
| --- | --- | --- | --- |
| Description | The fastest shared hosting on the market | Fully optimized and managed WordPress hosting | Managed VPS hosting with Root Access |
| Starting at | $3.92/mo | $11.99/mo | $32.99/mo |
| Control Panel | cPanel | Plesk | cPanel |
| Storage | Unlimited | 10GB | 75GB |
And just A2 Shared hosting plans:
| | Lite | Swift | Turbo |
| --- | --- | --- | --- |
| Price | $3.92 | $4.90 | $9.31 |
| # of Sites | 1 | ∞ | ∞ |
| Databases | 5 | ∞ | ∞ |
| Turbo Speeds | No | No | Yes |
| Site Accelerator | No | No | Yes |
They offer around-the-clock technical support at all levels, and have combined the best of OpenCart, WordPress, Drupal, and Joomla to provide customers with fast page load speeds.
Check out A2 Hosting and get 66% off -> 
Average Speed: 0.36 seconds
WP Engine was founded on speed. They started out primarily as a platform for developers obsessed with speed (and still are). These bad boys went all-in on WordPress hosting before it was cool. Since then, scores of copycats have popped up.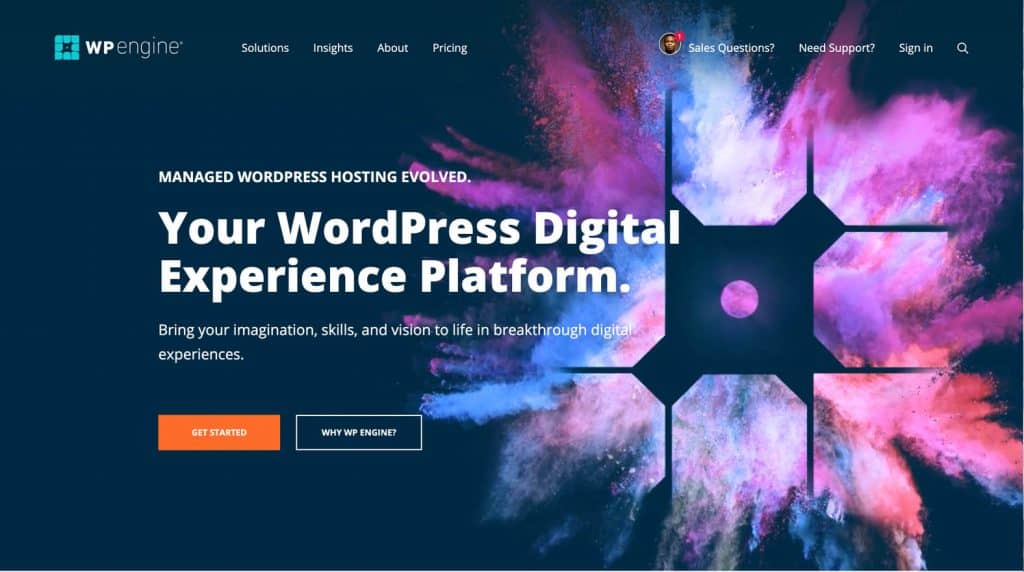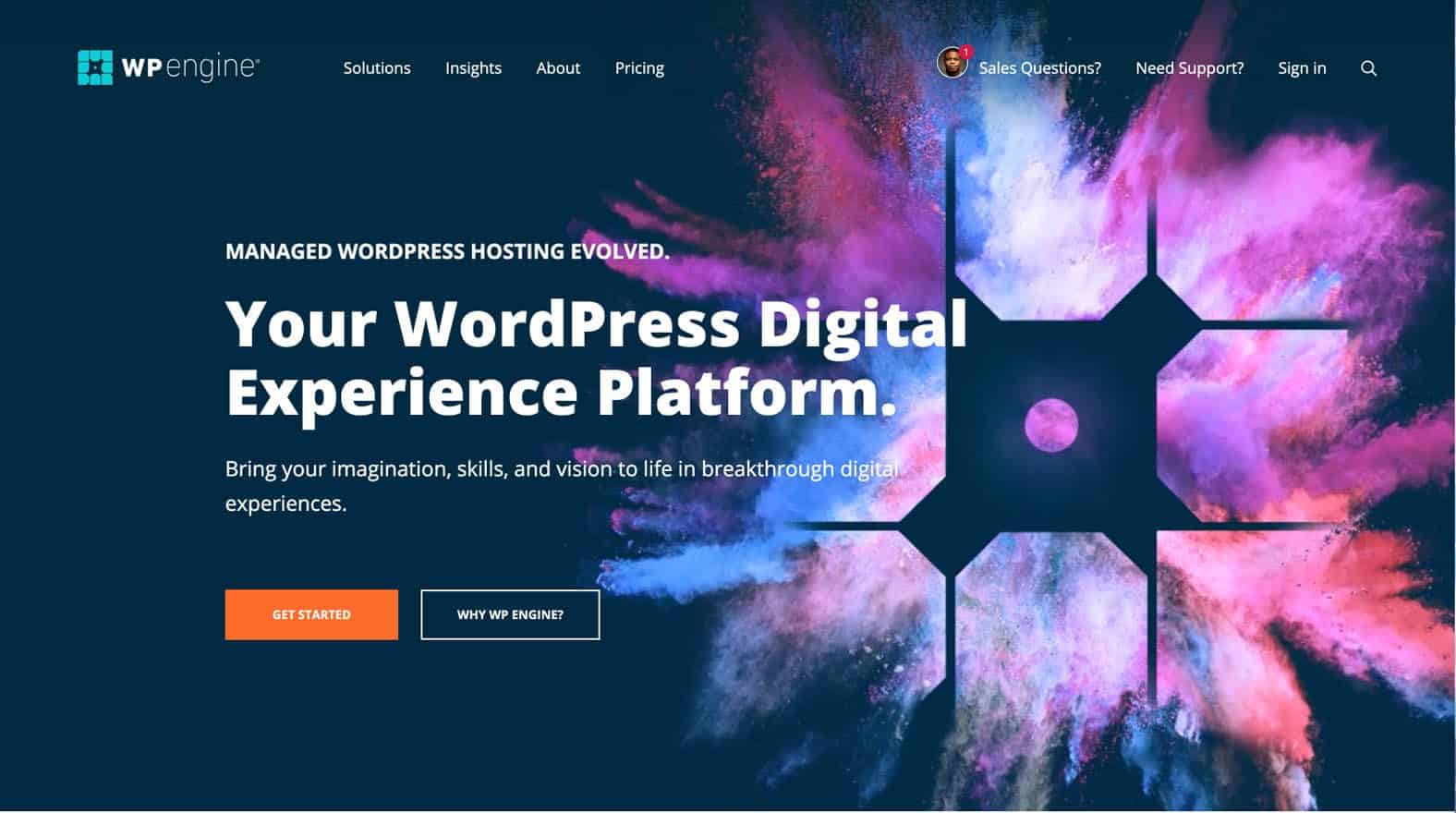 They use their proprietary Evercache technology which includes their "optional, integrated, fully-managed CDN that serves your static content from data centers all around the world, each byte delivered by the server closest to the requesting browser."
I'll put it this way, if you've got a large, complex, WordPress site where every second counts – go with WP Engine, you won't be disappointed (claim 20% off with this link).
Average Speed: 0.41 seconds
Cloudways is a bit different from the other hosts on here.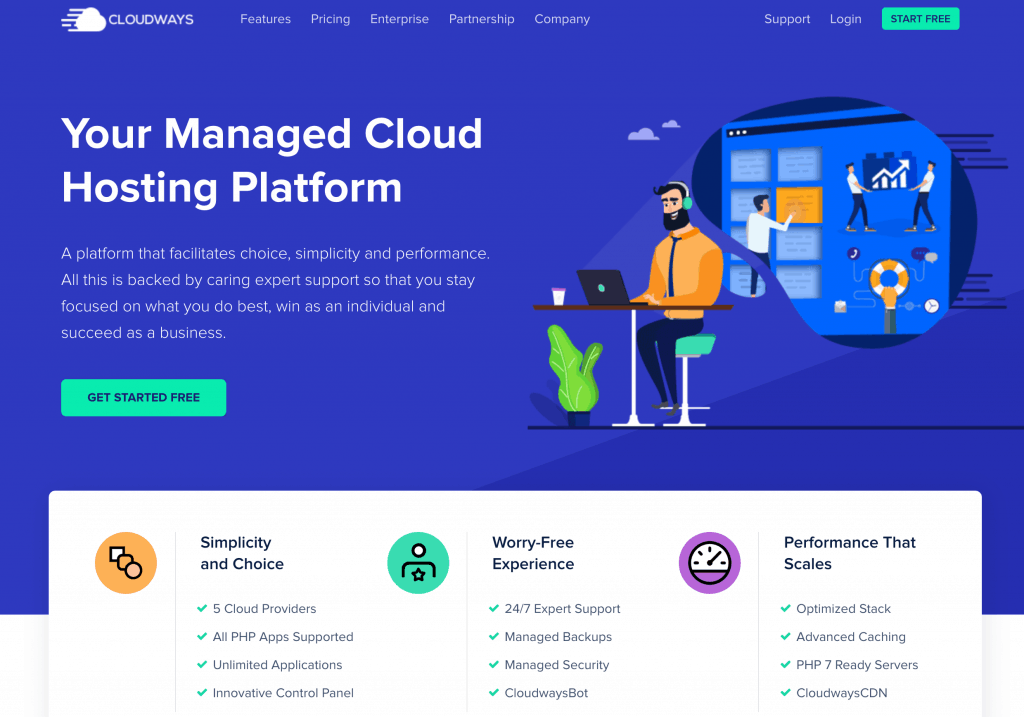 They are a layer on top of super fast and super powerful mega-hosts:
Google Cloud
Amazon Web Services (AWS)
Digital Ocean
Linode
Stackpath
Vultr
Essentially, these huge cloud hosting companies are built for developers – not beginners.
What Cloudways does is help make accessing all of those hosts easy for you, and simplifies the process.
They add on layers of value, such as:
24/7 Expert Support
Managed Backups
Managed Security
Advanced Caching
CloudwaysCDN
If you're looking for a good hybrid of super-scalable high-speed hosting and 24/7 support, go with Cloudways.
For a more in-depth analysis, check out our full Cloudways review here.
Get 50%+ off Cloudways here -> 
Average Speed: 0.42 seconds
If you're looking for super-fast WordPress and WooCommerce hosting, Kinsta is a brand new alternative to WP Engine.
They are laser-focused on creating the best hosting for WordPress users who want managed hosting, secure hosting, super fast speed, and even better – on the Google Cloud platform.
There's fast, then there's Kinsta fast.
They even said it themselves: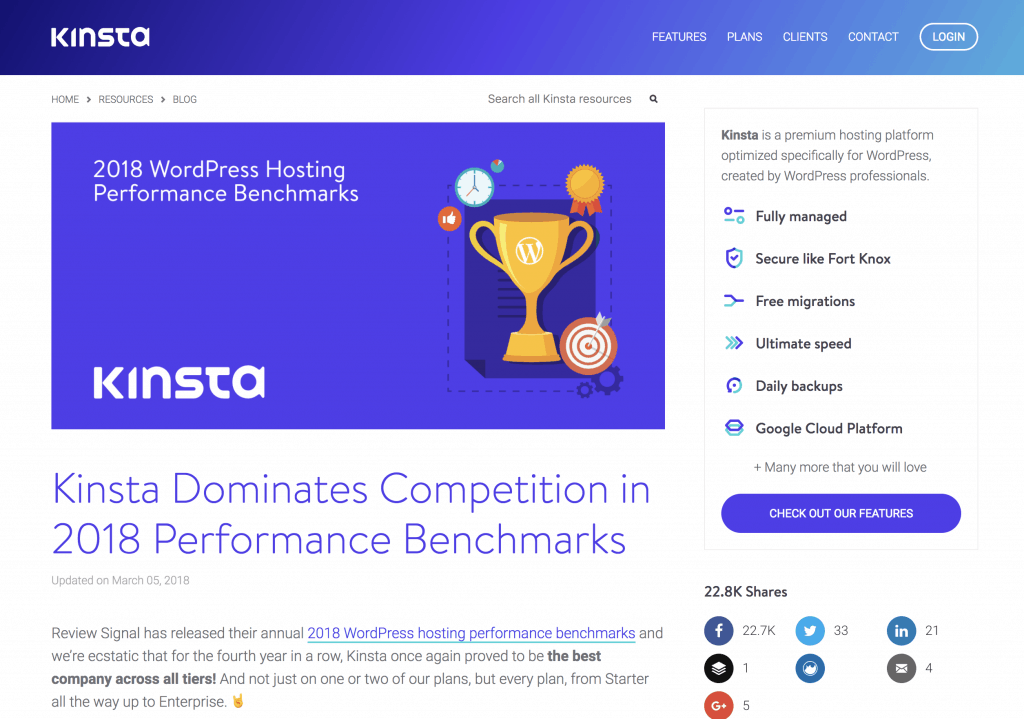 The thing I love about them is how elegant they carry themselves. Yes, they want to humblebrag a bit, but they back it up with actual testing and education for other site owners.
Those in the know are switching en masse from other hosts over to Kinsta. They're worth a look.
Check out our full Kinsta review for all the juicy details.
Average Speed: 0.43 seconds
HostGator Cloud is not the same as basic HostGator.
It's faster, better, stronger – built for more robust and growing websites.
But even better, it doesn't have the same price tag as expensive cloud hosting providers.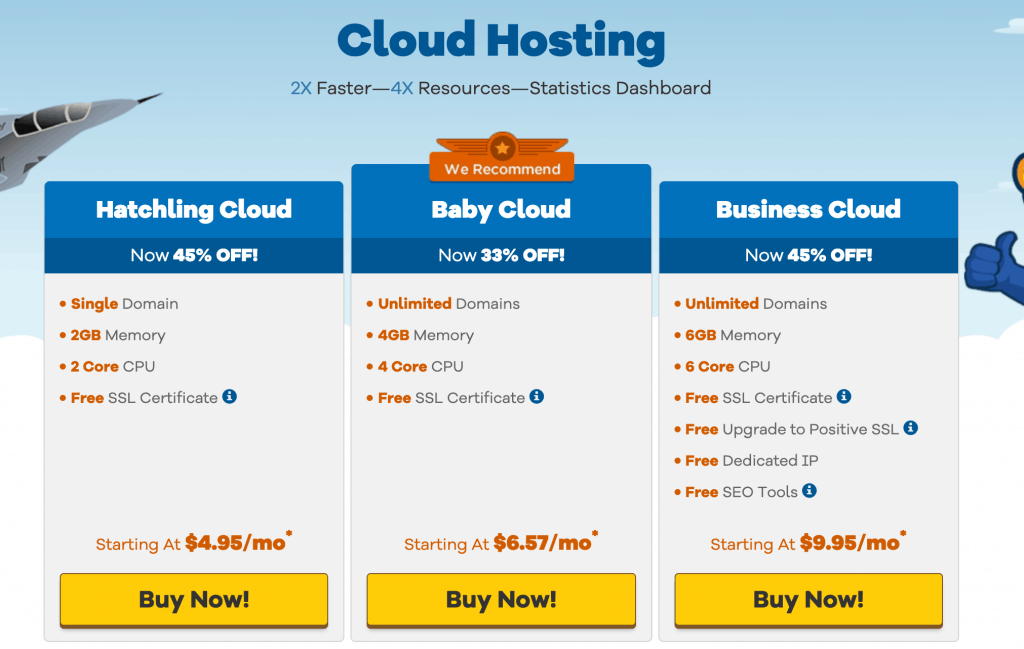 What we love about these HostGator Cloud plans
Very low cloud pricing at $4.95/mo and up
Free SSL on all plans
Unlimited domains on Baby Cloud and Business Cloud
As a host of more than 8 million domains and 850 employees, you can trust they're a solid company
HostGator, which was founded in 2002, has been providing speedy service since the beginning. The company has a 99.9% uptime guarantee, responsive customer support, and additional hosting options for WordPress and applications.
If you're looking for super-fast, entry-level cloud hosting this is the way to go.
Note: HostGator also has WordPress Cloud hosting – slightly different, but great if you're on WordPress.
Average Speed: 0.62 seconds
InMotion is one of those hosts that's just been around forever, but they're still rocking away.
They've invested in multiple ISPs and data peering in order to deliver fasters speeds no matter where your users are: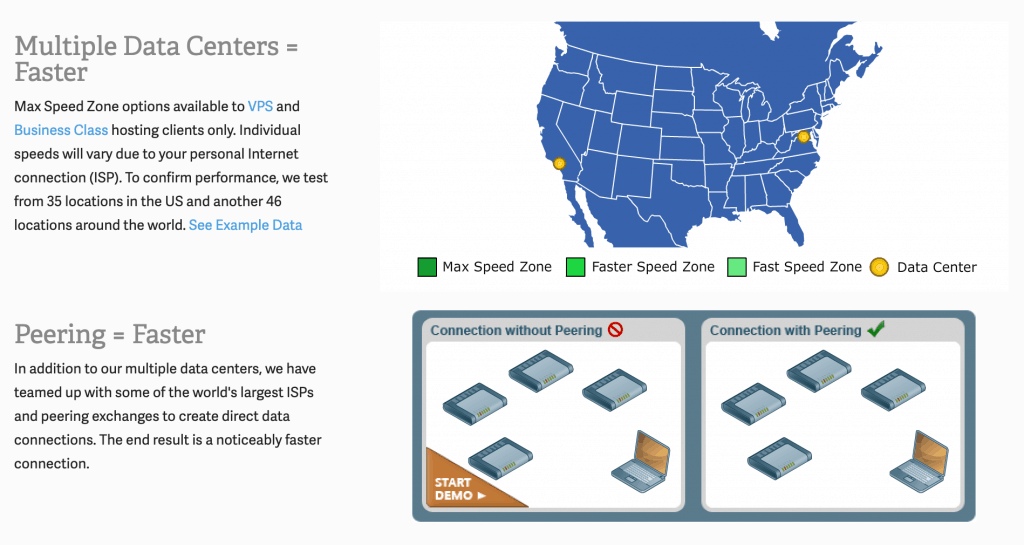 One really cool demonstration they have on the page is the ability to download files from two data centers to see which is faster – it's pretty cool, try it out:

They've actually surprised us in some of our research, and have proven to be a very fast and reliable host.
Since 2001, InMotion Hosting has been customer-focused, and offers data centers in Los Angeles and Virginia Beach – and allows customers of certain individual packages to choose the data center that works best for their client's Web sites.
InMotion offers three different shared hosting plans with free SSD and a free domain name. Coding is available in several languages, they provide integration for Google apps, and secure IMAP email.
Six dedicated server options offer free cPanel and WHM, free SSD – with faster load times – and 99.99% network uptime. They offer managed hosting and launch assist, a one-on-one admin setup program that can help optimize your site, speed up your pages, or set up your server.
VPS hosting includes free SSD, a free domain name, a free full cPanel license, and unlimited domains and MySQL databases. InMotion Hosting runs CentOS 6 Enterprise Class Linux.
Resellers can choose from three plans, which all include free SSD, eNom accounts, WHMCS billing software, dedicated IP addresses, full cPanel licenses, and transfers and backups.
InMotion support is available around the clock, with support chat and Skype options. They offer a 99.9% uptime guarantee.
Want more on InMotion? Check out the full review for more.
Claim an InMotion Discount Here ->
Average Speed: 0.71 seconds
SiteGround is probably the best overall host for most people.
They combine a deep well of technical knowledge, with excellent customer service and rock-bottom prices that compete with the best.
To make their hosted sites super fast, they've implemented a good amount of technologies to make your site faster than a rocket.
How do they do it? A few ways:
Custom SuperCacher

The SiteGround SuperCacher comes in three levels, depending on what you need for your site:
Level 1: Static Cache is the simplest and makes a copy of your static content, such as images, CSS, javascript, and more – and saves them on the server's RAM rather than the hard drive. This makes access much faster.
Level 2: Dynamic Cache is great for dynamic sites like WordPress – which caches the HTML which was generated by the PHP code. Instead of generated the PHP code every time and making calls, it just references the saved HTML. All you need to know is that it's better this way.
Level 3: Memcached is hardcore – it is a technology used by sites like YouTube, Facebook, Wikipedia, and a host of other huge sites. Rather than digging into the database for queries every time, it caches them directly on the RAM. So if you have a database-powered site, this is the way you want to go.
Free Cloudflare CDN

With SiteGround hosting, they integrate with the free Cloudflare CDN. While the Cloudflare CDN starts at free anywhere, it's extra helpful to have it directly integrated into your host – that's one less thing to do.
SSD Drives not Solid State

To be fair, a lot of hosts have moved to SSD drives, so SiteGround isn't the only one, but bear in mind that it's extremely fast compared to the "old-school" way of doing things.
Not only are they fast, but they're also nice. They're efficient. They're there when you need them. You want to take them home to mom.
Is SiteGround the slowest host of these seven?
No. And you shouldn't be choosing purely on speed tests.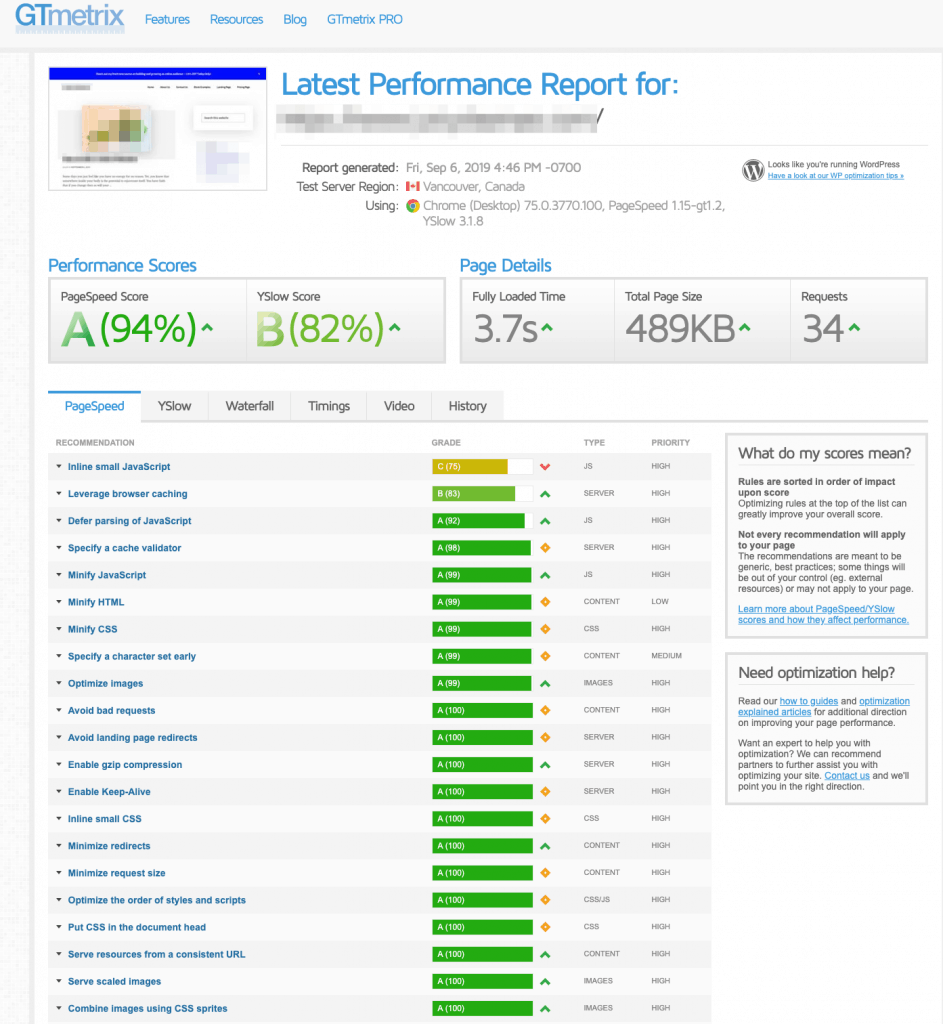 We ran the above SiteGround speed test with a simple site, turning on SG SuperCacher and selected all of their speed settings. We were overall very pleased with these results. Our A2 Hosting vs SiteGround post shows side-by-side speed comparisons.
Load speed is important, but it's only one variable among many. SiteGround is one of my favorite hosts, so don't let their ranking here turn you away.
For example, see all features of SiteGround and A2 Hosting compared to get the full picture, or dive into the full SiteGround review with user ratings.
Check out SiteGround Plans Here ->
Other Fast Web Hosts Worth Mentioning
There are plenty of other web hosting services out there that are worth considering. There's so many options it's hard to choose! Here are a few honorable mentions that we think are worth considering as well:
Bluehost – they're a super popular host and they've made big improvements to their uptime, speed, and customer service over the years. (Compare against HostGator here)
Dreamhost – they fly under the radar these days but are a well-supported, affordable host that many love
WPX Hosting – they're a more niche WordPress host, popular with affiliates – worth checking out!
The Basics of Super Fast Hosting
It's important to remember that the loading speeds can vary greatly based upon the hosting plan sites are using. A shared hosting plan, for example, won't always run as fast as a VPS or dedicated server plan. One of the most compelling options – if you can afford it – is super-fast cloud hosting. There's a lot that goes into how fast your website loads and the hosting portion of things is just one piece of the puzzle.
In addition to the hosting plan you've chosen and your physical distance from the hosting company's server location, particular design elements on any hosting plan can also affect how fast your sites load. If your site has been optimized, you'll be using less bandwidth and lower processing unit percentages.
Let me repeat: you can have the fastest server on the planet and still have a slow website.
So getting lightning-fast hosting is just the start. There's work to be done, son.
Optimizing your site can mean compressing and editing images, compressing scripts, including meta descriptions, title and header tags, and adding image titles and file names.
When you choose super fast web hosting, your work has just begun.
Don't Consider Only Speed
When you're choosing a host, balance the speed performance and the pricing options. I mean, you wouldn't judge a book by its cover right?
While higher-priced options often include more features, fewer limits on space and bandwidth, and faster speeds, analyze your needs.
Unlimited domains may be an attractive feature for larger companies that own a shedload of domains; if you are looking to publish a blog and can still get blazing speeds on a one-site shared host plan, that might be a better option. Even among shared hosting plans, customers can see different speeds based on the features, data center locations, and times of the day.
Other things to check out with web hosts, besides only speed:
Money-back guarantee: the best hosts will give you your money back within 30 or 60 days – this is a huge confidence builder in the company
Response time: there is hosting response time and domain name response time – your domain response time may be affecting speed more than your actual host
Small business vs enterprise: Some hosts, like Rackspace and AWS, are built for the enterprise. Others, like SiteGround and A2 Hosting, love small businesses. Choose wisely. View our full small business list here.
Control panel: The control panel at most hosts is called cPanel, which many users are familiar with. Other hosts, such as Kinsta, have created their own – this has its pros and cons.
Support team: I honestly think the support team is the #1 consideration. You want outstanding support. SiteGround is best for this. See our list of best hosts for customer support.
Email accounts: Do you get email hosting? Do they make it easy? How many accounts can you have? All important.
SSD storage: This is the fastest hosting storage, look for this as a premium feature. You want your storage responding with no lag time.
Disk space: Related to the SSD storage, are you limited in disk space? Some amazing hosts like SiteGround unfortunately only give you 30 GB on their popular plans.
Free SSL certificate: Every site should be on SSL these days, which gives you an https secure site
Unlimited bandwidth: Many hosts will claim this, but then throttle traffic if it gets too high. Look into the fine print at your host.
A Note on our Methodology
If you do research online, you'll find many sites testing hosting providers on their own on one-off monitoring tests.
We think that's great, but still missing some pieces of the puzzle.
What we've done on our own is do manual research and gather data on reports across the web of what people are seeing with page load times.
We then aggregate that data to give you the best sense of what speeds you can expect. We hope this has been useful in your decision-making – should save you a lot of time!
How Site Speed Affects Your Website and Business
This graphic from WP Engine highlights the importance of speed and how it directly impacts your business.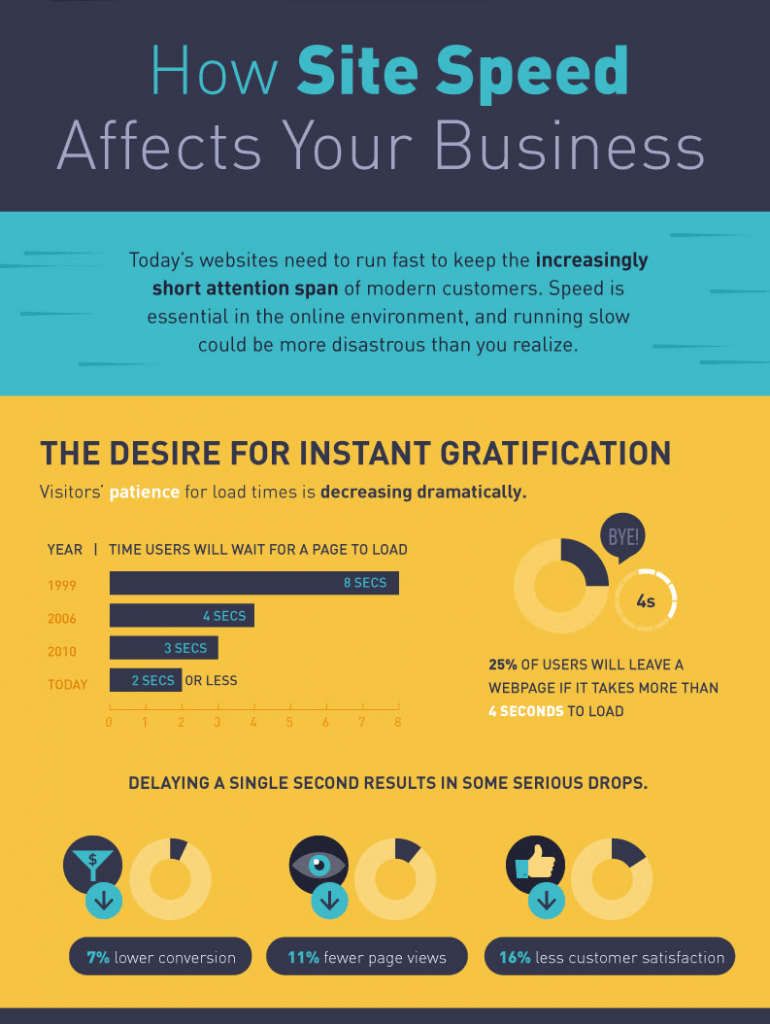 Other Factors When Testing Web Hosting Speed
One crucial element to keep in mind when testing web hosting speed are other elements:
How optimized is the website itself? This is perhaps the biggest factor in conjunction with web host speed
Home wifi speed
Speed of your home router
The speed of your own computer
Are you on wifi or cell networks
Cell network power – 4g vs 5g
If you're having issues that seem to be something other than hosting, do a test on all of the above bullet points. If your own computer is slow, have a friend test on their device, or go test on your smartphone. Test new wifi at a Starbucks with Google wifi. Router issues are a bit harder. For example, if you're on a cable service like Spectrum Charter, be sure to use one of their pre-approved devices so that's not affecting your home wifi. A subpar device may be slowing down the speeds and it may have nothing to do with your web hosting speeds.
June 2022 Updates to this post:
Reviewed for clarity and grammar
Minor inline edits
Double-checked speed details
This version was updated in September 2023 and we'll be continuously updating as we gather more intel.