No code website builders are getting cheaper and cheaper and some are free.
The best direction for you depends on what you're building. If you only want to build a simply landing page for your Instagram bio link, that's pretty straightforward. If you're trying to build a full ecommerce operation, that's going to be a lot bigger.
How Can You Create a Website Free of Cost?
Lots of startups aren't ready to spend big bucks on building a website. But here's the problem: if you don't have a website, will anyone know you have a company? People don't find businesses anymore, search engines find business websites.
So how do you started building your free website? We're going to help you do exactly that.
How-to website options
There are really only two ways to build a website without paying a professional to help you: Learn to code or use a free website builder.
Learning to code is a great plan – here's some free resources to help –  but that isn't going to get your website up quickly. Online website builders offer a much faster, and easier, option.
They aren't perfect, but for a small business, particularly with limited web skills and a tight budget, they can help you get a professional website up quickly and cheaply.
Pros and Cons of Free Website Builders
Pros
Build a website without spending any money

Simple to use – great for small business

No technical or design skills needed

Templates and tools included

Premium plans available as you  grow
Cons
Advertisements appear on your site

eCommerce options very limited on free plans

Not always easy to customize

Set up to be proprietary – harder to move your site

Premium plans much more expensive than traditional web hosts
Let's take a look at the reasons why we think website builders are great for beginners who want to get a free website up right now.
Why use a free website builder
To build your own website when you don't have a technical background, the right tools are key. Here are some of the great tools and features which are standard in most of the free site builder.
Drag and Drop
The whole point of drag and drop is to allow you to use your cursor to place or move items around on a web page. You point and click, dragging the image or widget to the place you want it to be, then just let up.
It's easy and intuitive – no code required  – and you see the results immediately. If you don't like it, click the X to delete it, and drag something else over.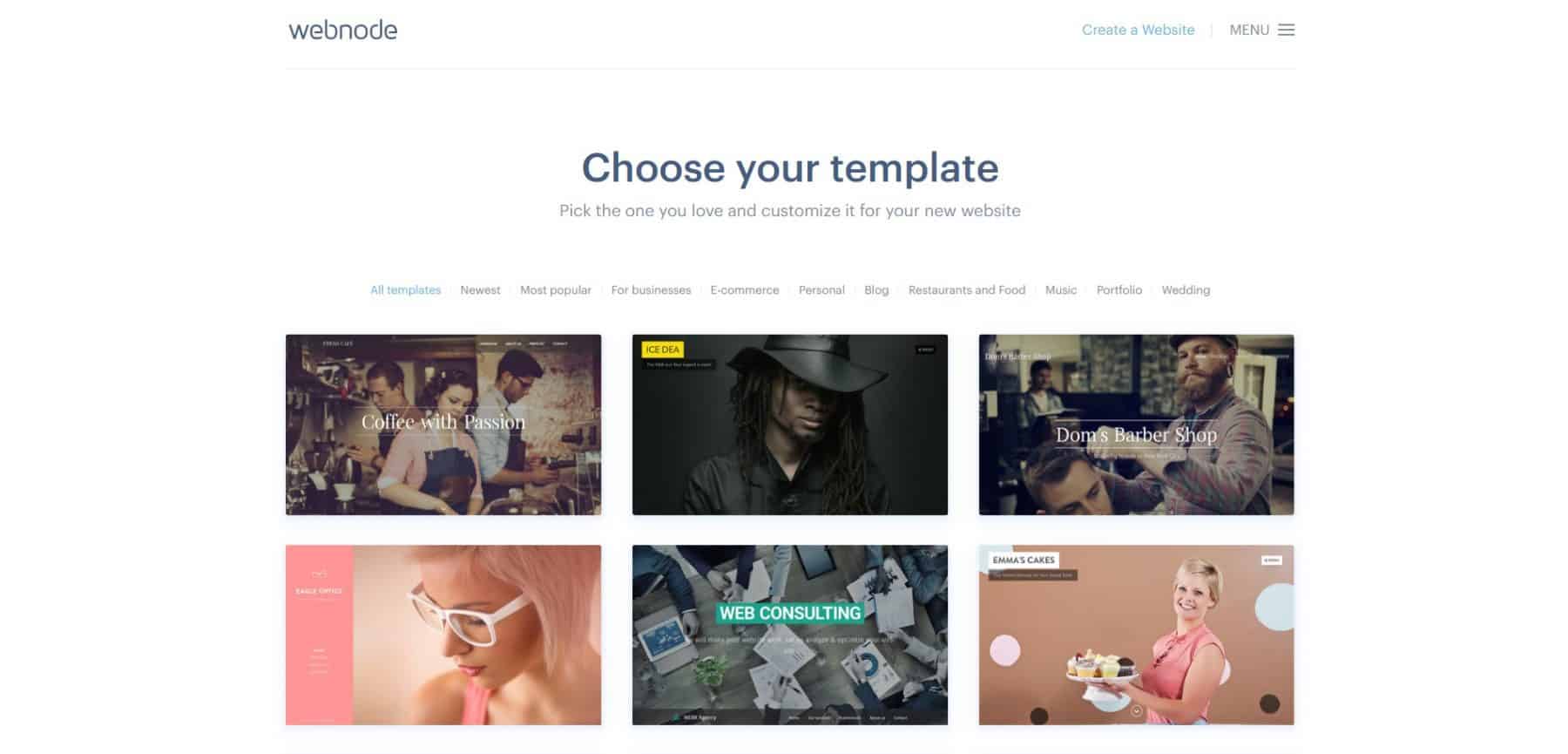 Custom Domain Name
If you've been thinking about a website, you may have already bought your domain name. Good news is you can still use it – your own domain makes it easier for search engines to find you.
Once you choose your builder, you can connect your domain name to it. Be advised that the majority of builders charge a monthly fee to connect the domain to your site.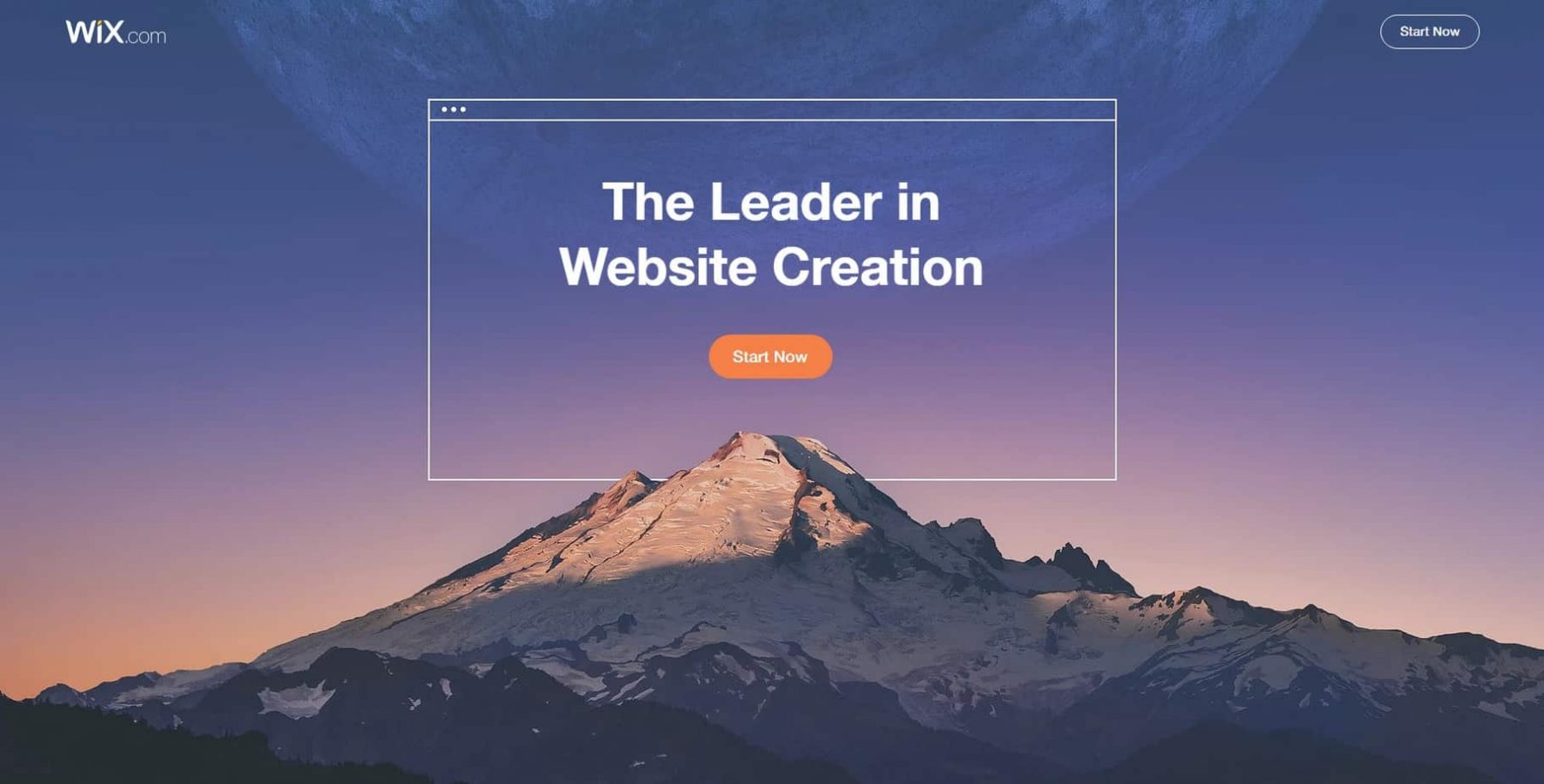 Online Store (eCommerce)
When you can set up an online store for free – it's definitely a big deal. The site builders make it easy too, but that said, free has its limits here.
Most eCommerce options will designate the size of your inventory – often limited to as few as five items. They control the number of payment processors, which tend toward traditional vendors like PayPal.
But they do give you a way to start selling online right now and you can move to paid plan if need more resources.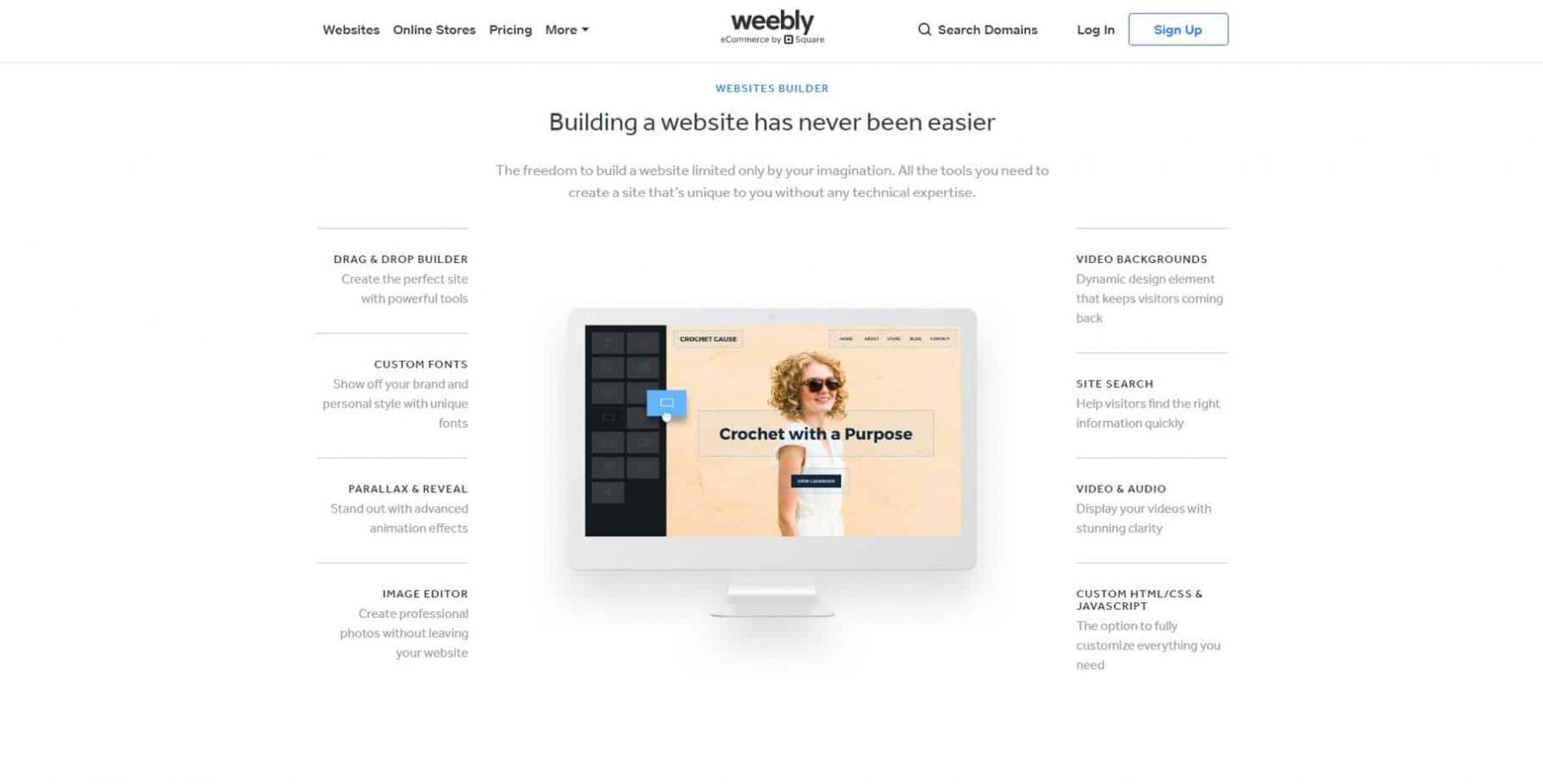 Free Domain
Most builders offer you a free domain name. BUT…it's actually a subdomain. If you used Wix for example, your domain would be: www.mywebsite.wixsite.com. Search engines do not favor this type of set up.

You can typically buy a domain for around $12.00. Namecheap is great place to do it because they include domain privacy for free.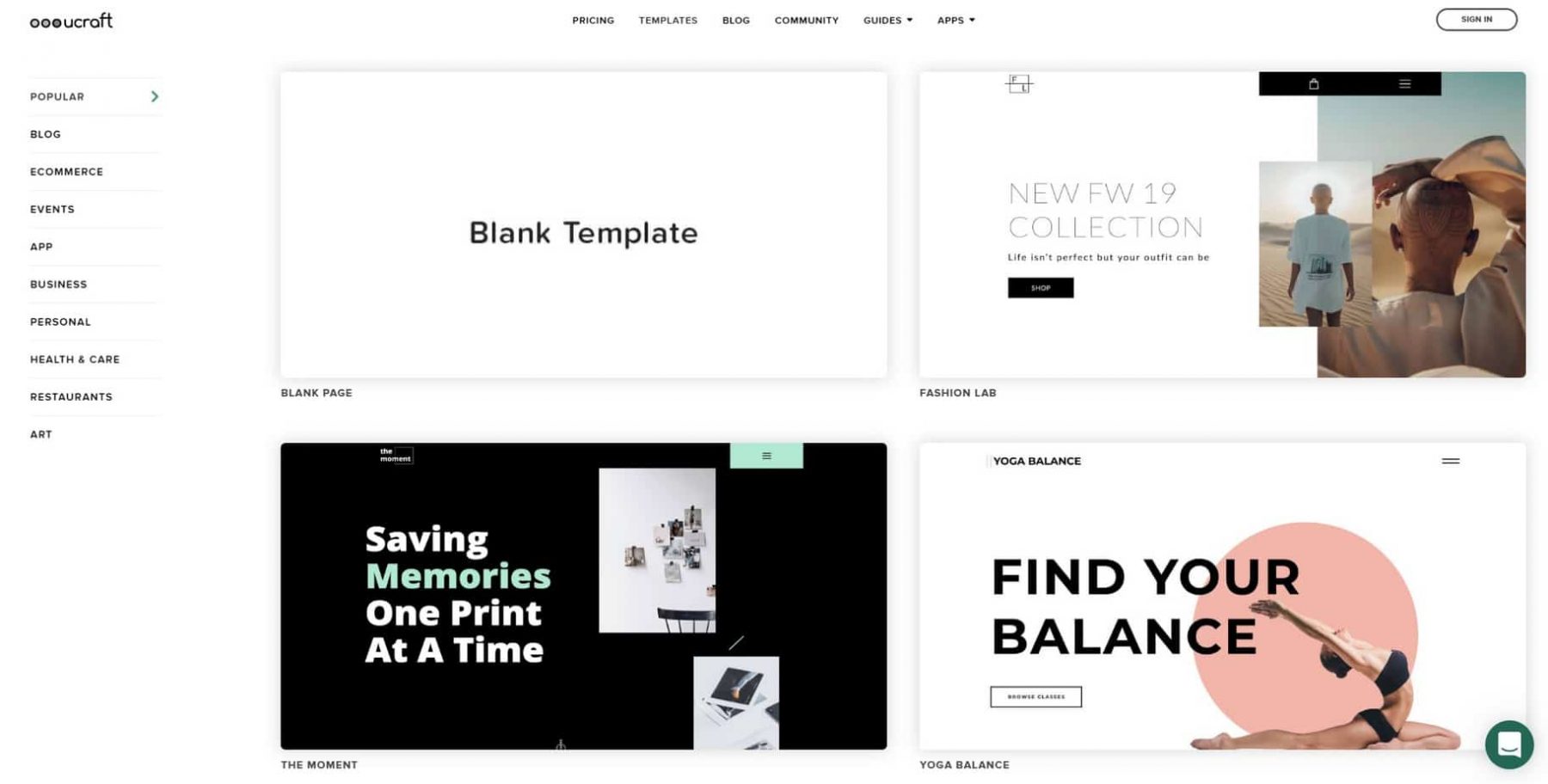 Web Hosting
A free website builder hosts your domain – they are your online landlord. In return for free hosting, your visitors will see advertisements.
As your site builds traffic, you may want more bandwidth or features, without the ads. Every free builder has premium plans to help with that, but they can be
Significantly more expensive than hosting a site at a conventional provider.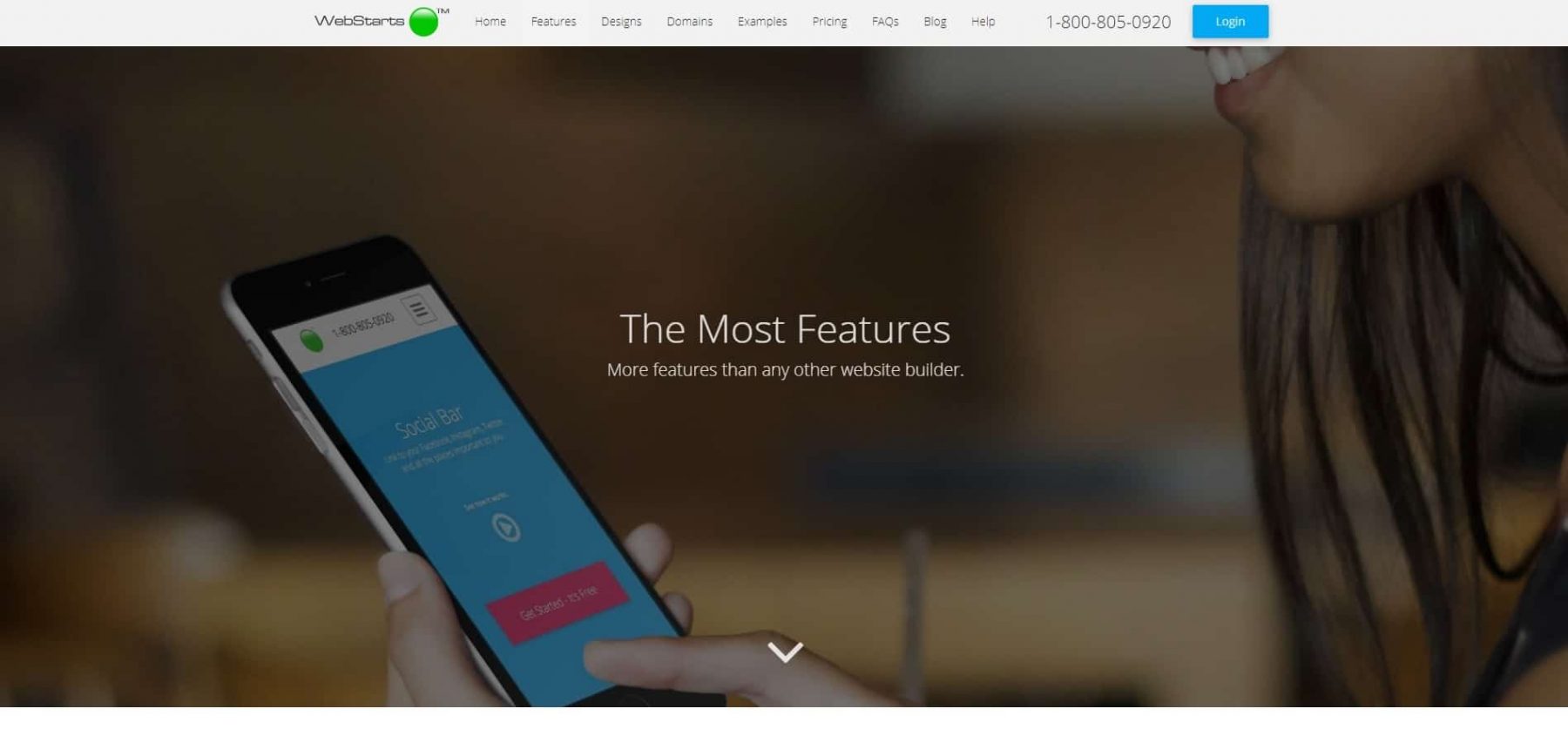 Intuitive
Free builders are easy to use and easier to figure out. That's their business – to make it simple for you and your small business to get on line.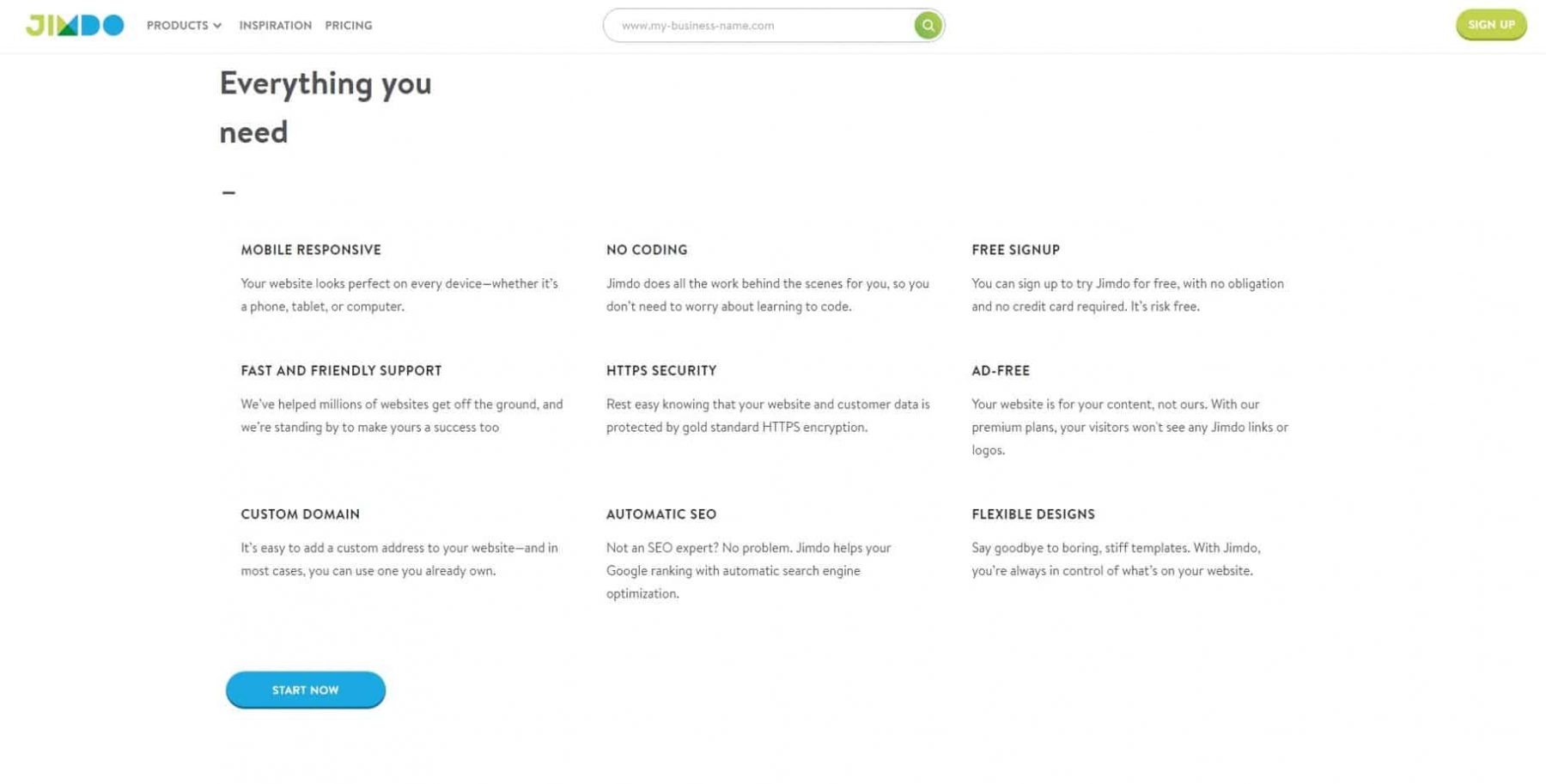 Responsive Design
Responsive design means your website responds to the size of the screen that it's displayed on. Around 48% of online activity takes place on mobile devices, so responsive design is essential.
Most builders will provide templates or themes to help you build your site. Always check it on different size devices and in different browsers.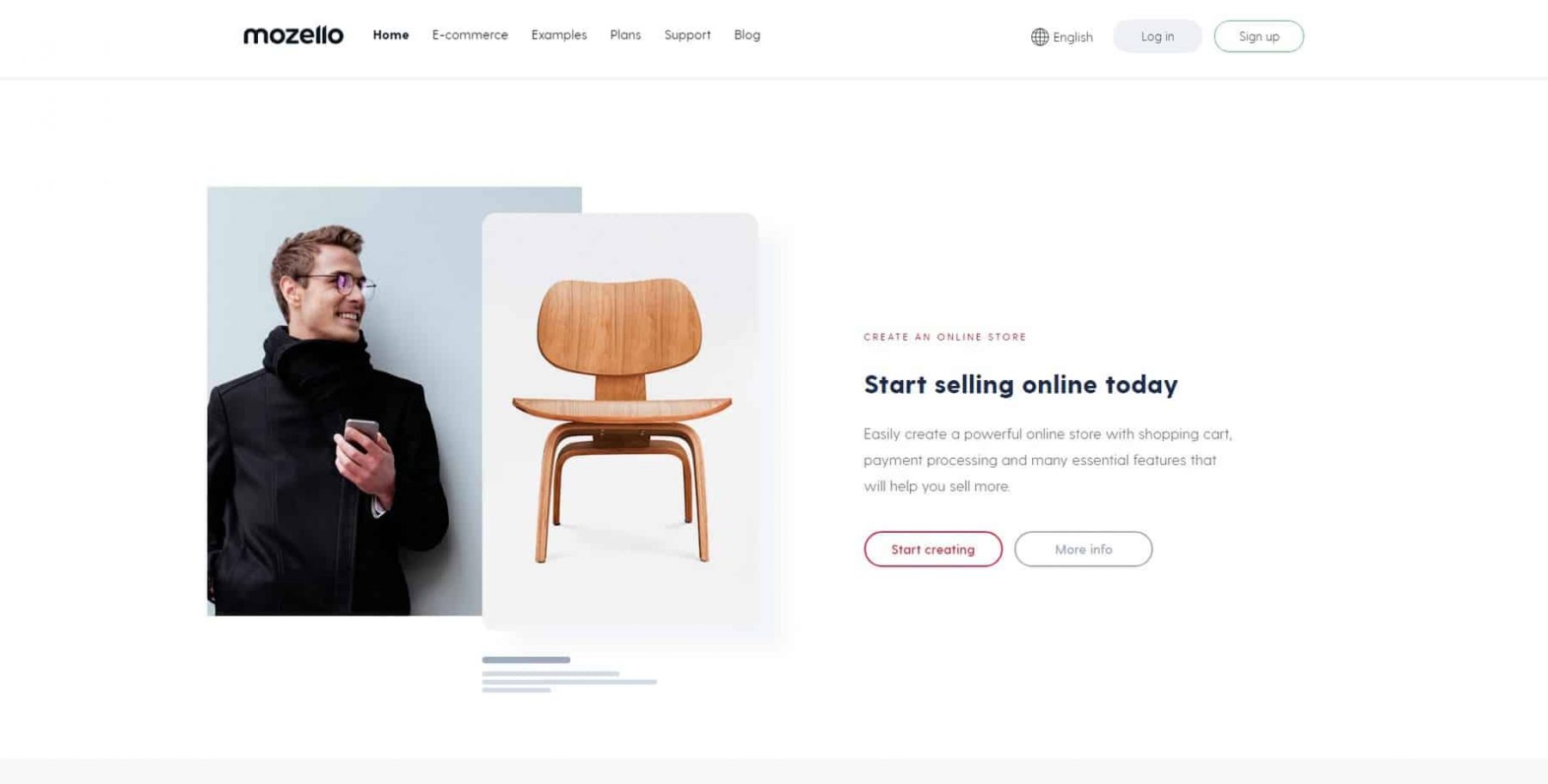 Social Media Integration
Most of the website builders will include some social media tools or widgets. Most of them involve share icons to be displayed your posts and page, so people can share content they like.
Some offer widgets to provide links to your own accounts or even to display your tweets or posts right on your site.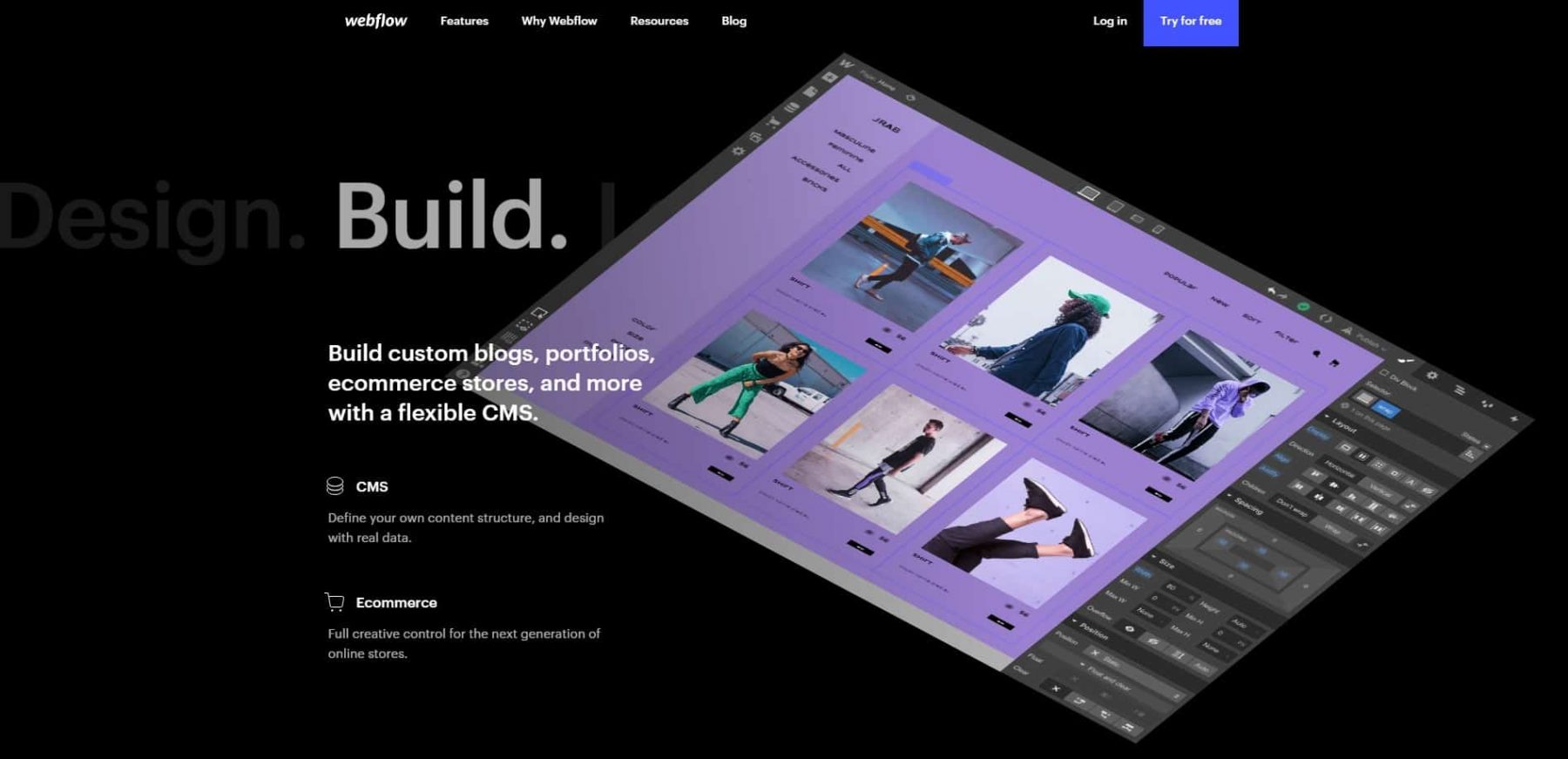 Search Engine Optimization
Free website builders offer some basic supports to make it easier for search engines to find your site. That's the whole point of SEO.
These tools usually include forms to add meta data or SEO titles and alt text to describe your images. Though these tools are helpful, improving your position in the search page results (SERPs) requires a much broader net.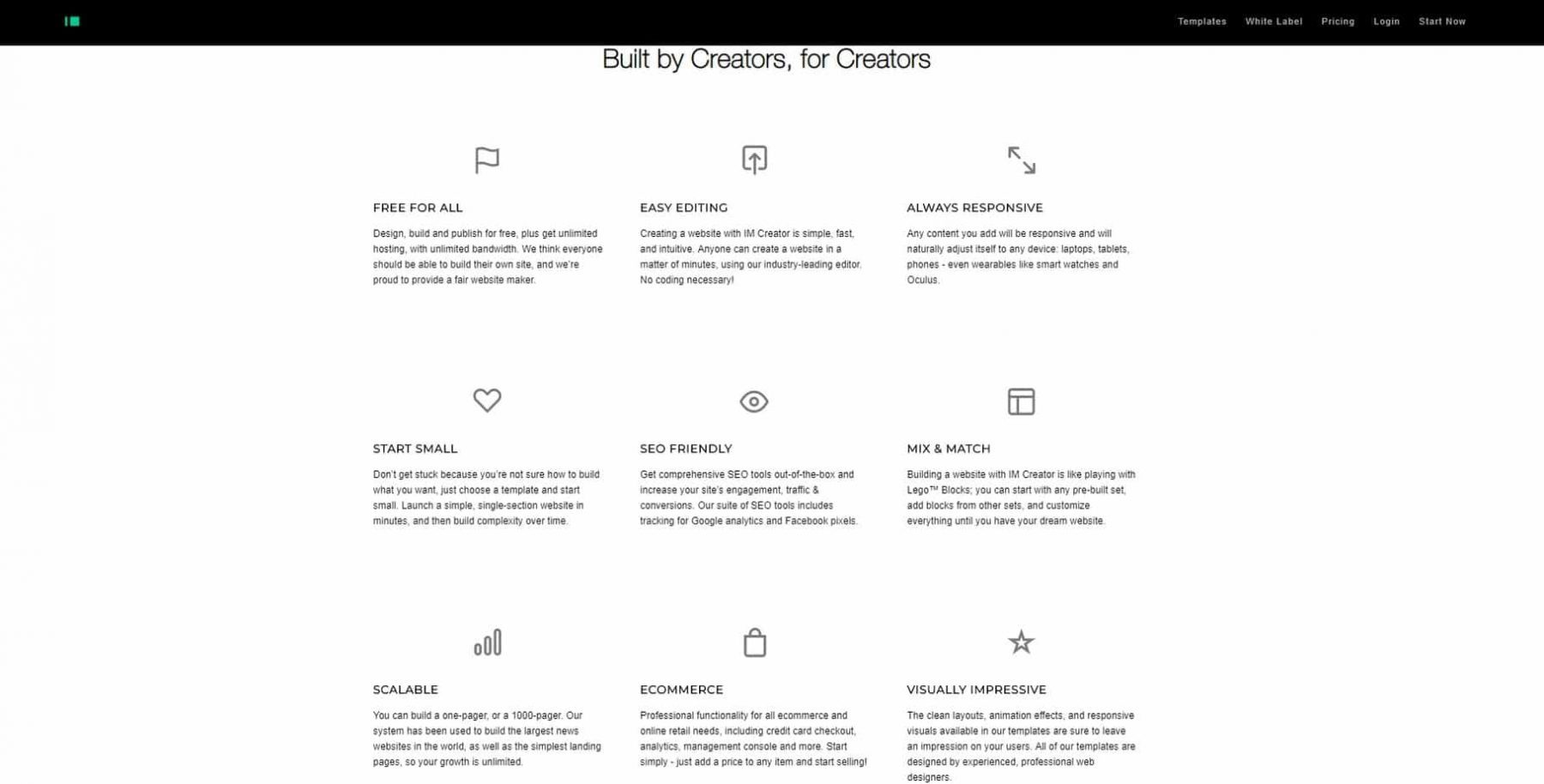 Small business friendly
Beginners welcome! Again, these builders are designed for small business owners, giving them a chance to get online quickly without any significant cash investment.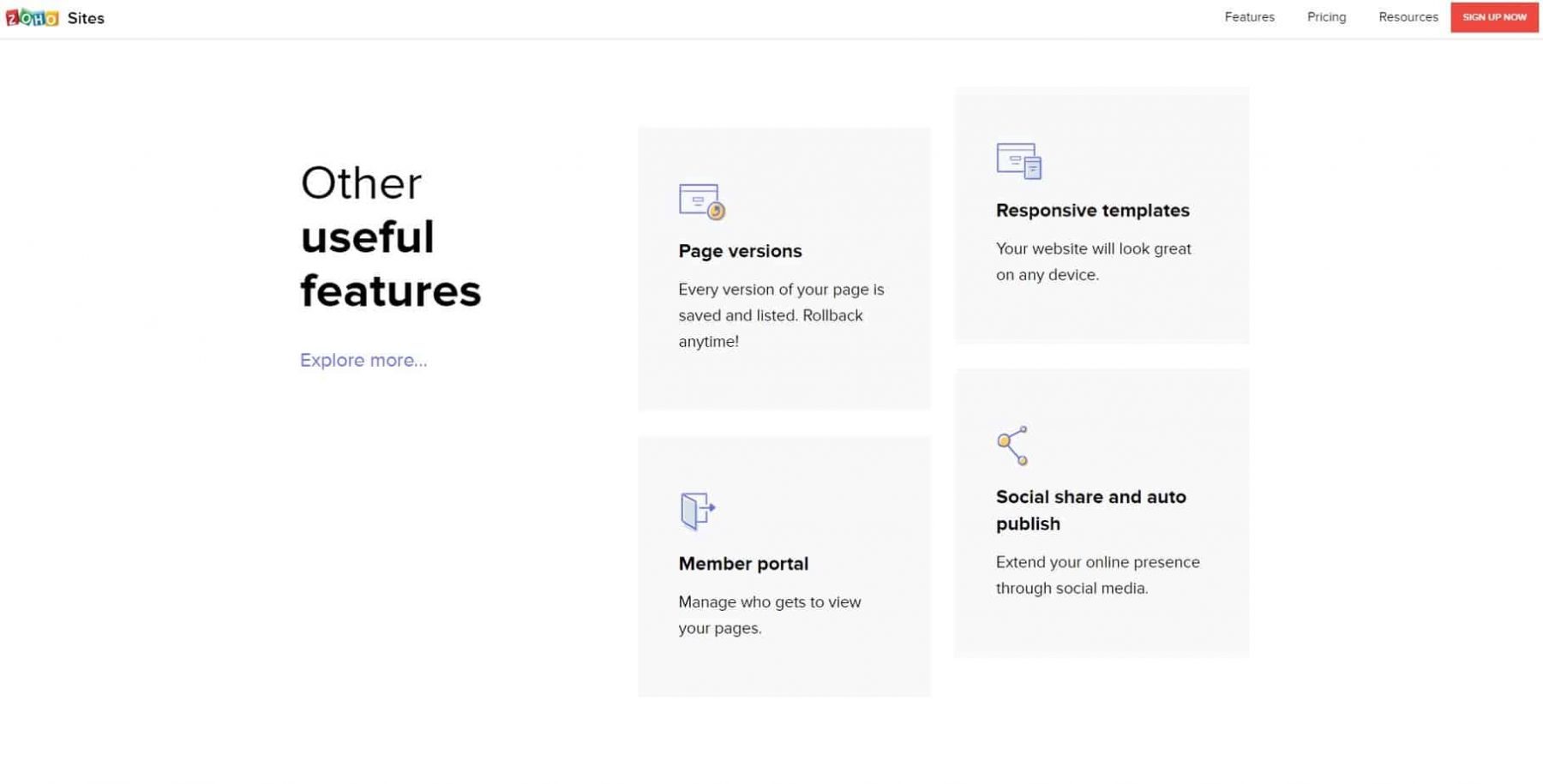 Content Management System
A Content Management System (CMS) is an interface that most people find familiar and easy to use. It looks similar to offline software applications like Microsoft Word, with basic formatting options for adding content.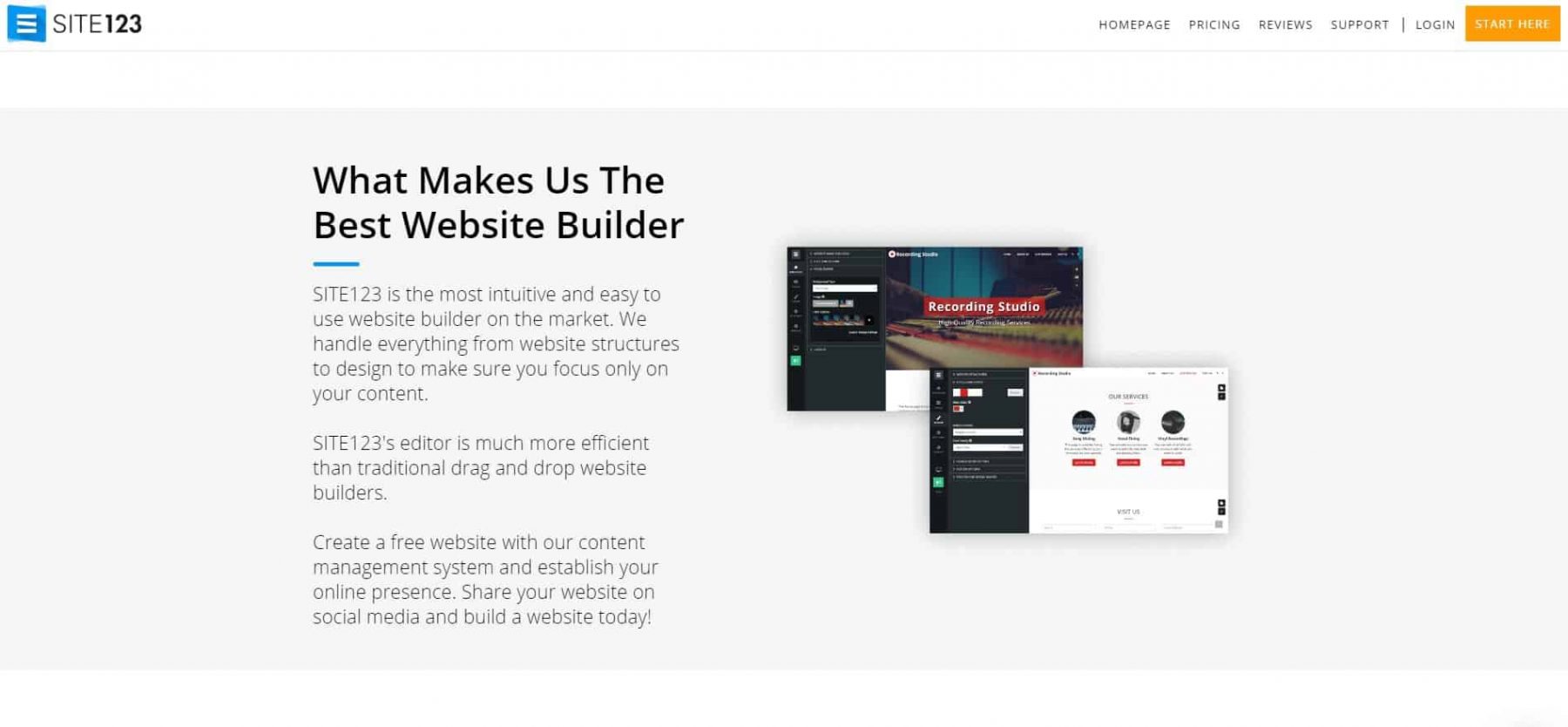 14 Best Free Website Builders
Which one is right for your small business? Here's our take on the top builders out there today.
1. Weebly Website Builder

Weebly is one of the most popular free builders. It is extremely easy to use, the CMS includes a drag and drop builder, SEO tools and number of apps to add more functionality. The free plan includes a subdomain name, support via chat and email, as well as SSL certificate. (The SSL certificate is a security verification tool – changing your domain from HTTP to  HTTPS.) You can use their free mobile app to manage your site on the go.
Weebly includes standard designs (templates) but the selection is somewhat limited. A rather annoying limitation is the lack of media library – every image needs to be uploaded every time, even if you've already used it.
There is no option for an online store on the free plan or even on the plan that connects your custom domain to the site. You need to move up to their Pro plan if you want to start an eCommerce site.
Pros
Simple, intuitive CMS includes drag and drop builder

Free plan includes SSL

Mobile app for access to site from anywhere

Chat and email support for free plan
Cons
Limited number of templates

No eCommerce options on the free plan

No media library for images
2. Wix Website Builder

Wix is a free website builder with so many options it will make your head spin. They have tons of responsive design templates that are pretty easy to customize. Probably the best feature for beginners is the Wix ADI – Artificial Design Intelligence. Basically, you answer a few questions and Wix creates a custom template for your site.
The freebie plan includes access to the extensive template library, a free subdomain and hosting, as well as a limited eCommerce option. They don't clearly identify which features are free and which are premium, so make sure you ask.
Two thing to note. First, Wix is not shy when it comes to advertising. Your site is topped with a banner ad. Second, though the templates awesome, they aren't interchangeable. If you want to change, you lose any content or customizations you've made.
Pros
Tons of responsive templates

Easy to use drag and drop builder

Artificial Design Intelligence interface can build a custom site that's based answers to stock questions

Reasonable options for small online store in free plan

Unlimited fonts, animations, video backgrounds and parallax effects.
Cons
SEO impacted by subdomain given on free plan

Monthly charge to use your own domain

Aggressive ad placement on free plan
3. WordPress.com

WordPress.com started as a free blogging platform with a custom CMS. (That same CMS is a free application on paid hosting providers.) WordPress.com is great for a basic blog, but might require a little more effort for a beginner trying to build a small business website.
WordPress.com provides a few free themes when you sign up. You get a sub-domain and some plugins, including Jetpack, which provides a lot of extra capability. There is no drag and drop builder and the dashboard is less intuitive for beginners. One excellent feature is the ability to export your content – so this free hosting platform is easier to transition off of than most other free builders.
For small business, the premium plans are about 4x more expensive than using a traditional hosting provider and the same CMS.
Pros
Great blogging platform

Easy to use drag and drop builder

Image library, free themes and plugins

Content can be exported to migrate site

Free plan is easy way to learn basics of WordPress CMS
Cons
SEO impacted by subdomain

Very expensive premium plans

Plugins and themes limited and controlled even on premium plans
4. Site123 Website Builder

Site123 takes a different approach from its competitors – there's no drag and drop builder. Instead you just upload your content and it's produced in a responsive design. You can get a site up really fast.
Site 123 ranks high in customer service, with 24/7 support, via chat, email and a ticket system. It's included in the free plan, along with your free subdomain, SEO tools and access to a number of responsive design templates. You can get a an eCommerce option with a specific store builder, but it requires a premium plan.
Site 123 touts that it's very SEO friendly, but that really doesn't apply to any site with a subdomain. There is a single rate for premium plans and a 14-day money back guarantee if you choose to go that route.
Pros
Good selection of responsive design templates

No building required – just upload content

Free images included in set-up wizard

Very positive reviews for customer service

Premium plan includes domain registration
Cons
No eCommerce option for free plan

Pricing for premium plans not transparent

Package plans touted but details not explained
5. Strikingly Website Builder

Strikingly is a newer website builder. With their free plan, you get a subdomain, hosting and the option for single product online store. Their ads are less intrusive than others, choosing to add a badge on the footer of the site.
The editing dashboard is easy to use, templates are responsive and customizable. There's an interesting feature that automatically builds your site from your LinkedIn page. They also don't charge add-on fee for eCommerce transactions (you still have payment provider fees.)
But Strikingly was designed to build minimalist single page, scrollable websites -that's the only format available for free. You can build a multipage site, but you have to buy a premium plan to do it.
Pros
Simple to use site editor

Wide selection of beautiful, responsive templates

Minimal single page style very current

Less intrusive advertising

No fees added on to payment provider transaction costs
Cons
Need premium plan to have more than one page on site

eCommerce on free plan limited to 1 product

Premium pricing plans paid up front – much more expensive than traditional hosts
6. Ucraft Website Builder

UCraft has some great features and serious limitations in its free plan. The good news – they let you connect a custom domain to your site without an additional charge. That's great for SEO and much easier for your customers to remember than a sub domain. You can also use Google analytics and you get an SSL.
The bad news, customization on the free plan is really limited. Ucraft tends toward landing pages more than larger multi-page options. There's also no online store options on the free plan, but they do have a premium plans with a 14-day, money-back free trial.
They have a lot of responsive templates, a language app, a free logo maker and a landing page creator – which is kind of cool. The premium plans are pretty much on par with other builders.
Pros
Connect custom domain without charge

Good selection of responsive templates

Free logo maker

SSL included

Multi-lingual site with free language app
Cons
Template customization limited on free plan

No online store for free plan

eCommerce managed via Shopify – not the easiest venue
7. Lander Website Builder

Lander makes landing pages – talk about branding. A landing page is usually a stand-alone web page that promotes a specific call to action (CTA.) All that really means is that you want the visitor to take a specific action – buy something, join something or call someone.
In terms of free, Lander is stretching that concept too far. They let you use one of their premium plans for a 14-day free trial. If you don't buy it, your site is still up, but many of the features are shut off. Lander seems to be geared to digital marketing firms with a certain amount of tech savvy.
Probably not the best choice for small businesses building their first site.
Pros
Nice selection of responsive templates

Current and minimalist styles

Geared toward marketing professionals

Lots of integrations – Facebook, Mailchimp, Zapier

A/B Split Testing
Cons
No free plan – just free trial

Very expensive premium plans

For more tech savvy users than beginners
8. Jimdo Website Builder

Jimdo is a powerful website builder with most of the standard offerings in their free plan. A free subdomain, access to responsive templates and like Wix, they use artificial design to create a custom template for your site. But there are also some serious limitations.
The free plan does not offer any support at all – they call it their "Play" plan which implies it's not something a small business would choose. There's no SEO tools and no eCommerce options outside of the premium plans.
The prices on most of the premium plans are in the same range the other vendors, but lean much more expensive for full functionality.
Pros
Artificial design process to produce custom site

Very fast way to get site up and running

Simple to use SEO basic tools

Easily connect social media accounts

Customize site by adding or editing existing blocks
Cons
No customer support for free plan

No templates – only ADI

No online store in free plan

Expensive premium plans
9. Carrd Website Builder

Carrd is like Strikingly – you use it to build single page sites. It's amazingly affordable – the premium plan is only $19 per year. Carrd's own website is a stunning, one-page site. Some of the templates replicate that style.
There's no real option for a multi-page site, but they offer a sectioned template that uses buttons to show different blocks of content on the same background in the same spot.
But you can literally start building your site right now online, no credit card – you don't even have create an account. It's kind of crazy. The templates are responsive, it's super easy to use and the advertising is low key.
Frankly, for $19 a year, premium may be even better than free. You can use a custom domain, add payment options, direct email lists and other great add-ons.
Pros
Minimalist one-page sites – very current

Responsive templates

Amazingly affordable premium plan

Low key advertising on free plan

No account required – just pick a template and start
Cons
No multi-page sites

No ecommerce options

No support
10. Zoho Sites Website Builder

Zoho is not free but it does have a free trial. (Which you might not know from their landing page.) Zoho has a drag and drop builder as well as a visual builder that lets you work in the browser to see your changes instantly. They have responsive templates built using sections, and you can change templates without losing content.
For more technical users, there's code editor and the option for split testing to help you see what content works best. There a whole slew of add-ons and a lot of additional apps for business functions.
Pros
Drag and drop builder using dashboard

Visual builder to edit in browser

Responsive template selection

Split Testing

Great selection of 3

rd

party app integrations
Cons
No free plan

Support only operates 5 days a week

No online store without integration
11. Google My Business Website Builder

It's Google, it's entirely free and it uses the information you put in your company profile. Needless to say, the SEO is included.
You have to be verified in Google My Business to take advantage of this platform. There are no paid plans – Google allows you  to engage with all of their services – including customer reviews, analytics, and Google maps once you verify your business. (They send a postcard to verify your address.)
After that you can use their new website builder to create a free site that pulls information from your business account. You can add pictures, update operating hours for seasonal changes, run a promotion, add a location. The website builder is responsive, easy to use, you can login from your phone – it's all Google, all day.
Pros
All free – no cost plan

Free hosting

Integrated with Google Business info

Custom domain

Increase engagement with customers
Cons
Only for Google Business members

Google business verification required

Google's main business is selling Advertising
Learn more on Google My Business here
12. About.me

About.me is more of a website builder for individuals than a small business. But if you're a consultant or a solo practitioner, About.me may be just what you need. Unfortunately, if you want to show portfolio, you need the premium plan.
There's a free plan and the subdomain is more helpful: about.me/your name for people who are trying to find you. It also gives you an option to highlight a specific CTA with an overlay and an unusual add-on for attaching a screen shot from your site any email from the domain.
Otherwise, it seems to be more like an online resume than a website.
Pros
Great for individual promotion

Free hosting

Responsive templates

Sub-domain helpful for individuals
Cons
Not really for small businesses

No portfolio in free plan

Functionality limited compared to other builders
13. Format

Format is really more of a portfolio builder than a generic website builder. It's a great option for small businesses that want to display and sell their work. Unfortunately, it isn't really free, but it does offer a two-week free trial.
Like all the rest, Format offers responsive templates (themes) is definitely geared to visual artists, designers and makers. There are 3 paid plans, the least expensive with a small online store option. A valuable feature in the next two pricing tiers is a private area for clients to review, proof and approve work samples online.
Format is a pretty cool tool depending on what you do but the basic plan is really basic, so if you aren't interested in some higher price premium features – shop around.
Pros
Excellent for agencies and visual designers

Connect your own domain – no subdomains

Responsive themes

Private area to show proofs of work product to clients

eCommerce option for all plans
Cons
No free plan

Basic plan is limited for online store

Pricing is much more expensive than a traditional host
14. WordPress + Elementor

Elementor is a free page builder plugin that's added to a WordPress installation on a traditional hosting platform like GoDaddy or Bluehost. While the plugin itself is free, you will need to pay for hosting, typically around $80.00 a year or less if you commit to a 3-year plan.
We're including this option for small businesses which already purchased a hosting package and want a drag and drop builder with a visual interface. The plugin is the website builder and when you buy your own hosting – there's no ads and you can typically get a free domain.
Pros
Eliminator plugin is free

Free responsive themes designed to work with the plugin

Visual builder to make changes in the browser

Build re-usable blocks

Page layouts and sections included with plugin
Cons
Paid hosting required

Can conflict with themes not designed to work with it

Not as easy to use as other builders
Summing Up
Free website builders are definitely available. They are easy to use, don't require any design or technical skills and work on all different screen sizes – from desktops to tablets to smart phones.
How do you decide what's right for you?
Think about how much support you need.

How much customizing do you want to do?

If you want an online store, make sure you check the price of premium plans.

Consider registering your own domain – it's worth the money long term.
Most importantly, don't forget that your website should help build your business. Think about what your customers want to know and what you want them to do about it.
Then pick your website builder and get your small business online today.
Last Updated on October 6, 2023 by Joe