Do you ever ponder which is better: free WordPress hosting or cheap WordPress hosting?
Does it even matter?
This article is written just for you to help you decide between the two.
Read on.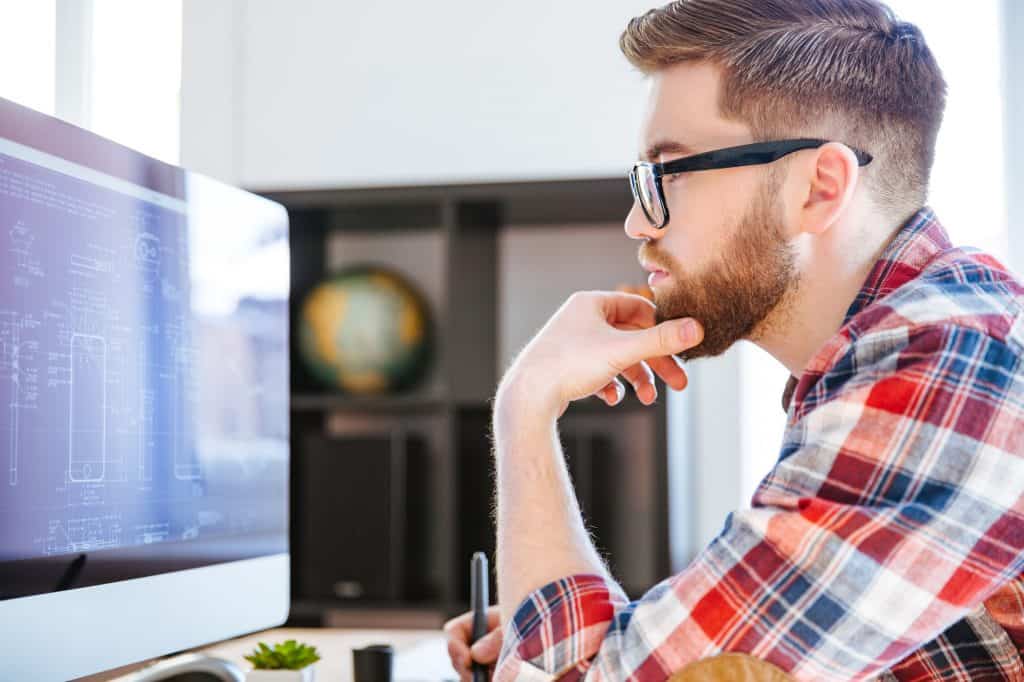 Especially when just getting started with a WordPress site, one of the common questions folks have is whether there are free WordPress hosting options that are worth exploring. There certainly are free choices on the market, and some may be okay for someone who just wants to get a personal blog up on the web. If you're looking for the best hosting package for a business or an organization, though, it's probably worth ponying up at least a little bit of cash to ensure your visitors will have a decent experience.
We'll look at some free WordPress hosting services in order to give you an idea of what's available. After that, we'll check out some of the ways to get a paid hosting account without breaking the bank. At the end, there will also be a comparison explaining why even a low-cost paid hosting option may be worth the small aggravation of parting with some of your hard-earned cash.
The Free WordPress Hosting Choices
1. WordPress.com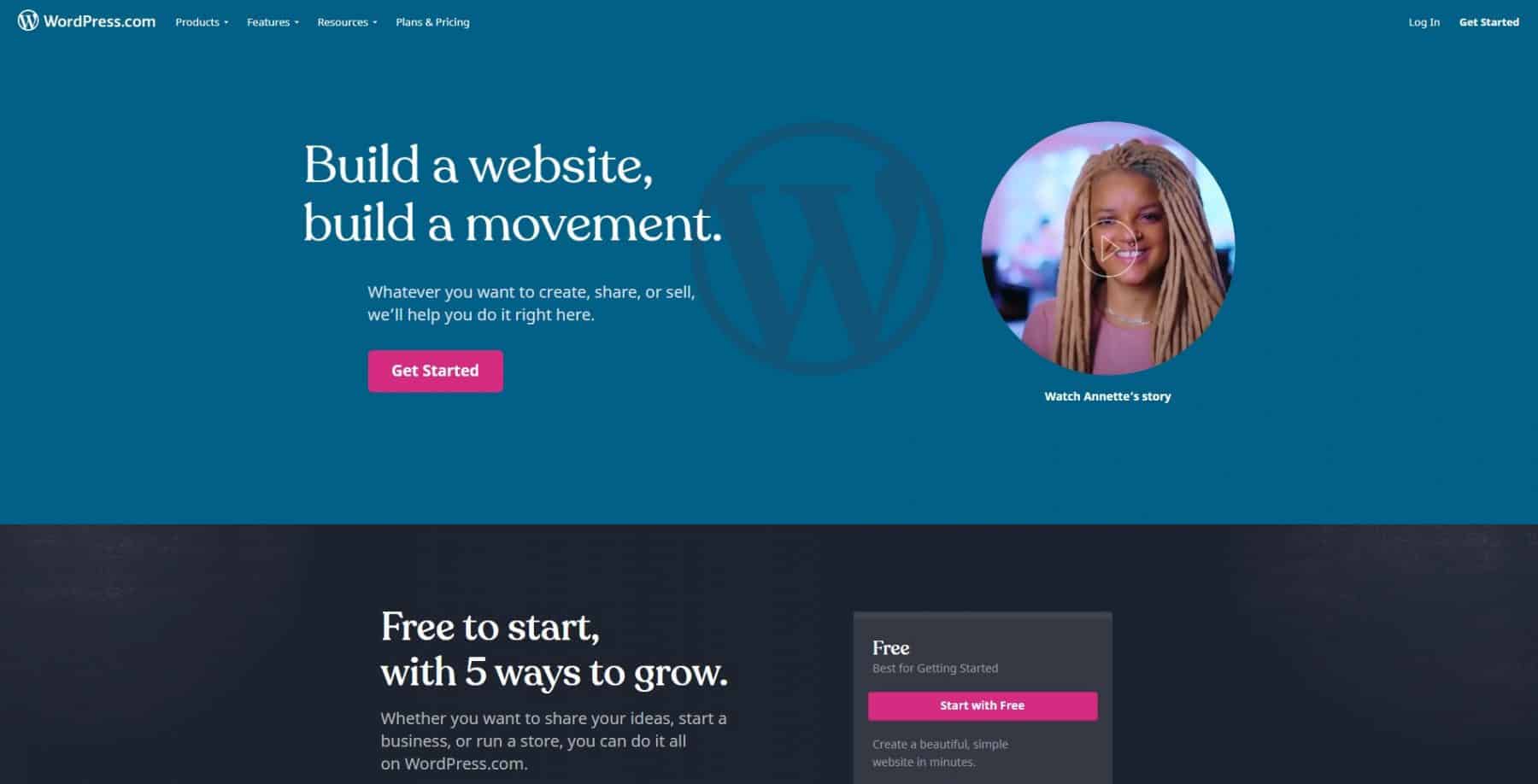 If you're hunting for the best free WordPress hosting without having to deal with potential headaches, it may be better to go straight to WordPress.com. The platform operates basically the way other blogging platforms, such as Google's Blogger, do. In terms of customization and looks, it's certainly a step up from those alternatives. Also, it runs WordPress, unlike many other blogging platforms available at no cost.
Folks who aren't too worried about having database access or the capacity to make major adjustments to their sites will be fine with WordPress.com. On the other hand, if you're looking at setting up something like a WooCommerce website, the lack of customizability will be a problem.
A big upside for WordPress.com is that the host has worked hard to provision enough resources to keep tons of websites running on it. As we said earlier, if you just want to throw up a personal blog celebrating your love of trains, it's a really good option. For most everything else, it can be lacking.
A Note About WordPress.com's Ownership
Right out of the chute, it's worth noting that WordPress.com isn't without a small bit of controversy. Despite what the name would suggest, it is not run by the non-profit WordPress Foundation that maintains the core code the WP engine. Instead, it is operated by a company named Automattic. Automattic has had a hand in creating and maintaining many components for WordPress, but their hosting option is a separate legal entity.
Take note that WordPress.org is the Foundation's site. It hosts the latest version of the PHP code core available for download. This is a self-hosting option that requires you to have your own server with PHP and MySQL up and running prior to installation. In other words, you're completely on your own doing a WordPress installation with the open source package.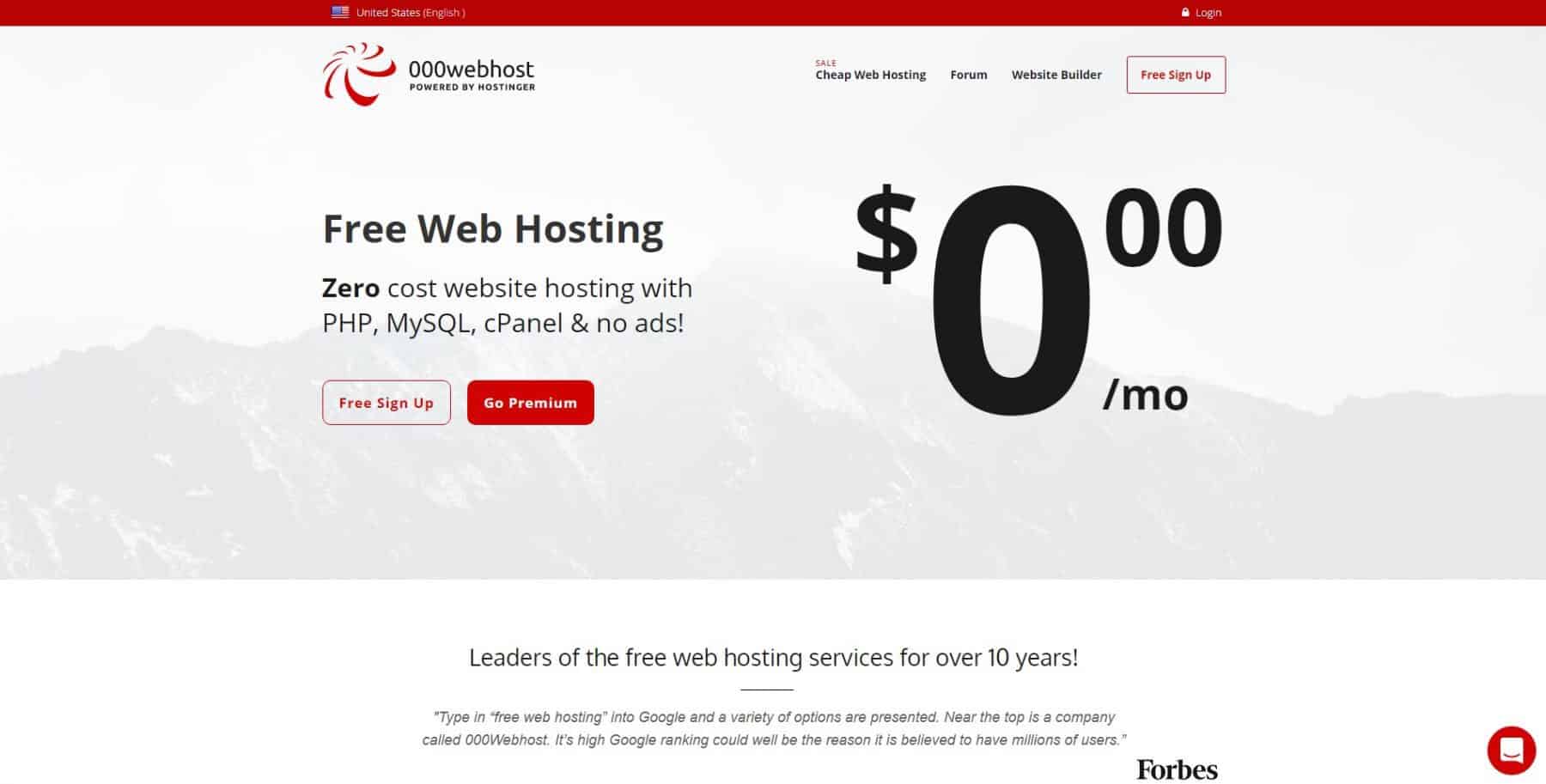 With more that 16 million users on its platform, 000webhost is a legit player in the free web hosting space for WP sites. The free site edition comes pretty loaded for a no-cost hosting account, with offerings like:
1,000 MBs of disk space
A 10 GB per month bandwidth linimit
Access to MySQL databases
cPanel
There's also a free website builder that provides access to numerous templates. These include responsive designs that play well with mobile devices.
Customer can place two websites on an account. 000webhost also offers paid services for folks who need to upgrade their bandwidth or storage. There's even revenue sharing for customers who want to put up with ads on their sites.
3. Byethost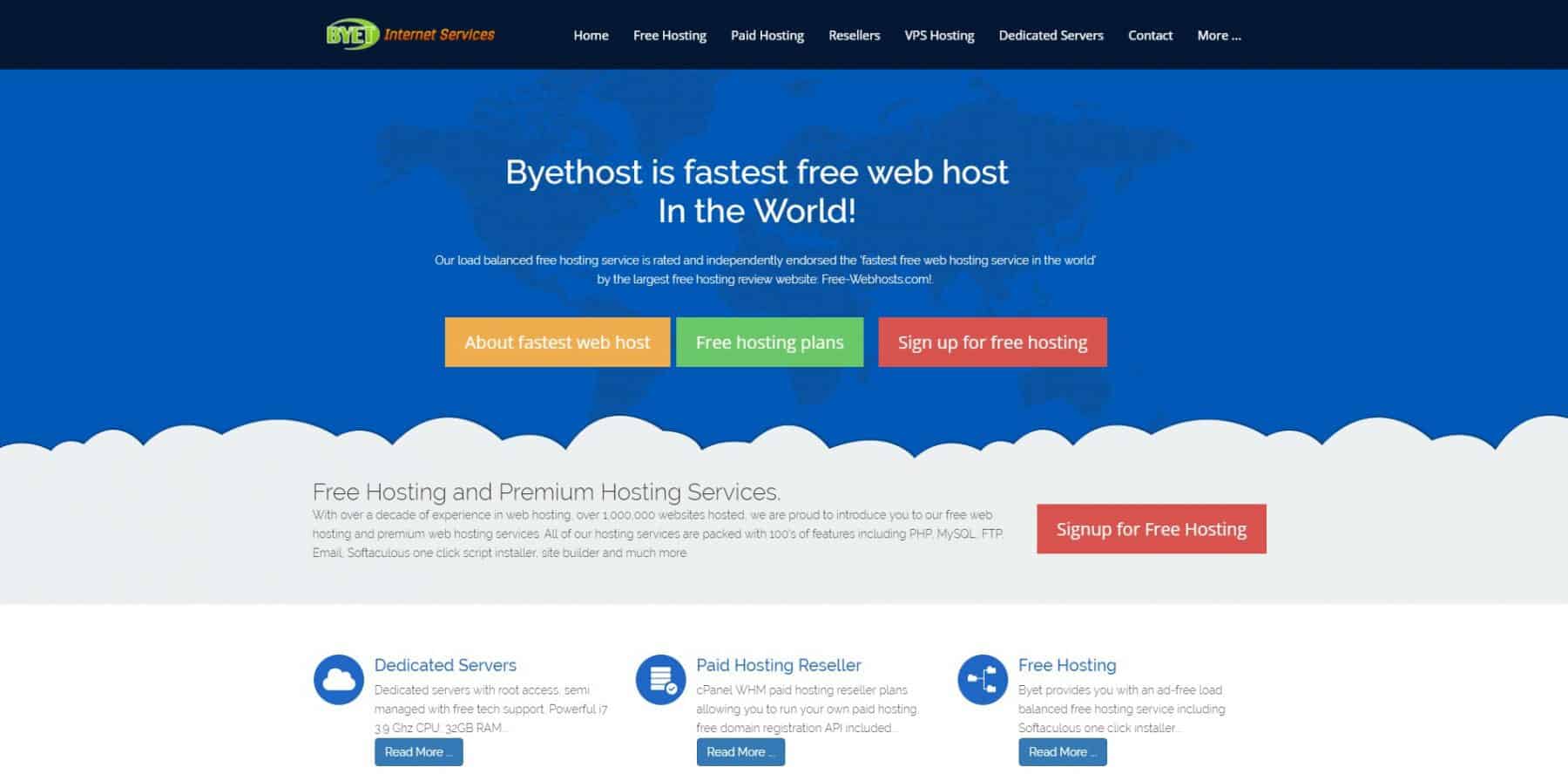 Byethost (not a typo) is a genuine oddity in the free hosting companies sector. They offer 24/7 support at no cost, including help with tech issues. They utilize clustered servers to provide more power and stability for their customers. Also, they provide impressive features like:
No ads
Unlimited domains, including parked domains
FTP access
MySQL
Unlimited disk space
If you need to upgrade, Byethost also offers a number of options. You can move to Premium or Business plans. Folks who need more speed can even pony up for SSD plans.
One big downside with Byethost is their version of PHP for free hosting is pretty dated. That can be a problem when you're trying to get the newest code to work.
4. AwardSpace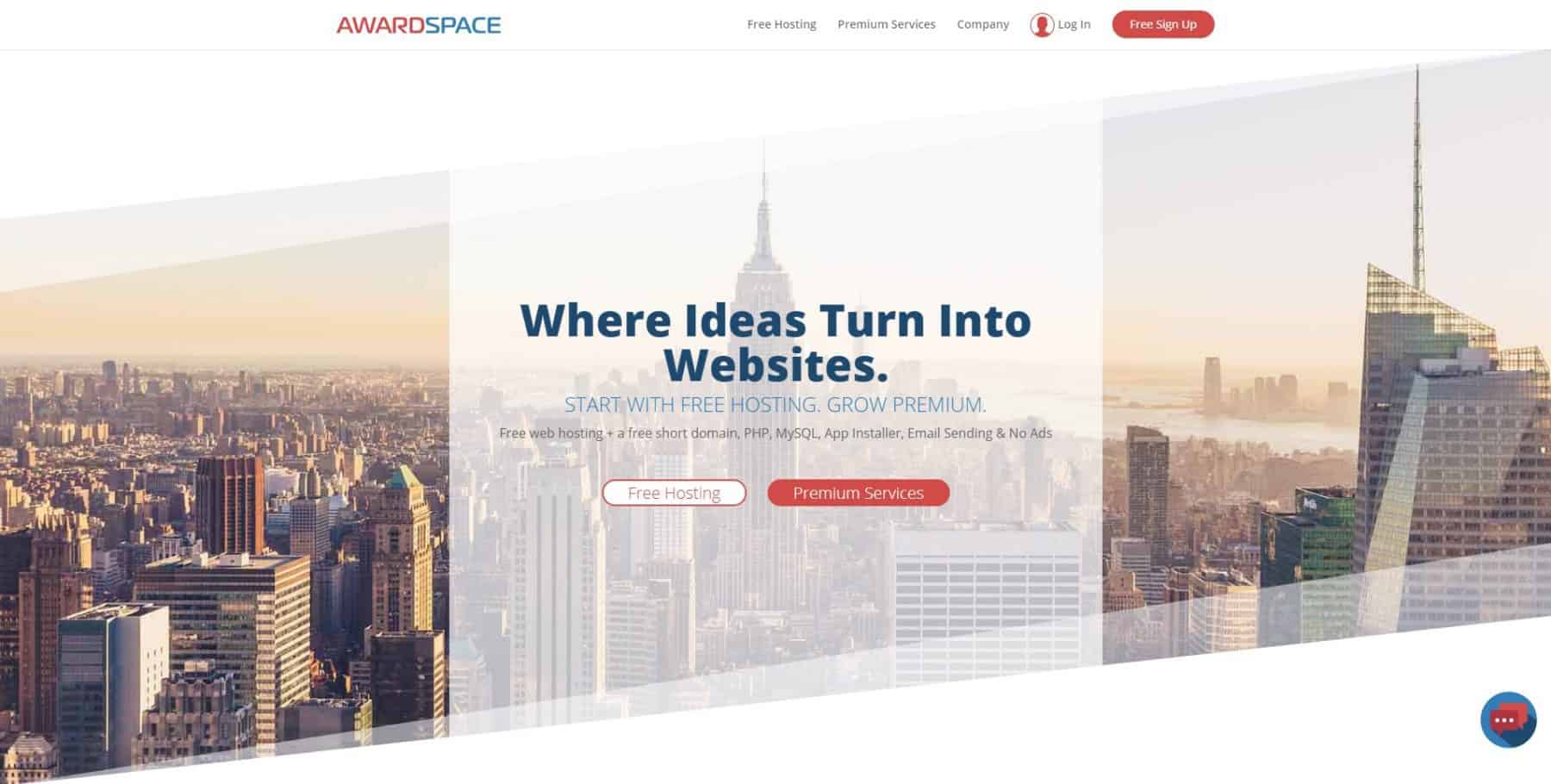 Offering a lot of items but in limited supply is the sales pitch at AwardSpace. You get to host one domain name, one email account and one MySQL database. A biggie when dealing with AwardSpace is they do offer an ad-free experience.
They're also another company that's providing a free offering that's a bit behind the times with PHP5 and Perl/CGI-BIN. You're not going to load the absolute newest code onto your account. On the bight side, though, you do get:
One-click installers for both Joomla and WordPress
Email sending, a genuine rarity
1 GB disk space
5 GB per month of traffic
5. WPNode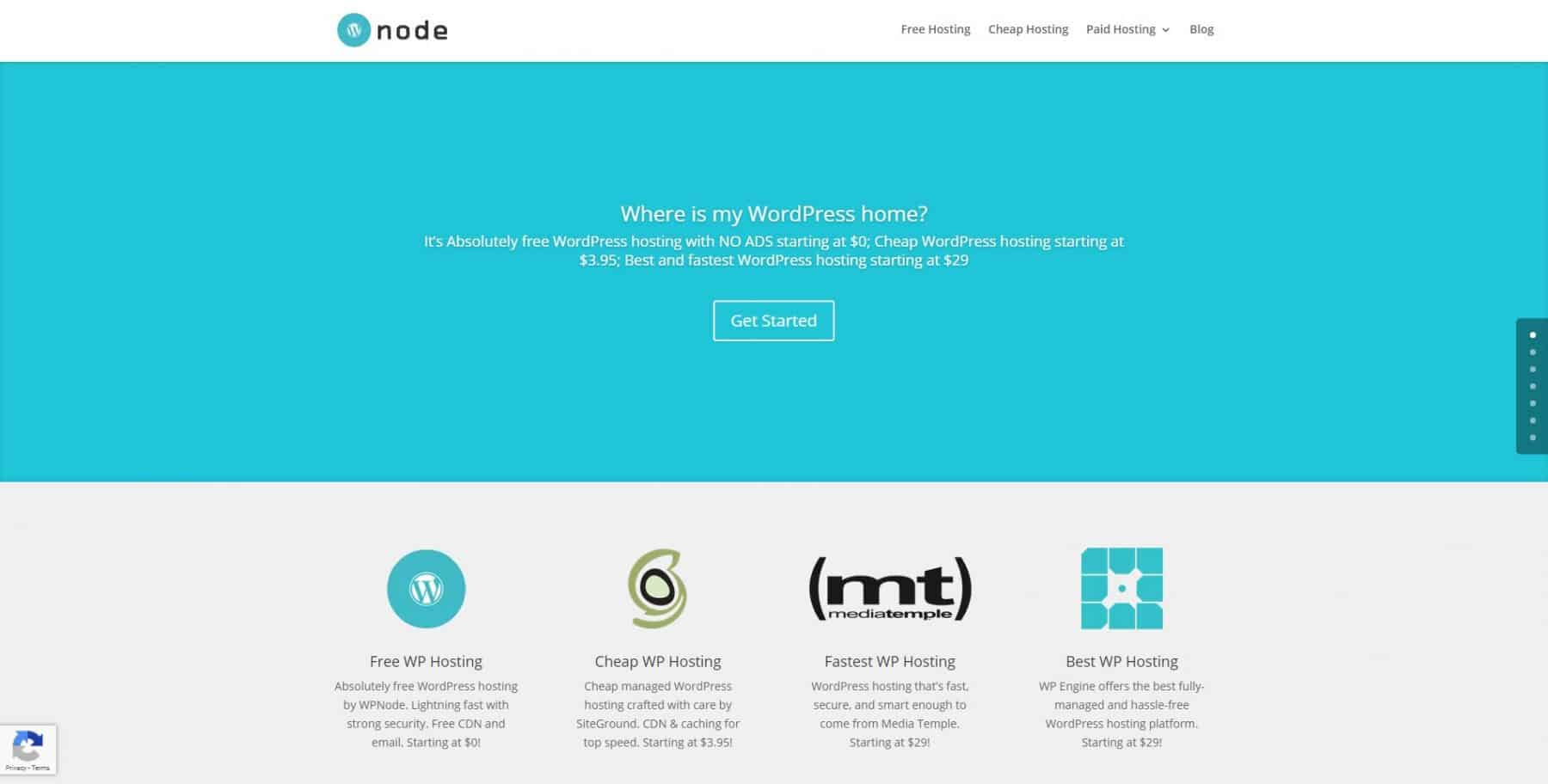 No ads, no limits on bandwidth and cost. What's the catch? With WPNode, the big catch is that you're completely on your own. If you're very handy with WordPress, it might not be the worst experience. You will get:
Full access to the database using PHPMyAdmin
Cloud-based servers
A CDN
Caching
CloudFlare security
It is built on top of nginx so folks who only know Linux may face a small learning curve. Storage is 5G, and it is SSD. There is also a 1GB email system. You also won't have access to a control panel, and there's no way to alter the installation.
6. AWS

If you're very comfortable working as a developer in an environment with no technical support, you may want to give the one-year free trial of AWS a go. You'll have a full-featured environment on a cloud server that allows you to modify and install elements just like you would on a self-hosted system.
It's an absolute no for folks who don't have confidence they can handle a tech-heavy setup, but it may be a really appealing option for a capable developer who wants to test a business idea out for a year. Just remember that you did sign up for billing, and cancel the hosting account if you're not getting anywhere with it. Otherwise, you will start seeing charges when that first year is up.
Better Than Free: Cheap WordPress Hosting
Free service plans tend to come with caveats and addendums. Our position here is pretty obvious: if you can at all pony up a few bucks a month for a paid WordPress hosting setup, you should do so. We're also aware that not everyone is in a position to shell out for an enterprise-grade plan.
That doesn't mean you have to do without customer support and managed WordPress features like migration, installation and configuration help. It's also good to know that someone on the other end of the transaction will be accountable because you're paying them. Let's take a look at some options that are as close to free as possible.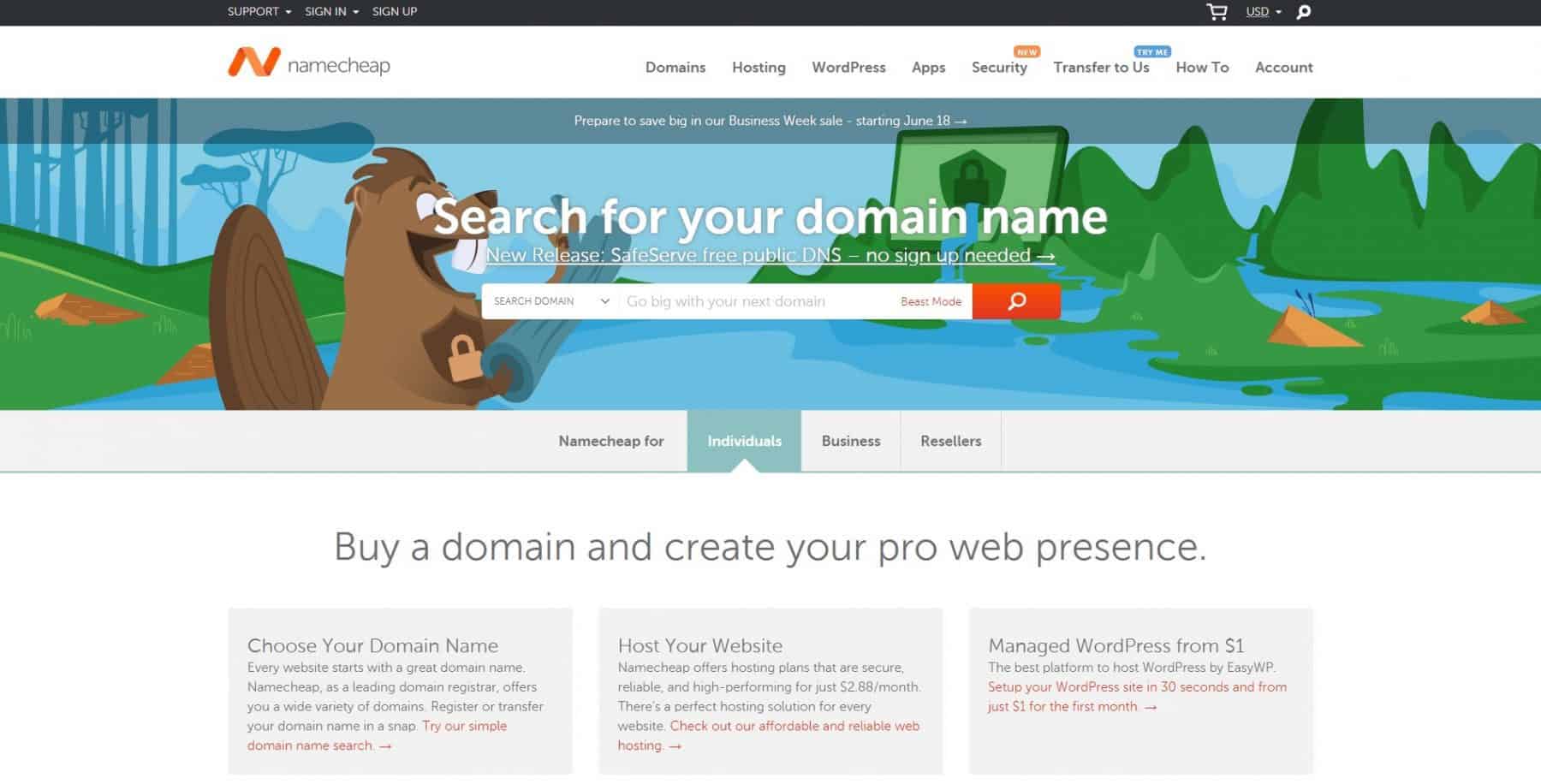 Clocking in at just $23 per year, the EasyWP plan comes with 10 GB of SSD disk space and support for 50,000 visitors per month. You get access to both FTP and the database, and NameCheap takes pride in offering an easy backup and restore the system. Better yet, you'll have 24/7 support and a 30-day money-back guarantee.
NameCheap's servers have a deserved reputation for both uptime and responsiveness. If you're looking to grab a hosting account for as close to free as possible, NameCheap is your best shot at doing so without sacrificing support or speed.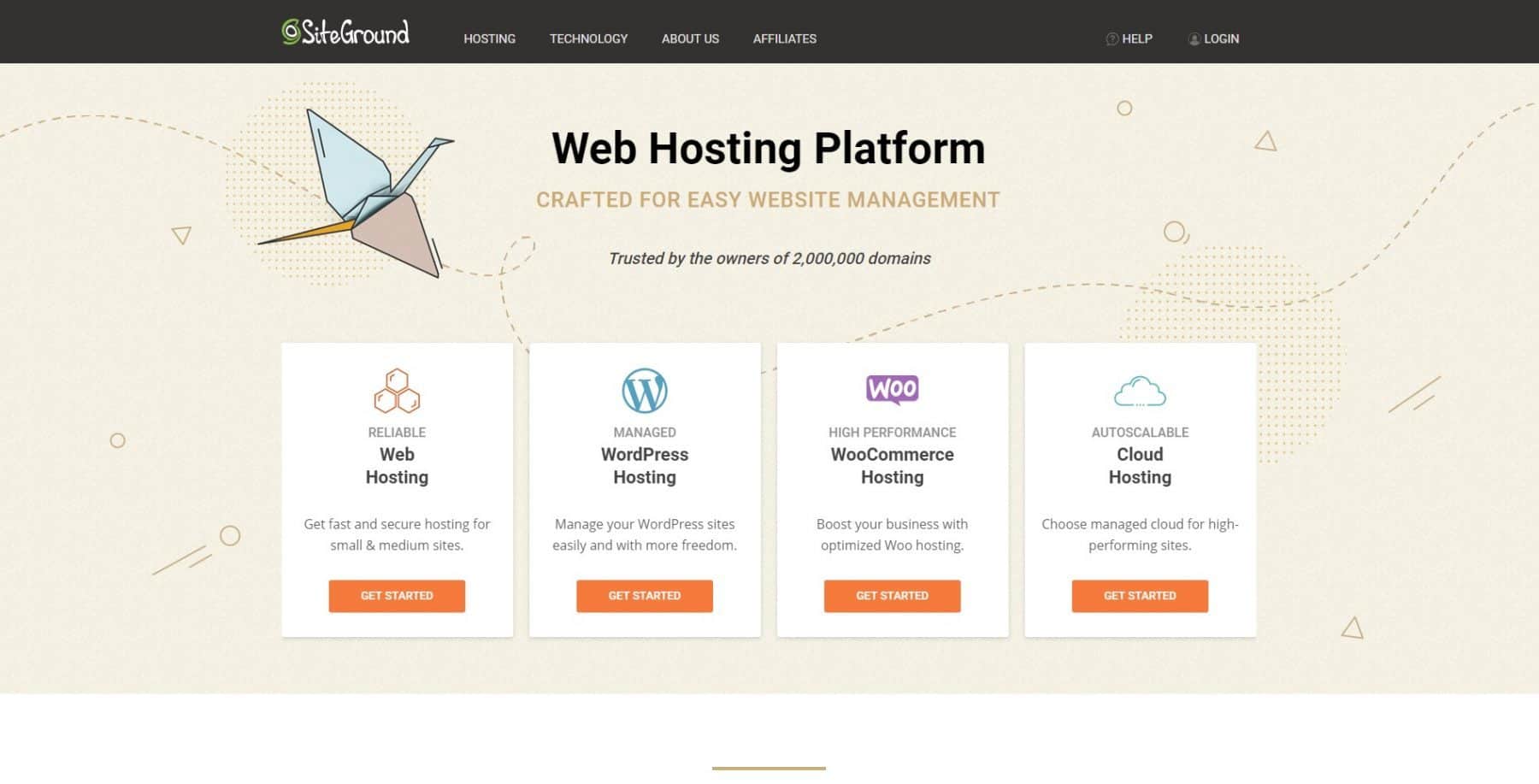 Forking over $3.95 a month isn't a bad deal if you can get a high level of tech and customer support for your dollar. The company starts folks off with 10 GB of storage and 10,000 visitors per month. Moving up just one or two tiers will get you unlimited websites per hosting account, too.
A major selling point is they provide free support with site migration efforts. They're also the rare provider in the low-cost range that offers 24/7 customer support by phone, email or online trouble ticket. PHP hosting is a pre-install, and they provide good responsiveness and rock-solid uptime. It's arguably the best all-around experience on the market.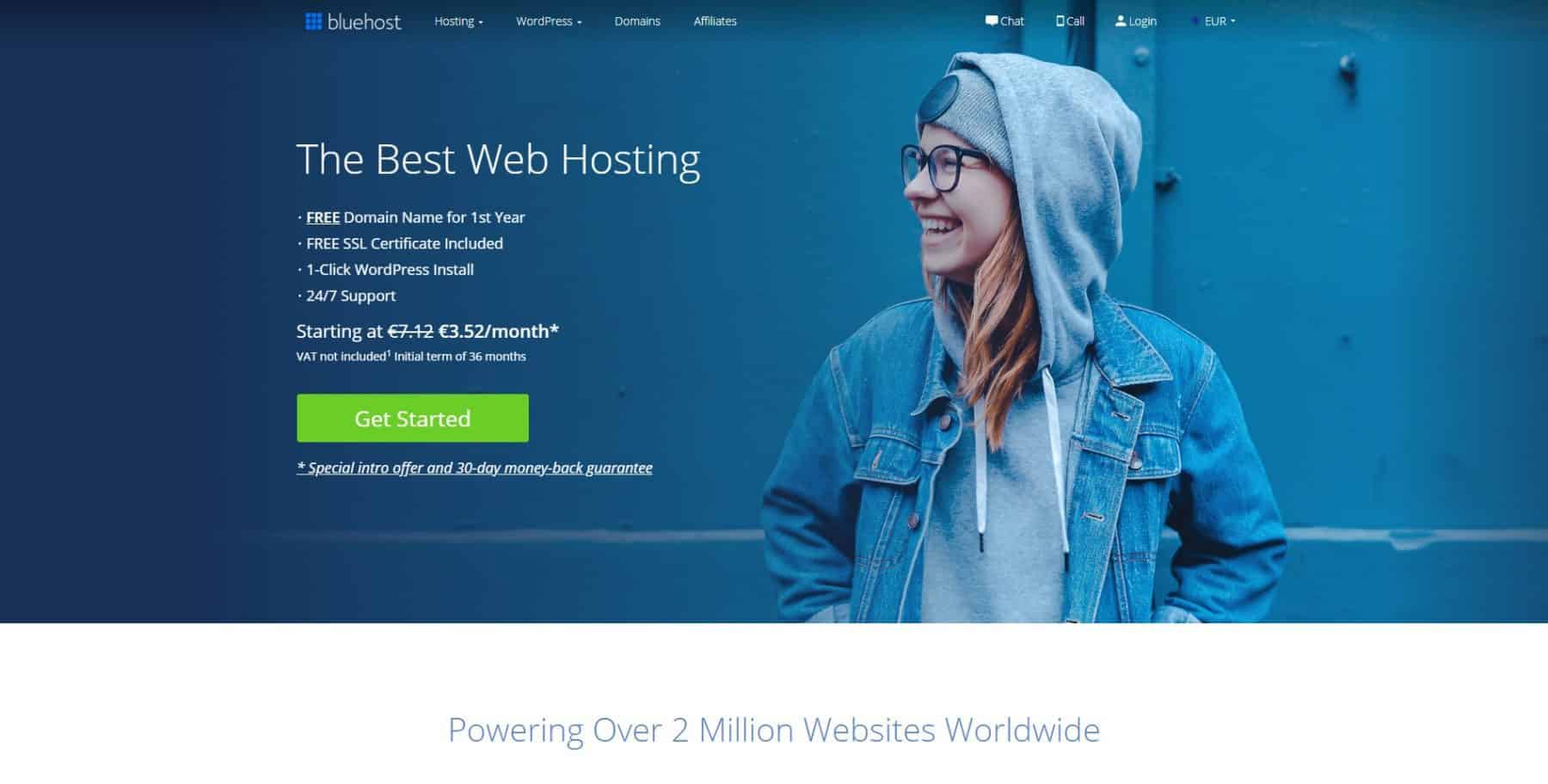 With an introductory price of $2.75 per month, BlueHost strives to compete with the lowest-cost competitors in the sector. One downside on that, though, is the price goes up to $7.99 per month eventually. A positive, however, is that your plan includes a variety of tasty features, including:
A free domain name registration for the first year
Auto installer and automatic updates for your WordPress website
A free SSL certificate
You also can park up to 5 domains on the same account. With 50 GB of SSD storage, you can expect to have fast processing of visitor's page requests, too. Customers also have access to a CDN.
BlueHost is one of a handful of partners with hosting plans recommended by the WordPress foundation. For those who need a custom domain and an SSL certificate, BlueHost represents an excellent value proposition, even at the $7.99 price tag.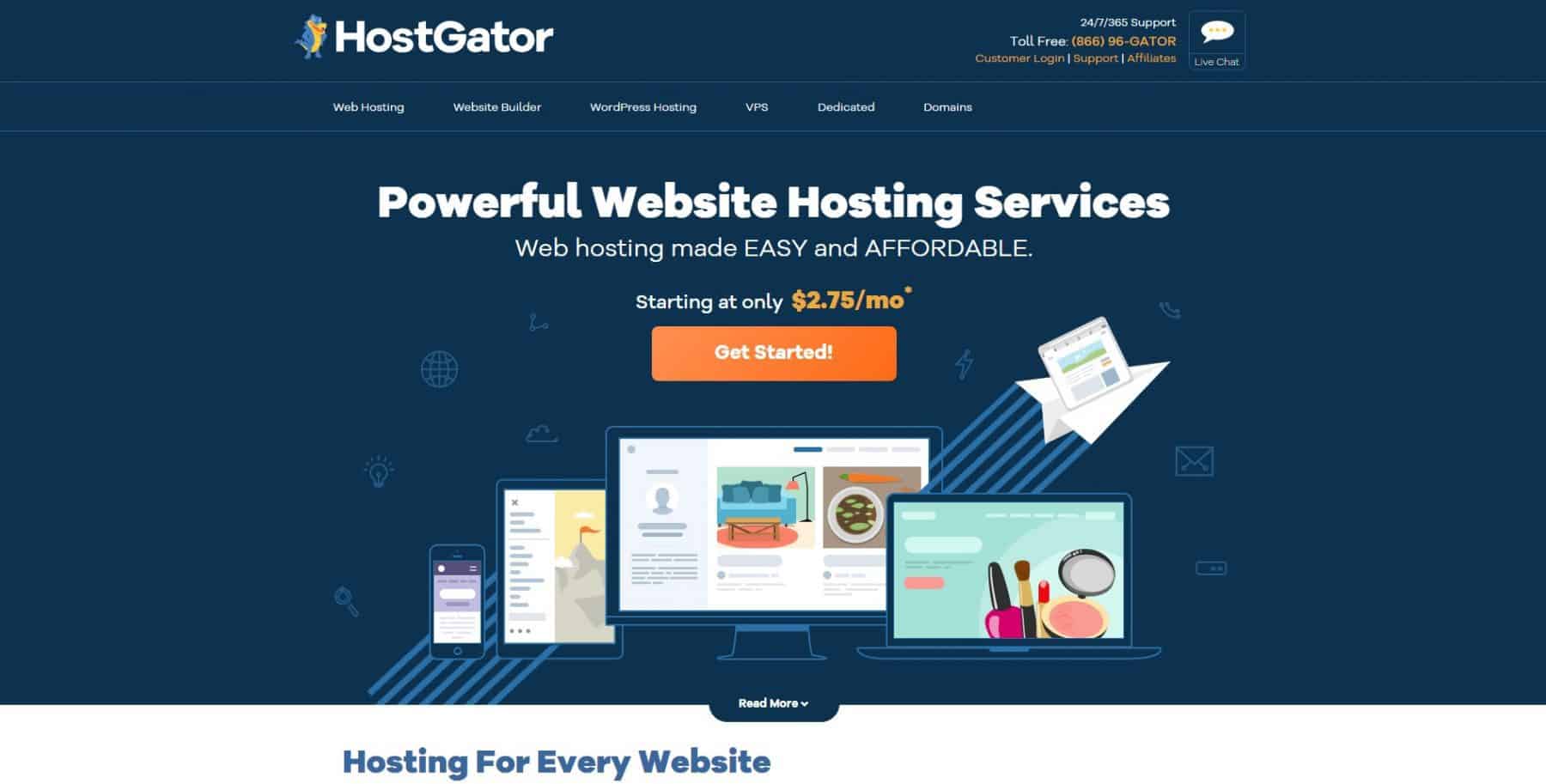 About as experienced as hosting providers come, HostGator provides more visitors per month than most other hosting plans. Free migration support is on offer for one WordPress site, and they provide automated detection and removal of malware. Likewise, databases are backed up on a daily basis at no additional charge.
Plans are in the mid-range of the low tier at $5.95 per month. You can get a $100 Google AdWords credit, though. Storage space is unmetered, too, making HostGator an appealing choice for folks who want to host WordPress sites with loads of content, such as pictures and videos.
They utilize a cloud-based system that delivers just so-so responsiveness. Uptime is a solid 100%, though. You also get access to a fully functional cPanel install. If you're looking for something that's friendly for developers but in the low range, you'll appreciate this level of access and control.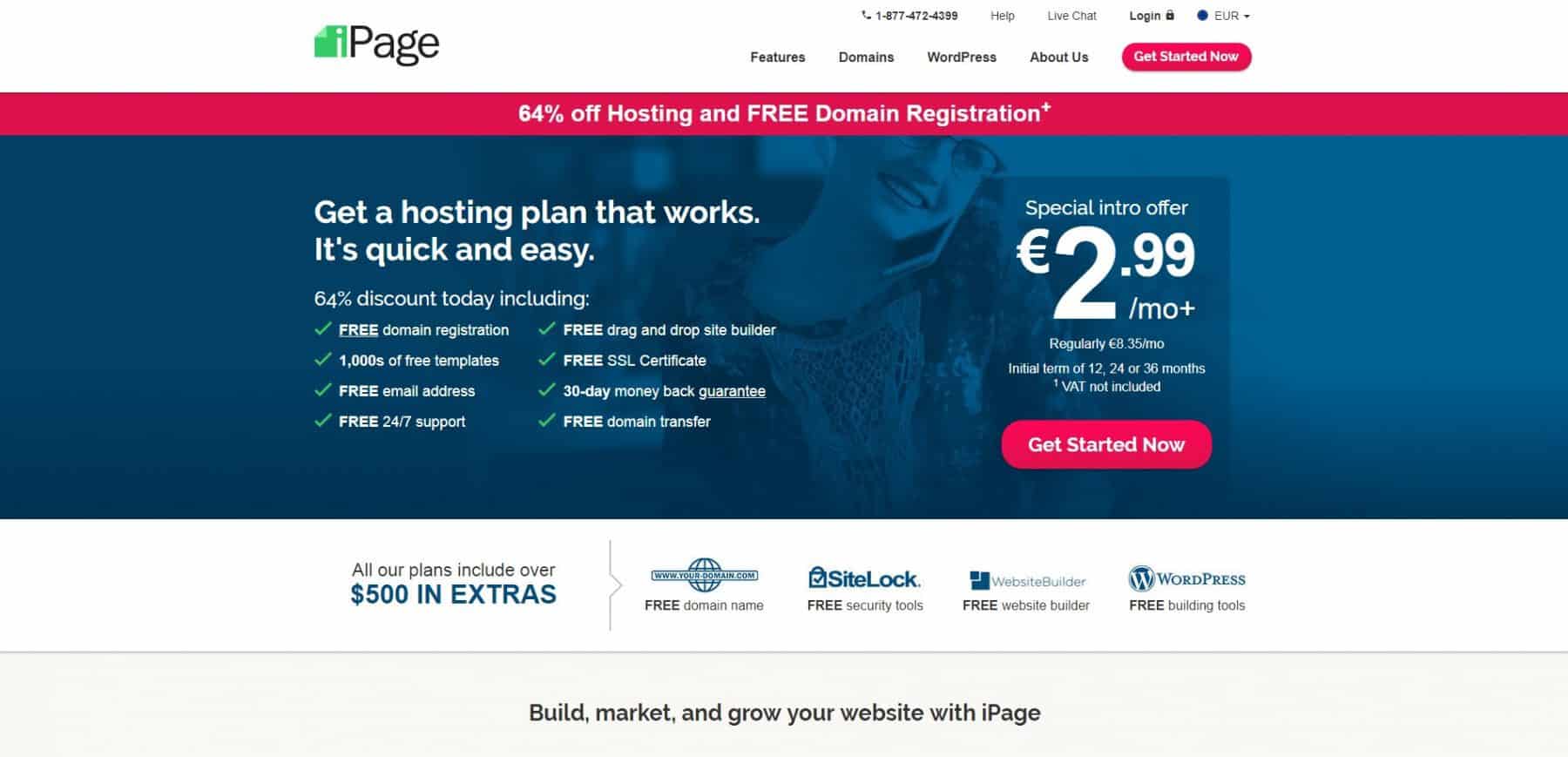 The folks at iPage are coming at you with a pretty simple value proposition. For $3.75 per month, you get unlimited storage and bandwidth. If you're expecting your site to be a traffic hog, that's a big deal at a low price. They also include a domain registration free for the first year.
A downside to that sales pitch is that the lowest tier offers no expert support. If you pop for the company's $6.95 plan, however, you'll get access to pre-installed WordPress themes and plug-ins, automated malware removal, SiteLock security and WordPress experts. Even if you move up the second tier, you're still going to get a lot of bang for your buck.
Comparing Free vs. Cheap WordPress Hosting Providers
The biggest differentiator between a free plan and a low-cost paid one is customer and technical support. Particularly for folks who don't have strong technical backgrounds, knowing that a managed WordPress team is waiting to field your questions can be a big deal. You don't necessarily have to go up to a premium WordPress hosting platform to get the help of a human being who's qualified to provide answers.
You're not going to get any throw-ins when you go the free route. For example, many hosting providers at least offer a free SSL certificate and at least a year of domain name registration with a paid option. On some totally free WordPress site packages, you won't have access to a file manager, themes or even a user-friendly interface. In some instances, you may be stuck using a free subdomain on their TLD rather than getting to use your own custom domain.
The availability of cloud and SSD options on the paid tiers is desirable, too. Even if a free provider gives you all the storage and bandwidth in the world, the speed of the storage medium means a lot. That's especially the case when dealing with WordPress.
The WP engine is prone to getting bogged down with themes, plugins and scripts. Pile on an analytics package, and load times can get downright painful with free WordPress hosting providers. You'll also want to have a responsive system to accommodate:
On-site commenting
Sending of messages from the WP install to your email accounts
Loading of on-page elements, such as pictures
It's not that there isn't free WordPress hosting out there. For folks who just want to post up a blog that a few people will read, there's nothing wrong with going with free hosting companies. Once you get into building an audience or a business, though, it's time to have at least a minimal amount of power.
Similarly, you'll want to have options as your site grows. With experts available to provide tech support, you'll be able to step more confidently into the future. Some providers are even comfortable offering managed WordPress support in the lower tiers of plans. When you're trying to migrate a site or wrestle with a WordPress installation effort, you'll appreciate the difference they can make.
There's something to be said for controlling your setup, too. Deplatforming, the practice of kicking folks off free sites, is becoming more common. WordPress.com may be a good place for inoffensive content, but it's not a reliable platform for anyone who posts controversial opinions. They are know to deplatform users.
If you're expecting a site to become a serious project, it's worth making the small investment up front. A low-cost hosting plan with good technical and customer support can be had easily for less than $10 per month. Instead of risking losing visitors to slow hosting, you'll be well-positioned to deliver a good experience.
Last Updated on July 18, 2019 by Joe