The online learning market is one of the most exciting opportunities on the internet today, with expectations that it will grow to $350 billion by 2025. While it's easy to assume a large chunk of this money will accrue to establish institutions, the reality is that many such schools are facing insolvency over the coming decade.
Of particular interest to entrepreneurs is the growing acceptance of online training platforms and courseware. Increasingly, people are turning to online course software to fulfill needs like:
Company training courses
Professional skills acquisition
Self-improvement through structured, self-guided learning
This is a massive break with the old model of going to a class, sitting through lectures, writing a few papers, doing projects, and filling out tests.
Folks who utilize the best online course platforms stand to profit significantly from the coming wave. Likewise, they can influence major changes in how and why people seek out and complete education. Let's discuss a few of the basic things you should know and then take a look at some of the best online learning platforms for those who want to join this revolution.
The Basics
When you're looking at platforms, there are a handful of features everyone will have. You can expect basic course materials with quizzes on most platforms. Everyone has some form of support, but you should keep an eye out for businesses that only offer chat support versus those that provide 24/7 customer service.
Unlimited student numbers is becoming the industry norm, but a few companies have caps on how many students you can enroll. You'll also find that automation and marketing integration vary widely across the platforms. Some platforms are thrilled to have marketers and entrepreneurs, but others see aggressive marketing as crass and off-brand for them.
The level of technological advancement is also highly variable between platforms. Some have live video streaming and interactive sessions with students, but some are basically reading and quiz-taking systems. If you're heavy into videos and webinars, you'll want to make sure you find a platform that can accommodate your content.
Types of Platforms
The available platforms tend to break up into two groups. First, there are the ones where you pay a few for the software. Second, there are the platforms where you are paid for producing coursework.
While each approach has its virtues, you will eventually have to find a way to commit to one or the other. The outlays for the first approach tend to be much higher, potentially going into the thousands of dollars per year. Your trade-off, however, is that you'll have control of your content. Although it's nice to get that quick cash from per-view coursework on someone else's platform, you're just not going to have tons of control.
Many people choose to do both. For example, you can use the platforms that pay you to establish a reputation. By building an additional site that has your course materials, you can then funnel those students who will Google your name.
Some companies are also more focused on building online training platforms for businesses. You can build a presence on these platforms, but you may have to be a little more creative in your efforts to serve their target customers.
Best Online Course Platforms
1. Teachable
2. Skillshare
3. Thinkific
4. LearnWorlds
5. LearnDash
6. Ruzuku
7. Podia
8. Academy of Mine
9. WizIQ
10. Udemy
11. Kajabi
12. Treehouse
13. Coursera
14. Zippy Courses
15. AccessAlly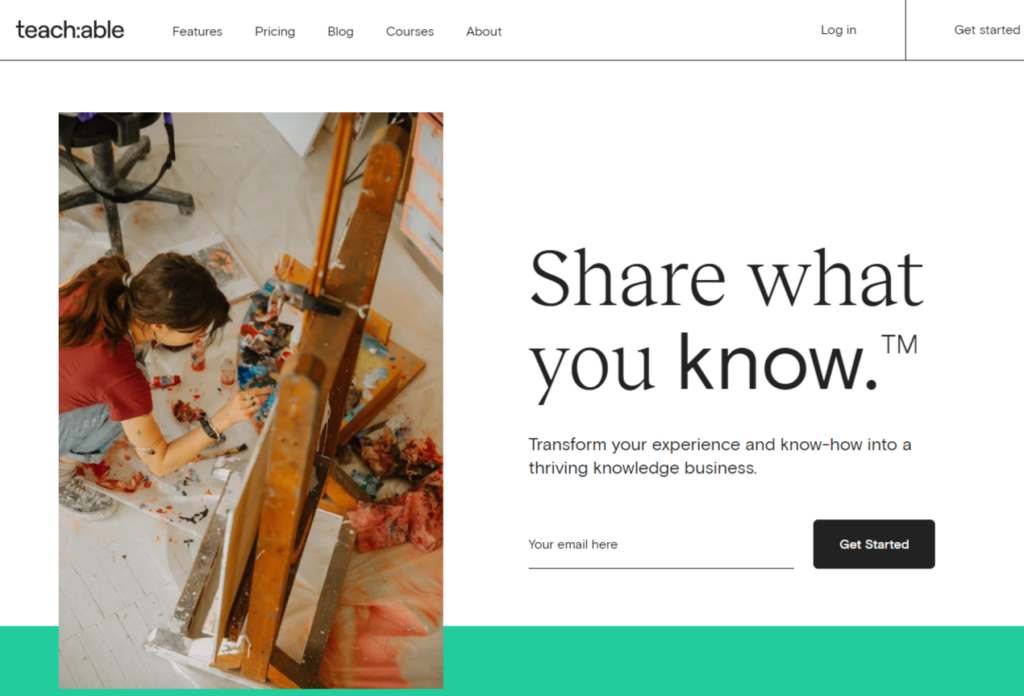 Pricing: $29 to $399 per month, and there's a free, fee-based plan, too
Notable features:
Unlimited videos, courses, students, and hosting
No fees charged for free courses
Built-in email marketing
On-demand payouts
Customizable domain names
No branding on the top two tiers
Teachable is far from the cheapest offering in this space, but it makes up for it with a downright robust platform. You can integrate videos and course materials with quizzes and tests, providing an experience that quickly engages learners as they make progress. Likewise, you can fully brand your site by moving up to the top tier, giving you the chance to present as a serious provider of course materials.
One downside is that Teachable isn't especially interested in being marketer-friendly. You can't build a sales funnel into your site. Also, the email marketing system can't be automated.
A major plus on Teachable, though, is the drip course system. This allows you to guide students through the process, only fully showing all the materials when they're done. For folks targeting businesses that need to know all the materials were completed in order, this is a solid selling point. The course player is extremely well-designed, providing an all-around professional-feeling experience for your students.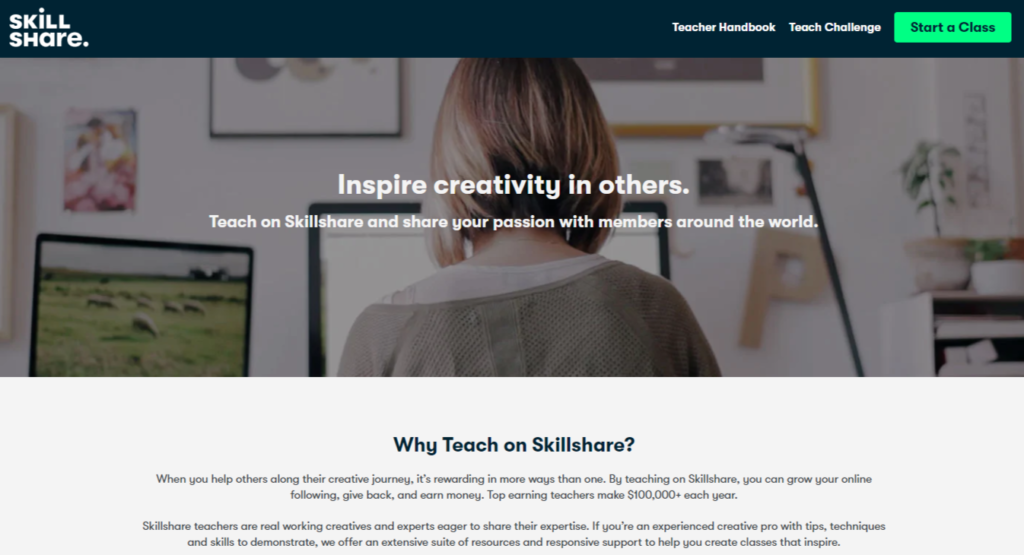 Pricing: Free with royalties for each minute of content viewed
Notable features:
Focused on video-based teaching
Easy to join
If you'd much rather get paid early on in the process than pay someone else for using their online course software, SkillShare may intrigue you. There is a lot less of an emphasis on coursework and more emphasis on videos that bring students up to speed on topics. The royalty model makes it easier for beginners to start developing their content without over-committing financially.
On balance, SkillShare is a good chance to get established. After you've gotten your sea legs, though, you may want to look elsewhere, especially if you'd like to develop more traditional testing, quizzes and course materials.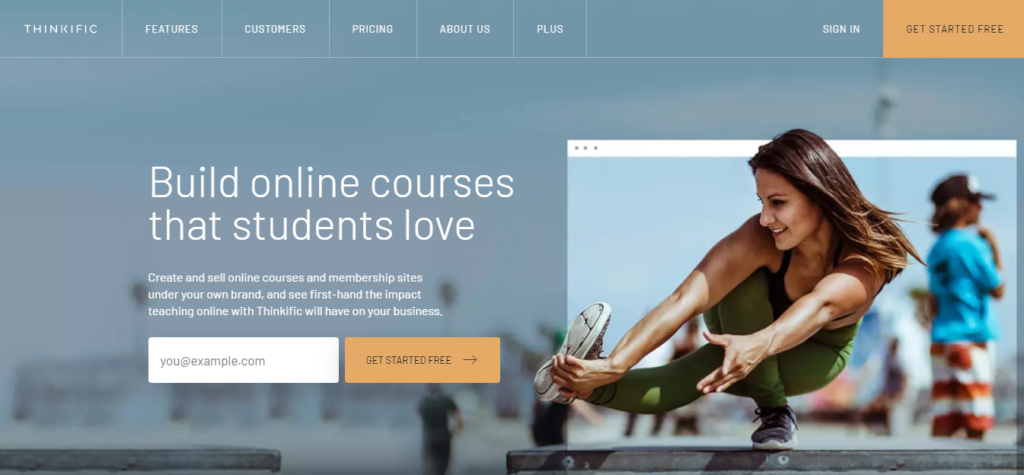 Pricing: Free to $499 per month, with a 30-day, money-back guarantee
Notable features:
Schedule lessons on a drip structure
Coupon codes, member ships and bundles
Unlimited courses and students
Affiliate options
Surveys
Triggers for tracking student progress and events
Ability to offer certificates
What distinguishes Thinkific is the company's commitment to helping its customers. They have 24/7 support available, and their drag-and-drop editor for creating courses is highly intuitive.
On the student side, the offerings are a bit more limited than what you'll see from Teachable, and that's why Thinkific ranks a bit lower. You don't get quite the quality of course player, and there is no video coursework available.
A massive plus for the platform, though, is its emphasis on marketing tools. You can create memberships, bundles and coupons. There's a robust email marketing system, too. If you're looking to run a more directly commercial operation, Thinkific is likely to be the first option you'll want to consider.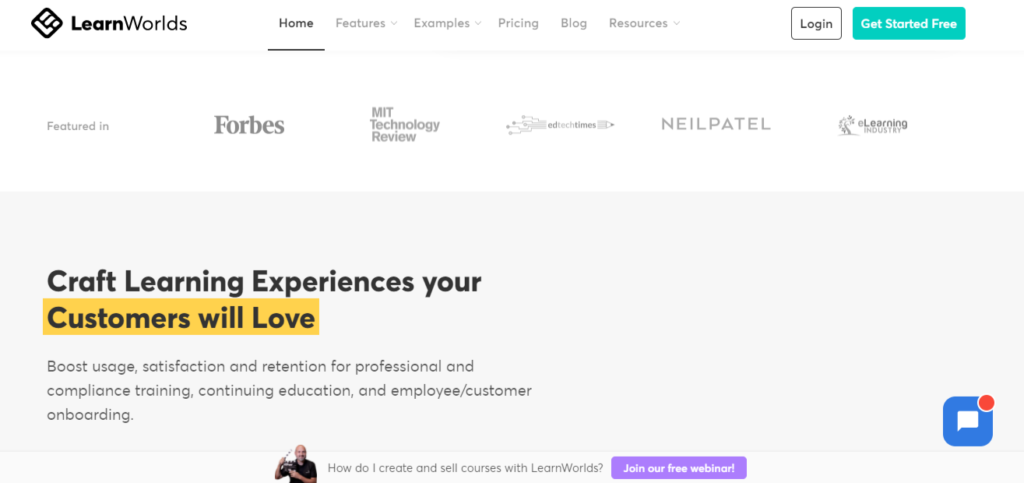 Pricing: $24 to $249 per month, with negotiable high-volume options available, too
Notable features:
Unlimited landing pages and paid courses
Coupons
Customizable iOS and Android apps
Multiple payment gateways
The LearnWorlds platform is designed for engagement. In addition to a strong emphasis on integrating media, including videos and interactive ebooks, the platform allows a wide range of interactions with students and materials. These include cued interactions at specific moments in courses, such as stopping for questions, providing pointers, overlaying images to illustration key details and providing links to related materials. LearnWorlds also employs significant integration with social media platforms.
For course creators, there are plenty of customizable elements, including apps. This allows you to brand your materials with ease.
The marketing components are close to non-existent with LearnWorlds. On balance, the tools are extremely student-focused, and some entrepreneurs may find the platform limiting.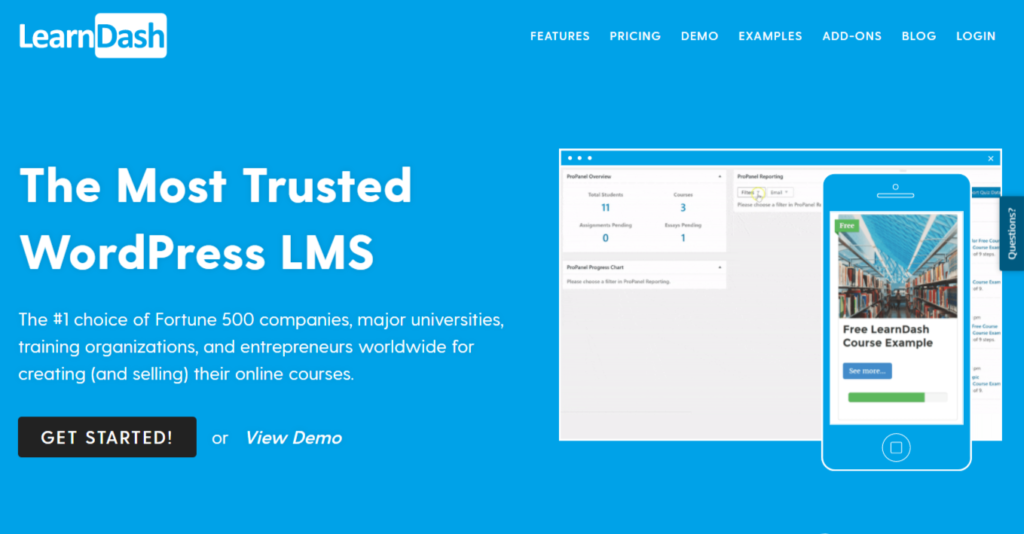 Pricing: $159 to $329 per year, with a 30-day money-back guarantee
Notable features:
WordPress plug-in
Licenses for up to 25 different websites
Certificates and badges for students
Course forums
Demo site template
LearnDash takes a very different tack, buildings its offerings around a combination of a theme and plug-in for WordPress. You add these to a website that already has WordPress installed, making it extremely easy to brand all of your coursework as your own. There is also a grading system that allows the site to track student progress and get ahead of potential problems.
It isn't loaded with marketing tools. Other than an email-driven drip course system, you don't get tons of ways to promote interest and upsell additional courses.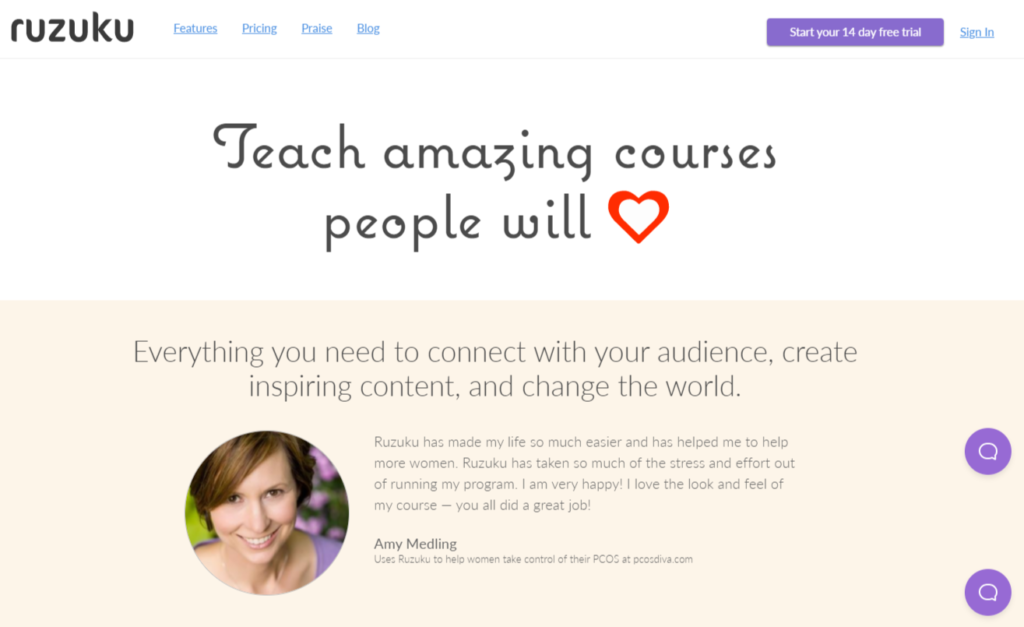 Pricing: $74.75 to $125 per month, with a 30-day money-back guarantee and 14-day free trial
Notable features:
No transaction fees
Unlimited courses and students
Webinars available
Subscriptions and payment plans
Direct payments from customers
The best way to think of Ruzuku is that it's the "you are completely in control" platform. You won't be paying fees for transactions, and all payments go straight to you. Courses can easily be set up with subscriptions and even payment plans, making it very easy to make your offerings accessible to students who might struggle to hand over a lump-sum payment.
Multimedia offerings from Ruzuku are fairly impressive, too. In addition to hosting audio and video files, you also can set up webinars. This makes Ruzuku especially interesting for organizations, non-profits and movements that are trying to get their messaging out the door.
It's another platform, though, that isn't thick with marketing tools. To the extent those are on offer, it's through integration with platforms like MailChimp and Infusionsoft.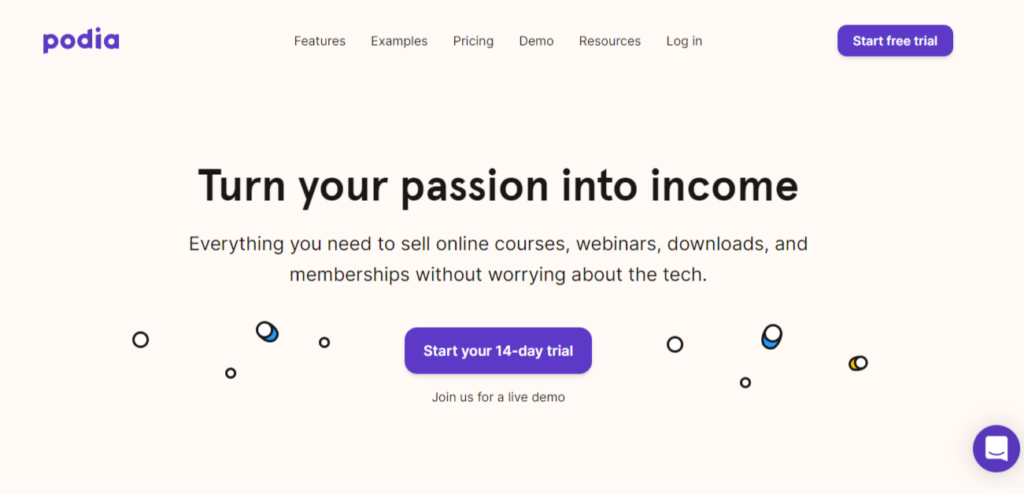 Pricing: $39 to $79 per month, with a 14-day free trial available
Notable features:
Affiliate and email marketing
No transaction fees
Unlimited everything
Podia is at the opposite end of many of the offerings on this list in terms of marketing. It's loaded with messaging and marketing, and the model is largely built around drip course content. The pricing is also among the cheaper in the business.
On the downside, Podia is arguably lacking in student-centric features. Don't expect a ton of bells and whistles for interactivity. Podia is purely a platform for doing marketing-driven drip courses.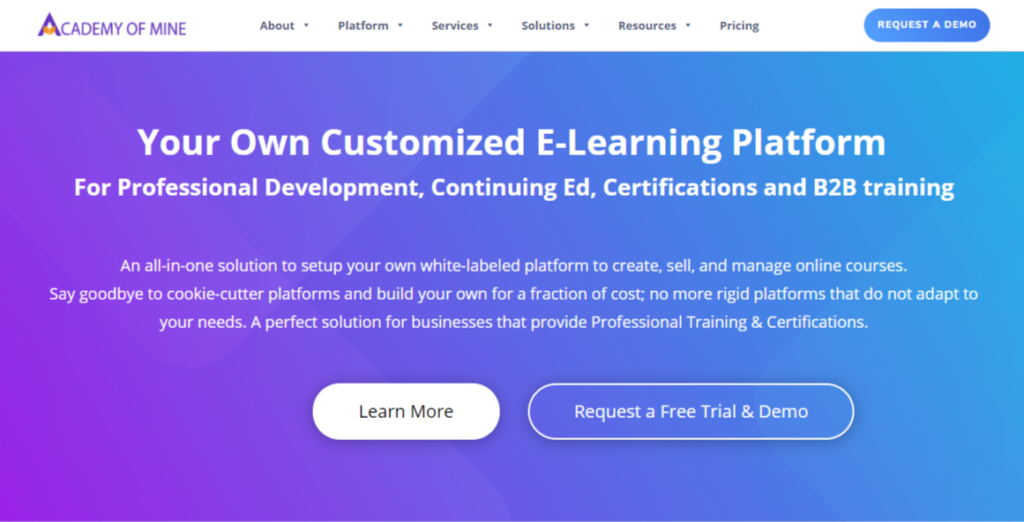 Pricing: $499 to $899 per month, with customizable solutions available
Notable features:
Live virtual training
Self-paced course structures
Highly brandable
Plenty of options for subscriptions, memberships and payments
Academy of Mine is almost laser-focused on being a platform for corporate training. The live virtual training option puts Academy of Mine in a class by itself compared to others on this list. Courses can even be set up to provide continuing education credits for folks in the healthcare industries. It is a great high-end option that many businesses will simply love.
The learning curve for Academy of Mine is steeper than with most of the best online learning platforms listed here. It is, for lack of a better way to put it, a heavy offering that projects gravity.
Although not the greatest choice for beginners, Academy of Mine can provide next-level services for folks who want to take on serious corporate customers and their employees as students. If you're just looking to sell a small set of courses to develop a revenue stream, though, Academy of Mine may be a bit much.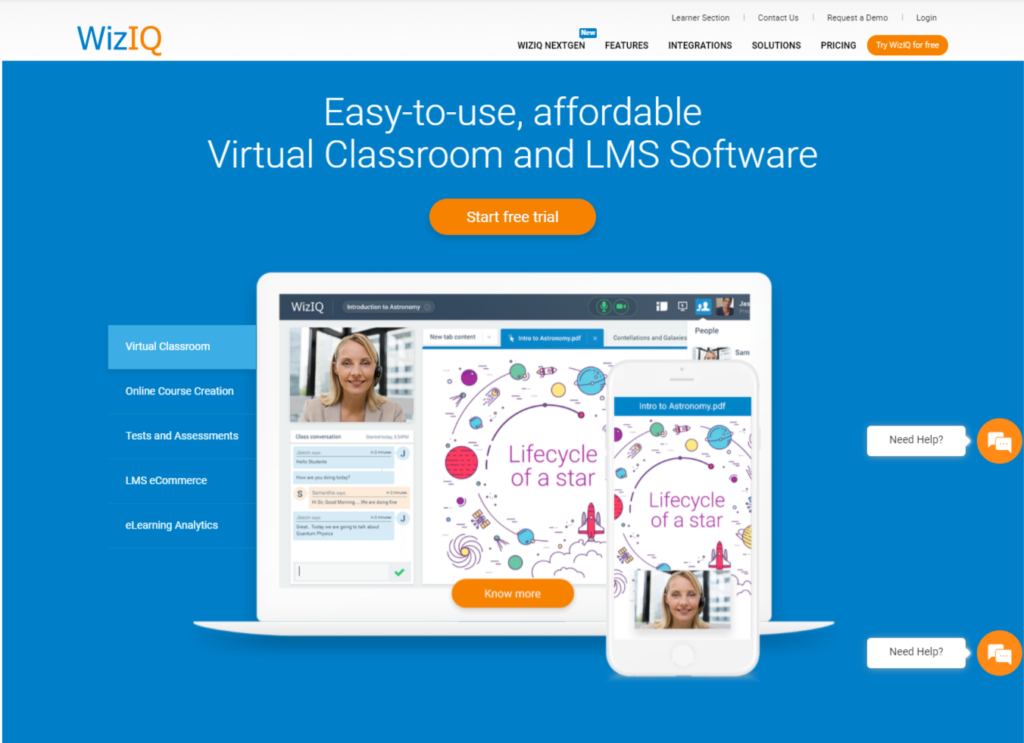 Pricing: Starts at $25 per month
Notable features:
Live classes and webinars
Branded sites and web apps
Assignments
Let's be blunt. WizIQ's primary selling point is a relatively low cost of entry. It isn't multimedia-heavy, and the add-ons for coursework are mostly things like assignments and multiple-choice questions. The company's 10% transaction fee is pretty steep, too The marketing tools aren't thrilling, either.
One area where WizIQ excels, though, is in offering live classes and webinars. It's a good platform if you want a cost-effective way to connect with students live. If you're looking to build a largely passive income stream, though, you'll find better options elsewhere.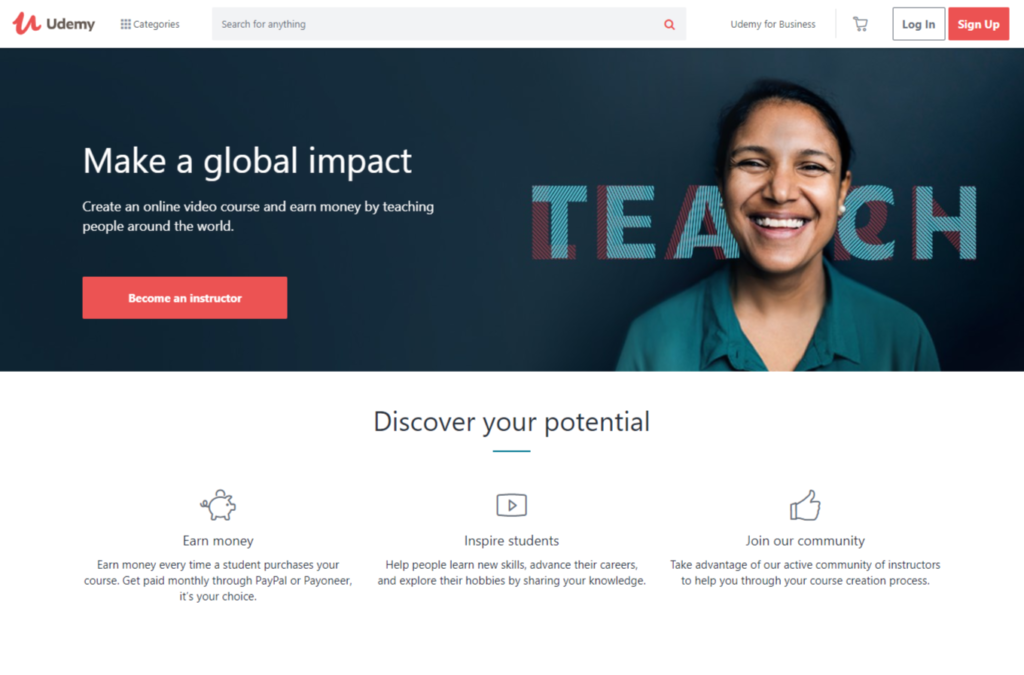 Pricing: Free
Notable features:
100% of revenues from tuition fees from new users
50% of revenues from fees for existing users
24/7 support
Udemy offers a big chunk of revenue to its instructors. Getting on the platform is relatively easy, too.
A lot of the downside to Udemy comes on the backend. In particular, the platform allows students 30 days to seek refunds on courses they take, and these refunds are guaranteed. That means you could look at the analytics and feel good one day only to see a massive hit the next day.
It's also hard to compete on Udemy. To put it bluntly, you better bring your marketing and SEO A-games because it's a battle royale to get eyeballs.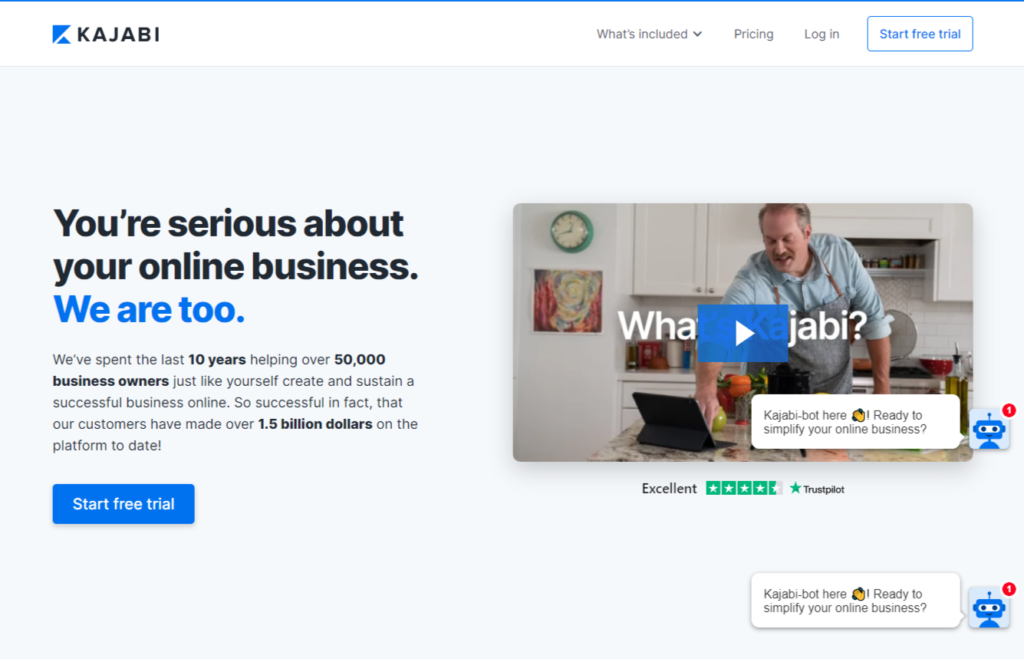 Pricing: $119 to $319 per month
Notable features:
Webinars and events
Extensive automation
Plenty of templates
No transaction fees
Kajabi's greatest strengths are its narrow targeting toward professionals who need to develop skills and its extensive support for marketing. Of the high-end platforms on the market, Kajabi is probably the friendliest to marketers. Even blogging is included. If you're looking to get into the corporate market, it's also the most cost-effective for this segment.
The systems at Kajabi are very thin for interactivity. If you're focused on producing engaging content, you may want to look elsewhere.
Kajabi also has a limit on members. This can install a ceiling for folks who want to develop massive growth models.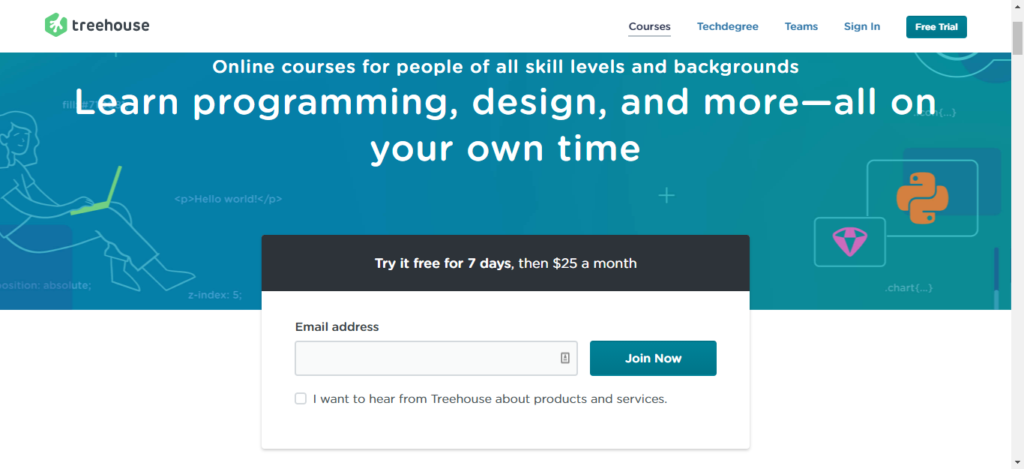 Pricing: $25 to 199 per month, with a free, 7-day trial
Notable features:
Heavy on practice sessions
Focused on the tech sector
Has a Techdegree system aimed at providing a custom curriculum
Treehouse is extremely tailored to the tech sector, and it has attracted attention from giants like Google and IBM. The site hasn't been around a while so it remains to be seen what the user base is going to look like. It's super professional-looking, but there doesn't appear to be much in the way of marketing tools attached. Expected to leg out a lot of the promotional work yourself because Treehouse is predominantly a platform for tech companies that know what they want.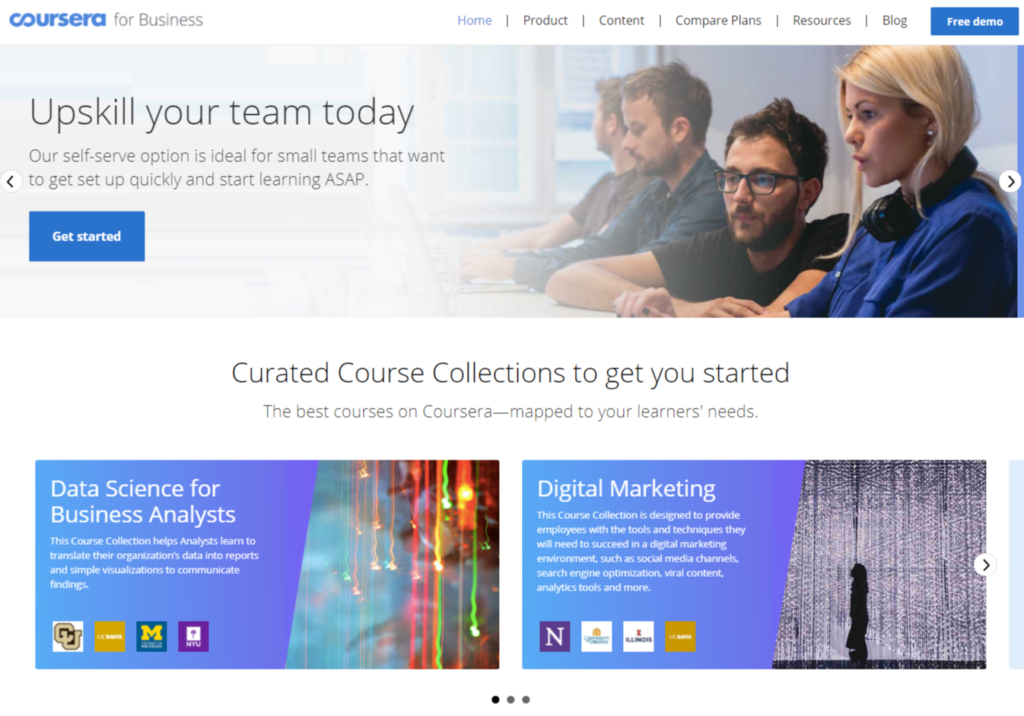 Pricing: $400 per user per year, with custom plans available and a 14-day guaranteed refund
Notable features:
iOS and Android apps
Extensive technical support
ACH payment transfers
For the vast majority of folks developing coursework, Coursera is simply going to be out of reach. It is a heavy-duty platform built for companies and universities that want to provide the deepest possible online learning experience. In fact, Coursera has support for online degrees from fully accredited institutions. You're welcome to dream big, but Coursera is probably not a platform you'll be using anytime soon.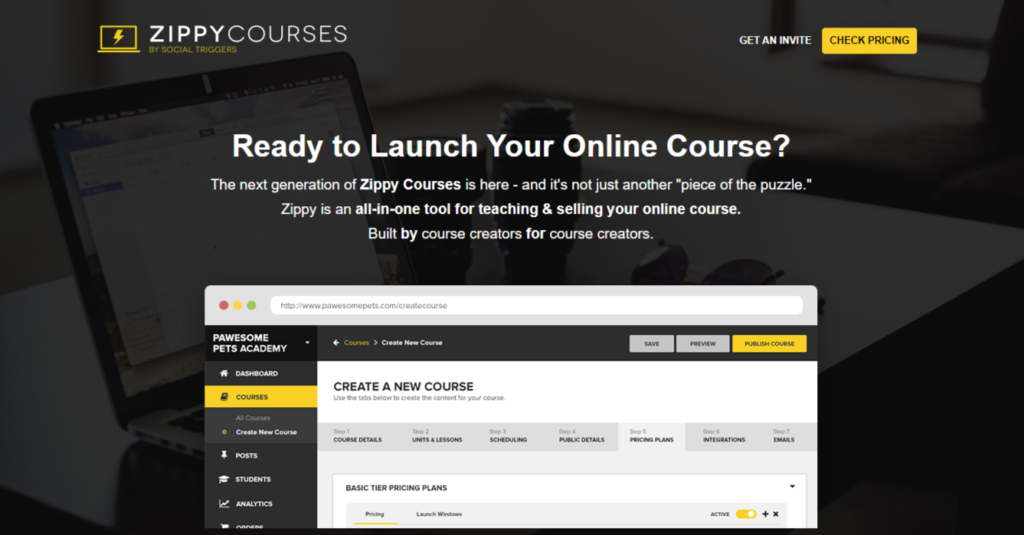 Pricing: $99 to $199 per month, with a $1, 7-day free trial, too
Notable features:
Unlimited students
Very marketer-friendly
Allows access tiers
Zippy Courses is arguably the most marketing-centric of the systems on this list. It offers integration with a huge number of marketing platforms, including Constant Contact, MailChimp and GetResponse. The company is unapologetically open to having marketers as its customers.
The available technologies are a tad thin, but you can integrate videos. Offering premium access tiers is an interesting way to provide an upsell to folks who want the densest materials. You can even include a free trial to bring potential students onboard.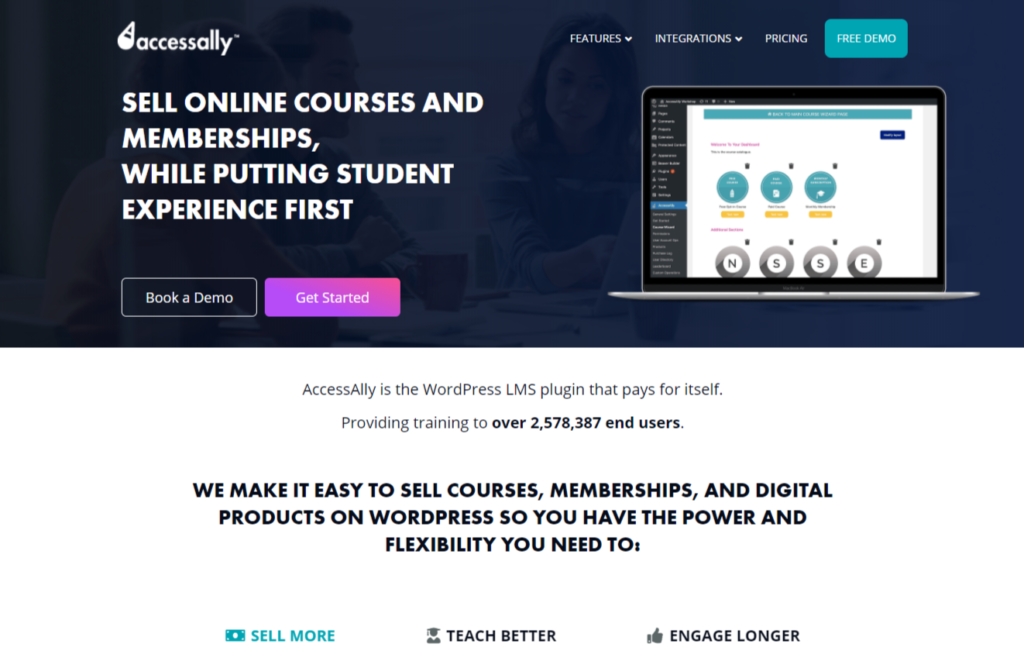 Pricing: $82 per month to $2,500 per year, with a 30-day, money-back guarantee
Notable features:
WordPress plug-in
Recurring payments
Affiliate tracking
Multiple currencies and tax zones
AccessAlly follows the same logic of Zippy Courses, but with the addition of a WordPress plug-in. You can deeply integrate your courses into a branded website. On the downside, the courses are pretty thin on media and interactivity. If you want a relatively cost-effective and fast way to add courses to your WordPress site, though, AccessAlly is one to check out.
FAQs
What Should a Course Look Like?
There are two main questions you should answer regarding each course you create:
How does this bring value to the student?
What is the learning path for the course?
You should focus on finding a niche where you can do excellent work. For example, someone who has already worked as a marketer and developed WordPress sites might create courses that teach those skills to others. Try to distill your learning experience into a linear structure. If there were some bumps along the way, figure out what additions to your own experience at an early point would have smoothed things out and share your solutions with your students.
How Big Are the Costs?
A lot of this boils down to how much you can or can't do by yourself. Someone with a reasonable video production rig for a computer can save themselves thousands of dollars in outlays for video editing, branding and graphics. On the other hand, if you need to pay subject matter experts, researchers and content producers, your costs can easily go north of $10,000.
Try to run your operation as lean as possible without destroying the production values for your courses. Shelling out a few hundred dollars to a freelancer to clean up your editing, for example, can be a difference-maker. In other words, run lean, but don't cut corners.
What Equipment Do You Need?
This depends heavily on how much video and multimedia you intend to deploy. Folks who are just presenting reading materials and quizzes could get by with hardware from 10 years ago.
Those looking to produce slick video content and graphics, on the other hand, should invest in a desktop video-editing station that has as much RAM installed as possible. You'll be editing your videos with something like Adobe Premiere or DaVinci Resolve. Bear in mind the learning curve on these packages can be months so don't think you're just going to grab a camera, get a computer and go nuts making courses.
Invest in the best microphone you can afford. If possible, soundproof your recording area, too. You may also want to invest in screen capture software.
You don't have to go overboard on your video camera. A decent-quality webcam can give the instructor experience a more authentic feel. Draw the line at recording with a reasonably-priced digital camera. Once you go high-end, you can produce videos that are too slick for education, creating a disconnect with students.
How Do You Develop a Niche?
Think narrowly on a topic, and then try to think of something more narrow than what you've come up with. "Adobe Photoshop for Beginners," for example, is overly broad and will bring you into direct competition with tens of millions of tutorials in Google search. "Introduction to the AI Tools in Photoshop for Portrait Photographers," is narrow enough to not be over-competed and interesting enough to attract students.
Also, follow the data as you produce content. If you see a niche that draws interest, consider how you can do more iterations in that segment. With enough time, you'll develop a recognized brand as the go-to person for a specific sort of instruction.
Last Updated on October 21, 2020 by Adrian Grant