Editor's Note: This post has been updated for 2019. We changed out some older sites that are no longer relevant, and added in some great new resources. Here's to your analytics success in 2019 and beyond!
Google Analytics is not always easy to learn.
In fact, it's so complicated that many people ignore it – a big mistake. If you spend an enormous portion of your day – every day – tweaking your website and optimizing it for search engines, visitors, and sales, then doesn't it make sense to make sure you're getting the most bang for your buck? How do you analyze what you're doing?
The problem with Google Analytics is that it's like learning a new sport such as surfing – when you first stand up on a surfboard you're like "hooray I can surf now!" but then you realize getting beyond the basics of riding the whitewater is a steep learning curve. It's very easy to log into Google Analytics and see what your traffic was for the past 30 days. It's much more difficult to figure out how to analyze is by geo, traffic source, page category, etc.
Google Analytics is immensely powerful, and while there's no substitute for logging in and spending time with it, the following resources will help get you up to speed faster.
Dive in and have fun.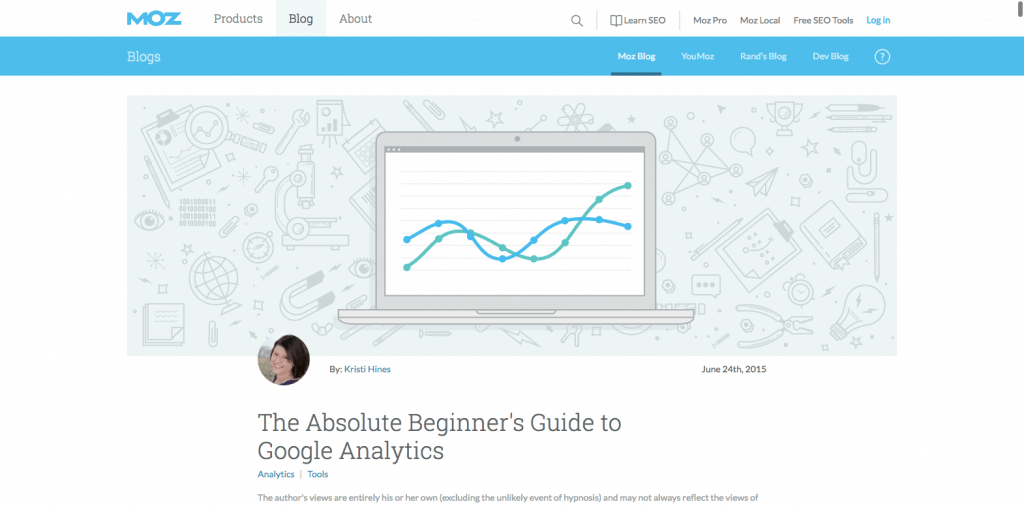 Moz is perhaps the premier educator of the masses on inbound marketing and SEO that also sells software. Their dedication to educating us is unprecedented. On their blog, Kristi Hines walks you through a very detailed setup installation of Google Analytics. Kristi explains what it is and how to use it to your advantage. It is complete with relevant images that walk you through every aspect of Google Analytics from tracking tools to online store settings with your WordPress website. It is designed for the beginner who knows nothing about Google Analytics. It will take you for a complete novice to a power user in mere minutes.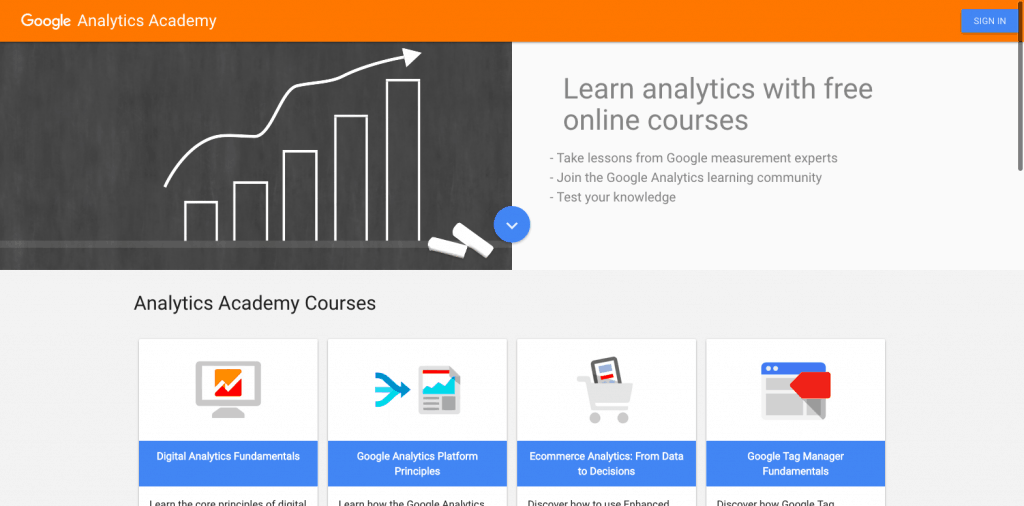 Straight from Google themselves, Google Analytics Academy will walk you through a series of self-paced courses and lessons where you learn from the experts. You can test your knowledge and join the learning community in an interactive forum where you can learn from your peers. What better place to learn Google Analytics than from the authors themselves? Their courses include Google Tag Manager Fundamentals, Mobile App Analytics Fundamentals, E-Commerce Analytics: from Data to Decisions, Google Analytics Platform Principles, and Digital Analytics Fundamentals.
After you feel that you've learned all you can – take one of their certification tests.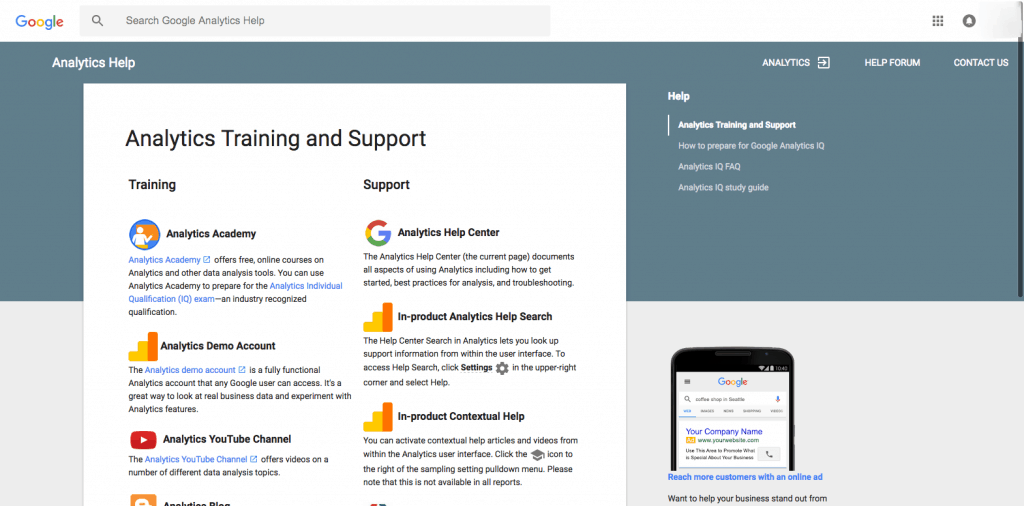 Google takes it a step further with the Google Analytics Training and Certifications. Here they provide links to the Google Analytics Academy you see above, a setup checklist, a get started guide, a help center, and a testing center. With the addition of seminars and videos including intro, intermediate, and advanced courses, you may find a certified trainer in your area to learn in person.
They also offer links on their YouTube channel for those who learn best with videos.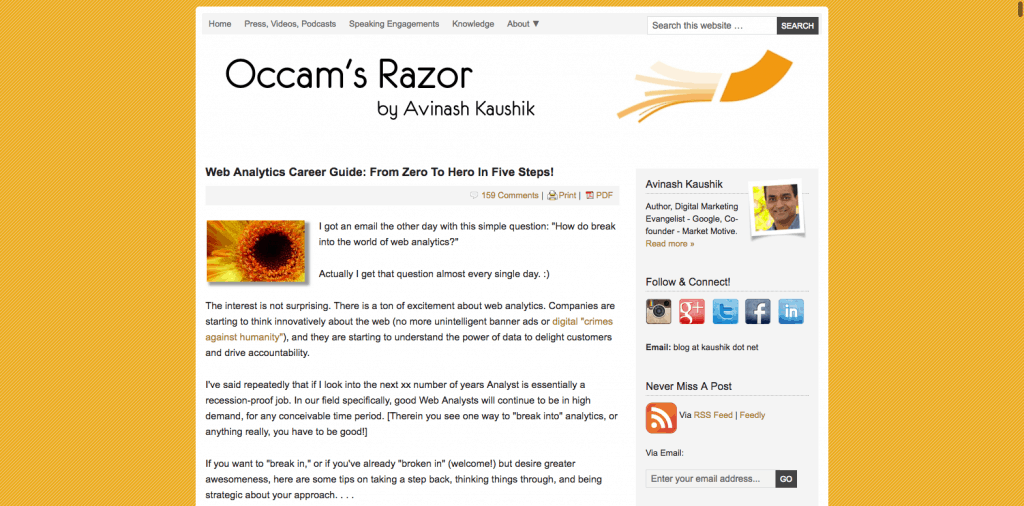 Avinash Kaushik is probably the best all around writer on Analytics. He is a Google Fellow, but isn't promoting Google's products all the time. He knows there are a lot of enterprise analytics systems out there that go beyond Google Analytics so he's looking at the full spectrum. His secret sauce is his ability to take huge, monumental ideas and distill them down simply. He touches on all channels of digital marketing to analyze the effectiveness of all of them and point you in the right direction.
The best part about his writing is that he will give you his opinion and tell you what to do. He can be neutral in some instances, and highly opinionated in others. But that's what beginning to intermediate audiences need, clear direction from the pros. I often spend 1-2 hours being absorbed by his material. Thankfully he only posts about once a month, or else I wouldn't be able to get any real work done!
The guide on his blog linked above takes you from someone who has no knowledge of Google Analytics to someone who is proficient in Google Analytics. He lays it out in five easy steps: (1) figure out the optimal career path for you, (2) take your first two web analytics tools, (3) get educated, (4) play in the real world, and (5) find your first analytics job. By the time you get to step five, you will have been dealing with this blog post for 3 to 6 months. It is not something you learn overnight because there's a lot of information to take in.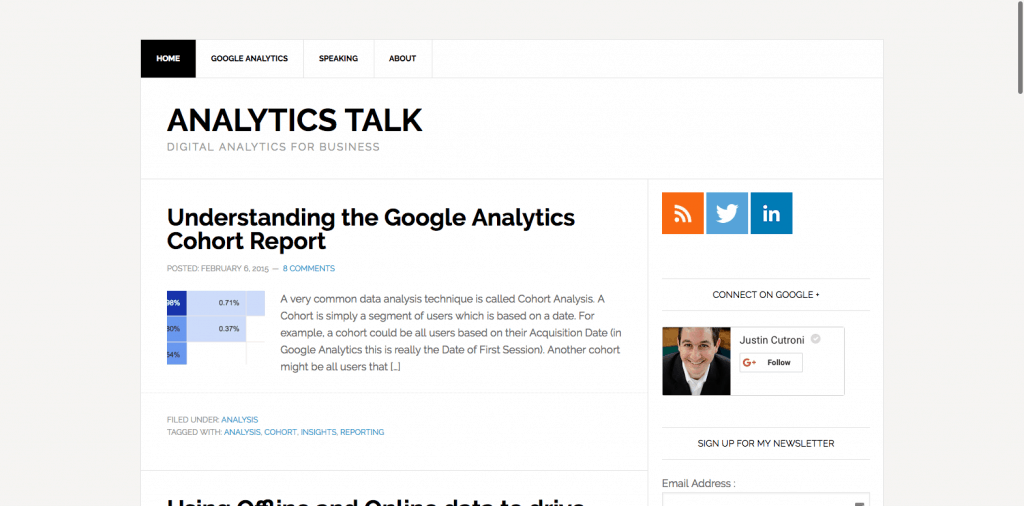 Justin Cutroni is on of the top analytics thought leaders in the field. Although this blog of his hasn't been updated in awhile, there's some timeless gold that makes it still one of the top analytics blogs in the world.
Analytics Talk has created their entire website around Google Analytics. They offer several informative blog posts to not only teach you about Google Analytics but to keep you up-to-date with anything new. To give you a sample of what they offer, their first three blog posts (at the time of this writing) were (1) Understanding the Google Analytics Cohort Report, (2) Using Off-Line and Online Data to Drive Google Analytics Remarketing, and (3) Understanding Cross Device Measurement and the UserID. All of these are blog posts designed to keep you at the forefront of what's new with Google Analytics.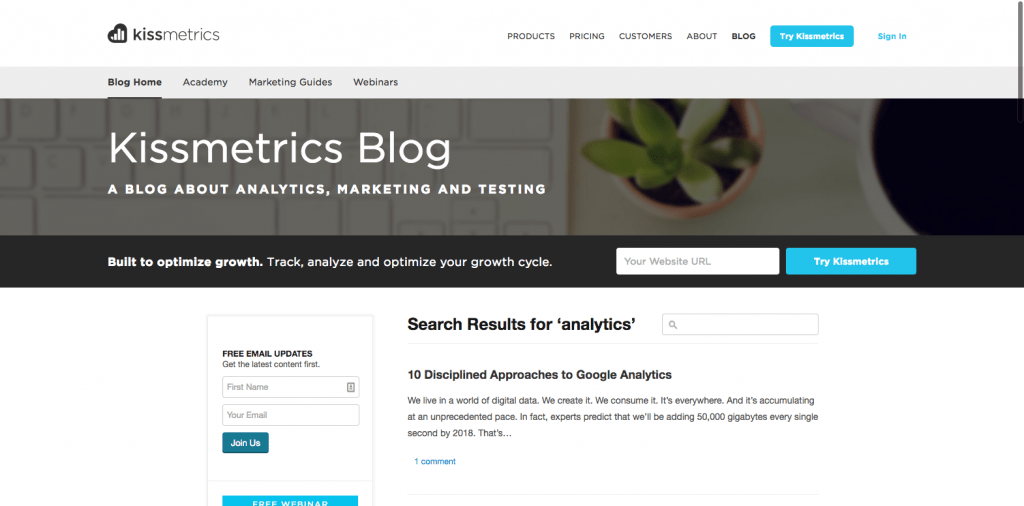 KISSmetrics is a self-certified blog about analytics, marketing, and testing. They have an excellent search engine that brings up a slew of resources for anyone who wants to learn Google Analytics. KISSmetrics also offers Analytics Webinars. If there was ever one blog that knew anything about everything that has to do with Google Analytics it would be this one.
Here's the thing though – at some times KISSmetrics educates you on Google Analytics, at other times they show how they are different and better than Google Analytics. I don't think they would consider themselves a competitor of Google Analytics, but they might downplay some features of Google Analytics in order to promote their own software. I believe they have the best intentions in mind, but that is something you should remember.
As with anything, verify what they say with 1-2 other sources before you make monumental changes to your site.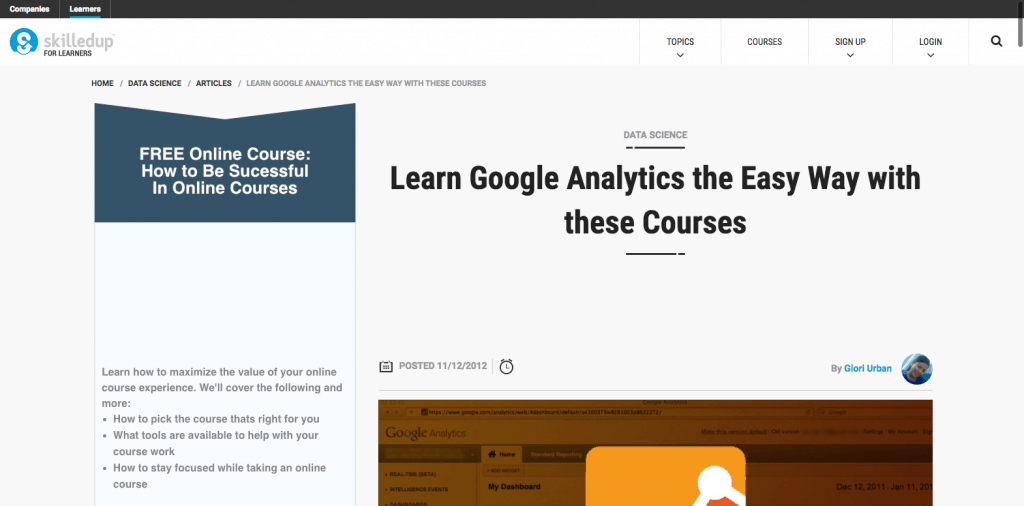 SkilledUp is a website that offers learning courses in a broad range of topics. They know Google Analytics can be confusing and takes some discipline to learn. So, not only do they offer courses themselves, but they provide links to other sites that offer courses such as Lynda.com. These courses are not free. However, they are very thorough and will teach you everything you need to know about Google Analytics.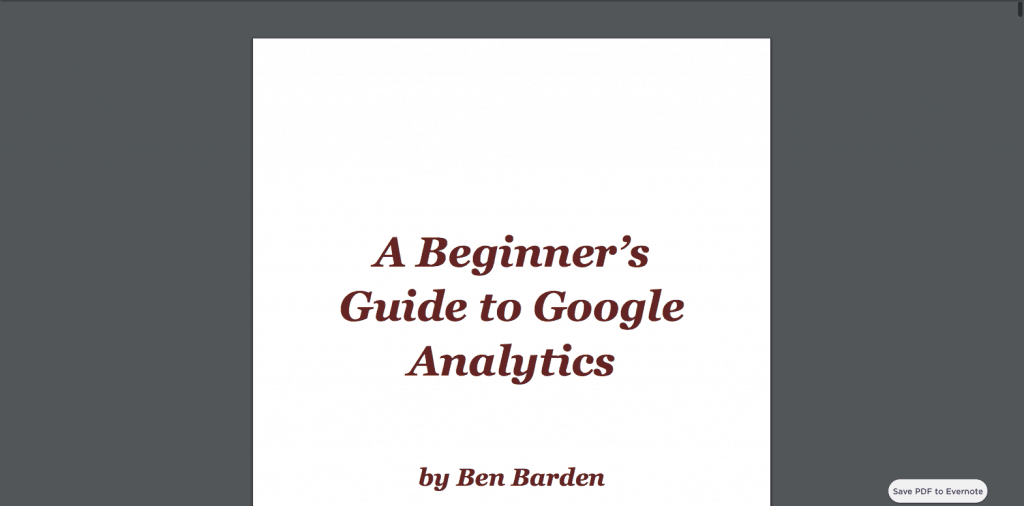 Ben Barton did a magnificent job with this e-book. It is in PDF format and very well organized. If you wish to take a self-paced course off-line, this is the way to do it. It is 21 pages long and jam-packed with information with everything from orientation to traffic sources to learning your audience. There're very few other off-line guides that are quite as useful as this one.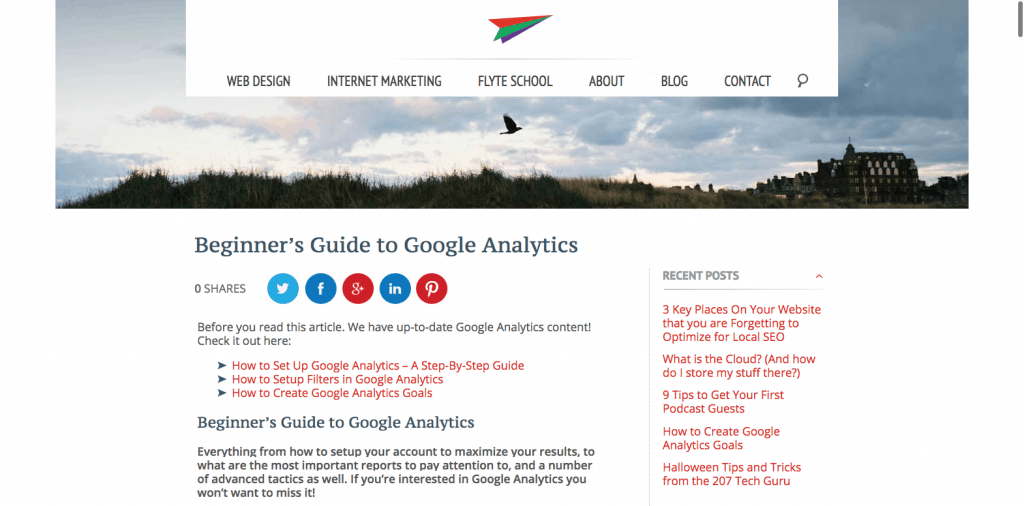 TakeFlyte has created a very thorough and very lengthy post that will teach you everything you need to know about Google Analytics from how to set up your account to maximizing your results. They take you from a traffic sources overview to how to set up goals. They leave no stone unturned. They go over each one briefly, but it tells you everything you need to know in a single blog post.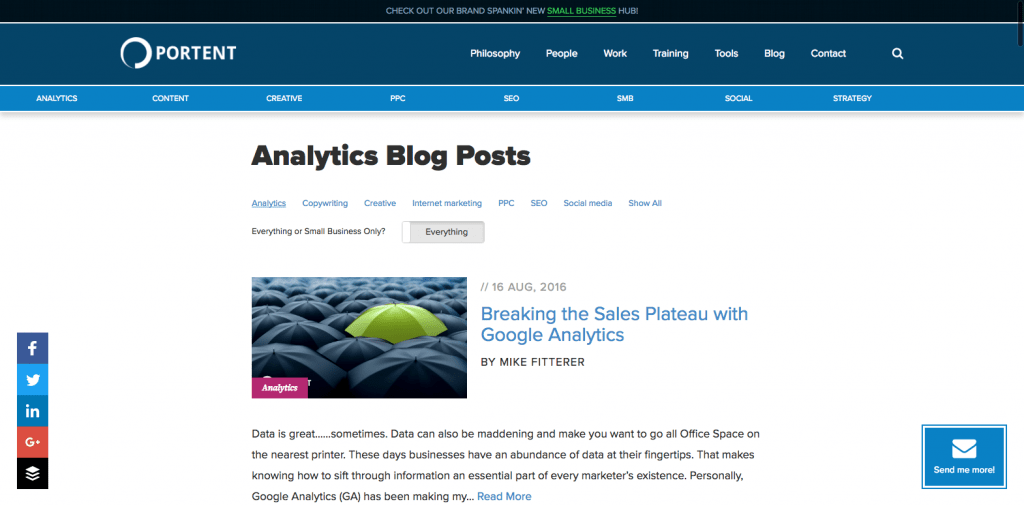 Ian Laurie is one of the funniest writers in the digital marketing world. And his team has chops as one of the top internet marketing agencies. So you can expect their analytics blog posts to be both informative and sometimes funny. The team speaks at the top digital marketing conferences, so you know their posts are top notch.
I love Portent's blog and guides – they are often opinionated and passionate. If you want to get some education in a more interesting and advanced way, add their site to your reading list.
Some oldies but goodies are the Install Video Guide and Basic Stats Video Guide.
Some people just learn better with videos. Portent understands this, so they created a couple of videos for those visual learners out there. Videos have the ability to put more information in a shorter period—expect to place the video on pause as you take in the information.
The second video following the install video guide above. This one goes through the metrics that they call basic stats. It's always useful to have paper and pen handy to write down information. Watch all the way through at first, and then watch it again writing down the most important information that you need to know and how to read and understand the stats of Google Analytics.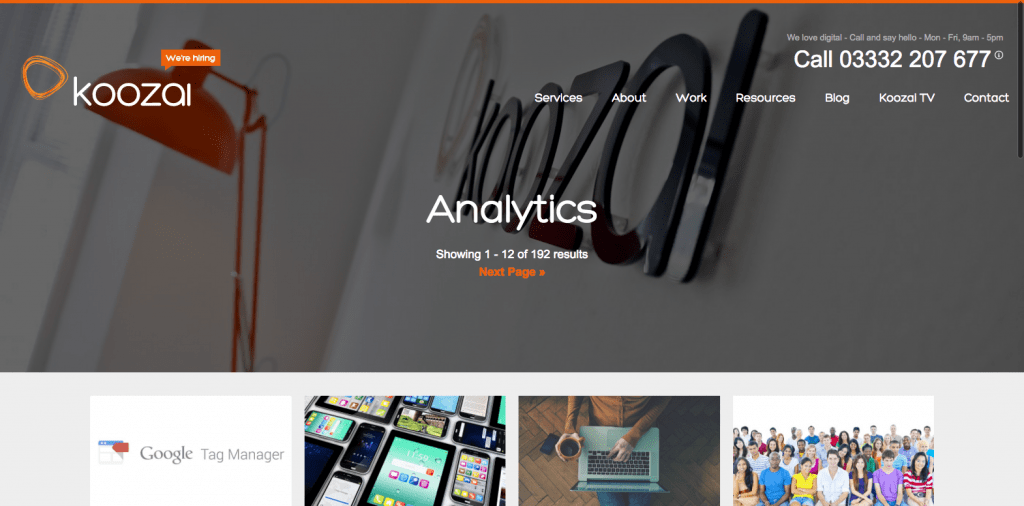 Koozai is a UK-based digital marketing company, with analytics services as one of their main specialties. They've got team members down in the trenches day-in and day-out so they're providing practical knowledge that you can use today.
Unlike other agencies, they keep their blog updated super-regularly, especially on the analytics side. They also produce a ton of guides and white papers covering the digital marketing and analytics side. Add them to your feed to get the best analytics updates and tactics.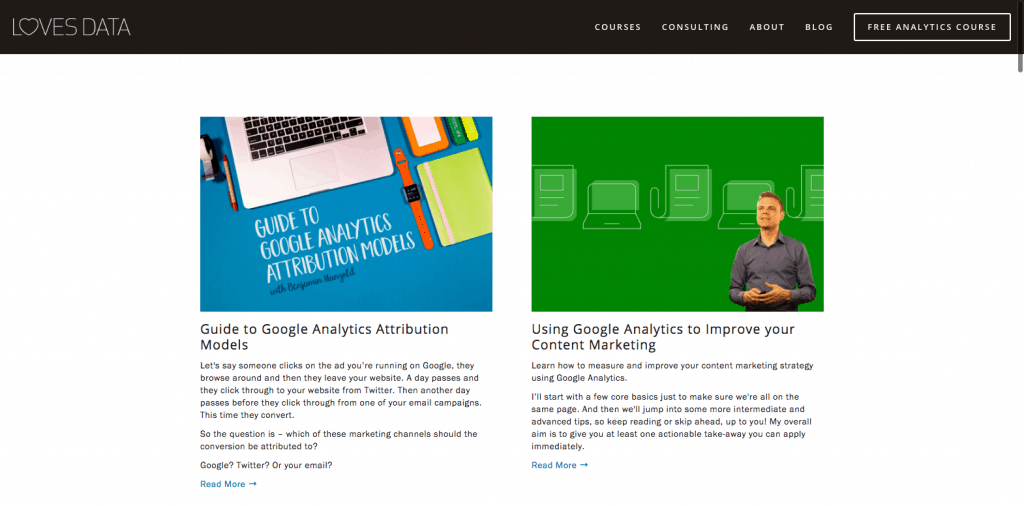 The Loves Data blog is a new discovery on my part, but is an awesome blog dedicated to analytics. It covers super popular topics and is beginner-friendly. I love it when blogs just cut to the chase and answer the most pressing questions and problems that we face as marketing and web professionals.
One of the most annoying analytics problems that the blog tackles is how to remove spam from Google Analytics – a problem that most website managers don't recognize, but it is polluting analytics traffic stats. The blog has been around since 2008, and Benjamin Mangold knows his stuff. He even created a free course…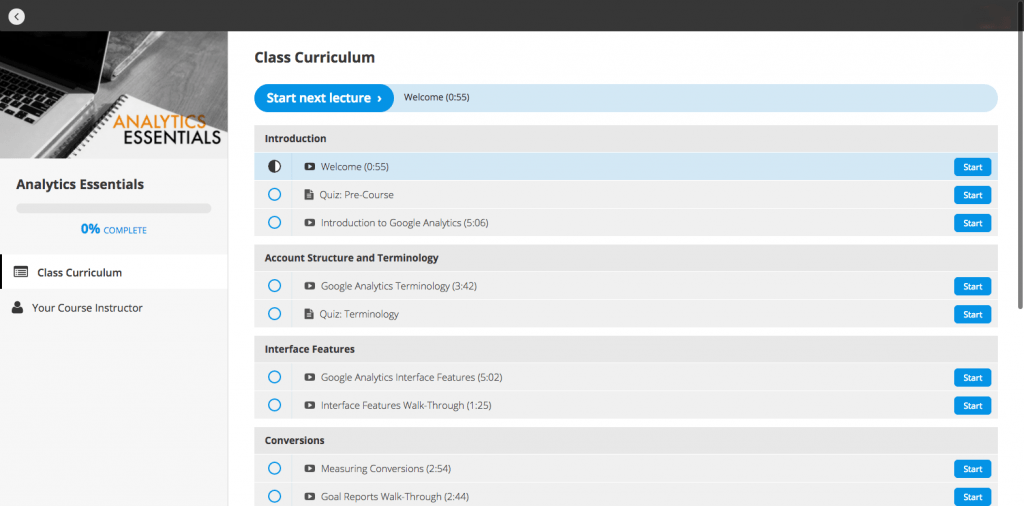 This Analytics Essentials course from Loves Data is an awesome way to get familiar with Google Analytics for beginners. So Google obviously has their own training, but sometimes it's better to get a quicker introduction form a 3rd party professional that's also a user.
By getting another perspective you learn from someone that's most likely going through the same things you are and is not from the inside of Google on their Analytics team. This means they know how to use the software like a true practitioner.
The course isn't terribly comprehensive – which can be a good thing. To be fair, the goal of the course is to educate you on the basics, but then encourage you to purchase one of the more advanced courses. Either way, if you're new to analytics it's a great place to start.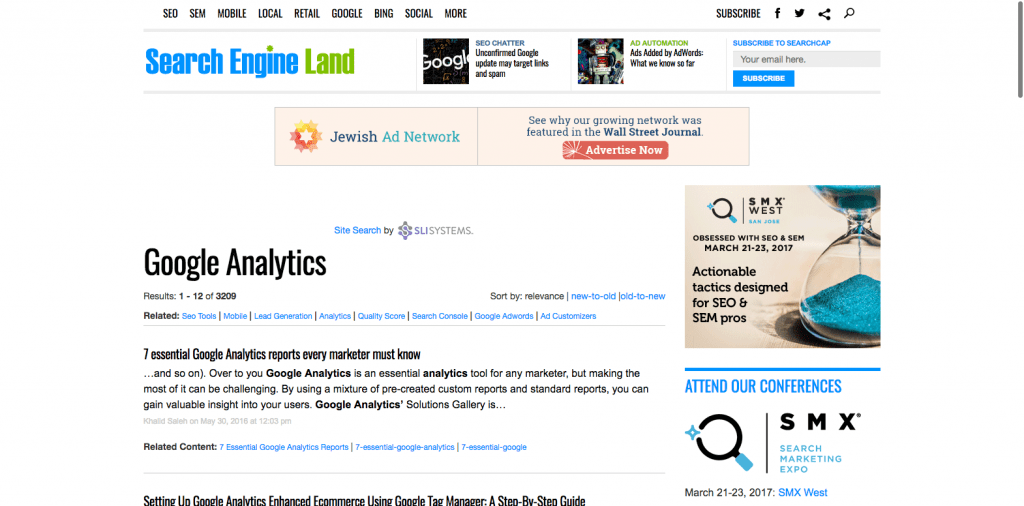 Google Analytics and SEM (SEO + PPC) are tightly connected. Search Engine Land is the premier source of all SEO and PPC news, so this series of analytics-focused posts is a great feed to get the latest news in the world of search and analytics.
Although analytics posts may pop up only sporadically there, there are some timeless posts and tips that you should review if you're unfamiliar with them. A great way to keep up to date with the latest and also understand the overlap of SEM and analytics.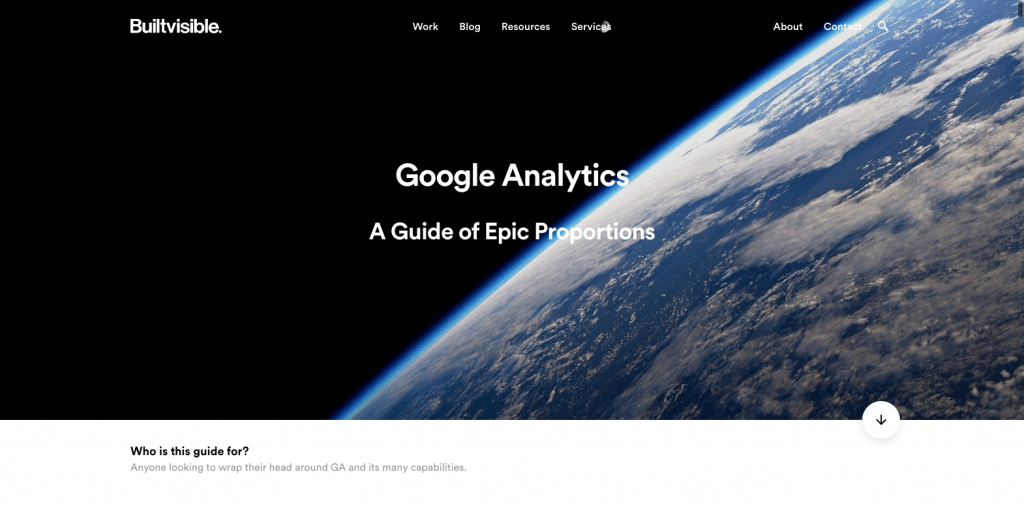 Builtvisible is a technically-focused digital marketing agency, and they really push the limits in the technical SEO and analytics space. I'm a big fan of their work and this epic guide reviews the basics of Google Analytics and then quickly advances into topics and strategies for improving the platform.
This post is built of intermediate analytics users what want to up their game. You'll be much smarter after reading this guide, and you should keep tabs on this company blog for more digital intelligence.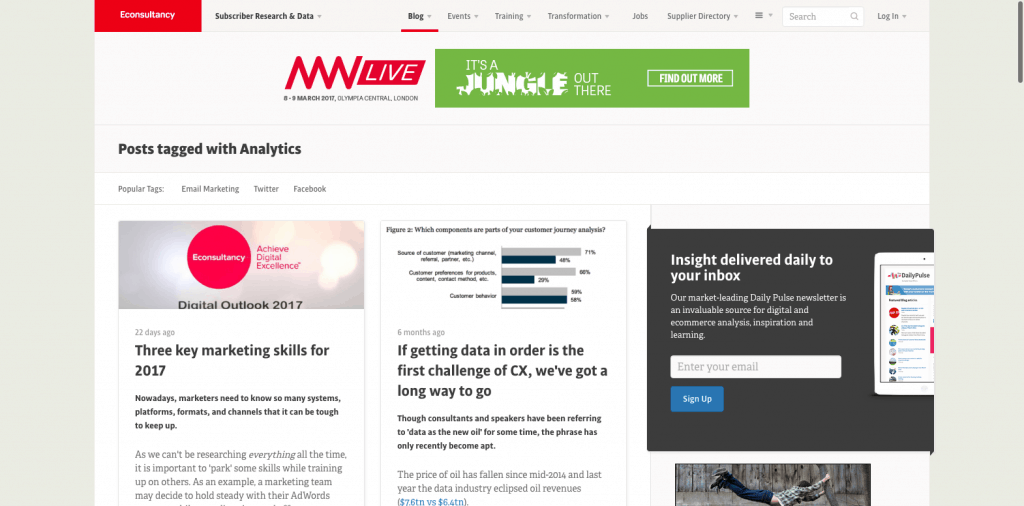 Econsultancy is like the NPR of the digital marketing world – smart, approachable, and interesting. They are fairly corporate focused and offer fairly expensive reports and training, but that's what makes their blog posts that much more valuable – you know they produce solid content.
Their analytics posts are not solely focused on Google Analytics, but there's a decent amount of strategies and tactics there that can apply to any analytics platform. The perfect place for corporate analytics professionals and aspirants alike.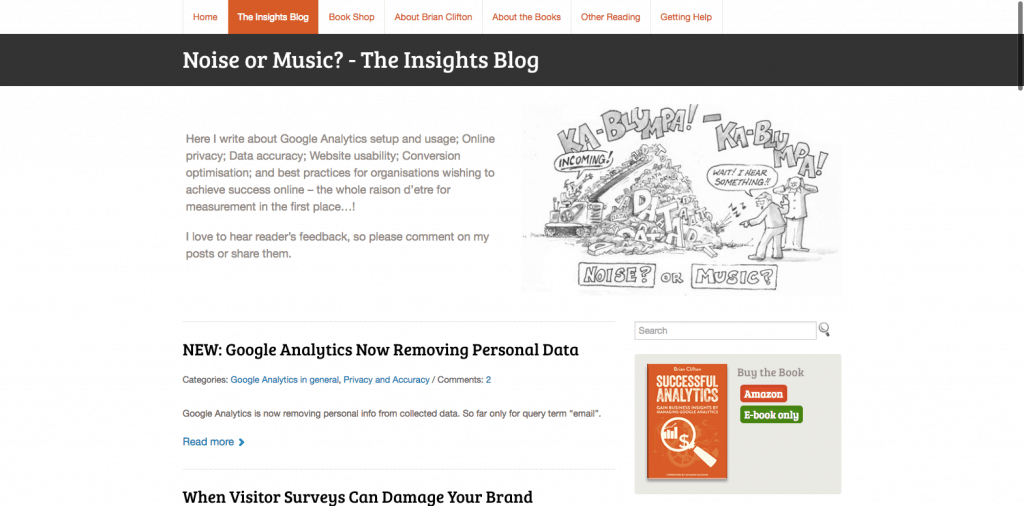 Brian Clifton wrote the book on Google Analytics – so he is highly trustworthy. Check this out from his bio:
"As Google's first Head of Web Analytics for Europe (2005-8), Brian built the pan-European team of product specialists. A legacy of his work is the online learning centre for the Google Analytics Individual Qualification (GAIQ)."
If you're looking for advanced tactics and a deeper dive into Google Analytics, definitely follow him. His blog is frequently updated with new tactics and strategies all the time – and his posts are often short and sweet.
Read as many of his posts as you can, and then when you've learned all you can, buy his book!
Learning Google Analytics Beyond Here
These are 17 excellent sources to learn Google Analytics and general analytics theory. Start with these and you'll go down a rabbit hole of learning for weeks at a time (if you want.)
Are there any other sources that you love? If so, let us know here in the comments what your favorite resources are that aren't listed here!
Last Updated on October 9, 2019 by Joe