In a world of WordPress hosting, how do you know what's best for you?
Doesn't it feel overwhelming?
How to make the right choice?
In our opinion, it's best to look at hosting companies through the lens of what they do well.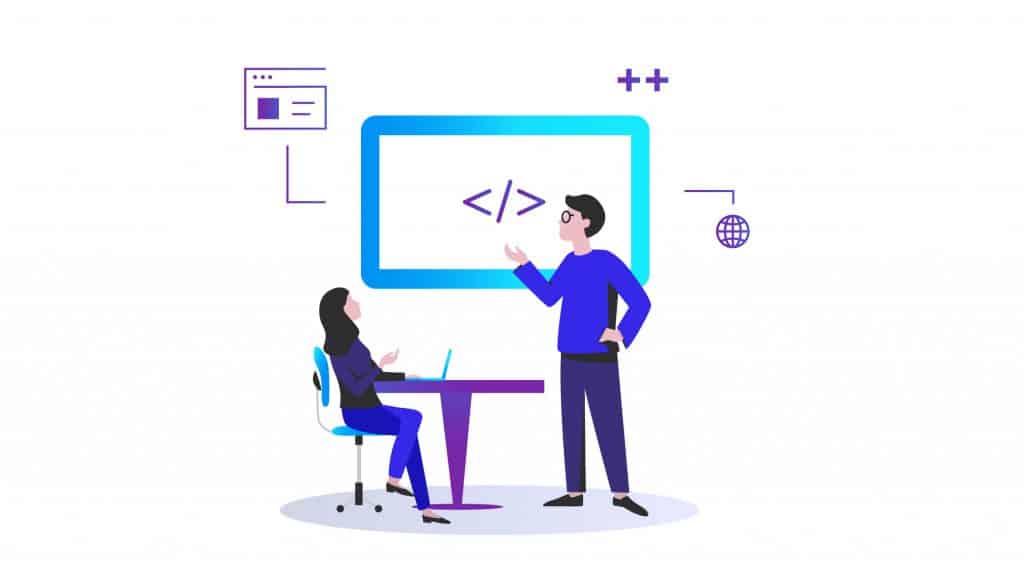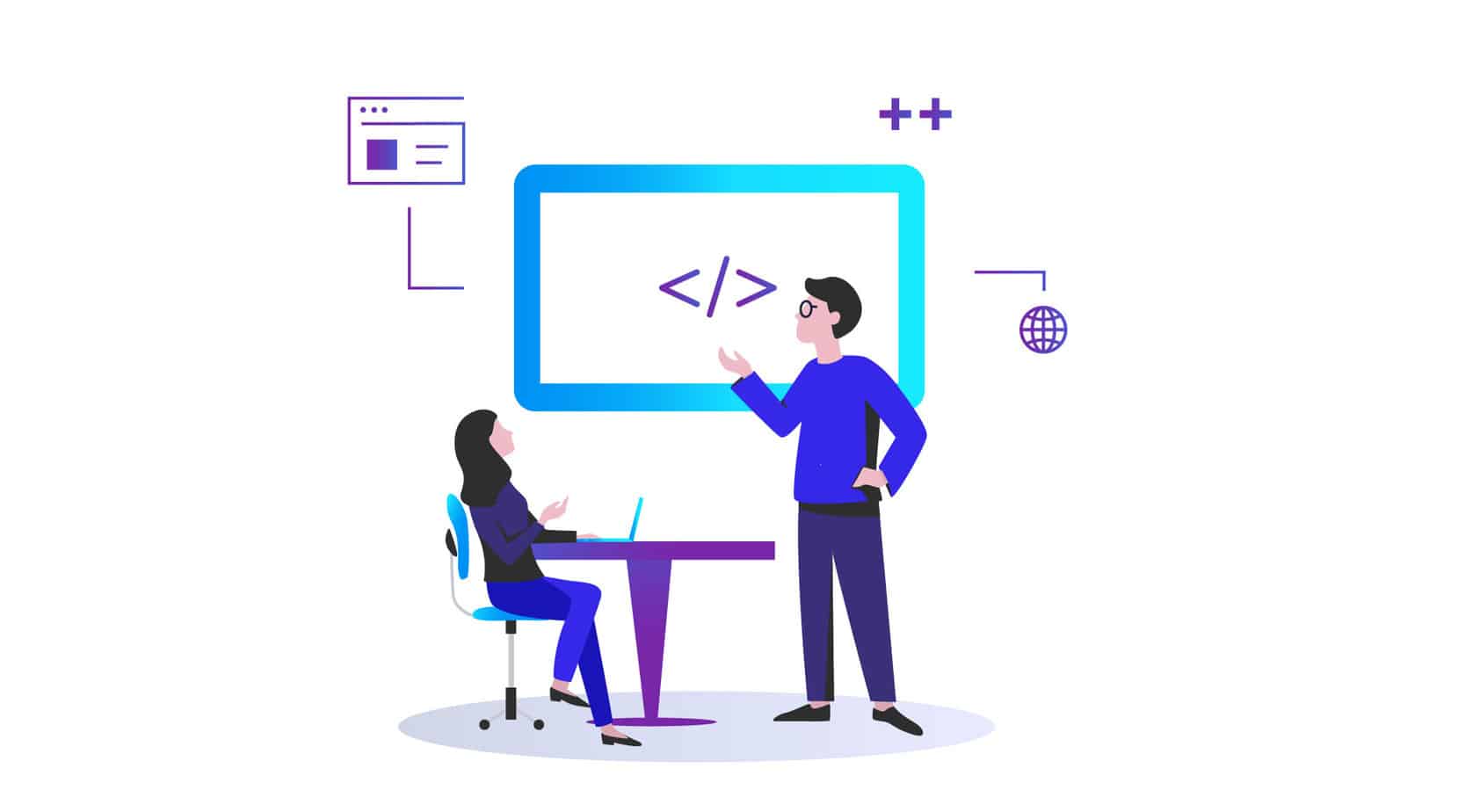 The world of WordPress hosting options is littered with companies that offer everything from entry-level shared hosting choices to enterprise-level dedicated WordPress hosting servers. For the person or organization just trying to identify the best WordPress hosting for their needs, this can make the process of picking one feel confusing.
In this hosting review, we'll take a look at who offers the best option in a variety of different website hosting niches that tend to matter the most to customers. When we're done, we'll also explain some of the terminologies that are commonly used in the industry and what any of it has to do with your hosting services needs.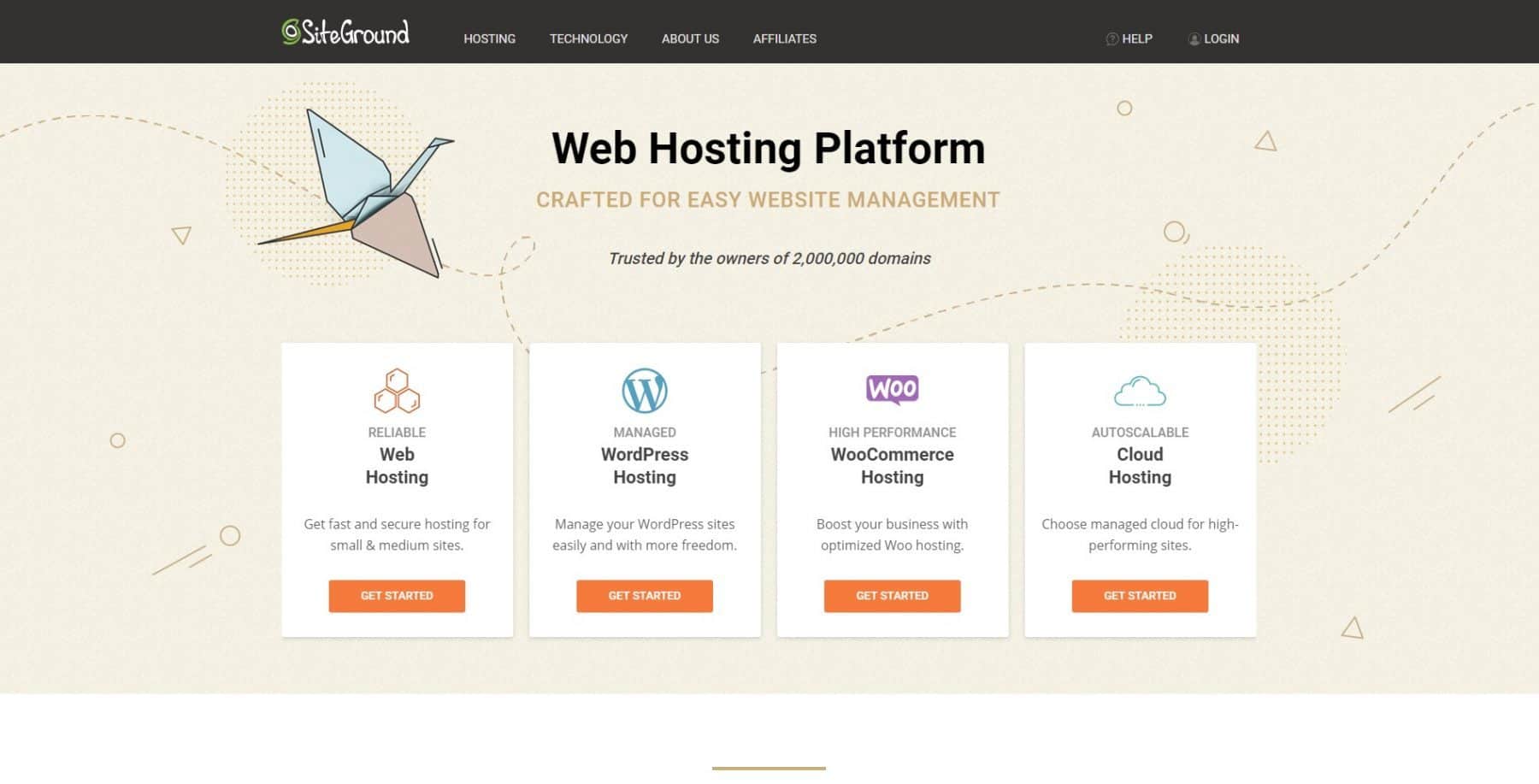 Entry-Level Plan Price: $11.95 per month
Response Time: 500 ms
Uptime: 100%
SiteGround offers three sets of low-cost hosting plans to WordPress customers. Their StartUp tier hosts a single website, offers 10 Gb of storage space and accepts 10,000 visits. The GrowBig and GoGeek tiers offer unlimited websites and even more space and visitors per month.
More importantly, SiteGround is a web hosting provider that delivers on speed, uptime and features. PHP-based hosting comes pre-installed, and the system also includes a site migration plug-in that speeds up the process of relocation. They sell domains, too, making the process of pairing a website URL with your specific hosting setup a breeze. You also can get 24/7 customer support via:
Email
Phone
Trouble tickets
Chat support
On the downside, SiteGround isn't dedicated to exclusively hosting a WordPress website. They do handle other types of website hosting, and they're also not a big player in managed WordPress site hosting. On balance, though, SiteGround offers the best combination of speed, price and features for all but the power user set.
Best for Digital Businesses: Kinsta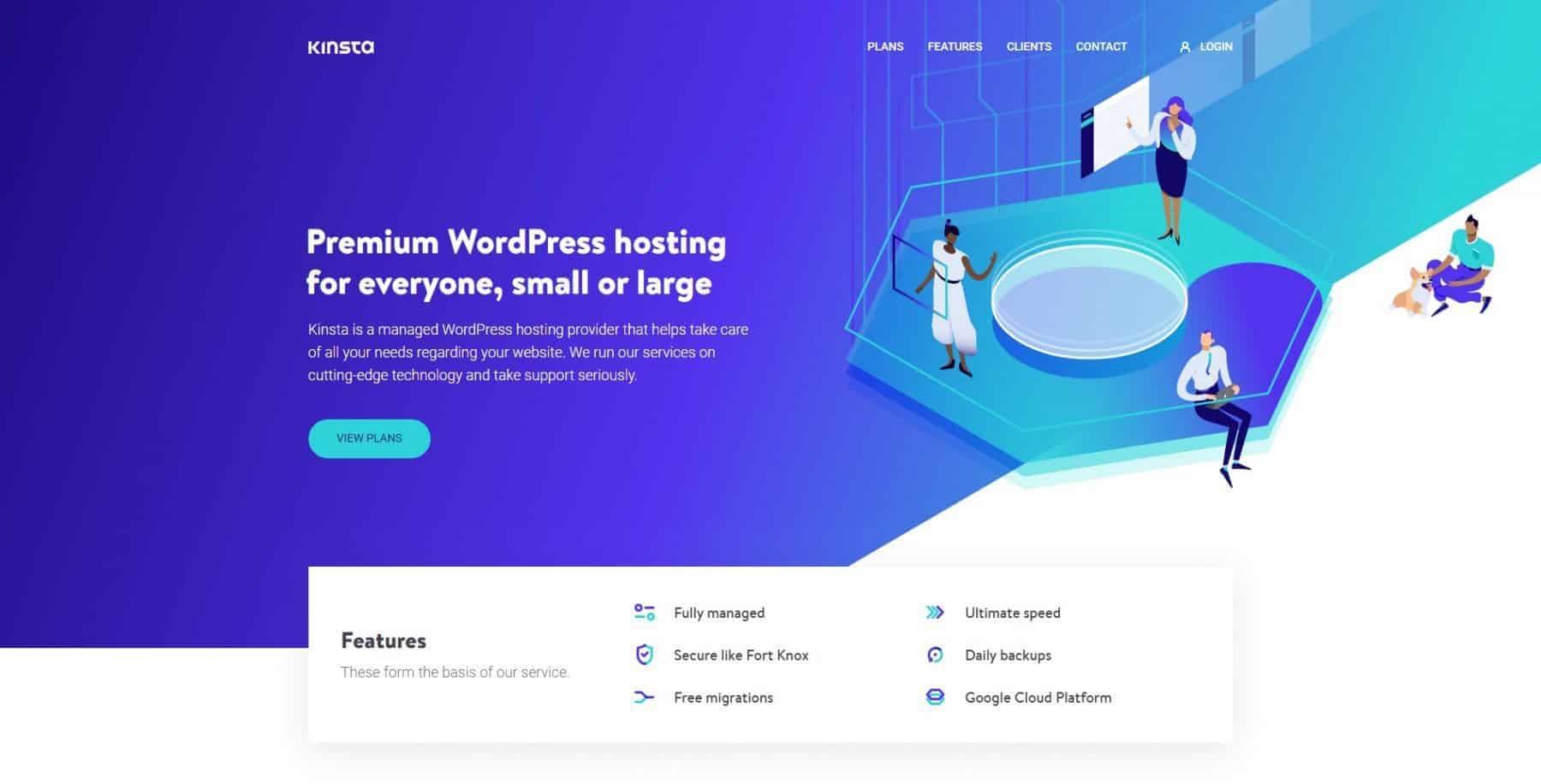 Entry-Level Plan Price: $30 per month
Response Time: 235 ms
Uptime: 99.8%
Kinsta bills itself as a company built by skilled developers for the benefit of digital marketing agencies, graphic designers, lean startups, entrepreneurs and in-house design teams. The company has earned a place in the hearts of many in the marketing and design communities by offering a power-packed set of hosting services in a way that makes them accessible to folks who don't have doctorates in computer science. Most important, though, Kinsta is part of a small class of providers that are solely focused on being WordPress-specific hosting companies.
At Kinsta, you'll find:
Shared hosting
Cloud hosting
Managed account options
Tier 1 support is readily available, and tech-savvy WordPress experts are waiting to assist you. They don't sell domain names, though, so you'll have to deal with the somewhat messy task of hooking a domain up to a site. On the bright side, however, Kinsta makes it super easy to:
Setup staging sites
Transfer a single site to a customer's account
Automatically do daily backups
They also have technical staff on hand to assist you with performing a site migration, and this service is provided at no cost. If you're looking for a company that's focused on helping you, as a designer, create a WordPress site rapidly and hand it off to someone else, it's hard to beat Kinsta.
Best for High-Growth Businesses: WP Engine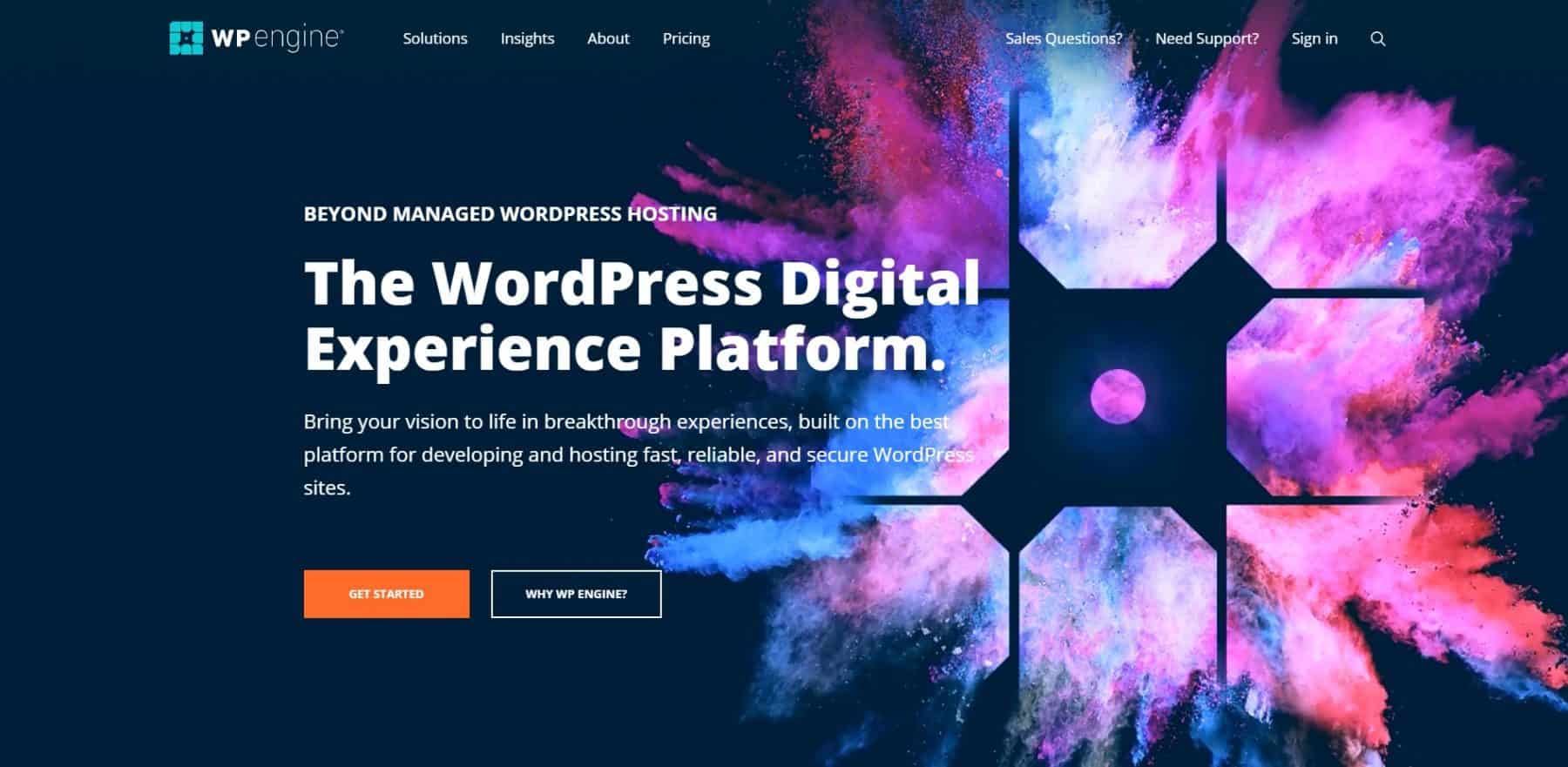 Entry-Level Plan Price: $35 per month
Response Time: 650 ms
Uptime: 100%
WP Engine got its start as the earliest of the major WordPress hosting companies, and not surprisingly, it retains a good reputation in the eyes of early engineers who adopted it. The company has moved away from the entry-level user as its target, something that's evidence in its relatively high entry-level price offerings. They scale up pretty rapidly, with the next tier at $115 per month, and the top tier costing $290 per month and is built for those with high traffic requirements.
Those represent really good deals if you're looking to rapidly scale up to hundreds of thousands of visitors per month. All packages with WP Engine include multisite hosting, and the company has global data centers available. For folks starting out, though, the price can be a bit steep.
Customer support at WP Engine isn't great, especially at the lowest tier. The company only offers 24/7 phone support to the two higher tiers. They're a U.S. company that has been in the WordPress hosting market space a long time, though, and that can mean a lot to customers who value experience. The 60-day, money back guarantee from WP Engine is also a nice throw-in for those who want to start projects without taking on a lot of risks.
Best for Designers: Flywheel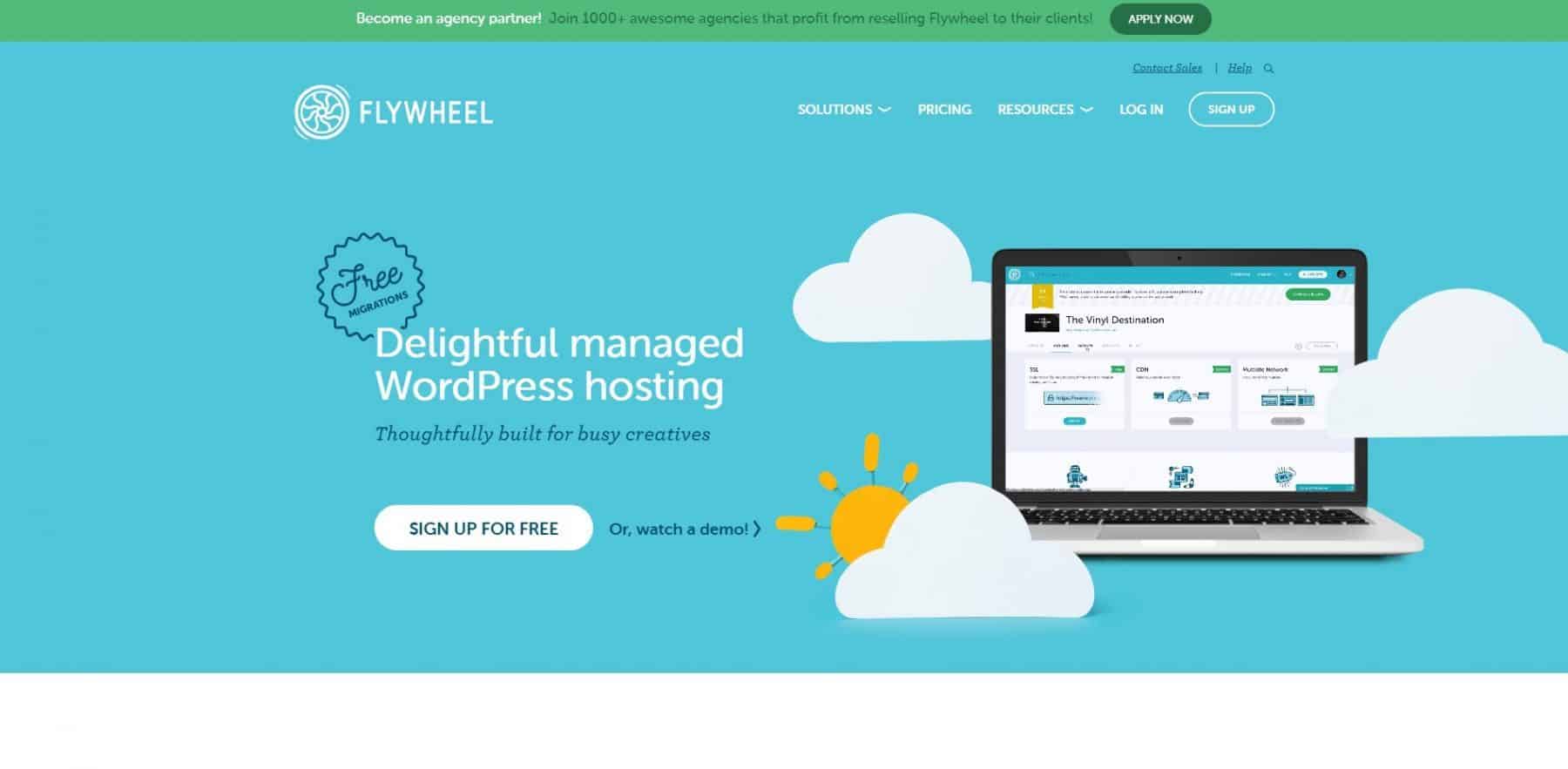 Entry-Level Plan Price: $23 per month
Response Time: 700 ms
Uptime: 99%
Flywheel is among the newer class of WordPress hosting companies that place an emphasis on being accessible and friendly. In this case, they're focused on providing a platform for designers and marketing agencies. The managed hosting side of the business is entirely their problem, and they want you to be able to commit all your energies to designing great sites.
Pricing is a bit better than similar entrants in the same class. The tiered price structure follows a pattern similar to the bigger web hosting companies like WP Engine, and Flywheel also offers:
A free SSL certificate
Free site migration
Staging sites
Access to a number of themes
The support of techs knowledgeable in PHP 7 and WordPress
Numerous learning resources for their customers
Response times tend to clock in a bit slower than some of the big players, but 700 ms is still better than the recommended minimum of 1,000 ms. One huge plus, though, is that the company is exclusively committed to providing managed WordPress hosting plans. That's it. They offer nothing else.
Like other competitors that target agencies and employ staging sites, transferring a hosting account to a client is a breeze. If you see yourself as most a designer, a marketer or as part of an agency, this is the hosting platform you'll want to look at first in your search. It's as close to a one-click WordPress hosting solution as you're going to find.
Best for WooCommerce: LiquidWeb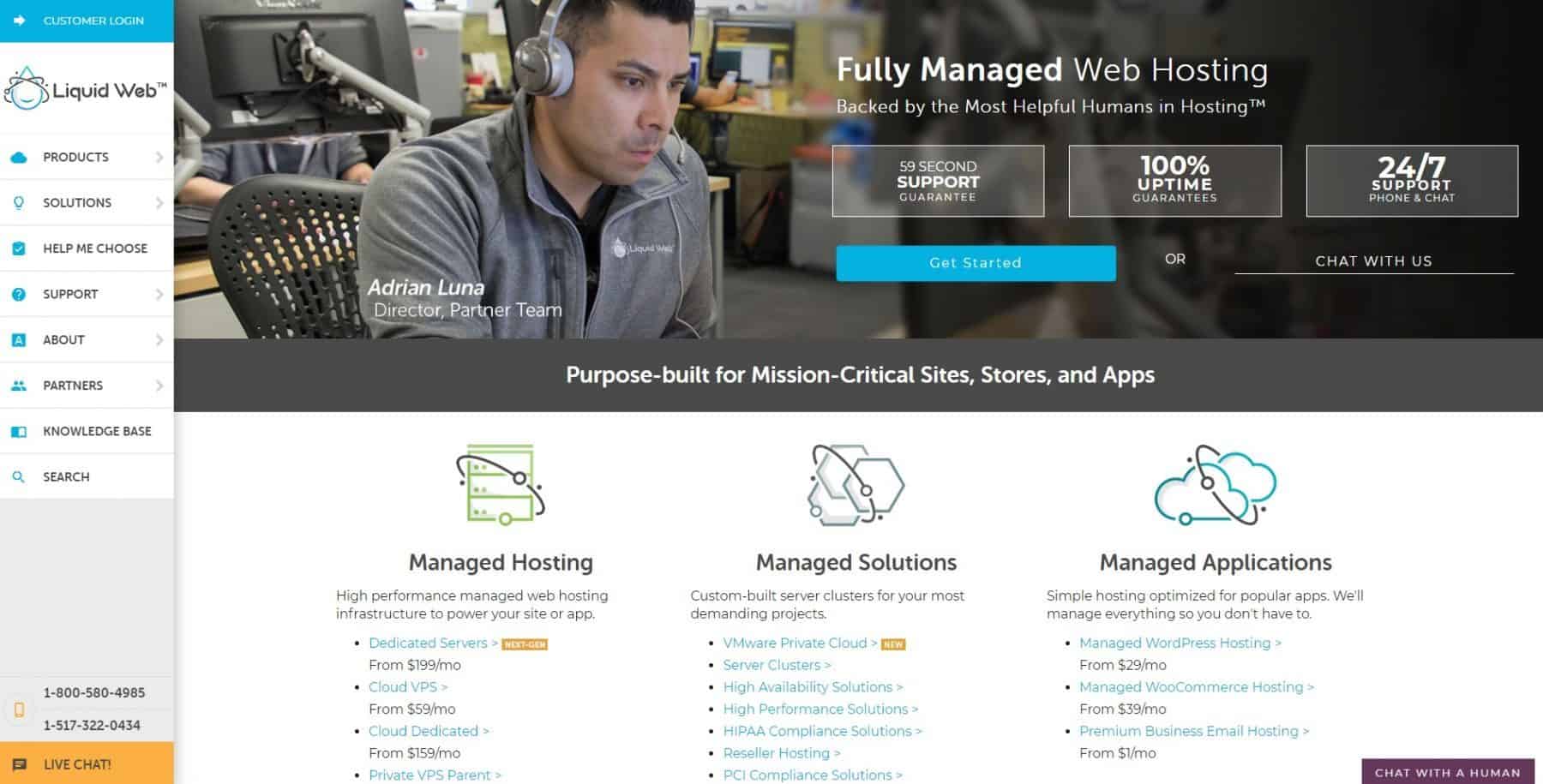 Entry-Level Plan Price: $29 per month for WordPress and $39 per month for WooCommerce
Response Time: 152 ms
Uptime: 100%
View LiquidWeb WordPress Plans
WooCommerce is a plug-in for WordPress that allows users to create fully featured e-commerce websites. Given the potential challenges in getting such a site up and running, it's good to have a managed support team there to assist you in ironing things out. Liquid Web also has a reputation for being a developer-friendly hosting solution. If you're worried about having access to the nuts and bolts of a WordPress website, Liquid Web is a very appealing hosting option.
If you're tackling a project like this, you're probably doing so with the support of someone who knows how to code. They'll be glad to hear that LiquidWeb also provides access to:
VPS servers
Cloud hosting
Dedicated servers
Server clusters
Liquid Web is, in some ways, the antithesis of what companies like Flywheel and Kinsta are trying to be. Rather than making everything super easy for designers, they' offering speed, power and low-level access. You can get your hands dirty with things like:
An SSH shell
A bundle free SSL certificate
Git version control
Direct access to the MySQL database that drives WordPress
At the same time, there's a load of automation and support. For example, plugins and the WordPress core are both regularly updated. Site maintenance is included, too. There's a dashboard build to make site management simple and to give users access to analytics for their sites.
If you're looking to get serious with the WP engine and e-commerce, Liquid Web has a lot to offer. Anyone running a small business with an online shop should start their search at Liquid Web.
Best for Cheap and Fast: A2 Hosting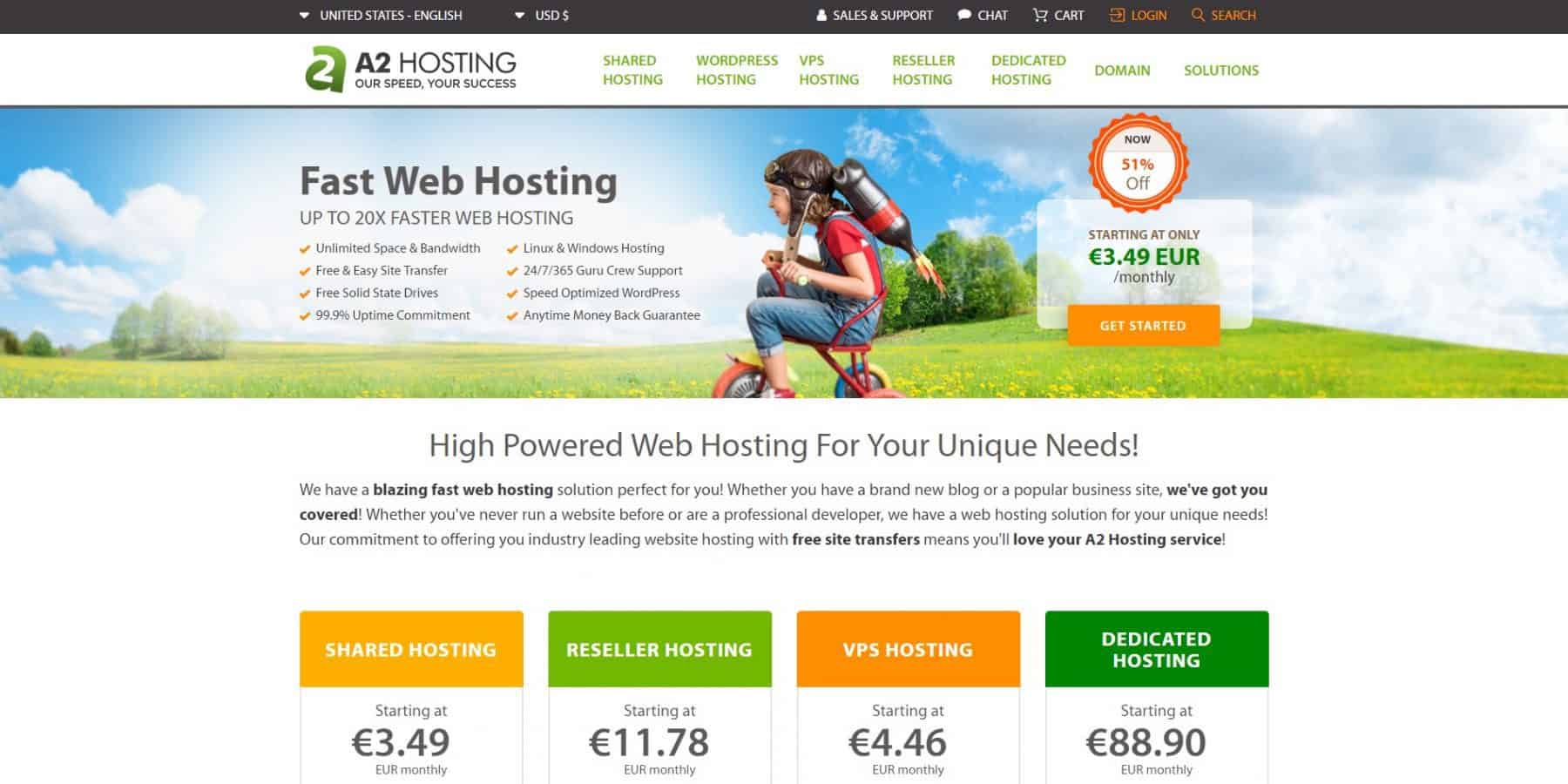 Entry-Level Plan Price: $3.92 per month
Response Time: 1730 ms
Uptime: 99%
A2 Hosting offers a dirt-cheap package that has no limits on data transfer or visitors. Physical memory for even the less-cheap plans is painfully low, though, at between 512 MB and 2 GB, numbers that other WordPress hosting providers have been down in for nearly a decade. Other than managed DNS assistance and site migration, there isn't much free support available for working directly with your site, either.
The company does sell domains, and they also provide VPS hosting and dedicated servers. Your upgrade path, though, is entirely yours to deal with, something to be expected for the price.
Their servers will never be accused of being lightning fast, but they're not horrid for the price. Email hosting is included, and folks who want to get into their servers as admins can use cPanel. You can also utilize a different CMS besides WordPress on your site. They also offer the option to choose from data centers in the US, Europe and Asia. Even taking that fact into account, do not expect great page load times.
If you're dealing with older WordPress code, A2 Hosting does include at least one interesting option. They allow you to choose versions of PHP going back to 5.5. You also will have support for MySQL, Node.JS, SSH GIT, Python and Ruby. If you're somewhat competent as a developer, that's a lot to offer for a WordPress site hosting package that's this cheap.
We wouldn't recommend this package to anyone who doesn't have some tech-savvy. Designers, marketers and agencies should be wary unless they have a coder they're comfortable working with.
Best for Top-Tier Cloud Hosting Options: Cloudways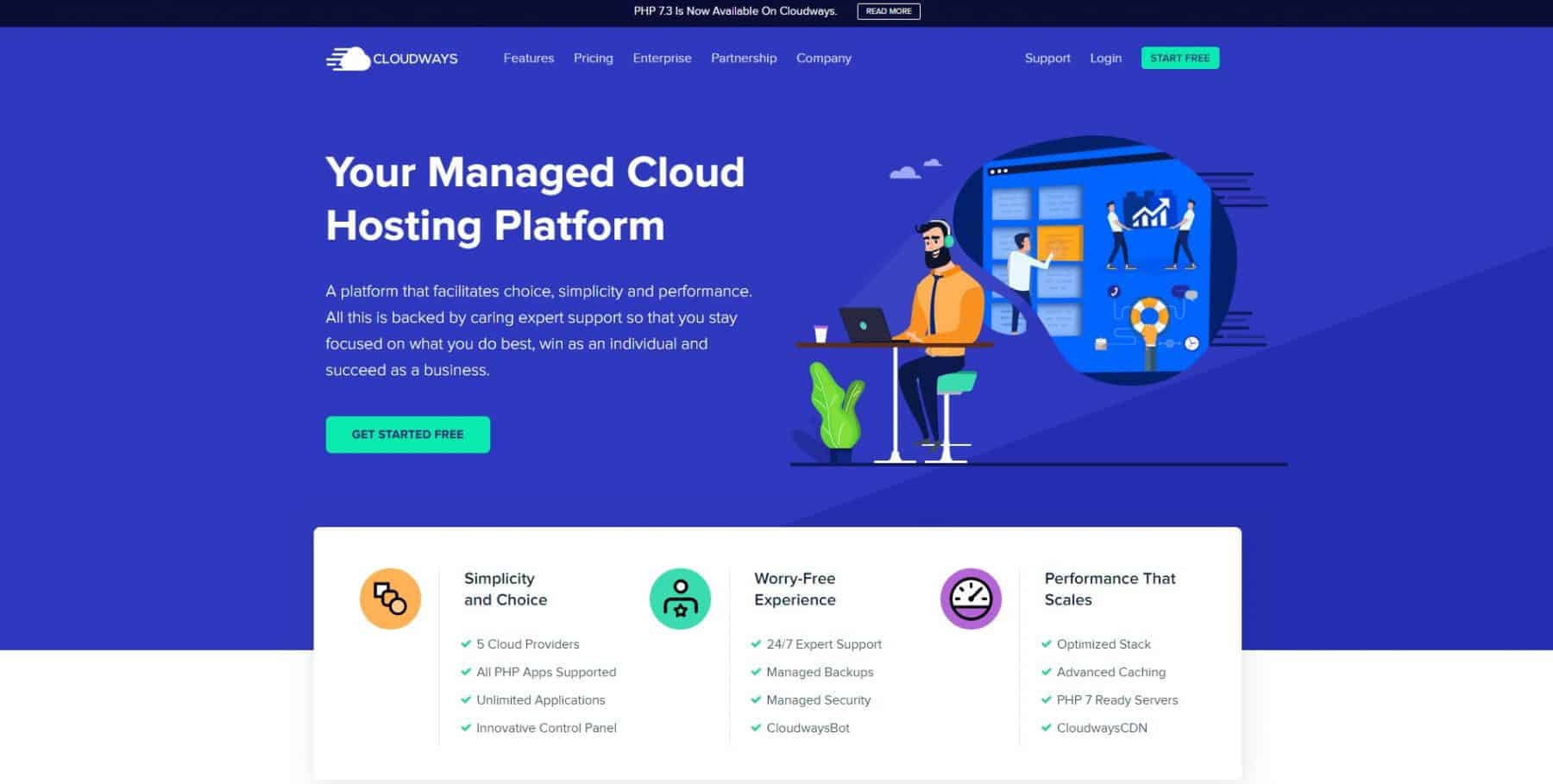 Entry-Level Plan Price: Somewhat unclear
Response Time: 580 ms
Uptime: 100%
Putting top-tier web hosting technology to work can be a challenge for folks who don't have development or programming backgrounds. Cloudways is a web hosting service that aims to give its customers easy access to technologies like:
AWS
Google Cloud
Digital ocean
All of this is backed up with the level of technical, administrative and customer support required to help designers, agencies and other non-developers put so much computing power to work. You get a modern software stack that utilizes:
The lightweight Nginx environment
MariaDB
Users who wish to stick with the old WordPress ecosystem of Apache and MySQL will also be glad to here Cloudways offers hosting plans that address their needs, too.
One big downside with Cloudways is the company doesn't do a great job of drawing a line straight from its pricing structure to a specific WordPress website hosting plan. This becomes even more convoluted when you realize that some options, such as using AWS, follow the cloud provider's metering structure. Amazon, for example, uses a CPU clock hour billing method that can make pricing variable and unpredictable.
With Cloud ways, you get a WordPress web hosting setup that leverages modern cloud computing technologies to provide both speed and stability. If you're looking for the best hosting available for the WP engine on the cloud, it's hard to beat Cloudways. The unpredictable pricing structure may put a lot of folks off, though.
Best for Entry-Level: Bluehost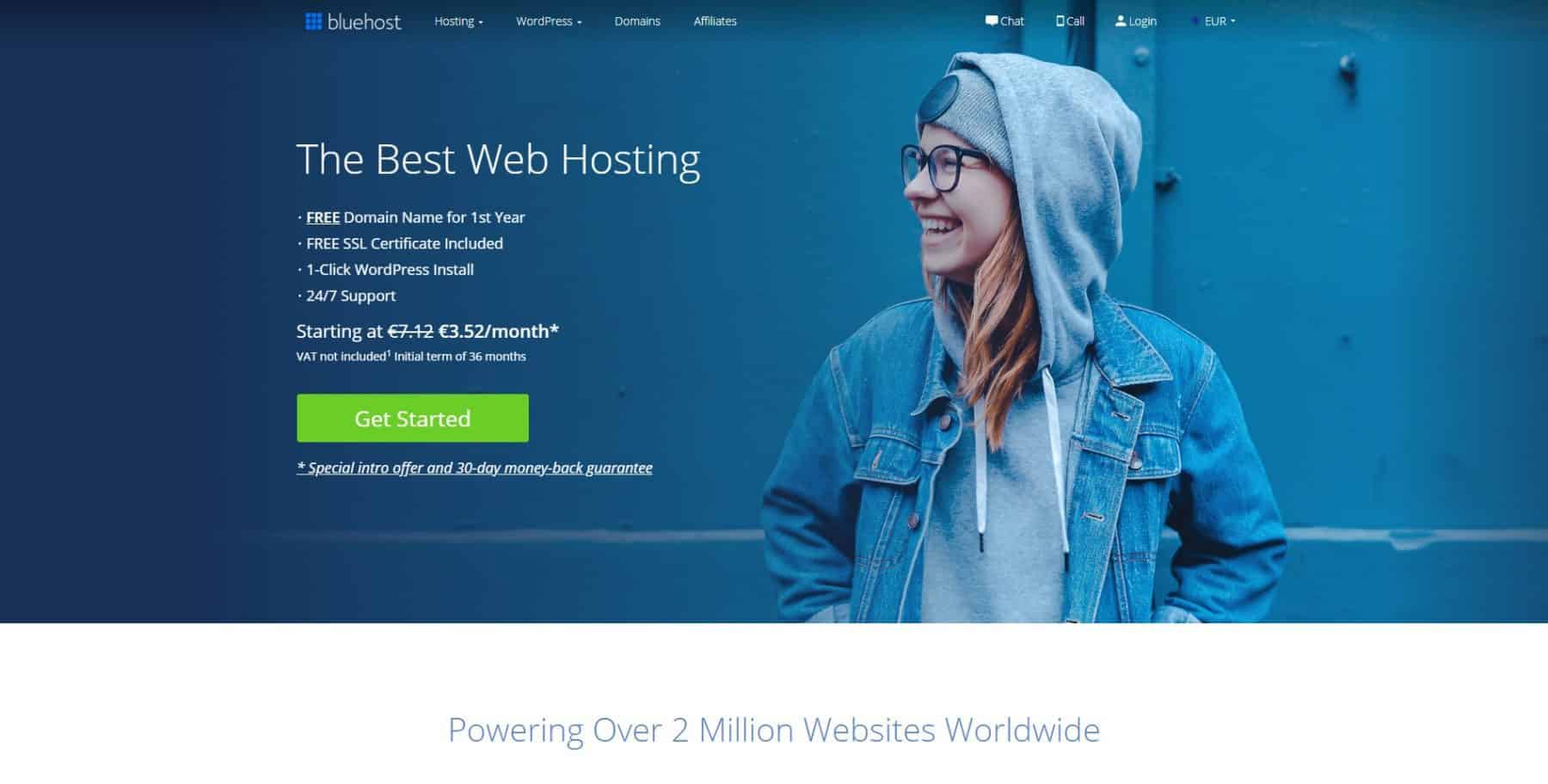 Entry-Level Plan Price: $7.99 per month
Response Time: 410 ms
Uptime: 99.99%
Bluehost is an old standby in the industry for many who've run at least one WordPress blog hosting account. They offer a free domain name for the first year, and of course, that also means they sell domains. You can also get a free SSL certificate through them. That's an upside for folks who want to keep all their stuff on a single hosting account.
At the low end, you 50 GB of SSD storage. For just about twice the price, though, you can go to one of their high-end hosting plans and get unmetered storage and unlimited websites on a single account. You'll also have access to a content delivery network to help you serve static files, such as images, PDF and HTML pages. Bluehost is also one of only three hosting companies that have been recommended as a partner by WordPress.org.
If you're looking for an entry-level option that provides a lot of bang for your buck, Bluehost is a great choice. You'll get solid speed and availability, and your site will be secure and regularly updated. It's an especially good choice if you're looking to do things like park domain names or produce multiple marketing sites.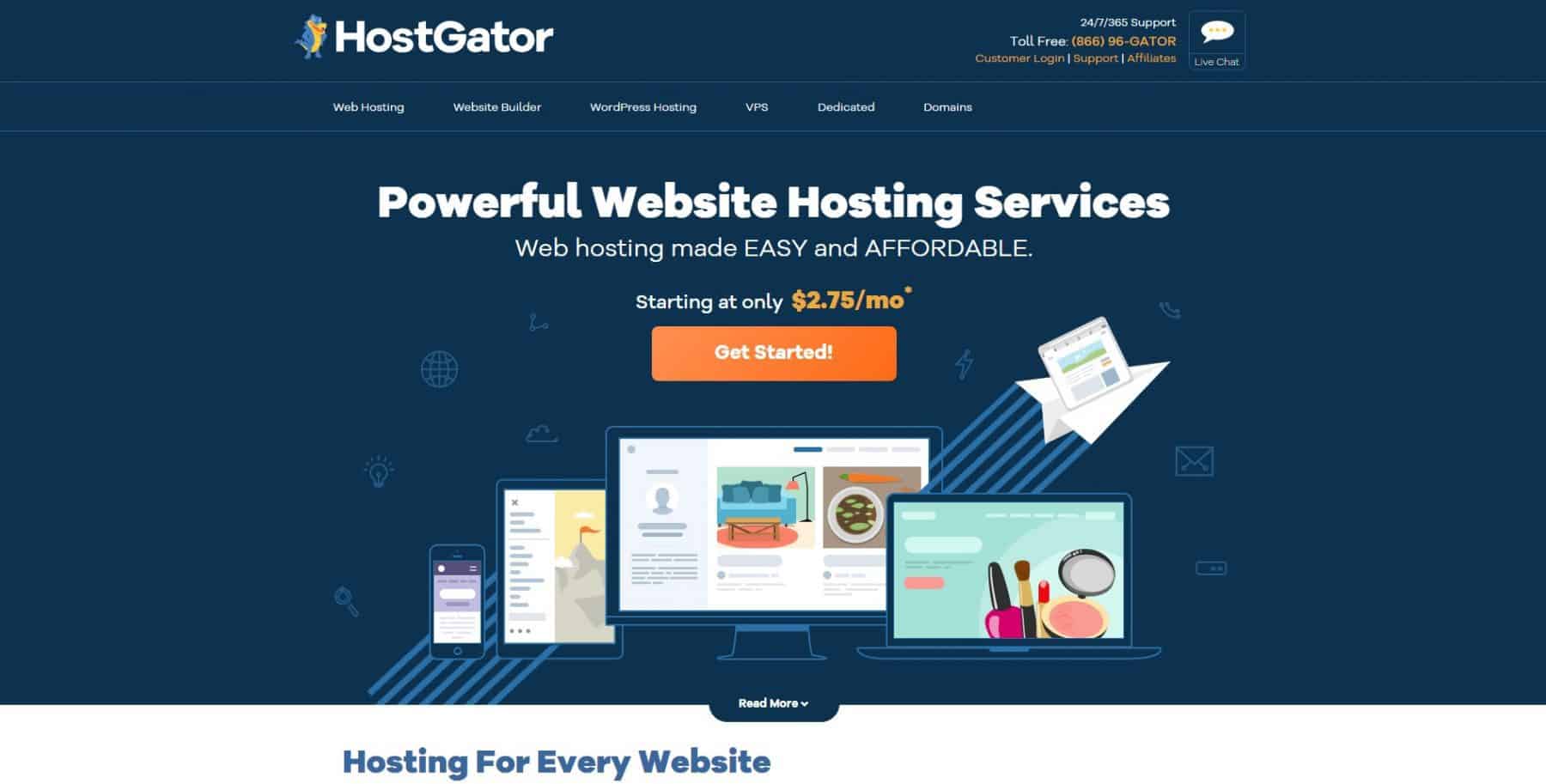 Entry-Level Plan Price: $5.95 per month
Response Time: 1400 ms
Uptime: 100%
HostGator is a web hosting standby that has been around since 2002, and it's trusted by many users. The cloud offering providers straightforward pricing, and plans can easily be scaled up as a small business grows. Response times are subpar, but uptime is excellent.
If you're looking for a boring and simple hosting plan at a fair price, HostGator will more than get the job done. Hostgator uses the tried-and-true cPanel as its dashboard. It's not a great environment for folks without development backgrounds, but it's an okay setup if you have someone versed in the old control panels used by most older website hosting providers. You won't get a blazing fast WordPress hosting package, but it'll do the job.
Best for Managed Enterprise: Pagely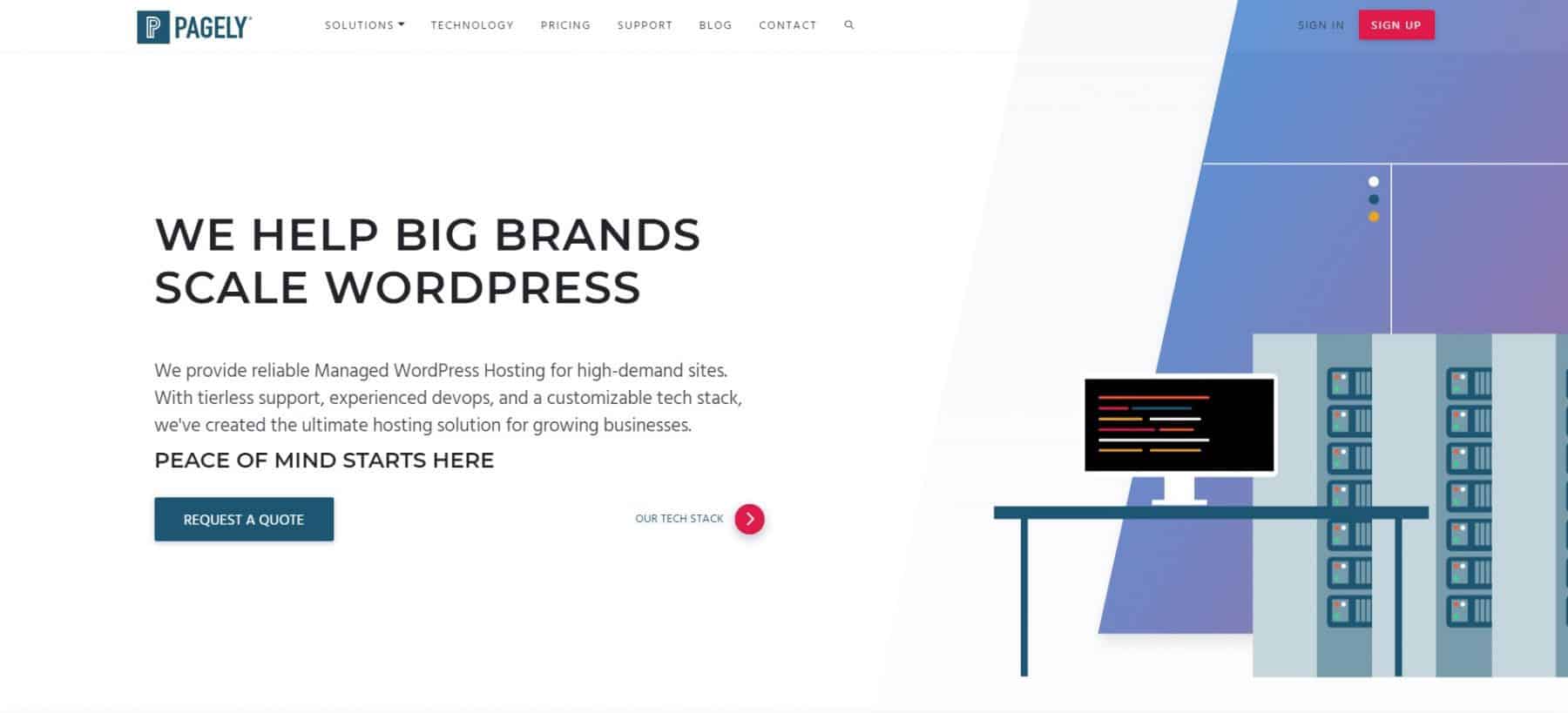 Entry-Level Plan Price: $199 per month
Response Time: 1400 ms
Uptime: 100%
If that $199 per month price for the cheapest setup from Pagely gives you some pause, you're probably not their target customer. Pagely is in the business of providing the best VPS for WordPress to enterprise-scale customers. Their offerings go into the thousands per month, and they offer bandwidth metering starting in the hundreds of GBs.
The configuration is intended to be highly secure and thoroughly managed. The support team is ready to help customers 24/7.
If you're looking for a high-end solution that gives you access to AWS cloud architecture, Pagely is a superb choice. They're not the best friend of startups and small businesses, but they're definitely a company you'll want to keep in mind as your demands grow. Eventually, you can hit an amount of traffic where it's more cost-effective to buy Pagely's "cheap" package than to keep escalating with other providers' high-end packages.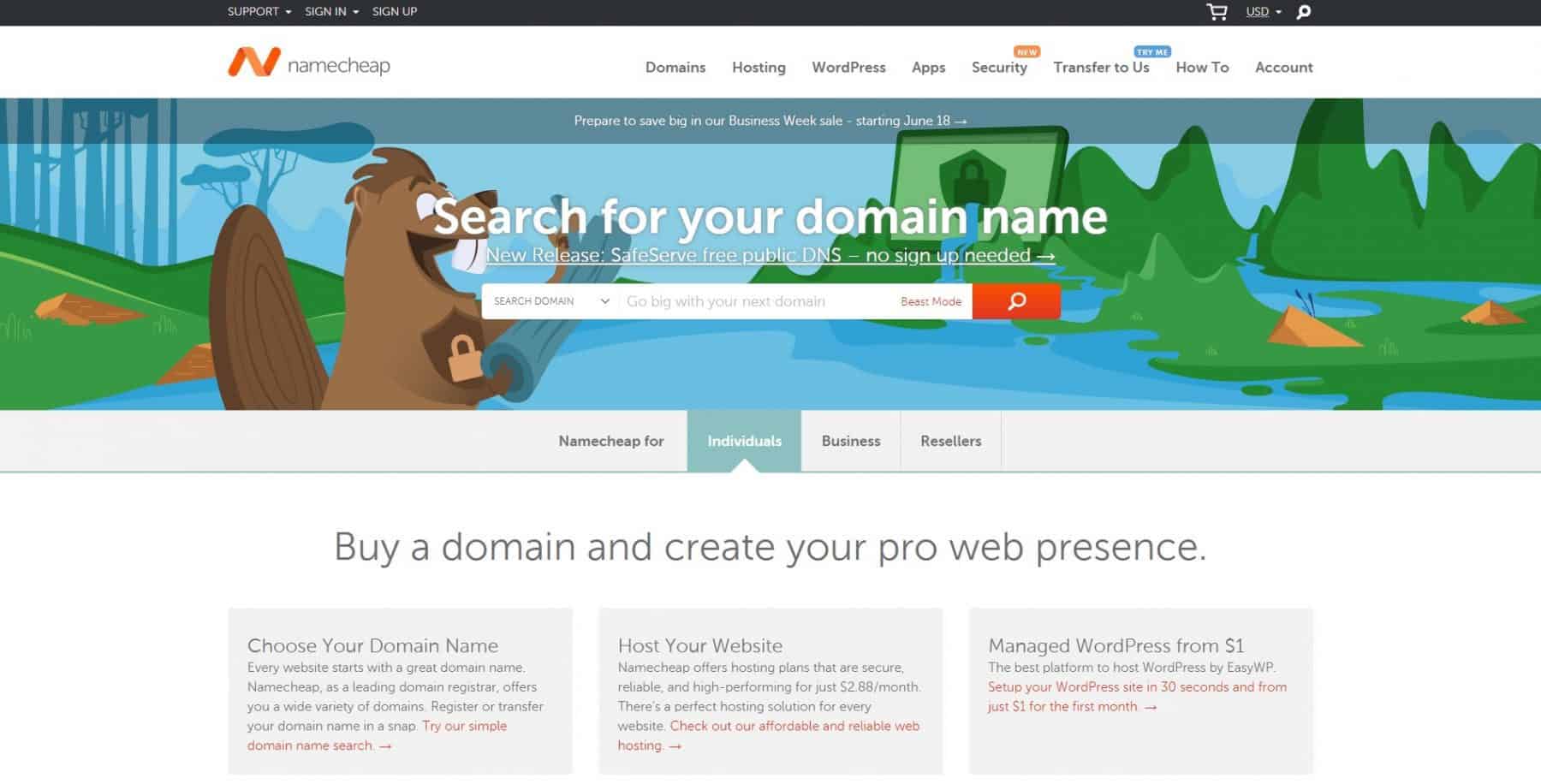 Entry-Level Plan Price: $3.88 per month
Response Time: 350 ms
Uptime: 99.9%
When cheap just isn't good enough for you, there's NameCheap. You do get a free domain name and free assistance with site migration, and that's not nothing. They offer shared hosting packages that deliver the expected performance.
Uptime is actually pretty decent for a company that doesn't always fair well in WordPress hosting reviews, as is responsiveness. You're not going to get a lot of assistance for basically four bucks, but you could do worse in this price segment. If you're not happy, you can also relax knowing they offer a 30-day money back guarantee, too.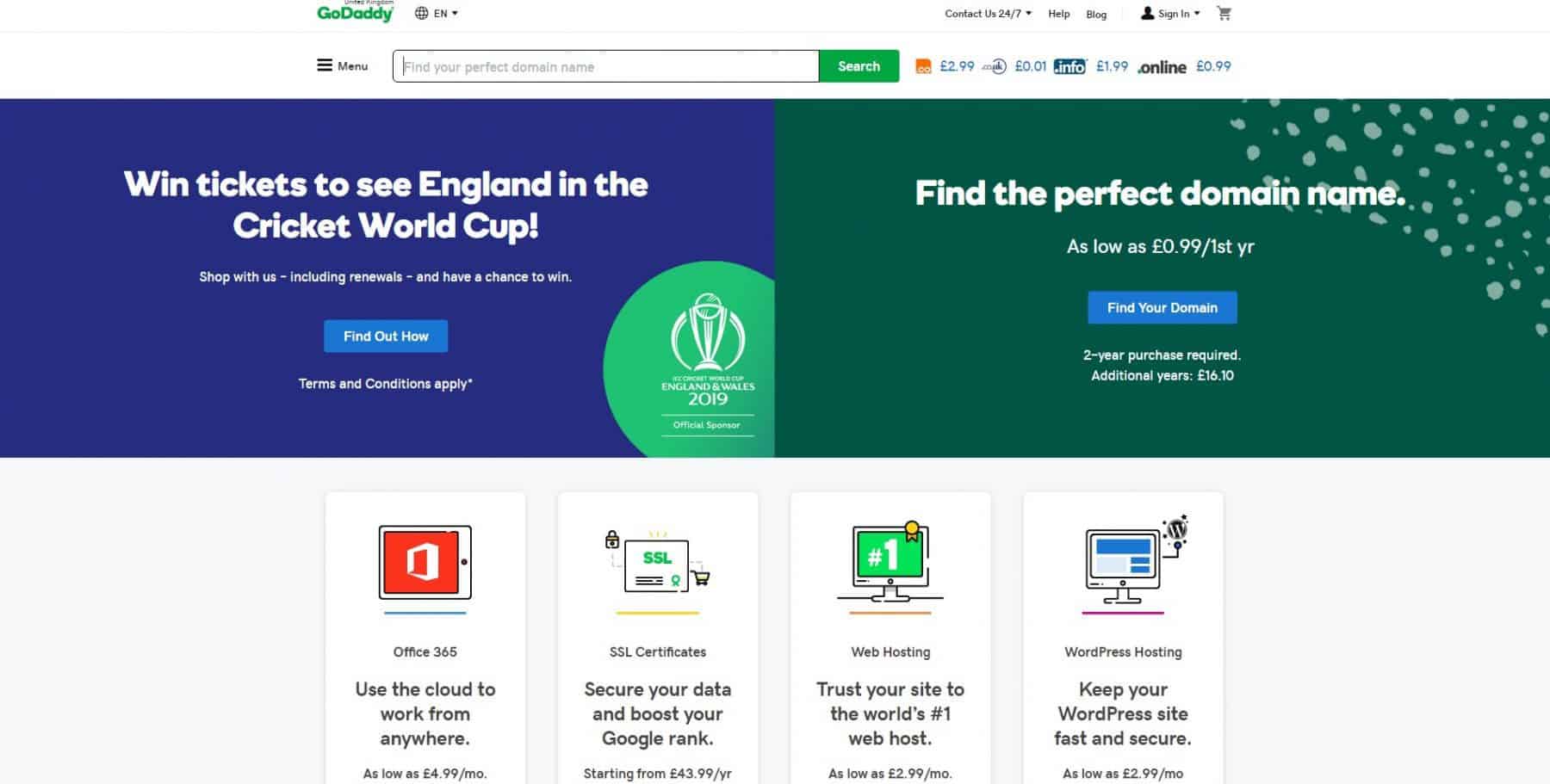 Entry-Level Plan Price: $9.99 per month
Response Time: 800 ms
Uptime: 99.8%
GoDaddy carved up a huge segment of the domain name market years ago. Not surprisingly, its offerings include hosting of WordPress blogs. They have many drag-and-drop solutions, and that may be compelling for folks who already have domains with them.
The company isn't really the cheapest or the fastest. They're not really top class in anything. If you have a number of domains with them, though, keeping all your work on one hosting account has its virtues.
WordPress Hosting Features to Consider Before Buying
You'll notice some themes that develop with the different hosting providers. Some companies are aimed at folks who need raw power and speed, while others are trying to sell services dirt cheap. others cater to particular segments, such as the ones that target agencies and designers by offering:
Staging websites
One-click publication
Free migration assistance
Free domains and SSL certificates
If you're worried about having a developer's level of control over a website, you'll also want to worry about things like SSH and FTP access, the availability of traditional control panels like Plesk and cPanel, Git version controls and access to the underlying database.
Pre-installed plugins are also a big deal. WordPress add-ons are never an easy thing to handle on your own. You may have something that worked fabulously in PHP 5.1 but now uses code that has been deprecated in version 7.3. Pre-installation and regular automated updating of plug-ins is the simplest way to avoid these kinds of conflicts.
Price isn't everything, but it matters. More importantly, being able to stick a toe in the water and see what the experience is like is a good idea. Keep an eye out for money back guarantees.
It's also helpful to understand some basic concepts. Let's take a look at a few of those.
What is WordPress Shared Hosting?
Shared hosting is widely considered the absolute low-end of hosting plans. A shared hosting system is a single instance on a server that provides hosting to every website through a single operating system. This means you're sharing memory space and CPU cycles with other people's websites.
More concerning, you're also sharing file system space with others. That makes your whole setup more vulnerable. Absolutely do not put an e-commerce site or anything that collects sensitive user data on a shared hosting setup. This approach should only be used for bare-minimum websites that need to be put up for the cheapest price possible. If you want to post a WordPress blog about trains, go crazy with shared hosting.
Shared options are also frequently limited. You may not be able to install your own plugins or even themes. Most will not give you SSH-level access, so developers can probably forget about them. Customizability is limited, and it's also usually hard to scale a hosting package up in a shared environment.
You'll probably get stuck migrating when you've hit the limits of your host. Worse, you may discover the limits of your host even on a slow day for your site. Remember, your resources are everybody's resources. It only takes one other user getting slammed to cause all the other sites on a shared host to slow down or even crash.
What is WordPress Cloud Hosting?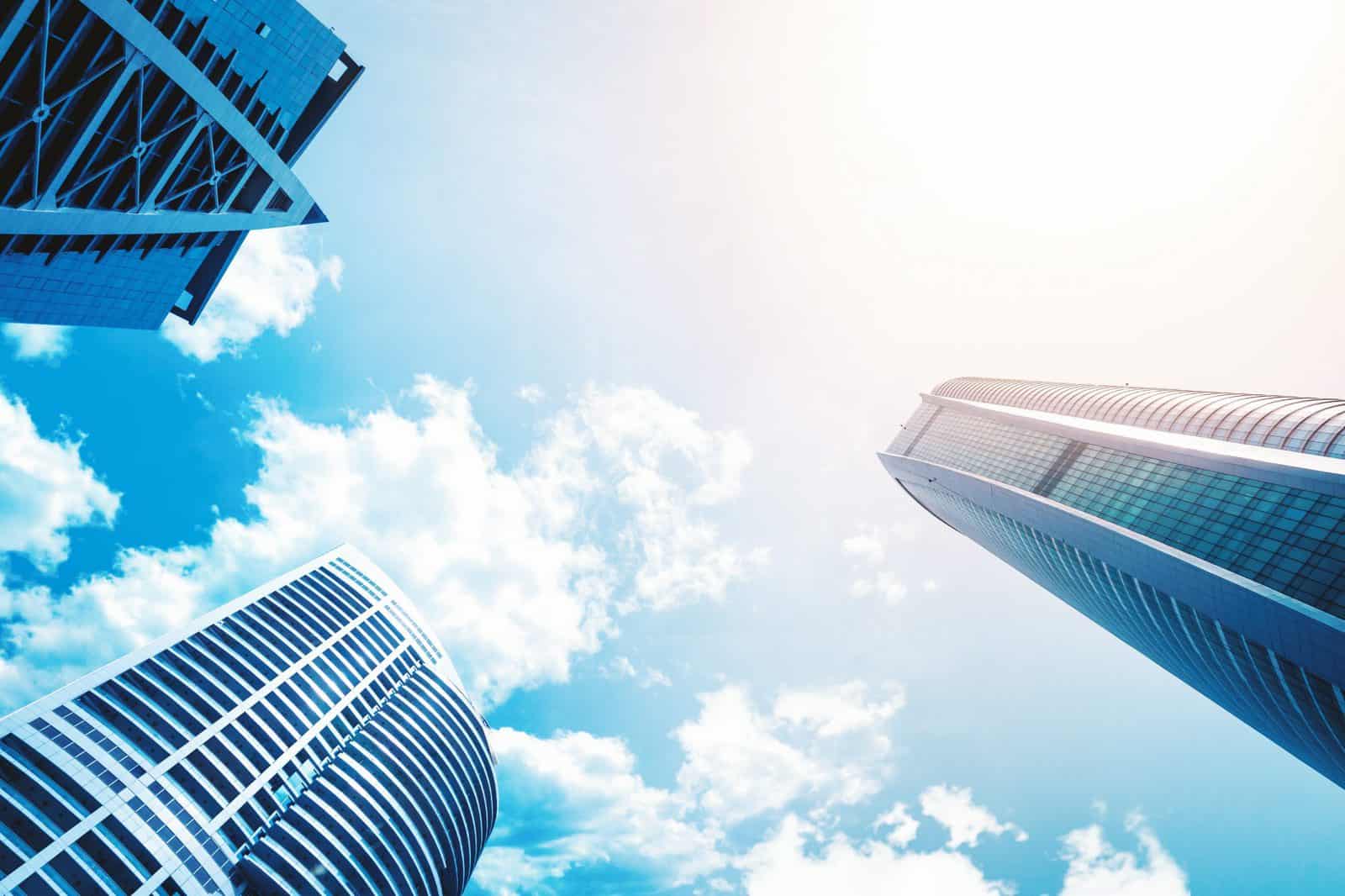 Cloud hosting is designed to utilize massive server farms to direct tons of resources toward tasks. This makes it a darling of the machine learning crowd, and it's also very popular with companies that provide Software-as-a-Service (SaaS). Essentially, WordPress is just another option for SaaS.
What's great about cloud hosting is that you can rapidly scale up or down in resources. This can be a real difference-maker for companies that have seasonal demands. If you're expecting massive traffic during the holiday shopping season, a cloud hosting solution will ensure that you'll have the resources needed to handle the load. Likewise, you can gain a speed boost almost instantly by just upgrading your account.
The major downside of cloud hosting is metered pricing. AWS, in particular, is notorious for unpredictable bills. It's a good idea to ask about predictable pricing before you sign up. A single undetected denial-of-service attack, for example, could leave you hanging with a massive bill.
What is WordPress VPS Hosting?
VPS stands for a virtual private server. A VPS essentially acts like it's an independent machine, but it's actually partitioned on a larger machine.
At first blush, this may sound like shared hosting, but it's not. The distinction is that on a VPS a section of storage, memory and CPU power is carved out for your virtual machine. It has its own operating system and file system, and these do not interact with anyone else's accounts. This means that your hosting account is vastly more secure and stable on the worst VPS than it is on the best shared account.
VPS is a good choice if you don't have the money for a bigger bill. It's not quite as good as having a dedicated hosting machine, but you'll rarely notice the difference unless you're getting bombarded with hundreds of requests per second.
What is WordPress Managed Hosting?
Managed hosting a big deal for anyone who doesn't have a ton of development experience. Even developers like having managed accounts because it means they have someone at the company who's ready to bail them out when there's trouble. If you're operating on an unmanaged account, you're no better off than if you were running a web server in your office.
One big thing to keep in mind with managed hosting accounts is that the quality of the support team matters a lot. Plenty of companies will say they offer managed support, but that's not going to help if it takes you 40 minutes to get a response from a human being while a virus is being flagged on your server by Google.
Generally, companies that bill themselves as being for the non-techies of the world do a better job with managed WordPress hosting. Designers and agencies aren't going to put up with a lack of support for long. They're just going to pull up stakes and go to another company.
Is Free WordPress Hosting Real?
Are free options available? Yes. They're not the illegitimate children of Bigfoot and the Loch Ness Monster.
Are they good, though? No.
Go back and read the section on shared hosting. Now hold all the ideas from that section in your head and imagine every possible thing working in a worse fashion.
There isn't going to be a managed support team waiting to assist you. In fact, you'll be lucky to get help from an AI-based chatbot. Yes, have one bad day with free hosting, and you'll be wishing for the days when you could speak with a non-native English speaker at a call center on the other side of the planet.
Free WordPress hosting is just a hard no. Not even once. Your code did nothing to you bad enough to deserve it.
A Note on Speed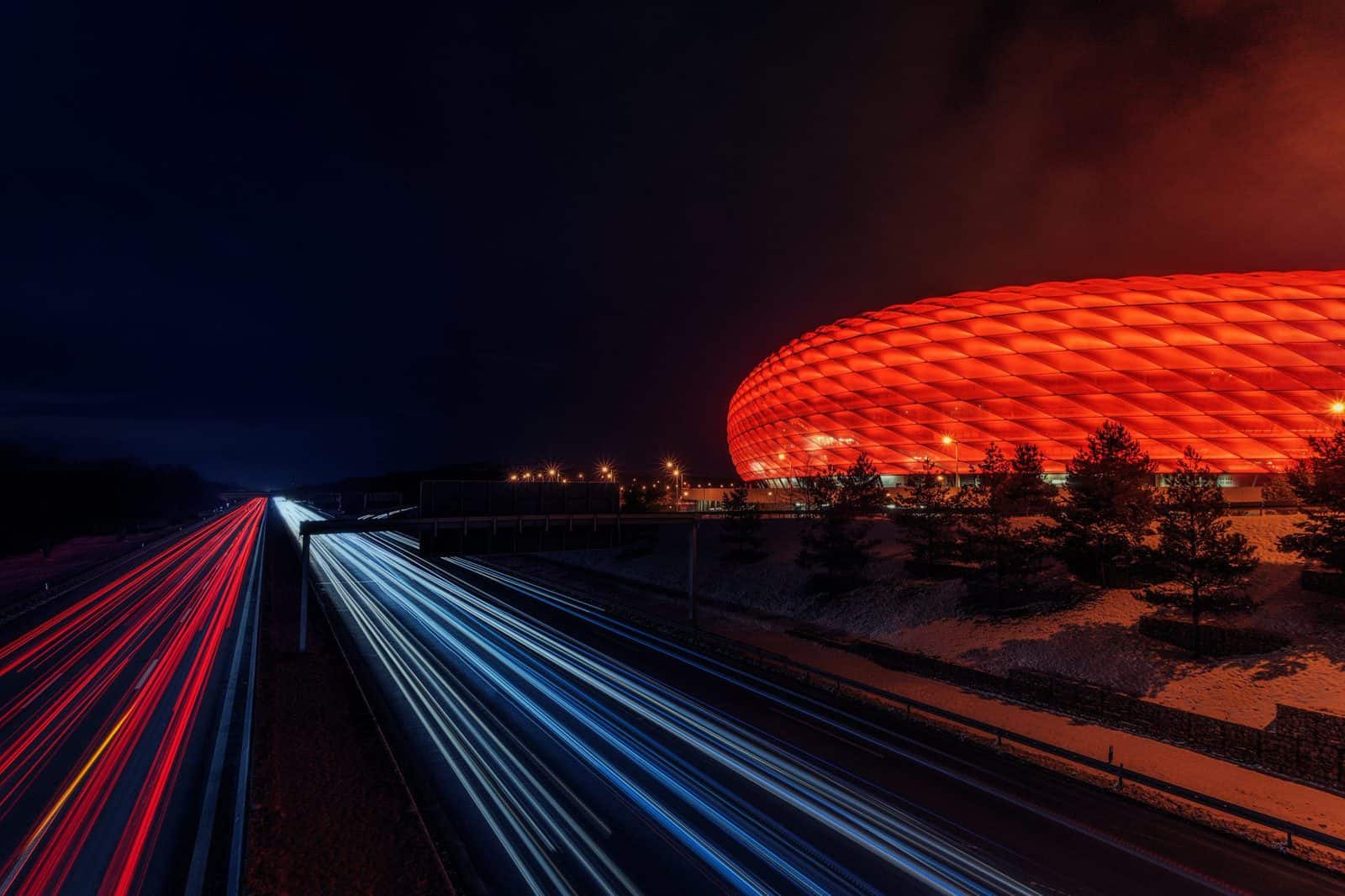 Speed counts for a lot, too. To be abundantly clear, load times for websites worldwide are terrible. Major retailers and automotive brands have sites that take 9 to 11 seconds to load. Most guidelines for performance suggest that users start abandoning websites after just three seconds. Only killer content keeps people around for 10 seconds.
In looking at the speeds we've listed, 1,000 milliseconds (ms) converts to one full second. On the first review, you might think, "Cool, all these speeds are below three seconds. I'm set! Give me the cheapest!"
Here's the problem: response times only tell you how long it takes a browser and a server to process what's called the HELO request. This merely lets Chrome, Firefox, Edge, Opera or Safari know that a specifically requested resource is present and will be served. In other words, that's how long it takes for the server to pick up the phone and say, "Hello, you've reached a WordPress site running on a LAMP stack."
When you add WordPress to the pile, you're adding computing time. The PHP code for the WP engine takes some milliseconds to process every task. Throw in some plug-ins and a theme to make it even slower. If there's Javascript running on the page, such as from an off-site analytics package, you're now adding full seconds.
Suddenly, the difference between a 200 ms load time and a 1,400 ms load time seems relevant. Especially if you're running a heavy setup, that extra second may be the difference between visitors seeing your content or leaving.
Conclusions
Finding a WordPress host is a balancing act. You obviously want to get as much support, speed and functionality as you possibly can for your dollar. That will, of course, be limited by exactly how many dollars you can afford to shell out in a given month.
In general, you should be looking at options like:
VPS
Dedicated servers
Dedicated WordPress hosting
Cloud-based hosts
None of these is a perfect solution, but they're generally outperform anything you see in the free or shared sectors.
You also should take an inventory of your requirements. An in-house developer keeping a single website up and running is going to have very different needs than a designer at an agency. The developer wants to have a single setup they'll have lots of control over, getting things like SSH, FTP, MySQL and Git. The designer, on the other hand, may benefit immensely from a setup that allows them to hand an account off lock, stock and barrel to a client within a few months.
With a short self-assessment, though, you can quickly establish your requirements. Build a written checklist and review the contents of this article. Make sure to include the dread budget line item, too. By comparing your checklist against the strengths and weakness of each hosting company, you'll figure out pretty fast which one or two are most suited to your needs.
Last Updated on July 18, 2019 by Joe