Cheap dedicated server hosting – it's a dream for companies that want a server all to themselves, but don't want to spend a whole lot.
Is it possible to balance performance and cost?
Let's find out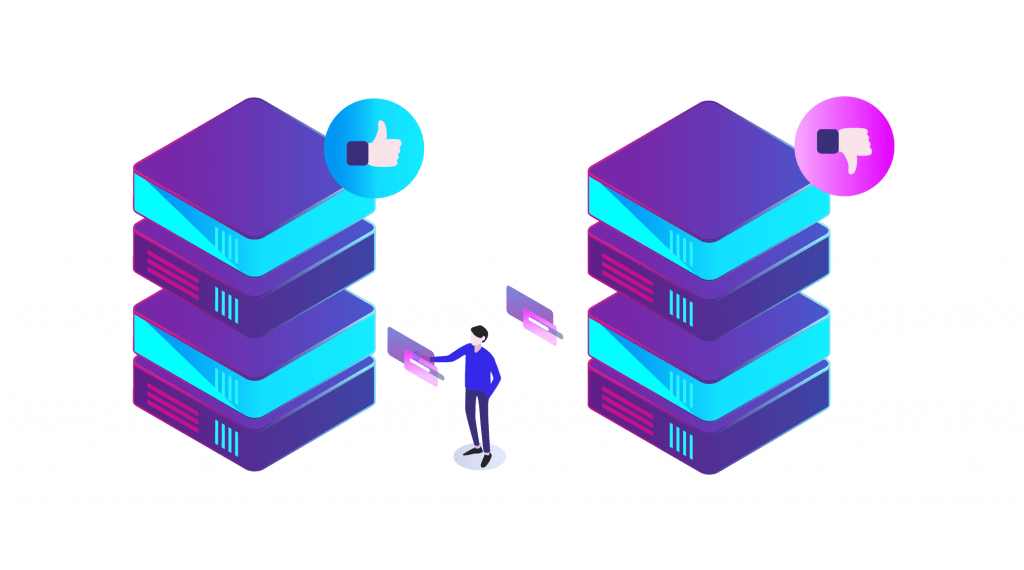 As online server hosting options go, dedicated server hosting represents close to the highest tier available.
That's especially the case for anyone interested in finding cheap dedicated servers. There are loads of company in the market today that are happy to rent server space to you, but finding one that can meet your needs may feel like a challenge. Let's look at some of the top cheap server hosting providers out there, and then we'll also discuss what dedicated hosting is and how you might benefit from using it.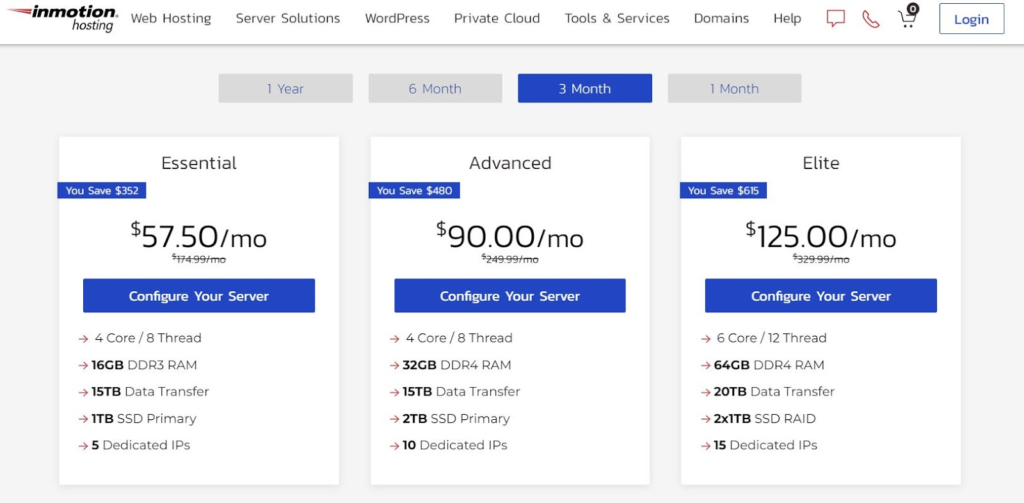 Lowest Price: $57.50 per month
Response Time: 640 ms
Uptime: 100%
InMotion Hosting makes an appearance on all kinds of lists of the top web hosting providers so it's not surprising to see them make an appearance on a list of high-quality and cheap dedicated server companies. They offer relatively modern Intel Xeon CPUs with each of their servers, but you'll get the most modern options with the most expensive packages that cost $439 and $559 per month. If you go up to the most expensive hosting plans, you'll also be able to lock in a lifetime discount. There is also a money-back guarantee of 30 days when you initially sign up.
Circling back to the cheapest choice, you'll get a dedicated web server that includes:
16 GB of DDR3 RAM
1TB SSD
15 TB of data transfer
5 free dedicated IP addresses
Two hours of free managed hosting assistance
Notably, the company also provides what it calls Launch Assist, a program where new customers are given one-on-one help with a full system admin, if necessary. Response time on InMotion's servers are a tad slower than ideal, but the company delivers rock-solid stability. If you require some degree help setting your server up and want as consistent of availability as possible, InMotion Hosting is a superb choice.
View full InMotion Hosting review
2. Bluehost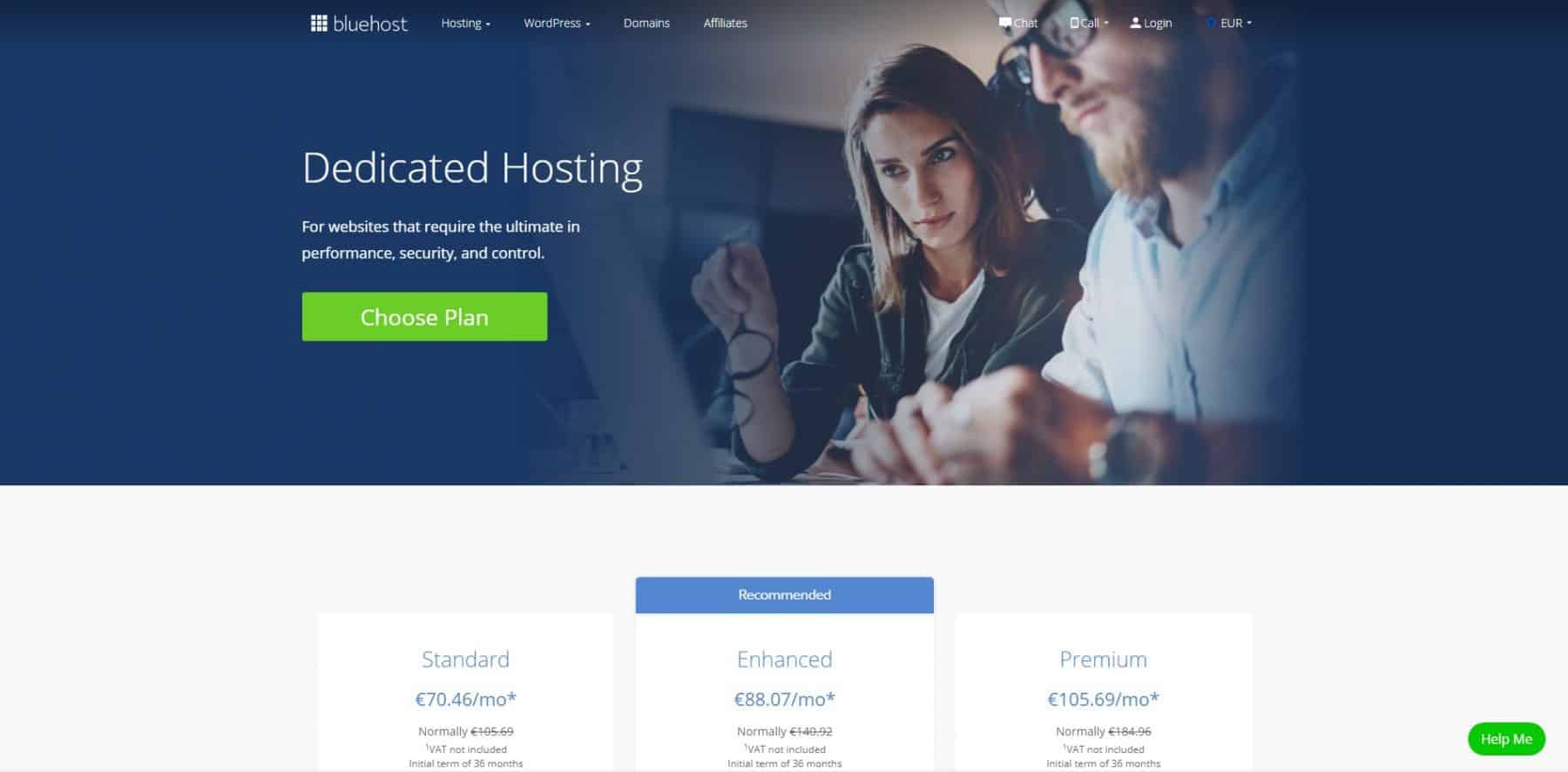 Lowest Price: $79.99 per month
Response Time: 415 ms
Uptime: 99.98%
Moving down a bit in price among the cheap server hosting providers, we get to BlueHost. They provide slightly better response times and slightly worse uptime, but both figures are well within acceptable parameters for server responsiveness. With Bluehost, you'll get:
A four-core CPU
500 GB of mirrored storage
Four GB of RAM
5 TB of data transfer
Three IP addresses
Notably, the company's second tier provides 1TB of mirror storage and twice as much RAM and bandwidth for only $20 more. That still makes Bluehost's second pricing tier very reasonable as cheap dedicated servers go. The upshot is that you have the ability to trim down the available resources and save a few bucks if you really don't need the extra power.
Bluehost offers a free domain name with a hosting account for the first year. You can also set up a free SSL certificate. If you're not 100% sure, they do have an industry-standard 30-day money-back guarantee, too.
On the downside, managed support isn't included with the low-cost options. Also, it's not possible to set up Windows dedicated hosting with them. This means you need to be knowledgeable in using SSH to work with a Linux dedicated hosting environment using a remote command-line interface.
A Bluehost server rental may be a good way to save a few dollars if you're technically savvy. For folks running marketing and design agencies, it might be a little tricky unless they have coders and sysadmins around to assist them.
3. Liquid Web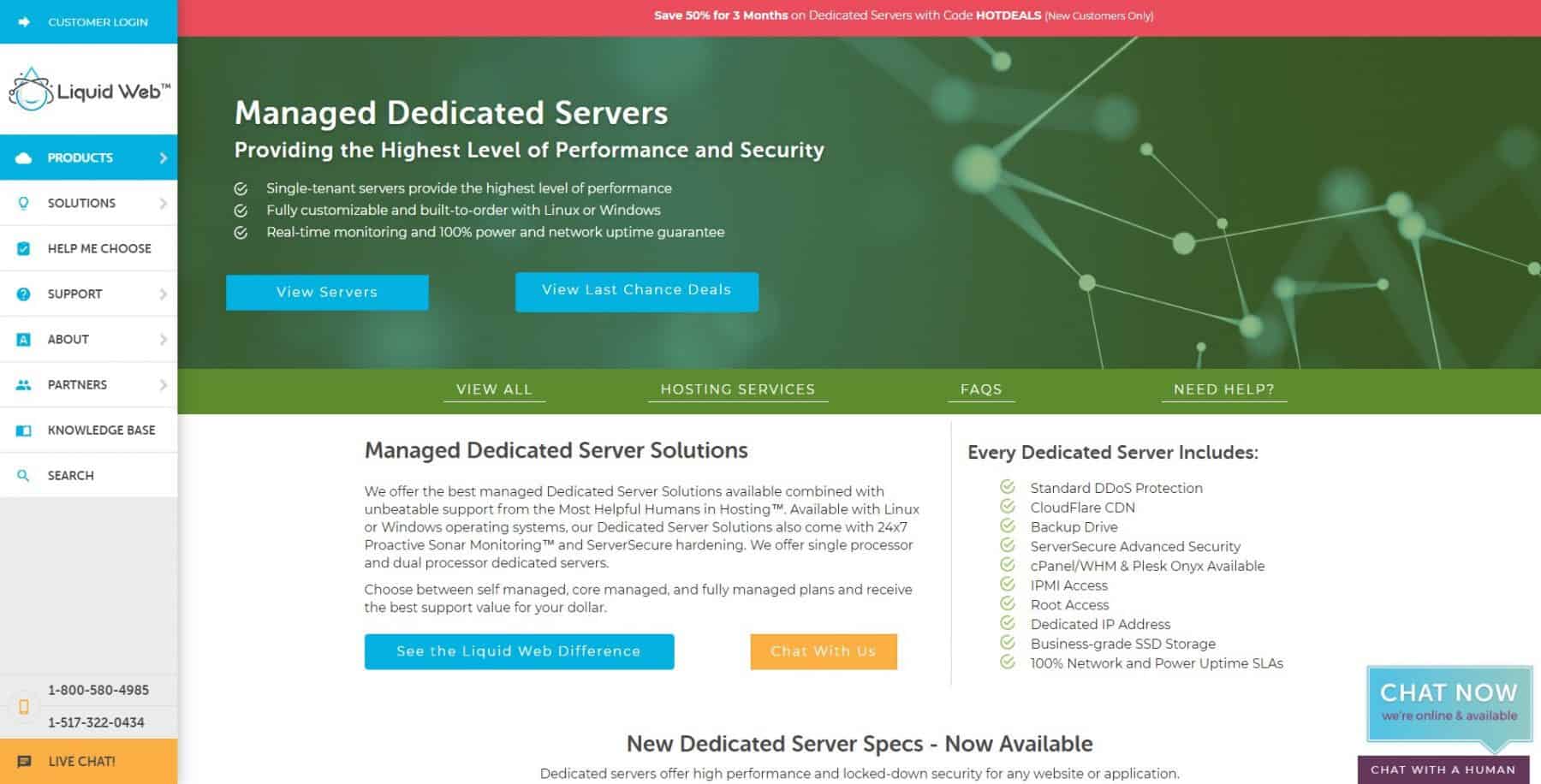 Lowest Price: $199 per month
Response Time: 741 ms
Uptime: 99.97%
When it comes to online server hosting, the offerings from Liquid Web might not scream cheap. You have to take a closer look at what's on offer, though.
Starting at nearly $200 a month, Liquid Web isn't going to be seen absolutely as the best cheap dedicated server on the market. You have to consider, however, that the lowest-tier system includes a four-core CPU, 16 GB of RAM, and two SSD drives with 240 GB of storage space.
Also, every setup can be fully customized to your needs. Liquid Web is happy to add an additional CPU on its more expensive plans, and that means you can actually max a setup out at 32 total Intel Xeon cores. Whether you want a Linux-based system or a dedicated Windows server, the staff at Liquid Web is prepared to design a machine that's tailored to your specifications. This means you can load software choices like Node.JS, FFmpeg and other solutions that break away from the industry-standard LAMP stack, too.
Services through the web hosting company are also fully managed. You won't lay out a chunk of cash and end up left with a brick.
Liquid Web is great for folks who want a relatively low-cost way to deploy a ton of power. If you have a retail site that's expanding and is getting hundreds of thousands of hits each minute, for example, Liquid Web will provide you with a very future-proof way to obtain cheap dedicated hosting.
4. 1&1 IONOS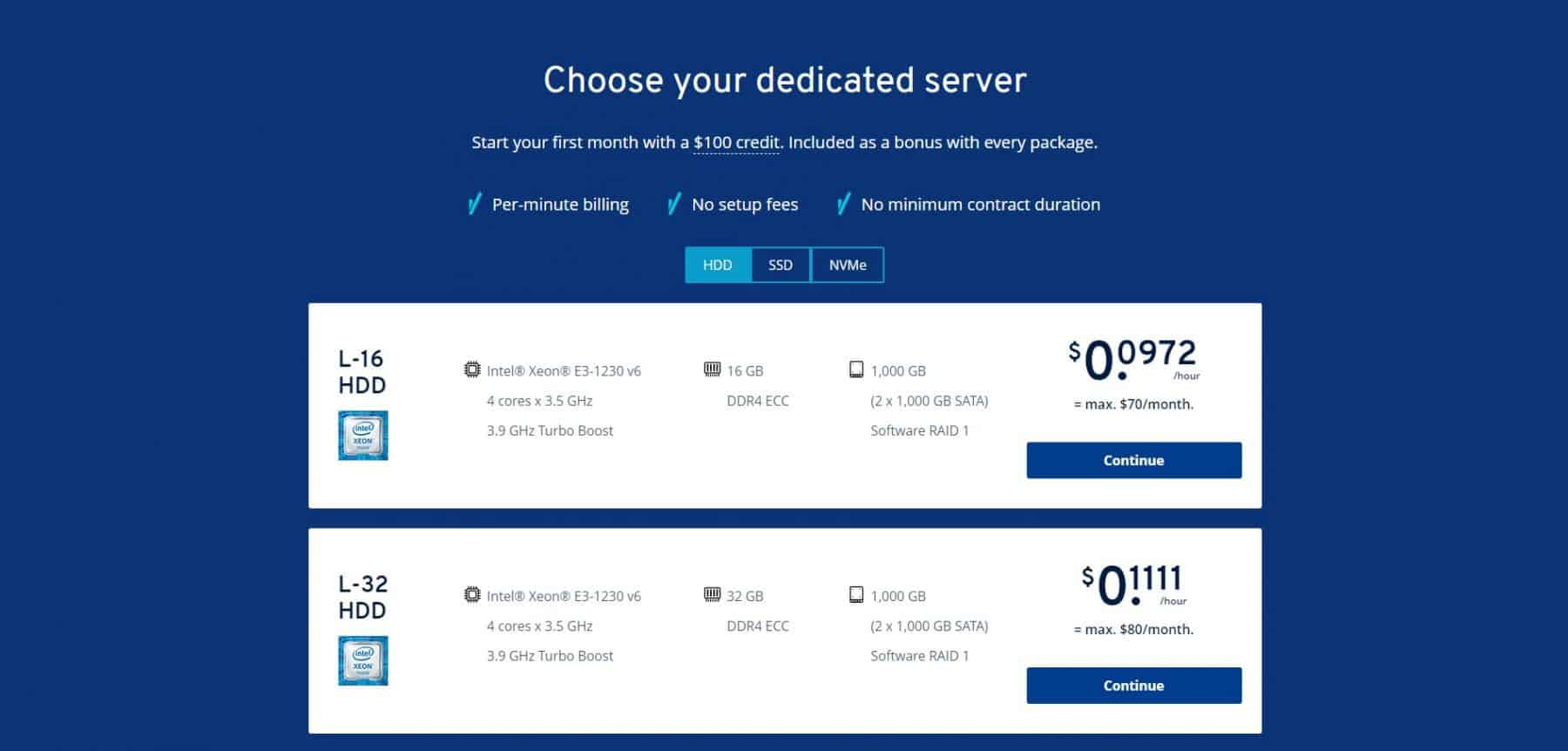 Lowest Price: $0.097 per computing hour with a max of $70 per month
Response Time: 1,100 ms
Uptime: 100%
Getting a fairly modern machine architecture at a fair price is something that's worth considering. The cheapest IONOS systems are deployed with 16 GB of RAM and one TB of hard drive storage space that's based on a RAID 1 array with two disks. They also come equipped with the Intel Xeon E3-1230 CPU that sports four cores that have a turbo boost to almost 4 GHz.
IONOS offers a ton of ways to upgrade machines, including SSD and NVMe drives. That's a level of modernization you just don't see from other companies, although you should be aware they come at an added cost. You also can upgrade all the way to a beastly 20-core configuration with 192 GB of RAM.
1&1 maintains data centers in the U.S., Europe and other parts of the globe. Response times aren't killer, but stability is excellent. They also have a firewall with DDoS protection included with each package, and you can modify the firewall and DDoS settings in the control panel. Managed dedicated server hosting options are available, but the cheapest packages are aimed at folks comfortable with going without additional support.
If you're trying to get a lot of power without forking over a ton of money, IONOS is worth checking out. The slow response times aren't thrilling, though. If you need a managed option, you're probably better off looking elsewhere. Conversely, if you just want to pay bottom dollar for a massive amount of processing power, it's a hard deal to beat.
5. A2Hosting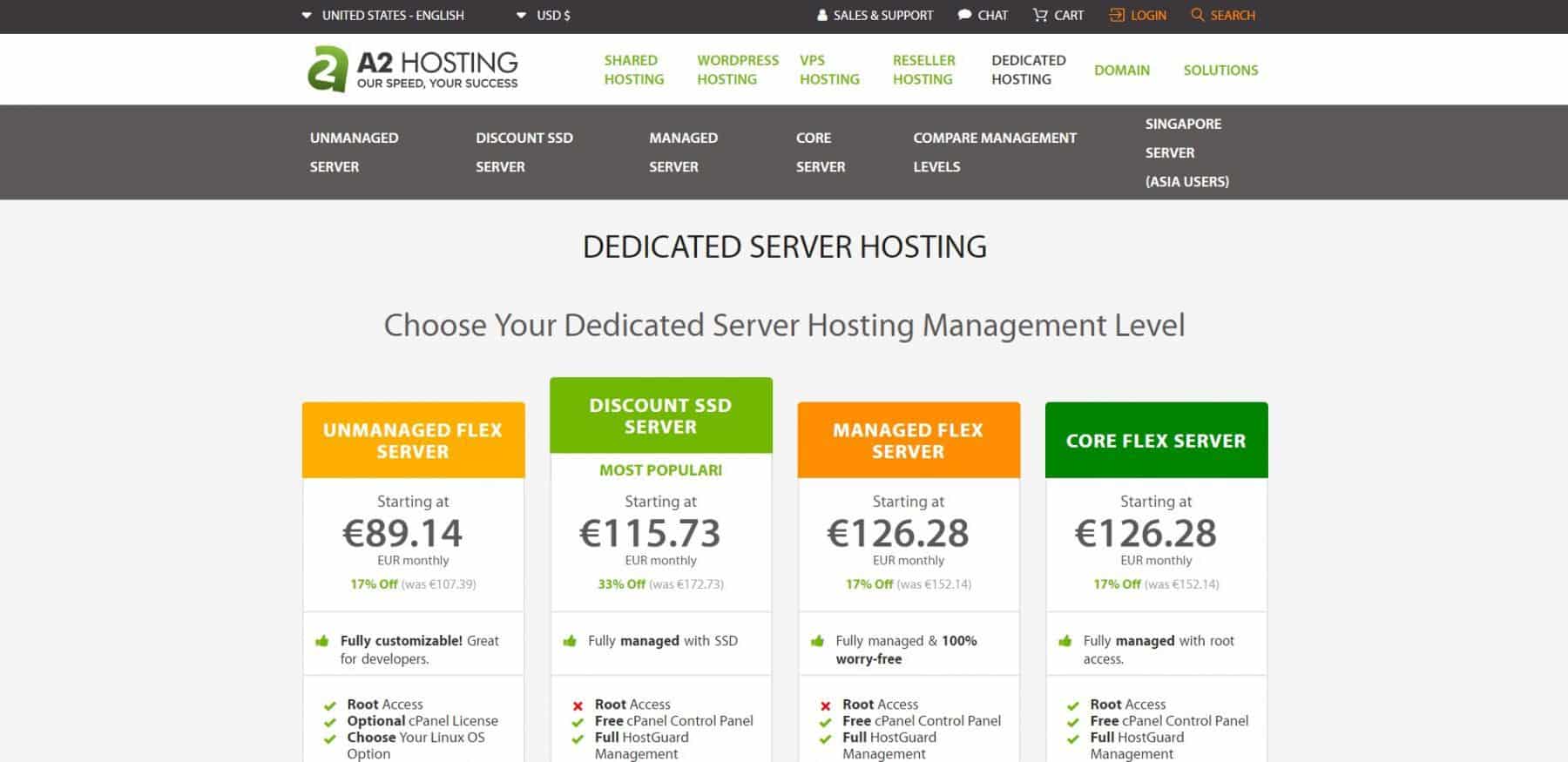 Lowest Price: $99.59 per month
Response Time: 295 ms
Uptime: 100%
A2Hosting is a regular on lists of companies that rent server space at an affordable price, regardless of whether it's a VPS, dedicate or cloud-based solution. The servers from A2Hosting are always extremely responsive and stable, too. With data centers in Europe, Asia and North America, A2 has invested heavily in making sure customers' sites are reachable and fast.
Pricing on their dedicated server plans is middle-of-the-pack. You can get both unmanaged and managed web hosting services, and the company's sales page pushes the "worry-free" nature of server management pretty hard.
Configurations are generally built around Linux dedicated hosting, and you can only find what they call a "semi-dedicated" version of a dedicated Windows server. That doesn't inspire confidence in folks who need a proper Microsoft environment, and it's clear these semi-dedicated options are cheaper and vastly less robust in terms of CPU power, RAM and storage.
If you're looking for the most responsive option at a reasonable price, A2Hosting is great. Their cheap offerings, though, start with two-core CPUs, and that's not a load of processing power even at a tier that starts at nearly $100. We wouldn't recommend flying solo on an unmanaged server from A2Hosting, but you may find their more robust managed choices in the $140 range to be interesting.
6. InterServer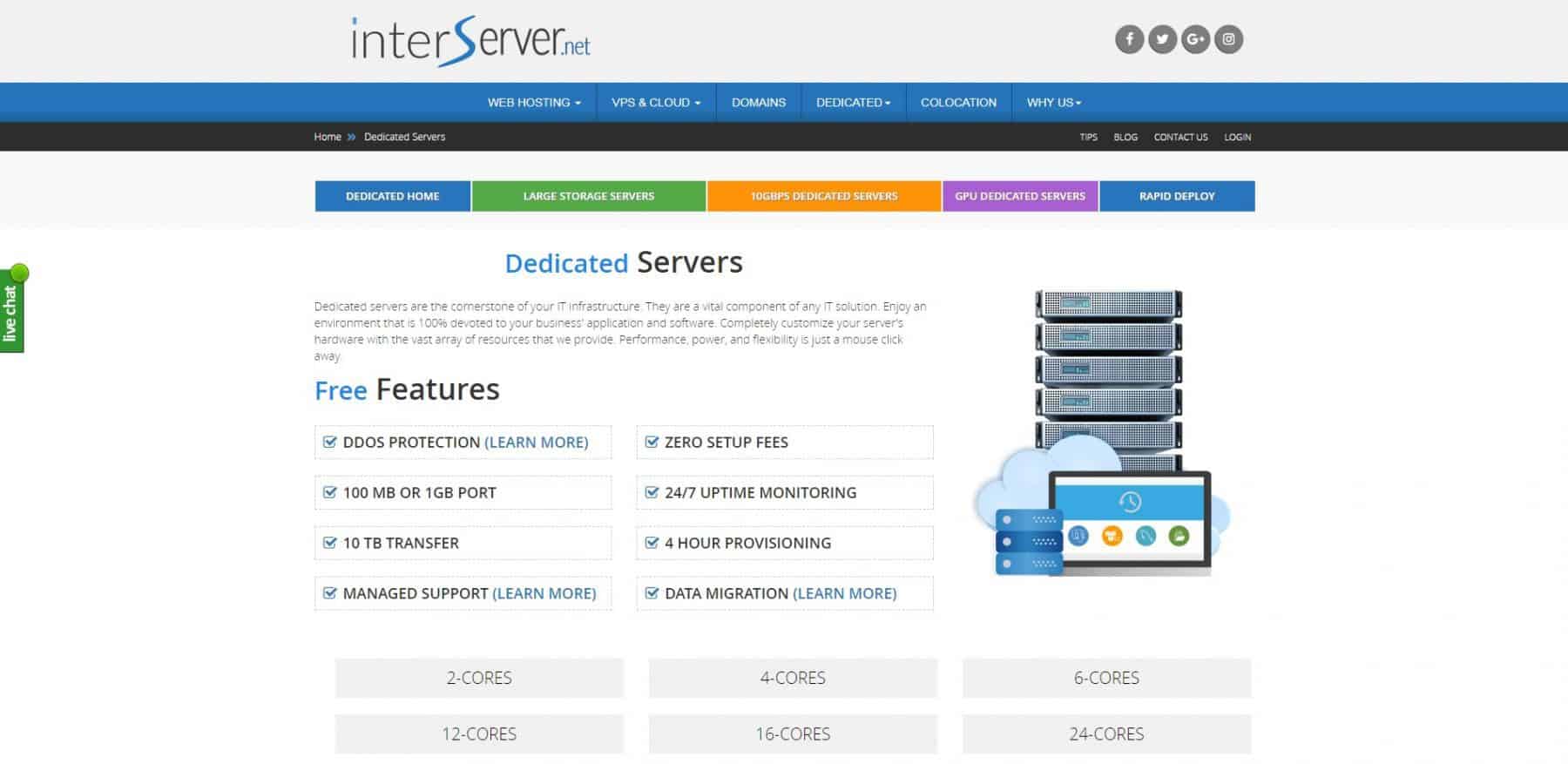 Lowest Price: $59 per month
Response Time: 538 ms
Uptime: 99.91%
View InterServer Hosting Plans
It's not clear why so many companies treat Windows dedicated hosting like an unloved stepchild, but there actually is a firm that advertises that they care about Microsoft users. InterServer isn't a regular on many lists of other kinds of web hosting services, but they deserve a tip of the cap for offering a very cheap Windows server.
One kind of sneaky downside to InterServer's pricing structure is that you have to go through their selection of plans and directly pick the cheapest one. It is pretty rough for a cheap plan, only including:
An Intel Atom dual-core
One GB of RAM
250 Gb of disk space
The Atom really should not be used in mission-critical applications. If you need to have a no-fail setup for running an online store or a web-based API, you really should not use this setup.
Conversely, the Xeon E3 offering at $70 per month is still very respectable in its own right. It provides a four-core CPU with 8 GB of memory. You also can load up a server all the way to 24 cores and 256 GB of RAM, the most memory offered by any web hosting company on this list.
If you want to pay a bit extra, InterServer has a rapid deployment option that will have your server provisioned within 15 minutes. You also can save a bit of money with a four-hour provision time.
Folks who need the cheapest Windows dedicated hosting option should take a long look. If you're a Linux user, though, you can probably do better with several other options we've presented already.
7. Hostwinds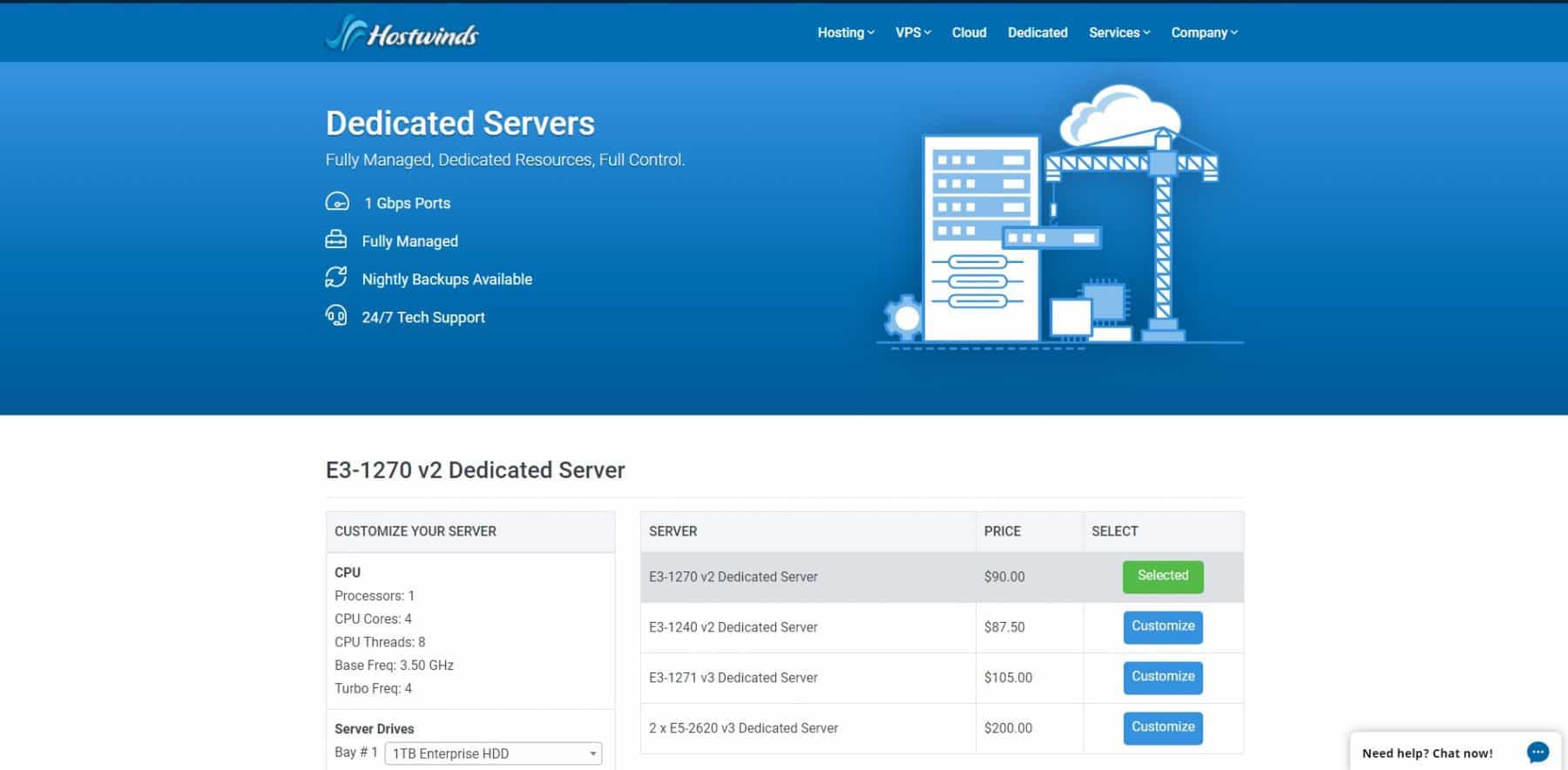 Lowest Price: $79.50 per month
Response Time: 1,200 ms
Uptime: 100%
Everything that Hostwinds includes on its configuration page seems to be an add-on. Fortunately, the base dedicated hosting plan is pretty robust. It includes a large one TB enterprise hard drive that can be swapped out for SSD storage. The CPU is the current industry standard, the Intel Xeon E3.
Disappointingly, you can only max out at 6 cores, making Hostwinds unappealing for folks who need a load of onboard processing capabilities. Similarly, RAM can only be topped out at 64 GB. You definitely won't want to be on Hostwinds if you have a site that has millions of users uploading and converting thousands of videos and images every minute.
Strangely enough, you can configure up to 128 unique IP addresses for a server. They also have both Windows and Linux dedicate hosting plans available.
The price is good, but it isn't great. The speed isn't fabulous, but the stability is solid. Hostwinds even includes an uptime guarantee.
On balance, Hostwinds will be most appealing to people who haven't found what they're looking for elsewhere. You won't break the bank going with them as a web hosting services provider, but you also won't be getting best-in-class anything.
What is Dedicated Server Hosting?
The idea behind dedicated server hosting is for a company to set you up with a single machine that you get all to yourself. Your system won't be sharing any resources with other servers or sites, such as you get with shared hosting. It also won't be partitioned from a larger resource pool, such as you get with cloud hosting and VPS servers. In other words, it's as close to having your own machine sitting in your own data center. Every watt of power in that server goes to doing tasks you need to see done.
You might wonder why you shouldn't just set up your own web hosting solution at your business. The biggest selling points of a server rental agreement to someone who's technically capable of building and deploying one are:
Access to greater bandwidth
Backup electrical power
The help of professional sysadmins
For the most part, a technically skilled person is going to favor using a dedicated server for stability reasons. Even if you have the fastest business-grade internet account with a company that offers massive upstream bandwidth, you're unlikely to match what top-tier data centers can deliver.
Likewise, building out a robust power backup system for a server can be a nightmare. For example, charging large banks of batteries requires the use of either lithium-ion systems that are expensive or cheaper deep-cycle batteries that can produce explosion risks.
What You Should Expect from One
While some other kinds of hosting services may or may not include key administrative features, such as SSH and root access, those absolutely should be available when you acquire even a cheap dedicated server hosting plan. You also should expect a very robust control panel system like cPanel or Plesk. RAID 1 redundant storage likely isn't a given for the cheapest dedicated server, but it's definitely something you expect once you start going up in price tiers.
While you probably don't want to actually do it, you should have enough control over the server that you could, at least in theory, replace the entire operating system. There should also be:
Some form of DDoS protection
A high-performance CPU, usually from the Intel Xeon line
A large amount of disk space
Dedicated hosting should be as close to working as your own system administrator as possible. That applies even if you've paid for a fully managed solution that includes the assistance of a support team from the hosting company.
Conclusion
The important thing to keep in mind when hunting for cheap dedicated servers is that affordability is relative. You're paying for a company to set aside one entire machine for the sake of providing you with web hosting. Dedicated servers aren't as cheap as similar alternatives, such as VPS systems and cloud hosting, but they offer you a guarantee that every ounce of resources on the machine will be yours and yours alone.
You can actually find some offerings that get close to VPS prices. Paying between $50 and $70 to get a fully dedicated box isn't a bad deal. More importantly, you can find some genuinely beastly setups that max out with between 24 and 64 CPU cores that each operate two threads. This ability to customize a system that you have full root access to is a primary selling point.
Make a point to assess what your actual needs are. A dedicated server is a pretty hefty commitment, but it can help you seriously future-proof a website. By balancing price against performance, you'll be able to quickly narrow down the list of plans to those companies that meet your needs.
Last Updated on June 23, 2021 by Adrian Grant