Webinars have exploded since the pandemic forced us all online.
Almost every conference was either postponed or moved online for virtual broadcasting.
And without offline networking and presentations, webinar software is vital to those selling and marketing to audience.
But despite the prevalence, there's still not a clear winner.
Yes, there is Zoom, which has become a verb like Google. But for fully-featured webinar software with Q&A functionality, attendee management, voting, polls, and other features…there's still a lot of options.
Once solely used in the B2B sector for product demos and the like, webinar platforms emerged as one of the go-to solutions for folks interested in presentations, meetings and marketing work.
According to a 2019 report, 77% of B2B marketers said they currently use webinars in their efforts. A further 15% stated they plan to add webinars to their mixtures in the near future. Webinars represent a great way to engage with audience members, and you can easily connect with folks from all over the world.
Unsurprisingly, this has led to a proliferation of webinar software and a lot of confusion. Not all webinar platforms are created equal, though. Many can have problems with:
Conflicts with browsers and extensions
Poor waiting room experiences
Audio quality
Limits on the number of participants
Bandwidth and connectivity
This means there is a risk of producing a bad user experience and leaving your audience with a strong sense of disappointment. Retaining users is important, and that makes finding the best webinar software a priority.
Top Webinar Features to Consider
We've done the research and found these to be the most compelling features when evaluating webinar options.
The best webinar platforms have the right balance of features and ease of use. Must-have features include:
Scalable attendee capacity
Live feeds
Multiple presenters
Social media integration
Screen sharing
Automation
Recording
Marketing features
Text-based chats
With these ideas in mind, let's take a look at 16 of the best webinar platforms currently available on the market. Our list includes:
1. Best for Ease-of-Use: Livestorm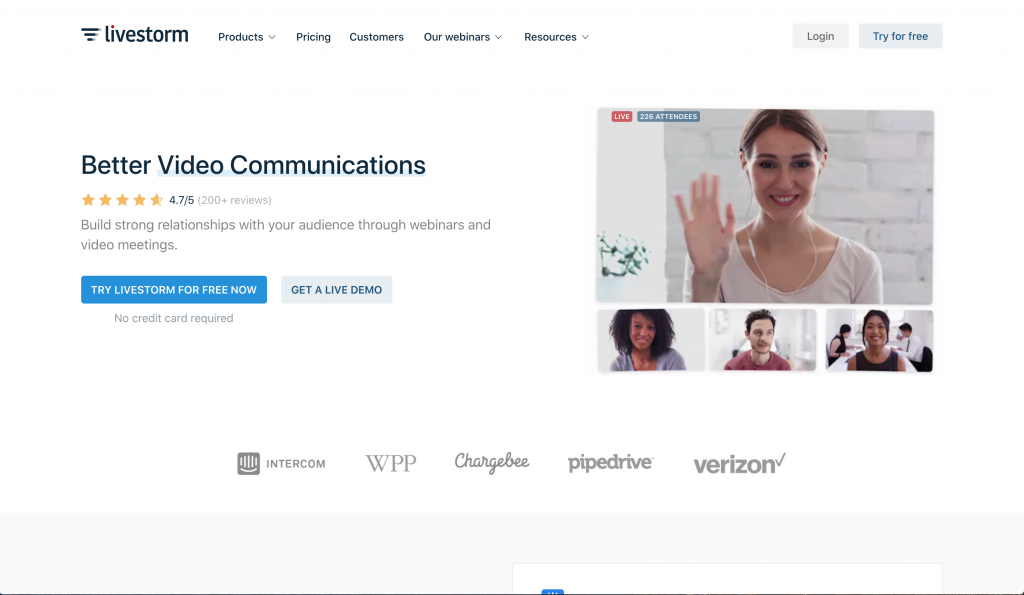 Pricing: Free for basic; $99 per host per month for premium
Notable features:
No limits on total moderators, webinars and on-demand sessions
Solid data package for metrics and insights
Excellent support for recording
Live webinars with an interactive polling feature
Livestorm is arguably the best option for folks who just want an easy-to-use system that will get everybody together without much configuration work. The free option makes it possible to test drive the software with up to four participants, but sessions are limited to 20 minutes. Even with the premium account option, sessions may not last longer than four hours.
Attendee limits are fairly reasonable for smaller meetings and seminars, but they may present problems for marketers who are looking to scale up. The base premium package includes support for 100 attendees, and you can scale that up to 250 or 1,000.
2. Best for Concurrent Feeds: ClickMeeting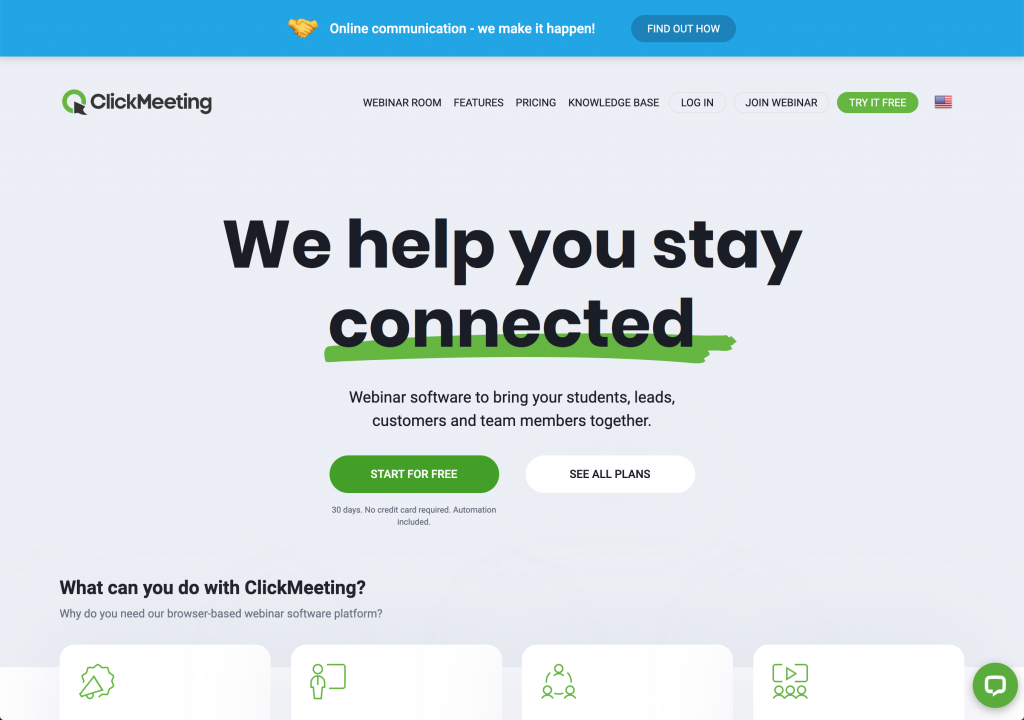 Pricing: From $25 to $279 per month, with an option to negotiate a custom, enterprise-grade solution for more. A free 30-day trial is available, too.
Notable features:
25 audio feeds
4 video feeds
Live webinars
Extensive support for social media and file sharing
By far the most exciting feature of ClickMeeting is its support for concurrent feeds while conducting live webinars. Especially if you have a team setup with folks working remotely from multiple locations, this is a great way to get everyone on the screens. Likewise, the additional audio feeds make it possible to conduct interviews to even add live conversations with audience members.
The ability to share with ClickMeeting is also a huge plus, especially for folks who are looking to conduct team sessions. If you need to toss a digital file to a Dropbox account, for example, you can do that live and let everyone open it up while you continue talking.
ClickMeeting has two potential cons. First, it is largely designed for meetings, and webinars are a bit of a secondary consideration. Second, the pricing can get expensive quickly. On the upside, the enterprise offerings allow you to scale past the standard limit of 1,000 attendees. Just be prepared to pay accordingly for such awesome power.
3. Best for Efficiency: Crowdcast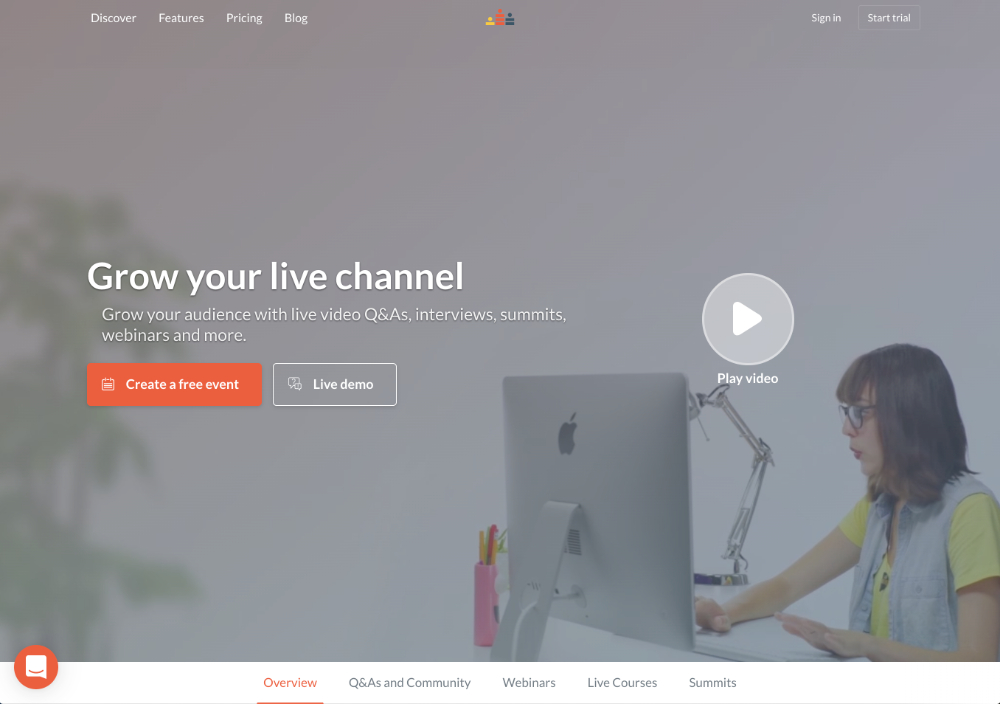 Pricing: From $20 to $139 per month, and a two-week free trial is available, too.
Notable features:
Focus on social components
Very easy integration of paid webinars, including Patreon and Stripe
Live chat is available during live sessions
Multi-streaming support for up to three locations
One thing that is evident right away with Crowdcast is there isn't a lot of baggage in the webinar software from supporting older business meeting features. While the platform is certainly capable of doing meetings, it's meant for webinars. Social features are heavily integrated, and live chats with multistreams offer plenty of ways for you and your attendees to engage.
The payment options represent a huge plus for folks who are selling their webinars as their products. You can connect with folks through a variety of payment platforms. Processing fees do apply, though.
Customization is extremely limited. You'll find that Crowdcast operates more like a webinar version of Twitch streaming than a more hardcore platform for meetings, marketing sessions and breakouts.
4. Best for Enterprise: WebinarJam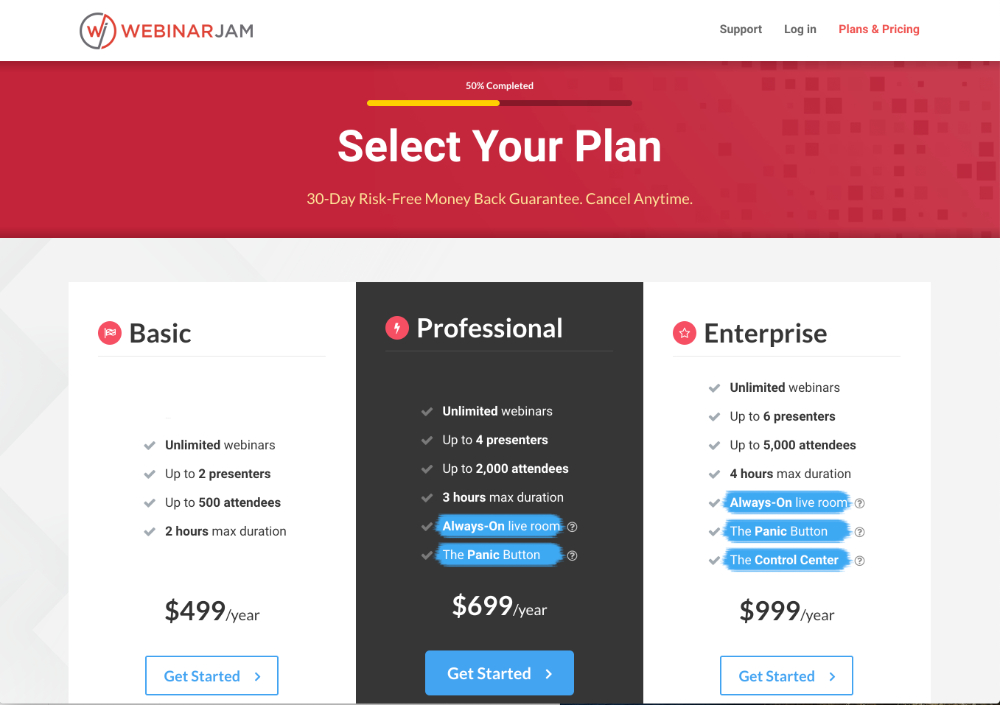 Pricing: From $499 to $999 per year
Notable features:
Direct streaming to YouTube
Ideal for less tech-savvy users
Live chat available
Offers one-on-one video conversations with attendees
Enterprise support for up to 5,000 attendees
Panic button support
WebinarJam is another webinar platform that is narrowly focused on just this sector. The big difference between it and some other entrants on this list is that it feels like the big, enterprise-grade solution. The pricing structure can look a little intimidating, but it represents an excellent value if you're looking to reach a bigger audience.
It's hard to argue with support for 5,000 attendees per session at a cost of just under $1,000 a year. Connecting to YouTube with live streaming also allows users to reach bigger audiences. This makes it an especially appealing option for marketers or businesses that aren't focused on selling their webinars as their products. If you're trying to maximize your audience, WebinarJam is worth a very long look.
5. Best for Video Conferencing: Zoom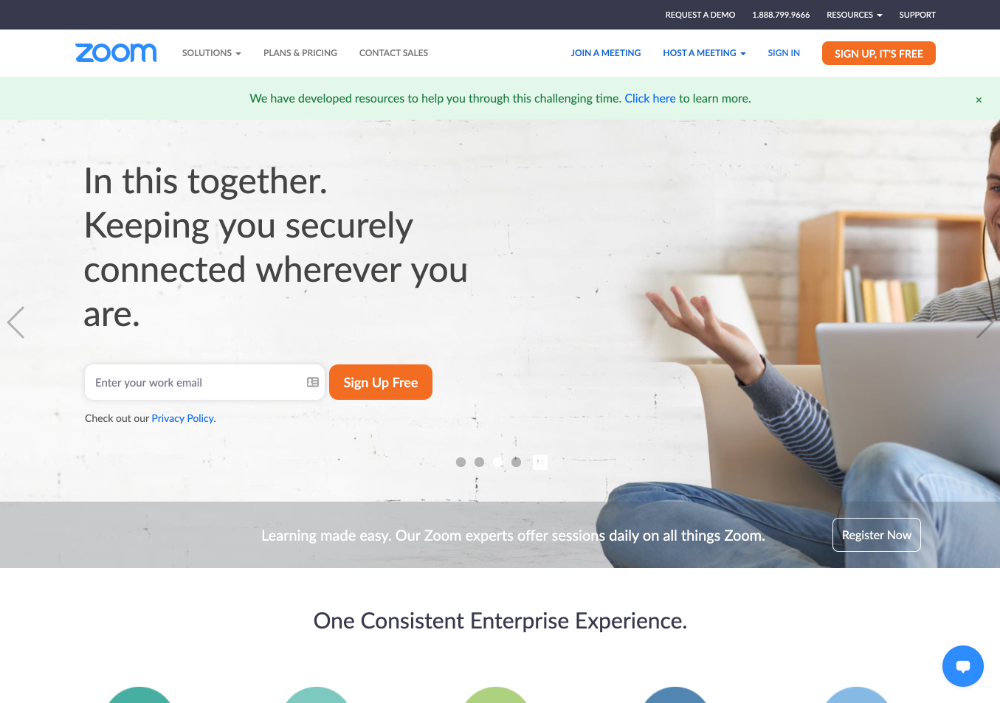 Pricing: Free to $19.99 per month per host
Notable features:
A free tier that stays free for ever
Cloud-based recording of audio and/or video
Video conferencing and group collaboration features
Low cost
24-hour session durations
The obvious downside to Zoom is that it is meant more for video conferencing and business meetings than webinars. That's not to say, however, that a creative person can't host webinars on the platform. At the highest tier, Zoom includes a "Rooms" feature that's excellent for hosting webinars.
Zoom has a very solid platform that offers a single sign-in, strong admin utilities, reporting and easy scheduling. You also can customize streams to include your company's branding. On-screen annotations make for a very interesting offering, too.
Storage is a major plus for Zoom. The top enterprise tier includes unlimited storage on the cloud, and you can even set up a vanity URL. Especially for folks who are focused on providing webinars as a product only after streams have concluded, this is a great option. Likewise, it's hard to find a company with Zoom's notoriety and resources to offer pricing this low.
6. Best Legacy Platform: GoToWebinar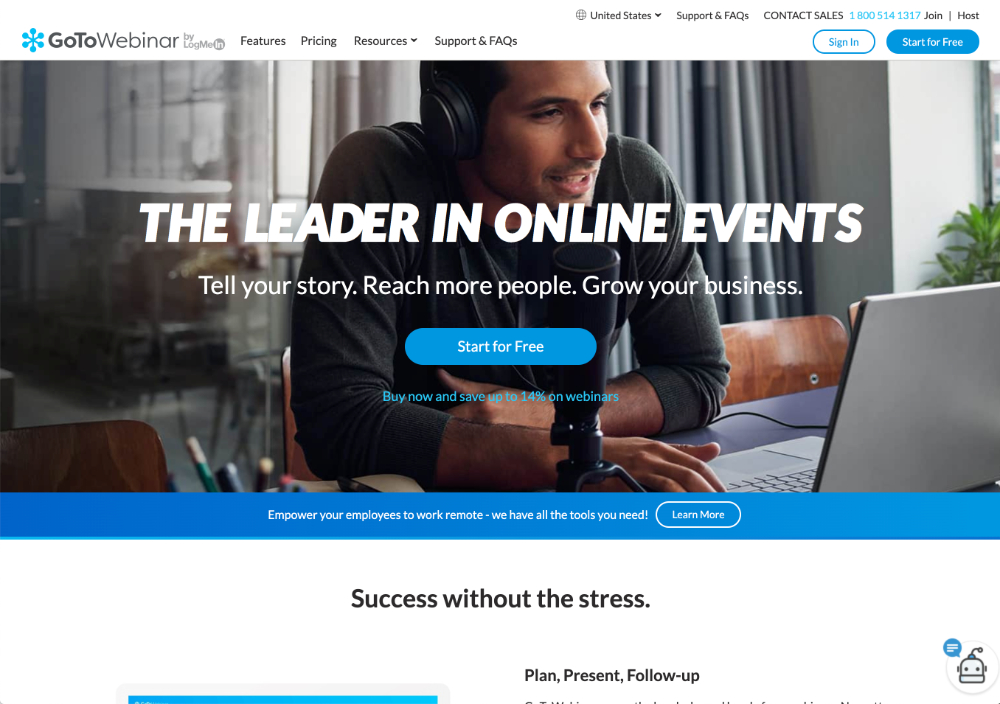 Pricing: From $12 to $199 per month
Notable features:
Toll-free phone access
Support for up to 3,000 attendees
Once the heavyweight of the industry, GoToWebinar has been scrambling to catch up. They developed reliability issues as their customer base grew, and that led to a cut from a maximum of 5,000 attendees to just 3,000 on their top tier accounts. On the bright side, though, these changes have come with the introduction of lower-cost packages.
A big downside is that you have to go to the more expensive tiers to get a lot of the features. For example, only the pro and up levels get recording.
Everything facing the attendees can be tailored to your branding. That's huge for folks who don't want their attendees to feel like they're just using someone else's platform.
7. Best for Interactivity: Demio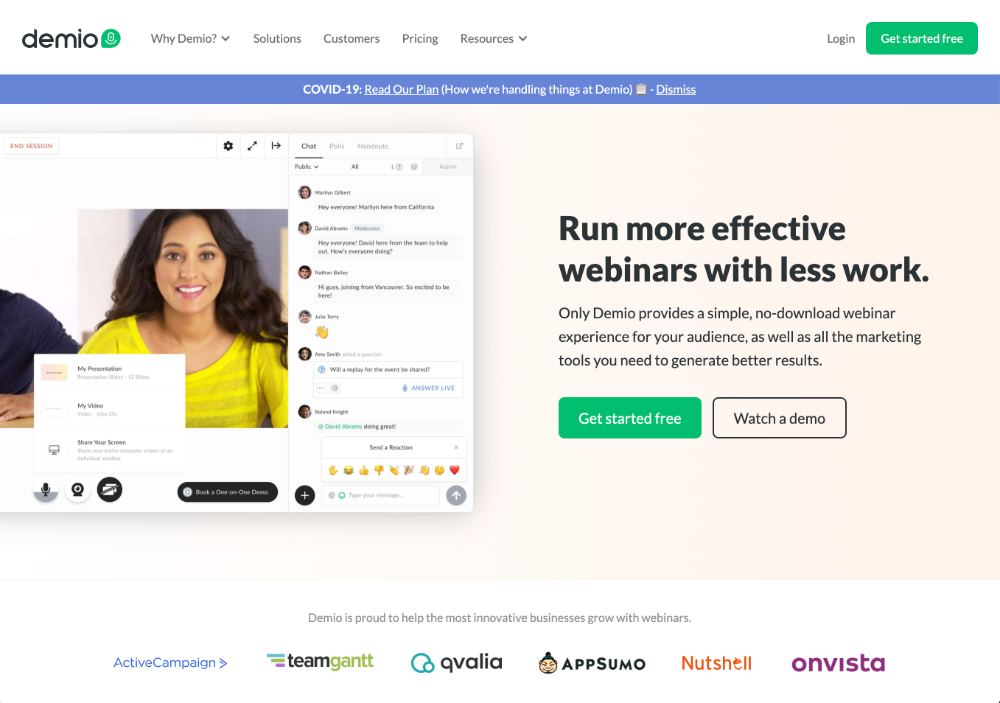 Pricing: From $34 to 163 per month
Notable features:
Excellent automation for pre-recorded presentations and simulated event elements
On-demand channels
Hybrid live and pre-recorded streams
interactive polling
Demio is positioned as the company that just does webinars. They don't imagine themselves as competing in the meeting and video conferencing sectors. That means the entire platform is tailored to the needs of marketers who want to create and present webinars.
An interesting aspect of all this is that Demio tries to maximize interactivity. If you want to invite the audience to participate in an action, such as a marketing offer, it's easy to direct them to a sign-up page. The polling feature provides options for hiding or revealing data, and that can add an exciting element of doing a reveal. Recordings go straight to the cloud, too.
Demio is lacking on the price front. It is a notably mid-tier price option. On the upside, you won't have to fiddle with tons of video conferencing and meeting features you don't want.
8. Best for Shopping Cart: EasyWebinar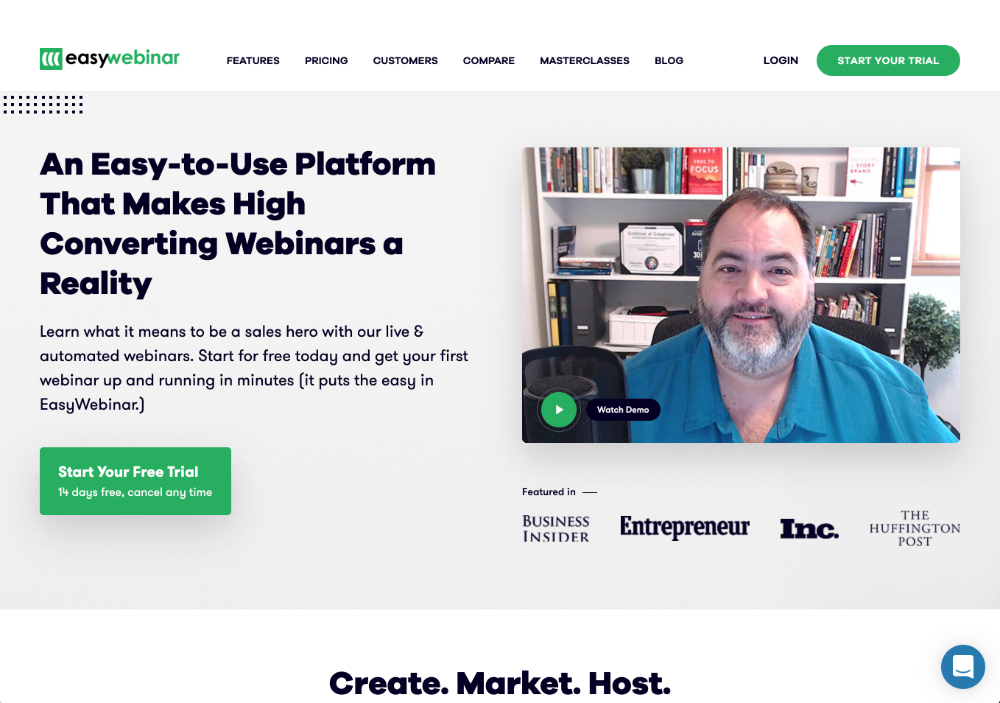 Pricing: From $78 to $499 per month
Notable features:
YouTube Live, WordPress and Facebook Live integration
Phone support
An instant onboarding system
Automation available at all tiers
Shopping carts
Another entrant that's focused on going webinar only, EasyWebinar ends up a bit at the high end of the pricing scale. They offer a very stable package, but their enterprise offering is rather expensive despite only offering 2,000 live attendees. It is possible to scale up significantly with the livestreaming features on YouTube and Facebook, but those will only work well for folks who are offering webinars for free or using platforms like Patreon to solicit donations.
Probably the most interesting feature is the inclusion of shopping carts. That, however, requires thinking about shaping your sales pitch around that feature.
Relentless integration is another plus for EasyWebinar. In addition to the social and blog streaming options, you also can integrate your setup with many marketing and email tools, such as MailChimp and GetResponse.
9. Best for Unlimited Attendees: WebinarNinja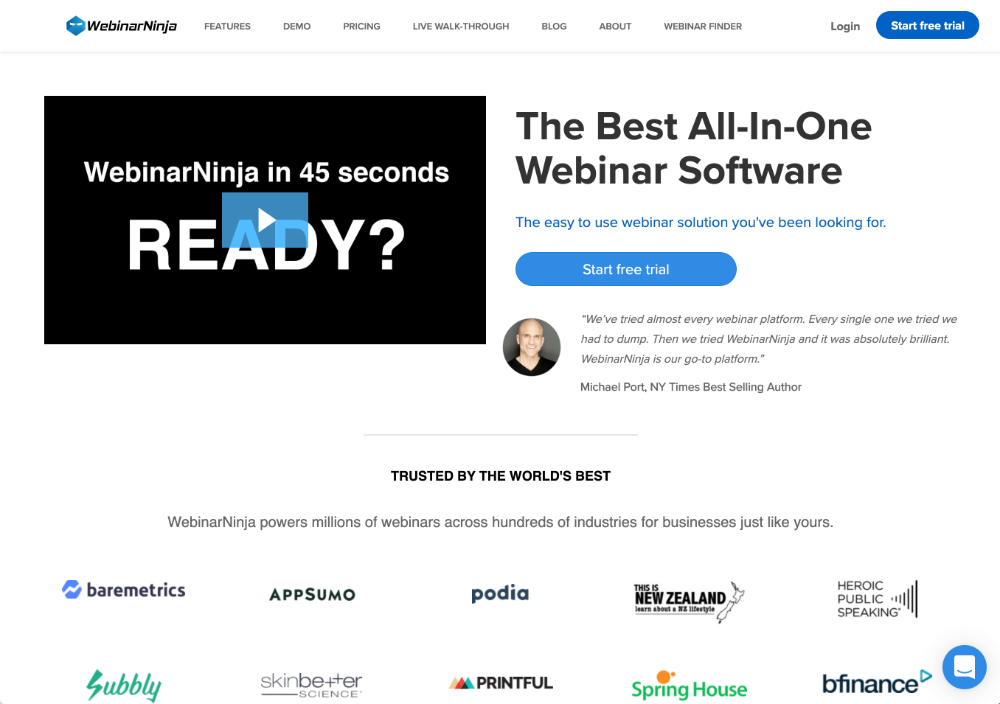 Pricing: From $39 to $249 per month, but a free trial is available.
Notable features:
Unlimited attendees for recorded sessions
Automation
Hybrid live and pre-recorded sessions
Extensive app integration
Series webinars
There is one extremely straightforward and strong argument for using WebinarNinja. If you need to have unlimited attendees for recorded sessions, it's a best-in-class product. The pricing is rather mid-tier, but the platform gets the job done.
Unfortunately, the attendee limits for live sessions are just a total turn-off. You can find better offerings from better companies at better prices if you need to go live.
Offering a high level of app integration may be appealing to some users. Most, however, will find that to be more work.
Another potentially interesting feature is the ability to set up several webinars in a series. This can be great for folks who are tracking big events and expos. It also may have some appeals for companies that want to make their webinars into full-on events in themselves.
10. Best if Already an Email Customer: GetResponse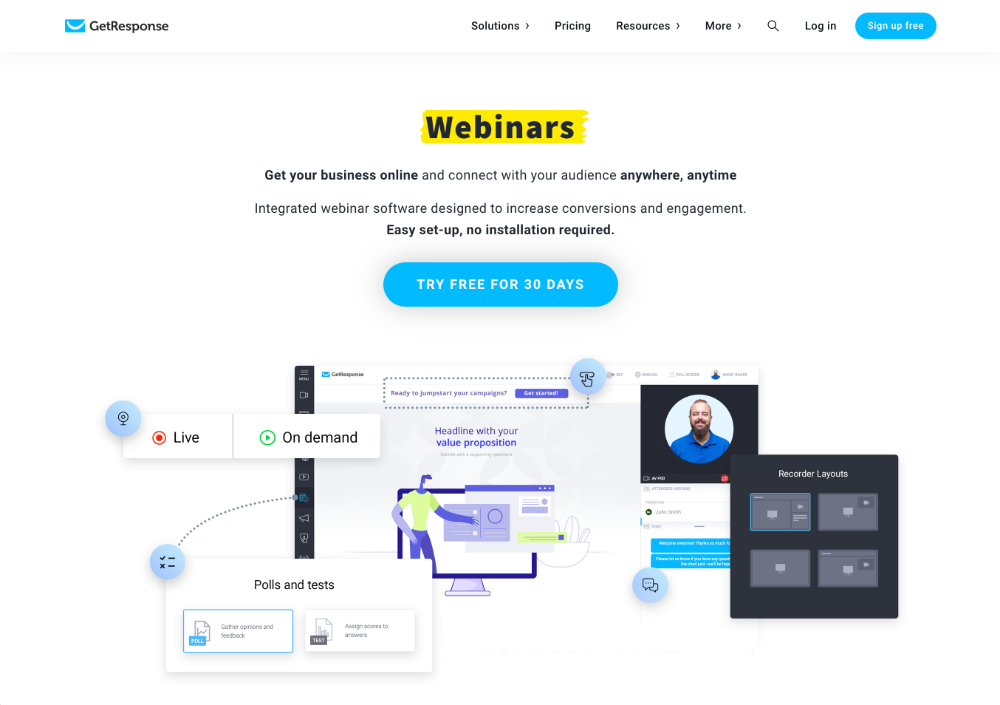 Pricing: From $15 to $1,199 per month
Notable features:
Deep integration with email marketing
Built fundamentally as an email marketing platform, GetResponse includes a small webinar feature. If you're already going to drop some money on the email side of the marketing equation, this may provide some added value.
The bang for your buck, though, is dubious at best, especially if you're looking primarily to do webinars. The top tier package includes 500 attendees for live or recorded events. Likewise, you won't get more than 10 hours of recording storage.
It's hard to see the argument for GetResponse as webinar platforms go. If you're looking to stay small with webinars and go big with email marketing, however, it might be worthy of some attention.
11. Best if in Adobe Ecosystem: Adobe Connect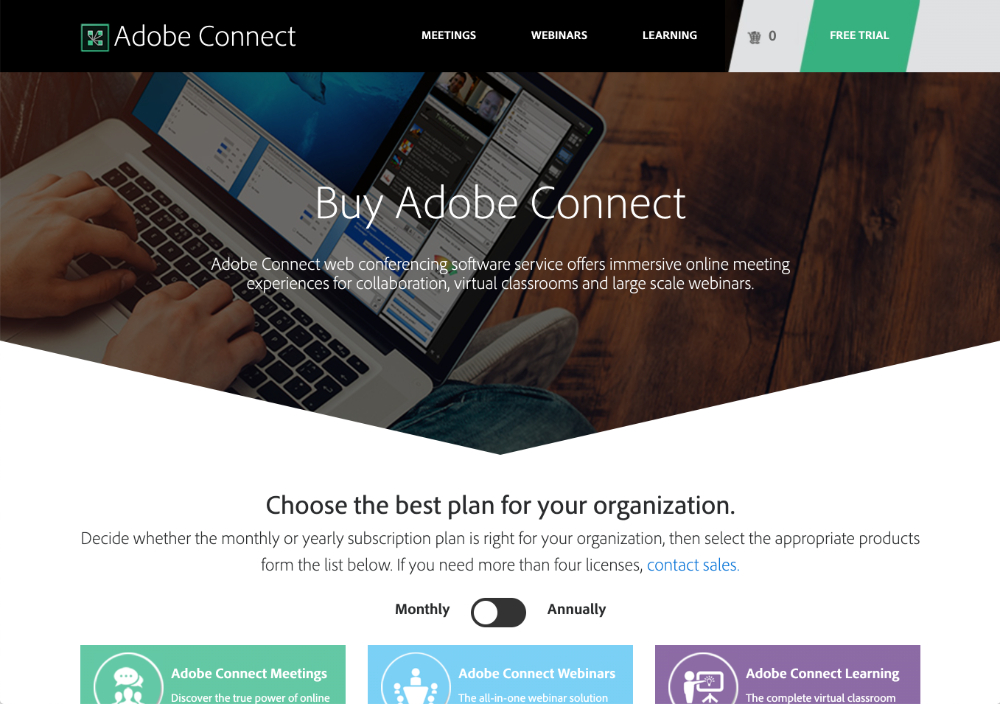 Pricing: $130 to $580 per month
Notable features:
Robust enough infrastructure to provide rock-solid connections
Deep integration with other Adobe products
CRM software integration with big names like Salesform and Eloqua
Plenty of analytics
Capable automation
Adobe hasn't yet carved out a niche in the webinar space, but producing a dedicated offering with extensive integration represents a heck of a start for the graphics giant.
There's a pretty good argument for using Connect if you're already heavily bought into Adobe's ecosystem. The package looks a lot like other Adobe offerings, and you can easily get content into Connect.
Customization is also a major benefit of going with Connect. You can develop video features, pools and pages that all fully leverage your branding. Automation is also a breeze.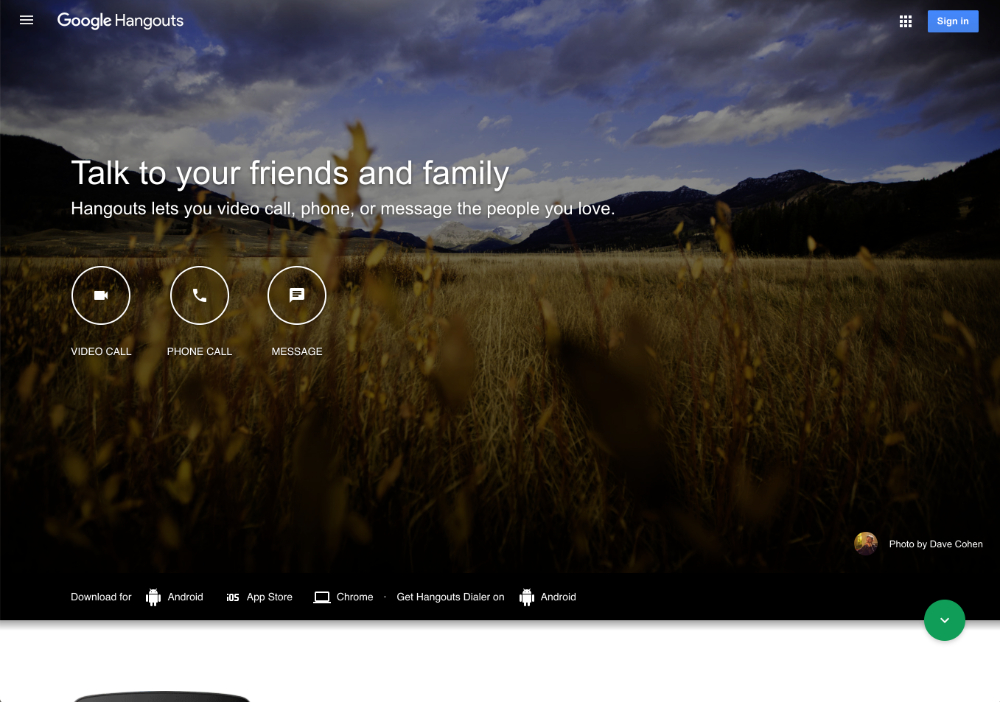 Pricing: Free
Notable features:
YouTube and Chrome integration
Excellent web-based interface
As is common with most Google software, Hangouts comes with a simple interface that anyone can pick up. it is an always-free package that runs blazingly fast in a web browser.
The downside is that you'll never get more than 30 attendees into a streaming event. On the flip side, several folks can speak concurrently. You can't grow beyond 30 participants, however.
Marketers who have close to nothing to work with might benefit from using Google Hangouts. Anyone who has major growth goals, however, had better prepare to move onto something else.
13. Best for Feature Set: Livestream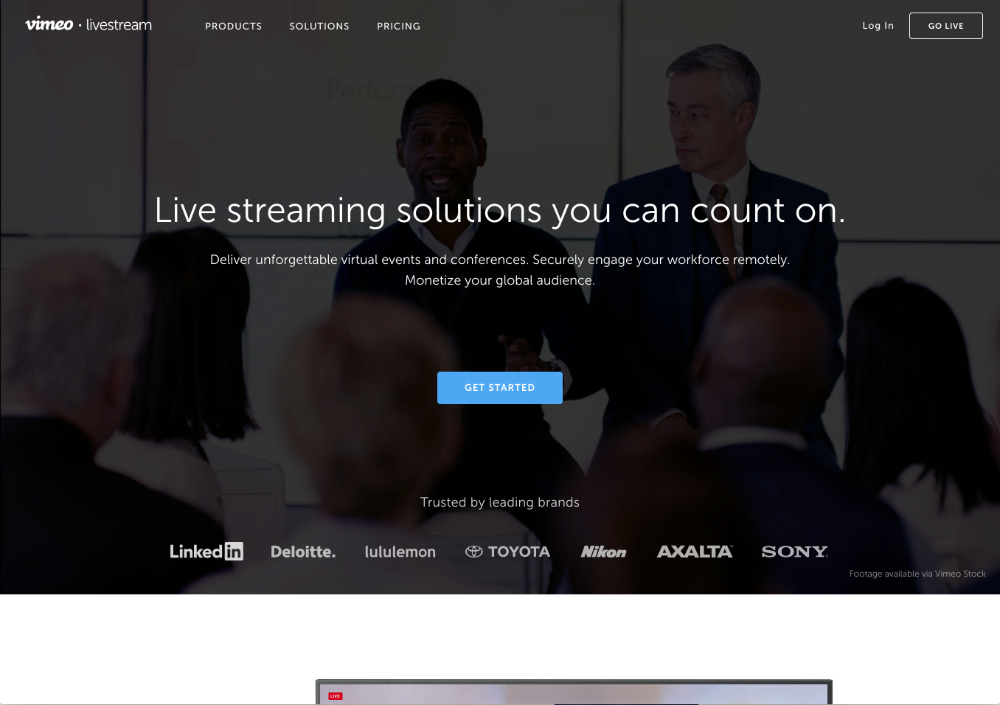 Pricing: Starts at $75
Notable features:
Nearly broadcast-quality features
Cloud-based transcoding and RTMP
Completely customizable player
White labeling options for resellers
Facebook Live and YouTube Live integration
Streaming analytics
Single sign-on
Unlimited storage
Extensive user control
Let's be clear: Livestream is the restaurant where anyone who needs to ask about the prices should probably leave. They cater to many of the biggest companies in the world, and their product is positioned accordingly.
With all that said, there is a honkingly huge amount of features built into Livestream. You can do live overlay graphics just like you see on live sports and news events. Audience chat is fully featured, and there are like Q&A sessions in addition to live polls.
Also, you get all of that at the lowest tier. As you move up in pricing, you'll get access to features like live private live streaming, geo-blocking, and IP address restrictions.
In other words, Livestream is the place to go if you want the visual experience to be on par with national and international broadcasting giants and the attendee experience to be as fully-featured as possible. Pricing is a concern, and for a lot of folks, Livestream will be their aspirational goal for when their marketing work has reached the promised land.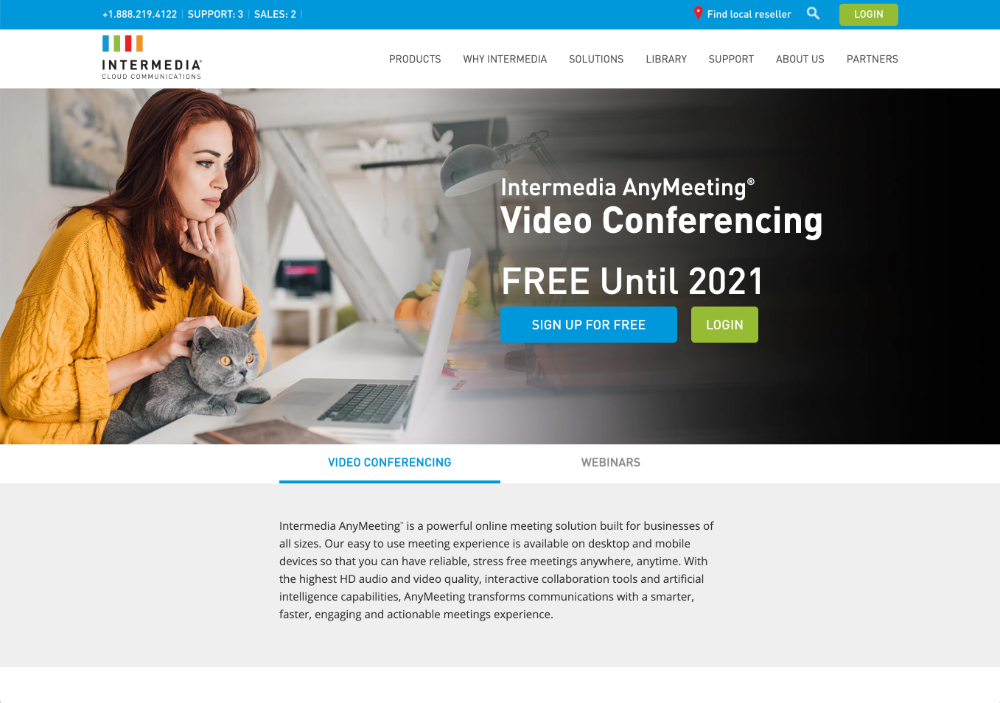 Pricing: Free to $12.99 per month
Notable features:
Transcription
Screen annotation
Unlimited cloud storage at the top tier
Easy zoom-in feature
HIPAA compliance
24/7 support
To be blunt, AnyMeeting feels like a cheap in-between option that sits somewhere between Google Hangouts and everything else. If you need a strongly encrypted system that's HIPAA-compliant, then it might be a good choice for you. All others should look elsewhere because better features and more attendees can be had for negligibly more.
15. Best for Automation: EverWebinar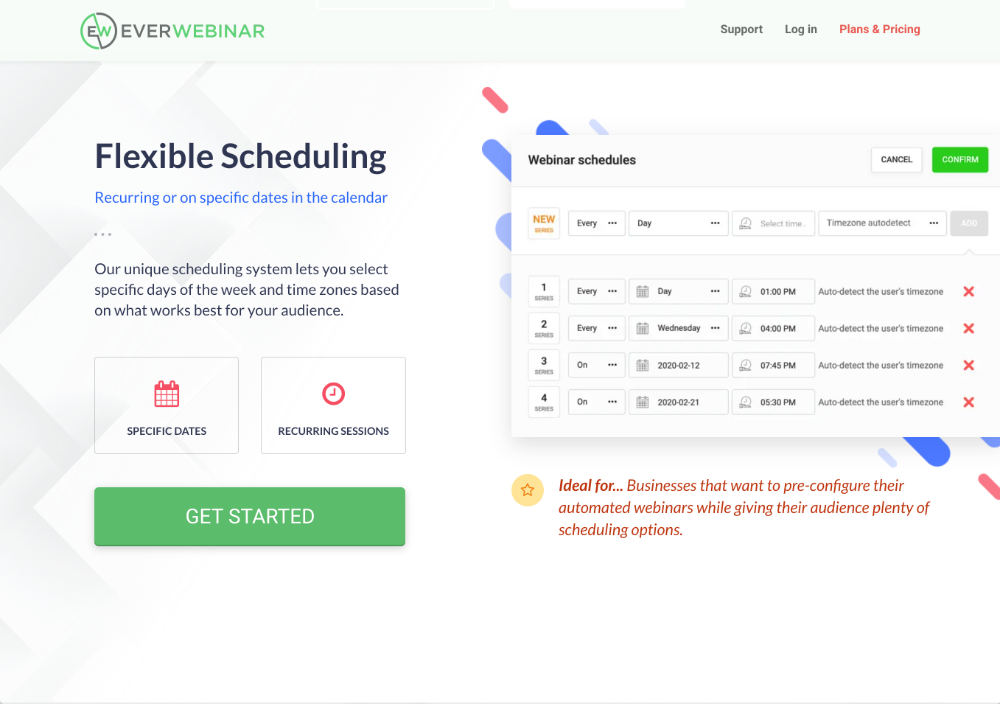 Pricing: $499 per year, with a 30-day, money-back guarantee
Notable features:
Simulated chat scripts
Just-in-time webinar events
Dynamic attendee display
Built by the same company and on the same platform as WebinarJam, EverWebinar is nonetheless a bit of an odd duck. It includes a high level of automatic, char scripting and dynamic attendee systems to create what can only be called a bit of puffery about how big a small event might be. Older events can be reconfigured into evergreen webinars.
The one-price structure may be appealing to some folks. There are also options for paying for multiple years.
On balance, EverWebinar feels like a strange offering. Not everyone is going to wrap their heads around the automated features, but more innovative users may be able to get a little crazy with it.
16. Best for Mid-Market: BlueJeans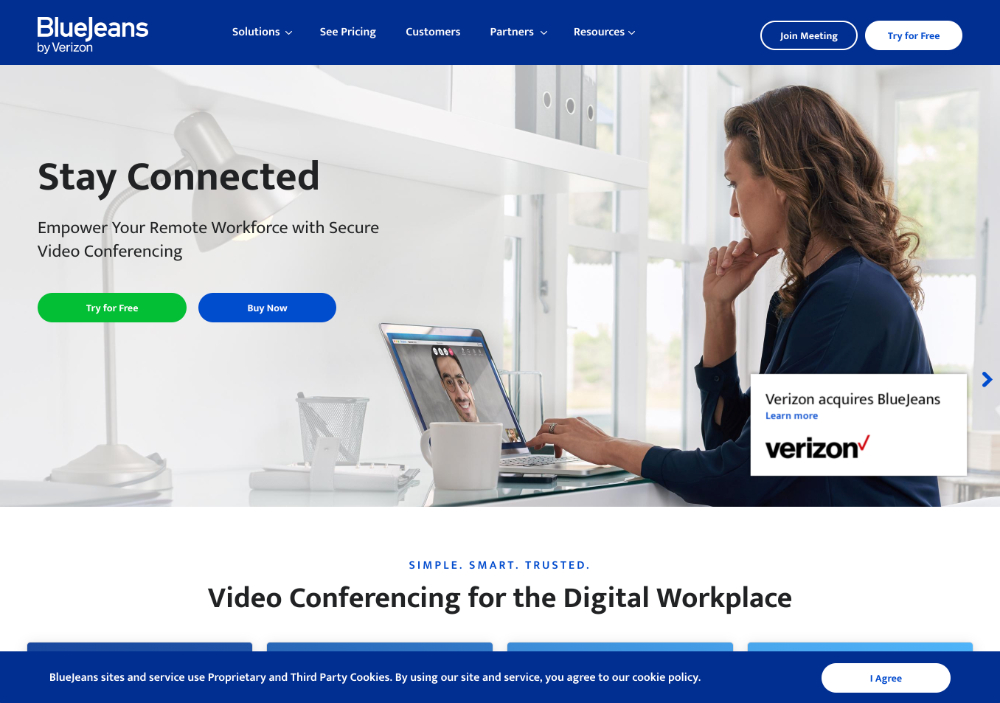 Pricing: From $9.99/mo for meetings, $499 for one-time webinar up to 500 people
Notable features:
Event management
Screen sharing
Live chat
Owned by Verizon, BlueJeans is another contender in the sea of webinar platforms. The company doesn't have the brand recognition of Zoom, Google Meet, or GoToWebinar – so why use it? Well it can be worth looking into for mid-market and enterprise companies.
Users tend to like the features such as user assignments, live chat, screen sharing, and other typical features.
However, there are plenty of complaints about problems with bugginess, calls being dropped, and lag time.
FAQs
What is Webinar Software?
Streaming videos, especially when doing the job live, requires a certain degree of software support. Most webinar software is designed to relay the stream to the provider's servers. From there, the video will be streamed to live audience members and recorded to a set of storage servers.
Features for these systems vary. The best webinar software will allow you to:
Put your brand on every stream
Interact with attendees in real-time
Collect valuable data about attendees
Set pricing for webinars, if necessary
Integrate your webinars with other marketing efforts, such as social media and email
Why Use Webinar Platforms?
It is possible to build out your own infrastructure for hosting webinars. This is a very involved technical undertaking, and there will be no safety net if you screw something up, though. Working with a platform provider means getting technical and customer support. If you need someone to help you figure out how to schedule a webinar, for example, the support team will be there for you.
Compared to competing options, webinar platforms are cost-effective. Providing a live, HD stream to 1,000 concurrent users is not a simple task under the best of conditions. You don't want to see glitches, video break-ups or connection drops. Throw on top of that the demands of including branded marketing appeals, lead generation solicitations, live chats, interactive offers and other value-added products and services, and you can see how important it is to have something that has been relentlessly tested by others and for years.
What Are the Benefits?
Establishing yourself as a credible domain expert is by far the greatest benefit. If you've ever watched an event like TED Talks, you'll quickly realize there is no substitute for presenting information confidently while an audience gives you their full attention. There is an instant exchange of social value that occurs as the attendees demonstrate to others that they need to hear what you have to say.
Done properly, your webinars should provide value to the audience while also driving a respectable portion of the attendees into a sales or marketing funnel. If you're trying to promote an organization, a service, a cause or a product, a well-conceived webinar can go a long way toward achieving your goals.
The Online Summit Angle
Another way to do webinars is to style them as an online summit – meaning inviting a variety of speakers around one topic or theme. Is a new growth and product marketing strategy to bring in a lot of eyeballs in a more interactive and riche medium than before.
The difference between an online summit and conference is that an online summit is typically around a tighter theme, such as "content marketing" or "influencer marketing", whereas a conference would be even broader.
These can be difficult to pull off, but there are a few companies and consultants that offer done-for-you online summit services.
This can be a great way to get jumpstarted before rolling your own.
The Future is Virtual
COVID-19 has affected nearly every human in the world. There has been a massive shift in the way digital and knowledge workers communicate. The office is no longer the default mode of working, and massive companies like Google and Facebook have fully embraced remote work as the future.
Webinars occupy a unique space in the content creation and communication world. It's definitely the future, will you adapt?
Last Updated on February 23, 2023 by Joe