You've just started a business and want a website, but can't lay out the cash?
Thankfully, there are some actually free hosting options – although you have to be aware of what you're getting into or you may find yourself more frustrated than ever.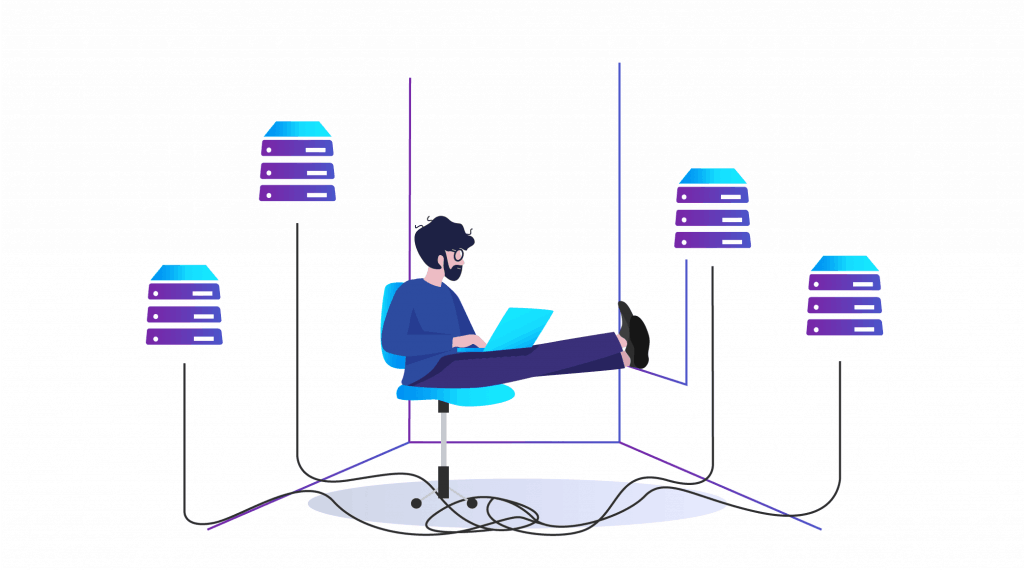 Setting up a website can be a challenging task, and factoring in the long-term costs of doing so has many people looking at free server hosting options.
There are a lot of pros and cons that go along with free hosting sites. If you're interested in free server hosting, it's a good idea to learn a bit about how it works and what some of the top free website hosting companies are. Let's take a look at some of the biggest ones in the business, and then we'll discuss what you should keep in mind about using a free web server.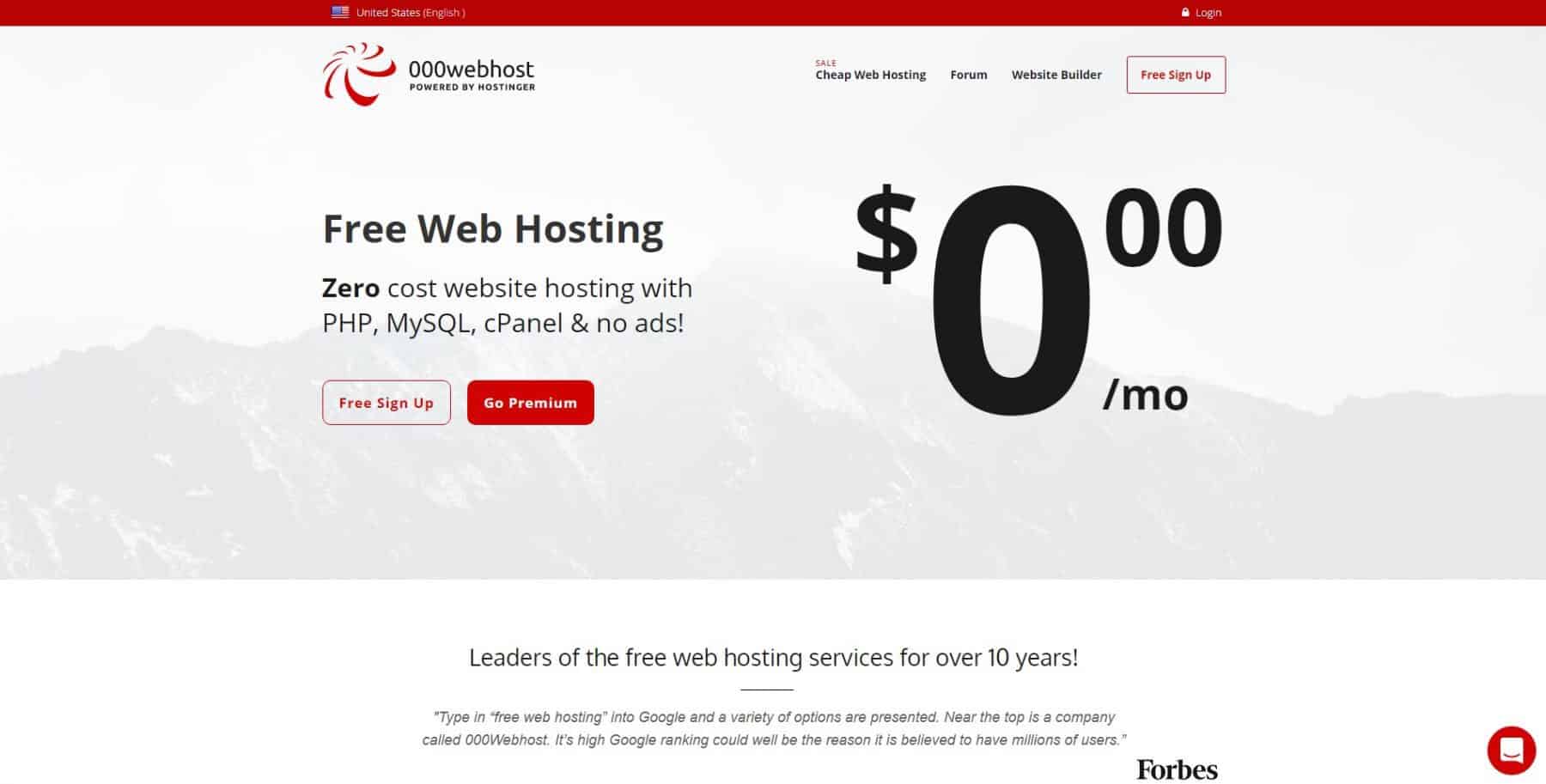 Response Time: 230 ms
Uptime: 99.75%
000webhosting has earned a reputation a free website hosting company that offers a level of speed that's on part with the big dogs in the business. Users get a number of benefits with their free accounts, including:
10 Gb of bandwidth
One Gb of disk space
Access to forum software and Discord chat systems
As you might expect with a high-performing free web server, yes, there are some caveats. A big one for anyone setting up a small business is that they don't host email accounts. Likewise, you can simply forget about getting anything resembling customer support. And there's a doozie: they also will take your site offline for one hour each day.
You will be able to set up a MySQL database, and you can place two websites on your account. FTP access, is available, too. Perhaps most impressively, they are running PHP 7.3 and up on their servers. You can use your own domain name, and subdomains are allowed for free. This includes auto installers that can set up WordPress, Joomla and other blogging and CMS systems.
There have also been reports of "inactivity ads" on 000webhosting sites. These use a pop-up style, and that might not sit well with folks hunting for free web hosting no ads. Apparently, you can disable this function in cPanel, but it's not something beginners are going to figure out until they have the problem.
View full 000webhosting review
Infinityfree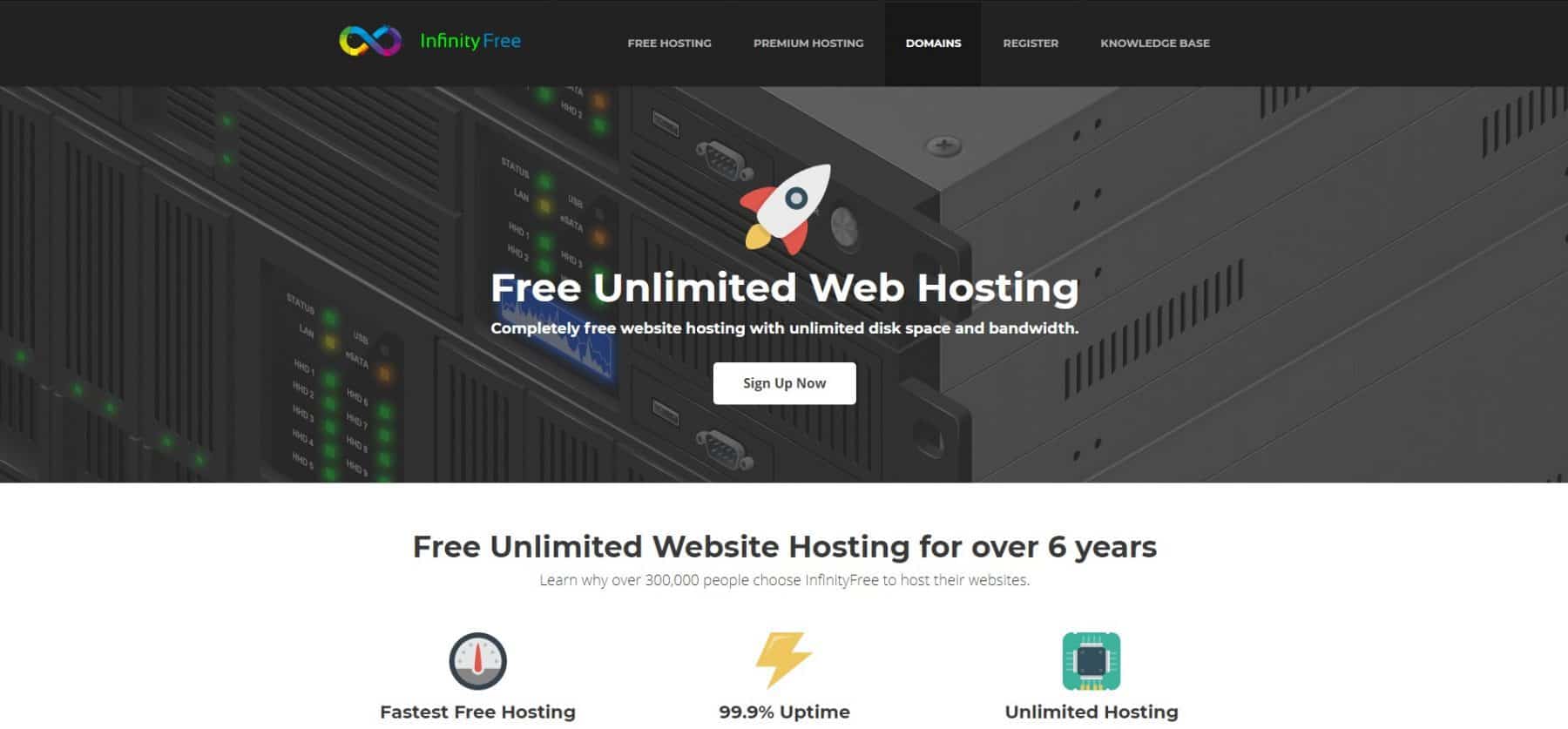 Response Time: 1,000+ ms
Uptime: 99.9%
The big sales pitch from Infinityfree is that they offer both unlimited bandwidth and disk space. You should note, however, that web page hits per day are capped at 50,000. This is more than enough for anyone who's just posting up a site for family pics or a personal project, but it's not great for businesses. You can host up to 400 databases in MySQL, too.
One of the company's more impressive offerings is free SSL, DNS and Cloudflare CDN. If you're trying to generate traffic in accordance with Google's current SEO guidelines, that's a lot of good stuff to have. If you're looking to set up a simple and free domain hosting account, this can be very advantageous. Likewise, you can host unlimited domain names on your account. Users also can utilize up to 10 email accounts, and they're each allowed a single FTP account. Infinityfree bills itself as having no "forced ads." It's a little unclear what they mean by that, but the company does encourage supportive users to turn off their ad blockers.
Speed is a bit of an issue. Site load times often number into the tens of seconds, especially for WordPress installs. If you're looking for a hosting plan with lightning load times, you're probably going to want to hunt among other free web hosting services. Also, the hits limit negates much of the value of the unmetered disk space and bandwidth.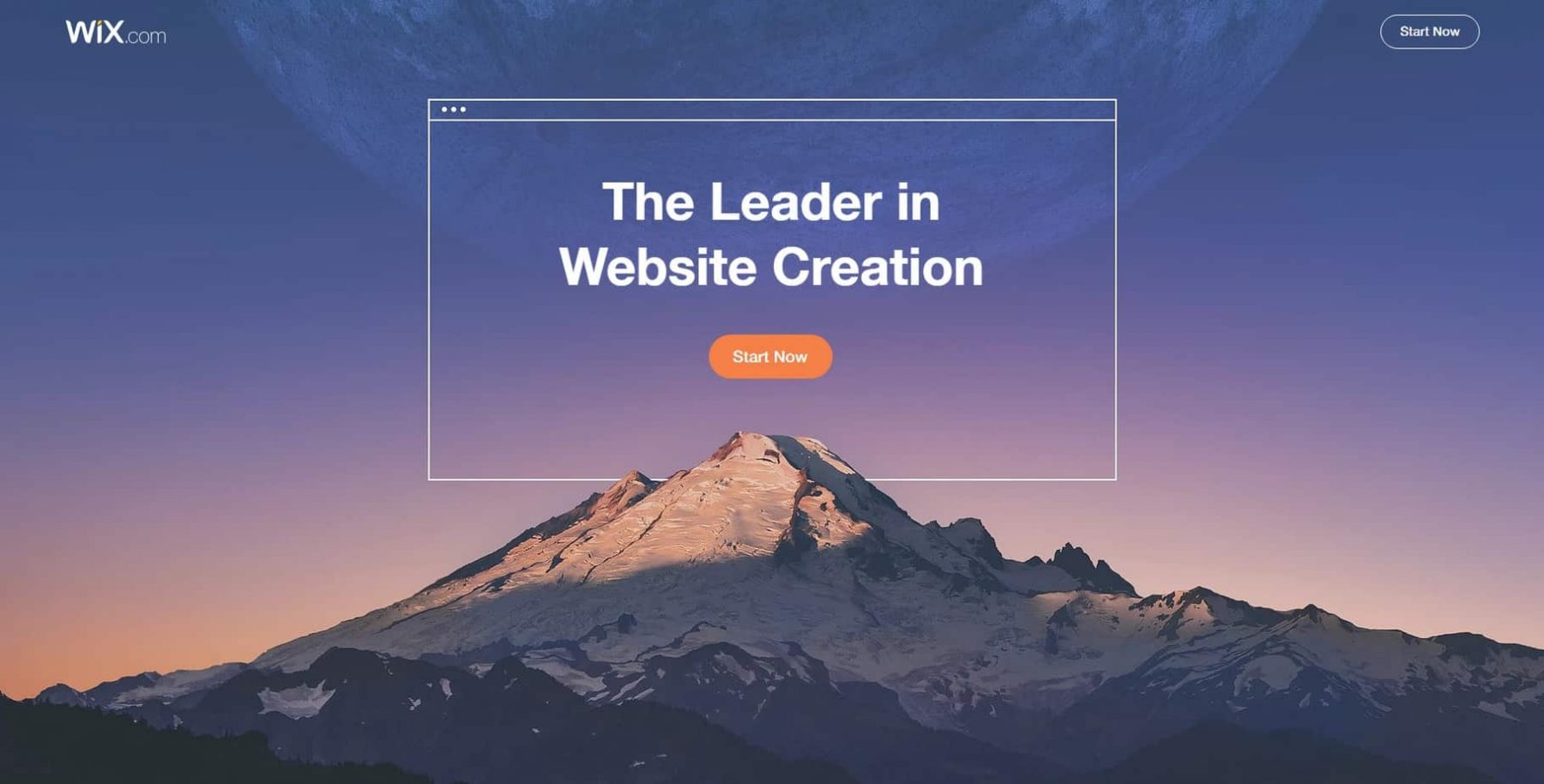 Response Time: 400 ms
Uptime: 99.9%
You may notice a pattern building up. Everybody in the free web server sector has a niche that they build their sales pitch around. For Wix, it's not about being the fastest or the absolute most reliable. Instead, they focus on being the company that delivers the nicest website builder with a drag-and-drop interface. Especially for folks who are new to web design, hosting providers with good building apps integrated into their offerings can be highly appealing.
Wix is among the better companies in terms of both uptime and responsiveness, too. That takes a lot of the sting out of getting a free plan. They provide a paltry 500 Mb of bandwidth per month and a not-too-great 500 Mb of disk space, too. Email accounts aren't available, either.
The free website builder, as you might imagine, can take some getting used to. Fortunately, Wix also provides customer support by chat, email and phone. The builder is also able to set up online stores. If you don't know much code and are trying to get a site up in a matter of minutes, there's a very good argument for going with Wix.
x10hosting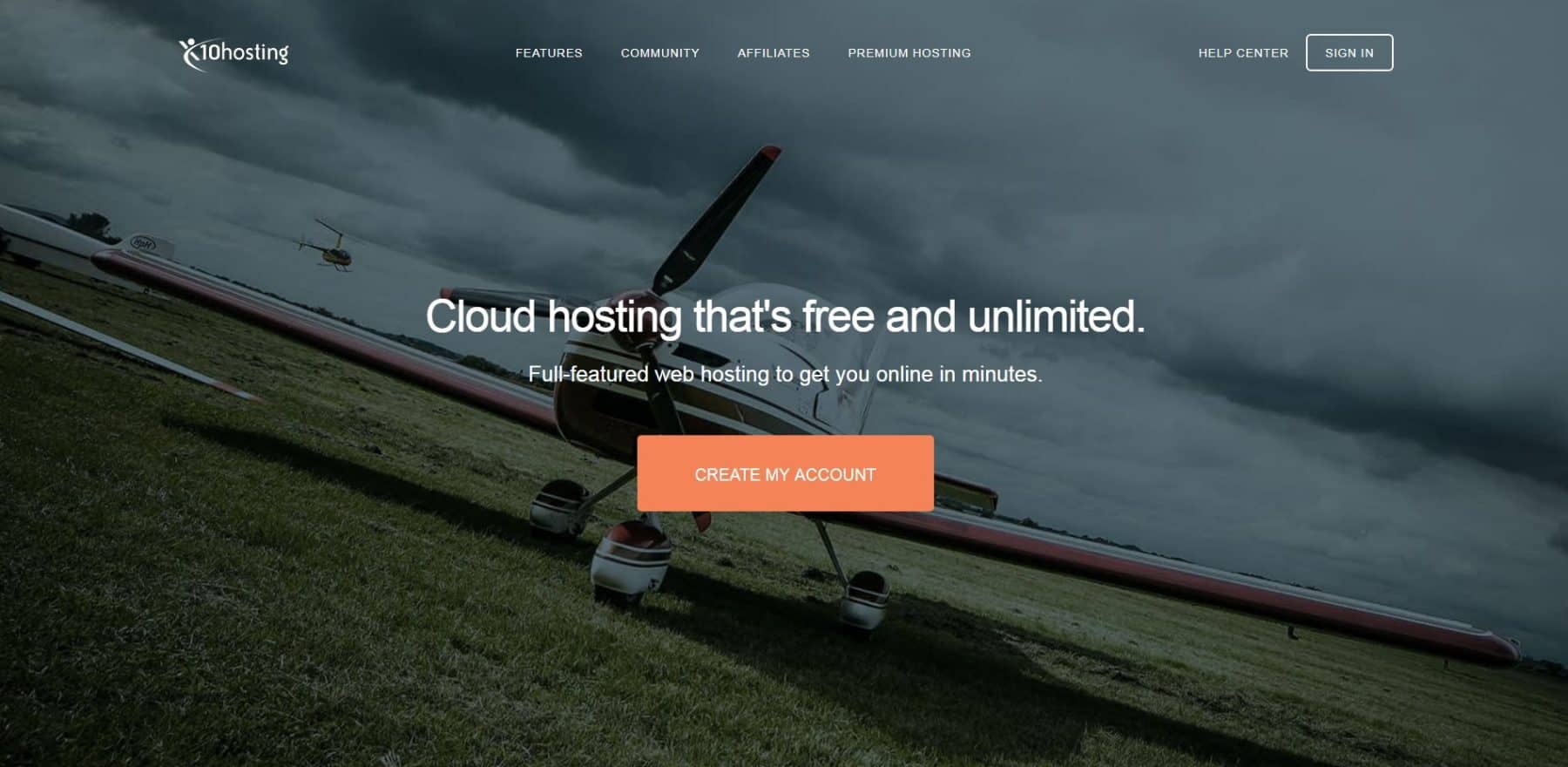 Response Time: 340 ms
Uptime: 100%
Another entrant in the unlimited disk space and bandwidth segment of the market is x10hosting. They utilize a cloud-based system that leverages SSD drives to provide good responsiveness. You'll also have access to cPanel, PHP and MySQL, and that makes the company's offerings an excellent choice for anyone who has at least an intermediate background in web programming. All software packages in the stack are set to the newest versions. They've also been in business for more than a decade, and their package includes a website builder.
Trying to distinguish itself a bit, x10hosting aims to be the one-click installer company. You can load a variety of apps, including:
WordPress
Joomla
PHPBB
Magento
The Magento offering is a nice add-in because it allows beginners to get started quickly with e-commerce.
As is common with most companies in the business of providing free web hosting no ads, you can expect to not have email on your server. Only one domain and website is allowed per account, too.
The big annoyance with x10hosting as one of the "free and unlimited with an asterisk" web hosting companies is that they employ a policy of suspending accounts that use lots of resources. This is done at their discretion, and it requires user intervention to remove the block. Some users have even reported website deletions.
Excellent speed and uptime are tempting. However, dealing with the resource usage policy means dealing with a situation almost as bad as being deplatformed. It sucks to invest a lot of work in building a site on a hosting platform just to see it go poof.
AwardSpace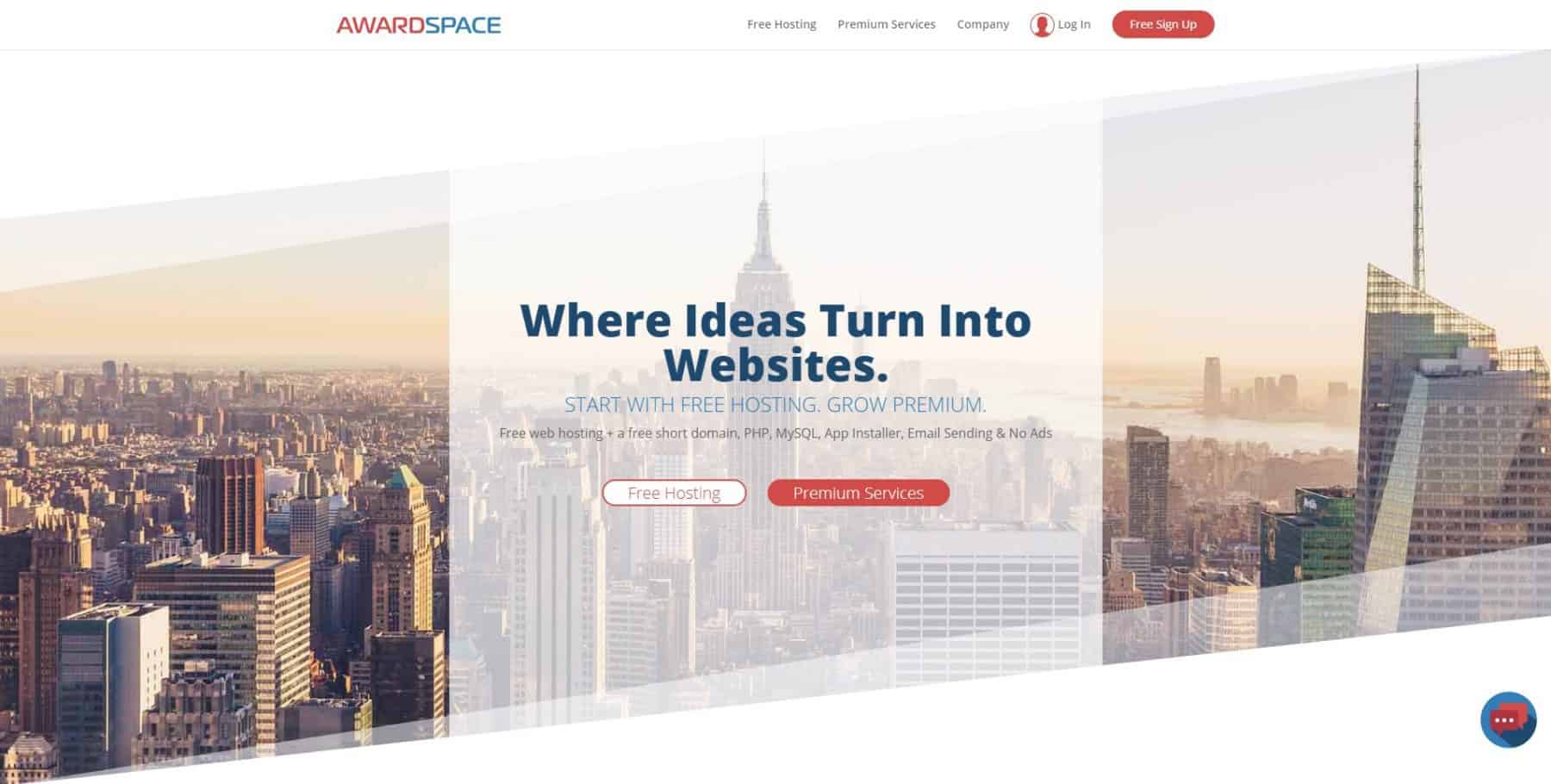 Response Time: 800 ms
Uptime: 100%
AwardSpace comes into the market as the 100-percent ad-free company that provides 27/7 customer support. There are one-click options for installing both Joomla and WordPress, and they provide an uptime guarantee of 99%, even though most of the assessments of their offerings peg them at 100% uptime.
What are the catches? You'll only get one Gb of disk space and 5 Gb of bandwidth. That's not horrid, but things get a little ickier when you dig into the company's terms of service. Buried in the ToS is permission to sell your data to third parties.
Speed is also an issue with AwardSpace. While testing seems to show a bad 800 ms response time, there have been reports of cases that are closer to 1,500 ms.
The company tries to upsell you to their paid tiers, too. While some of their pricing looks cheap, dollar-for-dollar, you can probably find a hosting package in our later section on nearly-free web hosting providers that'll perform a lot better.
FreeHosting.com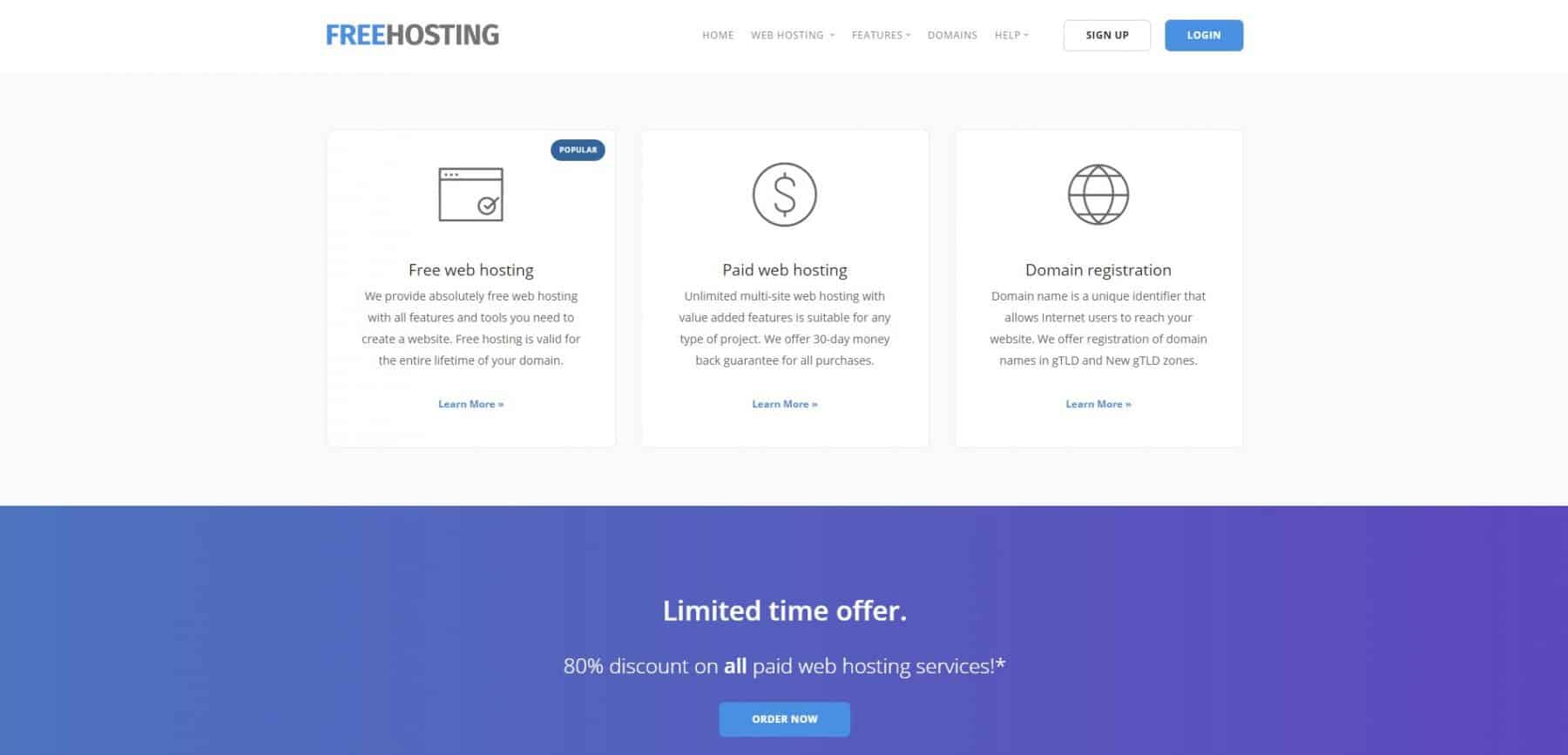 Response Time: 948 ms
Uptime: 98.79%
In terms of features, FreeHosting.com is one of the best free web hosting companies out there. You get 10 Gb of disk space and unmetered bandwidth within a tight acceptable use policy. Users also can each host one email account per site! The control panel is available in a number of languages, too.
With data centers located in Europe, performance is a massive issue with FreeHosting.com. Uptime is unacceptably low, approaching the equivalent of being offline for at least half a day each month. Responsiveness is pretty bad, too. Page load times are worse, and you expect sites that leverage PHP-based content management systems to take several seconds to load.
FreeHosting.com is a hard no for anyone running a small business. Truthfully, even if you just want to throw some family photos onto a page, you could probably do better. Unless you absolutely need a truly unmetered bandwidth cap, look for free service elsewhere.
The Pros and Cons of Free Web Hosting Sites
Pros
It's fairly safe to say that the biggest pros of using free providers is that they offer their stuff for free. That's a big surprise. Generally, though, free is a direction you should only go if you're looking for something like free domain hosting where you're just parking names for later use or sale. It can also be a good way to get some practice using software packages like PHP and MySQL, but be aware that limitations on file manager and database access can still keep you from growing as a website designer or programmer. Folks trying to get a handle on HTML and CSS, though, ought to be fine.
Cons
One of the cons is pretty obvious. Free rarely means truly free. Unlimited metering of bandwidth, for example, is almost always subject to usage restrictions, resource limitations and even arbitrary limits on how many hits per day your site can accept.
There is a major con that goes unseen if you're not thoroughly familiar with how the average free hosting service is configured. Free hosting almost universally means shared hosting. This means your website is not only using the same resources as other sites on the server, but there's a serious chance your site will also be hosted within the same file system.
Many low-end web hosting sites, even ones that are paid, use this model to keep their costs down, but it's problematic for security reasons. We cannot emphasize strongly enough that you shouldn't store sensitive data on any sort of shared hosting system. If you're not 100% sure your plan involves at least a virtual dedicated server that has its own partitioned memory and storage space, you absolutely should not store anything that requires security in the file system or on the database.
The spotty availability of features is a problem. In particular, the lack of free email tends to be annoying. You'll also see a lot "free" offers that don't really provide the full thing for free. For example, "free SSL" is usually just a user-generated certificate that isn't fully validated.
An actually free SSL certificate is not going to be had on a no-cost hosting plan. You're going to likely need to pay at least $10 per month to get a proper free SSL certificate that goes through a recognized security company. The same goes for getting a truly free domain name.
For folks who are fairly experienced, especially coders, free is often very problematic. Free hosts generally stick with the old-school LAMP stack. You can forget about setting up a site that uses Node.JS or Ruby, for example. More modern databases, such as NoSQL, you can just forget about on the free tier.
What is the alternative, you might ask? Let's assume that you're not looking at free hosts because you want to fork over a lot of money. With that in mind, here are some nearly-free alternatives that are worth considering.
Better than Free: Very Cheap Web Hosting Plans
Cheap is better than free because you'll actually get ad-free hosting and actual support. Free hosting is not really a thing, they're going to get you somehow. Might as well just cut to the chase and pony up a few dollars a month.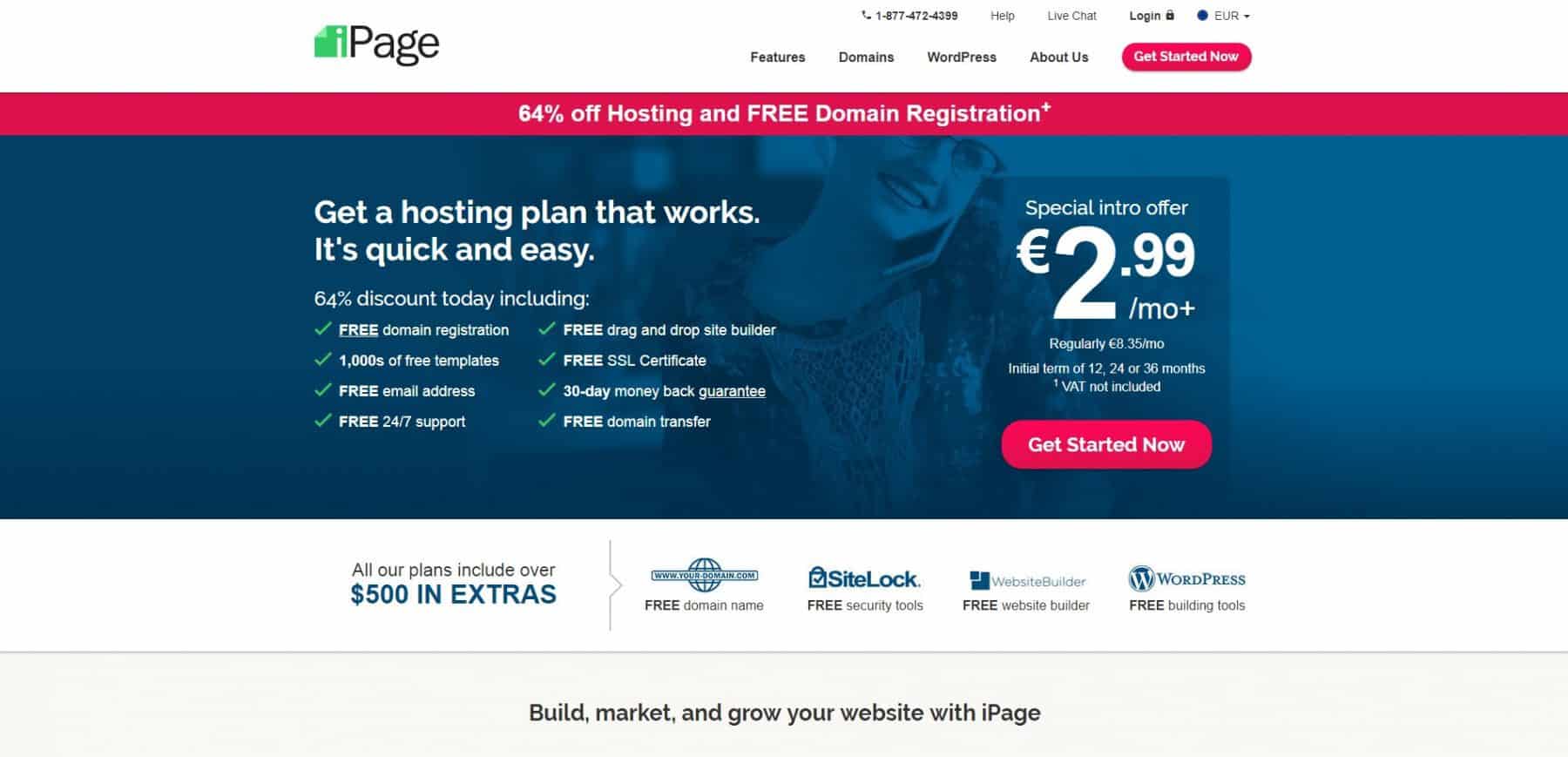 Starting Price: $1.99 per month
Response Time: 780 ms
Uptime: 99.95%
Going with iPage is mostly about getting unlimited disk space and bandwidth at a very low price. They aren't the most lightning fast of the almost-free providers, and they only have two data centers in the U.S. The company is also closely focused on the LAMP stack so you won't be getting away from the worst flaws of the free hosting sites. They also provide solid customer support over a chat system, but phone and email support are not available.
You can get a free domain name for your first year, and there is even a free SSL certificate. The price is excellent, but you can probably find faster and more powerful options elsewhere. Providing a bit of assurance on price is nice, too, and iPage offers a 30-day, money-back guarantee.
View full iPage Hosting review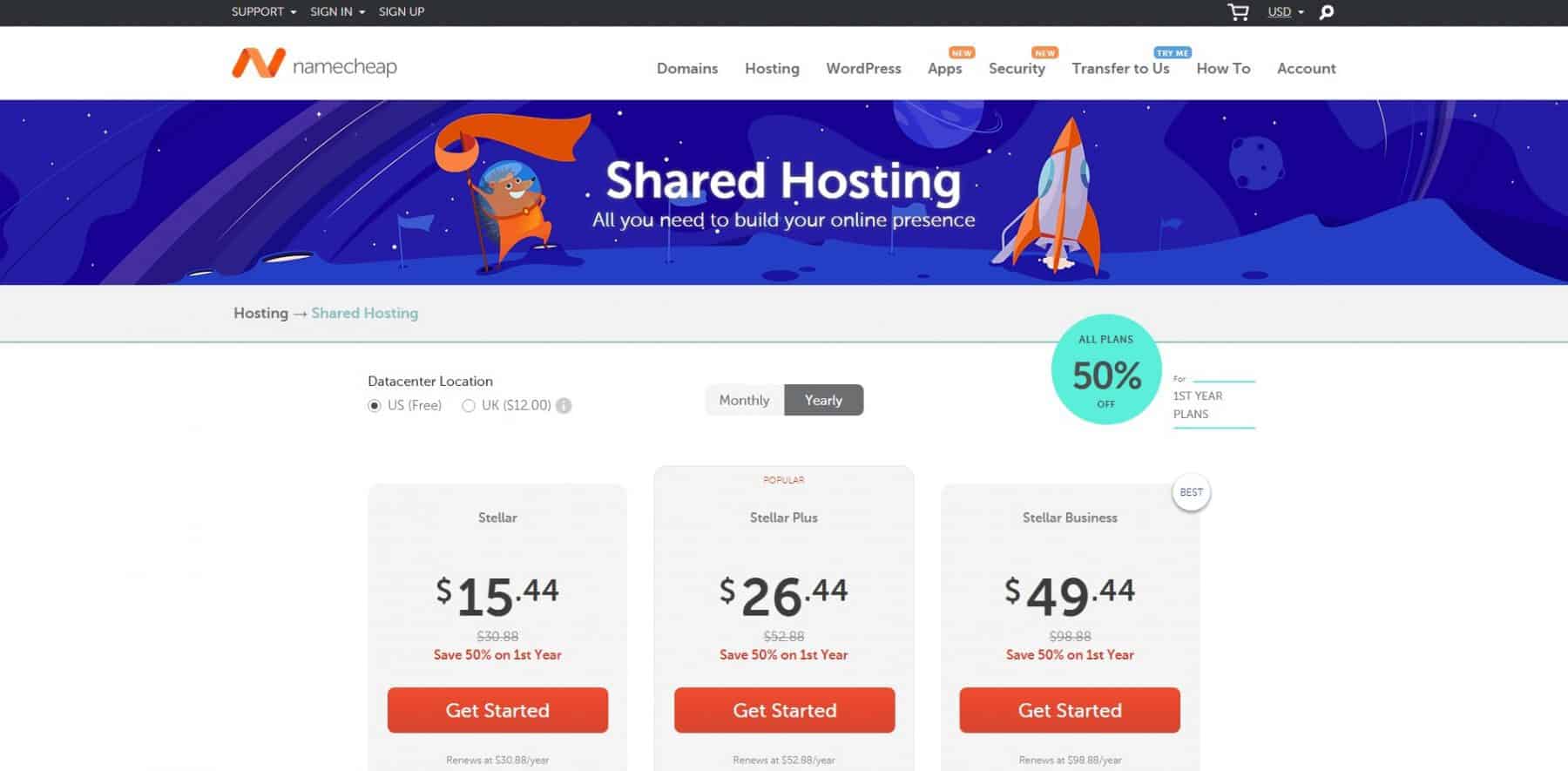 Starting Price: $1.37 per month
Response Time: 535 ms
Uptime: 100%
NameCheap is a company that has been in business for more than a decade, and they've long focused on selling domains and low-cost hosting plans. A big selling point is that they offer free assistance with website migrations. If you've already established a presence on another company's servers, it's nice to know there will be tech support there to guide you through the process.
The company has a bit of a positive reputation among domain name traders. If you're looking for a good parking option where you can drop a domain, it's hard to beat NameCheap.
Customer support is a bit spotty with NameCheap, though. Even folks who've dealt with second-tier representatives have gotten copy-and-paste answers out of the knowledge base.
If you're a beginner who's afraid you might need some assistance, NameCheap is not for you. For more skilled and experienced folks, however, NameCheap offers the absolutely most rock-bottom price you're going to find for a usable web host without ads on your site.
View full NameCheap Hosting review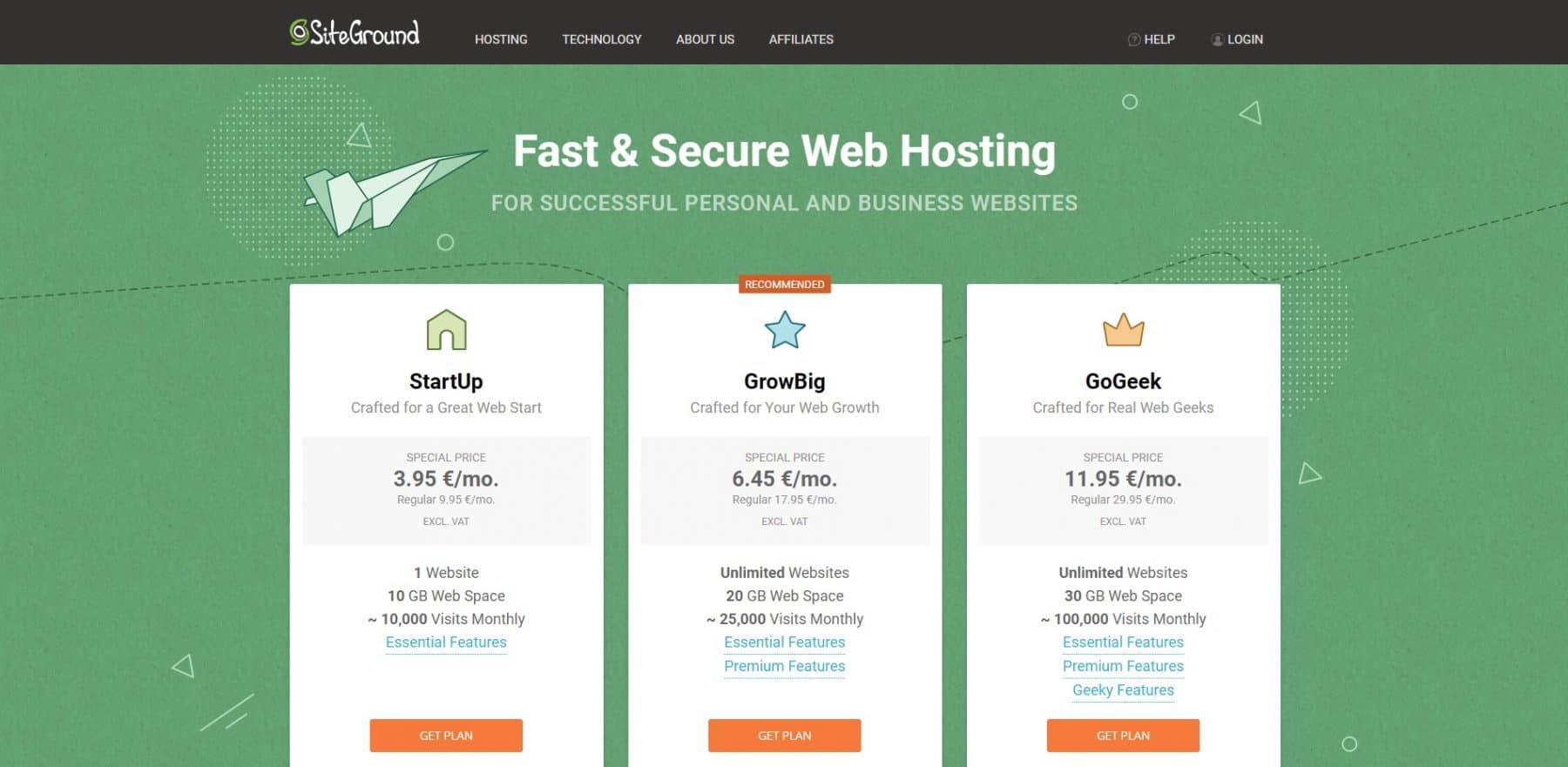 Starting Price: $3.95 per month
Response Time: 570 ms
Uptime: 99.97%
Siteground is a company that's focused on providing enterprise-level performance, and most of its plans are priced accordingly. They don't want to leave entry-level users and beginners in the wilderness, though, and that's where their cheap hosting tier comes into play. Free website transfers are offered, and you can get 24/7 customer and tech support via phone, email or chat.
Rock-solid stability is an important factor, especially once you start paying a company to keep your site up and running. Fortunately, Siteground offers a wide range of add-ons that ensure stability. These include:
A free CDN
Free daily backups
Data centers at multiple locations across the world
It's not clearly stated on the hosting page, but bandwidth is unmetered. You'll also get 10 Gb of disk space. MySQL storage space is unlimited, and you'll have both cPanel and SSH access. SSL and HTTPS are included for free, too.
Those who want something close to enterprise-grade performance without putting forward a lot of money will find SiteGround to be an attractive option. You also can readily upgrade to more storage and resources for a couple of dollars more. Assistance will be there for you every step of the way, and that makes SiteGround one of the more interesting nearly-free options for beginners.
View full SiteGround Hosting review
AWS Cloud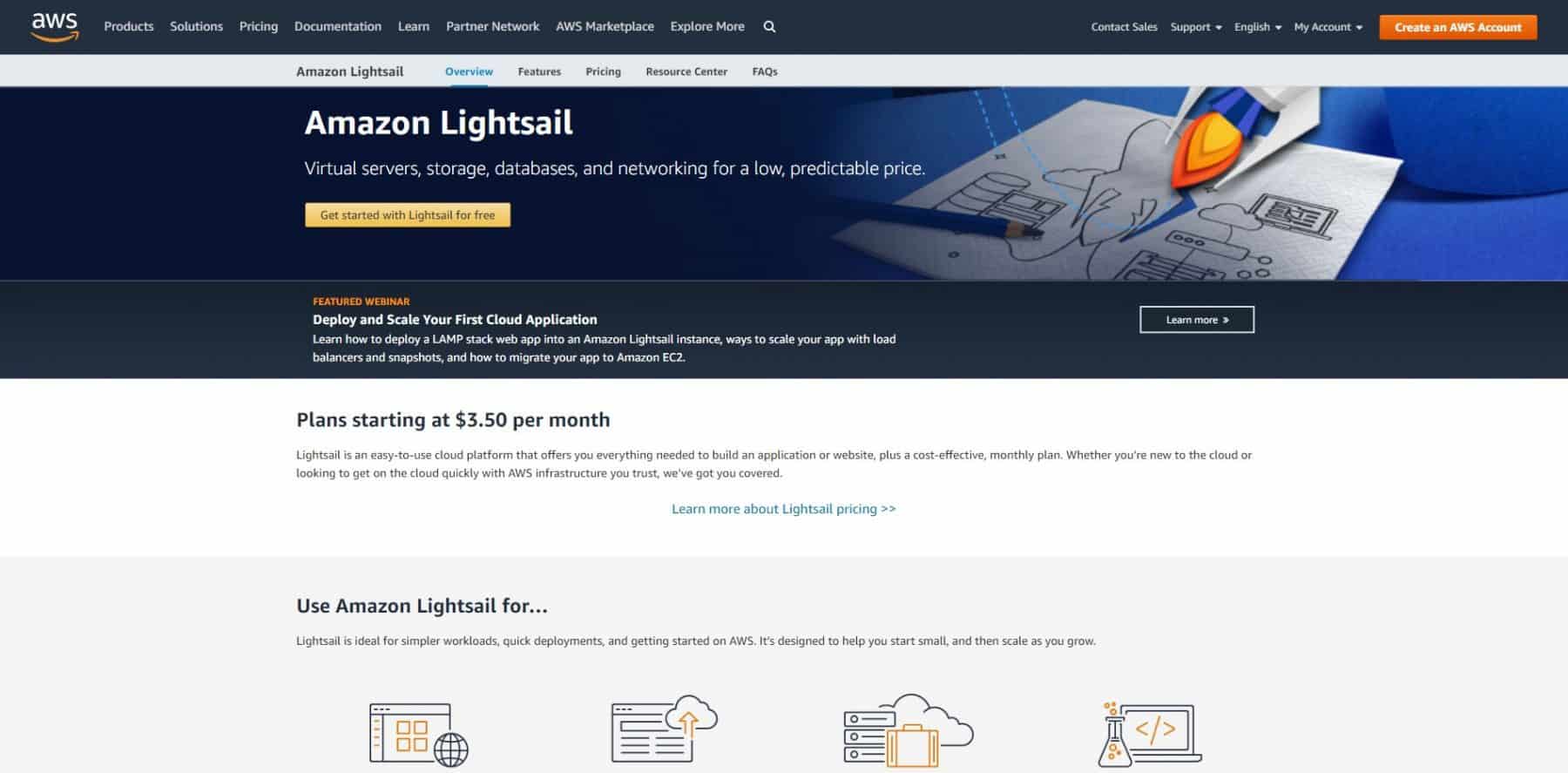 Starting Price: $3.50 per month
Response Time: 500 ms
Uptime: 99.99%
Two things need to be stated upfront about using Amazon Web Services to host a site. First, it simply is not for beginners at all. AWS is built for organizations like Netflix and Major League Baseball that need to stream massive amounts of video and data every day. It is not a friendly place for the little guy to swim.
Secondly, the pricing structure can be downright confusing. All usage on Amazon's servers is metered and billed on the basis of CPU cycles utilized. They try to make some simpler pricing structures available in a cheap tier for $3.50 per month, but that's actually pretty hard to set up.
Metering and billing in this form can be a good thing. Especially if you're trying to keep a site up and running during fluctuations between peak and low seasons. For example, a small business that has a retail site that only attracts heavy traffic during the holiday shopping season probably doesn't want to pay the same for hosting in June as they do in December.
AWS makes it possible to scale automatically, but you're also going to want to keep an eye on the billing page to make sure costs don't get out of control. Even if you run a tiny website and host it on AWS, don't sleep on this problem. A single undetected denial of service attack can eat resources and cost you money.
One major advantage of AWS is you can host whatever the heck you want on Amazon's servers. There's nothing that prevents you from partitioning a cloud instance and installing an operating system of your choice on it. That's an insane level of control for this tier.
Conclusion
Free hosting tends to come with a lot of strings attached. It's wise to think about what your priorities are before you pick a host. Are on-page ads a concern? Do you need to secure information? Are you a beginner or a seasoned pro?
We strongly advise folks to think about moving onto a nearly-free option, if at all possible. Free hosting plans are great for just getting projects up or posting a bit of info about a personal passion. If you're trying to keep a small business or organization on the web, you may want to pony up a little cash.
Last Updated on October 21, 2020 by Joe