I'm in LOVE with SiteGround.
I've used them for years, I've recommended them to all my clients, and they continue to impress.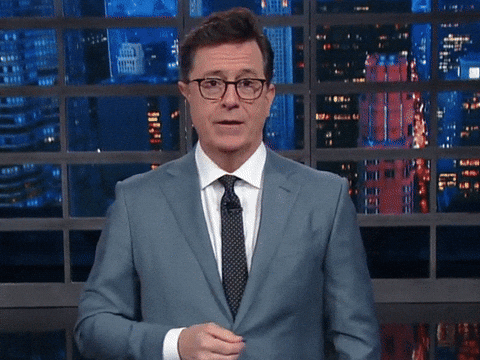 Don't you love a good underdog story, where the underdog actually becomes the best in the business? That's SiteGround.
I mean, they were started by a lawyer in Sofia, Bulgaria of all places – who would have thought they would come to capture the hearts and minds of site owners around the world.
They are better because they work harder. They're an independent company that prioritizes customers (sounds like Amazon or Nordstrom), and they don't have stock prices and corporate overlords to answer to.
With 450,000 domains worldwide with data centers in the U.S., the Netherlands, the U.K., and Singapore they're the real deal, not a scrappy startup.
What are the Top Features of SiteGround Hosting?
I'll cut to the chase, these are the things you care about with hosting, and SiteGround delivers:
Customer Service: I'm putting this number one because their customer services is outstanding. They answer support tickets within minutes not hours. And the support is detailed and friendly. They go above and beyond.
Pricing: I actually like that their pricing is inexpensive, but not super cheap. Reason being is that I know they're selling at sustainable prices and they can take that profit to reinvest in their platform. Guess what, if you're paying another company $1/month for hosting it's either crappy or you're going to get upsold at a later date.
Features: They were one of the first hosts to focus on WordPress sites (along with WP Engine), and so they know how to match the market. Their GoGeek plan comes with epic features: staging, priority support, and premium backups (you'll want this).
Other awesome things include 99.99% uptime guarantee, easy installation of WordPress, free SSL certificate through Let's Encrypt, and more. It really is a great host for bloggers, ecommerce site owners, and business owners alike, with both advanced and beginner-friendly tools. The downsides to SiteGround include limited storage and other hidden costs, which we cover below.
Our Official SiteGround Review
SiteGround has amazing support and very helpful staff. And for the price, your domain comes with a bevvy of helpful tools that other hosts do not provide. Overall, SiteGround is a well-priced and easy to use option for those who don't require a ton of bandwidth for their site. But if you are a power user with a large database and are planning for heavy use of the staging and SG-Git functionalities, you should take time to compare hosts before pulling the trigger.
Best Features of SiteGround Hosting
If you are the average hosting consumer, the many great features SiteGround offers generally outweigh the downsides. SiteGround has really nailed down the basic needs of most site owners by building a well-priced and easy to use platform backed by excellent customer service.
1. SiteGround Customer Service: Excellent Response Time
The speed at which SiteGround responds to tickets is unparalleled. You would be hard-pressed to find a hosting company that can beat their 15-minute average response time. They don't have a chat option, but it is hard to see that as a something to dock them for when they generally answer support tickets within minutes with a thoughtful, helpful response. Chat support gives you instant recognition, sure, but the inherent brevity of that format can make it difficult to convey complex problems and receive their respectively complex answers. GoDaddy, for example, pushes you to call their support phone line, which can mean a lot of time spent on hold. And Rackspace averages more than a 30 minute ticket response time. But SiteGround 24/7 team gets to the bottom of your issue quickly and efficiently.
2. SiteGround Pricing: Great Bang for Your Buck
Another extension of their world class customer service, at the purchase stage a SiteGround sales rep will take the time to truly understand your needs and make reasonable recommendations. They won't upsell you on features and storage space you have no need for. Why not? Because most every feature the average website owner would ever need is already included in the base price: privacy features, automatic back-ups, cPanel, FTP access, free domain name, standard security, Joomla, Drupal, and many more. SiteGround is only slightly more expensive than big-name competitor HostGator, but the support, features, and security attached are far superior.
3. SiteGround Wordpress Compatibility
If you already have a WordPress website, SiteGround will move your site for free. It's an easy, one-time process that requires no guidance. They also provide plenty of resources to help beginning bloggers get started. Furthermore, SiteGround's support staff is incredibly knowledgeable about WordPress and can help you with any questions you may have in the process of building out your page. The SiteGround WordPress relationship is a seamless one that should give longtime WordPress users no pause.
4. Pricing is Actually Really Affordable with Frequent Deals
Yes we're repeating ourselves, but in a different way. This is an update on their recent deals.
They're making some serious moves out there in Sofia. They've been dropping their pricing recently, with 70% off on  upon signup to a whopping $3.95/mo to start (as of March 2018). That's some seriously good pricing.
If you're trying to save as much cheddar as possible, but still want solid features – c'mon man – this is a great balance.
You'd think with the awesome features they include by default in their plans, and amazing customer support that they'd be a lot more expensive than the likes of Bluehost or Hostgator.
Not so.
They seem to have optimized their systems in such a way that they can offer both rock-bottom pricing and killer benefits. Only downside: you have to sign up for 3 years. But I'm telling you, you're not going to want to go with anyone else!
5. One-Click Staging is the Life Saver You Need…
…that you never knew you wanted. Seriously. If you're an entrepreneur, marketer, or beginning developer that's editing the site, you're probably a cowboy coder. What's that? Someone who edits the live site.
More experience website developers are laughing at you, but whatever, you have people skills 🙂
No, the thing is, you don't want to fix your engine while driving on the freeway. Likewise, you want to edit your website in a testing area (staging) and not on the live site (production).
SiteGround makes it suuuuuper easy with one-click staging. Edit the site, then push to live. Done.
6. Free Domain Upon Signup
With certain plans you get a free domain name upon signup. Hey it's only worth like $12, but we'll take it!
They make it seamless to sign up. You don't have to mosey on over to GoDaddy for a domain, just get the whole bundle with them. Unfortunately you'll have to pay to renew for subsequent years, but year one sounds pretty good!
7. Great Site Speed Tools to Keep Hosting Fast
SiteGround has their own Supercacher tool with four levels of speed and caching features depending on the plan you're on.
Only the super elite cloud plans and above get the HHVM caching support, but going up to Memcache is pretty solid (created by Facebook engineers).
They also support Google's PageSpeed caching tool as an alternative, as well as direct integration with Cloudflare. They'll also give you a Cloudflare recurring discount off the list pricing.
These options can get pretty overwhelming, but have no fear. Just talk to their friendly support, ask 100 questions like I do, and they'll solve your problem!
8. These are Managed Hosting Services
Ok, who wouldn't buy managed hosting? I'm not going to do any server upgrades, I don't even know how to. I've got better things to do.
But SiteGround takes care of all the super techy stuff that the IT guys with ponytails love to do. They provide managed WordPress hosting as well as for other platforms – Magento, Drupal, Joomla, etc.
Downsides of SiteGround Hosting
If you're on a very strict budget, or more of a power-user, then you'll want to really compare the features of SiteGround's hosting plans before pulling the trigger. Some higher-level capabilities come with hidden costs that you may not have budgeted for.
1. SiteGround Plans: Annual only
Though the price per month is generally low, all of SiteGround's plans require an annual contract. For most, it makes no difference to pay $48/year or $4/month. But if your plan was to test out a variety of sites over a short period of time, getting strapped with an annual contract may not be in your best interest.
And some of the more advanced plans can carry a sizeable upfront cost. The GoGeek plan, for instance, costs a reasonable $15 per month. But laying out $180 just to get started can feel like too large of a commitment. Perhaps SiteGround's reasoning is that the upfront payments deter some customers who might take up a lot of their support time only to jump ship in a few months. Again, this isn't an issue for everyone. But the lack of flexibility can definitely be a deal breaker in short term projects, in which case we'd recommend a budget host like Bluehost.
2. Hidden Limits on 1-Click Staging
One of the more frustrating issues that comes up with SiteGround is their 1-click staging. In order for staging to work correctly, SiteGround enforces a 100MB database limit for shared hosting. This may seem a reasonable limit for the cost, but the limit is not clearly stated for users when they sign up for their shared hosting plans.  If you run a WordPress site, there are a few plugins out there (ahem, Redirection) that can very quickly push you over your 100MB limit after just a few months of use. This can be very frustrating for intermediate users, who may have only just gotten into their workflow only to have to change it when they hit the storage limit. The 1-click staging is a huge selling point for SiteGround versus their competitors, but there is no mention of this limitation until you get there.
3. Inode Space Limitations
A second frustrating issue is that if you use more than 80% of your inode space, you can't create a git repository. Again, not stated up front until you're in too deep. Thankfully, their staff is extremely quick to respond and very helpful.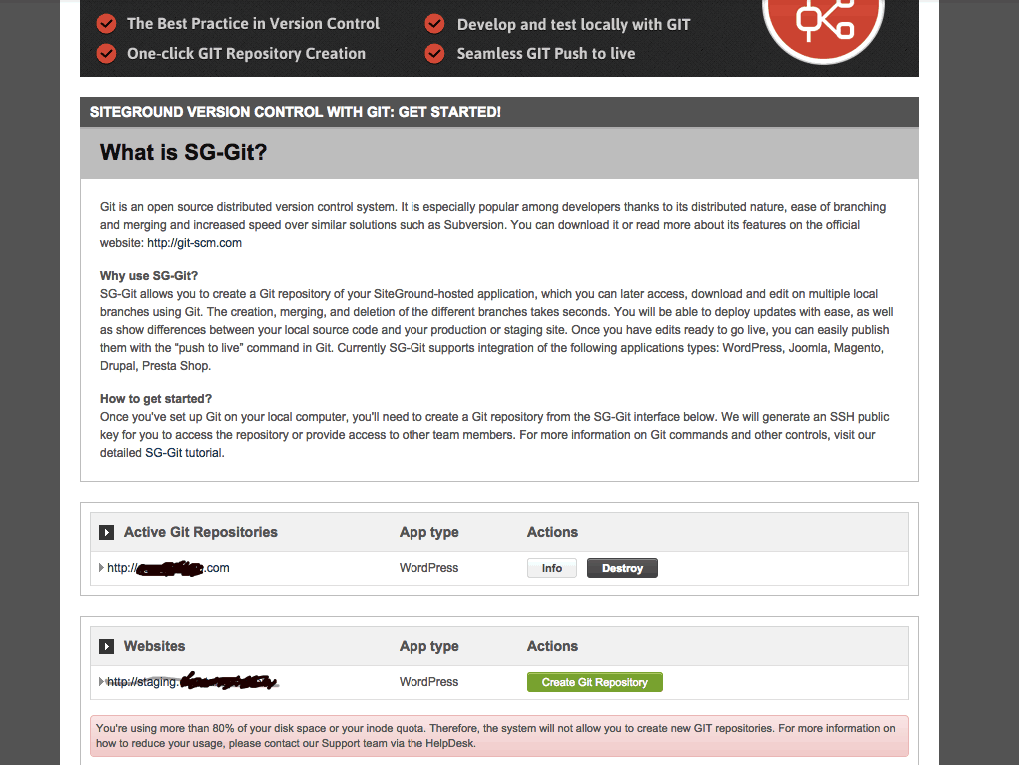 But also, you won't be able to create a staging server if you get to close to the edge. It makes sense, but it's another frustration.
4. SiteGround Migration: 1GB Limitation
If you're trying to migrate from another host, there is a 1GB migration limit on websites. If you want their premium migration service you'll have to pony up $50 to move everything over. Of course, this is not an exorbitant fee to have a professional migrate your data so that it is safe and guaranteed. But some folks are familiar with this process and would rather have the option of doing it themselves. The main issue here is that this hidden regulation is not stated up front. This can be irritating when you haven't budgeted for it or are more than capable of doing it yourself.
If you've got a good amount of photos, videos, and other large media assets, you'll likely hit that limit. But talk to their support and see what they can do for you.
5. SiteGround Storage: Only 30 GB
30 Gigabytes of storage sounds like a lot. And if you're running a simple WordPress blog it's fine. But if you're hosting multiple sites on SiteGround – which is a huge advantage to going with them – then issues start to arise with 30 GB.
I mean, GoDaddy's $1/mo (promo) starting hosting comes with 100 GB of storage! That's not to say GoDaddy is better, but I hope SiteGround steps up their game there. I would still go with SiteGround over GoDaddy any day of the week, but 30 GB can be limiting.
If your site has lots of high quality photos (every site should these days), and you start to create a few staging copies of the site for safety, then this is when you'll start running into the limitations. Be warned, this is a limitation. If I were you I would start with SiteGrounds basic or GoGeek plan and then just know if your site gets big enough you'll have to upgrade to their Cloud hosting in the future.
6. SiteGround Security: Hacking Support is Lacking
While the language on their marketing page may suggest otherwise, SiteGround security is lacking in several departments. The marketing speak on their page dances around the fact that, while they are totally on the ball when it comes to fixing server attacks, hackings of individual sites is low on their list of priorities. In fact, they won't even notify you if your site gets hacked. They will simply take it offline and wait for you to figure it out and ask them for help. Furthermore, recovering from a hacking is not free. You can purchase a $99-$199 security service after your site gets hacked, but the support from this team is poor in comparison to their general customer service. They work normal hours, not 24/7, and so it can often take up to 48 hours to get everything back to normal. That is a lot of lost revenue for ecommerce sites.
7. SiteGround Back End Issues
Many companies sink a great deal of money into their marketing and other investments, often to the detriment of their back end development and infrastructure.
Certainly no company or hosting provider is perfect, and the same can be said of SiteGround, whose back end issues emerge when you dig deeper into their advanced capabilities.
Glitches arise when trying to create and delete staging copies of a site, and  SG-Git users often notice ghosts of deleted subdomains persisting days after deletion —  both of which can be serious issues when it comes to storage limitations. In both of these cases, support reps have admitted that these problems are back end issues that have yet to be resolved.
Bottom Line
For many small websites and website owners that need fantastic support at a great price, SiteGround hosting is the way to go. The support is friendly, fast, and will go beyond their call of duty to give you great advice and help you solve the problem or point you in the right direction. If you're looking for something beyond bargain hosting that has more features, SiteGround is probably your best bet.
The SiteGround WordPress compatibility is top notch, and SiteGround pricing is competitive and includes plenty of helpful features. For more intermediate to advanced users, the decision should be carefully researched before purchasing. If it were not for their stellar customer support, a lot of the issues outlined above could be major deterrents for those who require advanced capabilities.
We recommend checking out A2 Hosting if you like the sound of SiteGround but have some reservations about the issues we raised here. Our opinion is that with an upgraded, more robust background infrastructure, SiteGround could avoid many of these simple storage issues. It would be a win-win for everyone involved: less unanticipated cost for the consumer, less time wasted for the customer support team.
SiteGround Reviews
Pros
Amazingly fast support
Great prices
Tons of features
SiteGround WordPress compatibility
Cons
Hidden limitations
Annual pricing only
Hacking/security limitations
Summary
SiteGround is one of the top recommended hosts for marketers, developers, and site owners that are looking for a good balance of price and value. SiteGround pricing includes all the free tools the average site owner could need. You're getting a support team mostly based in Bulgaria, but that's not an issue for most English speaking world citizens. Their support staff is some of the fastest around, responding within 5-15 minutes at any hour. The SiteGround Wordpress hosting features staging and WordPress git features that many bargain hosts don't offer.
What people say... 1 Leave your rating
So far am having a great experience
April 26, 2017, 9:22 pm
What sets SiteGround apart from other hosts?
SiteGround has created several new pieces of technology to give their customers the best possible support and service. SiteGround has won several industry awards for affordable hosting, budget hosting, reseller hosting, and customer service.
What shared hosting plans does SiteGround offer?
SiteGround has three separate shared hosting plans, which start at $3.95 per month for the basic StartUp plan, which is ideal for small shops and sites that have less than 10,000 unique visitors each month. It's great for one site, as it offers 10GB of space.
Their shared plans are offered in one-, two-, or three-year contracts, rather than month-to-month options.
All of SiteGrounds plans include Website essentials like:
● A free domain name, setup and transfer
● Free daily backups
● HTTP/2 enabled servers
● cPanel and SSH access
● SSD storage
● Free CloudFlare CDN
● Free Let's Encrypt SSLs
● Unlimited emails and databases
In addition, each plan includes free domain names, set-up and transfer, a Web site builder, and 24/7 technical support.
The GrowBig plan starts at $7.95 each month, and is designed for customers who want all of their sites in one account. It also adds in Website backups, premium e-commerce, support and security, unlimited Websites, Joomla and WordPress caching, and faster speeds.
The top plan, GoGeek, starts at $14.95 per month, and was made to handle high-traffic, high-resource Websites, e-commerce Websites, and server PCI compliance. The servers hosting Websites on these plans are limited, meaning the resources are shared among fewer users.
What dedicated hosting plans does SiteGround offer?
The company offers data centers in the United States, Europe and Asia-Pacific, and allows customers to pick the closest geographical location. All three Linux-based operating system plans include 5TB bandwidth, 24/7 VIP support, and full management that includes set-up, updates, and continuous monitoring.
The Entry Server program costs $229 each month, and runs Intel Xeon E3-1230 CPU.
● 3.2GHz CPU clock speed
● 4 CPU cores
● 8 CPU threads
● 8 MB CPU cache
● 4GB DDR3 RAM
● 500GB SATA II HDD
SiteGround's Power Server plan, which costs $329, runs Intel E3-1270 CPU, with 3.5GHz CPU clock speed. Other features include:
● 4 CPU cores
● 8 CPU threads
● 8MB CPU cache
● 16GB DDR3 RAM
● 1TB SATA II HDD
The Enterprise Server plan costs $429, and provides the highest level of functionality. The program runs two Intel Xeon E5-2620 CPU, with 2.00GHz clock speed.
● Two 6 CPU cores
● Two 12 CPU threads
● 15MB CPU cache
● 16GB DDR3 RAM
● Four 500GB SATA III/RAID 10 HDD
Does SiteGround offer reseller hosting?
If you are a developer or designer and are looking for good prices, quick speeds, and responsive customer service, SiteGround's unique credit program offers all three in their reseller plan.
Each credit equals one year of hosting, and as you purchase more credits, the price drops. One to four credits cost $49 each credit; five to ten credits cost $45 per credit, and 11 or more credits cost $42 per credit. Resellers can start by purchasing five credits, which never expire.
Reseller accounts consider a number of factors, and provide 10GB of Web space, unlimited data transfer, free daily backup and email accounts, and is perfect for about 10,000 visits. SiteGround guarantees a 99.99 percent uptime, non-branded cPanel and private DNS upgrades, which allow resellers to give their own customers the best possible programs and services. Resellers can set their own prices to help their businesses grow.
What about affiliate benefits?
SiteGround gives their affiliates a generous compensation package, which pays commissions weekly and has a short 30-day withhold period between the sale and the commission.
Affiliates who make between one and five sales earn $50 each sale; six to ten sales generates $75 per sale; 11 to 20 sales earns $100 per sale; and 21 or more sales earns the affiliate $125 per sale.
SiteGround offers real-time tracking for their affiliates, which allows them to monitor their sales and commissions, review their payment history, and see the results of different campaigns. They provide a variety of marketing and sales tools, like banner ads, logos, deep links, and timely content and news, and offer reliable, responsive account managers.
What other hosting programs does SiteGround offer?
SiteGround has a variety of different service and app hosting services
Service hosting plans start at $3.95 each month.
Email hosting offers a variety of email tutorials, Webmail clients, free accounts, and email at your domain name. Customers can create and manage unlimited email accounts on their domains, hosted on SiteGround's servers. They offer secure email protocols, run Spam Assassin with MailFoundry and SpamExperts, and offer cPanel management. Interfaces include RoundCube, Horde, and SquirrelMail, and they have compatibility with Outlook, Thunderbird, and MacMail.
FTP hosting gives customers the ability to work with any FTP client, with unlimited accounts and no size limits for the files. They offer anonymous FTP, and include daily backup and domains as a standard part of their plans. SSH file transfer protocol is allowed on all of the SiteGround plans, as well as secure transfer over TLS/SSL.
PHP hosting provides customers running this scripting language with faster, more secure Web sites. They offer five PHP versions (PHP 7, PHP 5.6, PHP 5.5, PHP 5.4, and PHP 5.3). There are more than 70 PHP modules, and they will work with customers who need a module that isn't part of their standard plans.
MySQL hosting gives customers unlimited MySQL databases, a phpMyAdmin manager, and safer, more secure databases. The have a separate disk for MySQL, and run an in-house MySQL query cache.
cPanel hosting brings customizable, easy-to-use skins, and allows customers to quickly manage Website files and folders, as well as performing a variety of administrative tasks. Partnerships with Softaculous, CloudFlare CDN, SpamExperts and 1h.com enhance the performance, and the SiteGround SuperCacher increases speeds.
SiteGround is highly supportive of free applications; as a result, it's a great choice for bloggers and designers. They offer a wide selection of Joomla and WordPress templates to help users get started. App hosting plans also start at $3.95 per month.
WordPress tools include a one-click installer, auto-updater, and WP-CLI on each plan. Their top two plans also offer SuperCacher, which brings higher speeds, WordPress staging, and a Git interface. Because of their service, WordPress has given SiteGround an official recommendation. This partnership has allowed them to offer managed WordPress on each account. SiteGround works from the server up to give customers the best possible experience, taking care of the glitches that come with updates, and backing up the data.
Joomla hosting is easy and cost-effective to run. SiteGround provides one-click installation, and free transfers, template and installations, and a domain name. Their consistency eliminates downtime. There are 30 daily backups of each Joomla site, and accounts are isolated for further protection. Joomla has named SiteGround as a both an official host and an events sponsor.
Magento hosting plans are ideal for online shops, with Cloudflare CDN and Railgun, easy transfers and installs, and SSD drives. SiteGround gives their customers server-level security fixes, Git integration, and protection from hacked accounts.
Drupal hosting plans include many of the same features as other app hosting plans, as well as pre-installed Drush, a set-up free command line interface that lets you work quickly and easily with your Drupal code for modules, themes, and profiles.
PrestaShop hosting has been customized to improve service and performance, giving shops and their customers the best possible experience. They also offer support for oscommerce.
Are there any industry specific hosting programs with SiteGround?
SkaDate Hosting: If you want to run a social network, SiteGround's handmade hosting solution was designed to optimize your dating web site.
WP eCommerce hosted on SiteGround's servers is guaranteed to run perfectly, with a high level of security and support.
Educational institutes can take advantage of SiteGround's special offers for academic organizations. The company places a high value on education, sponsoring courses at Virginia Intermont College, MACC, and DePaul University, among others. Students get accounts with 10GB storage, FTP, SSH and Git, free e-mail, unlimited MySQL databases, and automatic daily backups, for $1.99 each month. Instructors can get a free account, as well as free LMS installation for their classrooms and students.The sign-up page is completed in a day, and students can receive free web hosting with all of the features though the instructor's page.
Spanish-speakers can receive their installation and set-up in their native language, and can also receive support in Spanish. SiteGround offers tutorials and e-books to help their customers reach their maximum potential with easy-to-understand resources.
What is SiteGround customer support like?
The company plans their staffing patterns in their European office, which handles customer service, to make sure that customers have very little waiting when they call for support. On average, tickets receive a response within 15 minutes, and customers wait less than one minute for phone and chat support.
Supervisors and managers regularly audit and evaluate the performance and speed of each employee, and track the team performance so that they can ensure customers get the best possible. In addition, SiteGround invests in fast, efficient support for their technology. They highlight their top support representatives each month on their blog, sharing the exact number of clients served by the representative, as well as the percentage of happy customers.
SiteGround leaders pride themselves on creating an environment that makes employees happy, noting that the employee satisfaction rate increases the customer satisfaction rate. They hold regular company meetings and trainings in headquarters that include pool tables, video conferencing rooms, a recreation area with a tennis table, and colors and designs meant to inspire and motivate employees. Founders note in their blog that when employees feel comfortable and at home, they respond to customers as though they were family or friends.
Representatives receive training in specific applications, are encouraged to take continuing education courses, and are able to provide in-depth help, from script extensions and plug-ins to templates and app-related situations. Others have written detailed tutorials to walk customers through common needs. SiteGround has a searchable knowledge base that includes more than 1,740 informational and instructional articles. They've created a series of webinars with hands-on demonstrations, and a set-up wizard to help each new customer find the information and instructions they need. Sites can be set up in a matter of minutes through their streamlined, efficient process.
Customers who need to reach a representative can check the wait times on SiteGround's Website, where they will note how many minutes the wait time is for calling, chatting, and tickets. Many report that along the entire spectrum, from prospective clients to long-term customer, with any level of experience or expertise, the representatives from SiteGround provided a high level of support and care. Questions were answered almost always on the first call, and the company reps were pro-active in following up on more complex questions.
To help customers stay up-to-date on the company's happenings, they maintain a blog that talks not just about the corporate environment, but also on system upgrades, developments and trends in the industry that could affect customers' sites, situations with any plugins or applications, and interesting news. The blog is updated several times a month, and customers appreciate the information and responses they receive by commenting on different blog posts.
Does SiteGround have an uptime guarantee?
SiteGround is a solid provider, with reliable connectivity. Most hosts promote a 99.9 percent uptime; SiteGround promises 99.99 percent uptime, which they deliver, with their uptimes reaching 100 percent at times. Developers and designers can quickly check the uptime rate of their sites on SiteGround's Website.
SiteGround opted for Linux containers, which are very efficient and stable. The company's developers have written their own Kernel patches, which have been adopted in the official Linux Kernel code. Members of the development team also designed an in-house server monitoring program that not only alerts them to server status issues, but repairs them. It also analyzes the situation to predict and prevent possible future problems.
They have a low downtime average, with outages of about three minutes. Many reviewers noted, though, that by the time the realized their sites were down, SiteGround was already working on getting them back up.
How secure are SiteGround's data centers?
SiteGround's data centers are in Chicago, Amsterdam, and Singapore; a second European location opened in London earlier in 2016. They partner with many major carriers to give customers the best availability and speed. Each data center has more than one power feed, generators, and UPS technology. Additionally, the data centers are always protected by security guards, and they require biometric screening to enter. There are bulletproof lobbies and video surveillance to provide a higher level of monitoring.
They also added and upgraded their Chicago data centers in 2014, to a newly completed facility run by their partner SingleHop. Through that move, which greatly increased network speeds, they were able to improve the organization by moving servers into private cabinets. Senior data center technicians are the only ones who are permitted to work on SiteGround servers.
In 2015, Siteground launched their own backup system, which they say has helped to restore data up to four times faster than with their previous program.
SiteGround was an early adopter of secure account isolation on shared servers, rolling the program out in 2008. The server security options are extensive, with SpamAssassin and SpamExperts, Leech Protect HackAlert monitoring for an additional fee, and CloudFlare integration, giving sites extra protection and speed. Their Softaculous integration makes sure that there is no malware running on your site or inside the coding. For the prices, the amount of security features makes SiteGround an ideal choice for small businesses and individuals or companies getting started with their websites.
What kind of technology does SiteGround use to make sure my plugins stay up to date?
SiteGround has put in place a number of tools to make sure that pages load consistently and quickly, with very fast load times. Each shared server and cloud plan includes SSD technology, which multiplies the input and output times by more than 1,000. SiteGround offers Let's Encrypt free SSL certificates to enable customers to activate  HTTP/2 network protocol.
Shared and cloud plans also utilize NGINX server technology as a standard; dedicated server plans can be upgraded to include the booster. Based on the program's abilities, SiteGround built SuperCacher, which optimizes the speed of Drupal, Joomla, and WordPress speeds.
While CloudFlare CDN is an outstanding tool for site security, it also contributes to faster-loading pages.
What kind of money-back policies does SiteGround have in place?
SiteGround customers who aren't happy with their service can cancel within 30 days for month-to-month plans. Overall, the few cons customers have found with SiteGround, though, haven't been enough to outweigh the tremendous customer service and security options they provide customers.