Bluehost vs GoDaddy: two name-brand hosts that advertise heavily to the general public. Are either of them good? We think both can be an ok starting point for beginners or those wanting the cheapest hosting. If you have a ton of domains on GoDaddy and are working with a beginner website, it can be fine to stick with them. If you're looking for a beginner web hosting, Bluehost is more specialized on that front. Either way, we'd recommend SiteGround over both of these.
PRICING  |  VALUE |  SUPPORT  |  UPTIME  |  SPEED  |  FEATURES  |  CONCLUSION  
Bluehost is one of the most popular hosting companies in the entire world, but is it right for you? With name recognition and improved customer support, it's a solid choice for beginners.
VS
GoDaddy needs no introduction – it's probably the most-recognized host and domain name provider in the world. That being said, it's kind of like the McDonald's of hosting – cheap, mass-market, but not exceptionally good. Compared to any other host, the other host usually wins. That being said, if you are a loyal GoDaddy domainer, it can be worth sticking with them for small projects and outstanding phone support.
Pricing
Score: 4.5
Bluehost has some of the most affordable entry level pricing, with shared hosting being the most popular at rock-bottom prices. We deducted half a point for pricing because of the 3-year term required for the best deal, but overall it's about as cheap as it gets:
| | Shared | WordPress | VPS |
| --- | --- | --- | --- |
| Sale Price | $2.95/mo | $19.95/mo | $18.99/mo |
| Normal Price | $7.99/mo | $29.99/mo | $29.99/mo |
| Best For | Beginners | WordPress | Businesses |
Score: 5.0
GoDaddy's pricing is very low and great for beginners. With promos offering economy hosting at just $1/mo, the hosting is practically free. One thing to watch out for, however, is renewal rates. After your first period is up, economy hosting jumps up to $8.99 a month, so beware fo the lock-in.

| | Economy | Deluxe | Ultimate |
| --- | --- | --- | --- |
| Sale Price | $1.00/mo | $7.99/mo | $12.99/mo |
| Normal Price | $8.99/mo | $11.99/mo | $16.99/mo |
| Best For | Beginners | Small Business | High-Traffic Sites |
Value
Score: 4.5
In our opinion, Bluehost is a tremendous value. With pricing starting at just $2.95/mo (promo price), you still get the backing of a very large company with the expected customer support and quality of service. Some of the top features included in the rock-bottom starter pricing that add to the value are unmetered bandwidth, a free SSL certificate, and 50 SSD in storage.
We think the Plus shared hosting is a better deal with unlimited websites included, unlimited storage, and unlimited domains. Moving onto other plans, you'll see an overall great value for the money you're spending. You're truthfully not going to get super premium features, but the value will be very high. 
Score: 4.0
GoDaddy's value is pretty good for what you get. You're paying discounted pricing for a mass-market host. For example, what you get with the Economy plan (on sale now for $1/mo) is 1 website, unmetered bandwidth, and 100 GB of storage, and a free domain. Even when the price jumps up to a full price of $8.99/mo, it's still a decent value. That being said we'd recommend going Deluxe since you get unlimited websites and storage (within reason).
All plans include 24/7 support, which is a must, as well as security monitoring and DDoS protection.
Two big problems with these GoDaddy shared hosting plans: no free SSL certificate, which is becoming the industry standard, as well as a 1 GB limit on databases. If you are running WordPress and have some high quality photos, you can quickly exceed this database limit. For these two reasons, we're docking GoDaddy a full point.
Customer Support
Score: 3.5
Bluehost customer support is a mixed bag. Some recent reviewers have never had a problem, others have stories of waiting for a long time and getting subpar support.
With 24/7 support via both phone and live chat – you can always get ahold of them. Unlike other, more premium, support however you may not get the highest quality tech nor the fastest service.
Score: 4.0
GoDaddy prides itself on its 24/7 phone support, which totally makes sense for their mass-market customer base. One of the weak spots was the fact that phone was the only way to get ahold of them. They've since changed that and now offer chat support, which many internet nerds prefer.
Phone support is usually higher quality as they cut to the chase and can answer your questions faster. I've found chat support connects quickly, but you have to jump through some hoops including entering your pin number and waiting for their response. The quality of support is usually quick responses, unlike SiteGround, where they provide full solutions. Overall, good support, but not perfect. 
Hosting Uptime
Score: 4.5
Reports across the web show Bluehost uptime fairly strong at 99.99% to 100%.
However, it's hard to find if they offer any specific uptime guarantee like HostGator (sister company) does. Their server uptime agreement page only promises vague promises of less than 15 minutes of downtime before being fixed. 
Their shared hosting page doesn't make any references to a specific uptime promise. So even with great uptime reports overall with minimal downtime, we're docking them a half a point because of a lack of transparency on this issue.
Score: 3.5
GoDaddy's uptime is reasonably good, often at 99.95% or better. Reviews from users across the web are mixed, but usually uptime/downtime is not brought up as a major issue.
GoDaddy does have a server uptime guarantee (warning – legal jargon!) – but it only covers 99.90% (missing a .09 there) – which means your hosting can be down for 43 minutes a month, and they consider that normal. Imagine your website down during a crucial shopping period for almost an hour! Furthermore, GoDaddy only gives you 5% credit back – which may be just pennies. We think they should have higher standards and credit a full month.
Speed
Score: 3.5
Bluehost has made significant speed advancements in recent years. There used to be scores of user complaints, but they've upgraded their hardware to take this seriously.
However, you only need to pop over to Twitter to see tons of complaints. Now a lot of the speed problems come from your website overall setup and not just hosting, so be sure to take that into account. Bluehost also has tons of customers so there's bound to be some complaints. 
Bluehost made the honorable mentions in our fastest web hosting comparison post. Check that post if you need the ultimate in site speed.
Score: 3.5
GoDaddy falls middle of the pack as far as speed testing goes. They try to upsell you to their Ultimate plan to get more processing power and speed, which rubs me the wrong way. Economy plans need speed too!
On Twitter GoDaddy does get a decend amount of complaints, but honestly was expecting more for a host this popular.
GoDaddy did not make the list of our fastest web hosting. Check that post if you want to go with a winner.
Features
Score: 3.5
Bluehost has all the basic features you need to get started, and a very affordable way for beginning bloggers to start. They include a free SSL from Let's Encrypt, which is a must, as well as unmetered bandwidth.
However, when you compare to other companies like SiteGround and A2 Hosting, Bluehost is lacking some extra features that are very helpful. One complaint is the fact that you have to pay for migrations, which is annoying.
You also have to upgrade to some of the more expensive shared plans like Choice Plus and Pro in order to get site backups – which are critical for every site.
Score: 3.5
Not a huge fan of GoDaddy's features on basic plans. Most people are starting their sites on WordPress these days, and whil GoDaddy does have WordPress hosting, again you have to upgrade to get WordPress staging for example. On GoDaddy's economy hosting plans, you don't get a free SSL, you don't get backups, and they don't do migrations.
While GoDaddy does have some custom tools they've built, for a company this large I'd expect them to offer more features than a smaller, scrappier host like SiteGround – but they've gotta make their profits. Overall, features are ok, not great.
Conclusion
Final Decision: Bluehost vs GoDaddy
GoDaddy and Bluehost are both very popular hosting companies, and GoDaddy sells domains like they're hot.
Popular doesn't always mean best though. We have to say if you're looking for a perfect combination of features and low pricing, go with SiteGround – now on sale at a huge discount. Or, you may want to check out another low-cost-of entry host with up to 20x speed and more features, such as A2 Hosting.
That being said, between Bluehost and GoDaddy, we'd break it down by a few scenarios.
We'd suggest Bluehost for those looking for absolutely the lowest cost of entry (when GoDaddy isn't running a sale) and and better features, including a free SSL. They've also made big improvements in their customer service and speed lately.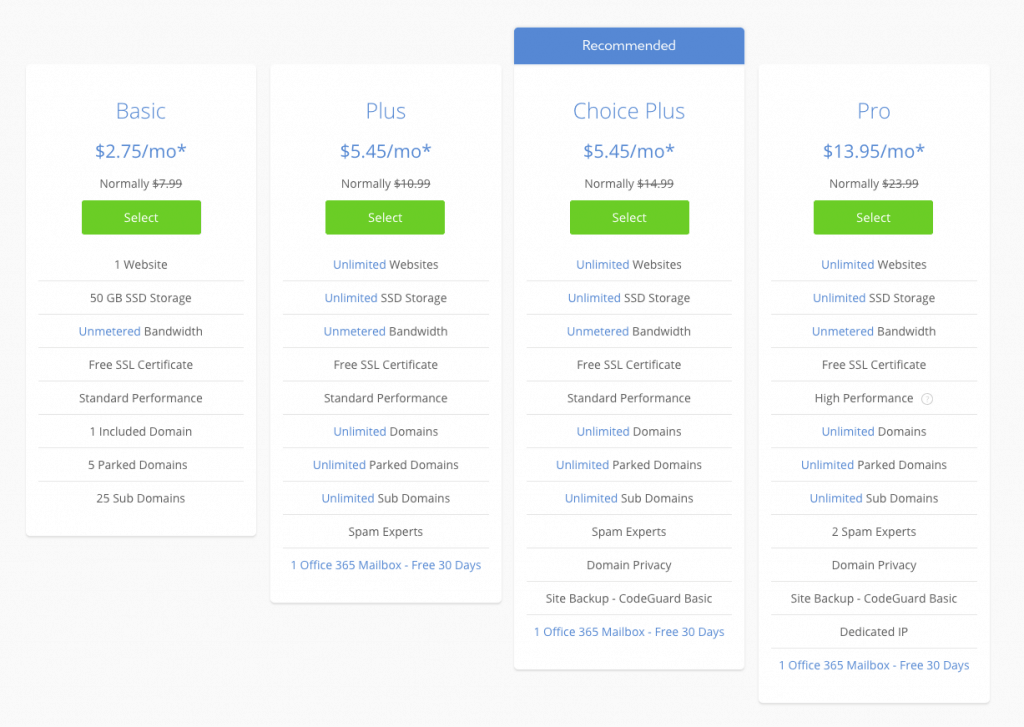 GoDaddy is good for those who are already on their platform, such as those who have a ton of domain names. We are worried about the amount of negative user complaints, and the overall uptime not beeing the best. The lack of a free SSL and the constant upselling is a huge issue too. That being said, GoDaddy has a rock-bottom price as of this review, with $1/mo economy hosting. Can't get much cheaper than that.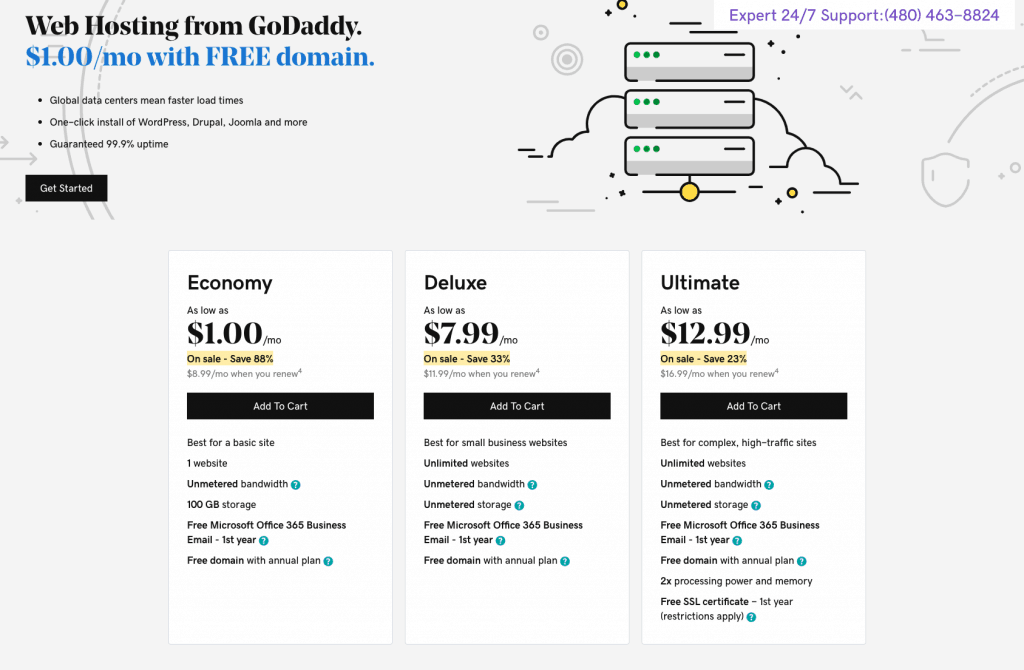 Best of luck in your decision – make good choices!
[related_comparison]
Last Updated on September 5, 2019 by Joe