Setting up ecommerce hosting for a website is an essential part of running many modern businesses. There are lots of companies out there that will insist they provide the best ecommerce hosting, but how do you really separate the good ones from the ones that just want to make a sale?
Some factors are common to both ecommerce sites and regular sites. These include things like:
Server response time
Uptime
Security
Guarantees
Customer support
Others are especially specific to ecommerce web hosting, such as the underlying software that runs the site and PCI compliance. Let's take a look at 11 companies that provide the best web hosting for online store operators, and then we'll also discuss several important issues you should consider.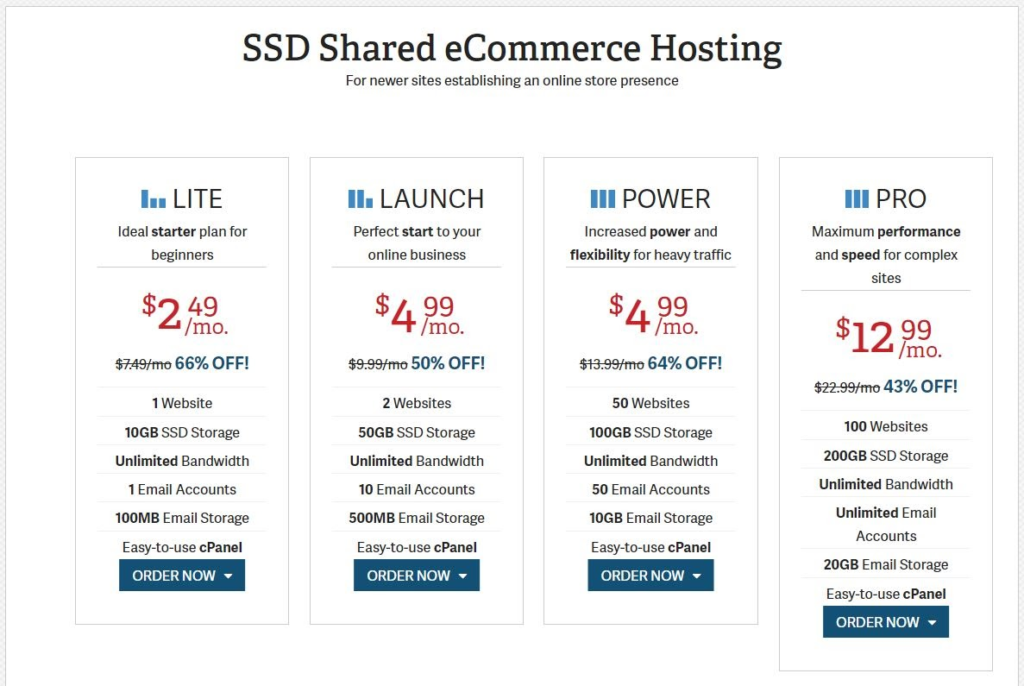 Lowest Price: $2.49 per month for shared hosting
Response Time: 1116 ms
Uptime: 99.99%
The main sales pitch from the folks at InMotion is a number of freebies thrown in. Your ecommerce web hosting on InMotion will be placed on an SSD drive rather than a traditional mechanical drive at no extra charge. They also throw in a free domain name.
Notably, pricing on InMotion goes up quickly as you add features. The jump from shared hosting to VPS hosting will take you up to $17.99 per month for the cheapest package. On the upside, they offer an impressive 90-day money-back guarantee.
The company does offer an array of ecommerce software packages. These include widely used ones like WooCommerce, Magento, OpenCart and Prestashop. Most of these are based on PHP and run on the popular LAMP stack. Installation is handled through a one-click solution so you should need minimal technical skills to get your hosting platform configured. They also offer 24/7/365 customer support every day of the year.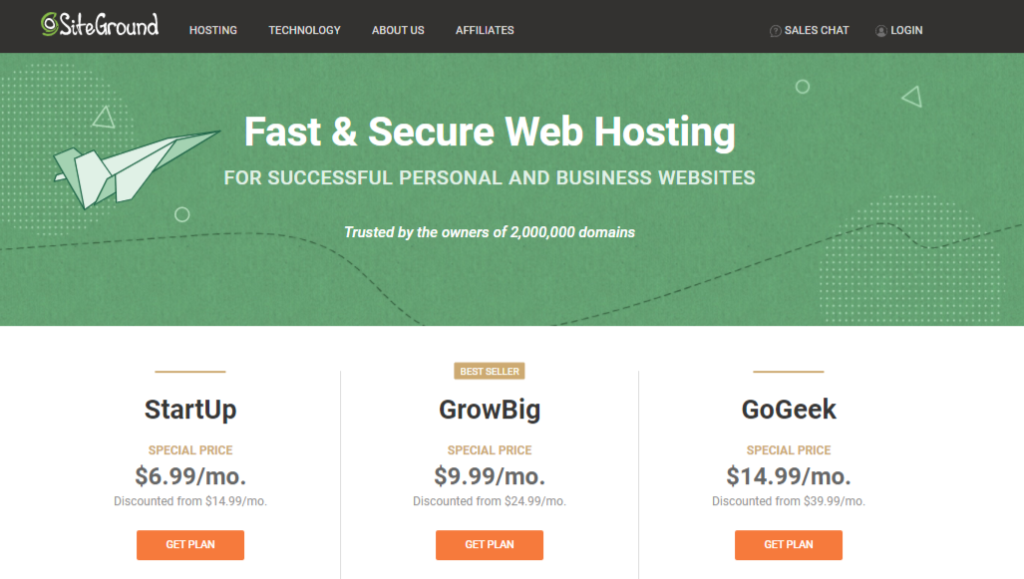 Lowest Price: $3.95 per month
Response Time: 487 ms
Uptime: 99.96%
You'll see a developing theme of how many freebies different companies throw in with their ecommerce platforms. SiteGround, however, means to be one of the serious contenders when it comes to telling customers, "And we also include . . ." Free items with all their hosting plans include:
Daily backups
CDN service
Transfer of eshops
Server optimization
Let's Encrypt SSl certificates
CMS installation
One of the more intriguing aspects of SiteGround's hosting services is that they have servers in multiple locations, allowing users to locate systems close to their customers by choosing close servers. This can significantly reduce latency, and you'll see that reflected in their solid server response time figures. They also offer unmetered data transfer so you don't have to worry about your ecommerce website going down if you suddenly become the biggest thing on the internet. Pricing on SiteGround is excellent, especially for just how much gets thrown in for very little cost.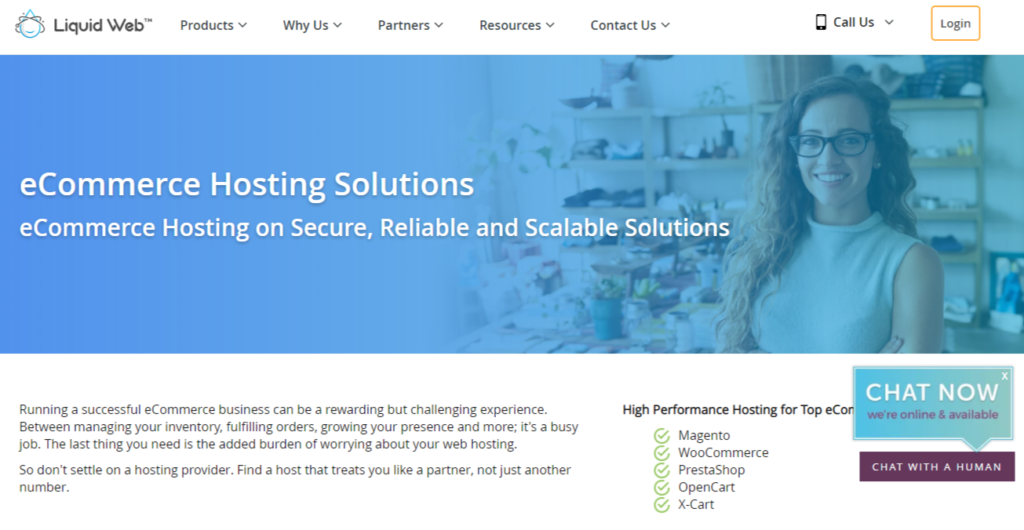 Lowest Price: $29 per month
Response Time: 950 ms
Uptime: 99.99%
At first blush, that low-end price of $29 a month might seem out of proportion with other companies on this list. The thing is, LiquidWeb is trying to avoid BS'ing their small business customers about one of the too-often unspoken truths of ecommerce hosting plans. An ecommerce solution tends to be resource-intensive, and it can be argued that one should only be hosted on at least a VPS system. Rather than bother with offering dirt-cheap hosting packages that may underperform, LiquidWeb takes you straight to VPS and offers a very competitive price.
Beyond respecting the honesty of LiquidWeb as an ecommerce business, they also offer one of the better managed options for folks who want to be on WordPress hosting and to use WooCommerce as their base. CloudFlare CDN is also included at no charge, and backup solutions are built in using cloud-based systems. DDoS is included, too. They even provide regular PCI compliance scans and vulnerability assessments.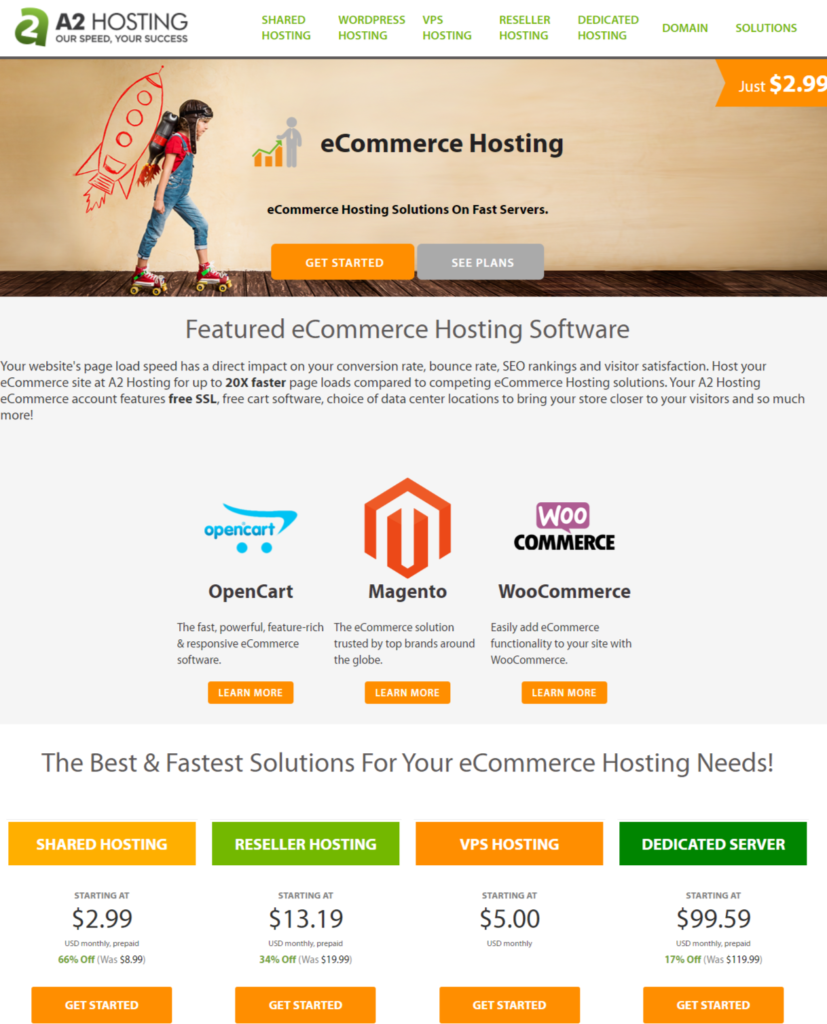 Lowest Price: $7.99 per month
Response Time: 849 ms
Uptime: 99.94%
Probably the biggest thing that commends A2 Hosting is the simple number of e-commerce hosting solutions the offer. In addition to the usual suspects like Magento and WooCommerce hosting, they also provide one-click setup of some less common options like:
ZenCart
XCart
TomatoCart
Arastta
Logic Invoice
AlgroCart
Blesta
Truthfully, that doesn't come close to doing justice to the list of choices from A2. As is typical for the cheapest of the options on the market, the low-end price is for shared hosting. A2 can, however, hook you up with a VPS or a dedicated server, too. Resellers and marketing agencies can even get white-label ecommerce hosting plans.
If you're looking for the widest range of hosting features, you'll definitely want to take a long look at A2 Hosting. The same goes for folks who are hunting for an out-of-the-box version of a particularly obscure package.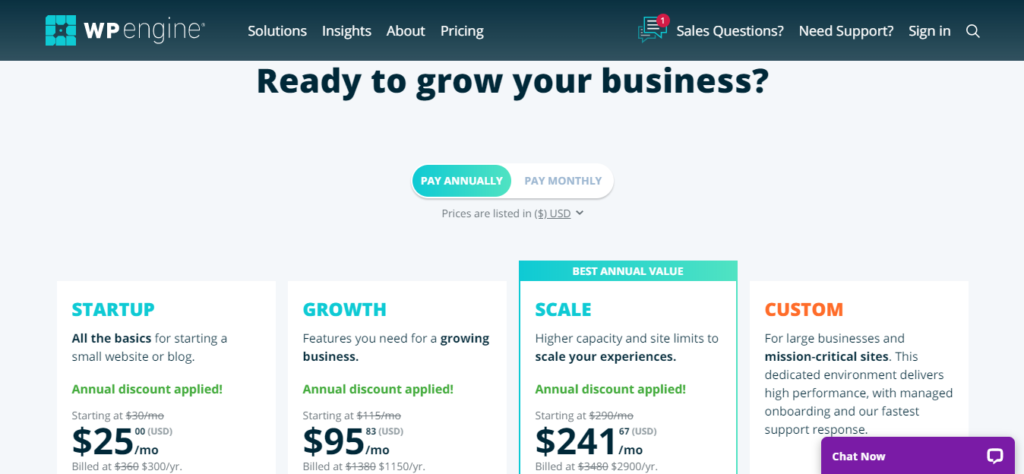 Lowest Price: $35 per month
Response Time: 348 ms
Uptime: 100%
WP Engine is a company that focuses exclusively on WordPress hosting. With the widespread popularity of WP, though, there has been many a plugin designed to power ecommerce. Unsurprisingly, this means companies like WP Engine have swooped in to meet the public demand for platforms like WooCommerce and BigCommerce.
Even if you're not a hardcore WordPress devotee, there's an argument for it based on the platform's high-level SEO features. Building KPIs into campaigns is a breeze. With the way Wp Engine handles configuration, it's arguably one of the best choices for folks who want the least technically-involved experience.
The company's cloud-based infrastructure is a bit of a blessing and a pain. It's great if you demand scalability, but it can become costly due to the way pricing works. The pricing structure from WP Engine is a visitors-per-month model, and that can be a pain for small businesses that want to keep costs under control. Their 60-day money-back guarantee, though, main take a little of the hurt out of the equation.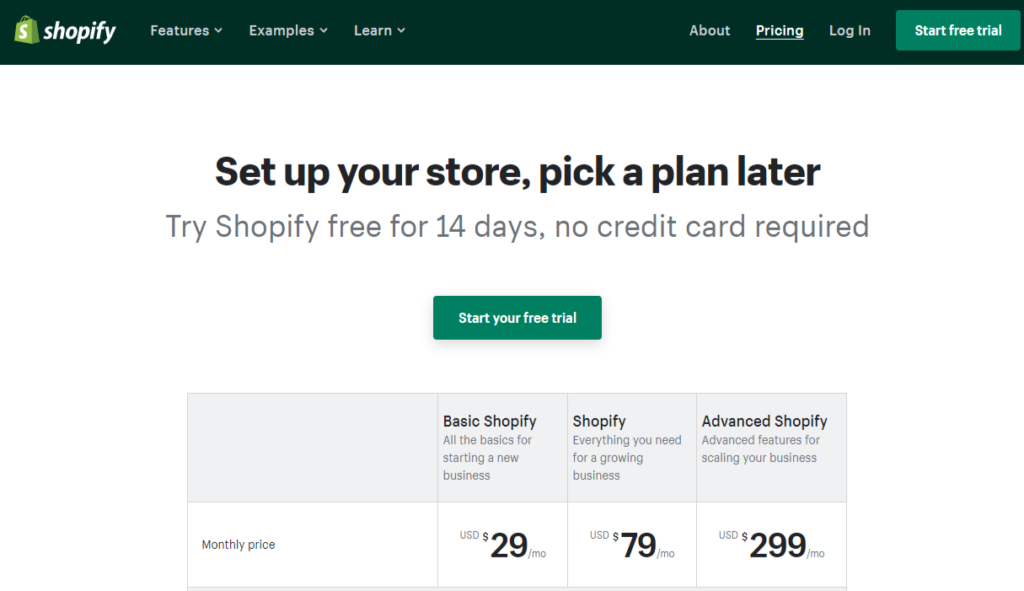 Lowest Price: $29 per month
Response Time: 610 ms
Uptime: 99.98%
Shopify is a completely hosted platform. That means that rather than setting up your own server on their systems, your site operates entirely on top of their software. For folks who don't require endless customization or bespoke code, that's a huge relief. It also guarantees you'll never have to worry about getting updates done for things like PCI compliance or security because the company rolls all those out automatically. Other systems, such as integration with USPS Priority Mail, are also included with the next tier of packages. You'll get a free SSL certificate, too.
The main argument against Shopify is the lock-in factor. You'll have a hard time doing a highly customized website, and payment charges are more expensive that if you set up your own credit card processing. In that regard, Shopify is less an ecommerce hosting provider than a company that operates almost in the payment space like PayPal. That can get expensive, but it's a price some will find worth paying to avoid a lot of the technology headaches.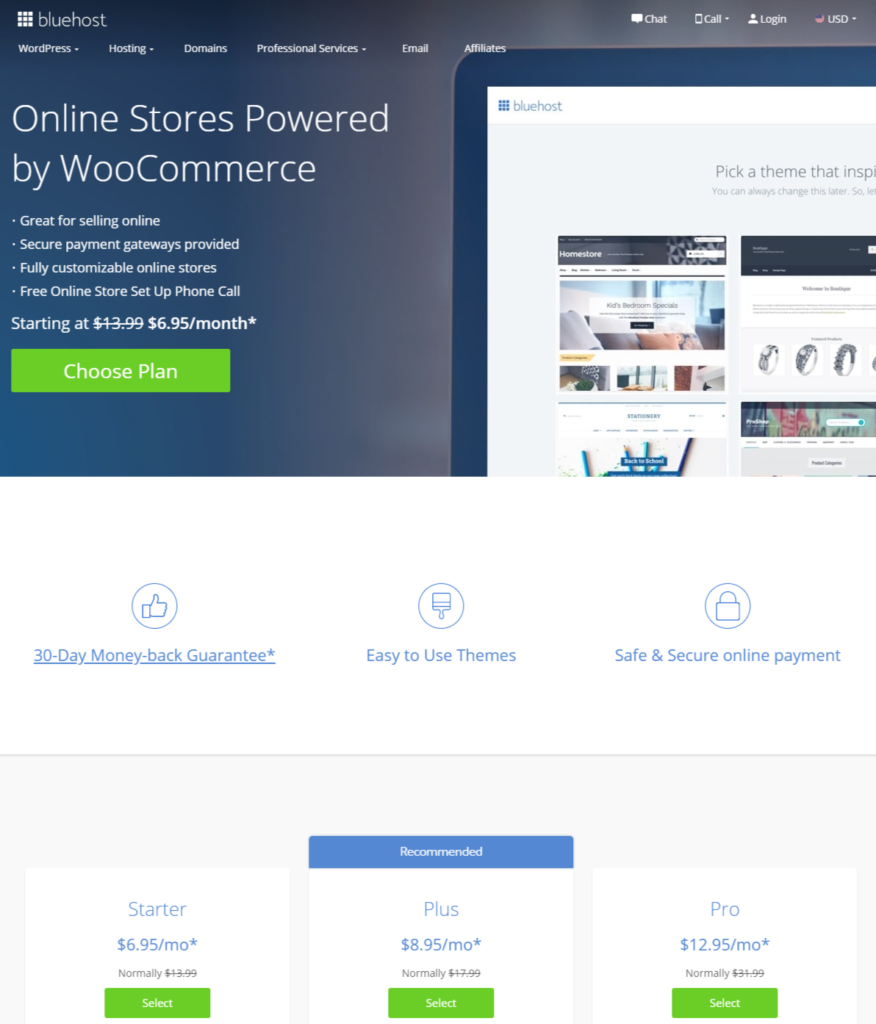 Lowest Price: $13.99 per month
Response Time: 1060 ms
Uptime: 99.97%
Another company that has elected to narrow things down to WordPress-only, Bluehost goes one step further. It's WooCommerce or bust with them. If you're looking for lots of options or don't want WooCommerce, you can stop reading right there.
The biggest thing you get with Bluehost is a narrow focus. They offer a free online store setup that includes an over-the-phone option to guide you through everything. Bluehost has many themes available, and you can also install your own WP and WooCommerce themes. A free SSL certificate is included, and you get 100 GB of SSD disk space.
Bandwidth on their platform is unmetered for folks who move up to the second tier, and that only costs $17.99 per month. Those customers also get unmetered SSD storage. If you know for sure you're going to have a massive amount of storage overhead, there's an argument for using BlueHost. Their narrow focus, though, will be a turn-off for many potential customers.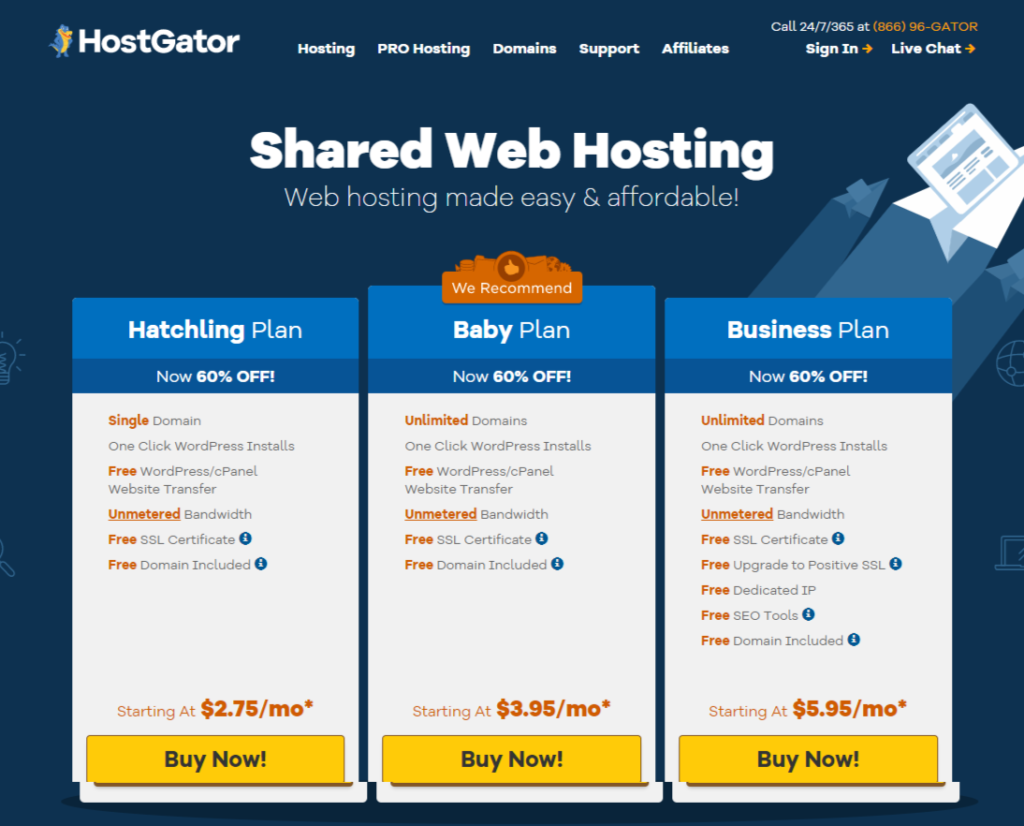 Lowest Price: $2.75 per month
Response Time: 1050 ms
Uptime: 99.9%
If you want the absolutely cheapest option that provides the most bang for your buck, HostGator is it. The slow response time is a little iffy, but for the price you're going to have a hard time finding anyone else who also offers one-click installation of ecommerce platforms, unmetered bandwidth and a free SSL certificate. Even their third-tier business plan starts at $5.95 per month.
One thing worth complaining about is the company really goes out of its way to obfuscate when it comes to what the prices go up to when the introductory offer runs out. That's just not good business, and you should tread carefully if you're at all budget-conscious.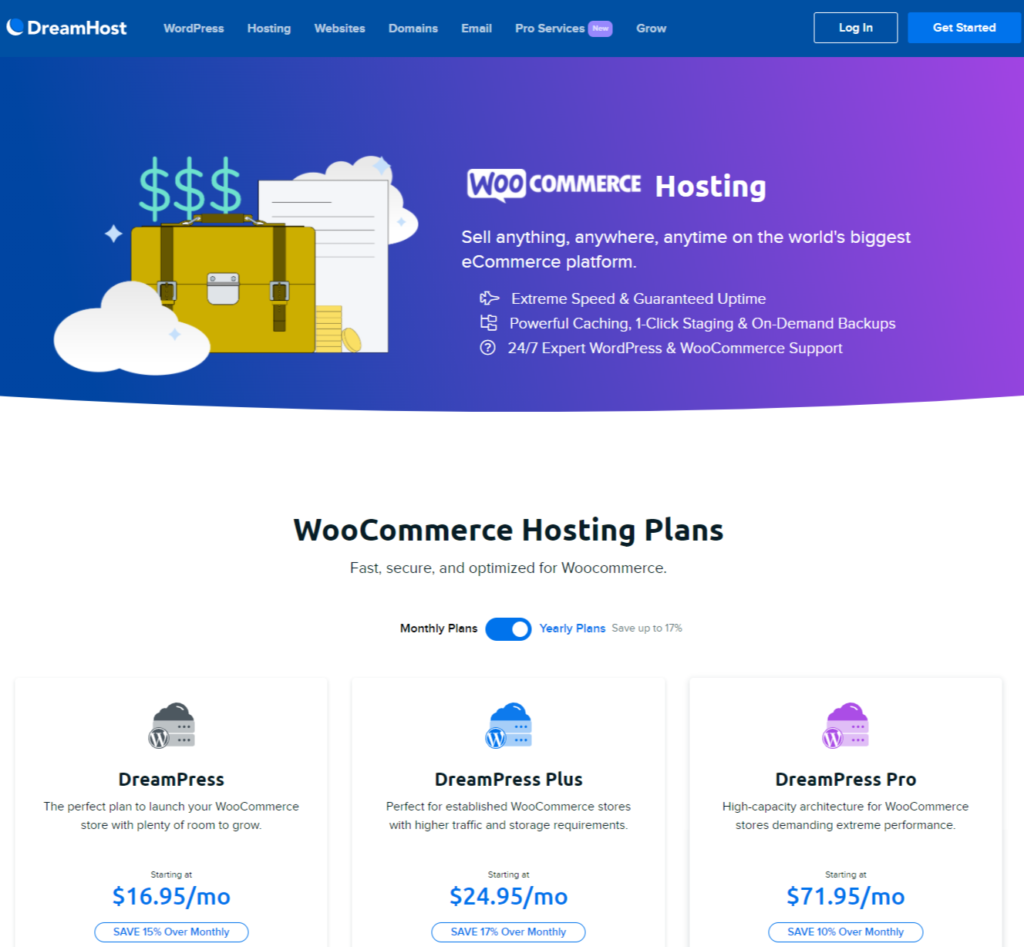 Lowest Price: $16.95 per month
Response Time: 380 ms
Uptime: 99.94%
Dreamhost is another entrant in the WooCoomerce-or-bust category. You can make an argument, however, that the deliver a lot of bang for the buck. Free migration is on offer, and one-click staging makes it an interesting option for marketing and design agencies. You also can set up an on-demand back-up system. Most importantly, there are experts available on a 24/7 basis who can advise you about all things WordPress and WooCommerce.
The WP Website Builder from Dreamhost will be attractive to the non-techies of the world. An SSL certificate comes pre-installed, as does WooCommerce.
Unfortunately, Dreamhost also users the X-visitors-per-month pricing model. Given that their top-tier plan is designed for 1 million visitors, though, you'd have to get pretty big with your online store before you'd outgrow the company's offerings.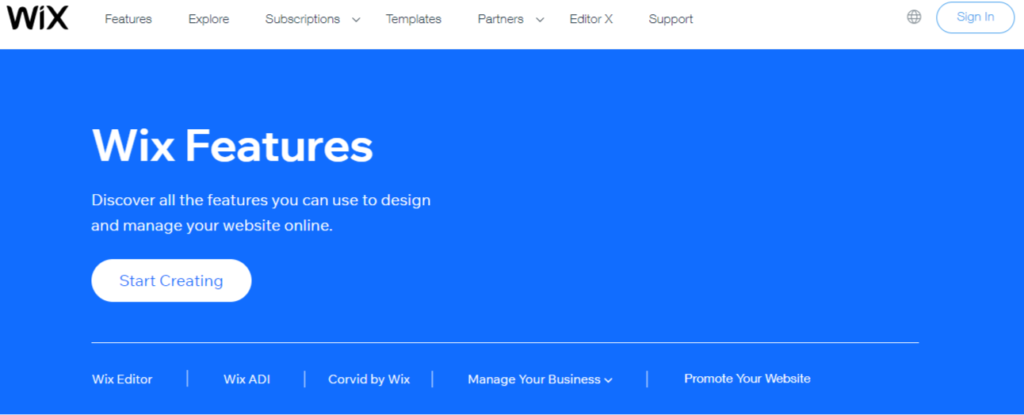 Lowest Price: $23 per month
Response Time: 800 ms
Uptime: 99.95%
At first blush, Wix might seem a bit like Shopify. After all, they take pride in being a company that makes it easy for you to set up credit processing through the usual companies like Visa and Mastercard. You get a free SSL certificate, and everything is focused on letting you set up a shopping cart. Bandwidth is also unmetered.
First, it's a little annoying that the company doesn't give you a direct link to their ecommerce solutions. Instead, you have to go to their web hosting page and then click on the business and ecommerce tab. You'll eventually get into a subscription model that doesn't do a great job of differentiating what is included.
Second, it's not made as clear as it is with Shopify that you'll be running the house-brand software. There's nothing wrong with that, but Wix is pretty wishy-washy about what you'll be using other than its heavily touted site builder.
Of the things that are included, though, it can be argued that the built-in analytics package is worth the pain. You won't see anything else like it from the other ecommerce hosting providers on this list. If you're fixated on getting deep into the data without having to configure your own analytics system, it may be worth a long look. Also, you can try Wix for free for up to 14 days.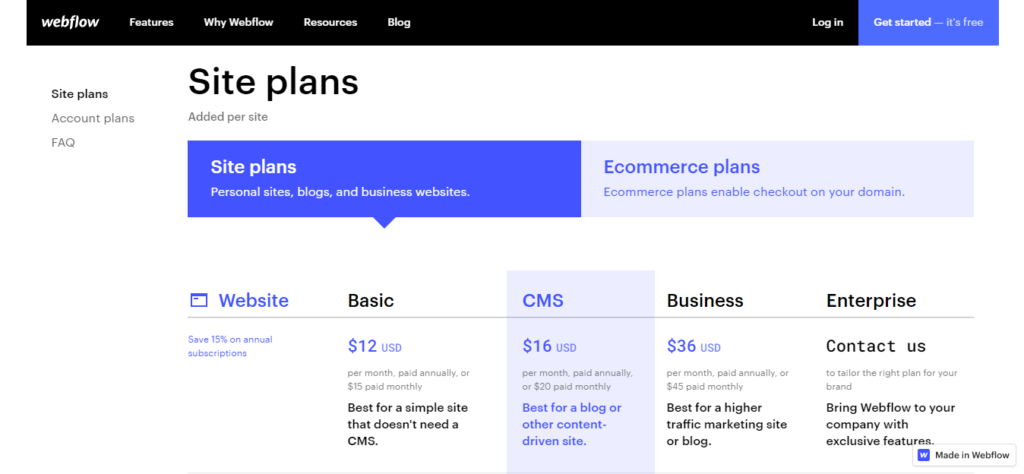 Lowest Price: $29 per month
Response Time: 910 ms
Uptime: 99.98%
Webflow has two primary sales pitches. First, they make a big push for how their basic plans are always free. Second, they're heavy on pitching their website builder as a visually-driven, drag-and-drop experience.
The second one is true. The first one is not so much, and that's a problem. It takes some digging on the company's site to get to the spot where you find the ecommerce platform and its pricing. Also, there's a transaction fee on the cheapest ecommerce package, but that's dropped on the higher-priced ones. If you're not ready to fight your way through some calculations to figure out which pricing model is best for you, that's an annoyance.
Webflow is okay for those folks who want something like Wix or Shopify but want an alternative. It's just not clear who that customer actually is.
The Differences Between Self-Hosted, Hosted and Managed Ecommerce
Everyone says they offer hosting, but what does that actually mean? Unfortunately, it's not always clear. A truly self-hosted plan is pretty clear because that's when you pay for shared, VPS or dedicated hosting and put the software on it. Even if it's a one-click install, you're still responsible for maintaining and theming it.
For the sake of your sanity, let's say that hosted plans refer to the ones like what Wix, Shopify and Webflow offer. You're using the house-brand software, and then you lay your website template on top of it.
There are also managed hosting solutions. These represent the in-between option, and you see that with many of the WooCommerce providers, in particular. You're responsible for dealing with most of the website work, but an expert is there to assist you if you need help or you really, really screw something up.
Pros and Cons of Self-Hosting
Self-hosting has a few key strengths. It's almost always the cheapest choice. You're not going to get much cheaper, especially if you're searching for the best web hosting for ecommerce, than the sub-$10 solutions. It also tends to be the most configurable because you're free to load code onto the web server via FTP.
A major plus is that you're not very limited in the number of items or visitors for your site. If you want to upload 10,000 items, knock yourself out. The same goes if you get 10 million visitors. Also, you're going to have a lot more options in terms of which ecommerce hosting systems you get to choose from. In theory, you could even deploy your own code.
The downside to self-hosting is obvious, though. You're on your own. In addition to the basic issue of whether you screw up, that also means you're responsible for updating the software, detecting cyberattacks and other big items. Unless you're highly confident in your abilities, self-hosting may not be the choice for you.
Pros and Cons of Fully Hosted
The hosted solutions tend to be among the more expensive ones. They also are prone to using pricing structures that can cloud your understanding of what you're actually paying. It just doesn't always feel like the straightest way to deal with customers.
Ease-of-use is the main selling point on the fully hosted side of the equation. The software is also updated automatically by the company so you never have to worry that you missed the last big cybersecurity report. Especially given the high rate of attacks against installs of WordPress, that's a big deal. Similarly, many people just don't want to learn to code, upload graphics and do all the other stuff it takes to run a full-on ecommerce website. Going the hosted route gives you some room to not be a techie.
The In-Between Option: Managed Hosting
Many of the WooCommerce hosts offer managed hosting. What this means is there's someone there to guide and assist you if you need help. It's a good option for folks who want the best of both worlds. They can get cost-effective hosting and high customizability while not necessarily having to be the world's biggest coder. If you're already comfortable setting up something like WordPress and just want to play with a safety net, there's a lot to be said for this approach.
WordPress and WooCommerce
In light of how many times both pieces of software have been mentioned here, it's worth talking a bit about both of them. Folks who are brand new to ecommerce or website design might never have hear of them, but anyone with an intermediate or higher level of skill is going to know both.
WordPress is a blogging platform. In fact, it's really "the" blogging platform, powering the most websites of any of the blogging platforms out there. WooCommerce is a plugin for WordPress that enables ecommerce on WP-powered sites.
The combination of the two has one real strength. It is widely used. That means there is a large community to support it, tons of themes available and many companies that will host sites.
WordPress is built on top of a wildly popular software known as LAMP. This stands for Linux Apache, MySQL and PHP. Notably, it has long since been adapted to work on non-Linux systems, but the other parts are still very much the PB&J of the website design world. LAMP-based hosting is almost always the cheapest, and you can find folks who know how to work on LAMP system in every small city and even most small towns in the civilized world.
Frequently Asked Questions About Ecommerce Hosting
Hosting an ecommerce website is a big undertaking, even if you want to use one of the more friendly solutions like Wix or Shopify. You may have some questions so let's check out some of the most frequently asked ones.
Do You Need a Website?
Unless you really want to be stuck on a platform like Etsy, Amazon or eBay, you will need your own website. Those options are great for lots of folks, but the downside is painfully obvious. Anyone searching those sites is going to be directed to tons of stuff that you're not selling. The advantage of having your own site is that you call the tune, and customers aren't looking at anything you don't want them to. For those reasons, it's a solid yes to building your own site.
What About Credit Cards?
Credit card processing is one of the least-discussed issues in ecommerce hosting, and that's a disservice to the average person who wants an online store. You certainly can survive using a payment system like PayPal, but not all customers have accounts with those types of companies. Also, people are increasingly comfortable providing their credit card information to stores online.
There are credit card modules for virtually all the big ecommerce platforms out there. Some of the more tech-centric ones, such as Magento, will require a little bit of understanding of how to drop them into your installation.
Every one of the fully hosted solutions will at least handle payments from the big two companies, Visa and Mastercard. Discover is also usually included, and maybe a few others like Capital One.
Should You Worry About Security?
Yes, security is a major concern in ecommerce. If you're new to all the terminology, you'll note the number of times free SSL certificates were mentioned. An SSL certificate is one half of a handshake between a web browser and a site's server. It essentially tells the browser that there is some encrypted information needs to be passed. The browser then examines the certificate and compares it to an international registry of legitimate SSL holders. If everything checks out, the browser and the server agree to share encrypted information. That means no one else can see what's being shared, such as credit card data and Social Security numbers.
Can You Get Deposits Straight into Your Bank Account?
Yes, you can. This is where PCI compliance enters the picture. PCI stands for "Payment Card Industry," and PCI is the worldwide standard for securing servers for use in ecommerce. In order to get payments from an online store directly deposited into a bank account, you must be able to prove to your bank that your website is fully PCI-compliant.
Notably, PCI audits are run on bank customers' websites pretty regularly. The goal is to check for things like:
Outdated software
Known cybersecurity vulnerabilities
Proper handling of requests and responses
Here's the big takeaway: lose you PCI-compliance certification, and you're one step away from being locked out from taking those deposits directly into your bank account. If a site is found to not be compliant, though, there will be time for them to fix things up. Once you're confident everything is good to go, you can request a new audit and find out if there's anything else to fix. You'll still be able to accept payments, but you're promising the bank that you'll get things under control within weeks.
This is actually one of the main arguments for using a fully hosted solution. Due to the constant updating of their software, you should never end up on the wrong side of a PCI-compliance audit.
How Many Items Can You List?
Until recently, this used to be a big deal because many companies like Shopify built their plans around how many items were put on a site. Things have changed dramatically, though, and that means the limits are almost all gone. Now, you'll encounter more trouble with how much imagery you use rather than the item count.
Images will easily be your biggest consumers of disk space. A good rule of thumb is to add up how many gigabytes of imagery you have. Take that number and double it, and you should have enough overhead on your website to get by. For example, someone with 5 GB of images should be fine with a 10 GB hosting plan. Given that most plans now have at least 30 GB of storage, you'd have to be posting a ton of items to overtax your storage.
Should You Hire a Programmer?
If possible, yes, you should get someone comfortable with coding to lend you a hand. This is especially the case with the self-hosted and managed solutions, where it's usually wise to work with someone who at least knows PHP. Even if you're going to use something like Shopify, you may bump into a big of CSS and HTML coding when it comes time to customize your website. You will never regret paying for someone knowledgeable to talk you through things or pick up some of the actual work.
What About Expansion?
If we're being 100% honest, almost every option on this list has long-term scalability problems. Short of using a cloud-based solution like Amazon Lightsail, almost all solutions have scaling trouble. That applies even if you set up your own physical server with supporting clusters for the database and file systems.
The counterargument, though, is that scaling up is going to be a rare problem for most small businesses. Traditional hosting solutions should keep you flying even in the millions of visitors and buyers per month. You have to get very big before scale is a real worry, and by then, you should have enough money to get more technical in addressing issues.
What's It Really Going to Cost?
Unless you have some technical chops, you should plan for something between $30 and $30 per month for a low-end package. That just covers the cost of hosting, and it doesn't account for moving up to bigger and better plans as you need to scale up. If you're going to need assistance with design and coding issues, you should budget for at least a few thousand dollars. That price goes up as you work with more people and more experienced professionals. It can easily get into the tens of thousands of dollars, and that's why the packages with built-in website builders are so popular.
Is a Website Builder Enough?
The answer is, "Probably not." While the website builders are nice, they have a tendency toward being cookie-cutter solutions. Your site is going to look like other sites out there. In the best case, that will make you look boring. In the worst one, it can create brand confusion or even infringement claims. Even if you want to use a fully hosted solution that includes a website builder and themes, you should consider having someone create a unique and fully customized look for your website.
Can You Do This Yourself?
It's a solid maybe. Website design and coding aren't so painful that reasonably smart people can't learn them. If you're a self-starter with a can-do attitude, you might very well be able to pick up enough coding and design ability to handle most of the work on your own.
Notably, that argument falls apart when it comes to implementing security. Once you get into dealing with secure code and SSL certificates, that's work that's best let to someone who has years of experience. If you've been elbows-deep in computers for years, you might be able to pull it off. For everyone else, though, it's best to pay for help.
Which is the Best Ecommerce Hosting Provider?
Sadly, there isn't a single answer that works for everybody. You'll need to look at your budget, be honest about your technical capabilities and assess where your company wants to be in a few years. By working from this list, though, you can certainly nail down which company is the best ecommerce web hosting provider for you.
Last Updated on June 23, 2021 by Adrian Grant