VPS is a step up from shared hosting, but you can find some solid deals to keep the powerful upgrade within your budget.
If you run a high volume site, or just need that extra performance, VPS hosting is the way to go.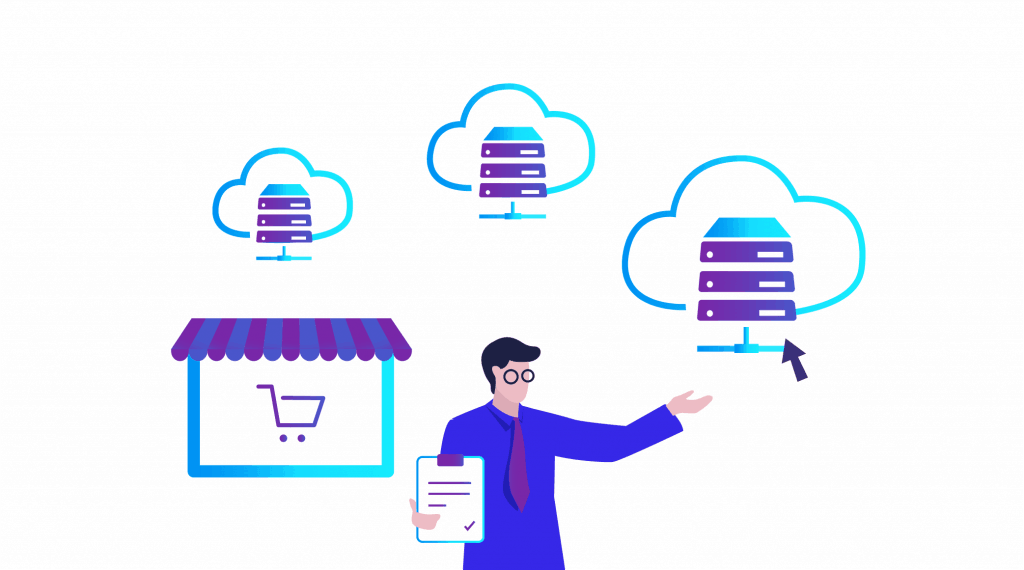 Finding a cheap VPS hosting option is a task that takes some consideration. The going rate in the industry for VPS deals is around $30 per month, but a cheap VPS server can be had if you know where to look.
It's also wise, though, to think about some of the specific requirements you have for hosting a site. For example, it's worth asking:
Do you need Windows hosting, or is a Linux operating system good enough?
Is managed hosting essential, or can you maintain the server on your own?
How much bandwidth do your sites need?
What is your overall skill level working with root access, a control panel, an SSH shell and an FTP client/server configuration?
For example, finding a low cost VPS provider that also includes managed VPS hosting help is possible. If you're not very skilled as a server admin, you'll need to make it a priority when you're checking out VPS plans, though. With a keen eye toward what you absolutely need and what the hosting services provider is offering, you should be able to find VPS hosting plans that won't break your budget.
Update for 2021:
These are still some of our favorite affordable VPS hosting companies. Starting with A2 Hosting, and ending with AWS and Alibaba cloud, these options get you powerful VPS functionality, with low costs.
7 Best Cheap VPS Hosting Companies
| wdt_ID | Hosting Provider | Lowest Price | Load Time | Websites Allowed | Hosting Capacity | Customer Support | Our Rating |
| --- | --- | --- | --- | --- | --- | --- | --- |
1. A2 Hosting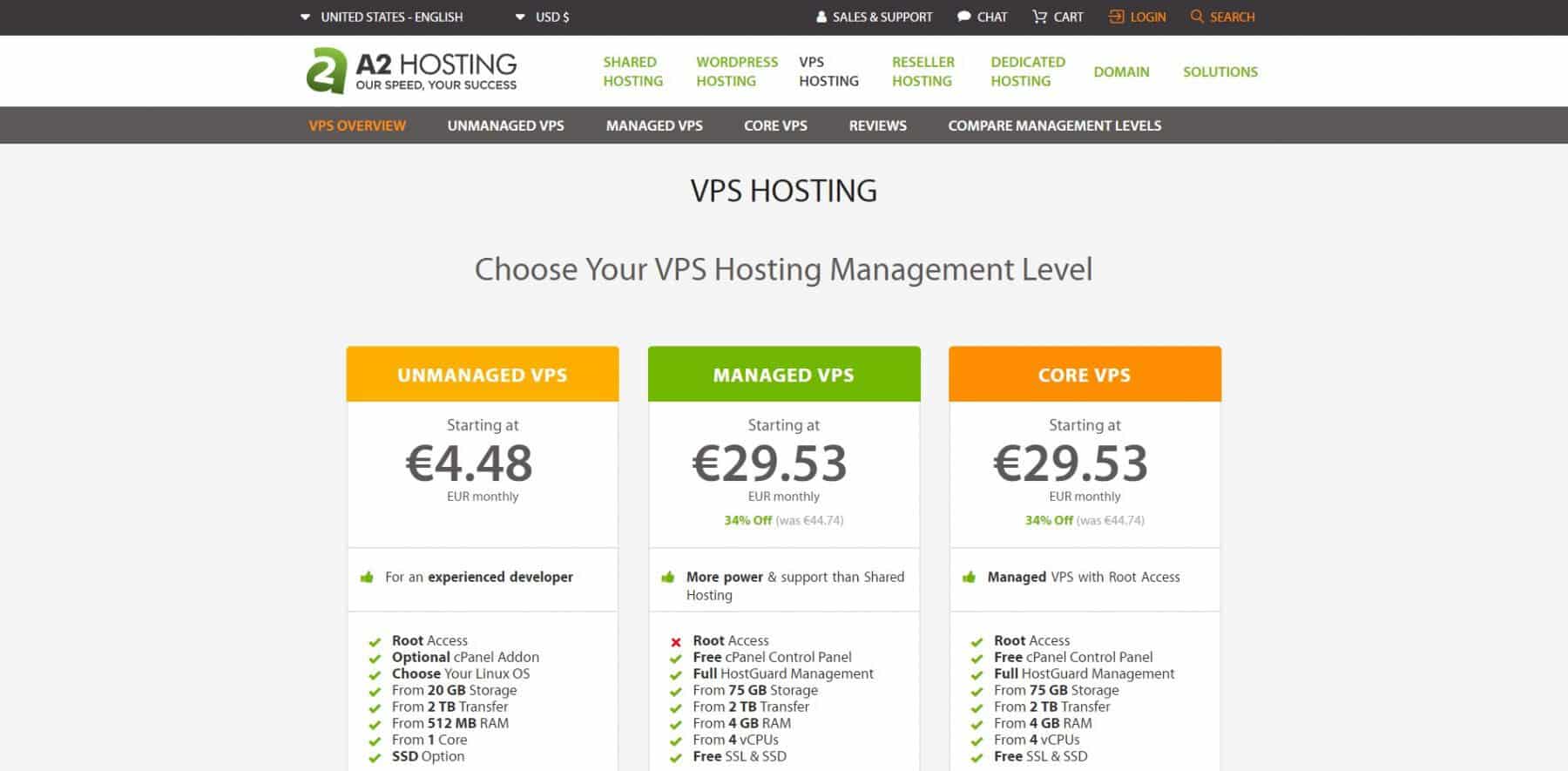 Lowest Price: $5 per month for a completely unmanaged VPS
Response Time: 279 ms
Uptime: 99.66%
Like many of the options on this list, the cheapest VPS offering from A2 is aimed directly at people who have the technical skills required to remote into a system and maintain it without help. There is a managed services options available from A2 Hosting, but it costs significantly more, ringing up at $35 per month.
The low-end offering is pretty limited in terms of performance. You'll only have access to one CPU core, but you can pay a bit more to get additional resources, such as more cores, disk space and RAM. We wouldn't recommend running a high-performance site on the lowest tier from A2, but it represents a solid value proposition for anyone who just needs to get static pages up or has to use basic dynamic scripting in PHP.
That's not to say performance is terrible. You'll get a free SSD drive with your plan. A2 also offers access to Cloudflare to provide additional stability and security. Server configuration is also super fast, taking just a few minutes. Many features, such as cPanel, are add-ons, too.
For the price, it's also very hard to complain about the speed. With a sub-300 ms response time, you'd have to put a pretty larded-up version of WordPress on the server before your load times would be even mediocre. Checking in at just $5, A2 rightly earns a place at the top of any list of affordable VPS offerings. There is also a money-back guarantee.
Full Pricing and Features Table
| | | | | | | |
| --- | --- | --- | --- | --- | --- | --- |
| Plan | Starting Price | RAM | Storage Space | Transfer Space | Root Access | Money Back Guarantee |
| Runaway 1 | $4.99 | 1GB | 150GB | 2TB | Included | Included |
| Runaway 2 | $7.99 | 2GB | 250GB | 3TB | Included | Included |
| Runaway 4 | $9.99 | 4GB | 450GB | 4TB | Included | Included |
| Supersonic 8 | $34.99 | 8GB | 150GB NVMe | 2TB | Included | Included |
2. iPage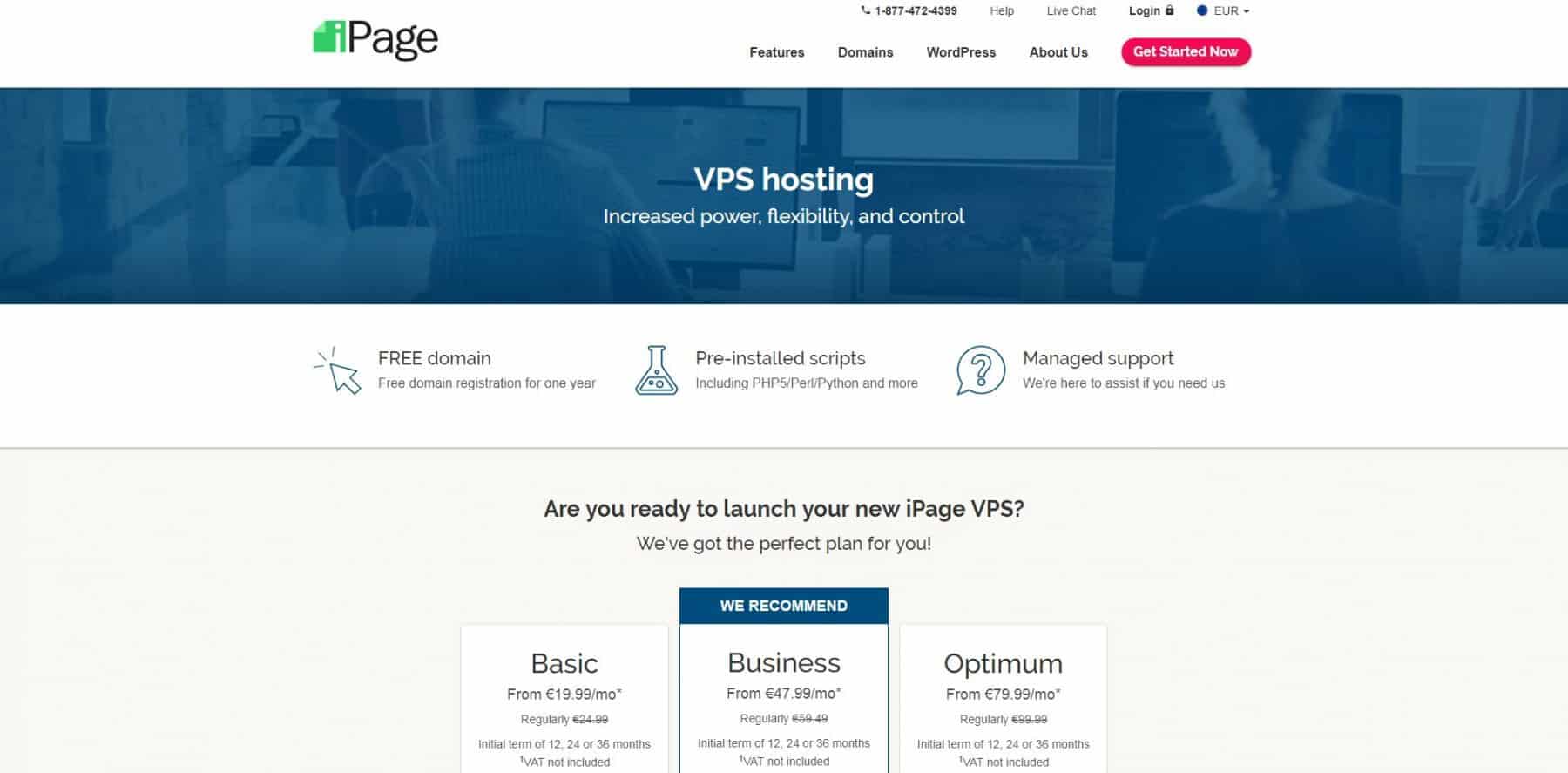 Lowest Price: $19.99 per month
Response Time: 708 ms
Uptime: 99.75%
The folks at iPage don't get carried away with offering absolutely barebones hosting plans for dirt cheap. Instead, the company focuses on providing what can be best described as a good-enough option that beats the web hosting industry standard of $30 per month for VPS by a decent margin.
By far the biggest upside to using iPage is they offer managed technical and customer support with their price. If you're worried about being left in the wilderness with a server you can't maintain, that's a big deal. For that reason, iPage may be ideal for marketers, designers and agencies that need a little bit of help when the tech starts to act up.
For your 20 bucks, you get a single-core server, 40 GB of storage space, one TB of bandwidth and a free cPanel installation. On the downside, no Windows servers are on offer, and even the Linux offerings are limited to CentOS. You'll also be dealing with a somewhat dated LAMP stack installation that's centered on PHP 5.
What iPage offers probably isn't the best option for folks who need a price-to-performance proposition that's off the charts. If you just need to get basic hosting and dynamic scripting abilities for a reasonable price, it's not bad. Throw in the free managed services support, and iPage is an excellent choice for price-conscious customers who need a little help from time to time.
Full Pricing and Features Table
| | | | | | | | |
| --- | --- | --- | --- | --- | --- | --- | --- |
| Plan | Starting Price | RAM | Core CPU | Storage Space | Bandwidth | IP Address | cPanel |
| Basic | $19.99 | 1GB | 1 | 40GB | 1TB | 1 | Included |
| Business | $47.99 | 4GB | 2 | 90GB | 3TB | 2 | Included |
| Optimum | $79.99 | 8GB | 4 | 120GB | 4TB | 2 | Included |
3. Dreamhost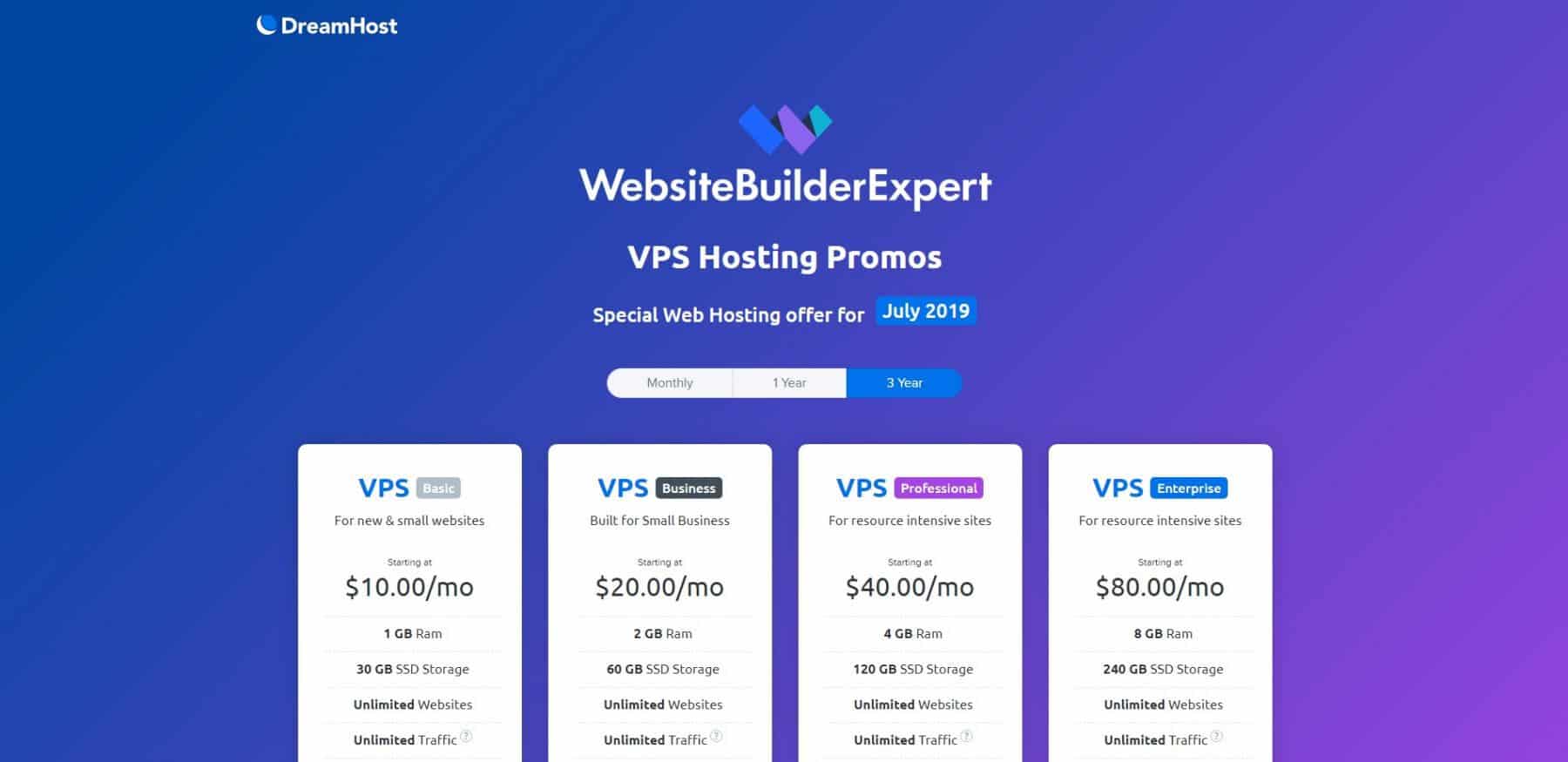 Lowest Price: $10 per month
Response Time: 418 ms
Uptime: 100%
One of the big strengths of Dreamhost is that they're pretty close to a full-service web hosting company. They sell domain names, and they offer a $10 VPS hosting package that includes completely unmetered bandwidth. If you need to purchase an IP address in the IPv4 block, they'll have you covered, too.
As is becoming more common, you can also expect your site to be running on highly responsive SSD drives. The baseline plan only includes 10 GB of disk space so folks with heftier sites that include lots of media might want to look elsewhere.
Dreamhost is also a fully managed services provider, and $10 per month is far and away the cheapest price you'll find for that. They have their customer support staff available to field calls on a 24/7 basis, too.
A major plus is the company's free offering of automated backups for WordPress sites. You won't get a Windows server, though. On the upside, they do make adding RAM for to virtualized instances quite easy, although that obviously comes with a cost.
Uptime is rock-solid. You also can expect your system to be very responsive. If you're looking for the happy medium between managed services, speed and price, Dreamhost strikes a very nice balance.
Full Pricing and Features Table
| | | | | | | | |
| --- | --- | --- | --- | --- | --- | --- | --- |
| Plan | Starting Price | RAM | Storage Space | Website Limit | Traffic | SSL Certificate | Email |
| VPS Basic | $10.00/mo | 1GB | 30GB | Unlimited | Unlimited | Free | Unlimited |
| VPS Business | $20.00/mo | 2GB | 60GB | Unlimited | Unlimited | Free | Unlimited |
| VPS Professional | $40.00/mo | 4GB | 120GB | Unlimited | Unlimited | Free | Unlimited |
| VPS Enterprise | $80.00/mo | 8GB | 240GB | Unlimited | Unlimited | Free | Unlimited |
4. Hostwinds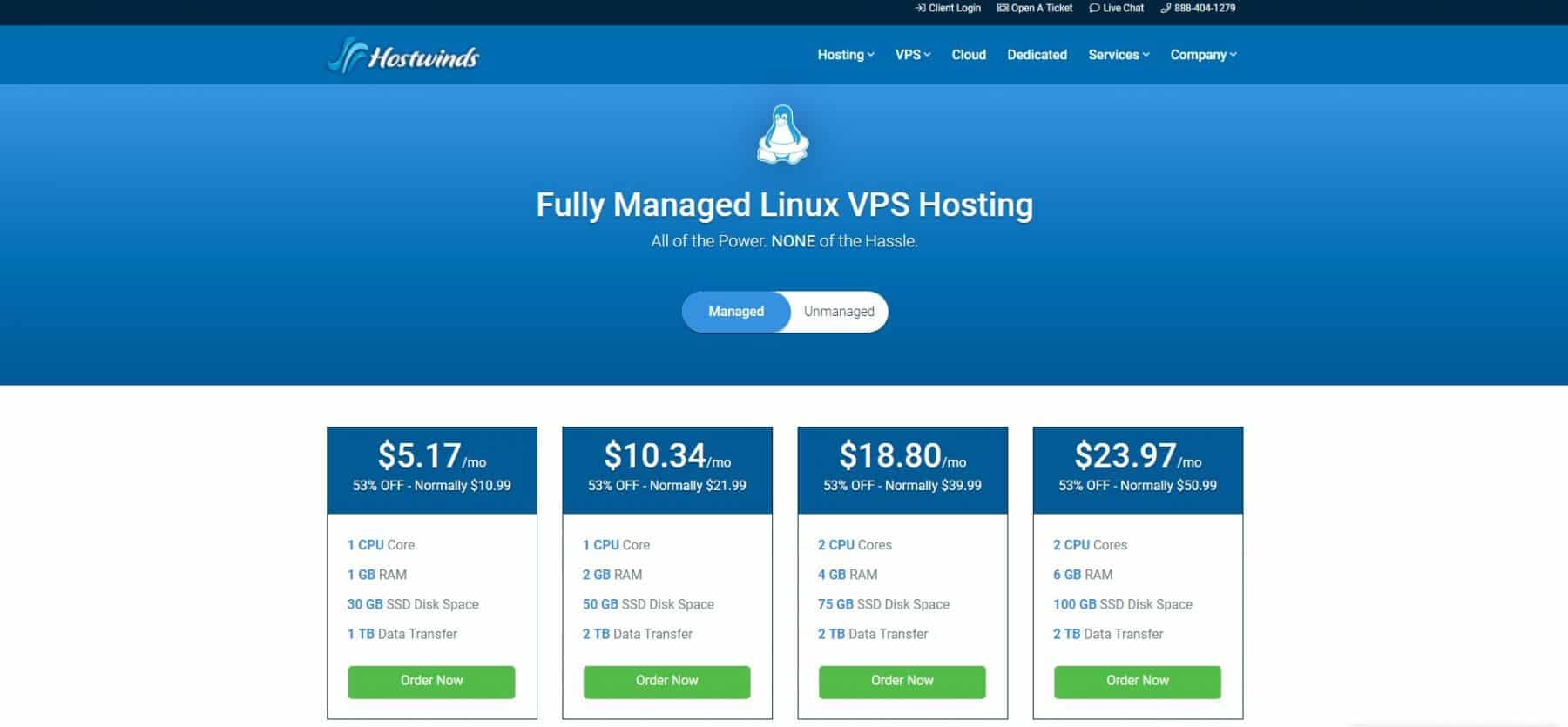 Lowest Price: $4.49 per month for unmanaged, Linux-based hosting
Response Time: 1,093 ms
Uptime: 100%
Another entry at the very low end of the price scale is Hostwinds. The company offers a $4.49 tier for unmanaged services, but there is also a $10.99 offering for managed web hosting. The bottom tier of systems includes a single-core CPU with the VPS, 30 GB of SSD-based disk storage, a single TB of bandwidth and one GB of RAM.
The biggest upside with Hostwinds is that they also offer Windows systems in addition to Linux. They provide 24/7 customer support, but the company prefers that users go onto its live chat system. You can do transfers for free and get some help with that.
Performance is at the edge of unacceptable, with initial response time going just over one full second. They do include an enterprise-grade firewall, and the dynamic scripting environment is a modern PHP 7 system. Security might drive you to Hostwinds, as might the need for managed hosting services, but otherwise, we feel customers can find better offerings in the same price tiers.
Full Pricing and Features Table
| | | | | |
| --- | --- | --- | --- | --- |
| Plan/Price | CPU Core | RAM | Storage Space | Data Transfer |
| $5.17 | 1 | 1GB | 30GB | 1TB |
| $10.34 | 1 | 2GB | 50GB | 2TB |
| $18.80 | 2 | 4GB | 75GB | 2TB |
| $23.97 | 2 | 6GB | 100GB | 2TB |
5. 1and1 IONOS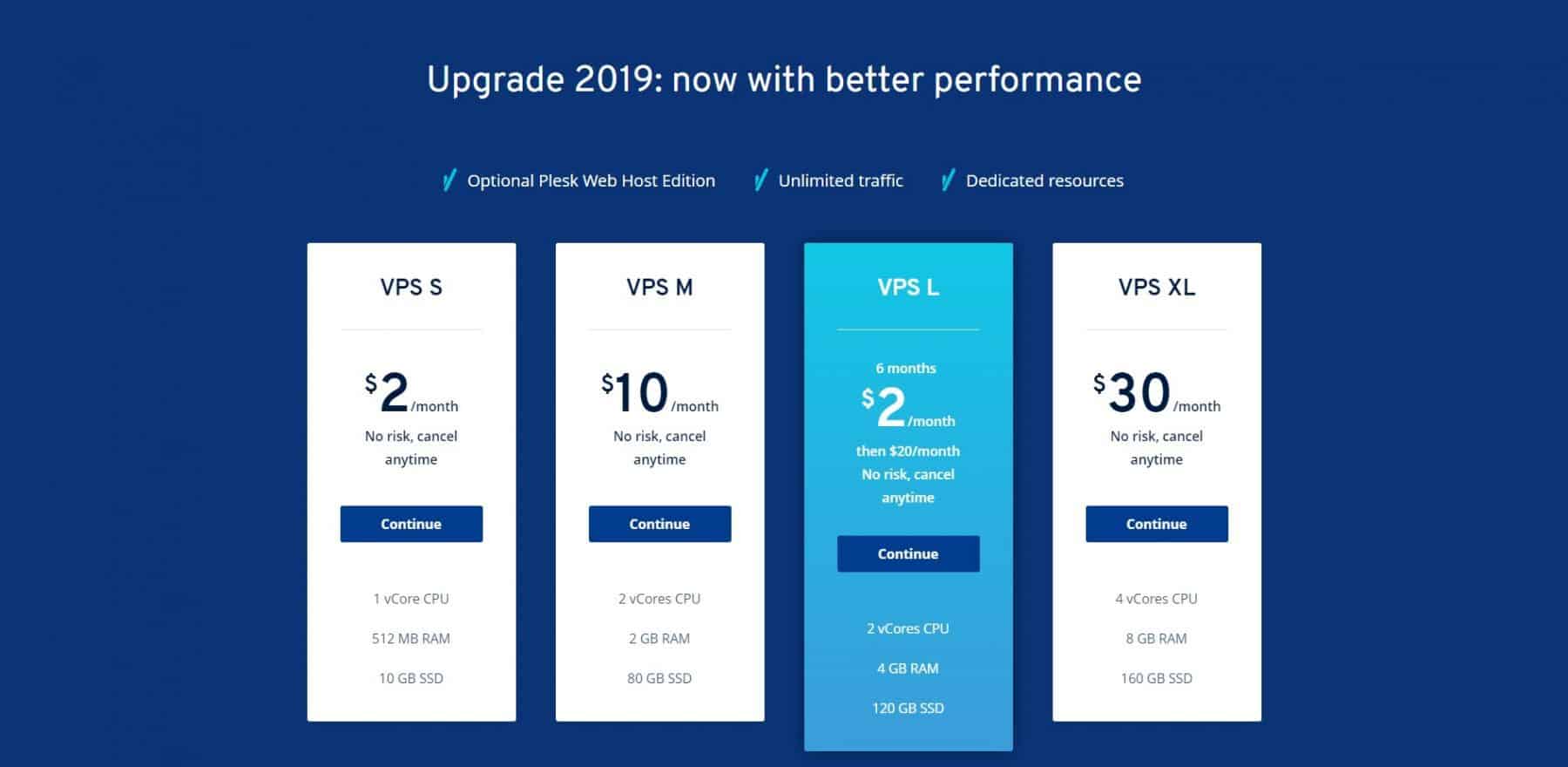 Lowest Price: $2 per month for unmanaged, Linux-based hosting
Response Time: 918 ms
Uptime: 100%
The price is as cheap as you're going to find in the business, and that probably has you wonder what the catch might be. By far the biggest catch is that you'll only have access to a single virtual CPU and half a gig of RAM. Also, storage space, unsurprisingly, is only 10 GB, but it is at least SSD.
You're only getting a list of common Linux operating systems for your $2. Impressively, though, you can pick data centers in America, Germany or Spain.
Full Pricing and Features Table
| | | | | |
| --- | --- | --- | --- | --- |
| Plan | Starting Price | CPU vCore | RAM | Storage Space |
| VPS S | $2.00 | 1 | 512MB | 1GB |
| VPS M | $4.00 | 2 | 2GB | 80GB |
| VPS L | $8.00 | 2 | 4GB | 120GB |
| VPS XL | $2.00 | 4 | 8GB | 160GB |
| VPS XXL | $18.00 | 6 | 12GB | 240GB |
6. AWS Cloud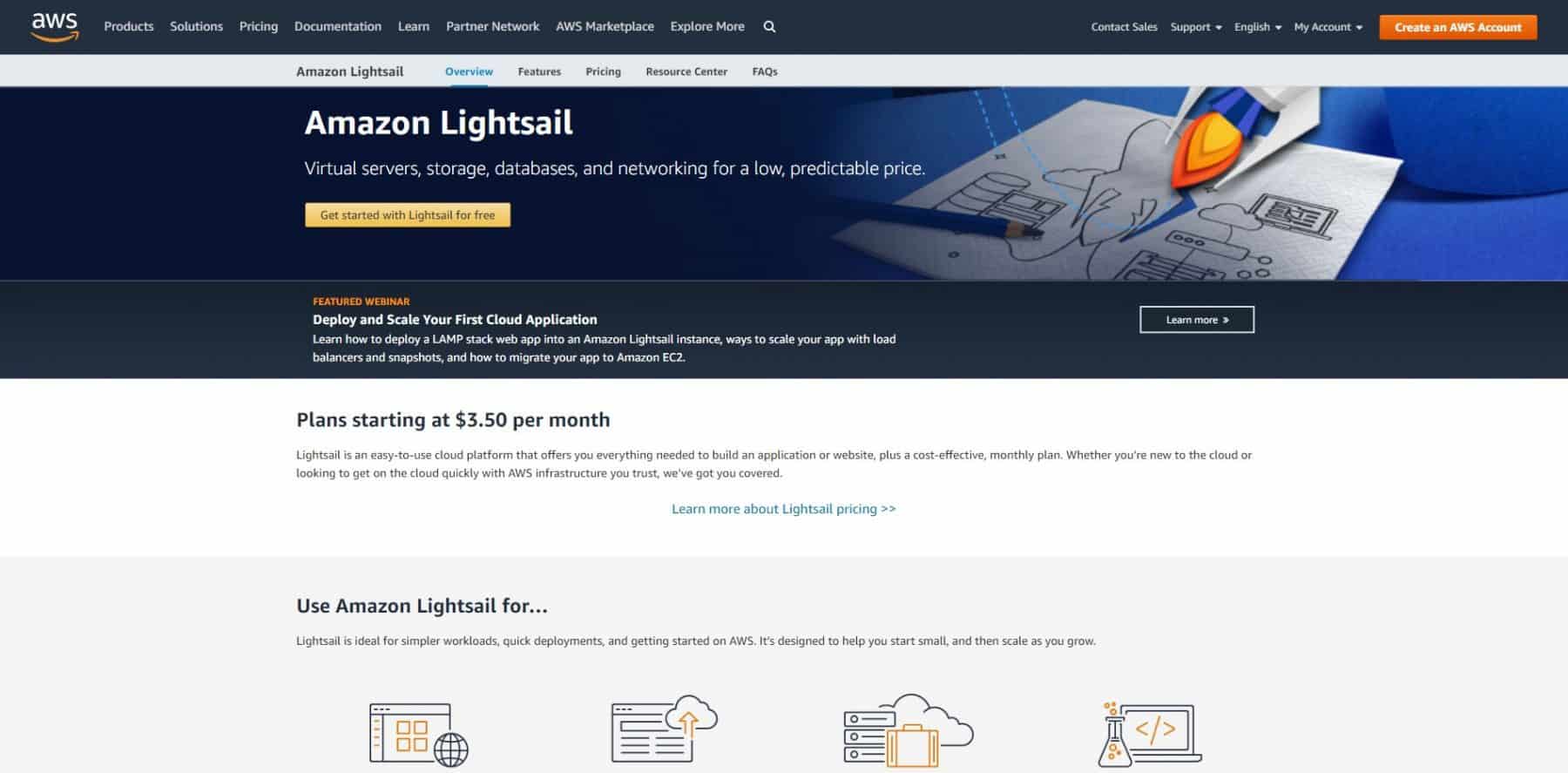 Starting Price: $3.50 per month
Response Time: 500 ms
Uptime: 99.99%
In the strictest sense, Amazon's offering is not a true VPS hosting solution. Using the company's massive cloud architecture, however, AWS Cloud does offer a seamless experience that works almost exactly like a normal VPS.
It's hard to beat the $3.50 per month price, although the catch is that you are going into an environment that is 100% unmanaged. AWS Cloud is built for hardcore techies at major multinational companies, and the setup is utterly unforgiving to folks who are at least at an advanced-intermediate level of knowledge working with operating systems, remote access and other components.
A pay-as-you-go plan can be very nice for folks who need scalability on the cheap. This means only paying for processor cycles, and it can be appealing to businesses that deal with things like the winter holiday sales rush. If you don't want to have to scale your system up to meet demand and pay to keep that scale during the off-season, then AWS is worth a long look.
The major upside is that you can install anything you want on your instance. If you want to run Node.JS instead of PHP, knock yourself out. For that reason, it's a good option for highly skilled professionals who know how to remotely set up servers. For everyone else, it's probably wise to look elsewhere.
7. Alibaba Cloud ECS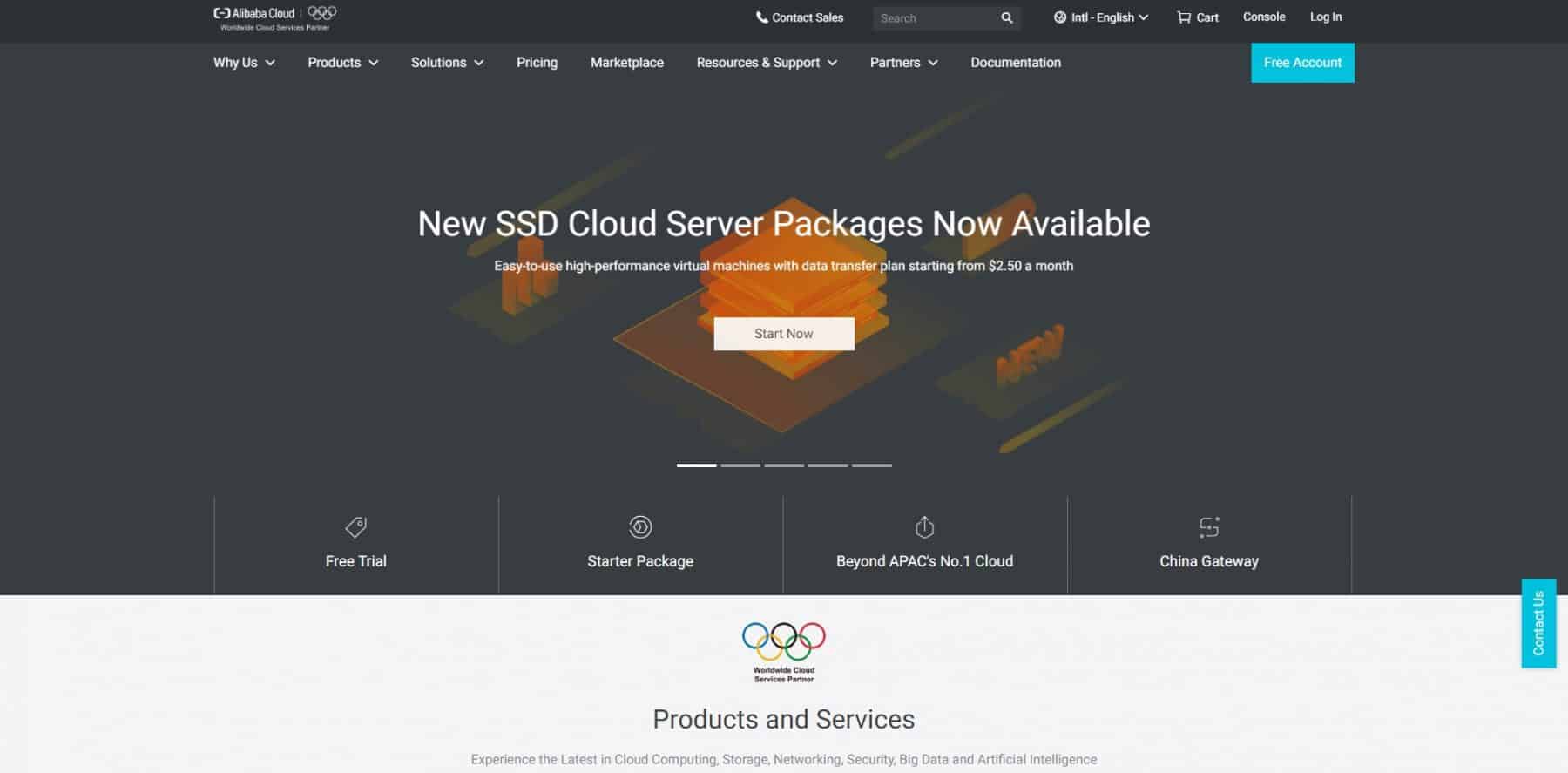 Lowest Price: $4.50 per 1TB of data transfer
Response Time: 2,000 ms
Uptime: 100%
View Alibaba Cloud ECS Hosting Plans
Alibaba is best thought of like China's version of Amazon, and not surprisingly, the company also is getting into similar offerings with cloud-based VPS. The pricing is dirt cheap, and it's a good starting point for paying for bandwidth on a usage-only basis. Users get one virtualized CPU, one GB of memory and 40 GB of SSD storage for the price. That's a lot of disk space for the dollar. The company is also committed to using the E5 series of Intel Xeon processors.
Response times outside of Asia are provably bad. If you're setting up servers for folks in Asia or Australia, though, you may get numbers closer to what you see with AWS.
If the AWS Cloud setup seems user-unfriendly, then be prepared for the downright user-hostile interface from Alibaba. Finding the exact option for your VPS hosting needs can be a challenge. If you're looking for an alternative to AWS Cloud, Alibaba may be worth a look. If you don't have the technical chops to sort through the setup process on your own, you'll want to keep hunting.
Full Pricing and Features Table
What is VPS, and Why Isn't It Always Cheap?
Relative to what it's trying to out-compete, VPS hosting actually is cheap. While the industry standard of $30 per month might not sound super affordable, especially compared to some hosting options like cloud servers and shared hosting, it's a good deal compared to what you'll see from dedicated hosting companies. A fully dedicated server may cost anywhere from a couple hundred to a few thousand dollars per month, depending on the type of machine that'll be doing the hosting work.
VPS hosting is, in many ways, a product aimed at folks who want to split the difference. They need something that's cheaper than a dedicated server, but they'd still like to have something that gives them full root access, the ability to install their own software and extensive admin control.
What exactly is a VPS, then?
Virtualization is a process where a company divides up the resources of a physical machine into a series of virtual private servers. Each of these virtualized instances is capable of providing an independent and a fully functional version of:
An operating system
A web server environment
A full file system
In other words, it's a fully operational computer that functions within a partition on a much larger machine. It's not uncommon for the host machines to have hundreds of processor cores, many terabytes of storage and loads of RAM. Chiseling these resources down to a bunch of virtualized servers means a company can offer servers to a couple of hundred customers without having to build out a dedicated machine for each one.
You may be wondering why VPS isn't always cheaper. The big thing for companies supporting VPS servers is they have to provide quite a bit of technical and customer support. Cheap VPS hosting is almost always unmanaged, and that means shedding a lot of the support side of the equation. Companies also frequently trim other features to keep down costs, including providing:
Fewer CPU cores
Less memory
Diminished scalability
Open-source or dirt-cheap control panel licenses
License-free software, particularly the LAMP stack
They may also avoid offering things like:
Windows VPS
DDoS protection
SSD drives
Dedicated resources
None of that is inherently terrible. If you're hosting a single site that doesn't get a ton of traffic or need plenty of processing power, it's a superb way to save money.
What to Expect from a Cheap VPS Provider
Finding an affordable VPS hosting company isn't impossible, but you're going to have to make some compromises. In most cases, you'll be running a Linux VPS and not Windows servers. Storage space may also be fairly limited, usually between 10 and 40 GB. That won't be a problem for most websites, but it can present issues as a site grows. You'll also likely be limited to a handful of Linux distros, such as Ubuntu, CentOS or Debian.
The lack of managed assistance with cheap VPS hosting providers can be a problem for less tech-savvy or experienced users. Managed hosting is aimed at folks who require some assistance with setup and troubleshooting issues. In an unmanaged environment, you're pretty much on your own like you would be with an actual machine sitting in a room. Notably, the virtual machine is on an actual machine that you have to remotely access, and that can present its own set of challenges if features like SSH and FTP become unresponsive.
It's generally not recommended for folks who don't have Linux admin experience to buy a cheap VPS server. Unless you can get a killer deal on a managed server, working as a marketer or an agency trying to manage a server can be a mess. The best VPS deals don't justify getting hung out to dry without some tech support. Unless you're very comfortable working with a CLI and in an interface like PuTTY, you'll absolutely want to get a fully managed hosting plan.
On the other hand, a low cost VPS is a superb way to save some money if you have the necessary skills to maintain it. Cheap VPS servers may help you realize hundreds of dollars in savings, especially if you need to run several of them.
Last Updated on September 6, 2022 by Adrian Grant