WP Engine started the WordPress hosting revolution. With top-tier premium support and blazing fast speed, those who engineer WordPress prefer WP Engine. We highlight plans, pricing, and features that make this beast purr.
WP Engine – the Fastest WordPress host?
WP Engine is considered by many to be the best, most premium, fastest, best-supported WordPress host.
It created the WordPress hosting market from scratch, and many me-too companies have sprung up, trying to grab market share.
Just looking at it's homepage evokes power, mystery, and wonder: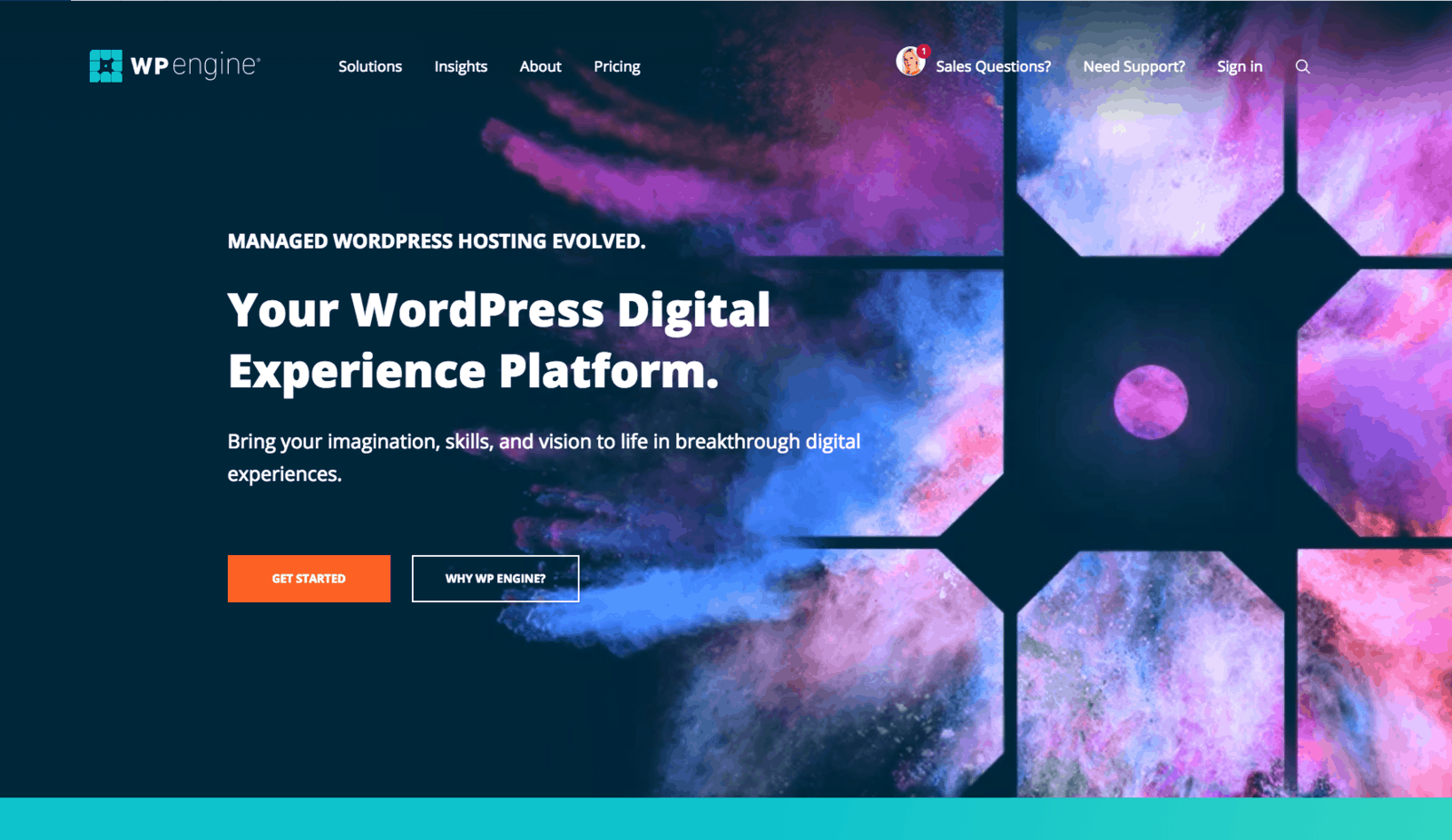 It's got rabid fans.
And its detractors.
We're here to help you decide – is WP Engine the host for you? Or should you go with something lighter like SiteGround?
What is WP Engine?
WP Engine is a premium managed WordPress hosting company based in Austin, TX. Founded in 2010, WP Engine was among the first web hosting companies to offer managed WordPress hosting.
Since their rise to power, many of the longer standing big names in hosting have begun to offer managed hosting plans as well. A privately held company, WP Engine hosts over 40,000 websites, many of which are large brands. CEO Heather Brunner, who assumed the role in 2013, is one of the most prominent women in the tech world.
How Good is WP Engine?
If your site makes or is meant to make you money, WP Engine is among the best choices for your web hosting needs.
Their completely managed WordPress hosting means that your site will stay completely up to date with security features, plugins, and storage needs. But with their most basic plan starting at $35/month, this is not a hosting company for amateurs. We recommend WP Engine for serious webmasters whose sites generate considerable traffic and considerable cash.
For the novice webmaster looking to set up a simple site, there are plenty of budget hosts that cost a fraction of the price and will give you everything you need.
Our Expert WP Engine Review
If managed WordPress hosting is what you're after, WP Engine should be one of the first hosting providers you investigate. And for good reason!
They basically invented managed WordPress hosting, and their impressive portfolio of clients speaks volumes. WP Engine has much to offer webmasters planning on scaling and monetizing their sites, but that doesn't mean it's the right fit for everyone with big dreams for their blog. WP Engine is pricey, and the trade off for automated updates and security are some serious limitations when it comes to bandwidth, storage, and support.
Best Features of WP Engine Managed WordPress Hosting
In many ways, WP Engine has set the industry standards for managed WordPress hosting. Here is why many big brands pay big bucks to host with WP Engine.
1. Enterprise Grade Security
WP Engine hosts enterprise-grade security, and it's some of the best out there. Especially for large brands with a lot of eyes on them, the threat of being hacked is worthy of serious attention.
On security, WP Engine truly delivers:
ons
They have 256-bit AES security protocols that will encrypt your data before it makes the transfer.
They keep file system roots segregated, and they have configured their system to block malicious requests on the front end before they ever reach the back end.
Since they are built for WordPress, they know all the weak points of WordPress and have covered them adequately.
They automatically run updates for WordPress and all plugins so that, as fixes are made to improve security, your site will be safer sooner.
2. Blazing Speed
WP Engine is, as might be guessed by their name, built around WordPress and only WordPress. Their entire infrastructure is optimized to run on WordPress, which delivers excellent speeds. Plus, with automated updates for WordPress and all your plugins, you'll always be running the latest, fastest versions of everything.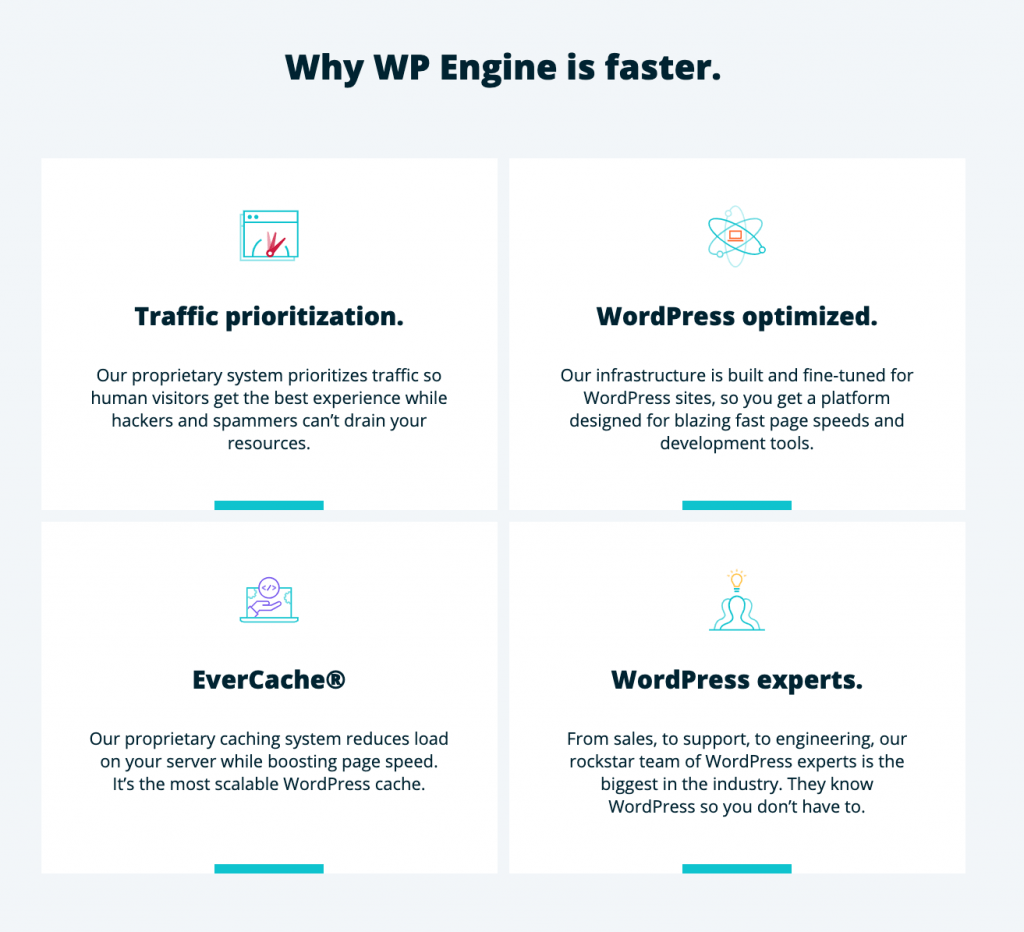 They also offer a free special tool to help you test the speed of your WordPress site, with added suggestions for how you might achieve even faster page load times. Check out their WordPress Speed Test, which you can use for any WordPress site, not just ones hosted with WP Engine.
If you're interested in WordPress optimization and fast speeds, but aren't sold on managed hosting services, we recommend A2 Hosting. You can choose to have a specially optimized WordPress program pre-installed, and these guys offer the fastest page load times in the industry.
3. Unlimited Data Transfers
WP Engine offers unlimited data transfers on all of their plans. "Unlimited" is a term tossed about quite liberally by web hosts, but it's really only as good as the infrastructure that supports it. "Unlimited" data from an overloaded server may never cap out if only because it can only deliver so much at any given time. WP Engine, however, has the equipment to truly back up this promise.
4. Worry-free, Automatic Daily Backups
WP Engine will perform an automatic backup for each website you host with them every single day. These backups are free to restore and give you the option of restoring specific files only. If your site is hacked, the support team will handle everything, getting your site back to normal with minimal stress on your part. If there is an area of customer service that WP Engine truly excels in, it is this one. Customers desiring complete peace of mind about the safety of their data may find that WP Engine is a perfect fit in this sense.
5. Love WordPress? Then You'll Love WP Engine.
WP Engine has mixed reviews all over the web, but there is a prevailing theme among those who sing their praises from the rooftops.
WordPress fanatics are, by and large, also WP Engine fanatics.
Being a managed WordPress hosting company entirely built around the world's most popular CMS, this makes a lot of sense. The partnership between the host and the CMS is a strong one; you better believe they never miss a WordPress conference and are on the cutting edge of every new development. Webmasters who truly know how to get the most out of WordPress would do well in choosing WP Engine.
6. Solid Support 24/7/365 Customer Support
If you're not a backend developer, you need support – available 24/7. Support is one of the fundamental reasons for choosing managed hosting – or any hosting for that matter.

WP Engine is a support-centric company, and in our testing on both the sales side and admin side, we found their support to be blazingly fast – responding within seconds in most cases.
7. Pricing is a Huge Value
Some may look at the $35/mo starting price tag and compare it with cheaper hosts.
Do not do that.
If you're a real, growing business, you're essentially paying this extra $25 a month to get premium hosting and infrastructure, world-class support, and actual WordPress techs standing by to troubleshoot your problems.
Imagine that you're on a low-quality shared host and you start to have major issues. What's going to happen is you'll either be on chat with an outsourced customer service rep that doesn't understand the technical problems with your site or they'll offer to help you for a fee.
Think you can hire some developer on-demand? If they can reply fast enough, you're paying $100 an hour for a developer of the same caliber of WP Engine's tech support.
So like anything in life, you get what you pay for. By paying extra for your mission-critical website hosting, you're actually saving yourself potentially hundreds or thousands in lost business from your website crashing and having to deal with sub-par support.
8. New! StudioPress Theme Bundle Included
One of the most compelling recent additions to WP Engine's offerings is the inclusion of StudioPress themes – worth over $2,000 in themes.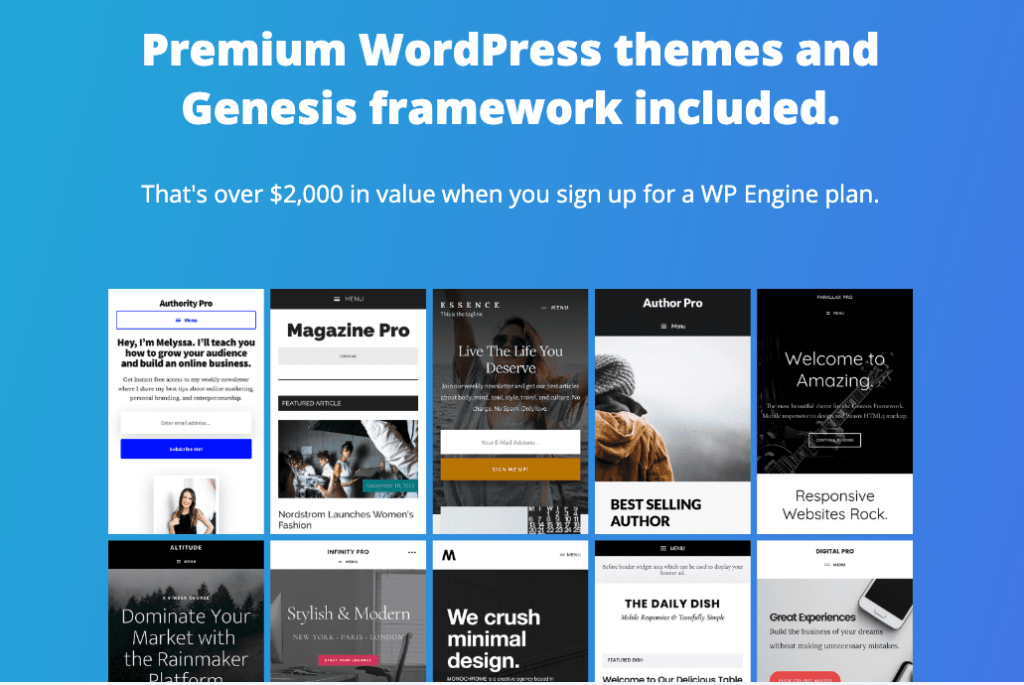 StudioPress, on the Genesis framework, is one of the most well-respected WordPress theme shops on the market. This is a huge bonus for WP Engine subscribers who get all of these themes included in their subscription.
Downsides of WP Engine Hosting
No host is right for everyone, but this may be doubly true of WP Engine. They may be one of the best in their specific niche, but there are plenty reasons that the vast majority of webmasters should steer clear. Read on to determine if WP Engine is truly right for your site.
WP Engine's most basic shared hosting plan costs $35/month (cheaper with our discount link) and only includes one domain that you'll have to buy elsewhere.
Also:
You won't get any email addresses attached to your domain.
You will only be given 10GB of storage.
On the basic plan your site can only sustain 25k visits each month.
All of these features we will expand upon below, but the central issue is this: Most of the features listed here that WP Engine lacks or limits come standard with other hosts, at a fraction of the price.
This is not to say that WP Engine isn't worth the premium price tag if you prioritize scalability, security, and peace of mind about your data. But these features are more specific than most webmasters typically need. WP Engine isn't overpriced, but many customers can find a host better suited to their needs without shelling out so much money.
2. Limited Storage & Visitors
WP Engine's Startup plan only includes 10GB of storage and 25k visitors every month. To be fair, this is relatively large for any one site, especially compared with what other boutique web hosts offer on their most basic plans.
3. No 24/7 Phone Support for Basic Plans
WP Engine's managed hosting promises that when you get a support rep on the phone, they are generally incredibly knowledgeable and helpful. And this is true in most customers' experiences. But getting a hold of the support team proves a bit more difficult.
For those on the Startup plan, support tickets and phone support do not receive 24 hour attention, binding you to calling during business hours.
Update: It used to be the case that WP Engine had no chat support, but they now offer 24/7 live chat support on all plans.
4. No Email
This is something of an anomaly among web hosting companies. Most include at least a handful of free email addresses with your domain and hosting package, but WP Engine forgoes this service entirely.
Instead, they recommend setting up Google Mail accounts tied with your domain. This is something that many companies do regardless, but that doesn't mean everyone wants their email tied to the Google Giant, or that everyone is happy to pay extra for something that usually comes standard.
Truthfully, we use G Suite by Google anyways, so this isn't much of an issue.
Bottom Line
WP Engine is the master of their field for good reason. They have blazing speeds, top-notch security, and if you don't mind waiting a few hours for support, then you'll find that their support is even top-notch. In fact, every single time that you get a representative on the line, they will bend over backward to help you.
But they are by no means right for everyone, and this is especially true for novice webmasters looking to set up a simple site.
All the bells and whistles that come with their managed WordPress hosting services are top-notch to be sure, but they are outside the usual realm of necessities for most average sites. Plenty of cheaper hosts offer something closer to a one-size-fits-most plan. Following in the path of WP Engine, a lot of the big names also offer managed WordPress hosting. Check out HostGator, for instance, if you're okay with a more abbreviated level of service for a much cheaper price. Or, if you're a bit more technical, Cloudways can be a great option for a lower price and top-tier hosting.
WP Engine Plans and Pricing
When looking at the pricing page at first, it can be a bit overwhelming: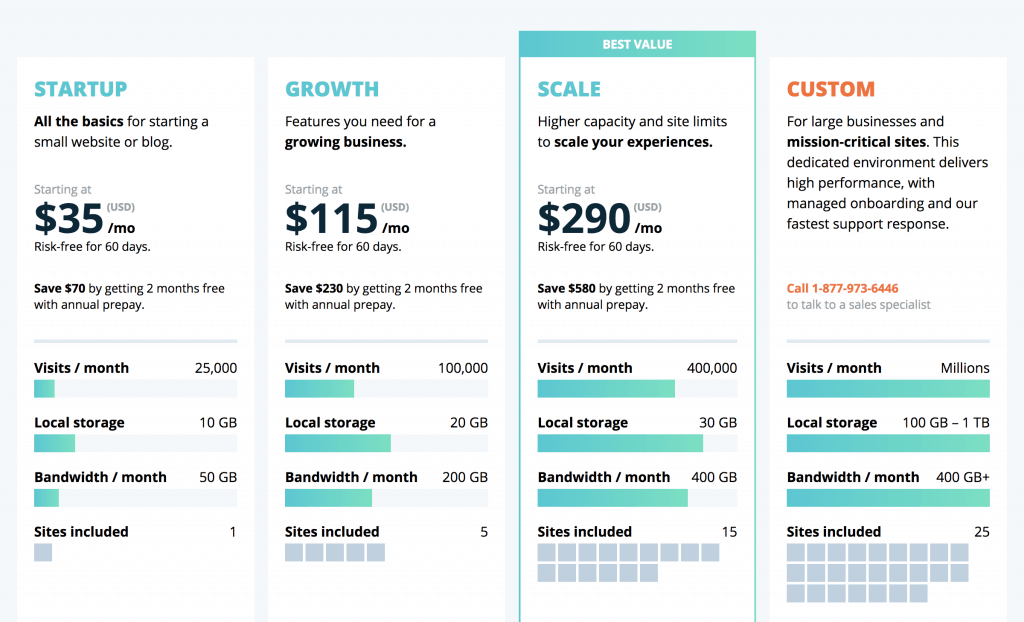 Here's the breakdown:
If you're just starting out and have only one site, we recommend the Startup plan
Growth and Scale are great if you have multiple sites or are an agency
One of the biggest downsides of WP Engine is the traffic limit of 25,000 visits a month on the Startup plan, which feels much too low, compared to other hosts like SiteGround
Your'e buying a premium service here, with US-based tech support, so you have to factor that into consideration
The local storage is also a bit low, but should satisfy most people
What does pricing look like with our exclusive discount?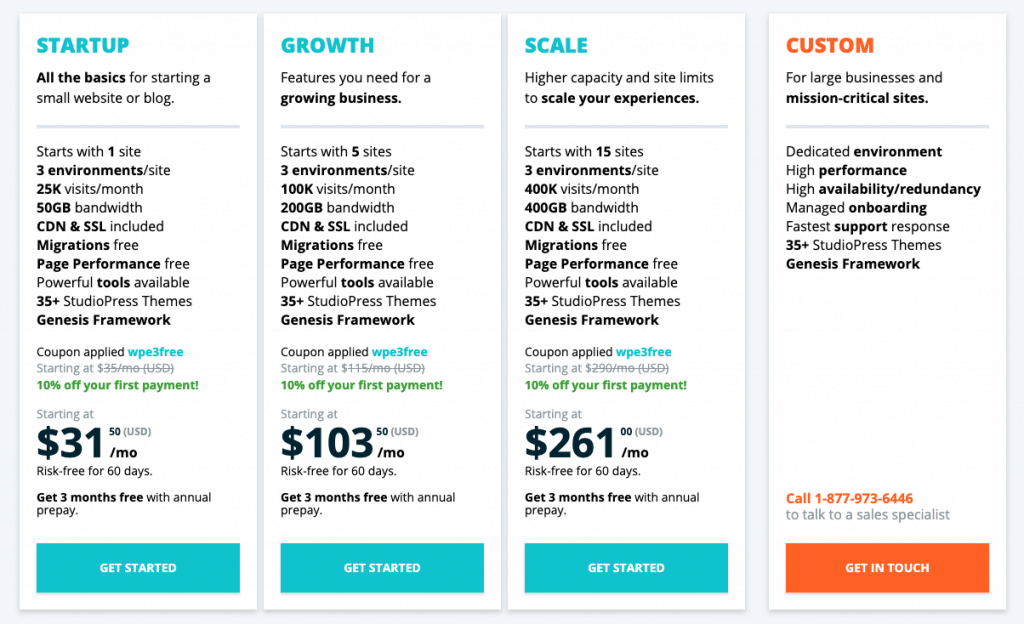 With this discount link you get 10% off your first payment, which comes out to 3 months free on annual plans.
WP Engine Discounts and Coupons
WP Engine will often offer seasonal discounts and bonuses. As a trusted partner, we get access to additional discounts we can pass on to you!
Get 3 Months Free on WP Engine Hosting
We've partnered with WP Engine to bring you an exclusive additional 10% off discount for annual WP Engine plans. This partnership is exclusive to WhatsTheHost and WP Engine.
WP Engine Questions and Answers
You need a hosting site that will support you.  These FAQs for WP Engine should satisfy anyone looking for answers about finding a hosting site.
What's the history of WP Engine?
In 2010, serial entrepreneur Jason Cohen founded WP Engine.  They are a United States based company.  Their headquarters reside in Austin, TX, and have other offices throughout Texas, San Francisco, and London.
How does WP Engine optimize hosting WordPress sites?
WP Engine uses a proprietary front-end system that works well with WordPress.  It protects websites from hackers, reduces server loads, and handles traffic spikes with ease.  The caching software for WP is called EverCache, and it was designed specifically with WordPress in mind.
What unique features set WP Engine apart from other hosting sites?
WP Engine has plenty of unique features.  The Staging Area is their focus, and it allows users to create new development environments to test out new themes, plugins or other changes before releasing it on your website.  Their one-click restore points provide easy navigation for visitors.  The unlimited data transfers allow you to use as much data as you need.  The CDN and proprietary caching technology, firewall, and malware scanner work hard to protect your website.
You can manage your WordPress updates, and create daily backups to protect your work.
Where are the data centers located?
WP Engine has data centers located throughout the world.  They have locations in the United States, United Kingdom, and Japan.  No matter where you are in the world, you can find a data center near your location.
Can WP Engine transfer a WordPress website?
WP Engine will transfer a WordPress website.  The website migration does come with a one-time fee for the service.
What benefits will I receive for using WP Engine to host a WordPress site?
WP Engine offers a lot of benefits for those wanting to use them for their hosting site.  They have a WordPress optimized hosting architecture to handle the most active websites.  They offer "top-shelf" hardware you won't find with other hosting sites.  There are several unique features that can make WordPress sites easy, and hassle-free.  Their support team are experts with WordPress, and can help you with any questions you have about anything on your WordPress website.  You will also get automatic updates and backups when you use WP Engine.
Can I get an SSL certificate through WP Engine?
EP Engine allows their subscribers to purchase SSL certificates for an additional fee.  You won't have to find an SSL certificate through another hosting site.
How good is the support for WP Engine?
WP Engine prides themselves on their customer service.  They use a ticketing support system for inquiries regarding minor issues.  For those who need help fixing other issues, there is a live chat option that connects you with a representative.  The live chat is available every day from 8AM to 8PM CST.  There is phone support for every plan, except for the first tier.  Every representative is an expert on handling any WordPress issues.
Does WP Engine offer a money-back guarantee?
Yes, they do.  When you sign up, you will get a 60 day no-risk, money-back guarantee if you're not satisfied with the service.  It is not detailed on the terms and conditions, but it is stated on their website.  The money-back guarantee is only available to hosting fees only.  If you have any domain purchases or another add-on service, you will not receive a refund on those purchases.
Is there an uptime guarantee with WP Engine?
Yes, they do.  They have a 99.95% uptime guarantee for your website.  If they cannot meet that guarantee, they will offer to refund 5% of the monthly fee for every hour they can't meet it.  If you do have any issues with your uptime, you can request your refund within 30 days of the downtime and receive your refund.  You want to double check WP Engine's Service Level Agreement to get all the details and find out what restrictions apply.
Can I display the "Powered by WP Engine" with an affiliate link?
There are a couple of different ways you can display WP Engine on your website.  There is a widget you can use.  It takes a few minutes, and it will match your other widgets on your site.  If you're a little more technically savvy, you can use the PHP functions.  It brings up a couple of options for HTML settings, and include your affiliate ID.  Everyone that visits your website will know who you're affiliated with, and how your site is powered.
How can I change my billing information?
It's simple and easy to change your billing information.  You will log onto the User Portal, and you should have "Owner" privileges.  You'll then select "My Account", then "Update Payment Info".  It's located right next to your card information.  From here, you can make your changes, click "Update", and you're set.
How does WP Engine detect and remove malware from a site?
WP Engine scans WordPress to seek out pre-existing malware.  If there is any malware detected, it is removed automatically and a notification email is sent to you.  Security is crucial to protecting websites, and WP Engine strives to enhance their security programs.  They use an in-house vulnerability scan to go through infrastructure, servers, databases, and applications.  WP Engine has contracts with SecTheory and Sucuri, two of the top tier internet security companies.  They work hard to protect all your information and prevent hackers from crashing domains.
What plugins are disallowed by WP Engine?
WordPress offers over 40,000 plugins, and WP Engine only rejects only a dozen or so plugins.  Caching plugins, like WP Super Cache, WP File Cache, W3 Total Cache, and WordFence are disallowed on WP Engine's site.  They work with the other cache programs already used by WP Engine.  Backup plugins, like WP DB Backup, WP DB Manager, Backup WordPress, and VersionPress are disallowed because they run at inopportune times, and slow down the speed.  Server and MySQL Thrashing Programs, such as Broken Link Checker, MyReviewPlugin, Fuzzy SEO Booster, WP PostViews, and Tweet Bender cause a higher load on the servers. There are plugins that are banned.  These plugins include Dynamic Related Posts, SEO Auto Links & Related Posts, Yet Another Related Posts Plugin, Similar Posts, and Contextual Related Posts.  They are database intensive, so it's better to ban them outright.
What plugins are curated?
Payment Checkout Solutions protects the customer's information, and Stripe and Mijreh are two of the best payment checkout solutions.
For analytics, Google Analytics, Clicky, and KISSmetrics will track your customer's behaviors to help them navigate through your site before they make a purchase.
For a shorter link, Pretty Link Pro, and Bit.ly are ideal for spreading URL's out onto social media.
Content Delivery Networks (CDN) will cache your static content on your site.  For this, you want to use Photon, MaxCDN, or W3-Total Cache to enhance your caches and make your site faster.
For dynamic pricing, Gravity Forms allow you to set the prices for your products, and figure out any discounts you want to include.  It's perfect for those who want to buy in bulk, and they can receive a nice little discount to boot.
When it comes to table rate shipping, WooCommerce, Cart-66, WP eCommerce are the top plugins for this feature.  You can define your shipping rates on certain factors to meet the needs of your customers.
How and when are WordPress core updates performed?
For functional updates, they are beta tested.  When the it passes the beta testing, an announcement is announced on the blog, and talks about the new features on the new version.  Estimates are provided to help with planning.  The engineers work on the beta version until it is tested against the system to see how they respond to the platform.  You can download the latest version using the 24/7 Live Chat as per request to get it before it's released.
Security updates are provided, and they are done as quickly as possible.  A quick test run determines how it will respond to the security update, and then the platform is pushed out to the clients.  A notification is sent out to ensure outdated security programs are closed out properly.
The WP Engine Automatic Update Protection is autonomous, and it is an extra layer of management.  It loads the site and conducts tests to ensure everything is running correctly before the update is installed.  A backup is created if it passes the first test, and the automation will reload the site and retest to make sure the WordPress core is working properly.  If it doesn't work correctly, your site is reverted to the WordPress version installed before the update.  You'll get an email detailing what steps you can take to fix the problem.
How can I add new sites with different domain names in the WordPress Multisite?
Adding multiple sites to your main WordPress install is an excellent way to help drive traffic.  You will need to complete some steps before it is set up properly.  You want to add the new domain to the User Portal by going to the "Add Domain in User Portal".  You will then need to create a site in the WordPress Multisite.  You will go to the "All Sites", click "Add New".  you will need to choose a site address, site title, and admin email for anyone you want to have access to your website.
How do I enable revisions that are already disabled?
When revisions are enabled, they can create performance issues.  If you want to want to enable them, you will need to go to the wp-config.php file.  From there you can choose to enable the revisions.
How can I change the multisite primary domain?
When you want to change the primary domain, you don't need to dump the database. You can change each field to change your domain name. Here are the values you will need to change to change the domain name.

wp_options
wp_sitewp_sitemeta
wp_blogs
wp_#_options

The phpmyadmin should also be edited. When it's all changed over, you want to mirror the current syntax of HTTP or the non-HTTP. You can then start to change the domain name, you will receive the define (DOMAIN_CURRENT_SITE', mysite.wpengine.com), and you can replace that information with the new domain.
What is HTTPS and SSL/TLS?
If you're planning on selling products through your website, you need to acquaint yourself with these phrases.  They provide security that protects customer's information through cryptographic details.  Here are what the terms mean, and what they do for your website.
Hypertext Transfer Protocol Secure or HTTPS is a protocol that provides secure communication through the internet.  Outsiders can't see visitor information they send and receive online.  To work properly, HTTPS uses secure connections with SSL/TLS protocols that will authenticate web servers.  It encrypts the messages between the browsers and web servers.
Transport Layer Security or TLS is the cryptographic protocol that provides the secure communication.  It secures the communication for website visitors, and offers plenty of benefits.  It authenticates identities, provides privacy, and data integrity for every visitor.
Secure Sockets Layer or SSL is the precursor to the TLS system.  The name changed because the SSL 3.0 system was not compatible with the upgrade.  Instead of changing the whole system, it was easier to rename it to TLS.
History of WP Engine Infographic
It helps to get a visual of the history of companies to understand where they came from and where they're going. Below we've highlighted the most important events in the history of WP Engine: