Cloudways Review
Want the power and scale of AWS or Google Cloud, but without the technical challenges? Enter Cloudways.
Cloud hosting has been one of the big waves in web hosting in recent years, especially for companies that offer WordPress hosting. Among the biggest names to emerge from the field of contenders in providing hosting plans is Cloudways. The company's offerings regularly appear near the top of reviews, and you'd be remiss to not look at their offerings if you're interested in putting a WordPress install to work on a cloud platform.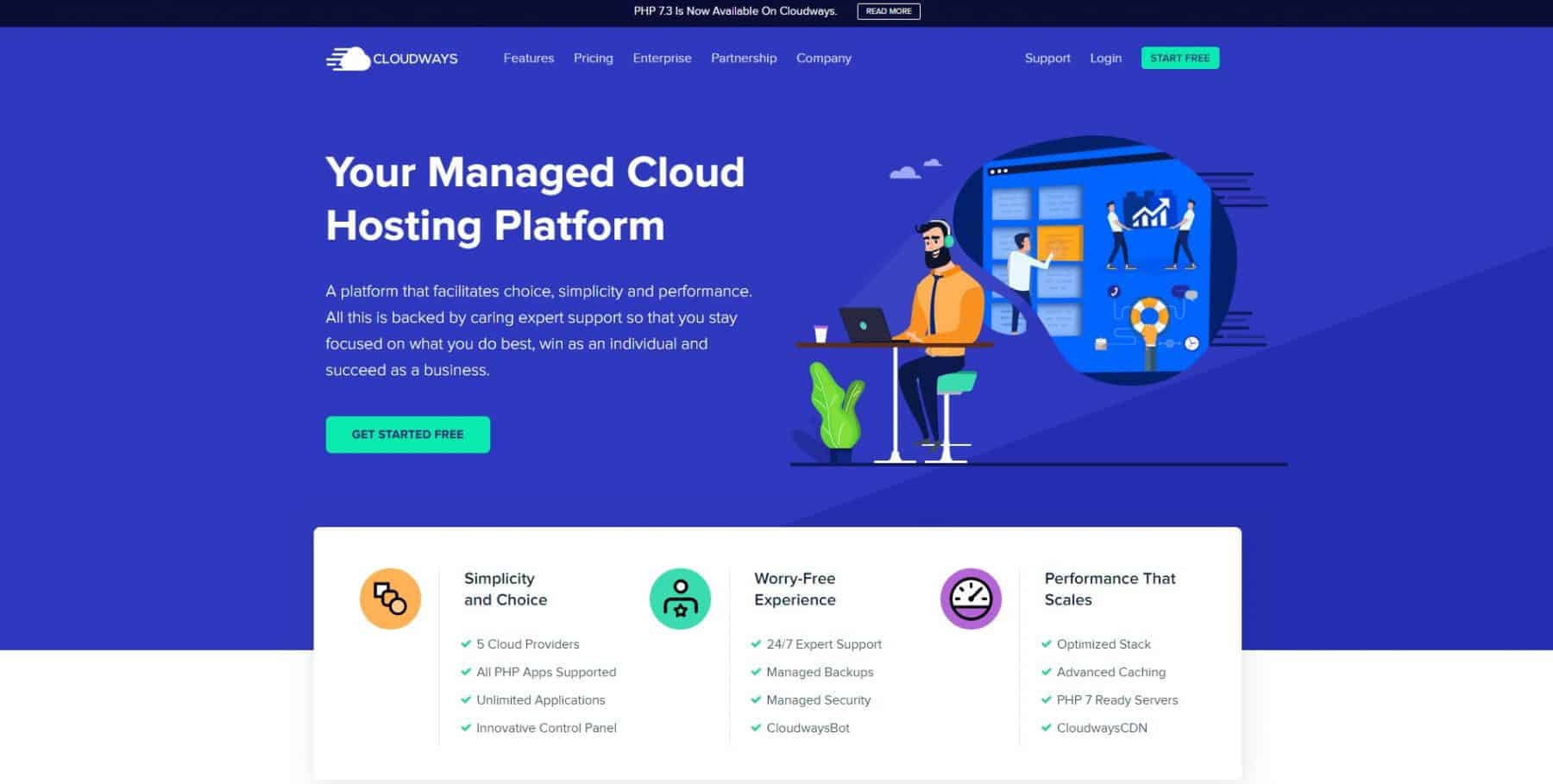 This Cloudways review will help you answer some of the questions you may have, whether you're a first-timer or someone who has configured WordPress with all the bells and whistles like WooCommerce, Magento and other plug-ins. Here's some info about Cloudways, and we'll also explore some of the pros and cons of the company as a hosting provider.
Who is Cloudways?
Cloudways is a company based in Barcelona, Spain. Founded in 2012, its business is focused on cloud hosting and management, web hosting, cloud computing and other forms of software as a service (SaaS). The company's goal is to provide services that are highly available and readily scalable, and it also works hard to make these high-end capabilities available to small and medium businesses.
Cloudways Pros

1. Stability
One of the biggest virtues of Cloudways is that their system leans heavily on best-in-class infrastructure, utilizing provisions from Vultr, Amazon Web Services and Google Cloud Google. This means you can expect high uptime numbers and a very responsive WP site.
How good is it? Cloudways regularly achieves:
A sub-700 ms response time, essential to achieving a better load time
99.99% uptimes
The company also employs a content delivery network that ensures static web page elements won't bog sites down. Another way that Cloudways improves performance versus other hosting companies is by using Thunderstack. This is a software stack that employs caching mechanisms that are designed for speed. It utilizes a combination of:
Memcache
Apache
Nginx
PHP-FPRM
Redis cache (optional)
Varnish
That's a fairly high-end package for a hosting provider that targets small and medium businesses. You'll also have the ability to do both on- and off-site backups. Similarly, systems are deployed across several cloud providers to ensure your web hosting services achieve rock-solid stability. If AWS goes down, for example, you can rest assured that the setup will fail over to something like the Google Cloud platform to keep running. By distributing their customers' sites across so many data centers, Cloudways goes a long way toward mitigating the risks that come with regional or even continental internet outages.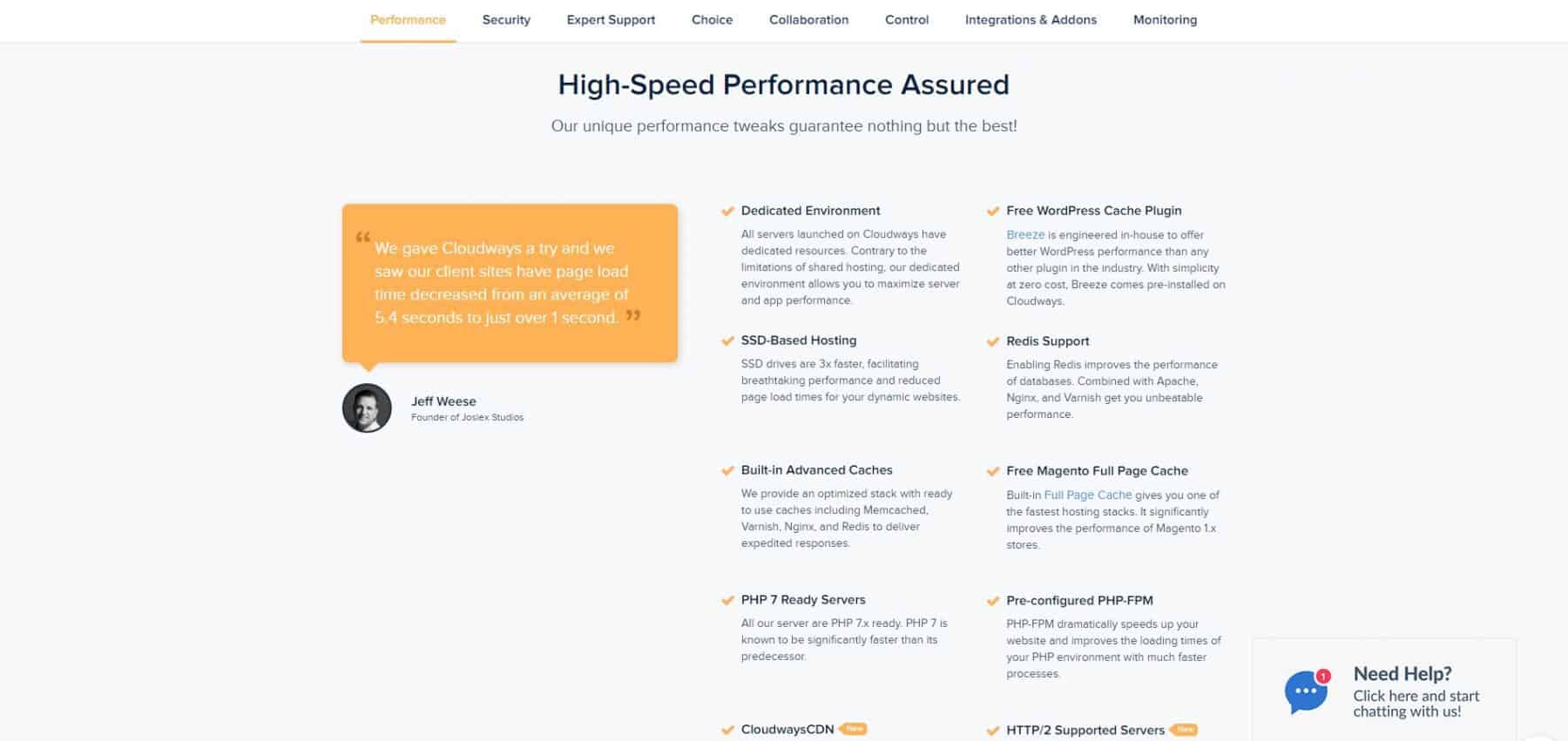 All hosting is handled using SSD drives. This ensures your site won't suffer slowdowns or failures due to the use of old mechanical drives. Also, all cloud-based systems are highly redundant so you should never have to worry about data loss or complete site failures.
2. Included Features
When providing a hosting solution, every company has to find the right balance between making its offerings appealing to tech-savvy individuals and those who need a more user-friendly experience. Both groups are well served by Cloudways.
On the tech side, you get solid features like:
A modern PHP 7.3 code execution environment
IP address configurability
Git access
cPanel
SSH capability
API access
Cron jobs
WP-CLI
For those looking for one-click deployment, Cloudways offers:
Staging areas for developing and prototyping a WordPress site
App deployment capabilities
Auto scaling
Real-time smart assistances with the Cloudways Bot
Automatic updates to the underlying software running your site
Database access is a critical part of running any WordPress website. The package is built on top of MySQL and MariaDB, and Cloudways hosting permits direct DB access.
If you're looking for real-time insights about site traffic, for example, the CloudwaysBot can quickly guide you through the process of setting up channels and analyzing data. A customer who needs to present a newly designed WordPress site to a client will find the staging system to be a blessing. While you're not required to have top-tier technical know-how, Cloudways gives you ready access to server management tools that make it easy to implement changes. Whether you're looking for admin-level control of the experience or a simple interface, Cloudways hosting has you covered.
Many website builders also need email access. It's not enough to get an email inbox at your site, especially when many WordPress plug-ins need STMP access to send information to you and to your site's visitors.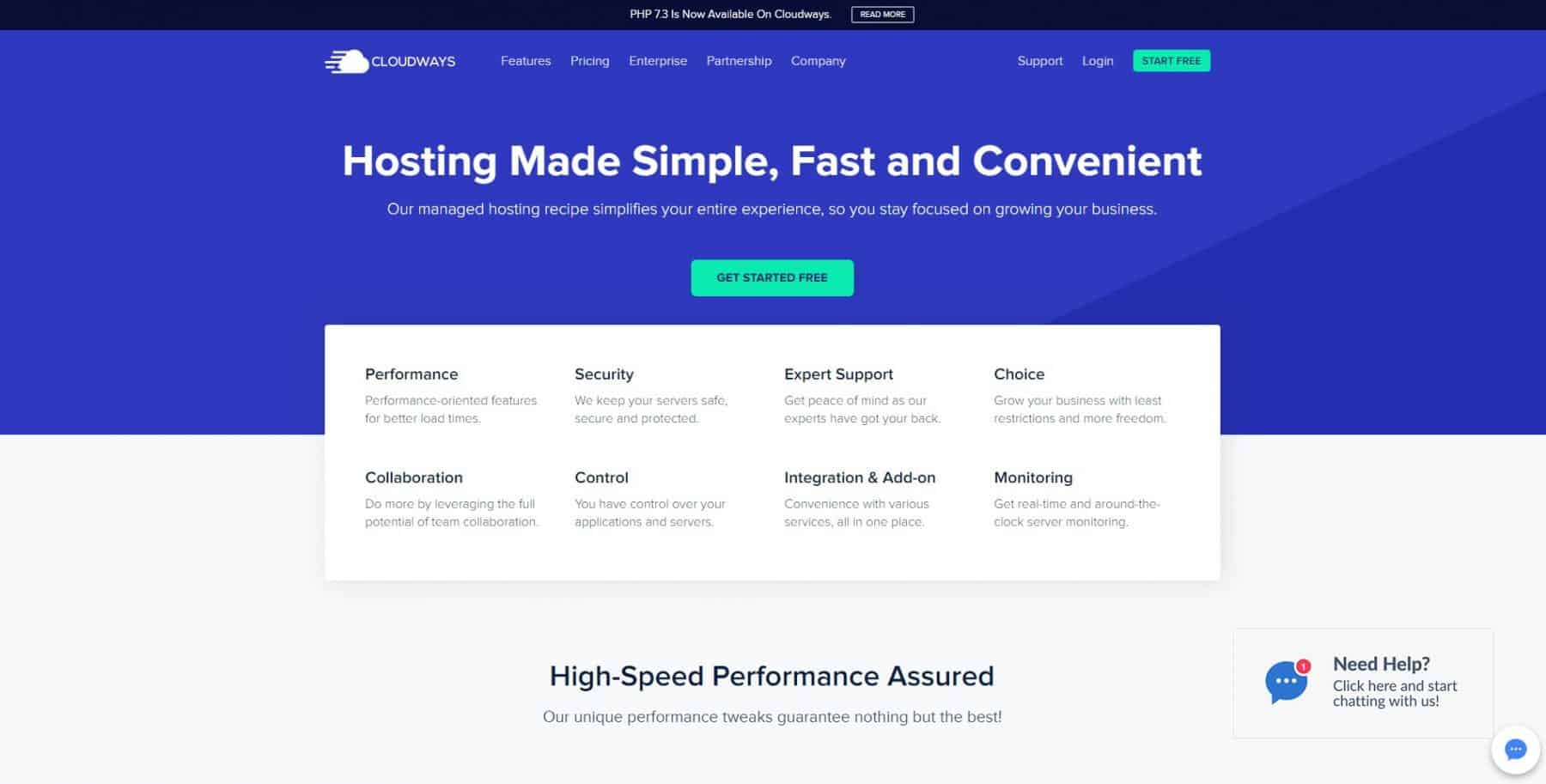 3. Freebies
You don't want to get through a Cloudways review without hearing there are some freebies to sweeten the deal, right? Don't worry. Someone at Cloudways definitely thought of that.
The company started with one of the best free items you can ask for when building a WordPress site. Your account will include a free SSL certificate. All configurations are deployed using Let's Encrypt.
This is essential for several reasons. First, if you're setting up a transactional site, such as one that uses WooCommerce or Magento to take payments, you'll want to keep transactions secure. Second, Google's search indexing system now gives weight to those sites that use SSL certificates. You get to hit two birds with one stone, and it's free.
They also include a free WordPress caching plug-in. One slight downside to WP is that it dynamically serves content. This means that every time a page is fetched for a user, the system has to go into the MySQL database, find the entry for what you posted and then give that content to the users. Doing so is slower than just giving them a static HTML page. To solve this problem, a caching plug-in creates a static copy of the desired content and gives it to a requesting user.
Long-time users of WordPress likely have sites up and running right now. If you want to move those sites, that can become a very involved process. You need to make copies of both your content and your WordPress themes, and you may run into issues if your WordPress site was built on an older version of PHP.
How do you solve that issue? A managed migration with the help of tech professionals who know how WordPress works in and out. Cloudways is happy to provide free migration assistance.
4. Support and Security
While the free virtual assistant is nice, there are bound to be issues CloudwaysBot can't resolve. If you have a bigger question to solve, don't fret. Cloudways has you covered with 24/7 customer support. You'll quickly be connected with a tech-savvy individual who can guide you through the problem or put you in touch with someone who can remedy the issue.
Site security alerts are automated. Likewise, the data backup system makes it easy to restore a site that's compromised. That's important because WordPress sites, due to their wide use across the web, are very popular targets for hackers. If an attack is launched against your site, Cloudways has automated systems that are designed to respond to the situation and notify you.
Back-up options are also highly configurable. You can determine how often you want back-ups made and how frequently you want out-of-date ones deleted.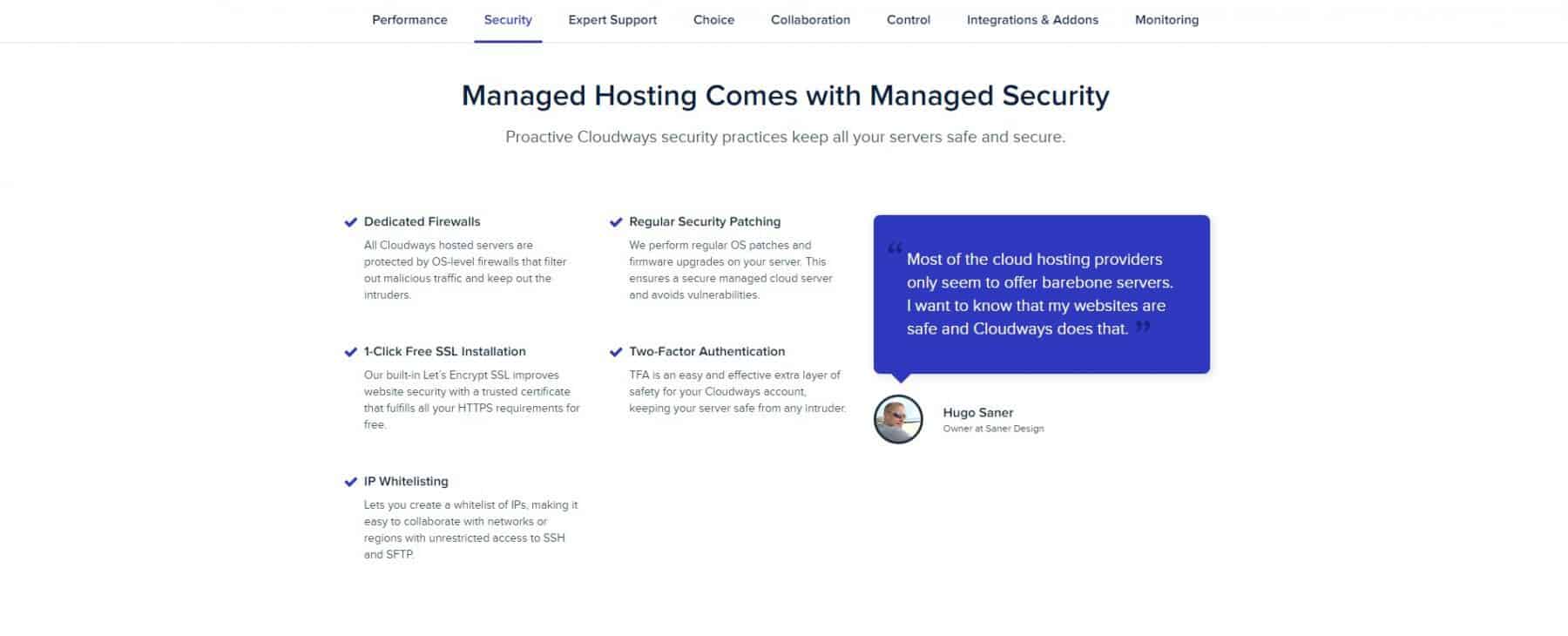 5. Scalability
Being able to grow your website's supporting infrastructure as its audience grows is important. One of the main virtues of using a cloud-based platform versus other alternatives, such as virtual dedicated server hosting, is that scalability is a breeze. Cloudways, in particular, offers one-click solutions that will allow you to add extra storage, RAM, bandwidth and even processor cores. All you do is select what your growing site needs, and their server management software does the rest. Within minutes, you'll have more disk space, memory and processing power at your disposal.
6. Dashboard
Especially when working with multiple clients, it's good to have a dashboard and control panel that allow you to sort things out rapidly. The dashboard readily displays usage for each site, and that makes it simple to send bills to clients. Even if you're hosting your own website with Cloudways, the dashboard configuration is ideal for keeping tabs on traffic, peak loads and other bits of information that let you know how the site is really doing.
A nifty feature in the dashboard environment is the company's collaboration tools. If you need to give a designer or a coder limited access, for example, you can readily assign them limited privileges and let them get to work. Team members can also communicate with each other through the dashboard, leaving notes about what they've gotten done and what work remains to be completed.
Cloudways Cons
Even the prettiest flower has its thorns, funny smells or pollen. While Cloudways is one of the better hosting providers out there, it does have a few downsides.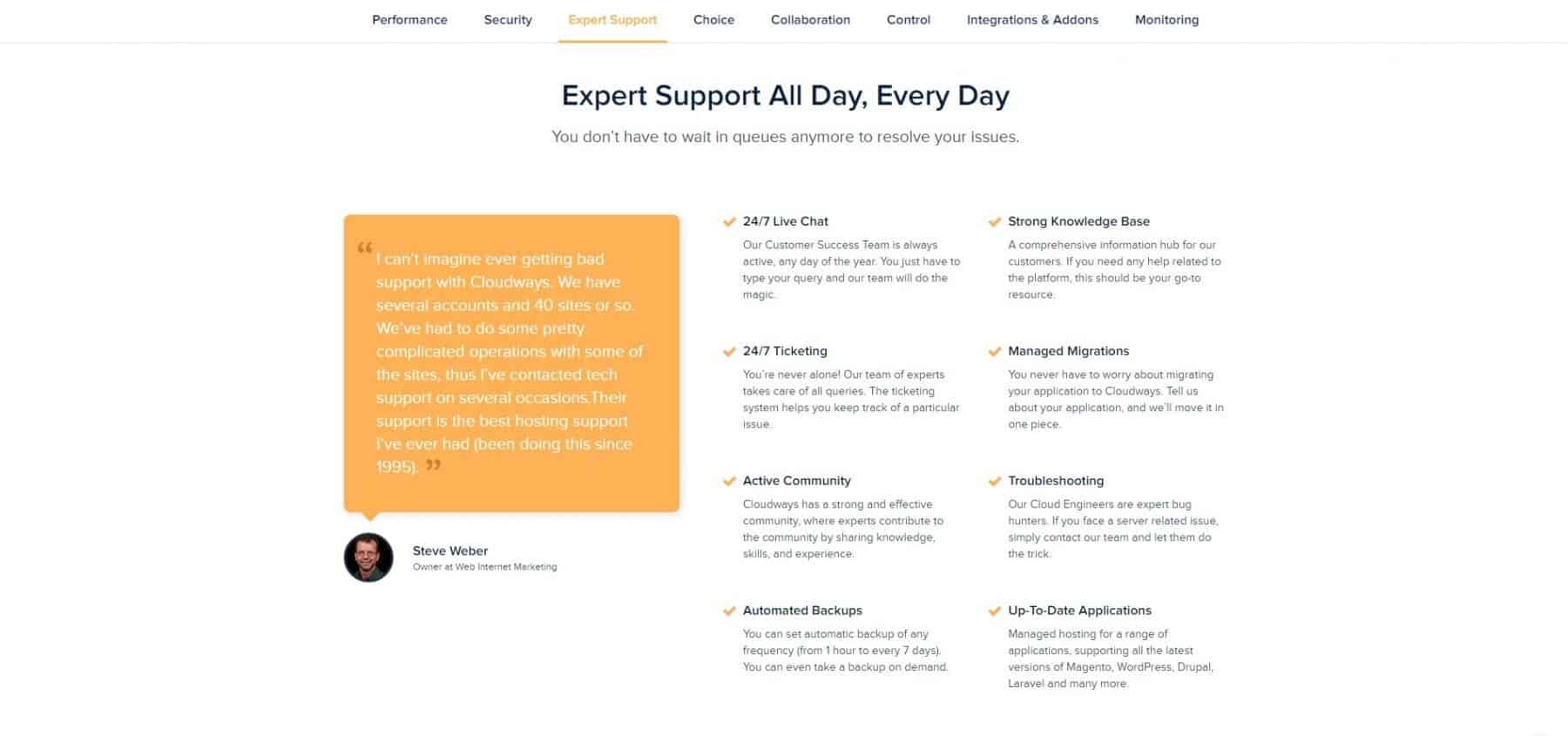 1. Not Much Support for Custom Code
While you do get a great deal of admin access, if you want to use it, Cloudways doesn't help folks run a ton of custom code. This can get messy if you're trying to support an older ecosystem of WordPress themes and plug-ins. While a skilled coder shouldn't run into any roadblocks customizing their code to the Cloudways environment, don't expect anyone to hold your hand through the process.
As you add layers of customization, it gets worse. You're not going to get major support for anything running in JavaScript, and you can just forget receiving assistance with Python.
2. Can be Difficult to Choose a Cloud Services Provider
Every account is expected to select a cloud services provider as its primary place for the virtual server to exist. It's hard to go wrong with the offerings from Cloudways, but it also can seem like a blur to people who aren't really familiar with the big players in the cloud computing sector. Some options include:
Amazon Web Services
Google Cloud
Linode
Digital Ocean
Vultr
In testing, Vultr and AWS tend to perform the best. Cloudways does offer a three-day trial for each system, but that really isn't enough time to make an apples-to-apples comparison. Assessing the full capabilities and shortcomings of cloud hosting services takes years. It would be best if Cloudways did something to lay the bag of snakes out straight for their customers, but they don't.

To simplify things, just pick Vultr or AWS. When asked to select a region, try to pick a data center that you believe is closest to where most of your WordPress website's audience members are.
3. Not a Great Option for Small Sites
If you run a marketing, development or design agency, Cloudways is a super option. For those who just want to get a minimal WordPress site up and running without paying a lot, there are better options, frankly. This is particularly the case if you're not highly familiar with the working of WordPress.
4. An Emphasis on Tech Skills
Although Cloudways does work hard to create web hosting plans that are accessible to both novices and hardcore coders, that balance isn't perfect. Whenever the company seemed in doubt, it generally erred toward the side of more tech power. That's great to hear if you know WordPress like the back of your hand, but it can pose challenges to folks who've never heard of a server control panel let alone used cPanel in a production environment. The support team does work hard to bring novices along, but there are limits to what can be accomplished.
Domain name configuration can be a bit of pain, too. Cloudways isn't really into the domain name business, and that means they don't do much to help customers with buying domains, adding them to servers or resolving any DNS issues or conflicts they might encounter.
If you're comfortable setting up name servers through a company like GoDaddy, this will be a non-factor. For those who aren't even clear on what a domain name is, it's a problem.
Conclusion
What Cloudways offers is a great setup for those who just need better hosting options for WordPress sites. If you're someone who has a history of working with it as a blog, a CMS or an e-commerce solution, you'll likely be thrilled by the amount of firepower Cloudways can put in your hands.
Pricing from Cloudways isn't great, but it's certainly excellent as a value proposition. The company doesn't even joke about competing with the iffy free options on the market, and they're not very interested in out-competing the under-$10 companies like HostGator, either. Instead, their goal is to take a beastly amount of computing power and put it in the hands of small businesses and agencies.
If you're just getting up to speed on blogging and CMS platforms, Cloudways probably doesn't provide a great starting point. While the company wants beginners and novices to bring their business around, at the end of the day, they're more focused on power users and established sites.
When you need to get a top-tier solution without having to pay crazy prices, Cloudways is a superb way to go. They also offer nearly endless scalability, allowing you to accommodate growth in just about the click of a button. Similarly, it's hard to match their stability without digging into using something like directly setting up a site on AWS yourself. If you are deep into WordPress site-building and need loads of power ready to go with a minimal configuration effort, Cloudways is hard to beat.
Cloudways Pricing
When you visit Cloudways, you'll see that pricing options start at just $10 per month for a single-core system that offers 25 GB of storage and one TB of bandwidth. Memory on the base package is a single GB. Storage, RAM and bandwidth all double with each tier you go up, but processor cores only double in the third tier and again in the fourth tier.
Second-tier pricing is $22 per month, and third-tier pricing is $42 per month. The highest basic tier clocks in at $80 per month, but you'll find additional packages Cloudways offers by clicking on "view all plans." These include options that go over $1,000 per month and offer 32 processor cores to support your hosting platform. There are also options to contact customer support and negotiate a different cloud server configuration at a higher price. Whatever server size you need, the support team can hook you up.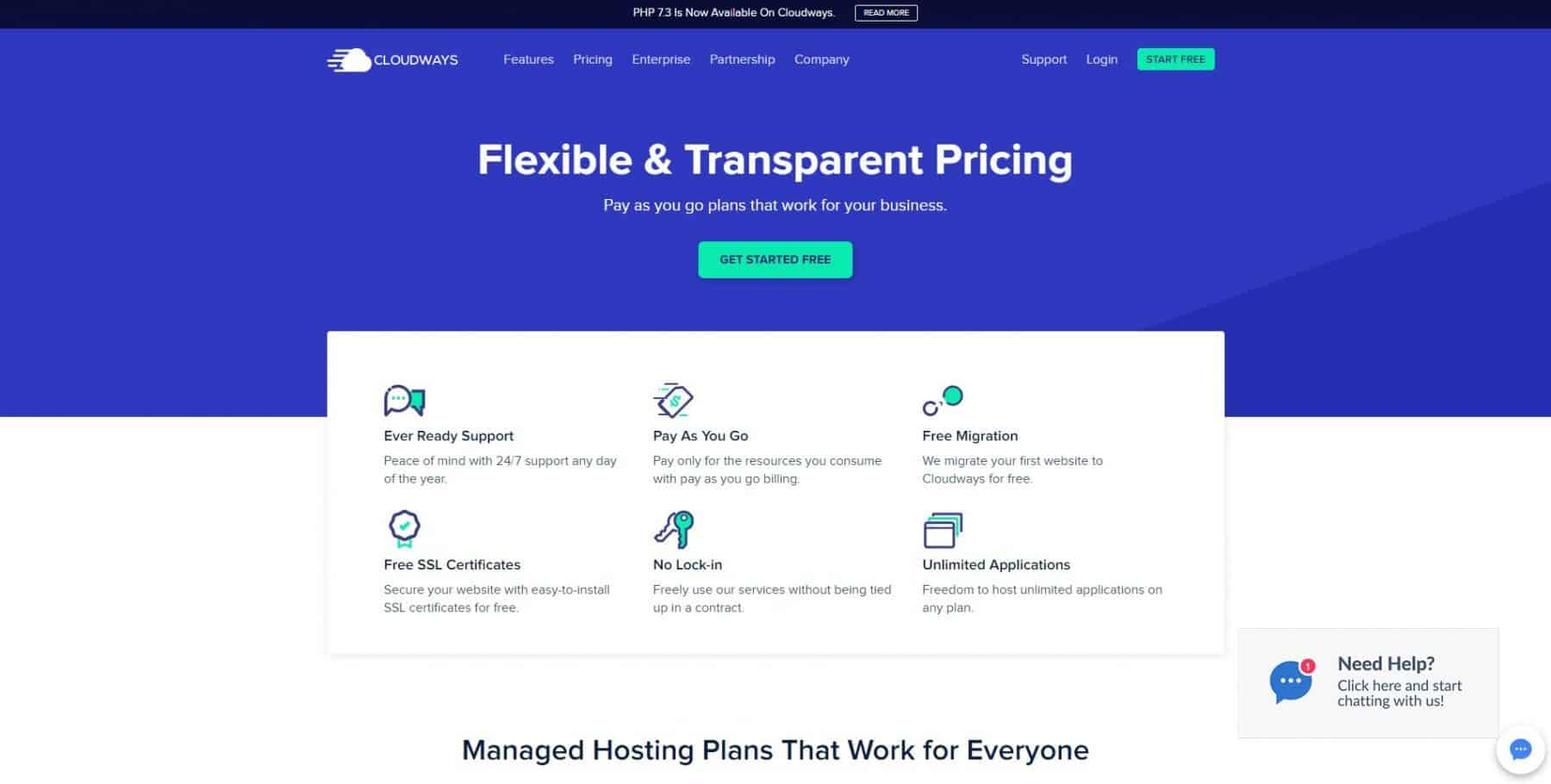 If you're curious about Cloudways but don't want to hand over your credit card until you commit, that's easy to deal with. The company provides a three-day free trial period that allows you to get familiar with their offerings without committing to a payment plan. There is also a free trial offer of 30 days for pro features.
Notably, Cloudways does not require any long-term contracts. If you'd prefer to handle your web hosting needs on a pay-as-you-go basis, you're welcome to pay each month as your bill comes due.