Let's get right to it: if you're deciding between SiteGround and GoDaddy, we recommend SiteGround as the best overall value host. You'll get top-tier support, better features, and overall higher quality hosting. GoDaddy may tempt you with their sweet, loss-leader $1/mo hosting deal to get you in the door, but when comparing on a feature-by-feature basis, SiteGround wins hands down.
PRICING  |  VALUE |  SUPPORT  |  UPTIME  |  SPEED  |  FEATURES  |  CONCLUSION  
SiteGround Overview
SiteGround pretty amazing overall. Their pricing plans are cheap, the company is super WordPress-friendly, and they specialize in hosting, nothing else. With impeccable customer support, great features, and low pricing there's a lot to like about this international hosting company. Our SiteGround reviews page shows hundreds of 5-star reviews.
GoDaddy Overview
GoDaddy needs no introduction – it's probably the most-recognized host and domain name provider in the world. That being said, it's kind of like the McDonald's of hosting – cheap, mass-market, but not exceptionally good. Compared to any other host, the other host usually wins. That being said, if you are a loyal GoDaddy domainer, it can be worth sticking with them for small projects and outstanding phone support. We'll be comparing GoDaddy's WordPress hosting with SiteGround for this review, because it's the closest comparison.
SiteGround vs GoDaddy Pricing
SiteGround Pricing Score: 4.5
SiteGround's pricing starts ridiculously low for the features you get. The one complaint from most users is the fact that pricing jumps up to full price after the first year, at almost double. SiteGround offers amazing discounts most of the time – so you can always find a good deal. Everything from SiteGround shared to dedicated hosting is a very affordable price.
Yes…there have been recent complaints in the blogosphere about SiteGround raising their prices. To be honest, their prices were ridiculously low and they've earned the right to raise them. They're not a cheap shared host like Bluehost, who offers subpar support, they are a middle-tier host that deserves the pricing they charge. No complaints here!
| | StartUp | GrowBig | GoGeek |
| --- | --- | --- | --- |
| Sale Price | $3.95/mo | $5.95/mo | $7.95/mo |
| Normal Price | $11.95/mo | $11.95/mo | $34.95/mo |
| Best For | Beginners | Intermediate | Pros |
SiteGround's pricing plans screenshot: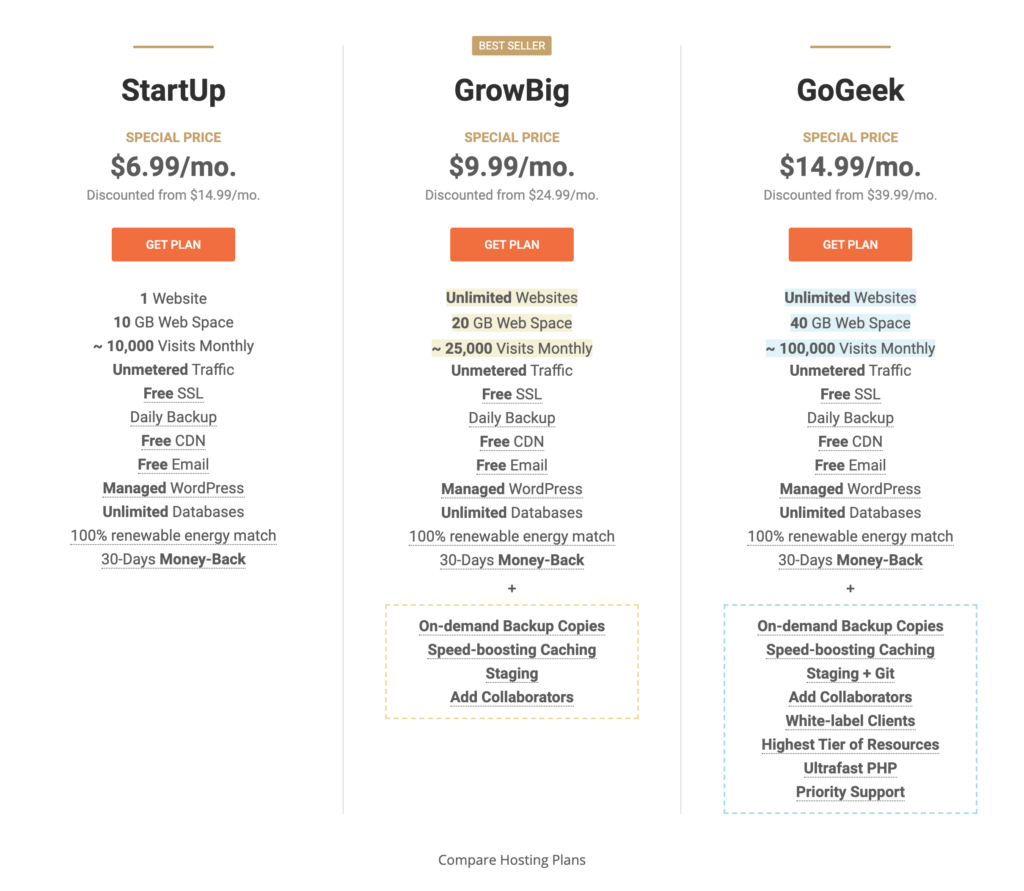 GoDaddy Pricing Score: 5.0
GoDaddy's pricing is very low and great for beginners. With promos offering economy hosting at just $1/mo, the hosting is practically free. One thing to watch out for, however, is renewal rates. After your first period is up, economy hosting jumps up to $8.99 a month, so beware fo the lock-in.

| | Economy | Deluxe | Ultimate |
| --- | --- | --- | --- |
| Sale Price | $1.00/mo | $7.99/mo | $12.99/mo |
| Normal Price | $8.99/mo | $11.99/mo | $16.99/mo |
| Best For | Beginners | Small Business | High-Traffic Sites |
GoDaddy pricing screenshot: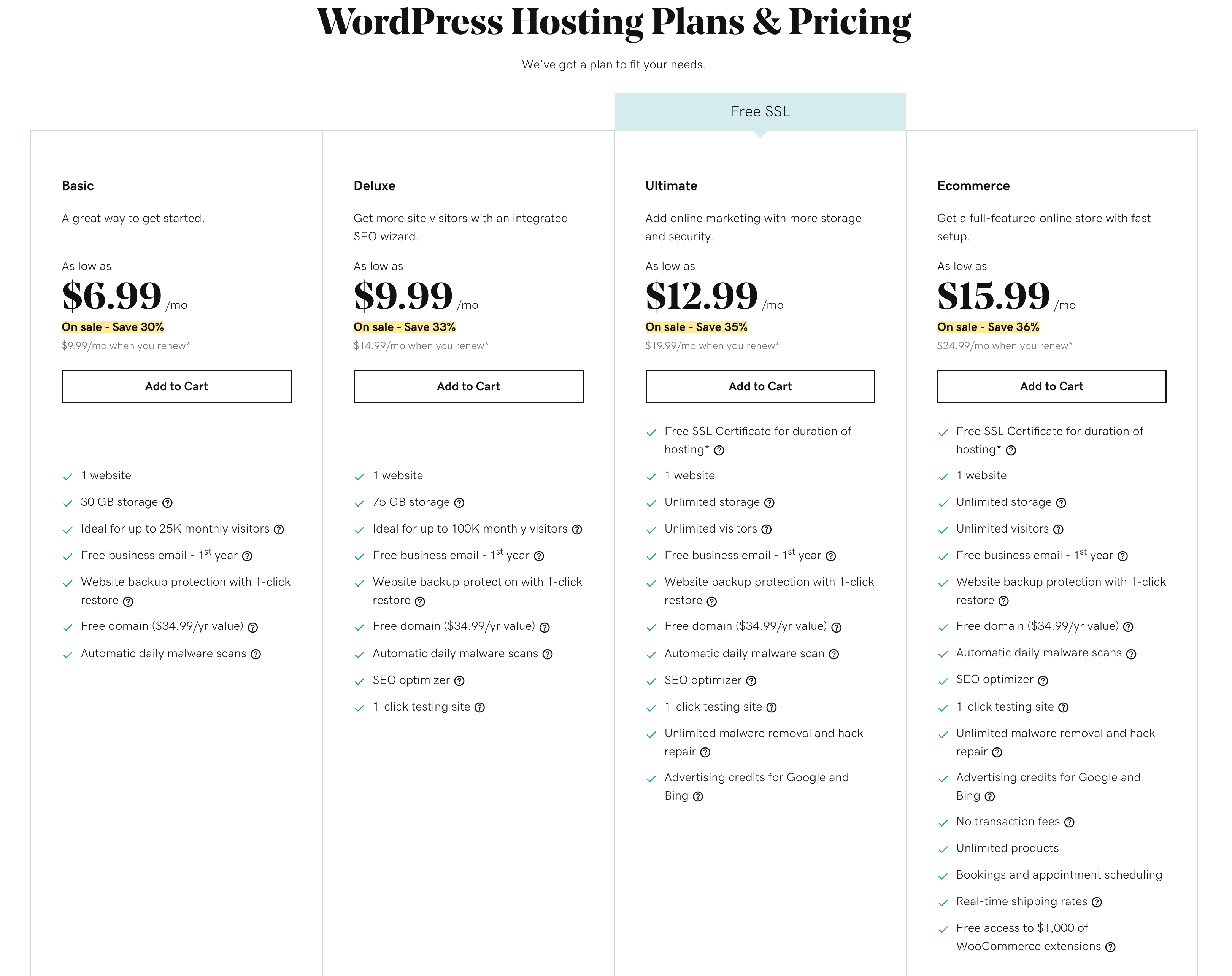 SiteGround vs GoDaddy Value
SiteGround Value Score: 5.0
You're not going to find better hosting value on the market than SiteGround, we can't sing their praises enough. With 24/7 support, daily backups, and free SSL, SiteGround covers all the basics you need to start.
We highly recommed upgrading to go for the GrowBig plan – you get unlimited websites, double the storage, and WordPress staging (trust us you want that). In addition, you get free migration, which saves a lot of hassle. Our only complaint with SiteGround value is the limited disk space, which can fill up quickly.
SiteGround gets huge value points for these top features, which GoDaddy does not have or charges extra for:
Free SSL
Free CDN
Free email – permanently
GoDaddy Value Score: 3.5
GoDaddy's value is pretty good for what you get. You're paying discounted pricing for a mass-market host. For example, what you get with the Economy plan (on sale now for $1/mo) is 1 website, unmetered bandwidth, and 100 GB of storage, and a free domain. Even when the price jumps up to a full price of $8.99/mo, it's still a decent value. That being said we'd recommend going Deluxe since you get unlimited websites and storage (within reason).
All plans include 24/7 support, which is a must, as well as security monitoring and DDoS protection.
Two big problems with these GoDaddy shared hosting plans: no free SSL certificate unless you're on the more expensive Ultimate plan, which is becoming the industry standard, as well as a 1 GB limit on databases. If you are running WordPress and have some high-quality photos, you can quickly exceed this database limit. For these two reasons, we're docking GoDaddy a full point.
SiteGround vs GoDaddy Customer Support
SiteGround Customer Support Score: 5.0
SiteGround customer support is seriously epic. You get 24/7/365 support via phone, email, and chat. Support agents are friendly, helpful, and truly go above and beyond to solve your problems.
Just one example of support quality from a chat, where Diana responded very quickly and was super helpful: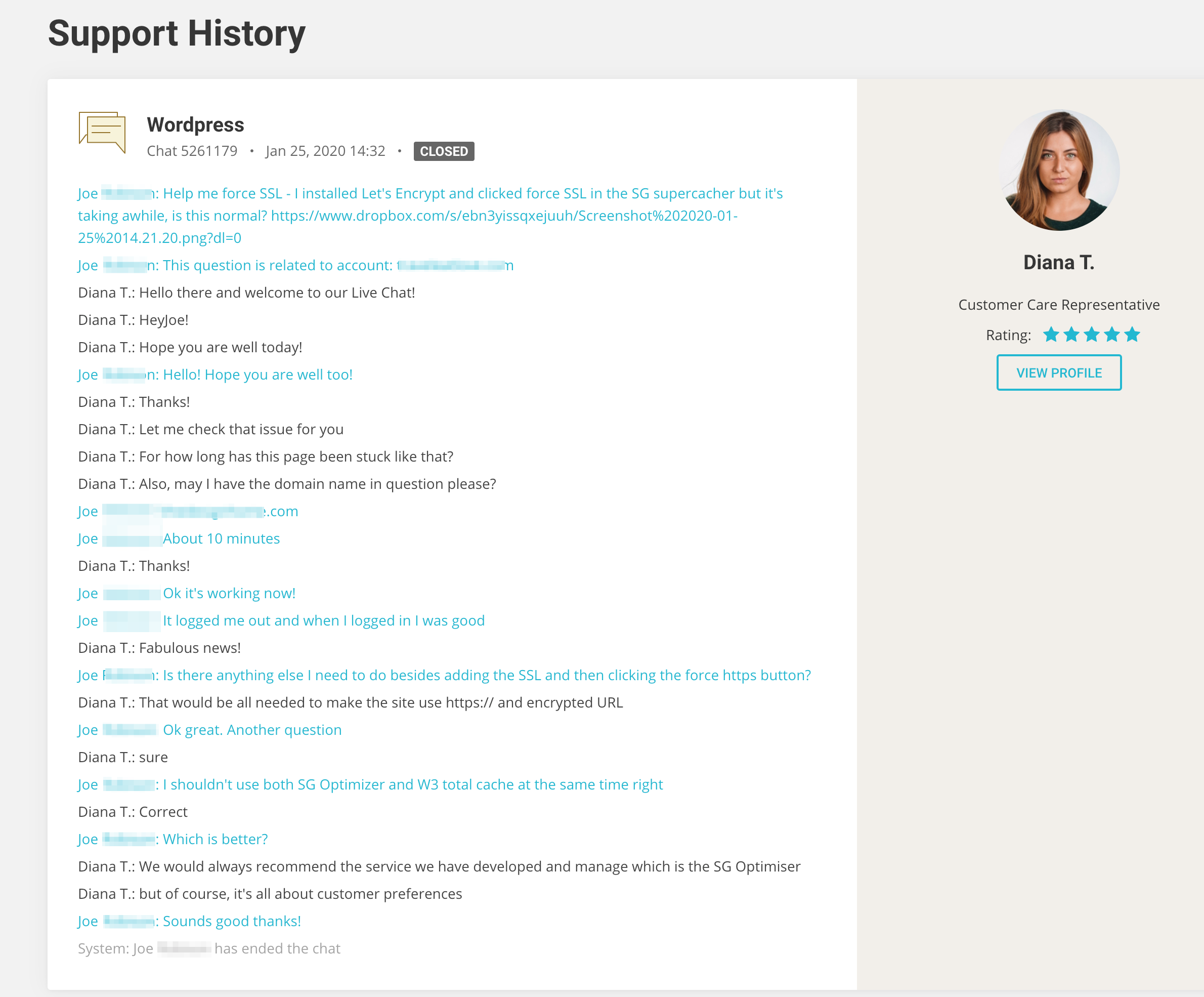 Check out our full SiteGround review to see the praises their customers sing – it all comes down to support. They've cracked that cookie. If you're a beginner, support should be your #1 priority, so go with SiteGroun over any other host for that aspect.
GoDaddy Customer Support Score: 3.5
GoDaddy prides itself on its 24/7 phone support, which totally makes sense for their mass-market customer base. One of the weak spots was the fact that phone was the only way to get ahold of them. They've since changed that and now offer chat support, which many internet nerds prefer.
An example of GoDaddy's wait time…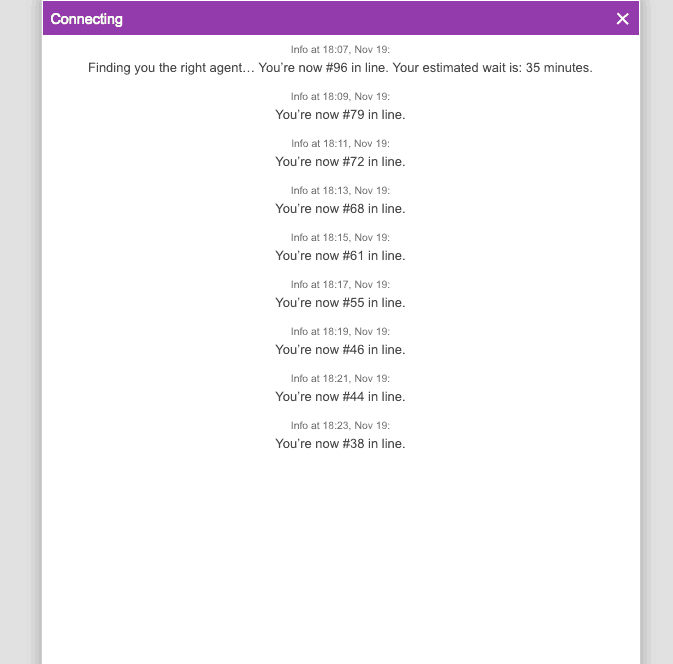 Phone support is usually higher quality as they cut to the chase and can answer your questions faster. I've found chat support connects quickly, but you have to jump through some hoops including entering your pin number and waiting for their response. The quality of support is usually quick responses, unlike SiteGround, where they provide full solutions. Overall, good support, but not perfect. Listen, these days customer support is a difference-maker, not just an outsourced function. GoDaddy hasn't figured this out yet.
SiteGround vs GoDaddy Hosting Uptime
SiteGround Uptime Score: 5.0
SiteGround promises 99.99% uptime, which is just about as good as it gets. Third-party testing confirms, showing the range from 99.95% to 100% month after month.
SiteGround offers proactive monitoring with their custom software stack, and AI to help fend off aggressive bot attacks. Don't worry about uptime with SiteGround, they've got it covered.
GoDaddy Uptime Score: 3.5
GoDaddy's uptime is reasonably good, often at 99.95% or better. Reviews from users across the web are mixed, but usually uptime/downtime is not brought up as a major issue.
GoDaddy does have a server uptime guarantee (warning – legal jargon!) – but it only covers 99.90% (missing a .09 there) – which means your hosting can be down for 43 minutes a month, and they consider that normal. Imagine your website down during a crucial shopping period for almost an hour! Furthermore, GoDaddy only gives you 5% credit back – which may be just pennies. We think they should have higher standards and credit a full month, this is a ridiculous policy that no one will claim in reality. Goes to show that GoDaddy tries to get by with tricks and squeezing every last dime out of people.
SiteGround vs GoDaddy Speed
SiteGround Speed Score: 4.5
SiteGround offers multiple levels of speed optimization: CDN optimization, Cloudflare, dynamic caching, and memcaching. All of these help improve your site speed with SiteGround-built technology.
In addition, their customer support team is always available to lend a hand and offer tips on how to speed up your site. There may be faster hosts out there, but this is one of the best for the value.
GoDaddy Speed Score: 3.5
GoDaddy falls middle of the pack as far as speed testing goes. They try to upsell you to their Ultimate plan to get more processing power and speed, which rubs me the wrong way. Economy plans need speed too!
On Twitter, GoDaddy does get a decend amount of complaints, but honestly was expecting more for a host this popular.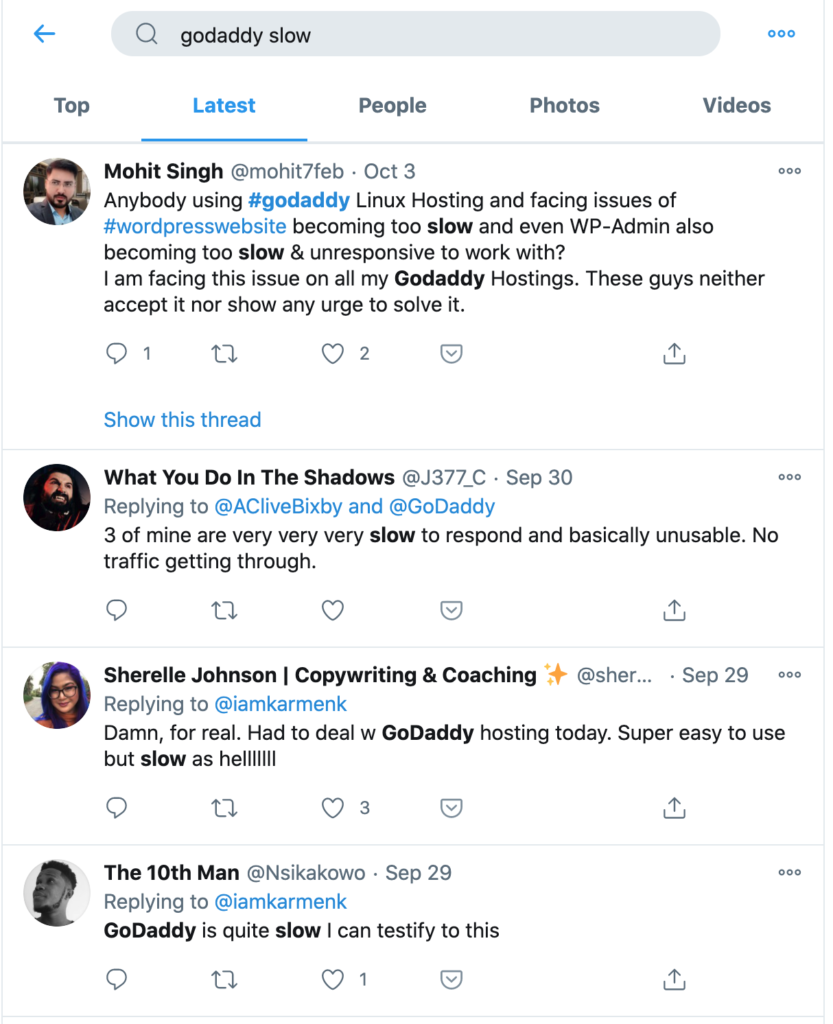 GoDaddy did not make the list of our fastest web hosting. Check that post if you want to go with a winner.
SiteGround vs GoDaddy Features
SiteGround Features Score: 5.0
SiteGround has some of the best arrays of features out of all hosts. Not only do they offer their own custom tools to make your life easier, but they leverage cPanel, Cloudflare and other 3rd party technologies.
| | StartUp | GrowBig | GoGeek |
| --- | --- | --- | --- |
| Intro Price | $3.99/mo | $6.69/mo | $10.69/mo |
| Normal Price | $14.99/mo | $24.99/mo | $39.99/mo |
| Monthly Visits | ~10,000 | ~25,000 | ~100,000 |
| Storage Space | 10 GB | 20 GB | 40 GB |
| Bandwidth | Unmetered | Unmetered | Unmetered |
| Email | Free & unlimited | Free & unlimited | Free & unlimited |
| CDN | Free | Free | Free |
| Daily Backups | Yes | Yes | Yes |
| On-Demand Backups | No | No | Yes |
| 24/7 Support | Yes, standard | Yes, standard | Yes, Priority |
| SSL Certificate | Free | Free | Free |
| Anti-Hack Systems | Yes | Yes | Yes |
| Staging | No | Yes | Yes |
My favorite of the features includes WordPress staging, Memcached speed technology, and the whole array of upgrade options SiteGround provides.
The one downside of SiteGround that they don't tell you is that you may have plenty of GB storage spaces, but if you have a large count of files (aka inodes) you may be more limited on space than you think. This is only a concern if you have over 15 websites hosted and are using the staging features with WordPress.
GoDaddy Features Score: 3.5
Not a huge fan of GoDaddy's features on basic plans. Most people are starting their sites on WordPress these days, and while GoDaddy does have WordPress hosting, again you have to upgrade to get WordPress staging for example. On GoDaddy's economy hosting plans, you don't get a free SSL, you don't get backups, and they don't do migrations.
| | Economy Hosting | Basic WordPress | Managed WP - Pro 5 |
| --- | --- | --- | --- |
| Sale Price | $1/mo | $1/mo | $24.99/mo |
| Renewal Price | $8.99/mo | $9.99/mo | $24.99/mo |
| Websites | 1 | 1 | 5 |
| Storage | 100 GB | 30 GB | 50 GB |
| SSL Certificate | No | No | Free |
| Daily Backups | No | Up to 90 days | Up to 90 days |
| Free email | No | First year only | First year only |
| Daily malware scans | No | Yes | Yes |
| Staging sites | No | No | Yes, 5 |
| 24/7 support | Yes | Yes | Yes |
| Migration | No | One-click tool | One-click tool |
While GoDaddy does have some custom tools they've built, for a company this large I'd expect them to offer more features than a smaller, scrappier host like SiteGround – but they've gotta make their profits. Overall, the features are ok, not great.
Conclusion
Final Decision: SiteGround or GoDaddy?
Just like our SiteGround vs Bluehost and SiteGround vs HostGator posts, when comparing mass-market budget hosts vs a budget specialty host like SiteGround, go with SiteGround. You get better value and better customer support, rather than dealing with lower quality customer service and features.
If you take our advice with SiteGround, be sure to go with the GrowBig plan. It's going to cost you a few more dollars a month, but you get unlimited websites hosted, as well as double the storage.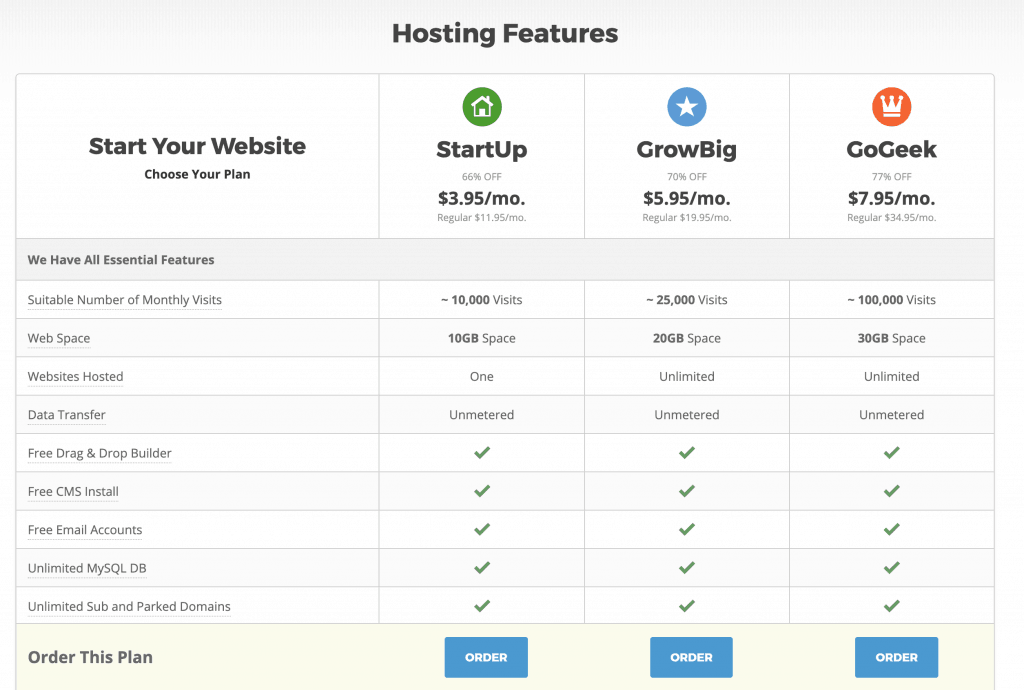 GoDaddy is good for those who are already on their platform, such as those who have a ton of domain names. We are worried about the amount of negative user complaints, and the overall uptime not beeing the best. The lack of a free SSL and the constant upselling is a huge issue too. That being said, GoDaddy has a rock-bottom price as of this review, with $1/mo economy hosting. Can't get much cheaper than that.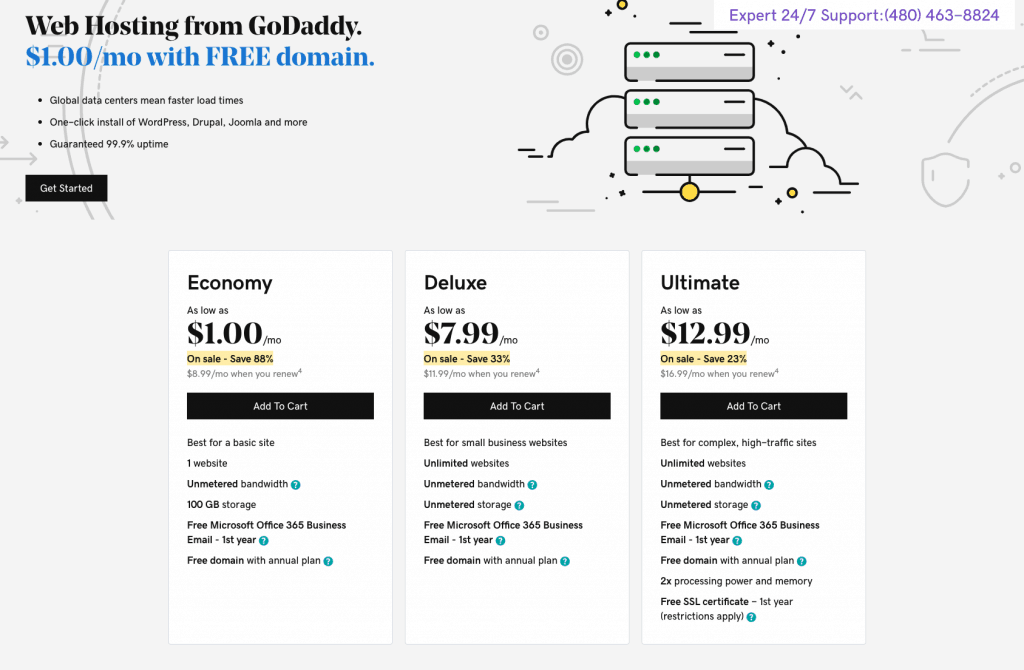 In a nutshell, there's really not a great reason to choose GoDaddy over SiteGround – if you can't decide, just trust us and go with SiteGround and claim their huge sale going on now.
Last Updated on October 7, 2020 by Joe