Quick take: if you're deciding between SiteGround and HostGator, we recommend SiteGround as the best overall value host. You'll get top-tier support, better features, and overall higher quality hosting. HostGator comes in a lower pricing to begin with, but when comparing on a feature-by-feature basis, SiteGround wins.
PRICING  |  VALUE |  SUPPORT  |  UPTIME  |  SPEED  |  FEATURES  |  CONCLUSION  
SiteGround is one of the fastest growing hosting companies in the world, and probably the best host for most people. With impeccable customer support, great features, and low pricing there's a lot to like about this global hosting company.
VS
With over 1 million websites hosted, HostGator is a behemoth. HostGator is a great starter host for those looking for cheap hosting with some lots of advanced features.
Pricing
Score: 4.5
SiteGround's pricing starts ridiculously low for the features you get. The one complaint from most users is the fact that pricing jumps up to full price after the first year, at almost double. SiteGround offers amazing discounts most of the time – so you can always find a good deal. Everything from SiteGround shared to dedicated hosting is a very affordable price.

| | StartUp | GrowBig | GoGeek |
| --- | --- | --- | --- |
| Sale Price | $3.95/mo | $5.95/mo | $7.95/mo |
| Normal Price | $11.95/mo | $11.95/mo | $34.95/mo |
| Best For | Beginners | Intermediate | Pros |
Score: 4.5
HostGator has a large selection of plans, everything from bargain bin shared hosting up to high-priced VPS hosting. HostGator is very aggressive on their pricing, giving out huge discounts as they look to gain market share. Their ambition is your benefit:
| | Shared | WordPress | VPS |
| --- | --- | --- | --- |
| Sale Price | $2.75/mo | $5.95/mo | $29.95/mo |
| Normal Price | $10.95/mo | $14.95/mo | $89.95/mo |
| Best For | Beginners | WordPress sites | Growth sites |
Value
Score: 5.0
You're not going to find better hosting value on the market than SiteGround, we can't sing their praises enough. With 24/7 support, daily backups, and free SSL, SiteGround covers all the basics you need to start.
We highly recommed upgrading to go for the GrowBig plan – you get unlimited websites, double the storage, and WordPress staging (trust us you want that). In addition, you get free migration, which saves a lot of hassle. Our only complaint with SiteGround value is the limited disk space, which can fill up quickly.
Score: 4.5
HostGator offers amazing value for it's pricing. Truthfully it's not as strong as SiteGround, which is the overall favorite, but HostGator will get you in the door very affordably.
It has a very strong value overall because for what you're paying, you're getting a ton of features such as free migrations, unmetered bandwidth, and 24/7/365 support.
Where we don't see strong value is where they charge for extras that others include for free, such as backups – which are critical to your site's health. They also want to charge extra for even better uptime, which in our opinion should be a baseline feature included in all plans, no matter how cheap.
Customer Support
Score: 5.0
SiteGround customer support is seriously epic. You get 24/7/365 support via phone, email, and chat. Support agents are friendly, helpful, and truly go above and beyond to solve your problems.
Check out our full SiteGround review to see the praises their customers sing – it all comes down to support. They've cracked that cookie. If you're a beginner, support should be your #1 priority, so go with SiteGroun over any other host for that aspect. 
Score: 3
HostGator checks all the boxes on the surface with their support: 24/7 and 365 days a year. By chat and by phone. But customers tell a different story.
There are lots of complaints about slow responses, incompetent staff, and overall sub-par support. There are plenty of people that have no complaints, so we recommend you test out their support before buying.
Hosting Uptime
Score: 5.0
SiteGround promises 99.99% uptime, which is just about as good as it gets. Third-party testing confirms, showing the range from 99.95% to 100% month after month.
SiteGround offers proactive monitoring with their custom software stack, and AI to help fend off aggressive bot attacks. Don't worry about uptime with SiteGround, they've got it covered.
Score: 4.5
With over 99.5% uptime, depending on the source, there's not much to complain about with HostGator.
In addition, HostGator offers on free month of hosting if they fall below the 99.9% guarantee.
We've docked them half a point because there have been some occassional complaints from users, and we also prefer to see 99.99% uptime for best-in-class providers.
Speed
Score: 4.5
SiteGround offers multiple levels of speed optimization: CDN optimization, Cloudflare, dynamic caching, and memcaching. All of these help improve your site speed with SiteGround-built technology.
In addition, their customer support team is always available to lend a hand and offer tips on how to speed up your site. There may be faster hosts out there, but this is one of the best for the value.
Score: 3.0 
Shared hosting usually has problems with speed issues, purely based on the lower cost of the hosting. HostGator is firmly middle of the pack when it comes to speed. When you search Twitter, you don't see as many complaints as other shared hosts like Bluehost, which is a good anecdotal sign.
If you're looking for a faster HostGator product, check out HostGator Cloud hosting. If you want even faster shared hosting that won't break the bank, however, we highly recommend either A2 Hosting or SiteGround. You'll be much happier with those.
Features
Score: 5.0
SiteGround has some of the best array of features out of all hosts. Not only do they offer their own custom tools to make your life easier, but they leverage cPanel, Cloudflare and other 3rd party technologies.
My favorite of the features includes WordPress staging, memcached speed technology, and the whole array of upgrade options SiteGround provides.
Score: 4.0
HostGator is often compared to Bluehost for it's pricing and features, and overall HostGator does take the win here.
Between the two companies, HostGator was built for more pro users. And when comparing HostGator to any other shared hosting company, you have to keep that in mind.
We like the fact that migrations are included, they have one-click installs, are on cPanel, and offer a 99.9% uptime guarantee. We still like other hosts like SiteGround better for features overall, but HostGator has what you need to get started.
Conclusion
Final Decision: SiteGround vs Hostgator
Similar to our Bluehost vs HostGator comparison, when comparing mass-market budget hosts vs a budget specialty host like SiteGround, go with SiteGround. You get better value and better customer support, rather than dealing with the globocorp that is EIG.
If you take our advice with SiteGround, be sure to go with the GrowBig plan. It's going to cost you a few more dollars a month, but you get unlimited websites hosted, as well as double the storage.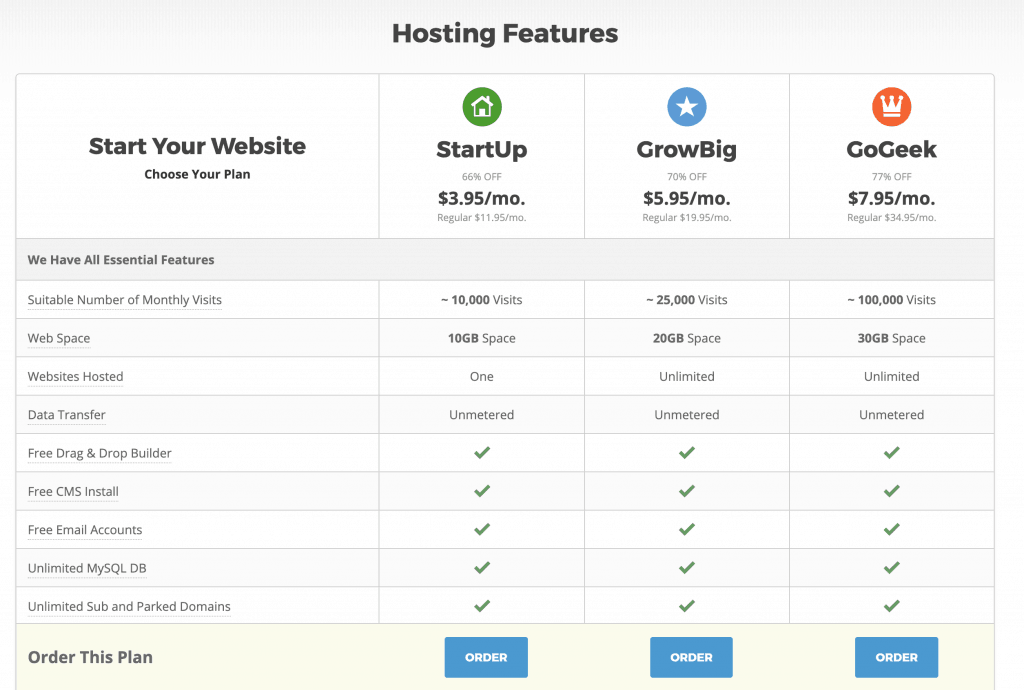 HostGator is great if you need to start as cheap as possible and get their $2.75 – $2.95/mo pricing (depending on the special). But other than rock-bottom pricing, can't say much else that's great, maybe the free migration that comes with their service.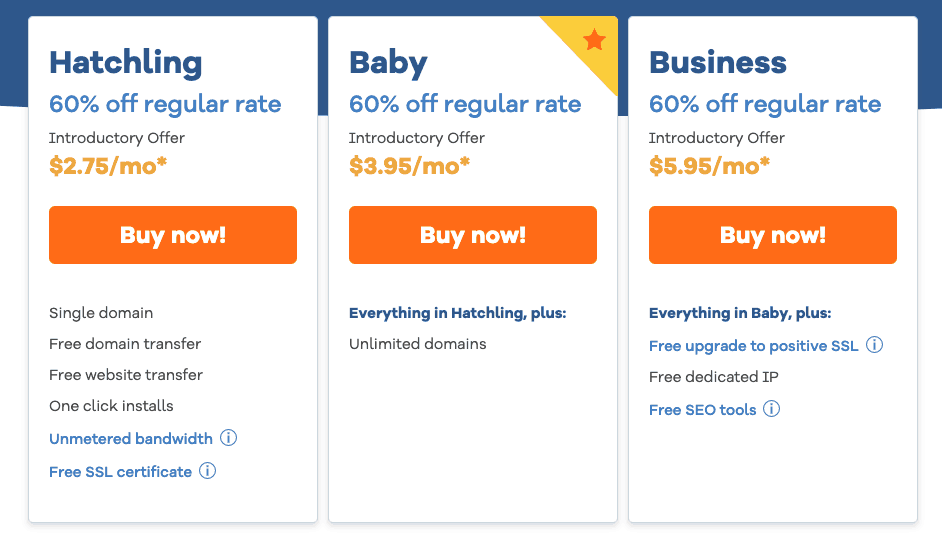 So yea, there's really no good reason to go with HostGator over SiteGround – if you can't decide, go with SiteGround and claim their huge sale going on now.
[related_comparison]
Last Updated on September 6, 2019 by Joe