TLDR; If you're deciding between SiteGround and Bluehost, we recommend SiteGround as the best overall value host. You'll get top-tier support, better features, and overall higher quality hosting. Bluehost does have some pricing advantages. Read on for the full breakdown.
PRICING  |  VALUE |  SUPPORT  |  UPTIME  |  SPEED  |  FEATURES  |  CONCLUSION  
SiteGround is one of the fastest growing hosting companies in the world, and probably the best host for most people. With impeccable customer support, great features, and low pricing there's a lot to like about this global hosting company.
VS
Bluehost is one of the most popular hosting companies in the entire world, but is it right for you? With name recognition and improved customer support, it's a solid choice for beginners.
Pricing
Score: 4.5
SiteGround's pricing starts ridiculously low for the features you get. The one complaint from most users is the fact that pricing jumps up to full price after the first year, at almost double. SiteGround offers amazing discounts most of the time – so you can always find a good deal. Everything from SiteGround shared to dedicated hosting is a very affordable price.

| | StartUp | GrowBig | GoGeek |
| --- | --- | --- | --- |
| Sale Price | $3.95/mo | $5.95/mo | $7.95/mo |
| Normal Price | $11.95/mo | $11.95/mo | $34.95/mo |
| Best For | Beginners | Intermediate | Pros |
Score: 4.5
Bluehost has some of the most affordable entry level pricing, with shared hosting being the most popular at rock-bottom prices. We deducted half a point for pricing because of the 3-year term required for the best deal, but overall it's about as cheap as it gets:
| | Shared | WordPress | VPS |
| --- | --- | --- | --- |
| Sale Price | $2.95/mo | $19.95/mo | $18.99/mo |
| Normal Price | $7.99/mo | $29.99/mo | $29.99/mo |
| Best For | Beginners | WordPress | Businesses |
Value
Score: 5.0
You're not going to find better hosting value on the market than SiteGround, we can't sing their praises enough. With 24/7 support, daily backups, and free SSL, SiteGround covers all the basics you need to start.
We highly recommed upgrading to go for the GrowBig plan – you get unlimited websites, double the storage, and WordPress staging (trust us you want that). In addition, you get free migration, which saves a lot of hassle. Our only complaint with SiteGround value is the limited disk space, which can fill up quickly.
Score: 4.5
In our opinion, Bluehost is a tremendous value. With pricing starting at just $2.95/mo (promo price), you still get the backing of a very large company with the expected customer support and quality of service. Some of the top features included in the rock-bottom starter pricing that add to the value are unmetered bandwidth, a free SSL certificate, and 50 SSD in storage.
We think the Plus shared hosting is a better deal with unlimited websites included, unlimited storage, and unlimited domains. Moving onto other plans, you'll see an overall great value for the money you're spending. You're truthfully not going to get super premium features, but the value will be very high. 
Customer Support
Score: 5.0
SiteGround customer support is seriously epic. You get 24/7/365 support via phone, email, and chat. Support agents are friendly, helpful, and truly go above and beyond to solve your problems.
Check out our full SiteGround review to see the praises their customers sing – it all comes down to support. They've cracked that cookie. If you're a beginner, support should be your #1 priority, so go with SiteGroun over any other host for that aspect. 
Score: 3.5
Bluehost customer support is a mixed bag. Some recent reviewers have never had a problem, others have stories of waiting for a long time and getting subpar support.
With 24/7 support via both phone and live chat – you can always get ahold of them. Unlike other, more premium, support however you may not get the highest quality tech nor the fastest service.
Hosting Uptime
Score: 5.0
SiteGround promises 99.99% uptime, which is just about as good as it gets. Third-party testing confirms, showing the range from 99.95% to 100% month after month.
SiteGround offers proactive monitoring with their custom software stack, and AI to help fend off aggressive bot attacks. Don't worry about uptime with SiteGround, they've got it covered.
Score: 4.5
Reports across the web show Bluehost uptime fairly strong at 99.99% to 100%.
However, it's hard to find if they offer any specific uptime guarantee like HostGator (sister company) does. Their server uptime agreement page only promises vague promises of less than 15 minutes of downtime before being fixed. 
Their shared hosting page doesn't make any references to a specific uptime promise. So even with great uptime reports overall with minimal downtime, we're docking them a half a point because of a lack of transparency on this issue.
Speed
Score: 4.5
SiteGround offers multiple levels of speed optimization: CDN optimization, Cloudflare, dynamic caching, and memcaching. All of these help improve your site speed with SiteGround-built technology.
In addition, their customer support team is always available to lend a hand and offer tips on how to speed up your site. There may be faster hosts out there, but this is one of the best for the value.
Score: 3.5
Bluehost has made significant speed advancements in recent years. There used to be scores of user complaints, but they've upgraded their hardware to take this seriously.
However, you only need to pop over to Twitter to see tons of complaints. Now a lot of the speed problems come from your website overall setup and not just hosting, so be sure to take that into account. Bluehost also has tons of customers so there's bound to be some complaints. 
Bluehost made the honorable mentions in our fastest web hosting comparison post. Check that post if you need the ultimate in site speed.
Features
Score: 5.0
SiteGround has some of the best array of features out of all hosts. Not only do they offer their own custom tools to make your life easier, but they leverage cPanel, Cloudflare and other 3rd party technologies.
My favorite of the features includes WordPress staging, memcached speed technology, and the whole array of upgrade options SiteGround provides.
Score: 3.5
Bluehost has all the basic features you need to get started, and a very affordable way for beginning bloggers to start. They include a free SSL from Let's Encrypt, which is a must, as well as unmetered bandwidth.
However, when you compare to other companies like SiteGround and A2 Hosting, Bluehost is lacking some extra features that are very helpful. One complaint is the fact that you have to pay for migrations, which is annoying.
You also have to upgrade to some of the more expensive shared plans like Choice Plus and Pro in order to get site backups – which are critical for every site.
Conclusion
Final Decision: SiteGround vs Bluehost
As mentioned earlier on in this comparison, if you're an entrepreneur or beginner looking for the best choice of the two, go with SiteGround. It's just going to make you happier overall.
If you take our advice with SiteGround, be sure to go with the GrowBig plan. It's going to cost you a few more dollars a month, but you get unlimited websites hosted, as well as double the storage.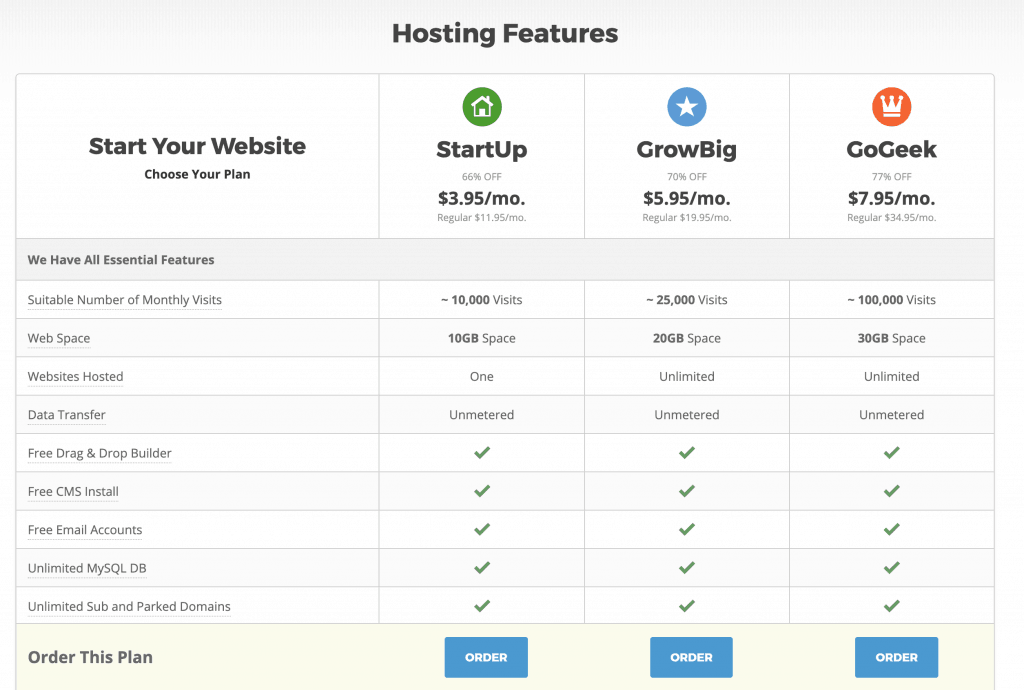 We'd suggest Bluehost for those looking for absolutely the lowest cost of entry and not much else, maybe unlimited SSD storage. Complaints about customer service would be a huge dealbreaker, in addition to the $150 charge for migration.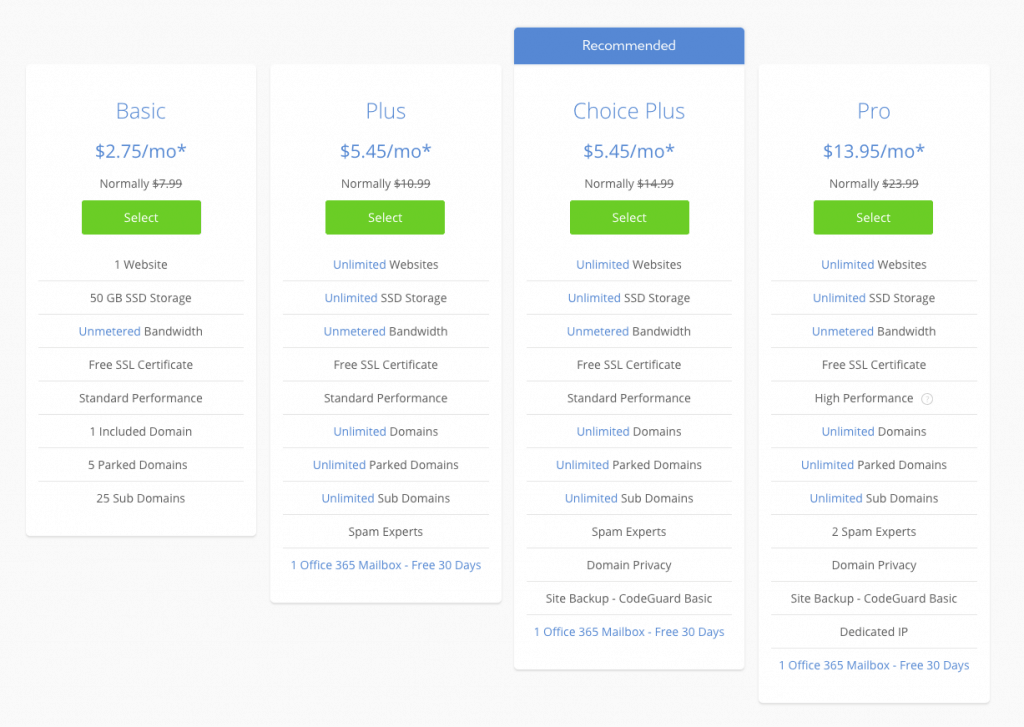 Overall though, we don't see any big reasons to choose Bluehost over SiteGround. SiteGround's features and support are second to none – if you can't decide, go with SiteGround and claim their huge sale going on now.
[related_comparison]
Last Updated on March 11, 2020 by Joe