You have a dream:
Create the best ecommerce store in the world.
Your idea is genius.
Your product is beautiful.
The brand name is perfect.
Now how do you make your website?
"Help!", you scream into the abyss.
You hear from friends that both Shopify and Squarespace are great, easy ways to build a site.
Shopify is usually best for pure ecommerce stores, ready to grow big. Squarespace, on the other hand, is typically for freelancers and small businesses that just need a simple website and aren't selling products daily.
So the quick answer: Shopify for growing an ecommerce store. Squarespace for independent entrepreneurs that have more of a service business.
But what if you're somewhere in between? Perhaps you're only selling one product. Does it even make sense to use Shopify and pay the monthly fee of $29/mo or higher?
Or you like how easy Squarespace is and you're mainly a service business, but you plan to add products and don't want to get locked into the wrong platform.
This grey area is where it takes a bit more digging in. Getting locked into one platform is not good. You might take a year to learn how one works only to find out that it's better to switch to the other. Migrating between platforms? That's a headache on its own and you'll likely cry at least once.
So let's do some homework ahead of time before you get #lockedin.
The Challenges of Choosing
Millions of new ecommerce business owners face this dilemma every year. It's tough.
It can be very expensive to build your own site from scratch and hire a developer. Thankfully have two stellar ecommerce builders to choose from.
One of the biggest challenges that face anyone who wants to build a website that includes shopping cart capabilities is selecting a platform.
You'll obviously want to be working with a system that's robust enough to deliver years of dependable service. Two of the most recognized names in the industry are Shopify and Squarespace.
Making a choice about Shopify vs Squarespace isn't a simple process, and it's important to look at several critical factors before committing to one platform. Let's dig in to find out which platform is best to build on in December 2023.
Shopify vs Squarespace Commerce Features Comparison
Let's quickly look at the features that you get from each company on their most basic plan. We've chosen Squarespace Commerce Basic to compare apples to apples, since you most likely are looking for an ecommerce store if you're comparing Shopify and Squarespace:
Shopify vs Squarespace Comparison
| wdt_ID | Feature | Shopify | Squarespace Commerce |
| --- | --- | --- | --- |
Shopify Pricing, Plans, Pros and Cons
A quick look at Shopify's home page shows they clearly are catering to ecommerce store creators – which is hopefully you.
My quick gut recommendation is that if you're definitely going to create an ecommerce store, and ecommerce is the main portion of your business go with Shopify.
If you only have 30 minutes to decide – go Shopify.
But….you're smarter than that! You want to compare all the features between Shopify and Squarespace. So keep on reading.
Just know that Shopify is the market leader for small business ecommerce stores and you can't go wrong.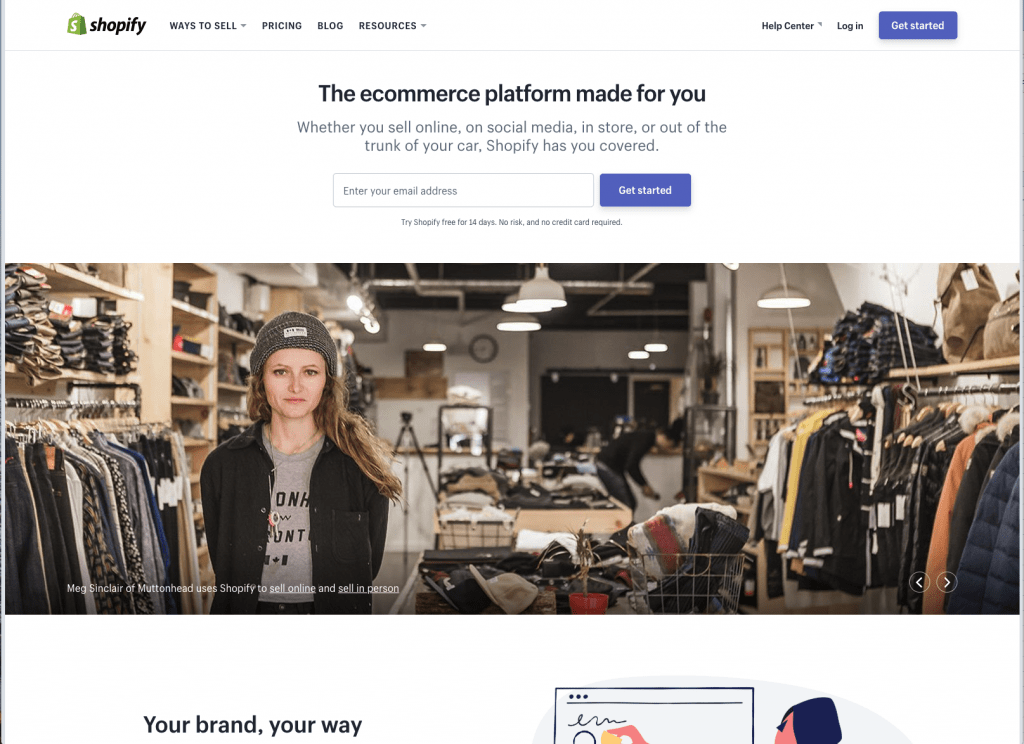 Shopify's plan pricing can be anything from "you want me to pay $29 a month?" to "wow $299 is cheap for my million dollar business" (side note if you're a million dollar biz, check out Shopify Plus).
While $29 can be a lot to swallow for someone selling their $5 greeting cards online for the first time (as a quick example), really when you compare it to building your own site on WordPress and hiring a developer, it's a pittance.
Let me tell you, just a few hours of development work on a WordPress site can be hundreds of dollars – the entire annual bill for Shopify – but I digress.
 
The quick highlights (pros) of Shopify:
I love that you can have unlimited products – who wants to worry about that?
File storage – unlimited – great
24/7 support – trust me you need that
Fraud analysis – not 100% sure if you'll use, but great to have
Abandoned cart recovery – can instantly boost profits up to 30%
Free SSL certificate
Cons of Shopify:
It can be somewhat of a commitment to pay the $29 a month if you're just starting out
No free domain name
Only 2 staff accounts (on lowest plan)
Squarespace Pricing, Plans, Pros and Cons
Look at how beautiful Squarespace's home page is: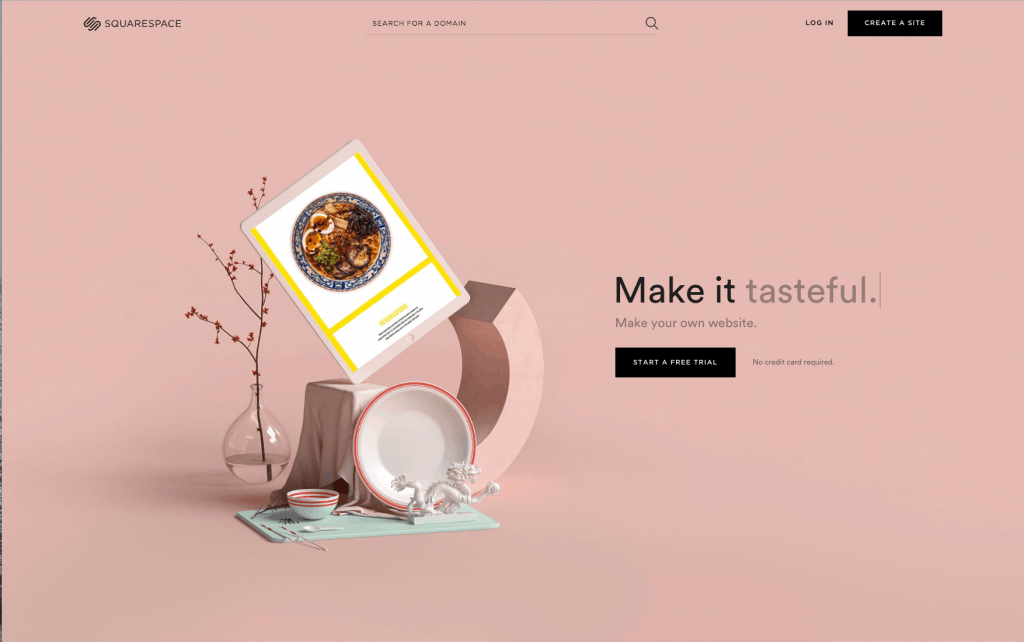 They clearly get branding. They really focus on designers, creators, makers, and small businesses.
When people don't know where to turn to make a website themselves, they often go to Squarespace. The commercials are unavoidable, and the branding is burned into our brains now.
You think GoDaddy for domains, Squarespace for easy websites.
We're focusing on Squarespace Commerce today, but just to quickly show you their standard site pricing (no ecommerce) this is how cheap they are monthly: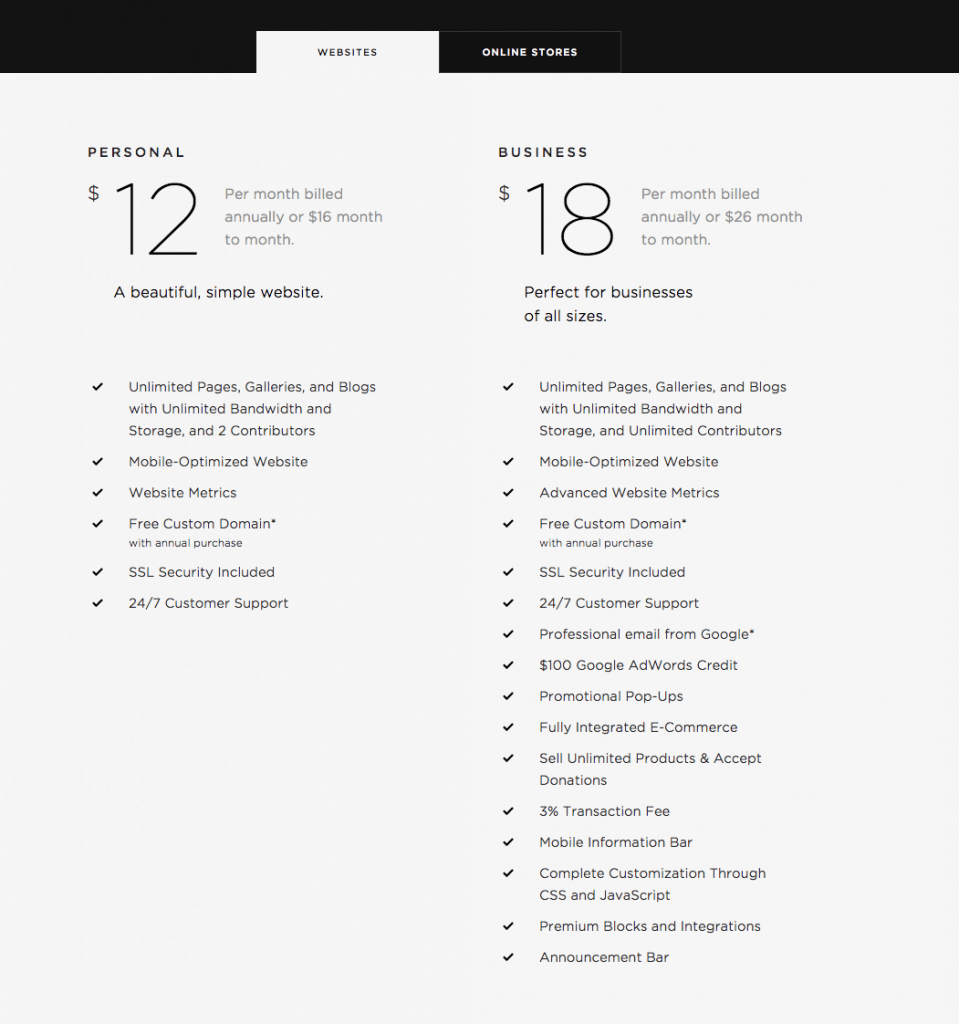 I definitely applaud them for bringing cheap websites to the masses.
Now…there are some out there that say this is still too expensive.
Oy vey.
I mean I get it, but if that person could see how far we've come in 20 years, this stuff just wasn't possible.
Competition is good, it's brought cheap and beautiful website builders to us all.
Ok, now looking at Squarespace Commerce plans: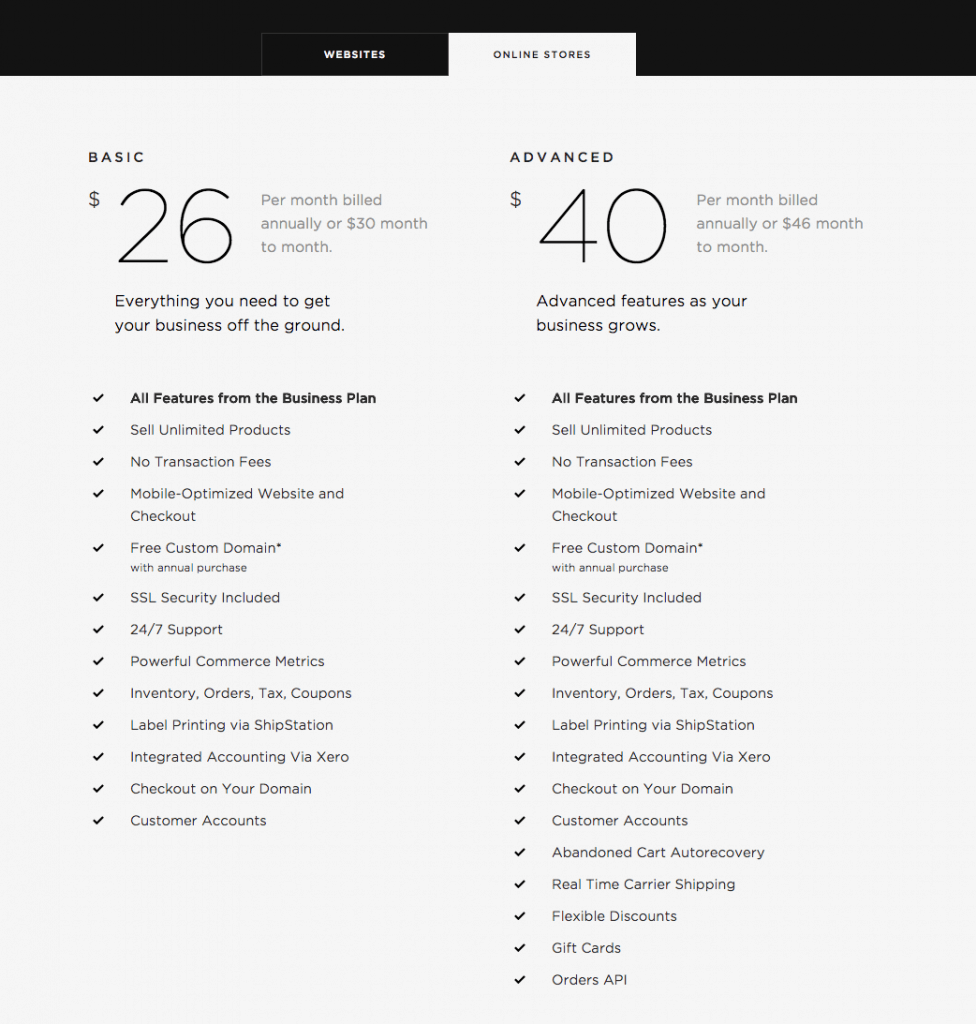 Clearly the pricing has gone up a bit – but ecommerce is harder, that's for sure. It takes more support, more technology, and frankly there are more risks involved.
The quick highlights (pros) of Squarespace:
Like Shopify, you get unlimited products – great
Free domain name (with annual plan) – bonus (but see con below)
SSL included – a must for ecommerce
24/7 support – trust me you need that
Mobile optimized (but that's a given) – would be a deal breaker if not
Cons of Shopify:
You only get this displayed price on the annual plan, monthly is more expensive
They don't mention file storage restrictions – usually that means there are some
Domain name renewal is $20+ – way above industry average (see details here)
Abandoned cart not included in base plan (Shopify does at same price)
Feature by Feature Comparison of Shopify and Squarespace
And now, we compare, feature by feature.
Who comes out on top?
1) Ease of Use
The most obvious contrast between building a Squarespace store and a Shopify one is in terms of ease of use. In general, Shopify should be thought of as the more robust platform and Squarespace should be seen as the simpler one. For those who are coming the choice as non-developers, Squarespace wins big points, especially for its ability to integrate with other types of functionality, such as services pages and blogs. On the flip side, Shopify is highly specialized for the online store sector.
Winner: Tie – Squarespace wins for simplicity, Shopify for being specialized
2) Cost
Shopify's business model is constructed around the number of items that clients want to post to their stores. A basic plan starts at $26.10 annually, and an advanced plan goes as high as $299 per month. Each transaction includes a 30-cent fee, and an additional 2.25 to 2.9 percent charge may be added, depending on the specific plan you select.
Squarespace prides itself on a much more simplified pricing structure. There are two plans, the basic and advanced plans.
There are never any transaction fees, and customers are allowed to post an unlimited number of products. The basic plan costs between $26 and $30 a month, depending on billing structure. The advanced plan costs $40 to $46 per month.
Winner: Tie – the cost is just about the same.
3) Support
When an online store goes down, it's safe to say that you're going to be a little freaked out and want a clear response as quickly as possible. Both platforms offer clients to live chat and email support, but Shopify is the only one that provides phone support, and it does so on a 24/7 live basis. In other words, while Shopify is typically more expensive, it's a case of getting what you pay for. If you're able to work with a team of Squarespace pros who can provide the missing live phone support that the company doesn't, you may want to take advantage of that to lock in some cost savings.
Shopify also tends to offer a larger and more robust community. You'll have an easy time tracking down information from other users, an advantage that folks with some development capabilities will find interesting. Qualified expert advice is also close at hand.
Winner: Shopify
4) Extensibility, Features and Customization
The more advanced you expect your site to become, the more likely you'll want to utilize Shopify. The tools it makes available also allow skilled developers to get a lot more done.
Squarespace does provide a developer mode, but it takes a little effort to enable it. Conversely, Shopify offers access to a massive app store that allows site owners to employ more than 1,400 different apps on their sites.
The HTML and CSS system is one of the things that attracts a lot of Shopify pros to the platform. Shopify allows a higher degree of customization. For those looking to get less into the guts of their sites, though, Squarespace may seem like a more appealing choice. This makes the platform especially popular with folks who don't need any e-commerce capabilities.
One small advantage Squarespace offers is integration with Getty Images. If you're looking to speed up the process of getting images onto product pages, this may give a small boost.
Shopify scores a bit of a win thanks to its integration with AMP, a system that's designed to speed up the delivery of mobile pages. The complexities of mobile and responsive design are increasingly critical to success in search engine results pages, so this is something to keep in mind.
Shopify has an amazingly robust app ecosystem that is second-to-none. Every day, third parties are optimizing and creating new apps for Shopify that make the platform exponentially better constantly. This list showcases some of the most impressive apps to consider for your store.
You'll especially want to consider Shopify for a more mobile-focused website that's targeted at a younger audience.
Winner: Shopify
5) Going International
Thanks to Shopify's strong focus on e-commerce, the platform tends to have much better support for international sellers. If you're looking to sell products to customers in Europe, for example, the ability of the site to quickly compute and deal with the EU's VAT requirements is a big plus.
Winner: Shopify
Overall Recommendation: Shopify
When it comes to choosing an ecommerce website builder, not just a general one, Shopify wins.
I believe we're seeing specialization win out here. Squarespace is great for the general website, but Shopify is investing in its ecommerce platform month after month.
Shopify has grown exponentially over the years, with huge stock market gains to follow. We think Shopify is going to win out for quite a while.
Alternative (Crazy) Idea: Is Using Both a Good Idea?
Warning: this is for advanced users. Most people should not use both platforms. But this is
I don't recommend this if you're starting out – just start one.
But if you're a crazy person, with a wild look in your eye, you might be able to pull this off.
Squarespace offers support for the integration of Shopify cart buttons. If you're happy with an existing Squarespace site, this can be especially beneficial. Rather than trying to transition a whole site over to Shopify, you may simply want to build a store or cart subdomain that utilizes the platform while keeping everything else on Squarespace.
Again – I'd rather you pick just one. But it is possible to jerry-rig a system together like an old pirate and make both work.
Alternative: Webflow with Ecommerce Add-On
Another upstart website builder product that's been gaining a lot of traction recently is Webflow. It's essentially a more advanced website builder that's highly flexible and built for visual designers. Although a bit more complex than the above two products, many people absolutely love it. So consider reading some of their reviews and Webflow pricing, then start testing out the product yourself.
Conclusion
The big issues that potential customers need to look at when choosing between Shopify vs Squarespace are cost and functionality.
If you're worried about how much does Squarespace cost, you'll see it's the clear winner, especially for those who want to be able to scale up massively.
On the other hand, Shopify pros tend to love the platform's high level of extensibility and support. Each system comes away the clear winner in certain aspects, but the differences in specific advantages will compel you to think about what your online store is now and what you intend it to be in the future.
Comparing Squarespace with other platforms? Check out this Squarespace vs WordPress breakdown for another comparison.
Last Updated on February 17, 2021 by Joe