How Good is GoDaddy Managed WordPress Hosting?
GoDaddy used to be the laughing stock to real website owners – it was a cheesy company with silly Super Bowl commercials.
Not anymore.
GoDaddy has stepped up it's game – BIG TIME. It's fully committed to WordPress, and has even started snapping up smaller WordPress service companies.
That's good news for you if you're on WordPress. And unless you're a seasoned programmer, if you own a WordPress site, you want WordPress hosting. Trust us.
Should you choose GoDaddy Managed WordPress Hosting over other excellent WordPress hosting providers like SiteGround or A2 Hosting? Read on to find out if GoDaddy is your perfect match or a hard pass.
Note: As of 2/25/18 you can get GoDaddy Managed WordPress Hosting for just $1/month with this link (a special GoDaddy Managed WordPress Hosting coupon). This is a SCREAMING DEAL and is not expected to last very long.
GoDaddy Managed WordPress Reviews
Pros
They Offer Low Prices
Offer Unlimited Bandwidth
Excellent Security Features
Great Customer Service
Cons
Custom Hosting Panel Issue
They Backed Internet Restrictions
Limits on Plans Options
Restrictions on Data
Summary
Since GoDaddy was founded in 1997, by Bob Parsons, the GoDaddy has had interesting advertising choices. From scantily clad and classy women alike, they have been the spokespeople for GoDaddy. While there has been plenty of controversy from their ads, one of the biggest issues for people was their lack of a cPanel control panel. They did install an option for it, but that change wouldn't come until 2013. This change occurred after a 65 percent stake in the company was sold to KKR, Silver Lake Partners, and Technology Crossover Ventures… in 2011. In recent years, GoDaddy has become a popular choice for those looking for a web hosting site for their small business, and in this area, GoDaddy excels. Small business get more exposure for their online presence, and the services and products offered by GoDaddy are suitable for most people working on a budget. They offer services that work with Linux or Windows, allowing their customers to choose the right one for them. They have made strides in recent years to be more customer friendly, and give their clients what they want to help them hit their goals to succeed. For those looking for managed WordPress hosting, GoDaddy is an excellent choice. No matter if you want to start a blog or add a website for a business, it's ideal to use a managed WordPress hosting site. In that area, GoDaddy excels. They automatically update your information so you don't have to, and provide security for your website. Their plans start off at a competitive price, and upgrading can unlock different features to assist you with your needs. While GoDaddy has had issues with their clients that want to control their own websites, GoDaddy has taken huge strides since the changing of the guard. Their new CEO, Blake Irving, has helped create a better company for those looking for a managed WordPress hosting site.
Our Official GoDaddy Managed WordPress Hosting Review
GoDaddy Managed WordPress is a big change for GoDaddy.
They're trying to take over some turf of some of the more focused WordPress hosting services – like WP Engine, SiteGround, and Pagely.
Of course, GoDaddy is one of the most popular and well-known hosting companies.
The popularity of their commercials has brought in a lot of customers from pure branding. Your average entrepreneur knows just one domain and hosting company and that's GoDaddy.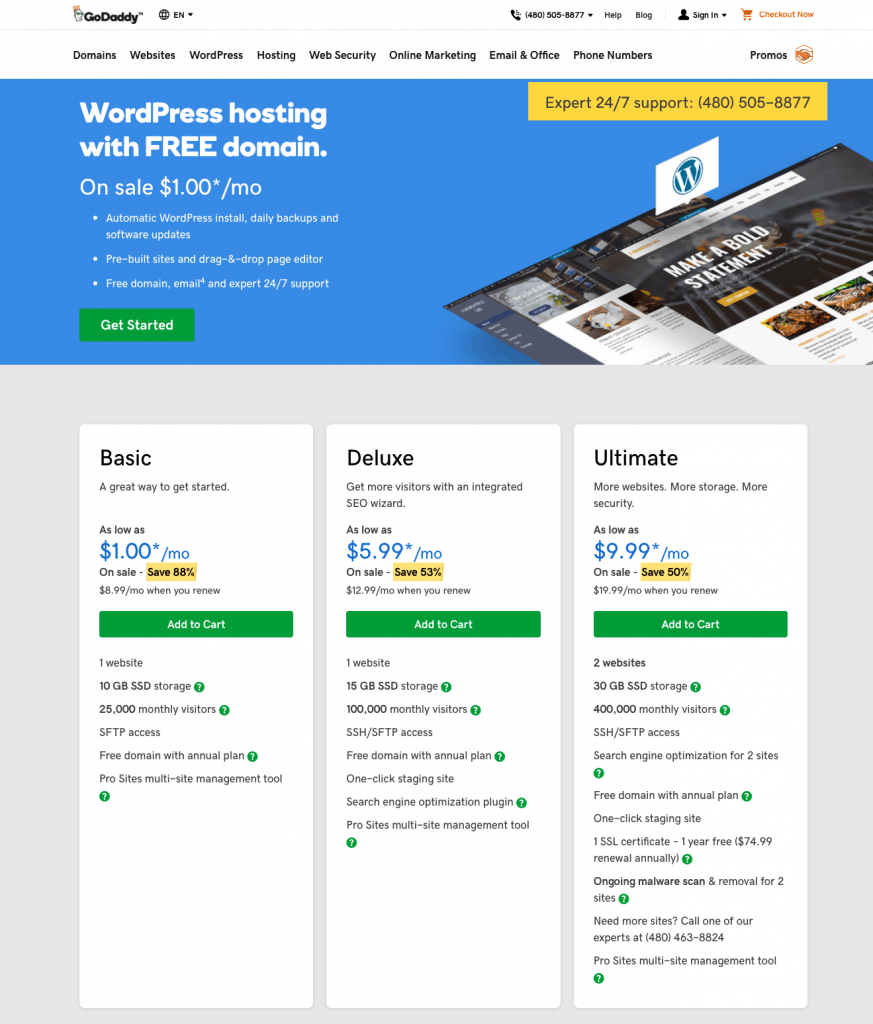 They're not historically a WordPress-focused company – they'd rather you use their own site builder. But they've made a strategic decision to go with the WP!
They are publicly traded on the New York Stock Exchange, and their vast reach has gone global. Despite being a global company with their hands in almost every web service, there are few problems with their Managed WordPress Hosting that stick out like a sore thumb.
Note: As of May 2018 you can get GoDaddy Managed WordPress Hosting for just $1/month with this link (a special GoDaddy Managed WordPress Hosting coupon). This is a SCREAMING DEAL and is not expected to last very long.
GoDaddy Managed WordPress Hosting Pros
1) Very Cheap Manged WordPress Hosting
GoDaddy has some of the lowest prices for those wanting to save some money. For their economy plan, you only need to pay $7.99 a month.  They do offer special pricing and coupons that you can get if you know where to look.  Signing a long-term contract with GoDaddy Managed WordPress can knock the price down even lower, to $3.99 a month.  No matter what type of plan you're looking for, GoDaddy has some of the lowest prices one can find for a web hosting site.
Even though they are not known for their hosting services, they have taken steps to cater to their client's needs, and they do offer competitive prices. For those just starting out and creating an online presence, this is the best way to get started. There are plenty of options available, but the products and services may not be worth the cost.  Not only are you getting a secured web hosting service, you get a lot of features for a small price.  Cost of operating a business can be hard, especially when you're paying too much for those services.  With GoDaddy, you can keep more money in your wallet, and use it for something better.
If you sign up for GoDaddy Managed WordPress, you will be refunded if you find their services aren't what you need. Their money back guarantee is ideal for those wanting to look for something else.  You will be refunded if you cancel your plan within 30 days of signing up.
2) Get Unlimited Bandwidth
Bandwidth is important to anyone looking to build their business and online presence. The bandwidth allows the number of people to visit your site at the same time, and if you're popular, you want as many people to look at the same time.  Some web hosting sites put a limit on the amount of people that can visit your website, which can hinder business.  The unlimited bandwidth provided by GoDaddy is ideal for those wanting to get their ideas heard.  If you can stay away from web hosting sites that put a cap on the amount of people visiting your site, it will run a lot smoother.
Shared hosting plans can get backed up by the amount of people visiting their website, which hinders business. GoDaddy is one of the best web hosting sites that can hold up to the intensity of everyone flooding a website.  You won't need to worry about your site crashing, even if it is on a shared hosting site.  The number of servers and the unlimited bandwidth allows the site to run as smoothly as possibly.
There are web hosting companies that will charge you for having your website flooded, which can cut into your operating costs. While you may experience some sort of lag, the good news is that you won't have to pay to unlock the unlimited bandwidth.  This is perfect for those needing a quality hosting site.
3) Features that Make it Easy for Setup
One of their best services is their auto installation of WordPress for websites. It helps you save time, and they will install all the updates automatically.  They take pride in their security, and allows you to use WordPress easily.  You can turn off the auto installation if you want, allowing you to install everything to your preferences.  While the security is updated automatically through GoDaddy, having the option to turn off the automatic installation is just another added feature.
If you decide to use GoDaddy for all your online needs, you won't regret it. There are products that all tie in together through GoDaddy, which is ideal for those who may not know too much about starting up an online presence.  You can get your domain name, emails, and hosting all through GoDaddy, making the process quick and easy.  It's the best way to ensure you have everything you need before you log out.  When you can rely on one company to do everything for you, it makes the process easier, and faster, than trying to do one thing at one place, and another at another.
GoDaddy sports some of the best technology including 4GH Linux Hosting and PHP5, meaning they're up to date with everything. If you're using a web hosting service, you want to make sure the technology is the best and latest.  With this feature, you can be sure that your website doesn't go down, or has too much downtime.  It's ideal for those needing an excellent hosting service that does everything you need.
4) Excellent Security Features
When it comes to security, is there really a thing as too much? With GoDaddy, you're not only paying for their features, you're also getting some of the best security that's available.  For those that don't know too much about security, GoDaddy provides the security for your website automatically.  You don't need to worry about installing updates, or upgrading your security.  GoDaddy does it already to keep your website safe.
They work to keep spam and hackers from messing with your website so it keeps running smoothly. They place plenty of restrictive policies for websites to protect them.  It's ideal for those looking for ways to keep everything together.  It's ideal for those that don't know anything about website security, and they know how to protect your website.  There are some types of cyber security attacks, including a brute force attack, which is a bombardment of a site.  GoDaddy watches out for these attacks to keep your website safe.
If there is ever an attack on your website, you will be notified. Keeping you in the loop allows you to take proper action, and since you are notified, it's ideal for those that don't even know it happened.  Many security breaches occur unnoticed until it's too late, and since GoDaddy takes a proactive approach to security, attacks are more likely to fizzle out than be successful.
5) Great Customer Service
While it may seem archaic for web hosting sites to give good customer service, GoDaddy provides quality customer service. They are available 24/7, which many companies don't provide for their customers.  They are available by phone, which helps clients become comfortable with the company.  This is ideal for those who may not work around a strict schedule.  Plus, if there are any issues, getting help is just a matter of picking up the phone.  You could speak with a real person to assist you with any questions you have about your website.  It's ideal for those that prefer a personal touch.
Not only is their customer service excellent, they provide 99.9 percent uptime for their web hosting services. For those that need their website to work all the time, this is the ideal way to go.  You won't need to worry about the hosting services being down, except for scheduled maintenance.  Their focus on customer service, and providing quality products are due to the change of the CEO who strives to please.  It's ideal for those that need a web hosting service they can rely on, and their customer service proves this is not a temporary decision.
GoDaddy Managed WordPress Hosting Cons
1) Custom Hosting Panel
Managing a website can take up a lot of time, and the more you spend on it, the more you want to do. The Hosting Panel is where most of the changes take place, and GoDaddy has their own custom panel they provide to their clients.  While cPanel and Fantastico are some of the most popular, GoDaddy's custom panel are more intensive.  You may need a guide to work their control panel, which can take up more time and energy.  It's not too sophisticated to figure out, but it can be a pain.
While their custom panel was scrapped in 2012, they have since switched to the industry standard of the cPanel. However, one of the biggest drawbacks of using cPanel on GoDaddy is that you have pay one dollar extra a month.  While it's not a huge expense, you can find a different hosting site that includes the cPanel for no extra charge.  You should determine if you really need the cPanel, but if you can live without it, and want to rely on GoDaddy to work on your website for you, it's not a bad deal.  There are plenty of options available, and for experienced users, they may decry the extra charge for an industry standard.
2) They Backed Internet Restrictions
In January of 2011, the SOPA and PIPA bills were introduced to limit internet access. This argument has gotten more attention in recent years, with net neutralitybecoming a huge issue.  Unfortunately, GoDaddy was one of the only ones that backed those bills.  This led to uproars by people who decried the bills as illegitimate, and put GoDaddy on the spot.  They lost a lot of respect from those who think the internet is a place where ideas are free, and should be kept from too many restrictions.
Though GoDaddy did rescind their decision to back the bills, the negative attention brought to them did create some trust issues. It wasn't until thousands of customers decided to leave GoDaddy, and transferred their domain names.  While most the negative attention has died down, they still display acts against ethics and privacy, which isn't good for any internet company.  They have taken strides to keep things private, and work on proper ethics, but the question remains on whether they can regain the trust they have lost with thousands of customers.
It remains to be seen if they have changed their ways, but there are indications they may not change. Their advertising is sexist, but they have talked about making their commercials less controversial.  After the most recent Super Bowl commercial that was "the cringe heard around the world", they may have some more growing up to do.
3) Limits on Plans
While it's no secret that web hosting sites place restrictions on websites, GoDaddy is notorious for their restrictions. WordPress only needs one database for blogs and websites, which can limit you to 25 total websites.  While this isn't a complete crime itself, the fact they hide this information when you're signing up can be criminal.  They make it look like you're getting everything unlimited, but this is not true.  It's important to read the fine print, but when the fine print isn't readily available, how can you read it?
The only way you can completely get everything unlimited, is if you go with the Ultimate Plan. The Ultimate Plan does make everything unlimited, but it is still a pain to have to pay extra for stuff you should already get.  They have gotten better about their Deluxe Plan, giving their clients unlimited disk space.  It's important to understand what you're getting, and whether it is worth the price you're paying.  If you're just starting out, you don't want to pay too much to get everything you need to operate your website as good as possible.
4) They Make It Difficult to Leave
While every corporation preaches client retention, GoDaddy puts in the work to keep you with them. GoDaddy doesn't provide any help if you decide to leave them for a different company.  While it has gotten easier with the cPanel, the fact they don't do anything to help is a drawback.  That's why it's important to find a web hosting site that works well, and doesn't make things too difficult.  Even when you're trying to leave, they will continue to upsell you products, and create obstacles to try and get you to stay.
When you're spending a lot of time putting together a website, and the hosting site fails to live up to your expectations, you should be able to leave. While it's not a sin for them to not help you, they make it difficult to move when it's time to leave.  Even transferring a domain name can be a huge pain that may not be worth the hassle.  Unless you really need to move on, and are committed to going through the process of getting a new hosting site, or it's worth it, you should expect no help from GoDaddy.
5) Restrictions on Data
Restrictions are important for security, but GoDaddy goes a little over the top when it comes to restrictions on data. You should expect to jump through a lot of hoops, and take a ton of steps if you want to change anything.  Auto-generating content and using web forms are usually simple tasks, but GoDaddy requires so much information to do it.  You may be better off going with a different web hosting site if you're not prepared to fill out a bunch of paperwork.  While the security with GoDaddy is on point, it may not be worth the hassle of trying to change things for your website.
One of the most frustrating functions of GoDaddy is their Fast Secure Contact Form. While it is easy to fill out, the most difficult part is sending it to GoDaddy.  Thanks to their security restrictions, the form is typically filed as spam.  There are tutorials on how to properly file it, but if you don't have the time or inclination, it may not be worth it.  It's always good to have excellent security, but when you're fighting with the hosting site to put in your information, you may be better off going with someone else.
6) Not as Helpful as Other Managed WordPress Hosts
While GodDaddy is fast to help you out on the phone, they're not as great as using other hosts like SiteGround for customer service
If there's an issue, they'll likely not do much for you
I had a problem with migrating my website to GoDaddy using their tool – and they said their tool was a "best effort" application, and if it didn't work it's up to me to do it
So they weren't helpful
Bottom Line:
While GoDaddy does have some of the best security, and they provide a wide range of products and services, they are not the easiest hosting site to work with.  They make some tasks a lot more difficult than is necessary, and they don't allow you to leave easily.  They do make things difficult when they want to, and their restrictions can be frustrating to work around.  If you're an experienced user, you may find that GoDaddy works well for you, but if you're trying to get a website up and running as a starter, you may want to go in a different direction.
GoDaddy is not for everyone, but for their low prices and terrific customer service, you could do worse.  They offer plenty of products and services that other web hosting sites can't, and at a competitive price.  If you're planning on finding a long-term solution for your web hosting needs, GoDaddy can be a suitable company.  If you can look past their history, and hope they are planning on changing for the better in the future, then GoDaddy may be right for you.  It comes down to preference, and what you're willing to handle.  If you decide to go with them, but realize they're not right for you, just be prepared to face a lot of barriers, even if you're planning on just transferring your domain name.
Other Managed WordPress Hosts to Check Out:
Note: As of May 2018 you can get GoDaddy Managed WordPress Hosting for just $1/month with this link (a special GoDaddy Managed WordPress Hosting coupon). This is a SCREAMING DEAL and is not expected to last very long.