Racket.com Has Pivoted to Becoming a Podcast Growth Equity Partner
Racket.com is no longer a social audio app.
They have pivoted to becoming a firm that invest in popular podcasts, taking an equity stake, and helping them grow.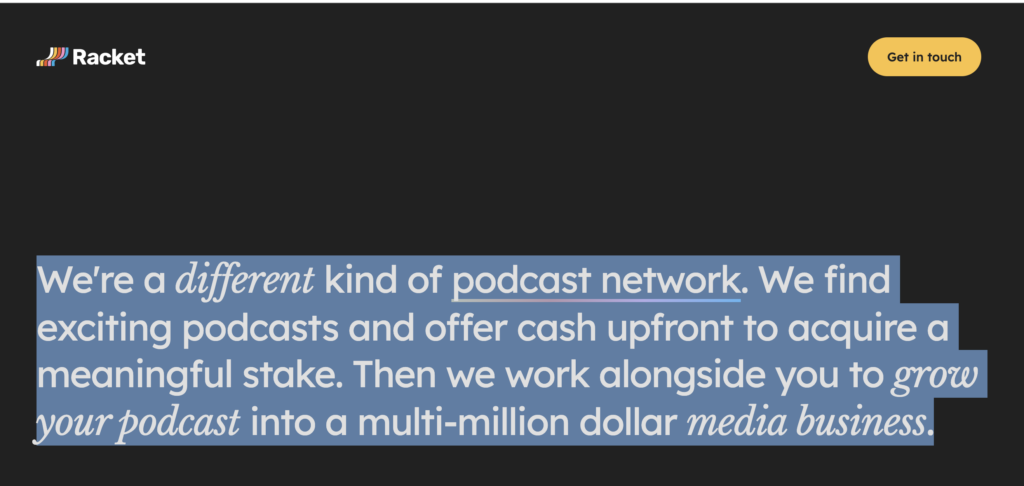 Sounds like a sort of podcast private equity company. Wouldn't be surprised if they plan to sell some podcasts again in 3-5 years and keep some in-network as perpetual investments.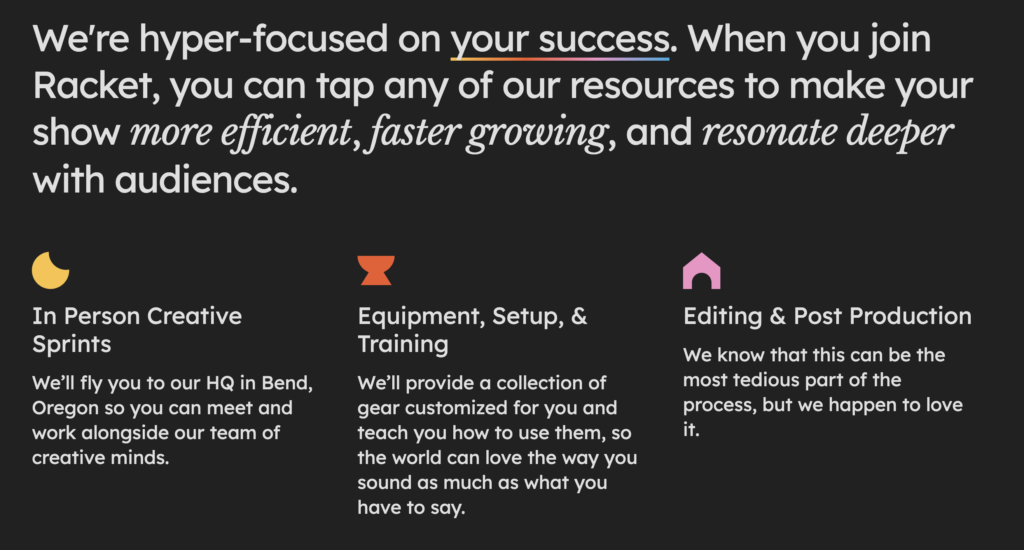 Definitely an interesting frontier space. This follows a logical evolution from other internet media properties, starting with buying and selling domains, then websites, then companies, then unicorns. That's also evolved in other ways, with people buying Facebook Groups, and other web entities as well. Makes sense that podcasts can be bought and sold.
As further proof, HubSpot has been acquiring podcasts to build out the HubSpot podcast network. Being the kings of inbound marketing, it behooves them to find alpha by buying new media properties that get to a certain size. Both so they can acquire the audiences in their inbound funnel, but also so they can test out new media platforms to eventually work into their product. HubSpot is genius in that way.
Will be interesting to watch how Racket.com evolves over the years. Building new social media platforms is very, very hard – which is why those that do win the space, win with network effects and dominance to secure a sort of Monopoly – much like how Facebook has, yet with the growing threat of Tik Tok.
How the Original Racket Used to Work
Racket.com is a brand new social audio app where users can share short sound bites akin to mini podcasts.
Austin Petersmith is the founder. They originally started a software review community called Capiche, but that was always niche. Then they pivoted to creating Racket. Capiche was sold to Vendr.
Right now it is only a web app, not an iPhone app.
A good first Racket to listen to is this one with investor Jason Calcanis and Racket founder Austin Petersmith:
How Racket Works
Racket is still in beta, so you'll need to sign up to the beta list. Invites take from a few days to a few weeks to be processed.
Once you log in, you have your own profile and can start following other Racketeers.
It's similar to podcasts in that it allows audio interviews. Interviews are one of the most popular podcast formats, and the most compelling in my opinion.
Racket is similar to Clubhouse in that it's a brand new channel, and also an audio-first social network, the next frontier of social mediums.
But Racket is freeform in the audio style, much like Twitter. You can do whatever sort of publishing you want. Similar to Twitter, following others is highly encouraged.
Thirdly, Racket is like Medium because there is a strong focus on establishing a name for yourself. It feels more in-depth than Twitter, because audio recordings are often 5-10 minutes, which is about the length of a Medium article. There seems to be a strong business and startup bent, much like Medium.
The Racket home page shows a feed of recent Rackets and some top Racketeers this week. There's a strong CTA to create your own Racket.
The leaderboard is a great way to incentivize early adopters to quickly generate more content to rank. Who doesn't want to be top 10?
There is a waitlist. But according to the founder:
If you're on the waitlist, there are several things you can still do:
listen to Rackets
send DM replies to people's Rackets
participate in other people's Rackets (a voice DM is a great way to propose a Racket collab!)
Racket's Advantage
Racket just makes sense.
I like the concept more than Clubhouse, because the content is evergreen and permanent.
As a user, I can listen to it on-demand without having to time things. I find Clubhouse annoying in that way.
Racket conversations also feel so much more intimate than Tweets. On Twitter, users who want to grow a following will very tactfully craft Tweets to get the most coverage and virality. That means they'll change their natural language, tone, and style to optimize for the Twitter algo.
On Racket, they just seem so much more natural. While everyone has their "podcast voice", it's a lot harder to fake it when you're having a conversation with someone. I believe Racket is a positive direction towards authenticity and humanity on social networks. Already, I strongly feel this. People just seem more real. Or at least, you'll get the realness of the person, even if they're a jerk!
As a creator, Racket should appeal to people like me who don't want to go through the effort of starting a podcast, but want to do some form of audio publishing.
It's another platform for creators to launch on to leverage a publishing platform. They don't have to create the platform tech themselves, they just worry about creating.
If Racket can open up their beta and cause a commotion, they'll occupy a wide open space with no contender at the moment. But they have to act fast to own the position.
Investors
Official investors listed on Crunchbase are Stu Smith and Jackson Moses.
Famed angel investor Jason Calcanis is a potential investor, but this is purely speculative based on public interactions we noticed.
Early Adopters
Hiten Shah is a top Racketeer on the leaderboards. He's a known SaaS founder and very active on Twitter. He is potentially an angel investor in Racket.
Josh Constine is a "VC at early-stage fund SignalFire, former editor-at-large of TechCrunch, and host of Clubhouse show PressClub." He's a strong advocate of the creator economy. He could potentially have provided funding as well, but this is unknown.
Racket.com Statistics
There are a roughly 10,000 members on Racket.com. This is a guess based on Leaderboard rankings, but no official numbers have been released by the company, so this is unconfirmed.
Google shows just over 1,000 Racket URLs in search results, so active users could be closer to 1,000.
Racket.com does not currently have an iOS or Android app, but based on job hiring ads, they are building mobile apps.
Racket's current Alexa rank is 82,448 – this will likely change constantly with their growth.
Racket's Opportunities
Racket has an enormous opportunity by transcribing all Rackets on their own pages. This would auto-generate a ton of totally unique text content, perfect for ranking the stories in Google search. This could be a huge part of Racket's acquisition strategy, in addition to classic word of mouth, referral, and network effects that commonly launch social networks.
Racket has an advantage of leveraging scalable user-generated content for SEO traffic because Rackets are deeper than posts on Twitter and Facebook. They are often 5-10 minute audio clips, which when transcribed would be a few hundred words of text content, sufficient to cover a topic enough to compete in Google search.
In a world of GPT-3 content about to start coming online, Racket could be a huge source of human-generated content. This is a massively valuable asset.
Much like Quora, Racket would be answering long-tail Google Search queries. The keywords Rackets would rank for would be random, small ones, but since there would be thousands and eventually millions, they'd get a lot of coverage.
Current profile pages show a feed of their Rackets, and it seems that those who have published will show their profiles indexed in Google search. Those with a profile with no Rackets do not seem to index – this is actually good too.
But the magic would be right here with individual Rackets. Right now they're just sitting here empty:
A few hundred words of unique text content would be a gold mine for Google Search rankings.
Racket Could be a Unicorn
Racket is fun, I think it could be a multi-billion dollar company. It could be the audio version of Tik Tok.
Last Updated on August 2, 2022 by Joe