Are you thinking of starting an online community, or are you looking for a new community platform?  If you're new to the process, it can be overwhelming with the number of solutions and the range of features to choose from.  If you have an online community, you have an idea of what you want in an online platform.  You just need to find the right one. 
Community management software creates a digital space for members to share thoughts, ideas, and concerns.  For businesses, it is a way to increase customer and employee engagement.  If you are a small business owner or solopreneur, communities can help grow your business, but you need to know what you plan to do with the community before you start.
Online communities can be used to:
Sell products
Deliver online courses
Create followers
Share videos, posts, or blogs.
Send messages among members
How you use your community is only limited by your imagination and the online community software you choose.  So how do you choose the right platform? 
Here is an online community platform comparison to help you decide.  These solutions range from collaboration tools to all-in-one solutions.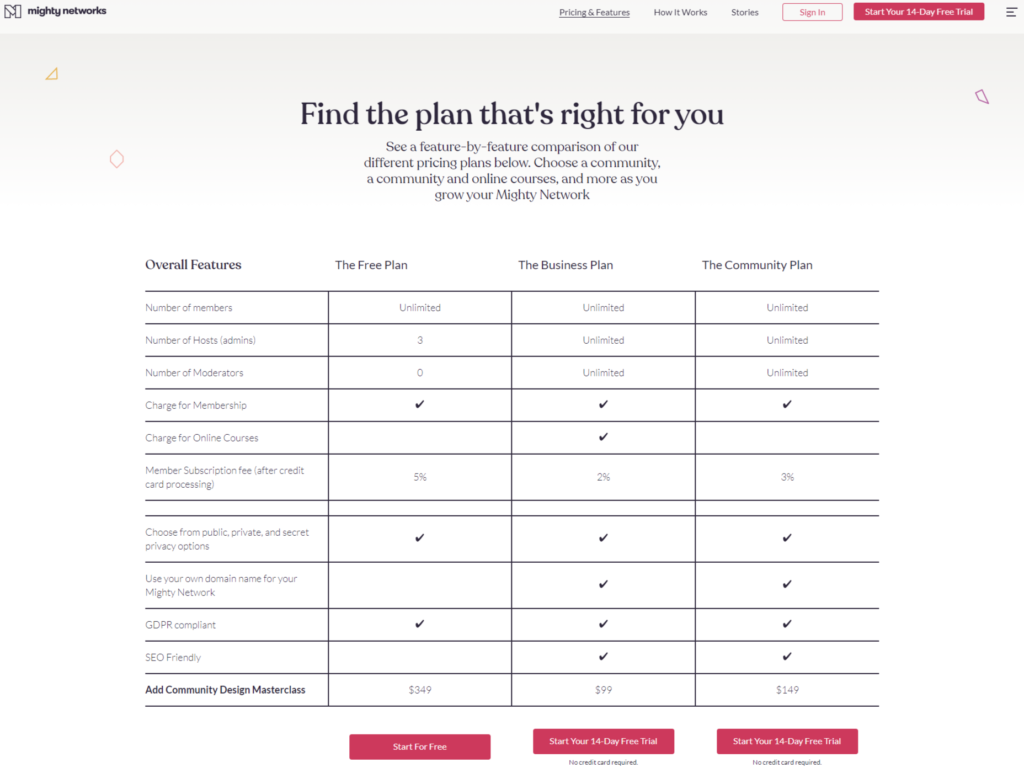 If you will deliver online courses, MightyNetworks is a good place to start.  They offer a free plan, which gives you a chance to experiment without financial risk.  They have Business and Community plans. 
Business plans start at $98.00 per month.  Community plans start at $28.00 per month.  Their business plan is the most full-featured, allowing you to charge a membership fee as well as offer paid courses.  They do take a 2% to 5% cut of the membership fees.
Number of members: Unlimited
Number of Admins: Three on the free plan and unlimited on Business and Community
Number of Moderators: Unlimited on Business and Community but no moderators on the free plan
If you're unsure about starting an online community, Mighty Networks free plan is an excellent place to start.  However, be sure to know what features you will ultimately want if you decide to create a community, so you don't move forward with a plan that doesn't meet your future needs.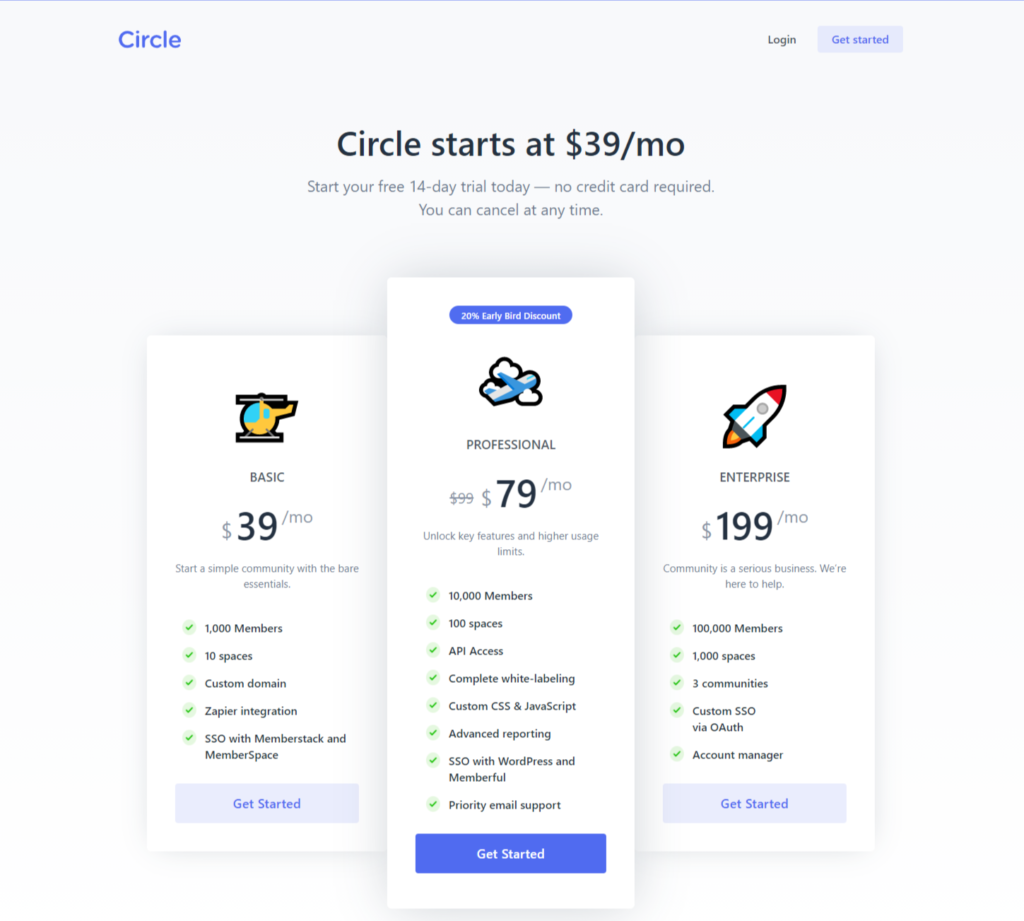 You can create online courses with Circle, but not for free.  They offer a basic, professional, and enterprise plan.  Although the basic plan gives a feel for the product, it does not include any advanced features.
Basic.  The plan starts at $39 per month and includes 1,000 active members, two admins, and one moderator.  Only one community is allowed, although you can use up to ten spaces for interactions on specific topics. Uploaded files are limited to 100 MB and storage is capped at 10GB per month.
Professional.  You are licensed for 10,000 active members, 15 admins, 15 moderators, and 100 spaces.  Your site is still restricted to a single community, but the file size is increased to 500 MB and 100GB of storage.  Professional plans start at $99 per month.
Enterprise.  This plan starts at $199 per month and includes 100,000 active members, 100 admins, 100 moderators, and 1,000 spaces.  The plan supports three communities with a file size of 1 GB and 1TB of storage. 
Circle's basic plan is one of the least expensive community plans.  However, getting to the professional features will add $60.00 to your monthly rate.  If the Professional plan meets your future requirements, Circle's basic plan may be a place to start.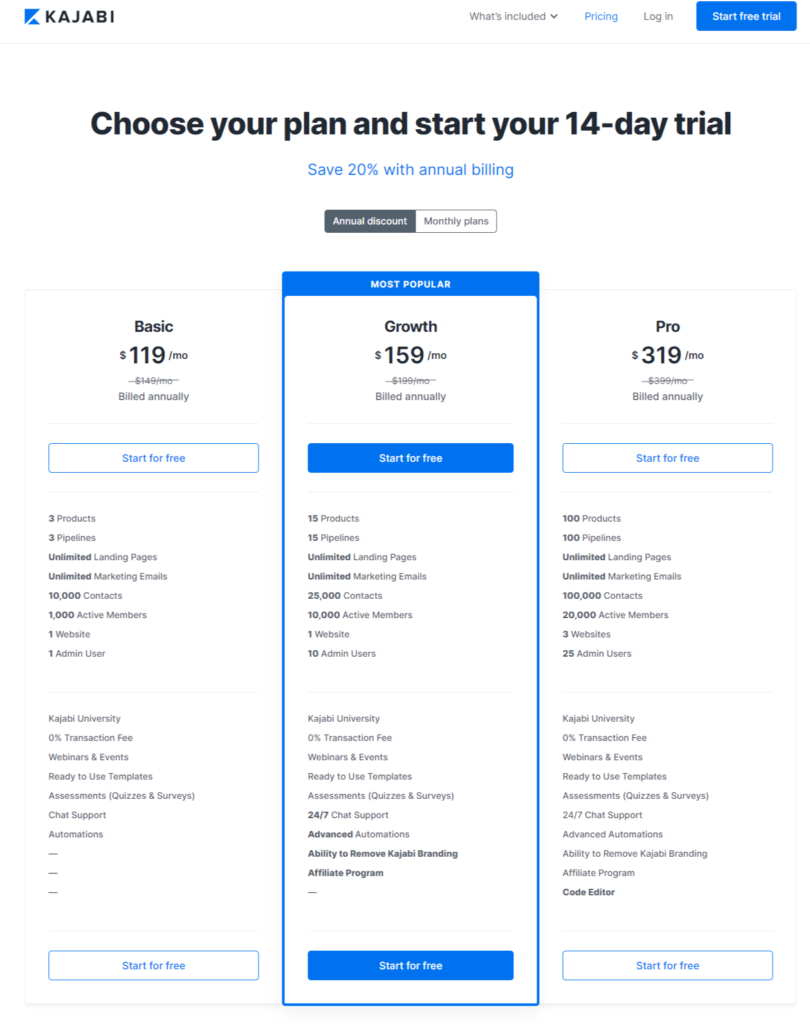 What sets Kajabi apart from other platforms is its integration.  It offers a website builder, customer relationship management (CRM) software, and automated marketing emails.  It also supports payments to Stripe and Paypal.  The packages have mobile apps, pipeline builders, and analytics. 
It is also the most expensive of the online community software solutions.  The basic plan starts at $149.00 per month and ends with a Pro plan at $399.99 per month.  Its growth plan is $199.00 per month.  All plans are billed annually, so if cash flow is a concern, keep that in mind. 
The basic plan includes 1,000 members, one administrator, and one website.
With the growth plan, you are licensed for 10,000 members, ten administrators, and one website.
The Pro plan has 20,000 members, 25 admins, and three websites.
Kajabi is the only solution that uses products and pipelines.  You identify a product to sell and attach a pipeline to the product to develop a marketing campaign for promoting the product.  The basic plan supports three products and pipelines.  Pro allows 15 products and pipelines, and Growth supports 100 products and pipelines.
Kajabi may be a reasonable choice if you are also in need of CRM and marketing software.  The monthly price may not be as high as purchasing separate software solutions.  With Kajabi, there's only one vendor for support.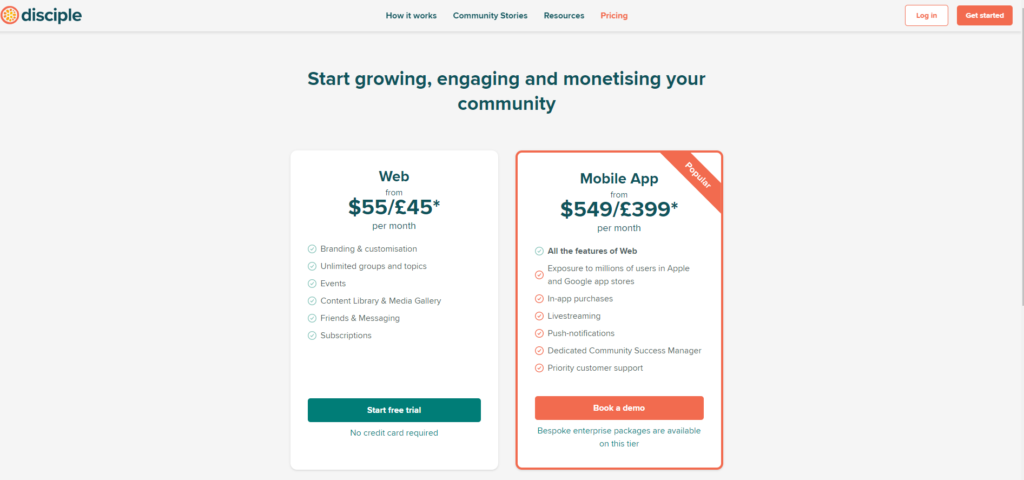 Disciple's business model is slightly different.  The company offers a web solution that starts at $55.00 per month or a mobile app starting at 389.00 per month.  Its mobile app includes added features such as push notifications, in-app purchases, and live-streaming.
Unlimited groups and topics
Subscription plans
Internal Messaging
The solution's pricing is based on the selected features rather than on specific plans.  You will have to contact Disciple to determine your per monthly cost.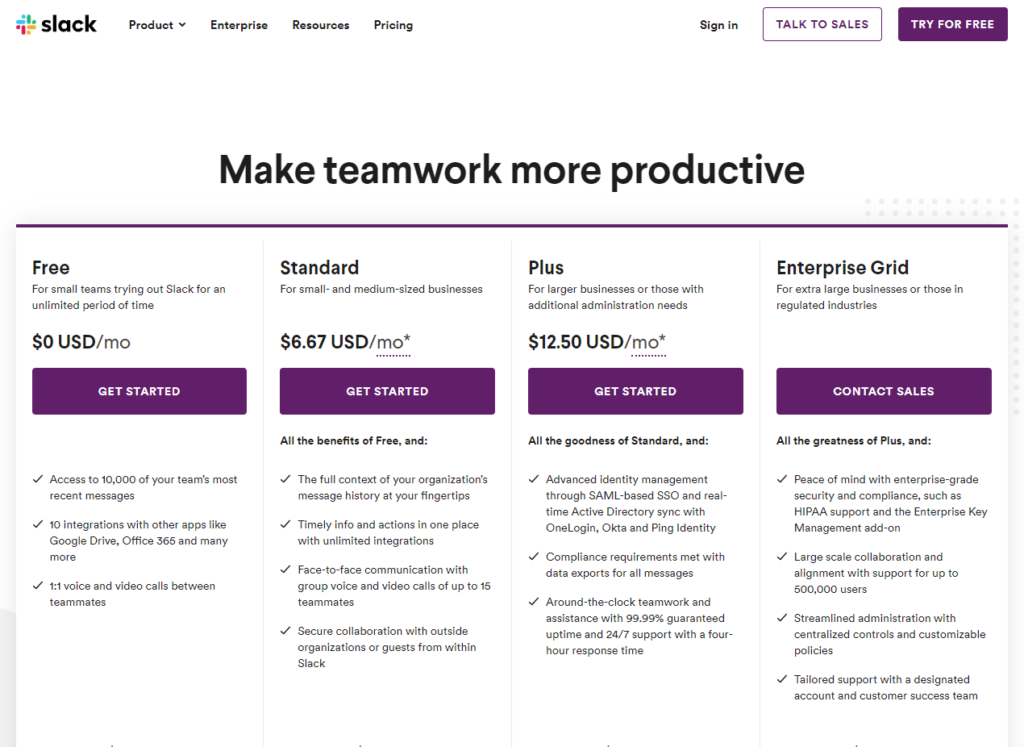 Slack was designed as a collaboration tool, much like Microsoft's team.  If your community will be focused on direct communication such as video calls and messaging, Slack may be an option.  Its plans are priced as follows:
Interactions are limited to 1:1 with one workspace.  Limited message history and storage space are included.
Interactions can include up to 15 members and one workspace for a monthly charge of $6.67.  It allows external collaboration.
Features include all of those in the standard plan with increased security for $12.50 per month. 
This plan is customized.  The features, costs, and terms of service are determined based on your requirements.
Slack does integrate with other applications.  If you are looking for a collaborative addition to your online offerings, Slack can help. 
How to Choose
The best solution is the one with the features that support the online community you want to create. If you want to see the difference between a collaborative tool and online community management software, look at MightyNetworks and Slack's free plans.
If you are interested in a mobile app, check out Disciplemedia's web and app plans.
If you need a comprehensive solution that includes CRM, marketing automation, web building, and more, investigate Kajabi's plans.
If part of your community includes online courses, Circle's basic plan is a place to start.
If cost is an issue, consider MightyNetworks free plan.
If your focus is on collaboration, try out Slack's free plan to see if it's what you want.
No matter what type of community you envision, there is a software solution to meet your needs.
Last Updated on August 22, 2022 by Adrian Grant