Look.
Building an online brand community for your big business is not a cakewalk- let alone managing it!
Luckily, you don't have to meld together different online community management tools to build your virtual community and manage it. You only need to find a robust community management software that will get you to the promised land- literally!
When you outsource a community management tool to do all the heavy lifting for you, you can focus on more important things, like segmenting your community in a way where users can share something important, on the get-go, together.
That said, we've combed through the internet to narrow it down to just five of the best community management tools. We've also discussed several important factors you should consider before making the final decision.
Online Community Platform Comparison: Your Ultimate Guide
Tested, ranked, and reviewed: Here are our top favorite online community software platforms for big businesses.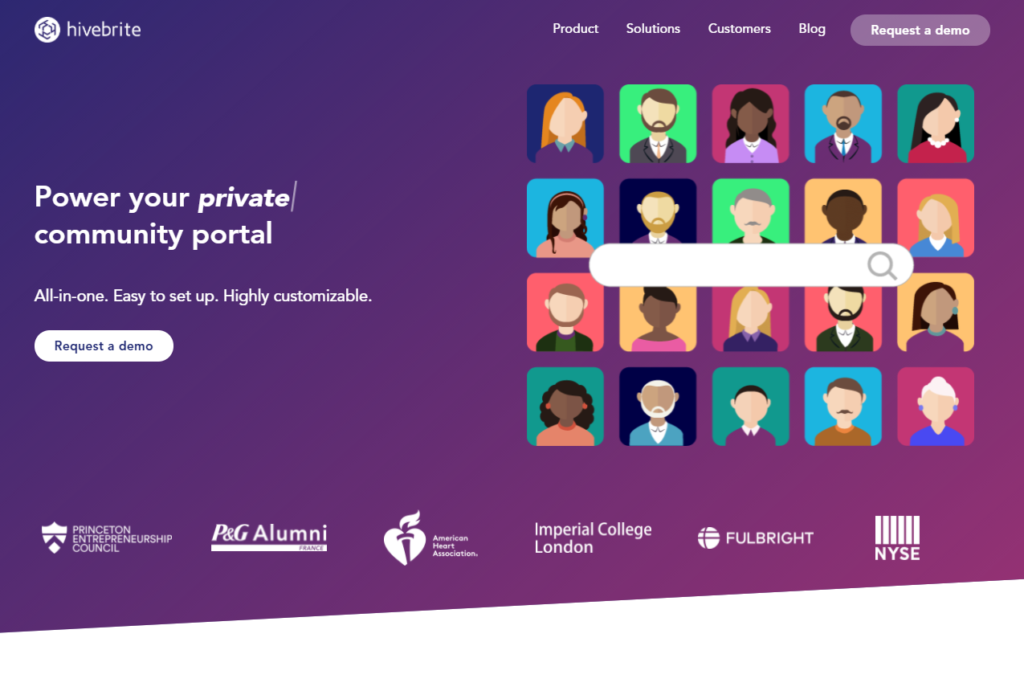 Hivebrite has been taking the world by storm for the last couple of years. It's a very intuitive community management platform that empowers big businesses to launch, manage, and grow fully-fledged private communities.
This all-in-one platform is fully branded to match your colors. I think it's possibly the best overall option for smart, somewhat tech-savvy community marketers. You'll find it easy to manage your user database, create events, and centralize your users' engagement from a single, downright user-friendly surface.
If you're looking for a community management software, 80% of you should go for Hivebrite and stop shopping around- it's simply a force to reckon with!
Best Hivebrite Features
Import members' profile data into your database
Add, moderate, and modify content easily
Affordable plans, starting at around $500 per month
They provide powerful search engines and targeting filters
Amazing looking interfaces for the businesses of all sizes and sectors
Hivebrite Pros:
Premium support
Good value for money- probably the cheapest option in this space!
Offers real-time analytics and detailed reports
Multi-platform support- accessibility from every device
Versatile, easy to use, and very secure
Hivebrite Cons:
Not as much customizable options when it comes to sizing, font, color, and general edits
There's a bit of a "learning curve" to Hivebrite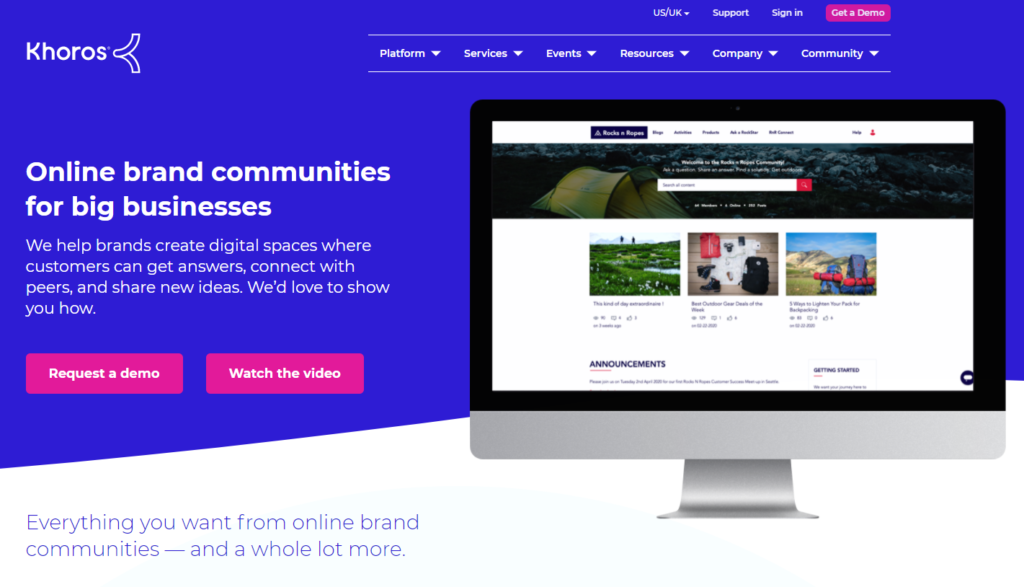 For some community managers, it's not enough to share nuggets with their members. Instead, you want to share their expertise, learn, and get answers to their most pressing questions- all in real-time. If that sounds like you, then Khoros might be for you.
Design-wise, this isn't the most beautiful option available, but it remains one of the most functional ones. 
Khoros have a clear picture of the future and deliver incremental value for their customers. 
Khoros Features:
Provides a great framework on how to run a community
In-built platforms for enterprise-scale and security
Modern content editing
Community syndication 
Peer-to-peer support
Khoros Pros:
Impressive ability to scale quickly
Other-worldly reporting capabilities
Endless customization opportunities
Reduced support costs for real-time inquiries
Khoros Cons:
Not a good fit if you value personalization
Might not be 100% customizable to your needs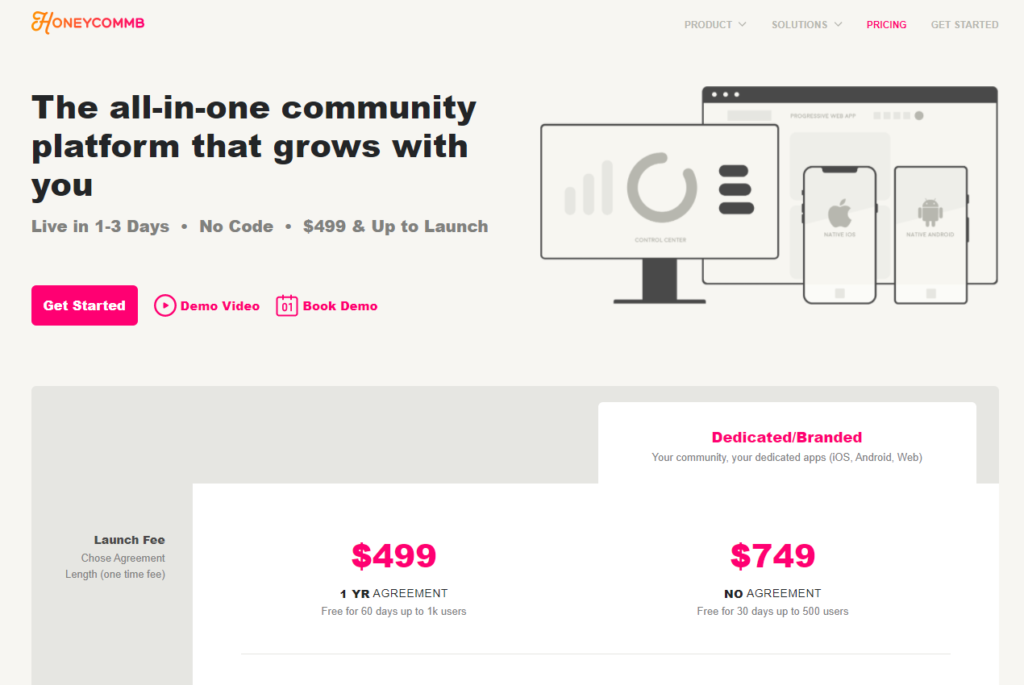 Like Khoros, Honeycommb is both simple to use and scalable. It's also cost-effective. Pricing plans start for as low as $349- definitely priced for budding marketers!
I love this community management software because it provides a unique brand experience- the look and feel is yours to customize. 
The best part? It gives you ultimate control and ownership over all of your member's data and content.
Who wouldn't like to try out a product used by Lady Gaga? We know we would!
Honeycommb pros:
It's really what it claims to be- a white label fully-fledged social network.
Super professional and different from any other product on this lineup
Honeycommb cons:
The backend would look a bit better with extra support.
Not yet the 100% finished product.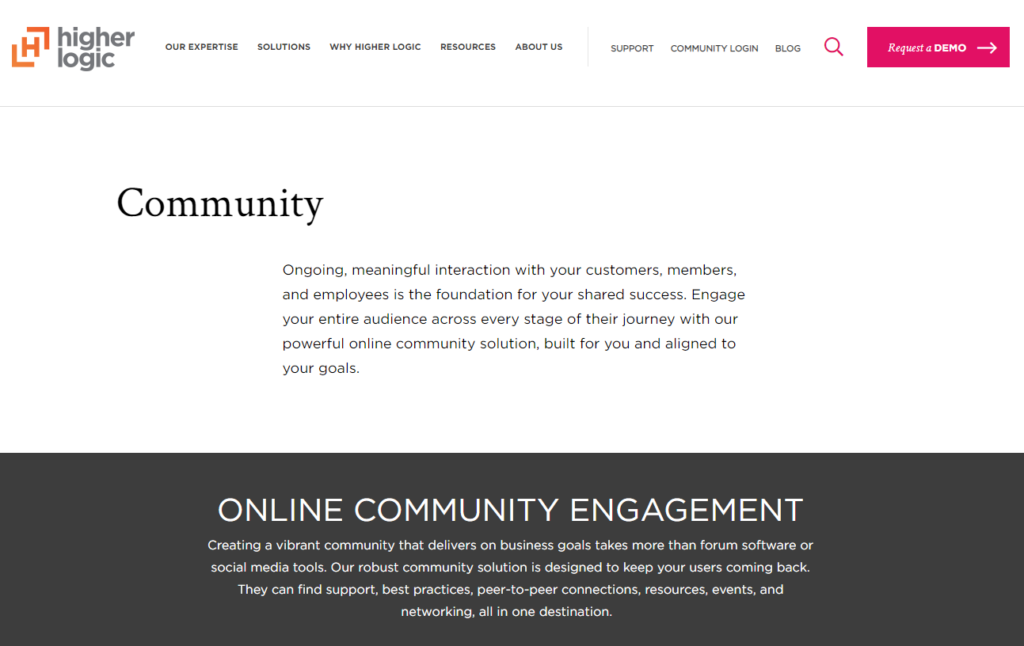 Higher Logic has its fair share of critics but is great as long as you know what to expect. 
Simply put, no matter the kind of business you're running, you can create a vibrant community with Higher Logic.
It's a powerful community management tool that's both flexible and scalable. You can request a personalized demo to get the hang of it before committing. 
Although you'll have to subscribe to a paid plan to enjoy the full catalog of features, there's real value for money. It's a solid baseline for any big business- engagement will quickly turn to feedback, retention, and sustainable growth.
Here's a summary of what to expect from Higher Logic:
Purpose-built community structure
Personalized content with automated email marketing
Vast involvement- empower your super members to advocate on your behalf.
Real-time resources for learning and development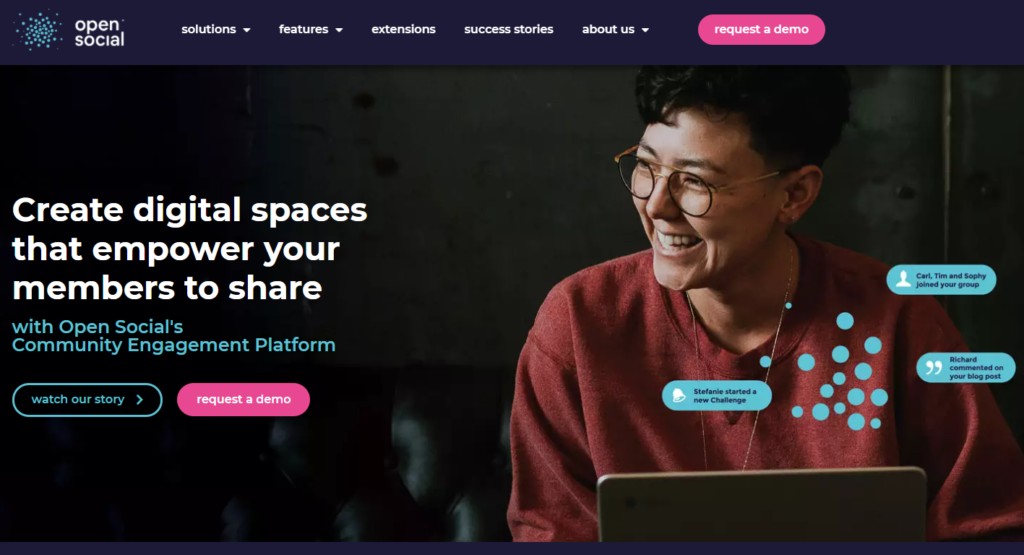 Open Social is one of the veterans on this space, which probably explains why it's entrusted by the big guns like the United Nations.
It's a pretty solid option if you're for an out-of-the-box community management platform. 
The best part? It's got one of the best pricing plans we've seen around- starting at only $584!
If the idea of doing more than just monetize your community appeals to you, then you might want to choose Open Skocial. Their main focus is on co-working, collaboration, and creating shared knowledge. 
Overall, this software is perhaps the easiest and most straightforward of all the community management platforms on this list. Extensions are fun, colorful, and easy to use. 
However, if you're looking to personalize your community or add a bit more functionality, Open Social does have limited features, so be aware of that.
Features to Consider When Choosing an Online Community Software
Sure. We've served you with the technical chops of these community engagement tools. However, pinpointing the ideal tool for your big business is not always a breeze. 
Just before you commit, take a look at our checklist for the questions you need to ponder when looking for the best online community software. Please.
1. Is it fully-integrated?
Your platform should combine the best of every world: CRM, service, and other business software. If it doesn't, then you'll miss out on its full capabilities.
2. Is it future-centric?
Some features, which look cool right now, might be outmoded in a year or so. If your preferred solution is not investing in future-proof technology today, then you might be in for a ride in hell sooner than you realize.
3. Is it flexible?
Simply put, your community engagement software should perfectly align with your growth requirements- above and beyond. That also means supporting any other unique business requirements out of the box.
4. Is it secure?
In a digital space privy to data breaches, you can't afford to be lax on your approach to handling members' data. Just choose a secure community platform. Simple.
5. How budget-friendly is it?
Go for a software that provides optimal value for your big business while also falling within budget. 
6. Is it easy to use?
This is a do-or-die factor for big businesses. Although you can't achieve a 100% success rate in this regard, a figure close to that will go a long way in reducing training costs and time.
Our Final Thoughts
As a big business marketer, you know that you have to have a robust online community to stay competitive. Even if you run a social media page, an online community is crucial if you want to attain real, meaningful, and long-lasting relationships with customers and prospects. 
The issue that big companies face today is that they lack funds to spearhead the transition to online communities. After all, COVID 19 is still biting our tails.
Thankfully, if you choose any of these community management tools, you can save both time and money. Establish what your priorities are in advance, especially how you need massive flexibility versus low price, and you'll quickly identify just one software that fits the bill very well- thank us later!
Last Updated on August 22, 2022 by Adrian Grant