If you feel like you don't understand TikTok, you're not alone. The Chinese-run social media app is as enthralling to Gen-Z as it is utterly confounding to everyone else.
But even if you feel too old to grasp the appeal of the app from a user perspective, you shouldn't write TikTok off as a silly little fad.
As the world's most valuable start-up and the fastest growing social media platform worldwide, TikTok is a huge deal. Even if you don't use it.
How TikTok develops moving forward, and how governments around the world deal with its allegations of privacy violation and censorship, will shape the future of data privacy and social media for everyone.
Here are 50 facts and statistics about TikTok that everyone should understand, whether they use the app or not.
QUICK NAVIGATION
But wait… wtf is TikTok?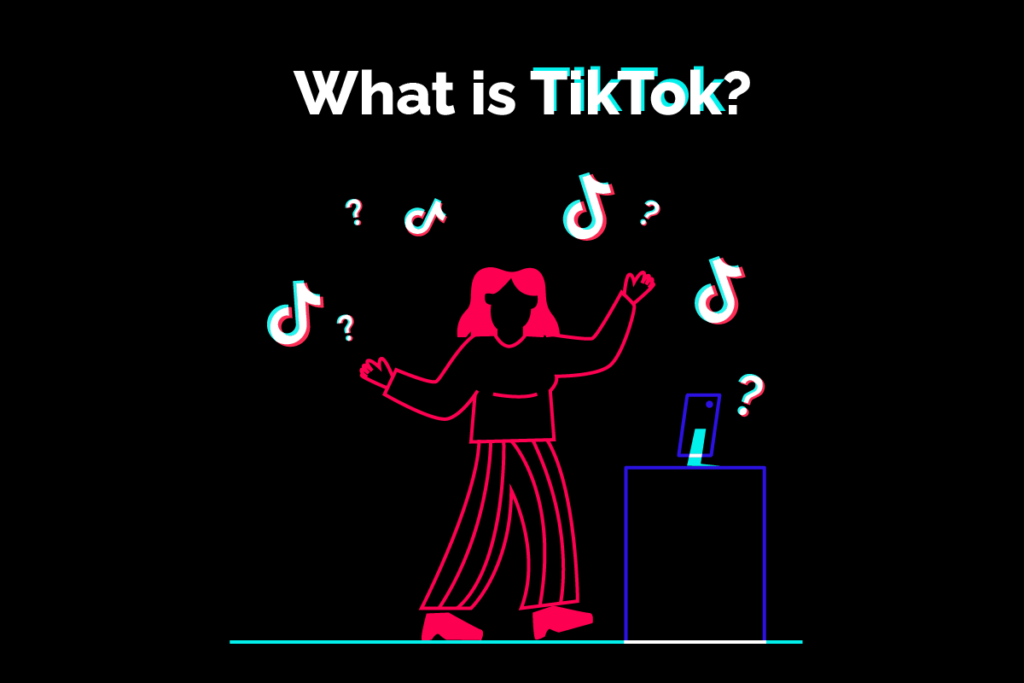 1. TikTok is a mobile app in which users create and share short videos, using a variety of in-app tools to customize their content.
Here is the central premise of TikTok in a nutshell.
Users can create and share short videos between 3 and 60 seconds in length.
The videos are in vertical format, and users scroll up and down to navigate through the content stream.
Video creators can utilize a huge library of filters, sound effects, music, and editing tools when making their content.
Users interact by liking and commenting on each other's videos, and following other users. But users also interact by creating response videos and participating in viral challenges.
Hashtags help users navigate different viral challenges, jokes, or trending formats.
2. TikTok is a product of ByteDance Ltd., a Chinese tech start-up.
ByteDance is headquartered in Beijing. It was founded by CEO Yiming Zhang in 2012 and is the proprietor of several other hugely popular apps. These include:
Toutiao – A Chinese news and content recommendation platform that uses AI to curate each user's content feed.
Xigua Video – A Chinese video sharing platform for long- and short-form content.
Helo – A social media app available in 15 languages including Hindi, Tamil, Telugu and Malayalam.
Lark – A cloud-based remote collaboration platform available in Japan and Singapore.
BaBe – A news curation app that partners with Indonesian media outlets to deliver custom feed of content.
As of May 2020, ByteDance is reportedly valued at over $100 billion USD. [A]
3. TikTok started off as three different apps.
The first iteration of TikTok was the U.S.-based Musical.ly, an app that launched in 2014 and centered around videos in which users would lipsync and perform choreographed karaoke.
In 2016, ByteDance launched a similar app in China called Douyin. With the success of Douyin, ByteDance began to launch the app internationally under the name TikTok. ByteDance then acquired Musical.ly in 2018, rebranding the app as TikTok for U.S. users.
4. The AI-curated 'For You' tab is what makes TikTok different from other social media apps.
While all major social media platforms use algorithms to curate the stream of content that users see, TikTok is different.
Facebook, Instagram, Reddit, Twitter, LinkedIn – content featured on the home screen of these apps is curated according to who you follow and which communities you join. Essentially, you see content that you explicitly told the app you would like to see.
On TikTok, the home screen is called 'For You.' Here, even brand new users can see an endless stream of content before they ever indicate any interests or interact with any videos.
The minute TikTok users begin to interact with content, whether that is by repeatedly watching something, or quickly swiping it away, the TikTok algorithm accounts for this data and adjusts the 'For You' stream accordingly.
5. TikTok in-app purchases are bundles of coins that can be gifted to other users.
These coins enhance the interactive experience of TikTok and can be exchanged for gifts that users can give to others while they live stream.
TikTok coins can be purchased in bundles of 100 to 10,000, costing between $0.99 and $99.99.
How big is TikTok?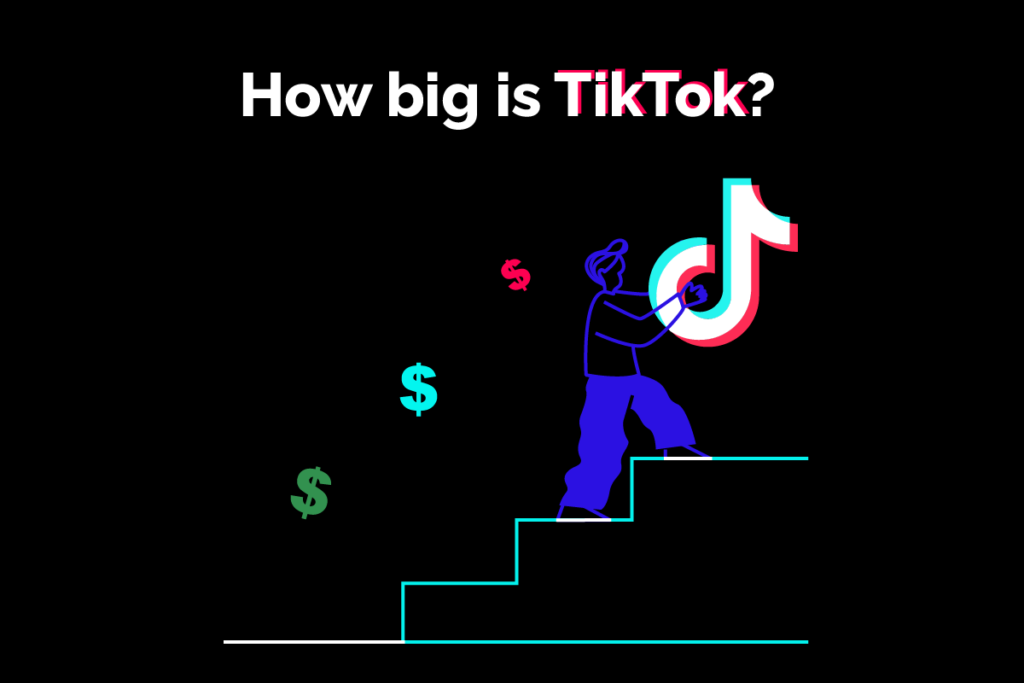 6. TikTok has been the one of the most downloaded apps worldwide since 2018.
In the non-gaming category, TikTok competes with the likes of Facebook, WhatsApp, Facebook Messenger, Instagram, and Zoom for monthly downloads.
7. TikTok has over 800 million monthly active users.
With 800 million monthly active users, TikTok was the 7th most used social media app in the world in July 2020.
TikTok follows behind Facebook (2.6 billion), YouTube (2 billion), WhatsApp (2 billion), Facebook Messenger (1.3 billion), WeChat (1.2 billion), and Instagram (1.1 billion). [B]
TikTok is far ahead of other popular social media apps such as Reddit (430 million), Snapchat (397 million), Pinterest (367 million), and Twitter (326 million).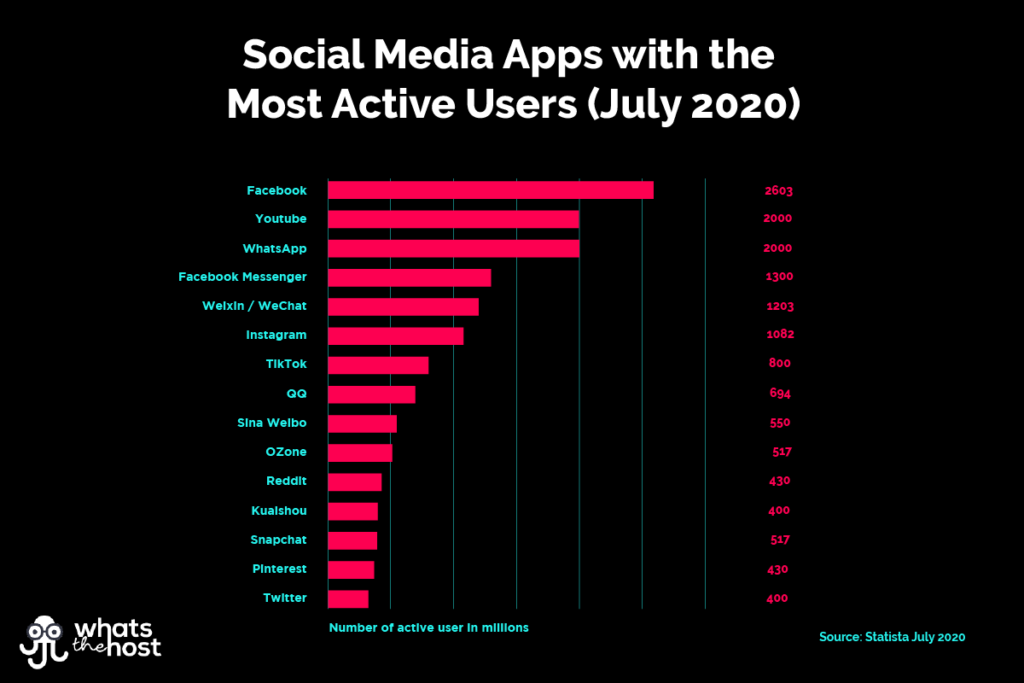 8. TikTok has been downloaded over 2 billion times.
In total, TikTok and Douyin have been downloaded over 2 billion times between the Apple App Store and Google Play Store downloads. [C]
9. Tik Tok was downloaded more than 738 million times in 2019.
TikTok was the 2nd most downloaded app in the world in 2019, following WhatsApp. [D]
10. In Q1 of 2020, TikTok set the record for the best quarter of any app ever.
As the Coronavirus pandemic drove the world indoors, TikTok soared. The app was downloaded more than 315 million times between the Apple App Store and Google Play over the course of January to March 2020. [C]
This was a 58% increase in downloads compared to Q4 in 2019.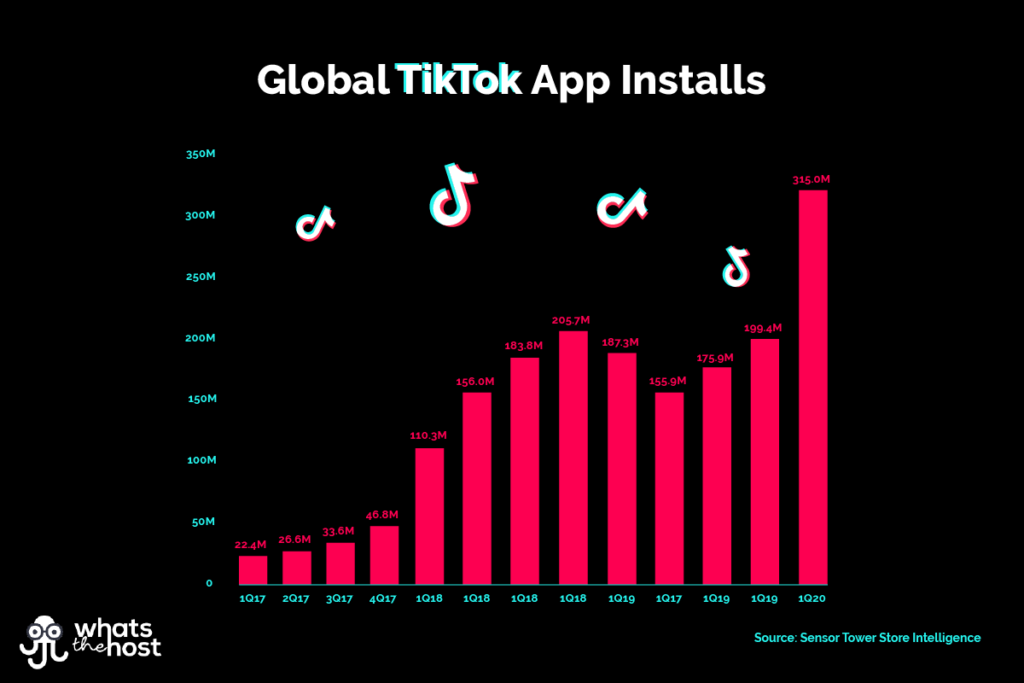 11. TikTok's three biggest user bases are the world's three most populous countries: India, China, and the U.S.
Before TikTok was banned in India in late June 2020 (more on that later!), India accounted for the app's single largest market, accounting for 30% of lifetime downloads. Indian users had downloaded TikTok 611 million times by the end of Q1 of 2020. [C]
China is the second largest market for TikTok/Douyin, accounting for 9.7% of lifetime downloads. By the end of Q1 of 2020, Chinese users installed Douyin 196.6 million times.
The third largest market for TikTok is the USA, accounting for 8.2% of lifetime downloads. By the end of Q1 of 2020, Americans had installed the app 165 million times.
12. TikTok rakes in a ton of cash from in-app spending.
At the end of Q1 2020, TikTok was the third most lucrative non-gaming app for Apple and Google in the U.S. Users had spent more than $456.7 million USD in the app over those three months. This sum is more than 2.5 times what TikTok generated in download revenue alone. [C]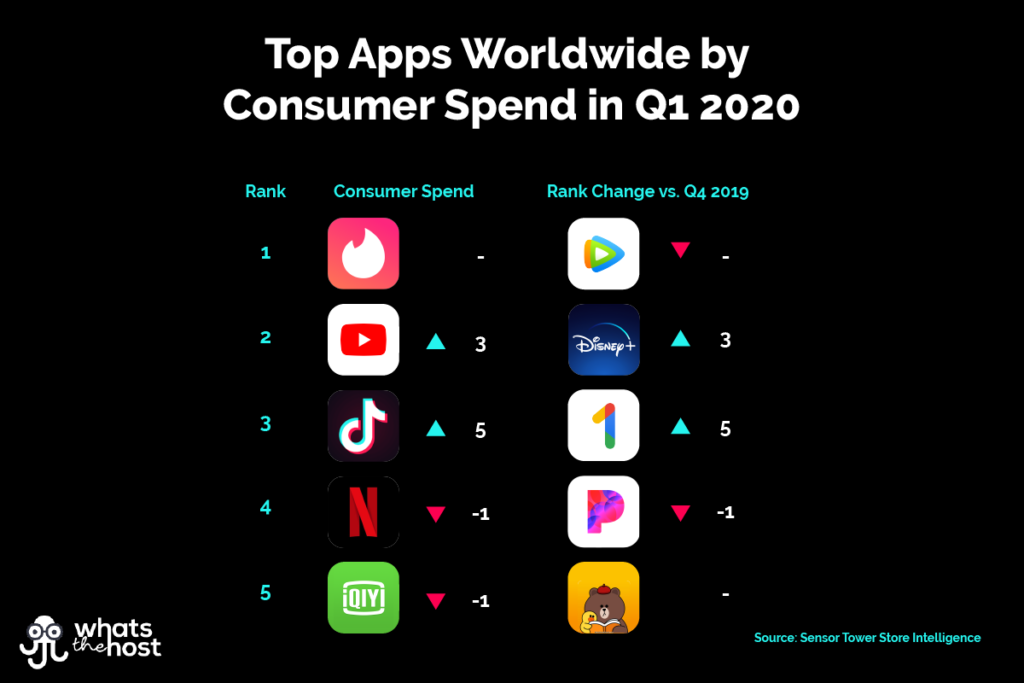 13. Influencer culture is growing on TikTok.
As of August 15, 2020, seven TikTok users have over 40 million followers. [E]
By comparison, Instagram has 90 users with 40+ million followers, and YouTube has 17 users with 40+ million followers. [F]
14. TikTok influencers can earn as much as $20,000 per branded video.
Advertisers are increasingly noticing the value of TikTok influencers in reaching a Gen-Z audience. [U]
15. TikTok is valued at $50 billion USD.
In a July 2020 valuation, investors at ByteDance estimated TikTok was worth about $50 billion. This is roughly 50 times its project 2020 revenue of $1 billion. [G]
16. TikTok is projected to generate $6 billion in revenue in 2021.
TikTok's revenue from ads and in-app purchases is expected to be $6 billion in 2021, six times its projected revenue of $1 billion in 2020. [G]
17. TikTok users spend an average of 52 minutes per day in the app.
In September 2018, U.S. TikTok users were already spending nearly an hour per day in the app [V]. This is a good sign for TikTok, already rivaling other more established social media platforms like Facebook (58 minutes), YouTube (40 minutes) and Instagram (53 minutes). [W]
18. TikTok users open the app an average of 8 times per day in the US.
This figure of 8 sessions per day puts TikTok on paar with Facebook, whose users also access the app or website an average of 8 times per day. [X]
Who uses TikTok?
19. When all age groups are counted together, about 60% of TikTok's U.S. users are between the ages of 16 and 24.
Unsurprisingly, TikTok is most popular in the U.S. among Gen Z, a demographic that makes up 3 out of 5 of TikTok's American users. [H]
20. Without accounting for users under 18, millennials outnumber adult Gen Zers on TikTok.
With underage users out of the picture, 24.8% of TikTok users in the USA are Gen Z (between the ages 18 and 24). But 24.5% of users are 25-34, and 20.3% are 35-44, meaning there are still plenty of millennials on TikTok. [I]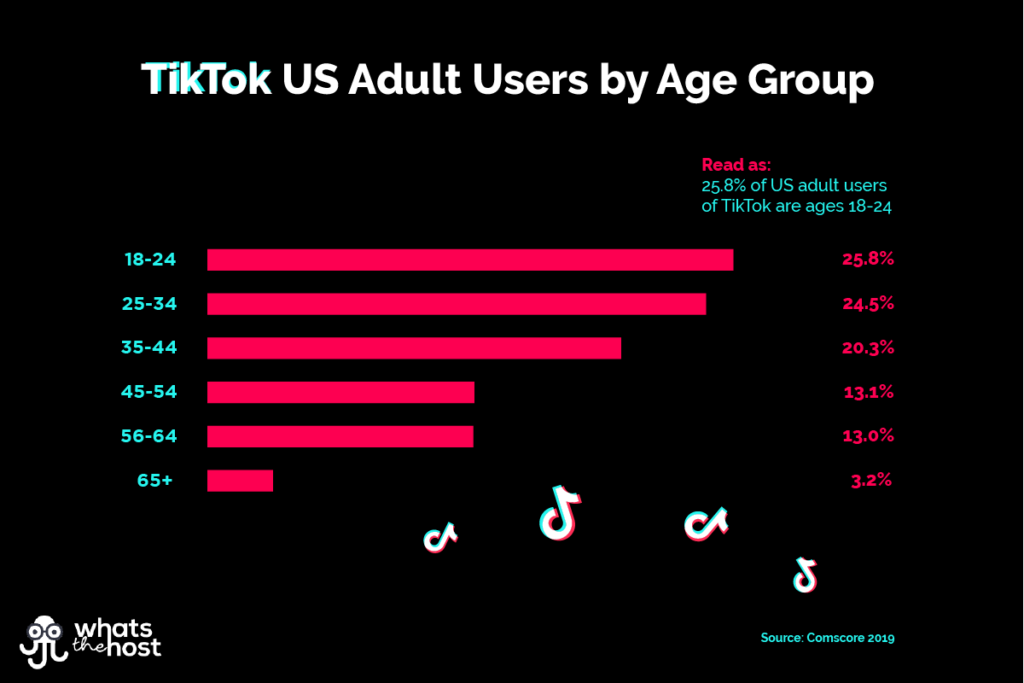 21. Just shy of 3 in 10 adult TikTok users in the USA are 45 or older.
Not accounting for users under 18, nearly 30% of adult TikTok users in the USA are 45+. Even 3.2% are older than 65! [I]
22. In 2019, more than 1 in 8 Americans between the ages of 18 and 24 was a TikTok user.
This figure is projected to be considerably higher for 2020. [I]
23. The highest rate of adoption among adults in the U.S. in 2019 was women aged 18 to 24.
14.9% of U.S. women aged 18-24 were TikTok users in 2019. That is more than 1 in every 7 women in this demographic. [I]
24. Female TikTok users outnumber male users 2:1 in the U.S.
This imbalance is most pronounced among teenagers, who are the primary user base for TikTok in the USA. [I]
25. 37 percent of all U.S. TikTok users live in a household with a combined income of $100k.
The second largest income group (18%) are those with a household income below $25k. This seeming contradiction is explained by the fact teenagers (still living with their parents) and college aged people (newly living away from home) account for the majority of TikTok users. These figures also suggest that much of TikTok's userbase are teenagers from well-to-do families. [I]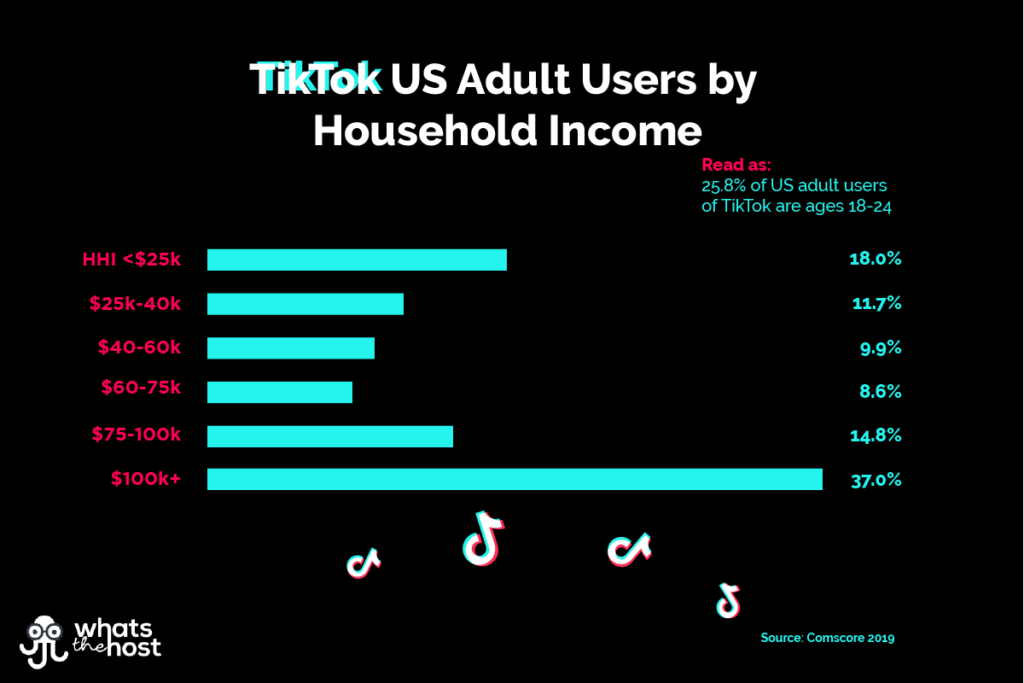 TikTok and pop culture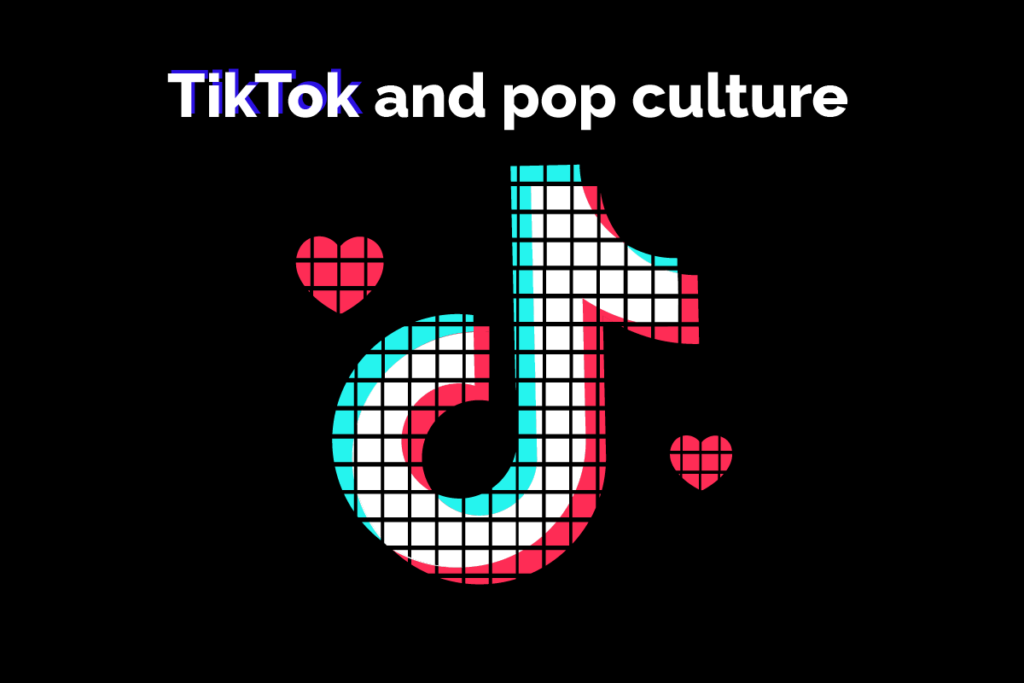 26. TikTok has a gigantic library of music that it makes available to users to use in their videos.
TikTok strikes deals with music rights holders in order to give its users the ability to use 15 second music clips in their videos. These arrangements are usually settled as a one-time fee for a certain library of tracks, or paid out on an ongoing royalty basis. TikTok integrates with Apple Music. [J]
27. TikTok was largely responsible for making "Old Town Road" by Lil Nas X a genre-defying world hit.
TikTok users were some of the first to discover the song, playing it over 67 million times in 2019. This boost brought the song to number 1 on the Billboard Hot 100, where it stayed for 17 weeks. [D]
28. Major labels are now releasing songs with the express purpose of becoming TikTok viral challenges.
Drake's spring 2020 single "Toosie Slide" was reportedly conceived of not as a song, but rather an easily-to-replicate dance move designed to go viral via TikTok dance challenges. Unsurprisingly, it worked. As of August 19, 2020, the song has been used in over 5.4 million TikTok videos. [K]
29. Thousands of teenage TikTok users claim to have sabotaged President Trump's June 2020 rally in Tulsa, Oklahoma.
When TikTok users rally behind a trend, they can do more than simply bring a song to the Billboard Hot 100. They can also troll the President of the United States. Thousands of teenage TikTokers posted sarcastic videos in which they reserved free tickets for a Trump rally in Tulsa, Oklahoma in June of 2020.
The planners of the event interpreted the huge swell of interest as a good sign for the rally, publicizing that over 1 million people planned to attend. In the end, only around 6,200 people were in attendance.
Does TikTok harvest user data?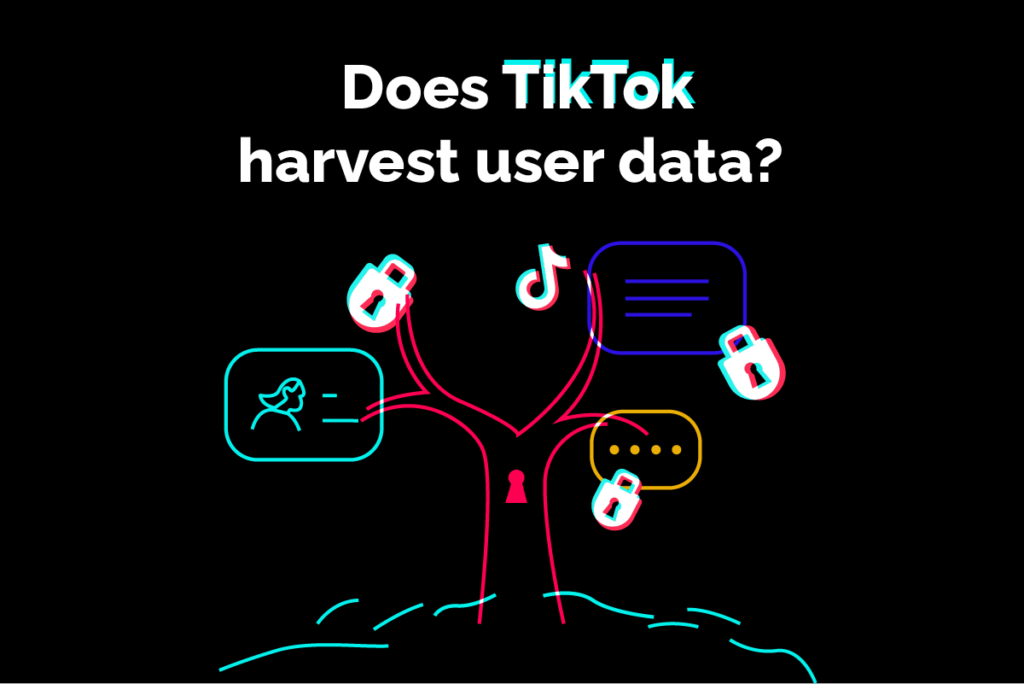 30. Like most other social media apps, TikTok does collect a great deal of user data.
Some of the data that TikTok collects that is relatively standard for the industry includes: [L]
Phone hardware information (CPU type, screen dimensions, memory usage, hardware IDs, etc.)
Network information (IP address, WiFi access point name)
GPS pinging for location-tagged posts
Local proxy server set-up
31. TikTok's privacy policy acknowledges that the app collects all "information you provide in the context of composing, sending, or receiving messages."
TikTok is the only major app that openly collects keystroke dynamics, something that worries many data privacy advocates. That means that TikTok can analyze anything users type while in the app, even messages that they delete and don't send.
Keystroke behavior is hugely revealing and can actually be used as a digital signature. Analyzing keystroke dynamics can reveal things about a user's mood, gender, message intent, and the activity they are currently performing. [M]
32. TikTok has been found to collect other sensitive data, including clipboard information, what other apps have been installed on a device, and whether a phone is jailbroken.
While TikTok wouldn't be the only app to have ever been caught doing these things, the kicker is that none of this was not explicitly stated in their privacy policy. Furthermore, when combined with all of the other info they collect, they really do have a ton of information about users. [L]
33. TikTok was found to have violated Google's policy for Android apps by tracking the individual identifiers on users' devices.
Apple had banned app developers from collecting the MAC addresses of users in 2013. Google banned this practice in 2015. But in July 2020, smartphone security experts found that TikTok had been violating this policy on Android devices for over a year up until November 2019. TikTok had circumvented the controls by exploiting an Android bug, hiding its tracks with an additional layer of encryption. [N]
By collecting MAC addresses, TikTok could track users' individual devices even when they tightened their security settings.
34. In 2019, TikTok paid a $5.7 million fine to the FTC for illegally collecting data about child users.
The Federal Trade Commission stipulates stricter policies about the data that can be collected about children under the age of 13. TikTok was found to have been illegally collecting as much data about young users as all others. They settled for a $5.7 million dollar fine and were forced to create a separate app experience for younger audiences. [D]
35. Data privacy issues are not much of a concern for Gen Z, TikTok's biggest user base in the US.
TikTok's data privacy violations may be enough to scare away the 46% of Gen X and 45% of millennials who are concerned with companies using their data against them. However, data privacy concerns are much less pronounced among Gen Z, TikTok's biggest US userbase. Only 37% of Gen Z reports feeling worried about companies using their data. [Y]
36. Among Gen Z and millennial TikTok users, only 17% were concerned enough about the Chinese government having access to their data to consider deleting the app.
While 37% percent of Gen Z reports being broadly concerned about data privacy, this number is even lower among TikTok users. An August 2020 study of 10,000 millennial and Gen Z TikTok users in the US showed that 83% didn't feel concerned enough to even consider getting rid of TikTok. [Z]
Does TikTok censor free speech?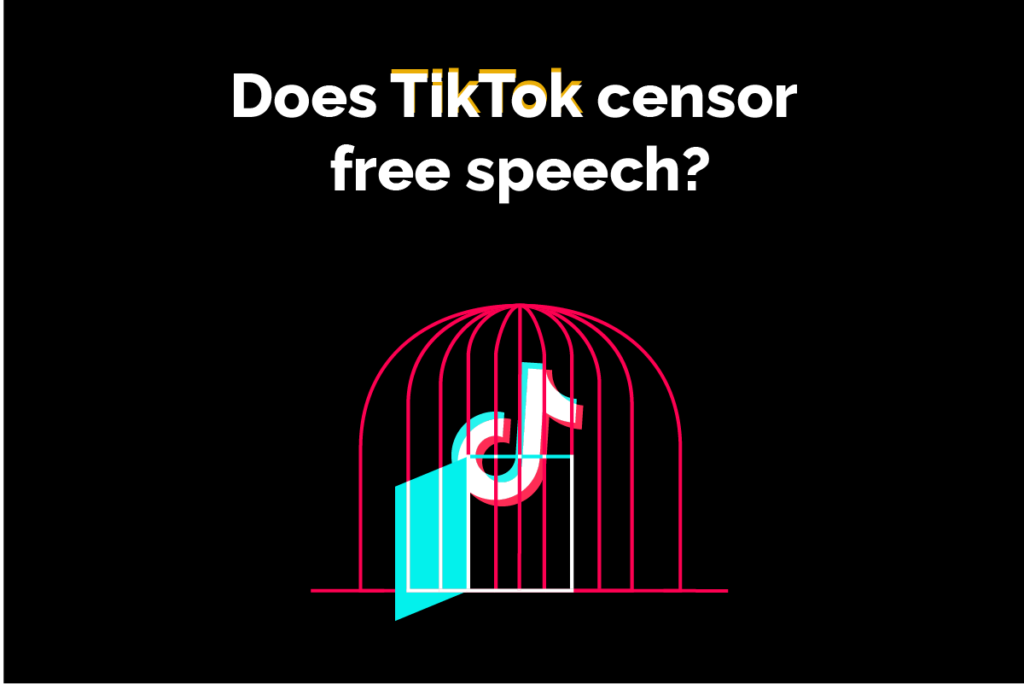 37. In November 2019, TikTok suspended the account of an Afgahn American woman who made a video calling attention to the Chinese concentration camps for Uhgyur Muslims.
17-year-old Feroza Aziz posted a mock make-up tutorial to TikTok criticizing the Chinese government's detention centers in the Xinjiang region, in which holds mostly Uhgyur Muslims. The video quickly accumulated over 1.5 million views, before Aziz's account was suddenly suspended.
As the story caught the media's attention, a TikTok spokeperson backtracked, saying that Aziz's account was not suspended for the video in question, but rather for a previous and "unrelated" violation. They declined to provide any further information, and restored her account. [O]
38. Leaked internal documents from the TikTok moderation team showed that content featuring people deemed poor or unattractive were to be excluded from the "For You" feed.
Training documents for TikTok content moderators were leaked in the spring of 2020, revealing that company policy explicitly asked moderators to keep content featuring ugly or poor people from going viral. They cited that such content might "decrease the short-term new user retention rate." [P]
What makes someone too ugly for TikTok? The documents explictly mentioned the following features: "abnormal" body shape, obesity, chubbiness, beer bellies, underweight, dwarfism, being too tall, unattractive teeth, wrinkles, facial scars, and eye disorders.
And what might make you too poor for TikTok? Here are some of the things that might block your content from going viral: a "shabby" or "dilapidated" shooting environment, rural settings, construction sites, homes with cracks in the walls, homes with old or "disreputable" furniture, or environments that are "less fancy" or show a "slummy character."
39. Other leaked internal documents show TikTok users can be permanently banned for content that "disrupts national unity."
The same spring of 2020 document leak revealed that the following content could result in a permanent ban from TikTok:
Content that "endangers national honor and interests"
Content that "disrupts national unity"
Content that could be described as the "uglification or distortion of local or other countries' history."
Posts about the Tienanmen Square massacre or Tibetan independence were listed as examples of such content. [P]
40. In the first six months of 2020, TikTok reportedly removed 49 million videos for violating community standards.
This figure includes 1300 videos removed for copyright violation. [J]
Governments crack down on TikTok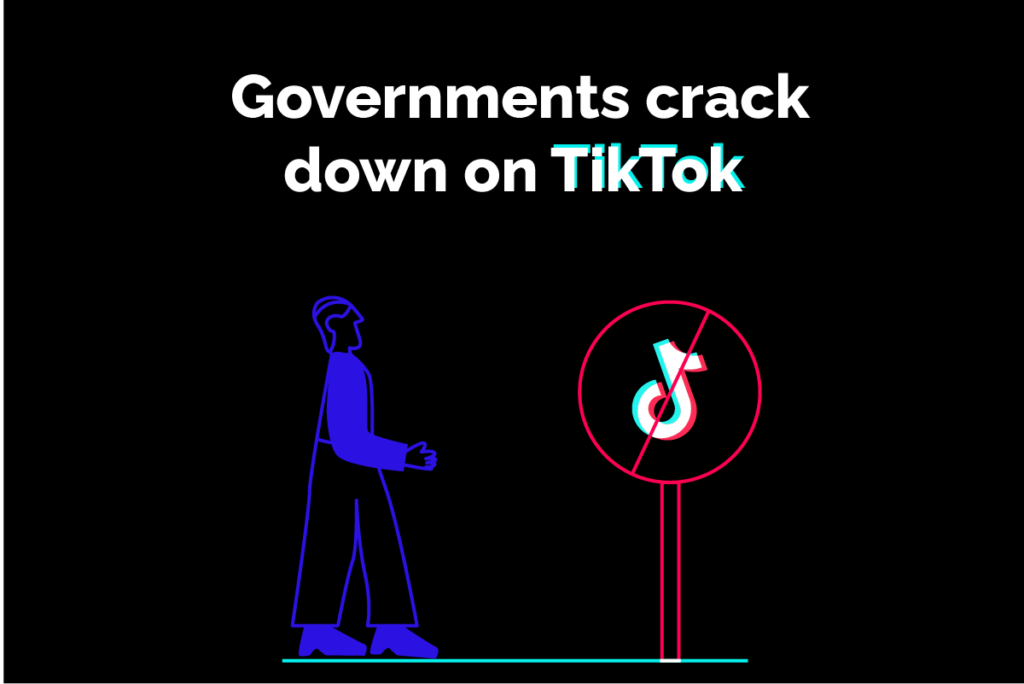 41. On June 29, 2020, the Indian government banned TikTok and 58 other Chinese-developed apps.
In mid June 2020, a decades-long dispute over the border between India and China came to a head. Indian Prime Minister Narendra Modi cited data security issues and his "Make in India" initiative as grounds to remove 59 Chinese apps from the Apple and Google app stores in India. As a result, hundreds of millions of users could no longer access TikTok.
This ban was a huge blow to TikTok, as India was its largest user base. [Q]
42. In early August 2020, U.S. President Donald Trump issued executive orders effectively banning Chinese apps TikTok and WeChat.
The executive orders issued by Trump gave 45 days notice before all U.S. transactions with the Chinese companies ByteDance and Tenecent would be prohibited. These bans will effectively remove TikTok and WeChat from the Google and Apple app stores unless an American company takes over their U.S. operations. [R]
The Trump administration cited national security concerns as the reason for the executive orders.
43. 51% of Gen Z and Millennials who use TikTok are upset about the ban.
A survey of over 10,000 TikTok users aged 16 to 35 showed that just over half of them were upset about upcoming ban. 21% said they supported the ban, and another 28% said they didn't care either way. [Z]
44. Republicans aged 16 to 35 are 20% more likely to support the TikTok ban than Democrats.
TikTok's connections to the Chinese government was more troubling to young Republican users than to young Democrat users. [Z]
Does TikTok have competitors?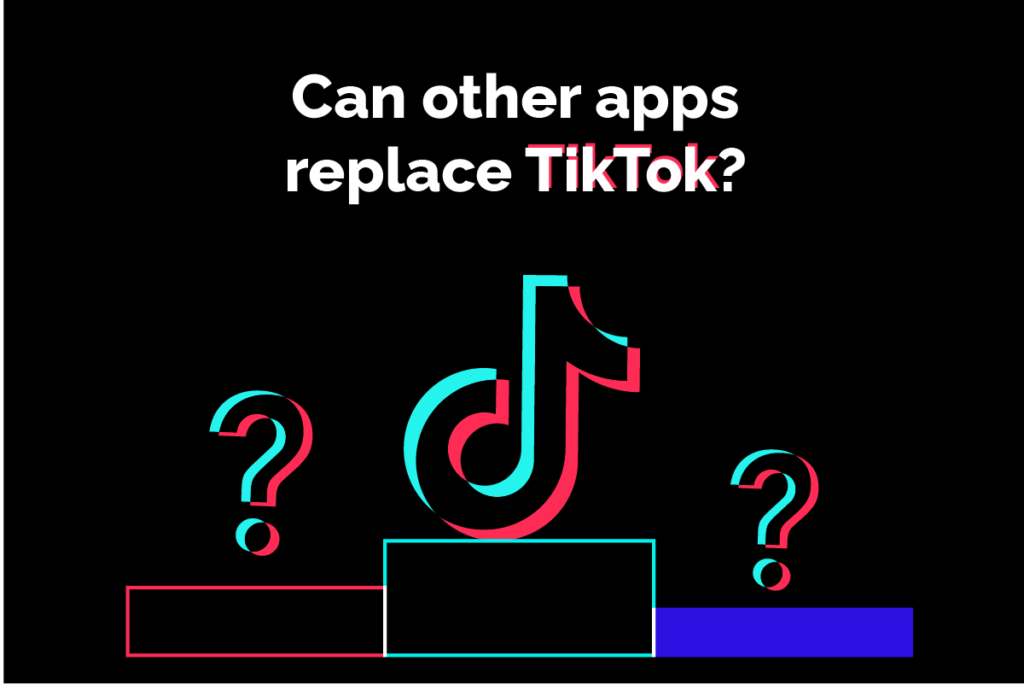 45. Following India's TikTok ban in late June 2020, a number of competitors have been vying to replace it.
The top 3 TikTok challengers in India, Roposo, Zili, and Dubsmash, together saw a 155% increase in first time downloads in the three weeks following the ban. Together, these downloads account for 13% of TikTok's prior share in the country. [S]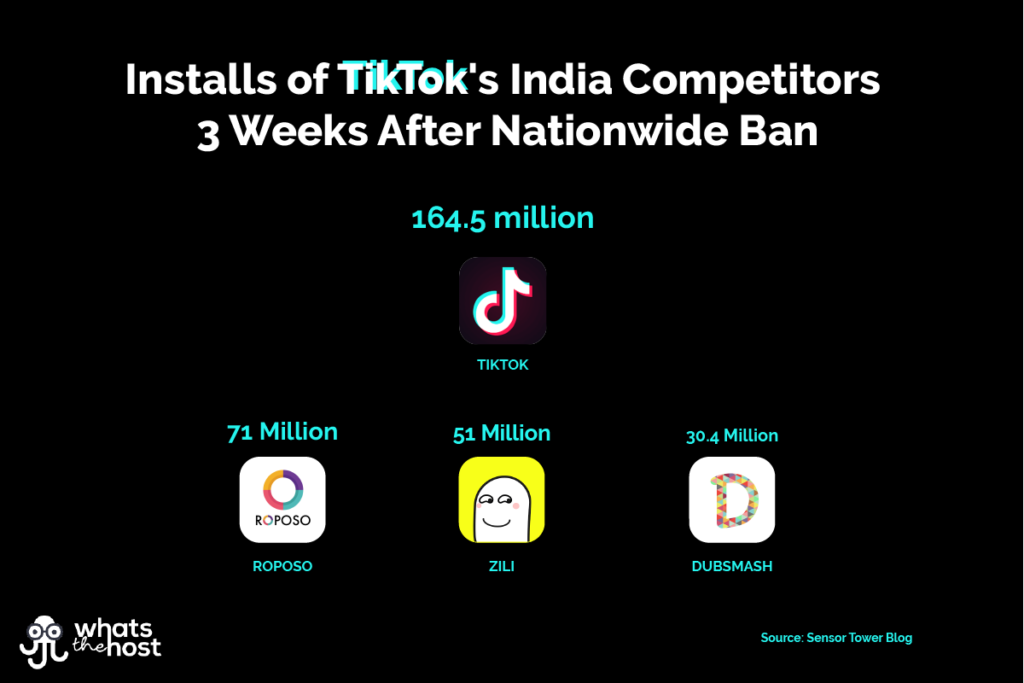 Where TikTok's India competitors are at 3-weeks post-ban:
Roposo – 71 million all time installs
Zili – 51 million all time installs
Dubsmash – 30.4 million all time installs
TikTok's former all time installs in India – 164.5 million
46. As US government officials began to discuss the possibility of banning TikTok, competitor apps saw a 361% increase in US downloads.
Talks of the government ban began during the week of July 27, 2020. TikTok's four biggest U.S. challengers saw 1.5 million downloads during this week, up from a collective 316,00 U.S. installs the week before. These apps are Triller, Zynn, Dubsmash, and Byte. [T]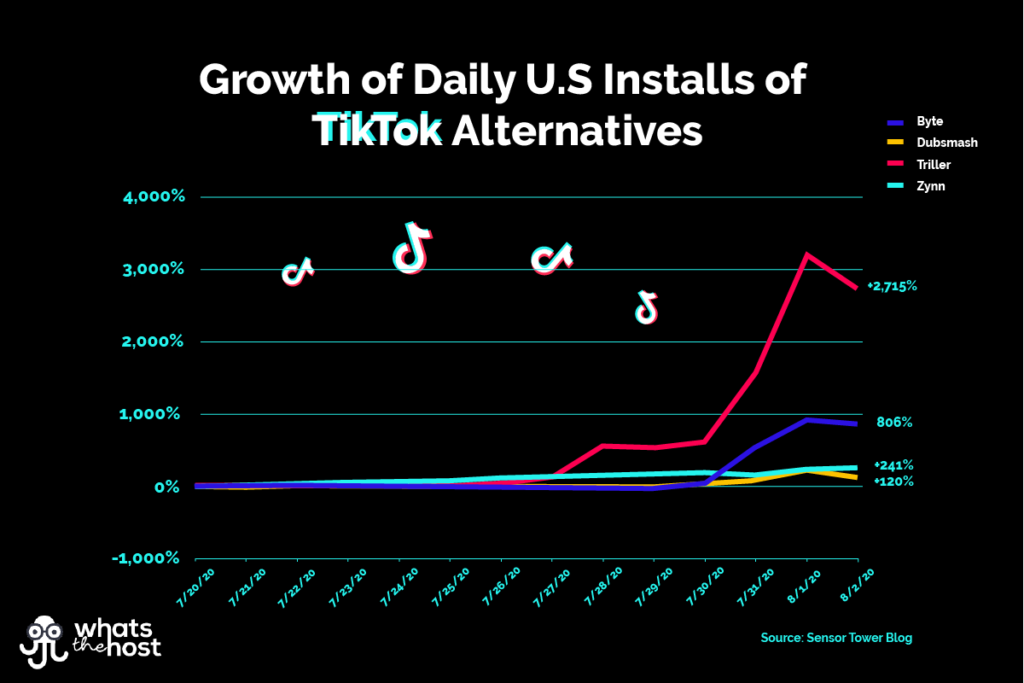 47. 88% of US TikTok users still vastly prefer it to competitors.
While alternative apps may be on the upswing, they have a steep uphill battle in winning over TikTok users. [Z]
48. 55% of TikTok users aged 16-35 say they will switch to either Byte or Triller following the TikTok ban.
TikTok users may still prefer TikTok, but in its absence, the majority plan to migrate elsewhere. [Z]
49. Instagram Reels may be best positioned to overtake TikTok alternatives worldwide.
Because Instagram already has a gigantic user base, its newly debuted Reels feature may be the answer to those looking for a TikTok replacement following the bans.
Reels has now debuted in about 50 countries worldwide, and has lead to an uptick in key performance indicators. Here are some of the promising results that Reels is delivering for Instagram: [AA]
4.34% increase in monthly new downloads in Brazil, vs. the 1% increase they typically see
11.4% increase in monthly new downloads in India
3.5% more time spent in app in India
50. Over 50% of Instagram's 1 billion monthly active users visit the Explore page of the app, where Instagram Reels are now featured.
Instagram's debut of Reels is essentially the same tactic they used when they introduced Stories to compete with Snapchat: they integrate the central feature of another app into their own. The tactic has worked before, and could work again. Especially because so many Instagram users will organically encounter Reels content without needing to download another app.
Sources
[A] Sardana, Soloni (2020, May 20). "ByteDance, the Chinese company behind TikTok, is now reportedly worth over $100 billion." Business Insider India. https://www.businessinsider.in/stock-market/news/bytedance-the-chinese-company-behind-tiktok-is-now-reportedly-worth-over-100-billion/articleshow/75850118.cms
[B] Statista (2020, July 16). https://www.statista.com/statistics/272014/global-social-networks-ranked-by-number-of-users/
[C] Chapple, Craig (2020, April 29) "TikTok Crosses 2 Billion Downloads After Best Quarter for Any App Ever." Sensor Tower Blog. https://sensortower.com/blog/tiktok-downloads-2-billion
[D] Sehl, Katie. "Everything Brands Need to Know about TikTok in 2020." Hootsuite. https://blog.hootsuite.com/what-is-tiktok/
[E] Wikipedia (2020, August 15). "List of most-followed TikTok accounts." https://en.wikipedia.org/wiki/List_of_most-followed_TikTok_accounts
[F] Trackalytics (2020, Aug. 19). https://www.trackalytics.com/the-most-followed-instagram-profiles
[G] Wang, Wu, and Zhu (2020, July 29). "Exclusive: ByteDance investors value TikTok at $50 billion in takeover bid." Reuters. https://www.reuters.com/article/us-bytedance-tiktok-exclusive/exclusive-bytedance-investors-value-tiktok-at-50-billion-in-takeover-bid-sources-idUSKCN24U1M9
[H] Roumeliotis, Yang, Wang, and Alper. (2019, Nov. 1). "Exclusive: U.S. opens national security investigation into TikTok." Reuters. https://www.reuters.com/article/us-tiktok-cfius-exclusive/exclusive-u-s-opens-national-security-investigation-into-tiktok-sources-idUSKBN1XB4IL
[I] Marketing Charts (2019, May 6). "TikTok: How Fast is it Growing in the US, and Who is Using it?" https://www.marketingcharts.com/digital/social-media-108342.
[J] Tech Junkie Social (2020, July 10). "How Does Tik Tok Use Music Legally?" https://social.techjunkie.com/how-does-tik-tok-use-music-legally/
[K] Holmes, Charles (2020, April 2). "Before Drake Released 'Toosie Slide,' He Turned to a Few Dancers for Help." Rolling Stone. https://www.rollingstone.com/music/music-features/drake-making-of-toosie-slide-977600/
[L] Wille, Matthew (2020, July 1). "Redditor who reverse-engineered the TikTok app claims it's a huge data collection scheme." The Input. https://www.inputmag.com/tech/redditor-reverse-engineers-tiktok-app-claims-massive-data-collection-scheme
[M] Kopfstein, Janus (2017, May 10). "Your Keystrokes Can Reveal Who You Are – And How You Feel." Vocativ. https://www.vocativ.com/428550/keystrokes-reveal-identity-machine-learning-data/index.html.
[N] Sonnemaker, Tyler (2020, Aug. 11). "TikTok reportedly violated Google's data collection policies by tracking the individual identifiers of Android users' smartphones." Business Insider. https://www.businessinsider.com/tiktok-collected-user-data-in-violation-of-google-policies-report-2020-8
[O] Westcott and Liao (2019, Nov. 28). "A TikTok beauty video with a hidden anti-China message has gone viral." CNN Business. https://edition.cnn.com/2019/11/27/tech/tiktok-xinjiang-eyelash-curling-scli-intl-hnk/index.html
[P] Biddle, Ribeiro, and Dias (2020, March 6). "Invisible Censorship: TikTok Told Moderators to Suppress Posts by 'Ugly' People and the Poor to Attract New Users." The Intercept. https://theintercept.com/2020/03/16/tiktok-app-moderators-users-discrimination/
[Q] Chan, Stephanie (2020, July 23). "Installs of India's Top TikTok Alternatives Grew 155% Following its Ban There." Sensor Tower Blog . https://sensortower.com/blog/tiktok-alternatives-growth-india
[R] Singh, Maanvi (2020, Aug. 7). "Trump bans US transactions with Chinese-owned TikTok and WeChat." The Guardian. https://www.theguardian.com/technology/2020/aug/06/us-senate-tiktok-ban
[S] Chan, Stephanie (2020, July 23). "Installs of India's Top TikTok Alternatives Grew 155% Following its Ban There." Sensor Tower Blog . https://sensortower.com/blog/tiktok-alternatives-growth-india
[T] Chan, Stephanie (2020, Aug. 6). "U.S. TikTok Alternatives Grow 361% as Government Ban Looms." Sensor Tower Blog. https://sensortower.com/blog/tiktok-alternatives-growth-us
[U] Influencer Marketing Hub (2020, July 29). "TikTok Money Calculator [Influencer Engagement & Earnings Estimator]." https://influencermarketinghub.com/tiktok-money-calculator/
[V] Chen, Qian (2018, Sep 18). "The biggest trend in Chienese social media is dying, and another has already taken its place." CNBC.https://www.cnbc.com/2018/09/19/short-video-apps-like-douyin-tiktok-are-dominating-chinese-screens.html
[W] Broadband Search (2020). "Average Time Spent Daily on Social Media (Latest 2020 Data)." https://www.broadbandsearch.net/blog/average-daily-time-on-social-media
[X] Flynn, Kerry (2019). "Pitch Deck: TikTok says its 27m users open the app 8 times a day in the US." Digiday.https://digiday.com/marketing/pitch-deck-how-tiktok-is-courting-u-s-ad-agencies/
[Y] Paul, Kari (2020, Aug. 6). "'I don't care': young TikTokers unfazed by US furor over data collection." The Guardian.https://www.theguardian.com/technology/2020/aug/05/tiktok-gen-z-millennials-data-privacy-trump-china
[Z] Cohen, Jason (2020, Aug. 14). "TikTok Ban: 83 Percent of Users Don't Care About the App's Connection to Chinese Government." PC Mag. https://uk.pcmag.com/why-axis/128189/tiktok-ban-83-percent-of-users-dont-care-about-the-apps-connection-to-chinese-government.
[AA] Influencer Marketing Hub (2020, Aug. 24). "15 Instagram Reels Statistics That Will Blow Your Mind." https://influencermarketinghub.com/instagram-reels-stats/
Last Updated on July 8, 2022 by Joe