Two grizzled veterans in the hosting world: DreamHost and HostGator. DreamHost remains independent and offers great value for a fair price. HostGator has free migrations and more support hours, also with very cheap pricing. Overall, it's going to be close – let's compare.
PRICING  |  VALUE |  SUPPORT  |  UPTIME  |  SPEED  |  FEATURES  |  CONCLUSION  
DreamHost is another one of those large, cheap shared hosting companies that's just been around forever. Founded in 1996, they have some satisfied customers going 20+ years strong. If you're looking for cheap mass-market hosting, DreamHost is one of the best.
VS
With over 1 million websites hosted, HostGator is a behemoth. HostGator is a great starter host for those looking for cheap hosting with some lots of advanced features.
Pricing
Score: 4.5
DreamHost used to be more expensive than other shared hosts, but now they're right up there with the cheapest. With a yearly shared hosting plan you can get in the door at just $2.59 a month. If you don't want the commitment you can go monthly at just $4.95/mo. The best part? DreamHost doesn't jack up the price on you after the initial period – they're cheap and fair all around.

| | Shared | DreamPress | VPS Business |
| --- | --- | --- | --- |
| Yearly Price | $2.59/mo | $16.95/mo | $27.50/mo |
| Monthly Price | $4.95/mo | $19.95/mo | $30.00/mo |
| Best For | Beginners | Intermediate WordPress Sites | Growing Small Businesses |
Score: 4.5
HostGator has a large selection of plans, everything from bargain bin shared hosting up to high-priced VPS hosting. HostGator is very aggressive on their pricing, giving out huge discounts as they look to gain market share. Their ambition is your benefit:
| | Shared | WordPress | VPS |
| --- | --- | --- | --- |
| Sale Price | $2.75/mo | $5.95/mo | $29.95/mo |
| Normal Price | $10.95/mo | $14.95/mo | $89.95/mo |
| Best For | Beginners | WordPress sites | Growth sites |
Value
Score: 4.5
When it comes to value, DreamHost is one of the best. Low pricing combined with helpful features and a super-generous 97-day money-back guarantee is a win for small businesses.
Plus, they offer unlimited bandwidth, free domain names, free SSL certificates, and compensate you for dips in uptime. They truly provide one of the greatest service level agreements available.
Compared to Bluehost and HostGator, DreamHost comes out strong. The only host with a better value proposition may be SiteGround.
Score: 4.5
HostGator offers amazing value for it's pricing. Truthfully it's not as strong as SiteGround, which is the overall favorite, but HostGator will get you in the door very affordably.
It has a very strong value overall because for what you're paying, you're getting a ton of features such as free migrations, unmetered bandwidth, and 24/7/365 support.
Where we don't see strong value is where they charge for extras that others include for free, such as backups – which are critical to your site's health. They also want to charge extra for even better uptime, which in our opinion should be a baseline feature included in all plans, no matter how cheap.
Customer Support
Score: 3.5
One area DreamHost just isn't perfect in is customer support. Support is provided via email and live chat, or you can request a callback. Hmm, kind of a head-scratcher. They don't have the 24/7/365 support that most hosting companies have.
In addition, even while on the site as a prospective customer you're told to come back during business hours. The reality is that hosting support is a 24/7 job – and DreamHost isn't up to snuff.

Score: 3
HostGator checks all the boxes on the surface with their support: 24/7 and 365 days a year. By chat and by phone. But customers tell a different story.
There are lots of complaints about slow responses, incompetent staff, and overall sub-par support. There are plenty of people that have no complaints, so we recommend you test out their support before buying.
Hosting Uptime
Score: 4.0
Reports across the web show DreamHost uptime fairly strong at 99.99% to 100%.
The best part? Their 100% uptime guarantee. If for any reason your website is down, they will credit your account with one day of free hosting for every hour that it's down.
The good thing is that their uptime in the past year has been about 99.98% on average – so don't expect a need to cash in that credit.
Score: 4.5
With over 99.5% uptime, depending on the source, there's not much to complain about with HostGator.
In addition, HostGator offers on free month of hosting if they fall below the 99.9% guarantee.
We've docked them half a point because there have been some occassional complaints from users, and we also prefer to see 99.99% uptime for best-in-class providers.
Speed
Score: 4.0
DreamHost has great reports on speed and is solidly in the top 25% of hosts as far as load time. They don't focus on it as a main feature, but you're not seeing many complaints from customers.
On their DreamPress plan they've optimized their databases just for WordPress, as well as implemented Memcache. So they have speed in mind for sure. Be sure to chat with their support if it's a huge concern for you.
Score: 3.0 
Shared hosting usually has problems with speed issues, purely based on the lower cost of the hosting. HostGator is firmly middle of the pack when it comes to speed. When you search Twitter, you don't see as many complaints as other shared hosts like Bluehost, which is a good anecdotal sign.
If you're looking for a faster HostGator product, check out HostGator Cloud hosting. If you want even faster shared hosting that won't break the bank, however, we highly recommend either A2 Hosting or SiteGround. You'll be much happier with those.
Features
Score: 4.0
Pound-for-pound, DreamHost offers some the of best features of any cheap hosting company. Their cheapest shared plan includes a free domain, unlimited bandwidth, WordPress pre-installed, and a free SSL certificate. Their DreamPress WordPress hosting is a strong value-proposition for fully-featured WordPress hosting that can compete on some level with WP Engine and Kinsta.
You don't get free migrations, and you're missing out on 24/7 phone support that other hosts offer, so we have to dock them a point. Overall – great host, great features.
Score: 4.0
HostGator is often compared to Bluehost for it's pricing and features, and overall HostGator does take the win here.
Between the two companies, HostGator was built for more pro users. And when comparing HostGator to any other shared hosting company, you have to keep that in mind.
We like the fact that migrations are included, they have one-click installs, are on cPanel, and offer a 99.9% uptime guarantee. We still like other hosts like SiteGround better for features overall, but HostGator has what you need to get started.
Conclusion
Final Decision: DreamHost vs Hostgator
Two hosts that are so cheap, the only thing cheaper is free hosting.
If we have to make the decision for you, go with DreamHost. They tend to have more fair pricing for the long-term, less customer complaints, and they independently are innovating and releasing new technologies to make their customers' lives easier.
Looking at DreamHost plans, we can see they start the pricing very low, at just $2.59 if you sign up for the year. They also run the gamut in quality and allow you to scale up to VPS hosting.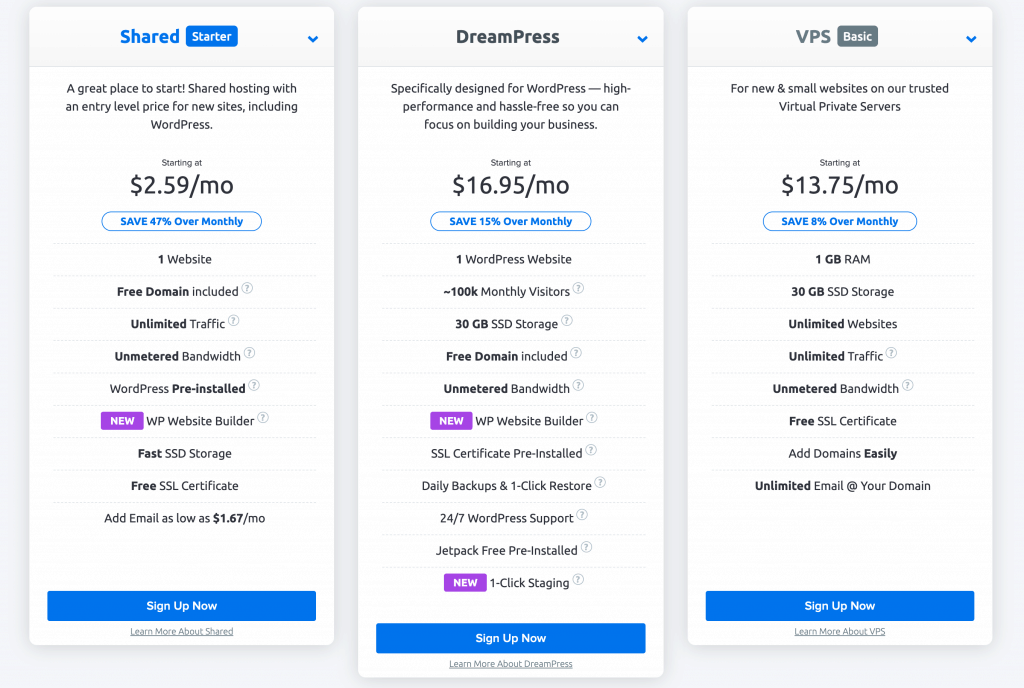 HostGator also has low $2.75 – $2.95/mo pricing (depending on the special). But other than rock-bottom pricing, can't say much else that's great, maybe the free migration that comes with their service.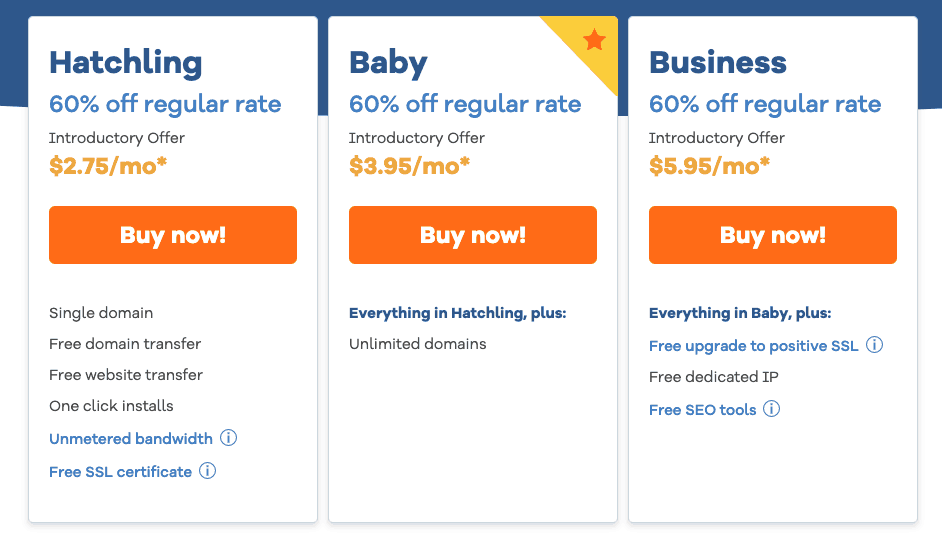 But we have to say, similar to our Bluehost vs HostGator comparison, when comparing mass-market budget hosts vs a budget specialty host like SiteGround, go with SiteGround. You get better value and better customer support, rather than dealing with the globocorp that is EIG.
[related_comparison]
Last Updated on September 28, 2020 by Joe