Running a mastermind group? Offering exclusive done-for-you content to specific membership levels? Upselling to previous buyers? A membership site gives you flexibility and freedom to monetize your audience and build numerous recurring, reliable revenue streams. 
Companies and solo entrepreneurs alike are rapidly turning to membership sites to boost their revenue potential. A membership site will let you leverage your existing and future content assets, increase the perceived value of your offerings, and create a strong sense of community that keeps your audience coming back over and over again. 
At the bare minimum, you'll need a simple plugin or software add-on that lets you create membership accounts, process payments from your members, and share content behind a paywall.  But if you want to truly succeed, you'll require far more robust functionality. The right membership site platform and website builder for you depends on:
Your business model
The type of resources you're selling (e.g. email newsletters, community forums, live online events, etc.)
And your own comfort with the technical aspects of running a membership site
We break down the seven best membership site platforms and website builders below. We also share insider tips to help you navigate the complex options available so you can focus on what you do best — building amazing, inspiring content and engaging your tribe — instead of worrying about the nitty gritty technical details. 
1. Mighty Networks – Best For Community Engagement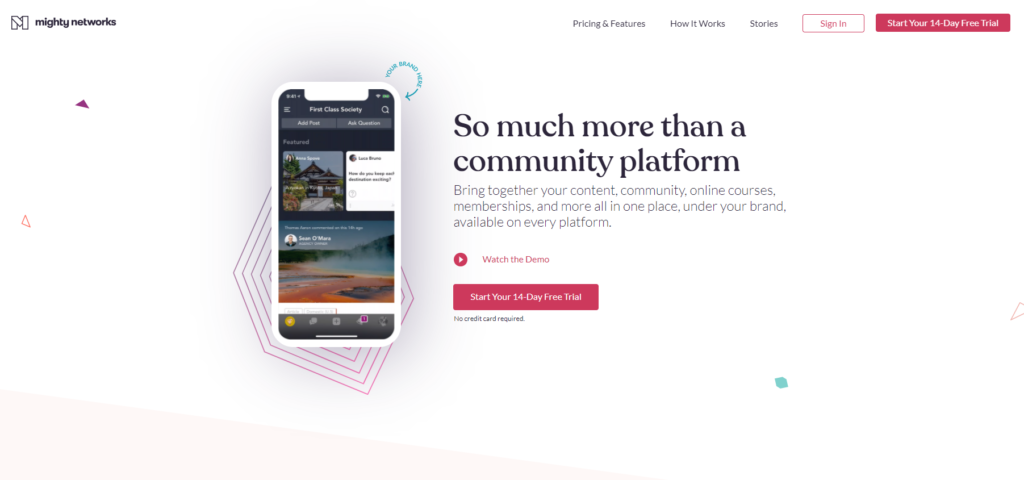 (Free 14-day trial, then starting at $23/month)
If your business model relies heavily on community engagement and cultivating dialogue and interaction among your audience, Mighty Network's focus on community design stands out in the crowd. 
Features like creating online courses, hosting live events (via integrations with Zoom, Facebook live and other platforms) and running an active forum make this platform ideal for life coaches, educators, influencers, and anyone else who wants to build and cultivate a tribe of like-minded people.
Top Features:
Robust community engagement features: You can foster a sense of belonging through numerous interaction tools. For example, there's group messaging, membership directories, community activity leaderboards, polls, "ice breaker" questions and more.
Online courses: Perfect for anyone who offers tutorials or coaching. Sell individual or bundled lessons from multiple instructors with advanced student tools, like locking certain lessons until certain prerequisites have been completed.
Easy, quick integrations and migration: If you've already established your community elsewhere, Might Networks makes migration easy. This includes mass-importing members (it integrates with Zapier, so you aren't locked into a custom API) and migrating your Facebook and LinkedIn groups.
Pros:
A true hybrid between community groups, membership sites and paid courses, allowing you to host everything in one place instead of managing numerous platforms.
Unlimited members, admins and moderators, so there's no cap on your growth.
Free iOS and Android apps for your mobile community members.
Customizable member profiles and member directories so your audience can get connected with each other.
A referral program to further monetize your community.
Cons: 
A membership subscription fee that is as high as 5%, on top of your credit card processing fees, can be significant for small businesses.
Facebook pixels, Google Analytics pixels, and all other analytics are only available in the business plan (which is 4X more expensive than the starter plan).
Limited to no technical support unless you upgrade to the priciest plan.
Your courses are always locked into the Mighty Networks platform, which may be too restrictive for educators who like to share content on numerous channels.
2. Kajabi – Best For All-in-One Solution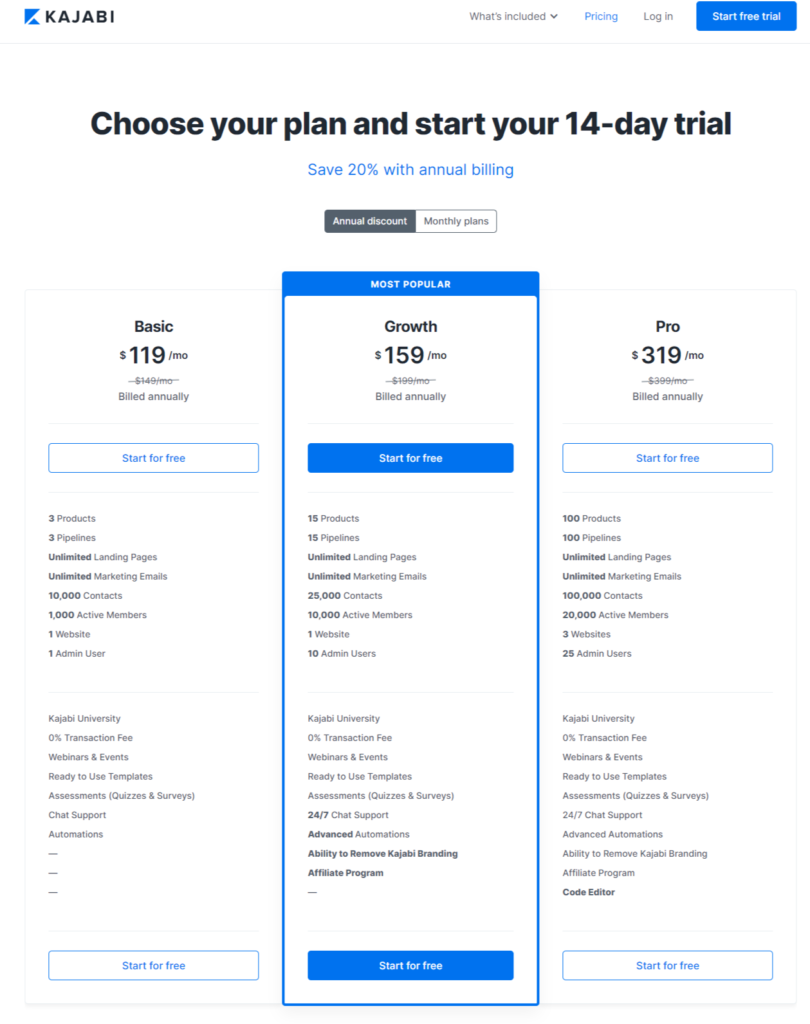 (Free 14-day trial, then starting at $119/month) 
Over the past decade, businesses have sold more than $1.5 billion in membership content on Kajabi, highlighting its focus as a one-stop-shop for any entrepreneur or enterprise that wants to monetize its audience. 
Kajabi specifically markets itself as an alternative to online course delivery platforms like Thinkific and Teachable. If any of those names mean anything to you, you'll likely resonate with Kajabi's offerings.
Top Features:
Full product management: Kajabi can host a range of product types, including digital products (e.g. ebooks, templates, etc.), courses and subscriptions. Advanced features like automated delivery and customizable pricing makes building your store easy.
Website building that's as advanced as you want it to be: A library of ready-to-use themes means you don't need to be a designer to create a slick user interface. More advanced users will appreciate its robust technical features that replace WordPress, Squarespace and similar competitors.
A full hub of business tools: You'll get access to business features many other platforms don't offer, such as email list management, payment processing with third parties, and sales automations. Everything is plug and play, but you can dig deeper if you want. 
Pros:
Provide customizable pricing flexibility for your members, including weekly to annual payment plans, set-up fees and free trials.
Analytics give you deep insights into your membership and business, including churn rates and average revenue per user.
Play with numerous revenue models with Kajabi's ability to set up sales pipelines, deadline triggers and email marketing all in one spot.
Cons:
It's expensive, and easily one of the priciest options on the market. 
Beginner users may find its feature-rich platform overwhelming, and many features may not be applicable to those who are just starting out with building a membership revenue stream.
Membership and marketing emails are sent through the Kajabi servers, which may impact deliverability negatively.
Limited payment integration options beyond the big names (e.g. PayPal, Stripe, etc.), and almost no options for local currencies.
Its course-building tools are limited and missing features that some educators may require (e.g. there's no way to generate graduation certificates).
3. Thinkific – Best For Selling Courses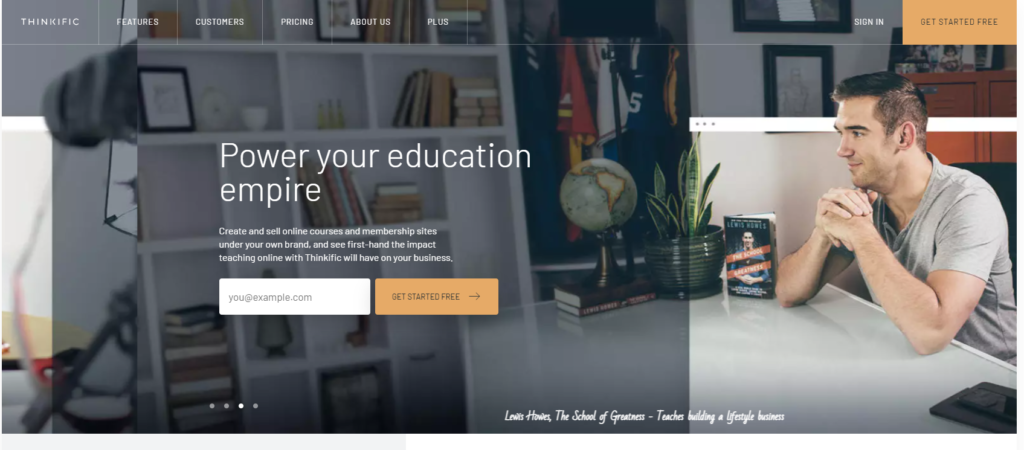 (Free trial, then starting at $39/month)
If you're primarily concerned about selling courses behind a paywall, Thinkific is one of the more popular options. 
What you'll miss in terms of robust sales page creation or marketing funnels is made up for in terms of advanced lesson planning and education delivery. 
For example, you can deliver your education through numerous media formats, and even send graduation certificates that are watermarked and dated to meet the needs of third-party credentialing organizations (e.g. someone selling fitness courses who need to provide personal trainers with a certificate that's accepted by their accrediting body).
Top Features:
Full curriculum development: Integrate a wide variety of media formats, including PDF downloads, surveys, quizzes, videos and more.
Drag-and-drop lesson creation: Quickly update and rearrange lessons effortlessly without having to start from scratch.
Advanced course options: This includes prerequisite requirements, letting you scale up or down as your membership requires.
Pros:
Heavy focus on education and course creation.
Technical customization as simple or as complicated as you desire. You can use ready-made templates, or put on your web developer hate and use custom HTML and CSS coding.
Integrations with thousands of third-party providers, which helps compensate for some of the limited features in Thinkific.
One of the few platforms that don't take a percentage of the membership revenue you generate.
Cons:
No built-in marketing or sales funnel tools, though third-party plug-ins offer some workarounds.
Some users find the back-end interface clunky and unwieldy.
Very limited technical support can leave less tech-savvy users hanging.
4. Podia – Best For Basic Users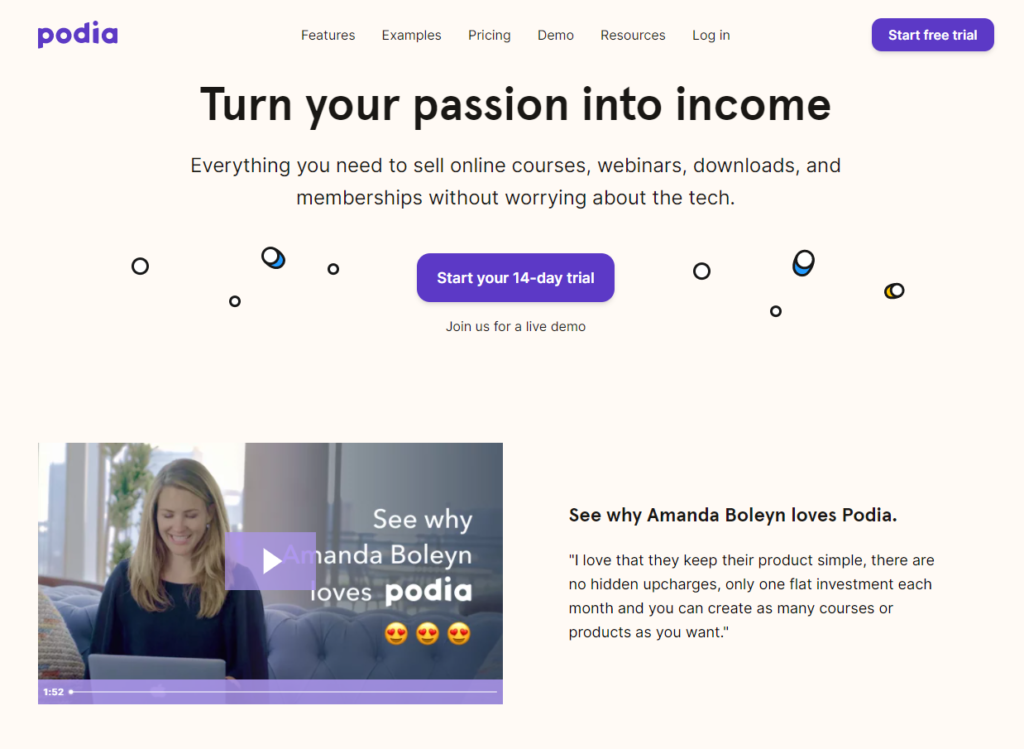 (Free 14-day trial, then starting at $39/month)
Think of Podia as a more robust alternative to Patreon and similar third party-hosted providers. 
Its features and price points are aimed squarely at creators who want a basic website and landing page with paywall-guarded downloads, courses and membership. 
While many creators are drawn to Podia's easy out-of-the-box implementation (they promise you can get started in just five steps), its simplicity means more advanced users will miss features. For example, missing is the ability to build a full website, or even accept Paypal for your membership payment plans.
Key Features:
One of the simpler membership site platforms if you want to quickly go from brainstorming to launching.
While basic, its membership features touch on all the foundational aspects you need, including multiple membership levels and bundling products with your memberships.
Unlimited everything, including unlimited products, unlimited membership, and even unlimited transactions without being charged a transaction fee.
Pros:
All the basics are covered, including basic messaging and basic email automations.
Even the basic plan includes features that are typically reserved for more expensive plans, such as basic course creation.
Free migration helps you move to Podia even if you've already established a community elsewhere.
Cons:
Many creators will need far more advanced features as their membership site grows.
While fees are low, some options are surprisingly expensive (e.g. it offers unlimited members, but you have to pay an extra $20 for a new team member).
Podia doesn't allow a lot of custom coding.
5. Teachable – Best For Course Creators on a Budget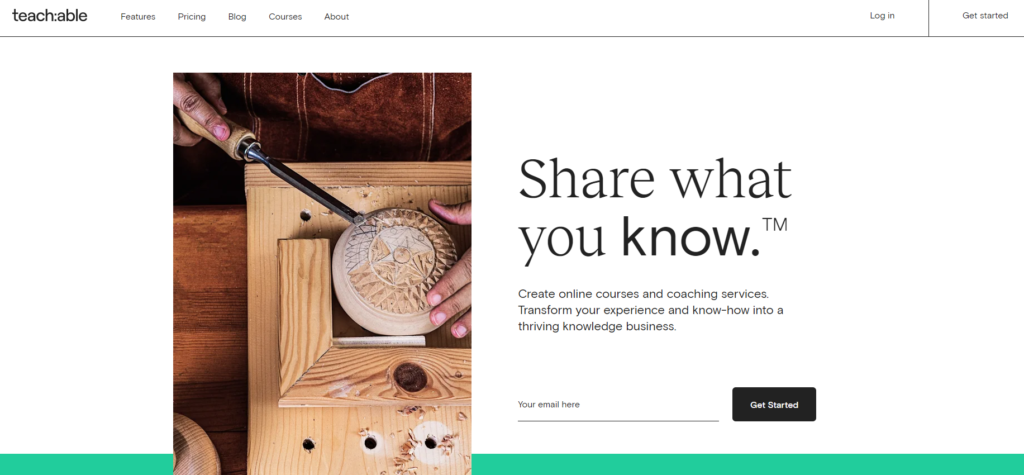 (Starting at $29/month)
Teachable is best compared to Thinkific in that its sole focus is on online course creation. And unlike Thinkific and more robust all-in-one business tools like Kajabi, Teachable can be significantly cheaper in the long run.
The trade-off is anything beyond strict course creation. For example, while it offers all the core educational components you may require (e.g. content dripping, course compliance, generating completion certificates, etc.), you'll miss out on customizable membership tiers, community engagement tools, etc.
Thus, Thinkific is ideal if you're just getting started and your business is primarily around education delivery.
Top Features:
Fully customizable online school experience: Its curriculum editor lets you use numerous media formats, including videos, lectures and even coaching sessions.
Robust feedback and tutorial support: If your online classroom experience requires one-on-one student coaching or similar engagement, Teachable lets you integrate calendars, appointments and more.
Unusually specific options for niche users: Navigating the European Union's complex tax laws? Teachable is one of the few platforms that handles the VAT process. Worried about security? Teachable has very tight security protocols. While not for everyone, such features may be appealing to you.
Pros:
One of the more budget-conscious, beginner-friendly options for in-depth course creation.
Basic marketing tools, such as 1-click upsells, help you generate more revenue.
Integrations with many third-party vendors lets you connect to other platforms.
Cons:
Transaction fees can quickly add up. For instance, a basic plan takes 5% of what you sell, on top of processing fees for U.S. and international sales.
Very limited membership options for your community.
A limited number of admin-level users, and a surprising absence of some student management features (e.g. on most plans, there are no custom roles, nor bulk importing of students)
6. AccessAlly – Best For Advanced Developers and Users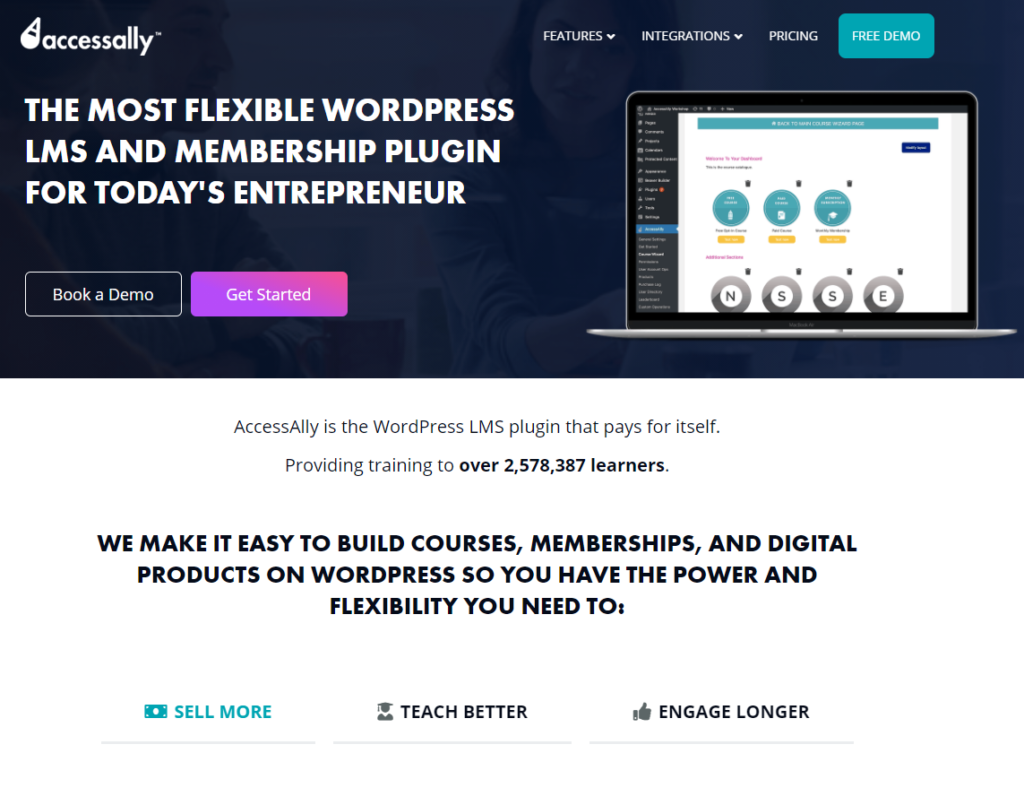 (Starting at $82/month)
Most of the membership site platforms and website builders we've discussed so far run on a third-party server. If you want something that is fully self-hosted and lives on your own server, thus giving you full control over the development and experience of your membership site, AccessAlly is your best bet.
Using a custom learning management system (LMS) plugin that's compatible with WordPress, advanced users can build a membership portal and sell both courses and digital products on their own WordPress-run website. 
This means you have access to features that are as complicated as you want to make them. Take membership management as an example. With this custom LMS, AccessAlly lets you do things like pausing a membership payment plan, manually skipping a payment, or upgrading and downgrading a plan with the click of a button.
All of this comes at a price, of course. The most expensive plan rings in at an eye-watering $2,500 a year.
Top Features:
Customizable self-hosted LMS: One of your only options if you want to fully develop, and run, your membership site in-house and not rely on a third party server.
Very advanced features: Take full control of every aspect of your membership site, which can help you to offer a more unique membership experience to your community.
Feature-rich tools that go above and beyond: AccessAlly offers tools that most other membership site platforms don't offer, such as video engagement tracking, gamification of your content, and even secure file hosting.
Pros:
With a feature-rich library of tools, plus unlimited custom coding, you can do almost anything you could dream of.
Customizable reporting dashboards means staying on top of your analytics is simple.
In-depth flexibility is unparalleled.
Cons:
AccessAlly can be very, very expensive and will require additional fees, such as your own hosting costs.
It requires WordPress, which is limiting if you use a different content management system (CMS).
Onboarding yourself or setting up your admin team can be a lot of work.
7. Webflow – Best For Building a General Website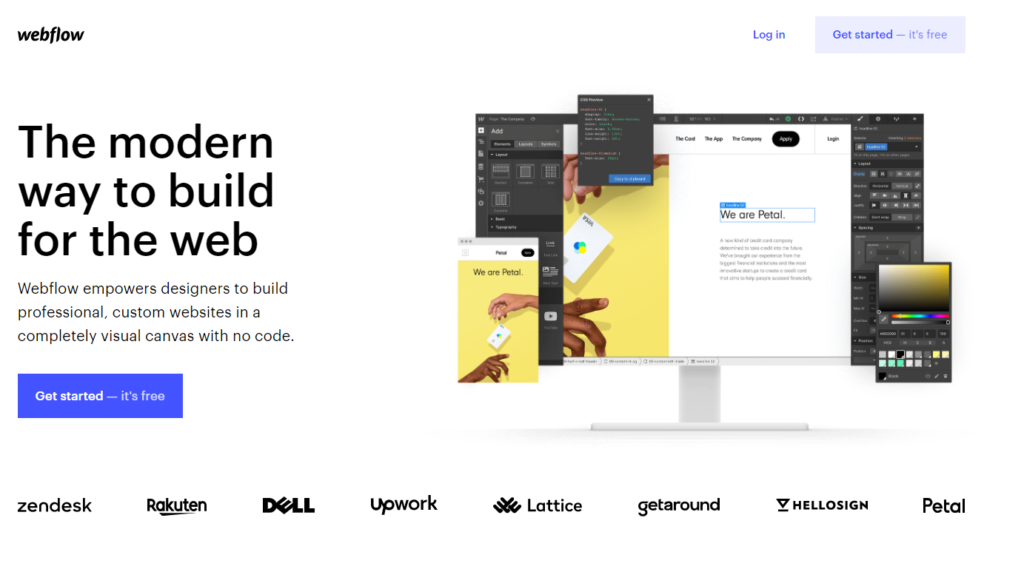 (Starting at $12/month)
If a membership site is just one small aspect of your overarching website-building requirements, Webflow lets you play web designer even if you have zero coding experience.
To give you a better idea of what it does, its main competitors are tools like Squarespace and Wix. You can start from scratch and build your site by dragging and dropping different elements together, or you can skip a few steps and use one of Webflow's slick ready-made themes.
Because its focus is more on website building and less on paywalls and memberships, you'll need to embed a membership for user login tool. Webflow integrates with many no-coding-required membership third parties, including: 
Memberspace 
Memberstack 
Cotter 
Outseta
Top Features:
Full web-design options: Build a features-rich site without needing to know HTML or CSS, then integrate a login gateway to lock your content just for your members.
Robust scalability: The tech team promises a 99.99% uptime, plus fast page loads and automatic backups and versioning.
Design for any brand and any level of experience: Get started with more than a hundred templates (all Webflow sites are responsive), or get complicated with 3D transformations, custom Google Fonts, etc.
Pros:
More than just a membership site platform, but a true website builder.
Simple and easy to get started.
Integrations with thousands of third parties.
Cons:
No built-in membership options, so you'll have to build a membership portal and install a third-party login.
No built-in digital product creation tools, such as course builders.
Monthly visitors, data usage and bandwidth, and the number of active projects are capped depending on your payment plan.
Features to Consider
As you can see, the best membership site platforms and website builders depend on your unique needs. There is a solution for everyone, but it requires knowing what you need in order to build a robust community, keep your audience engaged, and generate consistent, recurring revenue for your business.
1. Custom Coding 
Plug-and-play, drag-and-drop tools are quick and easy. But sometimes you'll need to install custom coding or a third-party plugin. Often, the simpler the membership site platform, the harder it is to do third-party workarounds.
If you or your web development team foresees a need for anything custom in the near or distant future, make sure custom coding is at least an option in the back end.
2. Marketing Tools
Does the platform provide analytics and referral programs? Are you able to add and edit SEO functionality? What type of emails does the system generate? What's the checkout process and upsell capabilities to customers? Growth and product marketers love membership communities for growing loyalty and referral to improve that viral coefficient.
Some businesses may be happy with a simple LMS that locks content behind a paywall because their analytics and email marketing already exist outside of the membership site. 
Other businesses may want an all-in option where drip campaigns and upsells are set up and managed in the membership site itself.
3. Digital Product Creation
What types of exclusive content are you offering to your membership group?
If you're offering numerous types of products, which types require the most customization or involvement during design and production?
Most of the platforms above offer at least a few features for every type of commonly used digital product, but some focus specifically on a specific type of need, such as community engagement or curriculum creation. If you focus on what type of digital product, picking a platform that specializes in that one type of product may save you a lot of time and energy.
4. True Costs
Be cautious of a low start-up fee. Not only will you be paying a monthly or annual fee, but there may be additional fees:
Transaction fees for international payments
Transaction fees for every transaction
Credit card processing fees
Costs for additional customization, such as increased bandwidth or a custom domain
Don't just cost-compare the monthly charge a platform might require. When choosing a provider, brainstorm an example purchase that represents the bulk of the member transactions you plan on doing. Then, tally up the total costs for that example transaction to get a clear picture of what your overall operating costs may be. 
Conclusion: What is the Best Membership Site For You?
Each of the seven membership site platforms and website builders we've outlined has its own unique strengths and weaknesses, and each is best for a specific type of entrepreneur or business.
If you're just starting out, sign up for one of the many free trials to give each platform a spin. Make sure its features meet not only your business' needs but also your own technical expertise and comfort levels. 
Now is the best time to experiment before sinking hundreds, if not thousands, of dollars into a specific solutions provider. 
Last Updated on February 23, 2023 by Joe