ConvertKit and ActiveCampaign are two of the best, most popular software options for small businesses looking to improve their marketing strategy.
Both of these tools make it easy for you to carry out a variety of processes, including building automated email sequences and crafting landing pages. They can help you to improve your marketing funnel, foster stronger connections with your audience, and ultimately boost your profits.
Have you been wondering which software to choose between ConvertKit and ActiveCampaign? If so, this guide is for you.
Below, we discuss various elements of each program, from pricing and value to features and ideal users, to help you decide which one is right for your business.
ConvertKit: The Basics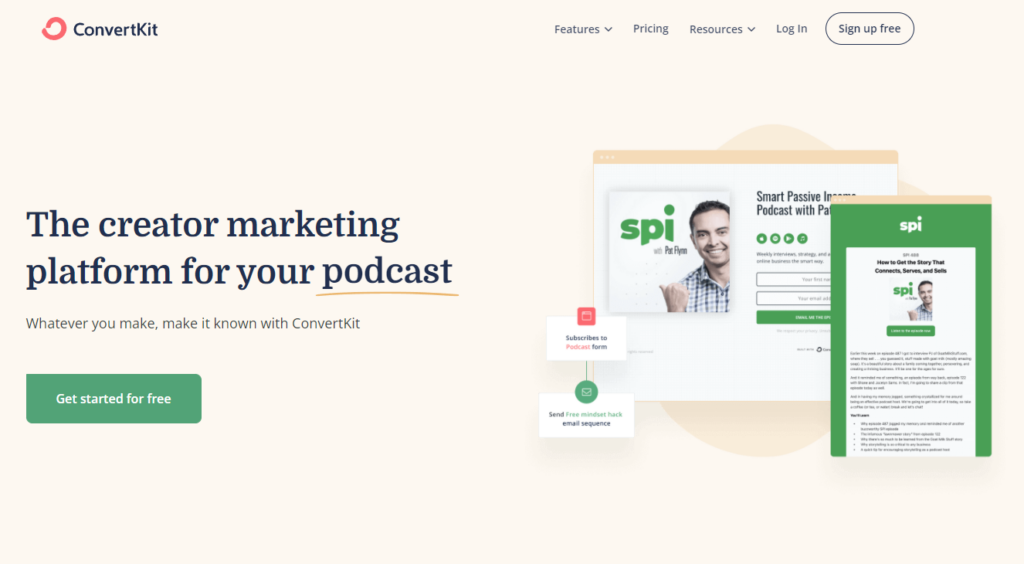 ConvertKit touts itself as the ultimate "creator marketing platform."
From musicians to business coaches, all kinds of creators use this software to grow their audiences, build community, and sell digital products to earn a living online. According to the latest data, over 428,152 creators currently use ConvertKit to reach 253 million fans.
ConvertKit offers 3 pricing tiers. For the two paid tiers, users get 2 months free when they sign up for an annual subscription.
Free
For users with up to 1,000 subscribers, ConvertKit is free. However, features are relatively limited for this option.
Creator
For the second "Creator" tier, pricing starts at $9 per month for up to 300 subscribers.
Creator Pro
For the third "Creator Pro" tier, pricing starts at $29 per month for up to 300 subscribers.
ActiveCampaign: The Basics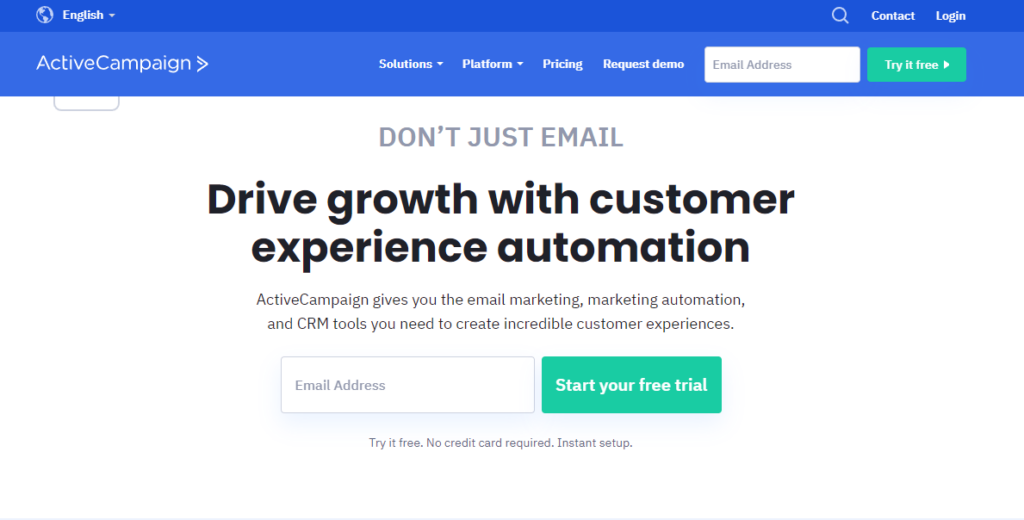 ActiveCampaign is designed to help users drive growth with customer experience automations. It provides a wide range of email marketing, marketing automation, and CRM (Customer Relationship Management) tools to provide unparalleled customer experiences.
B2C (Business to Consumer), B2B (Business to Business), and eCommerce companies alike all use and love ActiveCampaign.
This platform is available at 4 different price points. Discounts are available to those who sign up for annual memberships instead of monthly.
Lite
For users with up to 500 contacts, pricing for the "Lite" tier starts at $9 per month when billed yearly and $15 per month when billed monthly.
Plus
For users with up to 500 contacts, pricing for the "Plus" tier starts at $49 per month when billed yearly and $70 per month when billed monthly.
Professional
For users with up to 500 contacts, pricing for the "Professional" tier starts at $129 per month when billed yearly and $159 per month when billed monthly.
Enterprise
For users with up to 500 contacts, pricing for the "Enterprise" tier starts at $229 per month when billed yearly and $279 per month when billed monthly.
ConvertKit Top Features
ConvertKit offers a wide range of features geared toward professional creators who want to earn a living from their digital content. The following are some of the most noteworthy features ConvertKit users get to access:
Email Automations
Both ConvertKit and ActiveCampaign offer email automation features. However, ConvertKit's email automation flows are generally considered to be easier and more intuitive to understand.
For those who are new to the world of email marketing (as well as those who are working alone, rather than with a marketing team), ConvertKit may be a less intimidating, but still useful, email marketing software.
Actions
ConvertKit allows you to perform a wide range of actions after a specific event occurs. The following are some of the options creators can choose from:
Add to an email sequence
Add tag
Exit this automation
End another automation
Remove tag
Start another automation
Set custom field
Wait
Integrations
ConvertKit integrates with a variety of other marketing tools and platforms (over 90, in fact), including the following:
Shopify
Teachable
Squarespace
JetFormBuilder
Monday.com
Stripe
Zapier
For many, the integration with Zapier is the most noteworthy. Zapier provides ConvertKit users with access to hundreds of other apps, including Facebook, Paypal, and Calendly.
Personalized Emails
Many ConvertKit users enjoy the fact that the emails created using the platform have a highly personalized feel. For creators who are looking to foster deeper connections with their audience members, the ability to create personalized emails that feel like one-to-one messages is a major bonus feature.
WordPress Connections
ConvertKit is also a popular email marketing platform for creators (especially bloggers) because of its connection with WordPress. The WordPress plugin allows users to capture more leads by embedding forms virtually anywhere.
Because WordPress is such a user-friendly site, it's easy for ConvertKit users to take advantage of this connection and see more results (and see them sooner) from their email marketing efforts.
ActiveCampaign Top Features
Like ConvertKit, ActiveCampaign also offers a variety of distinct features that make it a popular choice for marketers dedicated to providing customers with an unparalleled experience. The following are some of the most well-known ActiveCampaign features to consider:
Email Event Triggers
With ConvertKit and ActiveCampaign's email automation features, an email subscriber will trigger a specific event that an ESP (email service provider) can respond to. Compared to ConvertKit, ActiveCampaign offers a more robust list of events that can be triggered by a subscriber, including the following:
Start without a trigger
Submit a form
Subscribe/unsubscribe to a list
Open/read/click a link in an email
Visit webpage
Record an event
Share/forward/reply to an email
Add/remove a tag
Change fields
Enter a pipeline
Change deal stage/status
Actions
Like ConverKit, ActiveCampaign users can also perform a variety of actions after an event occurs. The following are some distinct actions that ActiveCampaign users can take:
Wait
If/else
Split
Go to
Goal
Start/end another automation
Exit automation
Webhook
Perform math
Integrations
ActiveCampaign integrates with more than 3 times as many platforms as ConvertKit (over 870), including a wide range of eCommerce platforms. Some of the most popular apps that ActiveCampaign integrates with include:
Shopify
Salesforce
Jotform
Clickfunnels
WooCommerce
ClickFunnels
Google Analytics
Zapier
Automation Templates
Both ConvertKit and ActiveCampaign provide access to templates that help users to create email automations. However, ActiveCampaign offers a wider range of templates.
ActiveCampaign's email automation templates are better suited to businesses, especially eCommerce businesses, too. For example, ActiveCampaign offers multiple abandoned cart email sequence templates, but ConvertKit does not.
Professional Emails
On a similar note, emails created using ActiveCampaign have a more professional, corporate appearance than those created using ConvertKit. If it's important to you to send out emails that have a less personal, more professional look and feel to them, ActiveCampaign may be the better choice between the two platforms.
Analytics and Reporting
Finally, ActiveCampaign offers more robust analytics and reporting features.
Because ActiveCampaign integrates with a wider range of platforms, there are also more options for sending data regarding email opens, clicks, etc. to third-party services. ConvertKit doesn't allow for these options as readily and ActiveCampaign does.
ConvertKit vs. ActiveCampaign: Features at a Glance
If you're confused about the differences between ConvertKit and ActiveCampaign's features, here's a quick summary:
| | |
| --- | --- |
| ConvertKit Features | Active Campaign Features |
| Easier email automation | More email event triggers |
| Wide range of action options | Wide range of action options |
| 90+ integrations (plus hundreds more through Zapier) | 870+ integrations (including hundreds available through Zapier) |
| Personalized email templates | Wide range of automation templates |
| Easy-to-use WordPress plugin | Professional email templates |
| | More detailed analytics and reporting |
ConvertKit Pros and Cons
Like any email marketing software, ConvertKit comes with a series of pros and cons. Outlined below are some of the most important ones to consider when deciding if this is the right software for your brand:
Pros
Easy to use
Great user experience
Geared to creators and bloggers
Lots of integrations, including WordPress connections
Good for solopreneurs and small teams
Discounts for annual subscribers
Cons
Limited integrations
Limited automation options
Fewer pricing tiers
Difficult to manage multiple clients
ActiveCampaign Pros and Cons
ActiveCampaign also comes with its own unique pros and cons, including the following:
Pros
Affordable pricing with more pricing tiers
Discounts for annual subscribers
Easy to use
Hundreds of integrations
Robust analytics and reporting options
Great for businesses, especially eCommerce businesses
Cons
No free plans
More complex email automation process
Better for more established businesses with dedicated marketing teams
ConvertKit vs ActiveCampaign: Final Thoughts
At the end of the day, both ConvertKit and ActiveCampaign are highly functional tools that streamline the email marketing process and can help you reach more people in one fell swoop.
For creators looking to monetize their work, such as bloggers and musicians, ConvertKit is generally considered to be the more effective option. This is especially true if you're a creator who's running their business alone or doesn't have a large marketing team.
If you're a business owner with the primary goal of increasing conversions and selling more products through your email marketing efforts, ActiveCampaign may produce better results. If you have a larger in-house marketing team to help you manage your campaigns, it is especially useful.
Now that you know more about these two popular email marketing tools, do you have a better idea of which one is right for you? Keep this information in mind so you can make the right decision and take your email marketing efforts to the next level.
Last Updated on November 23, 2021 by Adrian Grant