It's the poor workman who blames their tools. But in real-life, obsolete, and ineffective tools are likely to deliver the lowest quality. This applies to just about every industry, including web design. It's critical you have top-of-the-line web design software tools.
Web designers leverage specialized tools, software, and apps to bring their concepts into fruition. However, with lots of options to choose from, you may not easily know what you need first.
This detailed coverage highlights the crucial web design products for a seamless design process, and what to have in mind when choosing a particular tool.
The Best Web Design Software Resources
Here are the primary tools specific to web design:

This American-based web-building tool offers an online editor platform for designing, building, and launching sites. Additionally, Webflow lets you formulate modern and custom sites via a visual canvas. The platform provides the following four monthly site plans:
Basic – $12
CMS – $16
Business – $36
Enterprise – This plane is quote-based
The key features include the scroll-based animation for adding scroll-based effects like parallax, precise reveal animations, progress bar, and more. Furthermore, multi-step animation lets you create amusing, time-based animation without code. The platform also offers Webflow Editor for updating SEO controls.
Pros
You can grab user attention by linking animation and movement to the cursor position
It allows for collaboration, and multiple editors can jointly work on a particular project
You'll get a more interactive website by using modals, displaying panels and other elements
You can add new features instantly through the 20 prebuilt interactions and animations
Cons
It's relatively harder to use
The plans are expensive
No phone or live chat support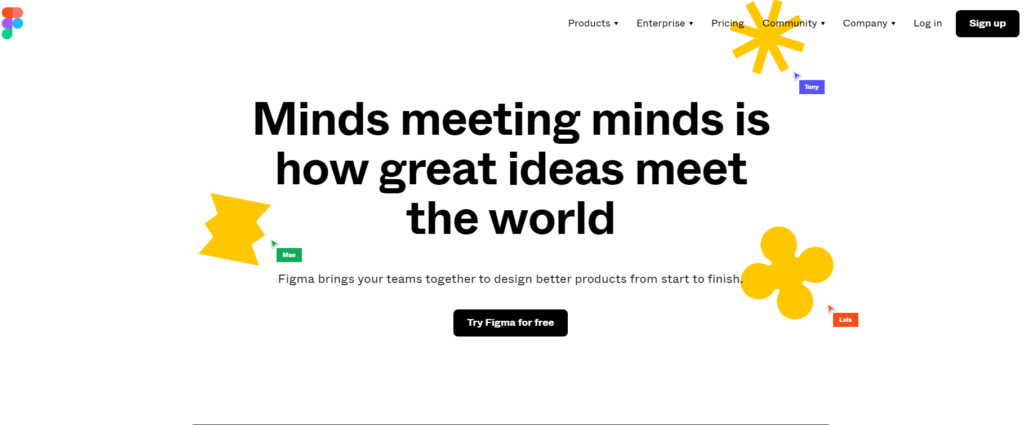 If you want to achieve a professional look for your website, then this vector graphics editor is a must-have. In addition, Sigma offers several excellent UX and UI design features that are essential for professional sites.
The platform offers three monthly plans that are billed annually:
Starter – Free for up to three projects and two editors
Professional – $12 per editor
Organization – $45 per editor
Its animated prototypes have a look and feel of natural elements. Also, the observation mode lets you shadow presenters' moves for efficient tracking of edits and changes. You can also view your design files quickly and tag your team members.
Pros
Vector networks let you draw in any direction without merging or connecting original paths
Advanced font features
Easy to create and distribute plugins
Accessible libraries that allow for dragging and dropping of assets
Cons
It has a learning curve
Similar viewer and editor user experience
Figma's prototype function isn't as streamlined and user-friendly as most alternatives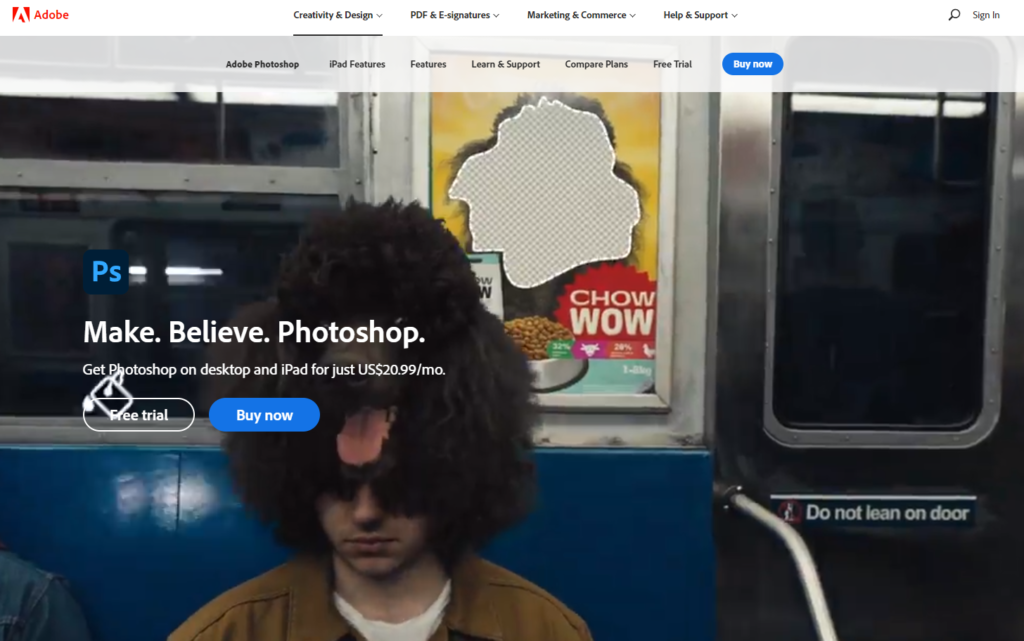 This is the market standard when it comes to retouching, editing, and prepping up attributes and pictures. Additionally, tool's uses in real-life are limitless, and you can harness its unlimited potential to come up with literally unbelievable, brilliant effects.
It offers a free trial, and you can purchase it in two ways:
Single app for individuals – This offers the apps latest version and comprises 100 GB cloud storage, premium fonts, social media tools, and your portfolio website.
Monthly plan – $29.99
Annual plan – $19.99 (paid monthly)
Prepaid Annual plan – $239.88
Single app for teams or business
Annual plan – $29.99 (paid monthly)
Prepaid yearly plan – $359.88 per year
From photo compositing and editing to graphic design, animation, and digital painting – there's no limit to the things you cannot achieve in Photoshop. The program can bring all your ideas to life, whether you are using your smartphone, tablet, or PC. 
Pros
Multitudes of cutting-edge tools at your disposal
Incredibly flexible and intensely practical
It's the industry standard
Robust and reactive
Cons
It's relatively complex
It's integrated with subscription-based software, hence cannot be purchased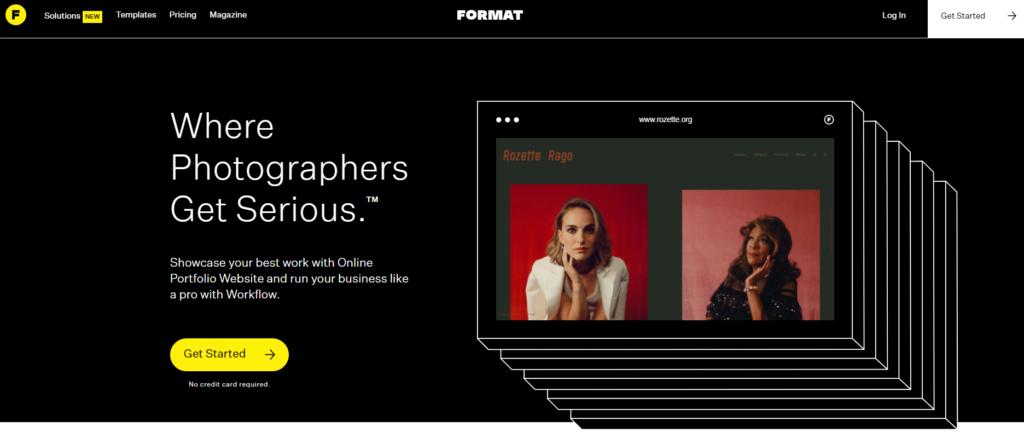 The web design platform is ideal for artists, photographers, models, or designers who create customizable portfolio sites by relying on page layouts, themes, and typography. You'll use this to create and edit your landing pages, and you can easily showcase your work portfolio. Furthermore, the tool has a free trial, and the plans include:
Pro – $12 per month (billed annually)
Pro plus – $18 per month (annually) or $25.99 if paid monthly
Unlimited – $25 per month (annually) or $32.99 if paid monthly
The site offers hands-on assistance to build your website as fast as possible. Additionally, the platforms Pro Course also provides crucial insights and guidelines for attracting high-level.
Pros
It offers a free trial
The SEO is decent
The templates are modern and mobile-friendly
24/7 support
Cons
Confusing user interface
The features are almost entirely portfolio-based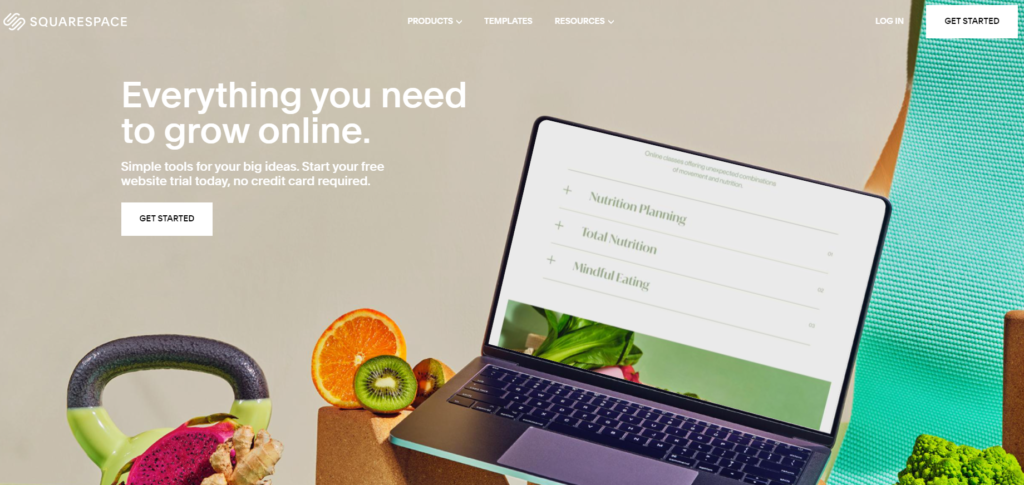 This all-in-one design solution is ideal for young web designers focused on creating professional sites, portfolios, or online stores. Additionally, you'll get best in class templates that are easily customizable to meet your professional and creative needs. And, all these are accessible through the following pricing plans paid annually:
Personal – %12 monthly
Business – $18 monthly
Basic Commerce – $26 monthly
Advanced Commerce – $40 monthly
Squarespace offers several excellent features. You can leverage the chart blocks that use stunning formats to display data through charts and graphs. The platform also provides quality Typekit fonts for free. Furthermore, you can upload your albums and soundtracks to the audio collections.
Pros
You can quickly change the content layouts
Enterprise plans offer prioritized support
It allows you to have unlimited sections on your pages
Enhanced collaboration
Cons
The platform lacks phone support
The pricing is relatively expensive
It doesn't offer advanced marketing tools
It doesn't support third-party plugins, extensions, or apps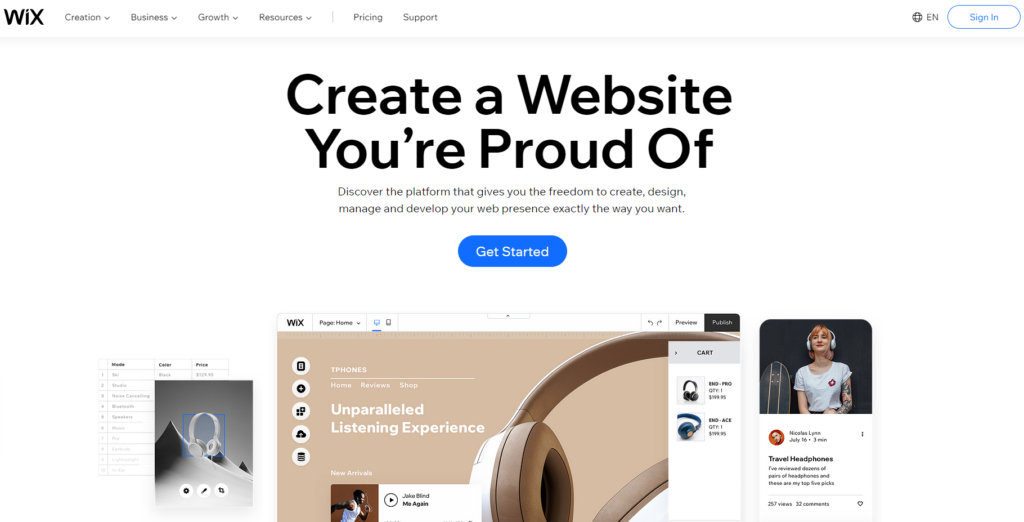 The SaaS site builder offers excellent web design tools and attractive templates to simplify the design process for beginners. In fact, its simple drag and drop editor adds to its efficiency, and you can choose from up to 500 templates.
The tool is available for free, but you'll have to pick one of these monthly plans to access the extra professional features you need:
Combo – $13
Unlimited – $17
Pro – $22
VIP – $39
The Wix ADI (Artificial Design Intelligence) is an excellent feature that helps you create a personalized platform with customized content. You can also add several interesting overlay effects like flares, reflections, and flares through the Wix Photo Studio feature. With Wix Corvid, on the other hand, offers serverless computing for hassle-free coding.
Pros
Excellent site speed
A massive collection of templates
Innate interface with drag and drop feature
Adaptable UI
Beautiful and functional templates
Cons
The rates are relatively higher
The mobile app needs improvement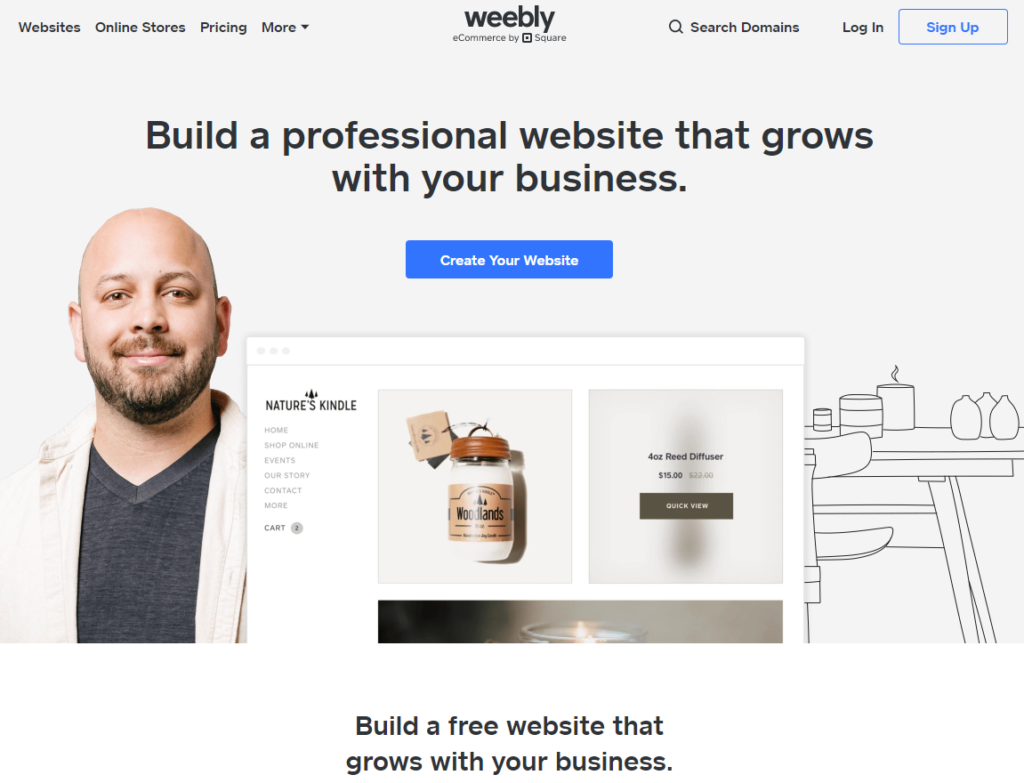 This reliable site builder simplifies the job of creating and designing blogs, sites, or eCommerce platforms. In fact, it offers lots of customizable designs, and you don't have to write a single code. Additionally, the expert starter guides and planning tools minimize the hassle, and the fully customizable themes ensure zero compromises on web design requirements.
The pricing comprises the following monthly plans:
Free – For basic use
Connect – $5
Pro – $12
Business – $25
Weebly allows you to boost your marketing campaigns through clients' action-based emails and beautiful newsletters. Specifically, you also have total control over CSS and HTML, so you can quickly achieve unlimited customization. Furthermore, the tool also allows for design management, and you can save your edits and designs as templates.
Pros
The intuitive mobile app allows for easy tracking of your site performance
It offers web hosting alongside DDoS Mitigation and SSL certificates
24/7 email and chat support
It offers a website search bar
The free plan contains all necessary features
Cons
Limited blogging resources
The Square feature doesn't function everywhere
You'll pay for additional help
Choosing The Right Design Tool
Despite there being a massive collection of excellent web design software tools, the main point here is to have the right resource for the job at hand. For instance, you want an array of web design software tools that offers the best results.
The factors to consider when making your choice include:
Ease of use
Pricing
Features and design
Customer support
Data portability and ownership
Key Takeaway
Working with the best web design software tools gives you an edge in the competitive, tech-heavy market. While you may encounter myriads of design tools at your disposal, you should be aware of the few crucial ones standing out from the crowd. The tools above can be regarded to be the most popular ones among web designers.
Last Updated on June 23, 2021 by Joe