Brand communities rarely get better than Harley Davidson which for decades has enjoyed a fanatical following. However, the modern idea of a brand community is plagued by a lot of misconceptions. For one, such a community does not grow automatically in a "build your brand the community will follow" way. Instead, it must be intentionally engineered and cultivated.
It takes a lot of work to grow a loyal community. You can't rely on third-party social media platforms to do that for you as it takes away a lot of control. Instead, these five apps can help you grow and manage your brand community successfully.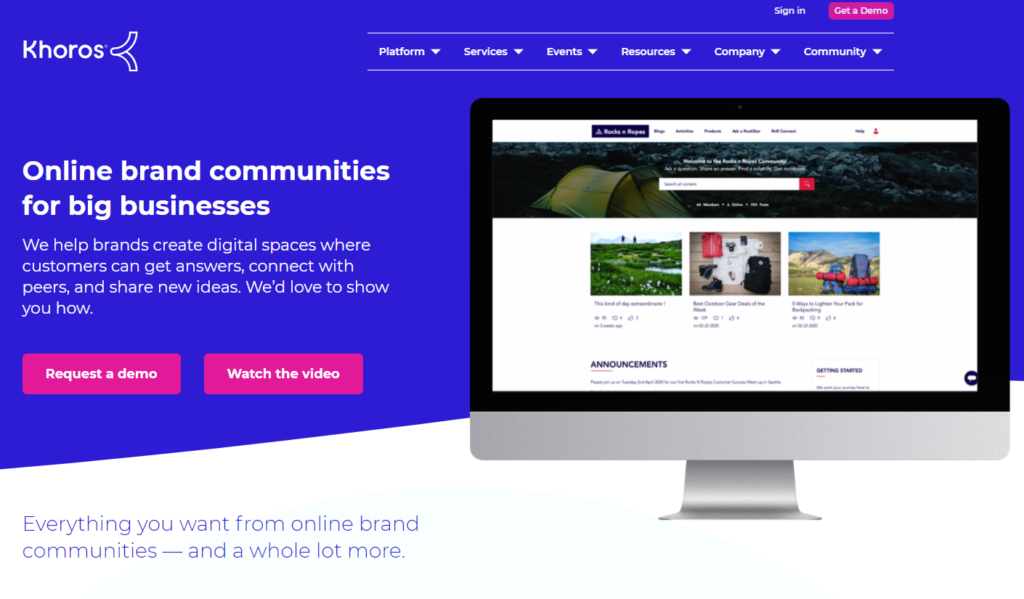 Born from the union of Spredfast and Lithium, Khoros is now the platform of choice that helps to deliver a comprehensive solution for building and managing customers and communities. It draws from the brand management tools of Lithium and the social media engagement of Spredfast to form a truly powerful tool for brand community management.
Khoros has custom pricing models based on the implementation of your own organization. However, expect costs upwards of $50,000 for a 3-year license.
Top Features
Enterprise-level scaling and agility.
Dedicated support 24/7
Detailed analytics on metrics such as ROI, engagement, as well as global trends
Moderate multiple channels, whether external or owned
Targeted publishing with the ability to create campaigns
Custom branding and templates
Automatic notifications paired with an activity dashboard
Pros
Easy to use thanks to an intuitive drag-and-drop design
Feature-rich with all the tools necessary to manage brand engagement across multiple channels
Highly customizable
It has native social listening tools to pick up global trends
Content scheduling to make posting easier
Labels to help save and track points of interest
Cons
Analytics can be inconsistent for similar metrics
Instagram features are a bit limited, and it's not featured in the post to all function. You have to post separately.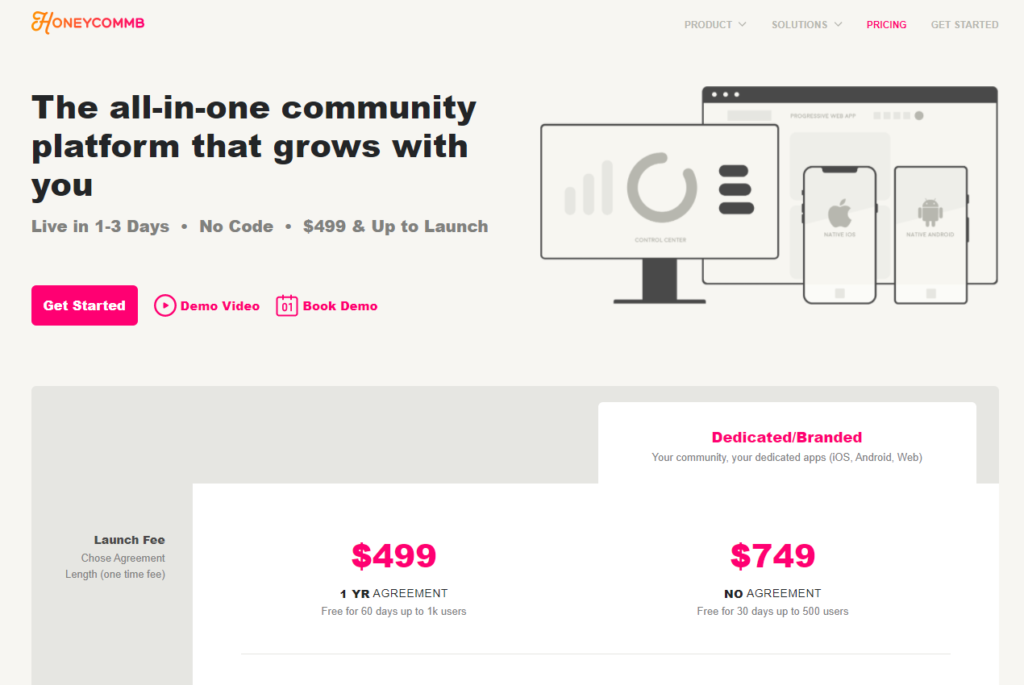 Honeycommb is a complete private network tool that helps you launch and run your own live community in-house. It lets you customize the look and feel of the network, control who joins it, and even let members sign in with their own credentials. The platform is entirely white service, meaning you can opt to take full control of it at purchase. Pricing starts at $300 per month
Top Features
It can be deployed on various platforms including the Web, Cloud, Android, iPhone, etc
Full-stack infrastructure including security, storage, backup, and even load balancing out of the box
A control center keeps all your analytics, CMS, user experience, and much more in one place
You can control your posts and other content easily from the inbuilt CMS
Post scheduling using the release pipeline
Add administrators to take care of the community at will
Make the community private or public on a whim
Full branding capability
Full content moderation on the network
Search and search tracking
Third-party integration
Pros
Full social network operation
It gives you complete control over what happens on the network
Integration with Shopify and other eCommerce platforms
Integrates with Zapier
Invisible control and moderation
Full engagement including direct messaging
Full analytical capability
Cons
It lacks a feature to import an audience from other networks
It gets expensive for larger enterprises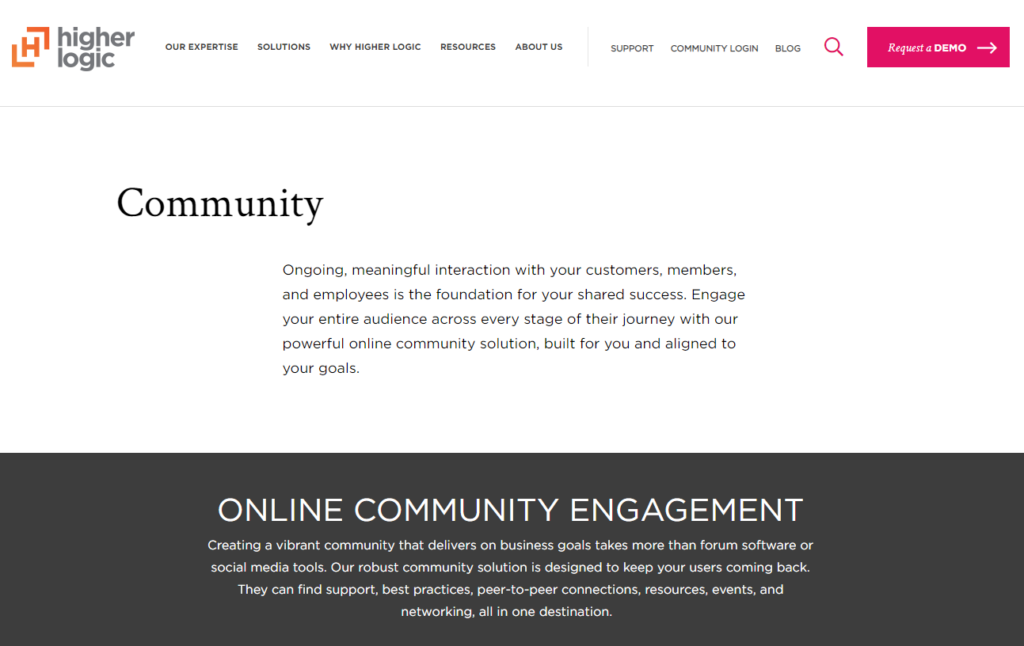 Higher Logic is one of the top platforms delivering online communities, and has been for over a decade. The software leverages it's human-focused approach to make Higher Logic directly engaging with a unique focus on customer marketing and satisfaction. Pricing for higher logic starts at $10,000 to $150,000 per year depending on the number of users.
Top Features
Basic social media features including messaging, newsfeed, notifications, and polls
Moderation tools (hidden from public view)
Mobile apps for the different OS systems
Analytics and reporting
File uploads and previews
Blogging
Mentor and volunteer matching
Knowledge base for learning center
Tagging with @name
Groups
Pros
Powerful engagement capabilities with all the features such as groups, tagging, discussions, etc.
Amazing analytics gives you insights about popular items, email performance, heatmaps of customer interactions, etc.
Feature-rich in every way
Intuitive and easy to learn, especially with the on-boarding service
Ability to moderate the platform unseen by the public
The knowledge base is great for reducing customer service calls
Cons
It does not integrate with existing social media platforms
It does not support multiple languages yet
Depending on your needs, the platform can still feel unstable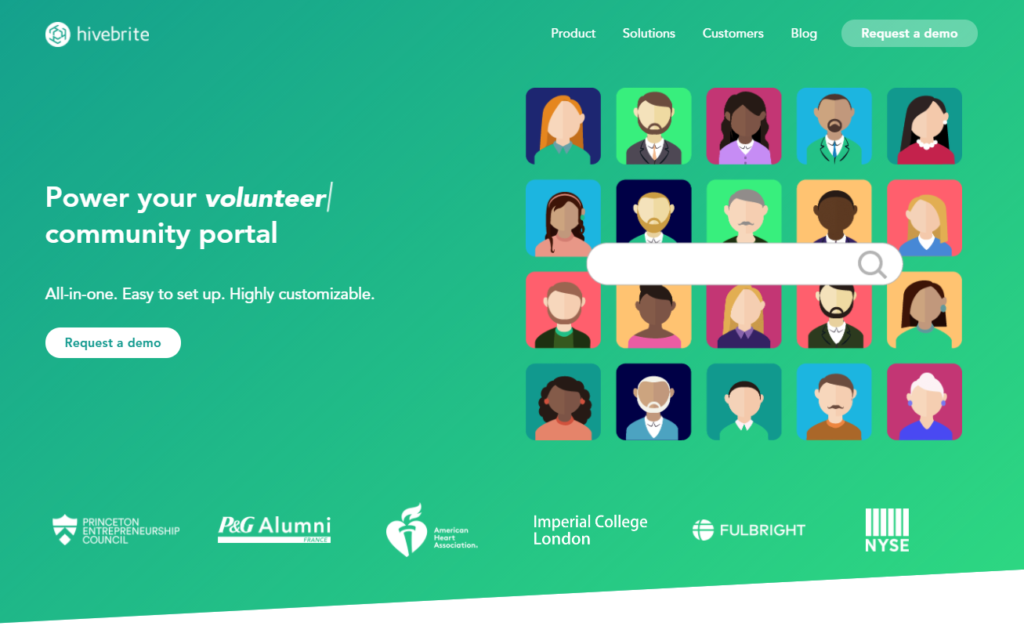 Hivebrite is an online engagement tool to help manage brand communities, but with a particular focus on the commercial side of things. For example, when organizing offline events, it lets you ticket attendees, receive donations, and implement other ways of monetizing membership. The basic Hivebrite plan starts at $50,000 a month.
Top Features
Membership programs that you can monetize in various ways
Custom branding down to the color themes used
Job board and search
Import and export member data easily
Mass updates and updates tracking
Integrated back office CMS for public pages, menus, and more
Media center (knowledge base)
Pros
Commercial minded helping you earn.
Job boards and project uploads help freelancers get help quickly
Ability to import and export data makes it very convenient
Great UI/UX
Very intuitive and easy to use
Stable and reliable platform
Secure payments built into the platform
Personalization is almost perfect
Cons
Reporting still has some way to go, especially in customization
Filtering of past events is shaky
Some minor bugs are still being worked out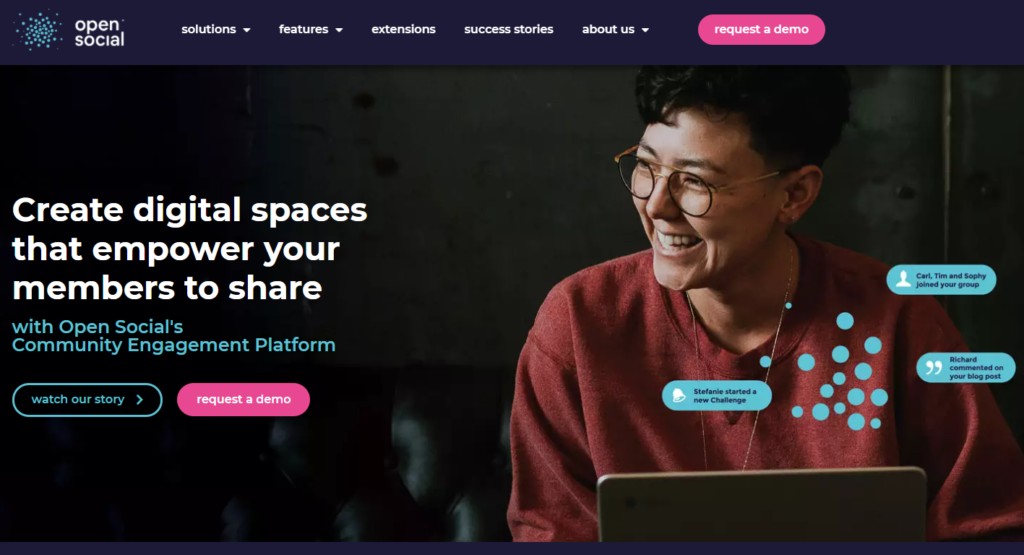 Open Social thinks of itself as a comprehensive online solution for "knowledge and ideation" communities. It's solutions include social intranet, knowledge base, social e-learning, and online community which you can implement depending on your needs. Open Social offers a free trial, but the basic plan starts at $545 per month.
Top Features
Configure your own platform to your needs
Community management tools
Users can set up personalized profiles and accounts
Multi-language support
Advanced spam protection
Messaging, posting, image sharing, and more
Topic blogging, news sharing, discussions, etc
Users can create hierarchical pages with chapters, sections, and subsections
Pros
Highly customizable for different needs
Open-source license for even more personalization
Clear and intuitive interface
Powerful and stable
Can be deployed on iPhone, iPad, Android, online, and on the cloud
Full-featured and rich
Cons
The SaaS solution might be weak for very big organizations
Features to Look For in Brand Community Software
1. Engagement
The power of any social tool lies in how powerfully it allows users to engage and communicate. Features such as direct messaging, direct tagging, groups and discussions, among others are basic and crucial.
2. Moderation
To control brand reputation and perception, you will need full moderation powers including editing, deleting, restriction, among others. How you use this power is a topic for another day – you can still make the best of bad reviews.
3. File Upload and Sharing
Media and documents are a major part of social media. Users should be in a position to share photos, videos, and more for a more authentic experience
4. SaaS Package
Most of these plans come as out-of-the-box solutions with security, back-up, hosting, and maintenance taken care of. However, ensure that the package has all you will need going forward.
5. Analytics
The most powerful benefit of controlling your intranet social media is the availability of data to power your growth and collect usable customer feedback.
6. Ease of Implementation
Implementation is almost always a headache, what with data transfer, training, integration with existing systems, and more. You will have to pay for training and implementation, but it's worth knowing what it will cost you and how easy it will be.
7. Customization
Customers will trust the platform more if it looks like it was developed and launched in-house. That is, you need to be able to customize branding, email addresses, URLs, and other features to make the platform fully yours.
Conclusion
Building a brand community is a feat that requires a huge investment, but the payoff is huge. Customer loyalty, brand growth, and organic referrals are some immediate benefits. Each of these powerful solutions will help you do just that for your brand. Just take the time to pick the one that aligns best with your organization's vision.
Last Updated on June 21, 2021 by Joe