This is truly something I want all in one place. It's not a traffic or SEO play, so I'm just going to add a ton of notes and sometimes commentary as stuff comes out. Let me know what you'd like to see! Updates may be sporadic, but I'll add dates. Note that my terms may be generally correct, but a bit off, and the dates may be within a standard deviation of being off. The main point is this will be generally correct and include highlights that I find interesting that those working in business and marketing can use right away.
I will try to keep this as concise as possible, but no shorter.
Use GPT-V for Video Understanding and Automatic Narration – Nov 7, 2023
Found this Tweet that basically said, GPT can analyze a video, and add auto-narration. I believe they are saying that many people are starting to do this and other Tweeters are responding that a lot of people don't take action so there's a window of opportunity here: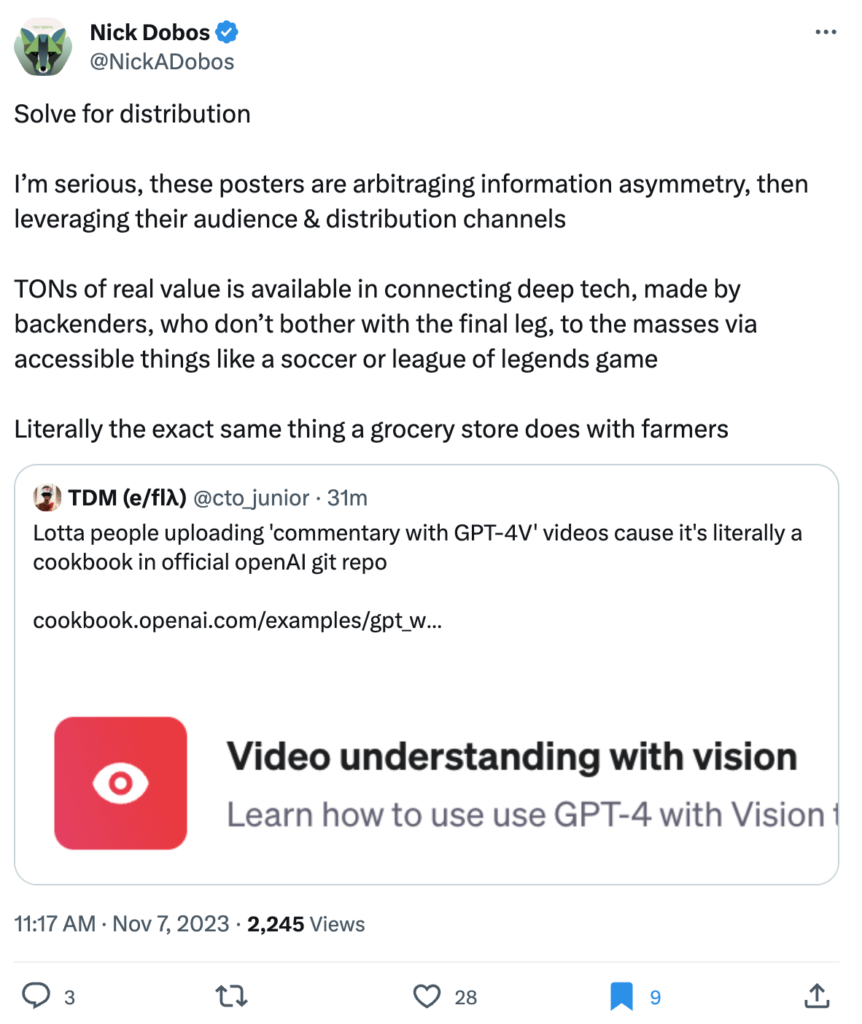 The source Tweet says "Lotta people uploading 'commentary with GPT-4V' videos cause it's literally a cookbook in official openAI git repo https://cookbook.openai.com/examples/gpt_with_vision_for_video_understanding"

GPTs Release – Nov 6, 2023
Being able to create your own GPTs should be available now. In my testing, I haven't been able to navigate there yet as OpenAI has been down. I logged out to try to get to the create button, but I ran into issues. There may be a system overload currently, understandably with the pace they're moving fast and breaking things.
The GPTs store will be released later this month (late Nov 2023).
"Starting today, you can create GPTs and share them publicly. Later this month, we're launching the GPT Store, featuring creations by verified builders. Once in the store, GPTs become searchable and may climb the leaderboards. We will also spotlight the most useful and delightful GPTs we come across in categories like productivity, education, and "just for fun". In the coming months, you'll also be able to earn money based on how many people are using your GPT."
Last Updated on November 7, 2023 by Joe