Webflow Pricing Explained
There's no doubt – Webflow has some pretty convoluted pricing.
You can start testing it out for free, but then only publish to their domain.
There are Site plans and then Account plans. There's also ecommerce options, enteprise options, the list goes on.
Let's explain Webflow pricing like you're a beginner (which most of us are).
Webflow Pricing Summary
For a quick synopsis, looking at a screenshot of their pricing page this is what we're facing: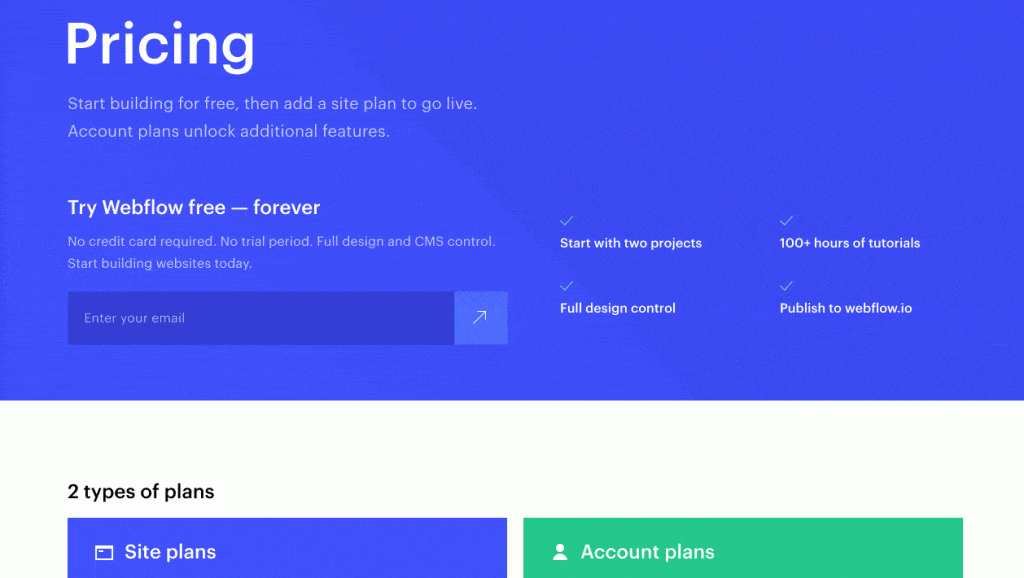 That's some information overload, and the Weblfow forums have been innundated with questions.
Webflow Pricing Tables
We've simplified and broken out the Webflow plans pricing tables for you in a different way to help understand it all.
Webflow Lingo Explained
Site Plans
The Site include Basic, CMS, and Business. Webflow recommends the Basic plan for those with a simple site without a need for a content management system. The CMS plan complements sites that host a blog and that thrive on content. Webflow recommends the Business plan for high-volume traffic marketing or blog sites. Webflow plans include Basic, CMS, and Business.
All three plans include versioning and backups. There are automatic restore points so that plan members never lose their work. All plans include password protection as well. You can protect the entire website or specific pages when you choose Webflow hosting. There are also advanced SEO controls, automatically generated sitemaps, and 301 redirects.
Account Plans
Account plans are more geared towards agencies or independent designers and developers. They're built with your own clients in mind and allow you to include your own logo to present yourself to a client in that way.
Individual account plans include Free, Lite, and Pro. The plans range from providing everything a person needs to get stated building websites whatever their level of expertise. With the Lite plan, you can export code. With the Pro plan, freelancers and designers can tackle more projects and utilize premium plan features.
For all paid plans, there is unlimited hosting for projects. All plans allow you to bill clients and customize animations without having to code in Javascript. There are a vast number of responsive templates from which to choose as well.