The decision of Bluehost vs HostGator is tough. Why? Well they're both affordable, entry-level hosts with a lot of options. They're brand names that you've heard about, and maybe even from a famous podcaster. So which is best for you? We dig in below.

Bluehost is one of the most popular hosting companies in the entire world, but is it right for you? With name recognition and improved customer support, it's a solid choice for beginners.

With over 1 million websites hosted, HostGator is a behemoth. HostGator is a great starter host for those looking for cheap hosting with some lots of advanced features.
Score: 4.5
Bluehost has some of the most affordable entry level pricing, with shared hosting being the most popular at rock-bottom prices. We deducted half a point for pricing because of the 3-year term required for the best deal, but overall it's about as cheap as it gets:
| | Shared | WordPress | VPS |
| --- | --- | --- | --- |
| Sale Price | $2.95/mo | $19.95/mo | $18.99/mo |
| Normal Price | $7.99/mo | $29.99/mo | $29.99/mo |
| Best For | Beginners | WordPress | Businesses |
Score: 4.5
HostGator has a large selection of plans, everything from bargain bin shared hosting up to high-priced VPS hosting. HostGator is very aggressive on their pricing, giving out huge discounts as they look to gain market share. Their ambition is your benefit:
| | Shared | WordPress | VPS |
| --- | --- | --- | --- |
| Sale Price | $2.75/mo | $5.95/mo | $29.95/mo |
| Normal Price | $10.95/mo | $14.95/mo | $89.95/mo |
| Best For | Beginners | WordPress sites | Growth sites |
Score: 4.5
In our opinion, Bluehost is a tremendous value. With pricing starting at just $2.95/mo (promo price), you still get the backing of a very large company with the expected customer support and quality of service. Some of the top features included in the rock-bottom starter pricing that add to the value are unmetered bandwidth, a free SSL certificate, and 50 SSD in storage.
We think the Plus shared hosting is a better deal with unlimited websites included, unlimited storage, and unlimited domains. Moving onto other plans, you'll see an overall great value for the money you're spending. You're truthfully not going to get super premium features, but the value will be very high. 
Score: 4.2
While the prices may be slightly higher than other hosts, SiteGround's plethora of options for developers and users of all abilities provides a high level of value.
Score: 3.5
Bluehost customer support is a mixed bag. Some recent reviewers have never had a problem, others have stories of waiting for a long time and getting subpar support.
With 24/7 support via both phone and live chat - you can always get ahold of them. Unlike other, more premium, support however you may not get the highest quality tech nor the fastest service.
Score: 3
HostGator checks all the boxes on the surface with their support: 24/7 and 365 days a year. By chat and by phone. But customers tell a different story.
There are lots of complaints about slow responses, incompetent staff, and overall sub-par support. There are plenty of people that have no complaints, so we recommend you test out their support before buying.
The have privately-owned servers, with data centers in Michigan, Amsterdam and Singapore. A2 Hosting guarantees 99.9% uptime. The also offer upload and download speed tests from each data center.
Score: X.X (placeholder)
Replace this text with actual text for this module. Then you'll want to save the module with its number name and type as a global module.
That way you can reuse that module over and over again!
Oh and be sure to replace the Score with the real score, which you can get from the host's main review page.
SiteGround offers a real-time status that lets you test your Web site's real-time status. They offer a 99.9965% yearly uptime rate and a 99.999% monthly uptime rate. Data centers are in Chicago, London, Amsterdam, and Singapore.Their software minimizes downtime by providing automatic real-time detection and an automated instant reaction. They resolve more than 90 percent of server performance issues instantly with no human interaction needed.
Score: 4.5
Knowledgeable, friendly technicians are available 24 hours a day, every day. Whether you enter a server ticket, chat online, or call their helpline, they've received high marks for their service. To enhance your service, A2 Hosting allows you to choose the server closest to you.
Score: 4.2
SiteGround offers solid state drives on all hosting plans, and offers enhanced performance with NGINX, HTTP/2, PHP7 and free CDN.
Score: 4.5
For the amount of service and support, A2 Hosting offers tremendous value. Included SSD, cPanel access for all shared hosting customers, and many other options are available to fit any need.
Score: 4.2
The offer hosting for a variety of different apps and services, provide Joomla, WordPress, and Magento themes, as well as tutorials for each. They include free daily backups.
Final Decision: Bluehost vs HostGator
So at the end of the day, which of these two is best for you?
So we're going a bit different from most review sites here.
If you plan on hosting multiple sites, we suggest HostGator. On the Baby Plan you get unlimited domains (websites) allowed on the hosting plan, starting at an astounding $3.95/mo. With Bluehost the pricing jumps up to $5.45 a month.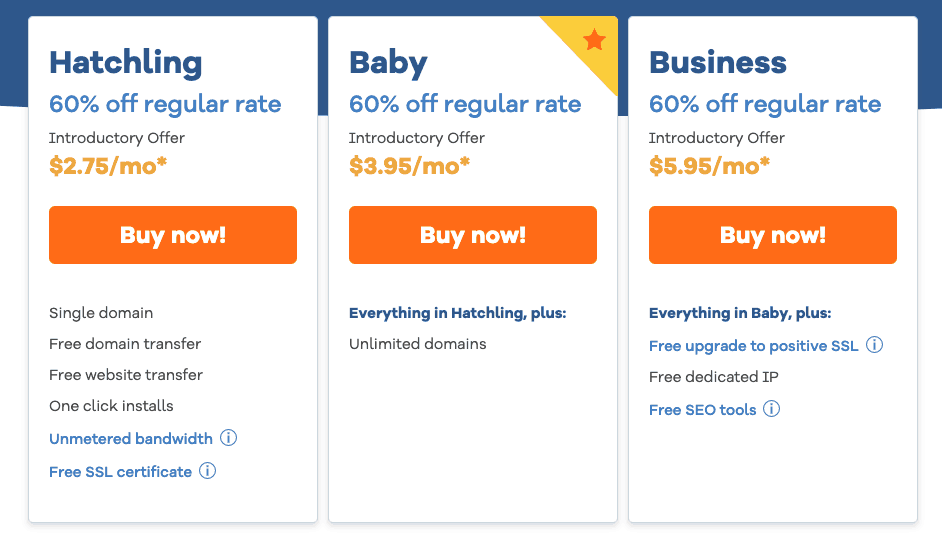 We'd suggest Bluehost for those looking for absolutely the lowest cost of entry and and a bit faster speed.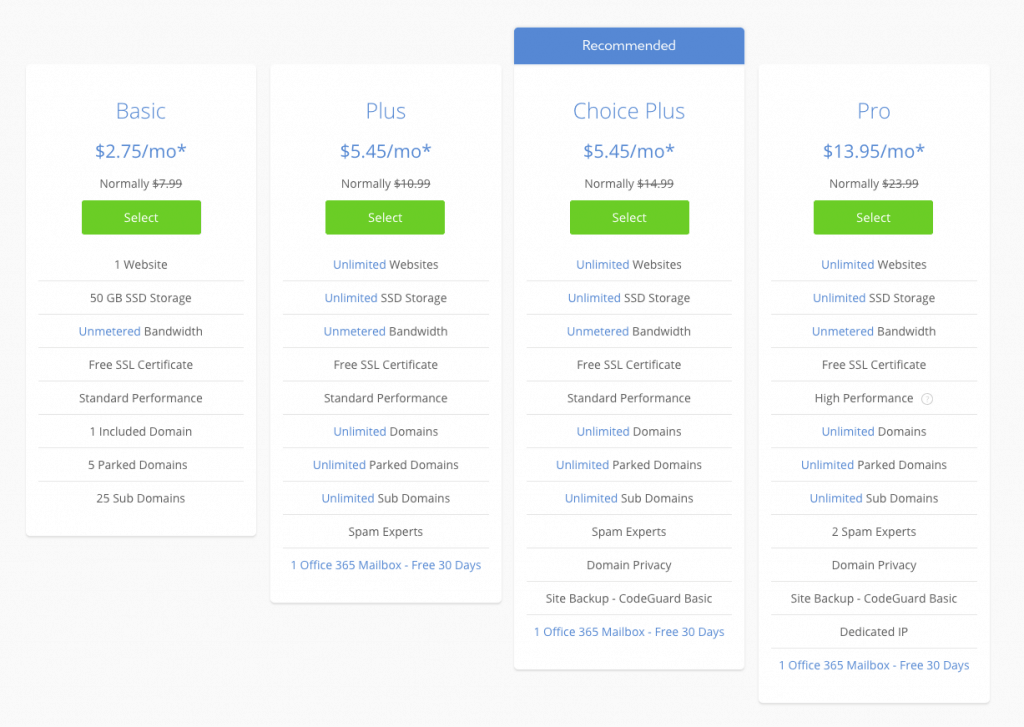 Overall though, we don't see any big reasons to choose Bluehost over HostGator – it'll come down to the specifics of what you're looking for on a hosting plan and what level of business you're at.